Visiting any one of these Sacramento River restaurants will result in an unforgettable indoor or outdoor dining experience. The combination of the stunning views and delicious food at each of these locations makes for the perfect date night or special occasion spot. Imagine indulging in fresh, local cuisine while taking in the serene views of the water. It's truly a feast for the senses.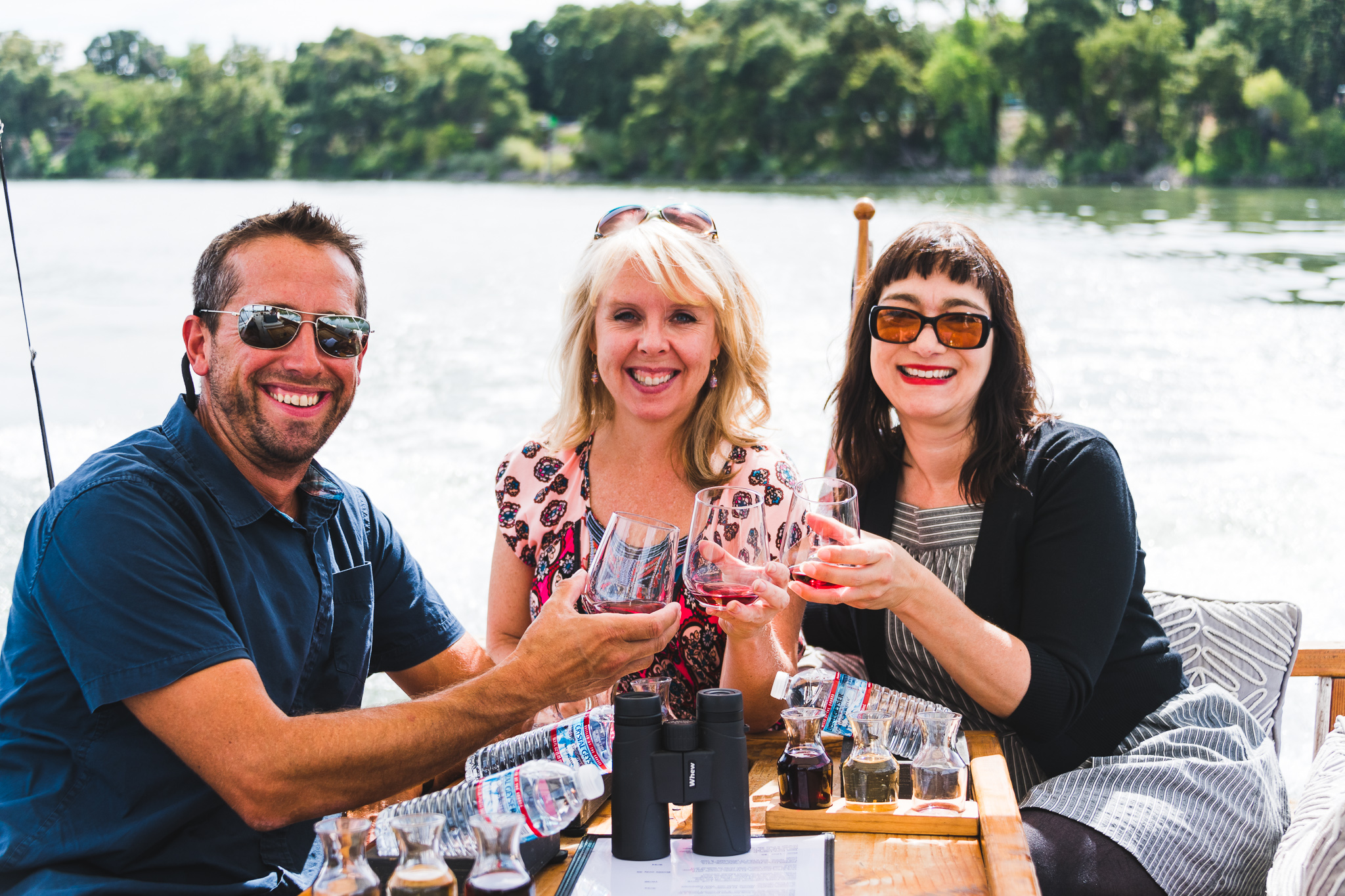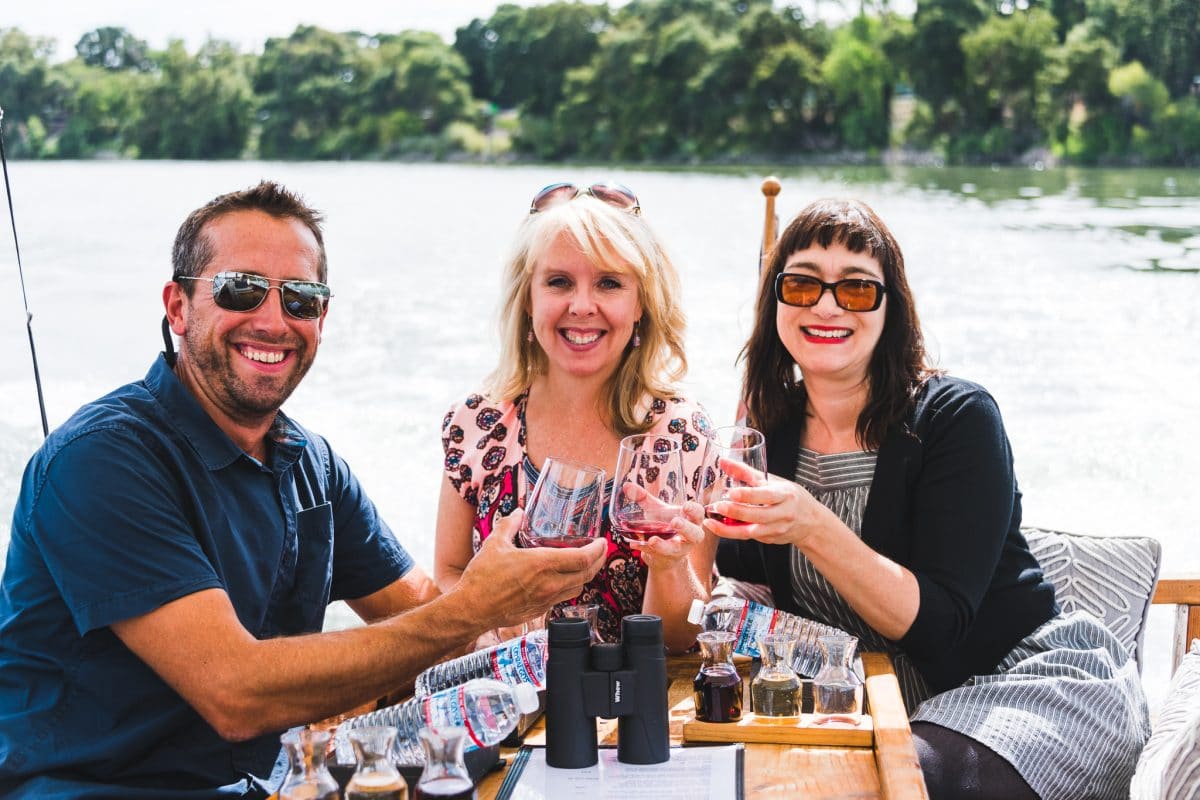 The outdoor seating options offered by most riverfront restaurants are the cherry on top of the experience. Imagine enjoying your meal al fresco style, surrounded by nature's beauty and the sound of the river flowing in the background. It's the perfect way to escape the hustle and bustle of everyday life and truly relax and enjoy your meal.
Eating at a restaurant along the Sacramento River is also a great way to immerse yourself in local history and culture. Many of these restaurants are located in historic areas, giving you a chance to learn more about the area while indulging in delicious food.
Dining at one of these restaurants on the river is a must for anyone looking for an unforgettable experience. The combination of beautiful views, great food, and a sense of history and culture makes for a truly unique dining experience that you won't want to miss.
Sacramento River Dining
Dine at one of these Sacramento restaurants along the Sacramento River for sweeping views, occasional sightings of sea lions and fish jumping, plenty of fishermen, wakeboarders, and pleasure boating.
Alamar Restaurant and Bar
Alamar features dockside seating, putting you mere feet from the water's edge. Drive, walk, or boat to this floating restaurant situated in a serene spot along the Sacramento River. Beat the heat with one of their refreshing cocktails and satisfy your craving for pub food with a fresh seafood twist. A few memorable items include their famous shrimp and grits with chopped bacon and the Cajun catfish sandwich. If you're feeling adventurous, try their Frog Legs as an appetizer!
There are also plenty of non-fish options. Open for breakfast, lunch, and dinner.
Address: 5999 Garden Hwy, Sacramento, CA 95837
Website
Last Visited: October 2022
Crawdads on the River
Crawdads on the River has been serving good food and fun cocktails during river sunsets since 1986. With a lively atmosphere, picturesque riverside views, and delicious brew-pub food, this is a great place to spend a summer afternoon or evening with friends. It's not uncommon for boats to anchor alongside the restaurant for music and events.
Crawdads serves up staples such as blackened fish tacos and fish and chips, as well as specialty dishes including Louisiana gumbo and their Creole burrito. Before your main entrée arrives, snack on their delicious ahi nachos with wonton chips and sweet ponzu sauce.
Address: 1375 Garden Hwy, Sacramento, CA 95833
Website | Instagram | Facebook
Last Visited:
Delta King Pilothouse Restaurant
The Delta King hotel and restaurant is located in Old Sacramento in a paddlewheel riverboat built in 1927 that has since been restored and permanently moored along the waterfront. Onboard, you can choose to eat at either the Pilothouse Restaurant or the Delta Bar & Grill, both offering fresh and somewhat upscale seasonal dishes. Dining aboard this floating hotel and restaurant is certainly one of the quintessential Sacramento experiences.
Dine for lunch or dinner. Breakfast is only available for hotel guests.
Address: 1000 Front St, Sacramento, CA 95814
Website | Instagram | Facebook | Twitter
Last Visited: September 2022
Dinky Diner
The Dinky Diner is a great stop if you're craving a classic burger and fries with a view of the Sacramento river. There's something great about eating a juicy burger and drinking a thick milkshake along the river on a warm summer's day. Check out this local Clarksburg staple and maybe enjoy your lunch inside their iconic beached boat. Open Wed-Sun from 11am to 4pm.
Address: 36339-36343 S River Rd, Clarksburg, CA 95612
Website
Last Visited: September 2022
Rio City Cafe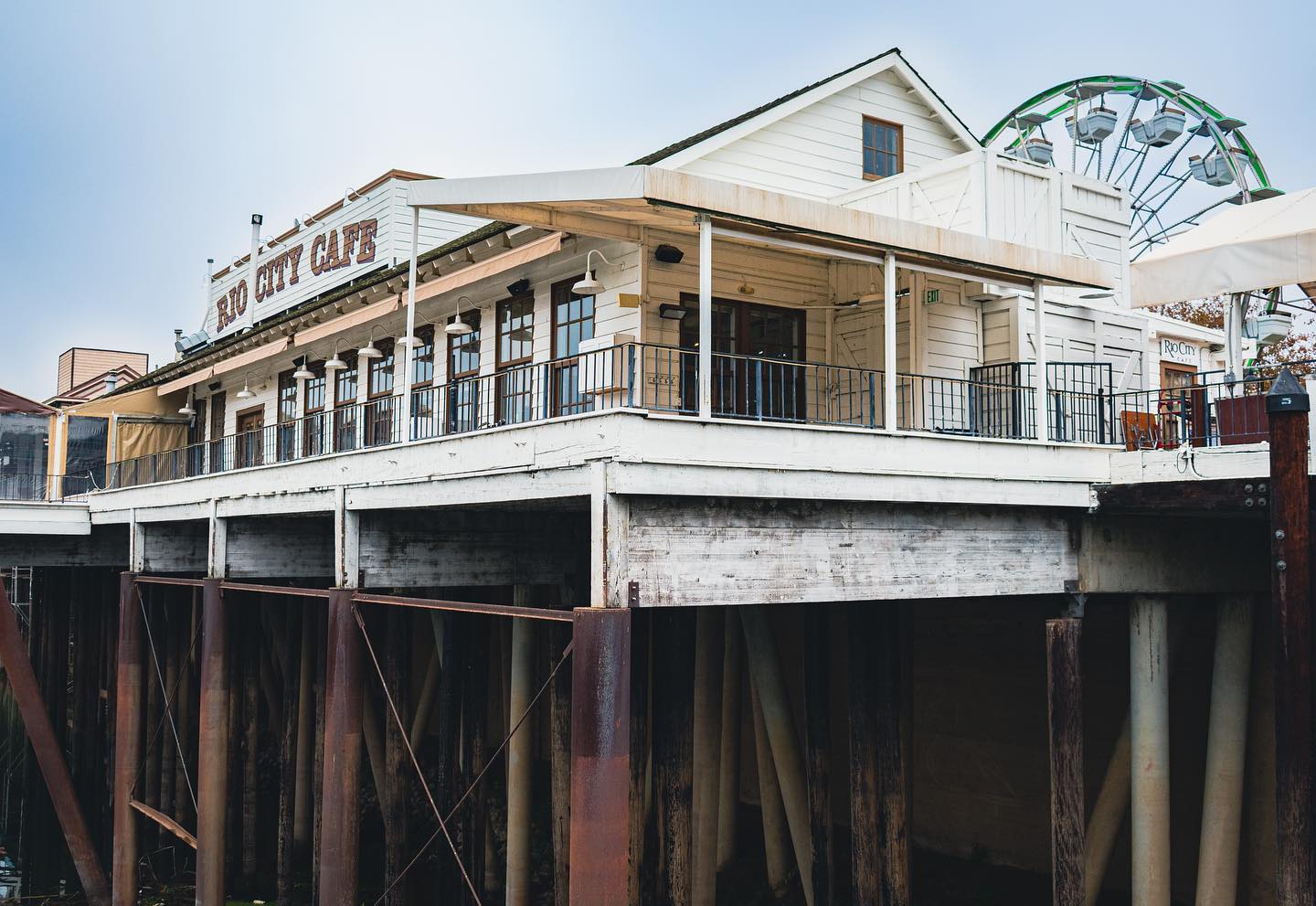 The Rio City Cafe in Old Town Sacramento is a perfect place to post up with a glass of wine and enjoy the views of the historic Tower Bridge. Their menu has something for everyone, from crab melts to burgers and jambalaya. With a casual atmosphere, great food, and an extensive wine and cocktail selection, it's hard to go wrong. If you are in the mood for an appetizer before your meal, try their famous sourdough cheese loaf with balsamic vinegar and olive oil. The Rio City Cafe is open for brunch, lunch and dinner.
Address: 1110 Front St, Sacramento, CA 95814
Website | Instagram | Facebook | Twitter
Last Visited: June 2017
Scott's Seafood Grill and Bar on the River
Located in the Pocket/Greenhaven area of town (specifically at Captain's Table), Scott's Seafood is tucked away far from all the other waterfront restaurants with a relaxing atmosphere. Part of the Westin Hotel, this is one of the few river-front restaurants in Sacramento where you can enjoy more of a fine dining experience. Whether you're interested in brunch, lunch, or dinner, you can expect beautifully plated food, from lobster tail and scallops to jerk-seasoned seafood and pasta.
I actually haven't been since they changed ownership during the pandemic, but they used to have a very nice scotch list, for those who care to imbibe.
Address: 4800 Riverside Blvd, Sacramento, CA 95822
Website | Instagram | Facebook | Twitter
Last Visited: August 2022
Swabbies on the River
One of Sacramento's liveliest restaurants and music venues on the river, Swabbies has tons of small bites and tacos to enjoy while you soak in the river vibe and good music. This upbeat spot is known for its party-like atmosphere, so be forewarned if you are looking for a quiet night out. Try their famous cheese-encrusted tacos and enjoy them with a cold beer! Open for lunch and dinner.
Address: 5871 Garden Hwy, Sacramento, CA 95837
Website | Instagram | Facebook
The Virgin Sturgeon
The Virgin Sturgeon is a floating barge turned restaurant, anchored and permanently attached to a floating dock. A steep ramp, once a Pam Am jetway, takes you down from levy road parking into this funky diner-esque restaurant.
This rustic hideaway along the river serves up fresh seafood, including catfish, smoked sturgeon brought in from a local Sacramento farm, crab cakes, and a seafood coquille. The bar is pretty basic, however, you can sometimes stumble across limited-release specials from local breweries.
Open for breakfast, lunch, dinner, and late nights at the bar.
Address: 1577 Garden Hwy, Sacramento, CA 95833
Website | Instagram
Last Visited: October 2022
Chevy's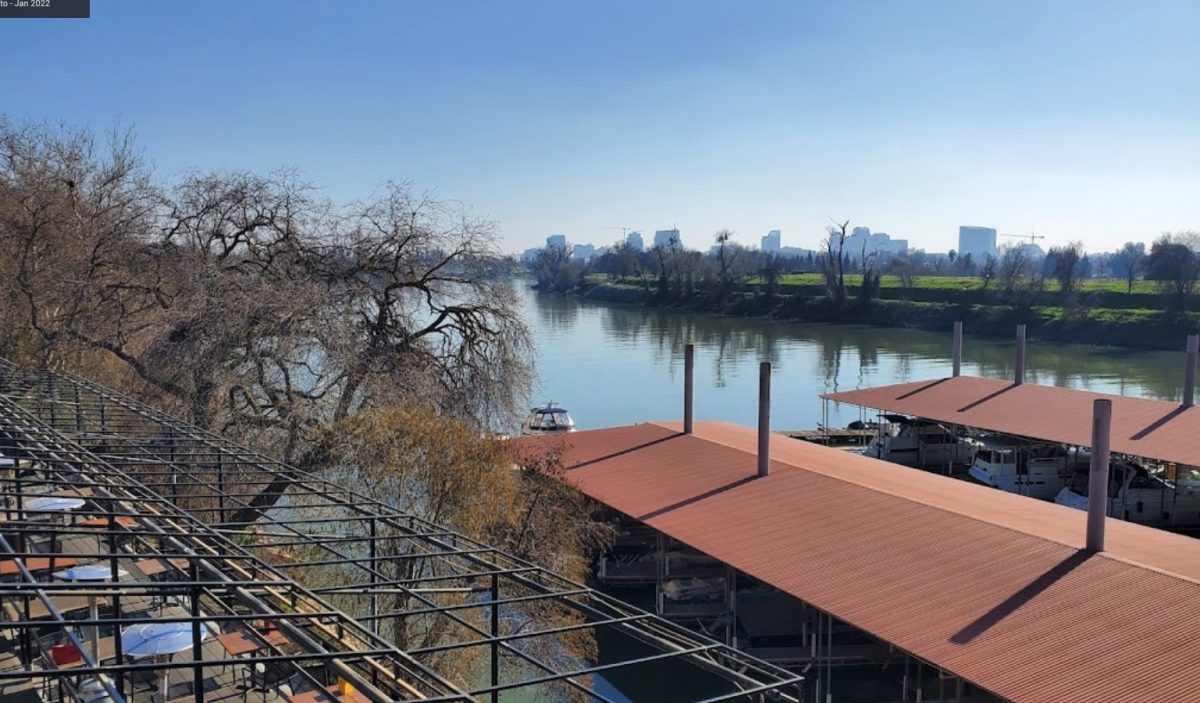 Chevy's is likely a chain restaurant that you've frequented before, but there is no denying that this particular restaurant has some prime waterfront dining real estate. Multi-tiered dockside seating offers plenty of room to enjoy the river in the afternoon sun or for some beautiful sunset views. Offering standard Mexi-Cali food and drinks, you really can't go wrong with a margarita and a belly full of tacos. Open for brunch, lunch, and dinner.
Address: 1369 Garden Hwy, Sacramento, CA 95833
Website | Instagram | Facebook
Last Visited: September 2021
River Experiences
While not restaurants per se, these businesses offer unique and fun Sacramento River dining experiences. Whether on a boat or bike, you're sure to have a great time outdoors with friends and family.
River City Queen
The River City Queen is a charter boat available for parties, sunset cruises, dinner cruises, or even cookies and ice cream. One to two-hour rides offer spectacular views of the river, or you can go out and charter the entire boat for your party of up to 60 guests.
Address: 1208 Front St, Sacramento, CA 95814
Website | Instagram | Facebook
Sacramento River Cruise
Join Captain Emil Gagliardi on his 1979 24ft Sisu New England lobster boat "Roccus", updated and refinished into a delightfully fun wine tasting boat. Departing from Clarksburg, Emil is full of stories and jokes as he takes you on a jaunt up and down the Sacramento River, letting you sample wine from nearby wineries and paired with a cheese and charcuterie plate.
The boat can turn into an intimate ride for two, or bring a small group of 6 and be as boisterous as you care to be – safely, of course.
I first did a cruise with Emil for a wine event here in Sacramento and thought the experience to be incredibly fun. I've been telling people to check it out and go for a ride ever since.
Address: Clarksburg Marina, 36339 Riverview Dr, Clarksburg, CA 95612
Website | Instagram | Facebook
Sac Brew Boat
By the same people who run the Sac Brew Bike, the format has taken to the waters on the Sac Brew Boat. Two boats can hold up to 16 passengers each. You are free to pedal (or not) while you float and party on the river near Old Sacramento! Tours run for 90 minutes. You are encouraged to bring your own music and drinks.
Address: Public Docks by Rio Cafe, Old Sacramento
Website | Instagram | Facebook | Twitter
Restaurant Map
Quickly navigate to one of the businesses mentioned above. Follow this list on Google Maps and it will update when this post updates.
https://goo.gl/maps/C4Mfrm7CQh9CfBS5A
I strive to paint vivid landscapes with my words, bringing the magic of far-off lands and enchanting aromas to life for my readers. Combine passion for exploration and the art of gastronomy in an unending ode to the senses. When I'm not traversing the globe, I find solace in the earth beneath my fingertips, tending to my garden and working on projects around my verdant oasis. MK Library serves as a beacon, guiding fellow travelers and homebodies alike to embrace sustainability, nurturing both our planet and our souls with purpose. Full Bio.