This Cajun sausage and chicken jambalaya recipe draws on both Cajun and Creole cuisines, with an array of traditional aromatic spices and juicy Cajun sausage in a tomato sauce.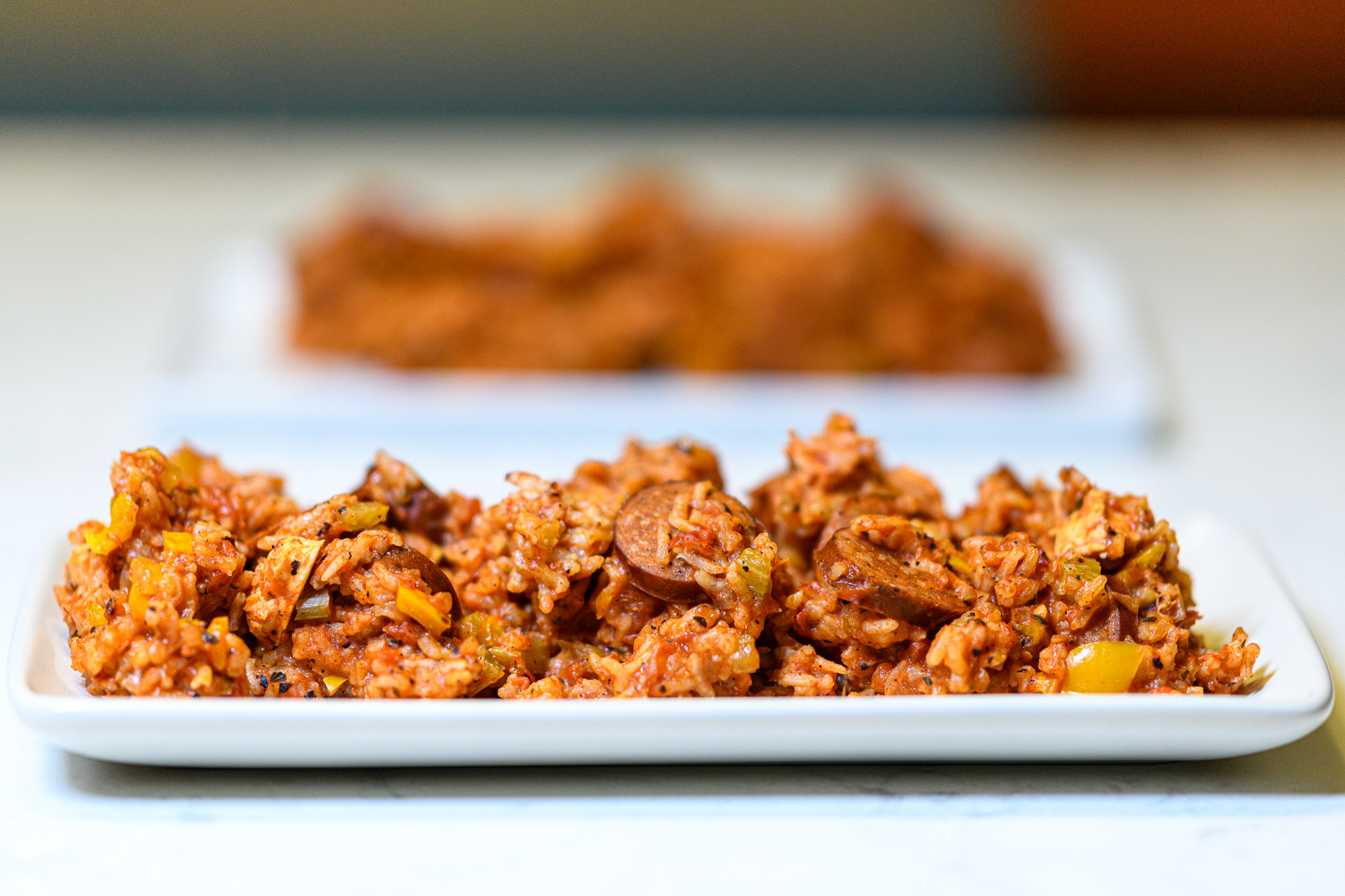 Cajun cuisine has become somewhat of a blanket term for a hybrid of Cajun and Creole dishes throughout the U.S. In Louisiana, however, where both of these cultures were born and continue to thrive, there is a clear distinction between these respective cuisines and their histories.
This recipe draws from both cultures, with an emphasis on the aromatic herbs and spices used in traditional Cajun and Creole cooking. Similar to a Creole Jambalaya, this recipe features sausage, bell pepper, and a flavorful mix of southern spices.
Traditional Cajun Cooking
Traditional Cajun cooking, a mix of West African, French, and Spanish cooking techniques, was often very simple and didn't include the spiciness of Creole meals. They were largely rustic 'country' meals that relied heavily on what was locally available. This often meant the addition of three vegetables that make up 'the trinity' according to Cajun and Creole chefs; green bell pepper, onion, and celery. Other herbs and spices you might find in a Cajun meal include garlic, paprika, thyme, file (ground sassafras leaves), parsley, and green onions.
This ever-evolving cuisine was created by a group of French settlers who were displaced from Canada and had to be resourceful with what they could find in their new southern climate. An authentic Cajun meal usually features a main dish of crawfish, shrimp, or andouille sausage, steamed rice, and a bowl of whatever vegetable is plentiful or available. These dishes would have all been served in separate bowls.
What we usually think of as Cajun food today is some version of spicy and aromatic rice, veggies, meat, and seafood mixture. Most of these hybrid Cajun/Creole dishes can be attributed to the influential chef, Paul Prudhomme, who coined the term "Louisiana cooking". He is the reason your typical Cajun seasoning now includes the heat of dried cayenne pepper.
The only true main difference between the two cuisines is (in most cases) the use of tomatoes. Cajun cooking usually does not include tomatoes, while Creole food does. As with most cuisines, however, the lines blur over time.
So, even though it may draw inspiration from multiple cultures, to say it's 100 percent Louisianan would be right on the money.
This recipe was originally developed as part of an Instagram campaign for Zatarain's Sausage.
To totally replicate this recipe, you can shop for Zatarain's here or at your nearest Kroger grocery store.
Visual Instructions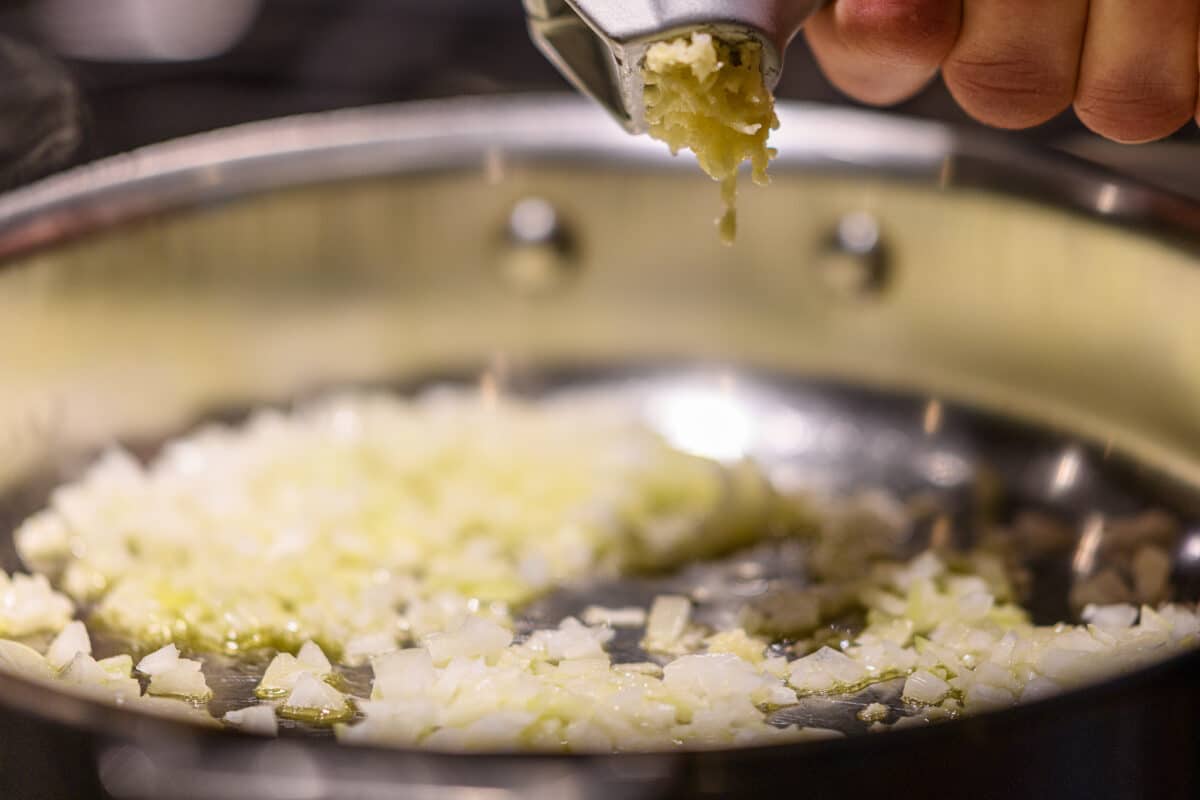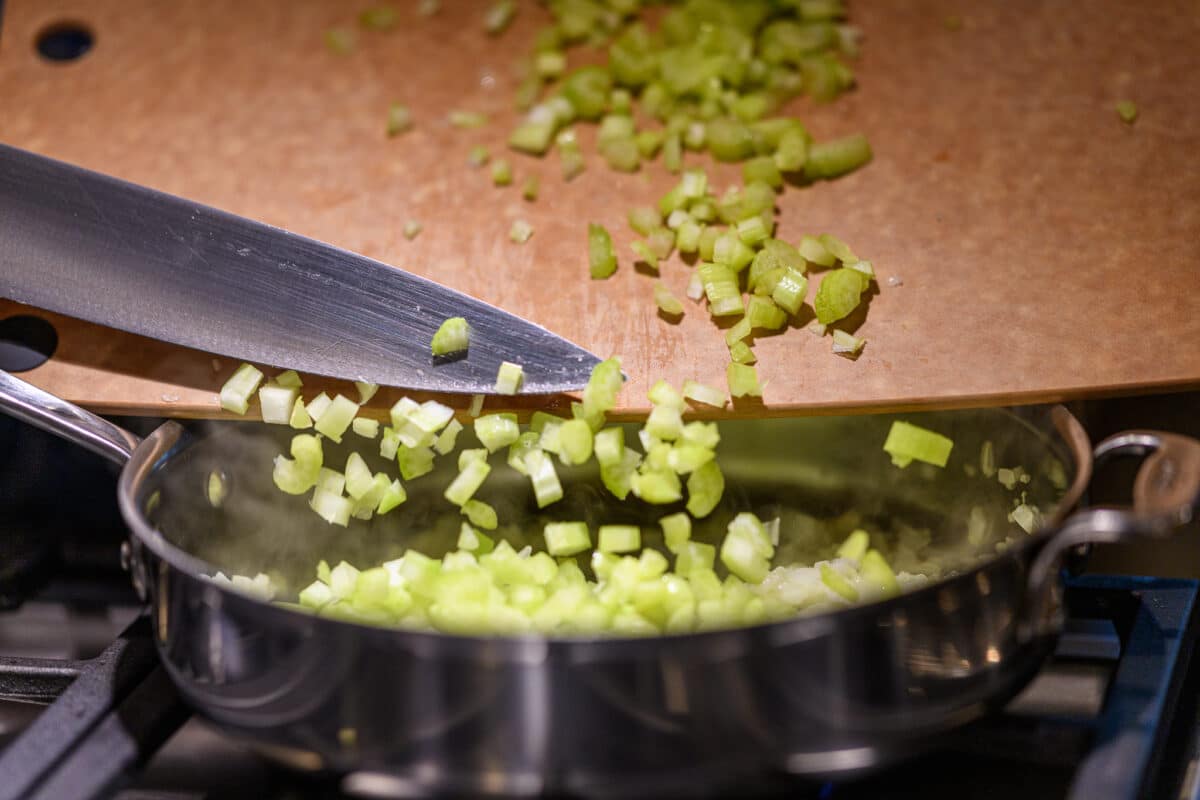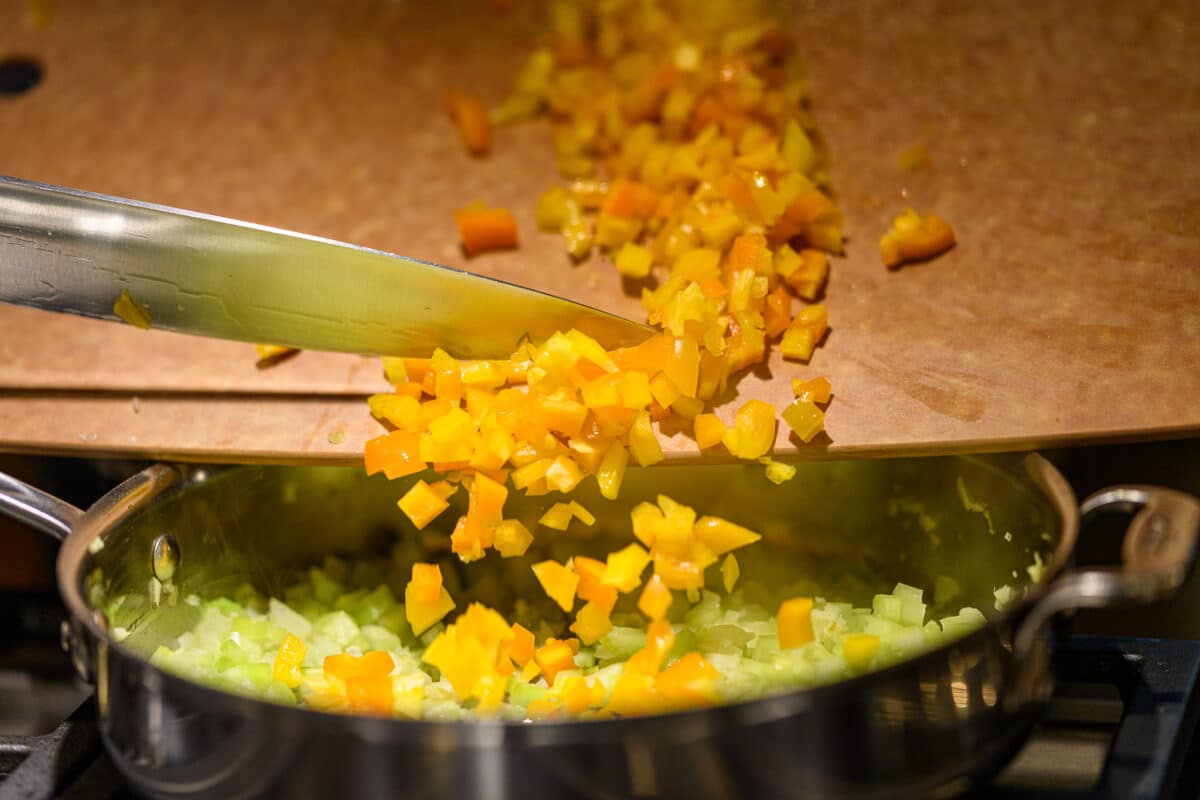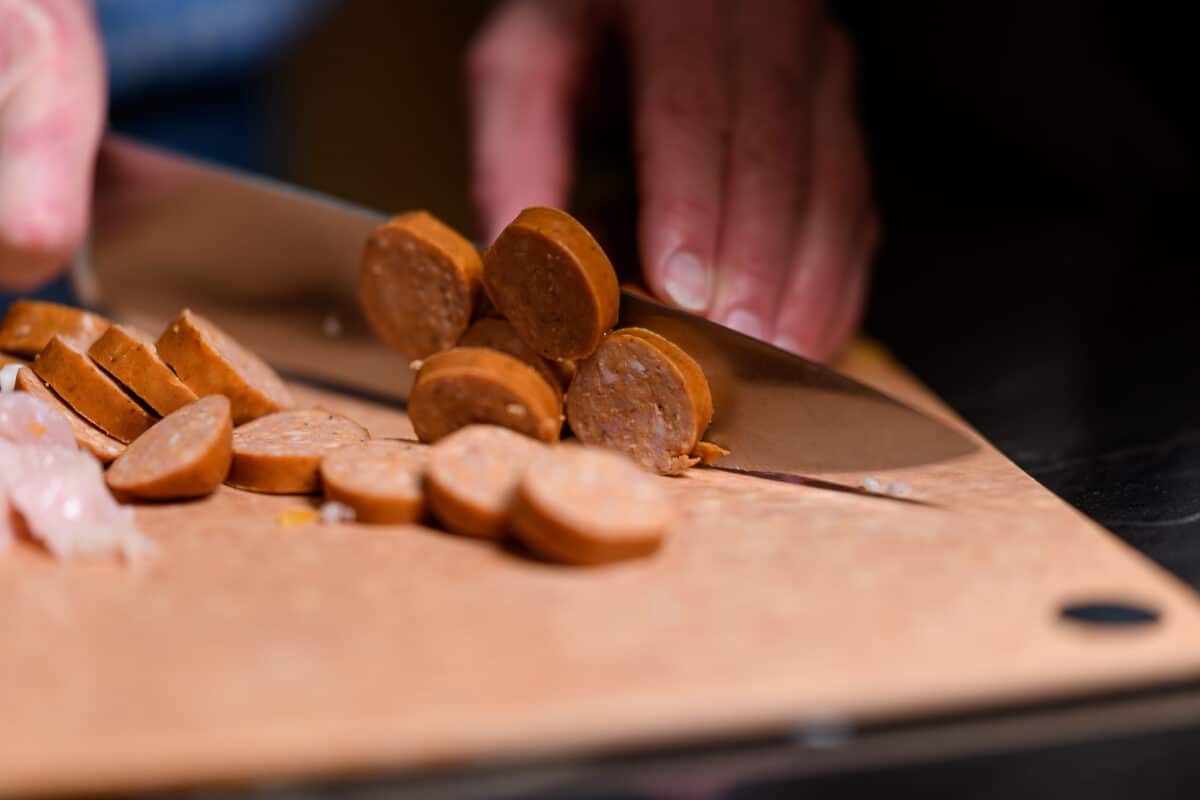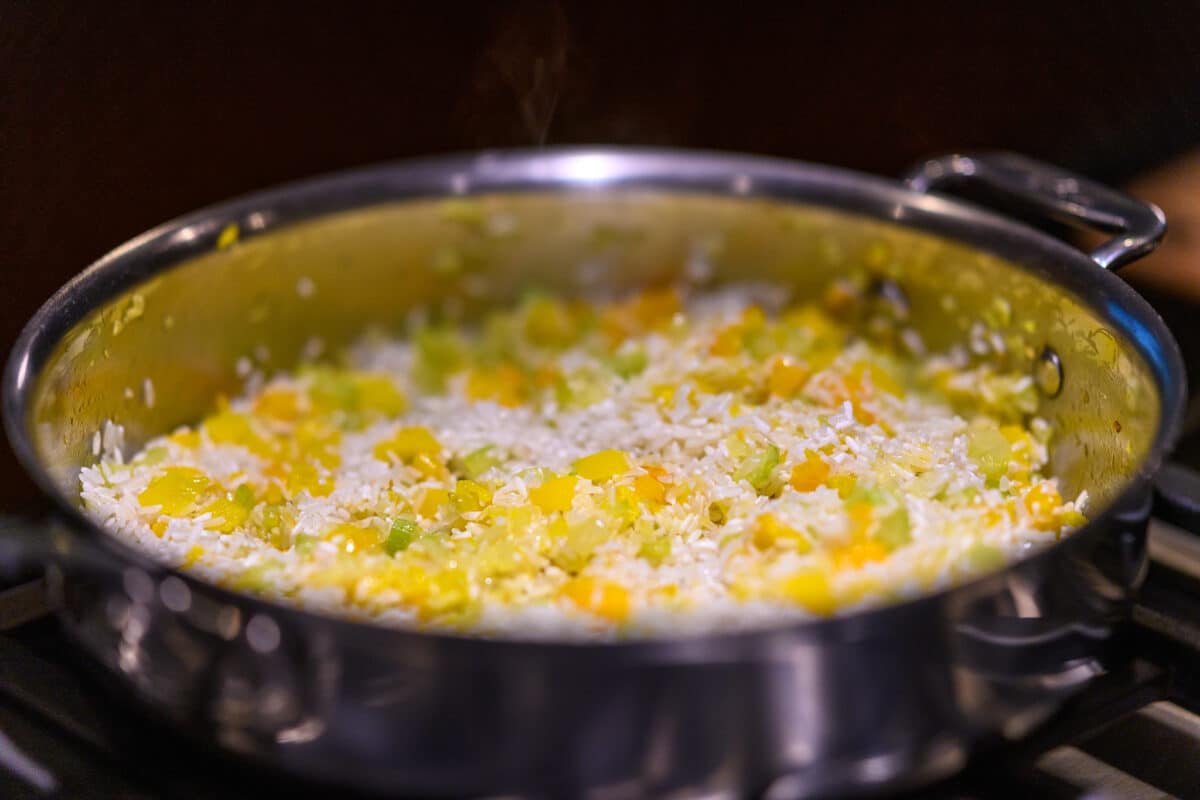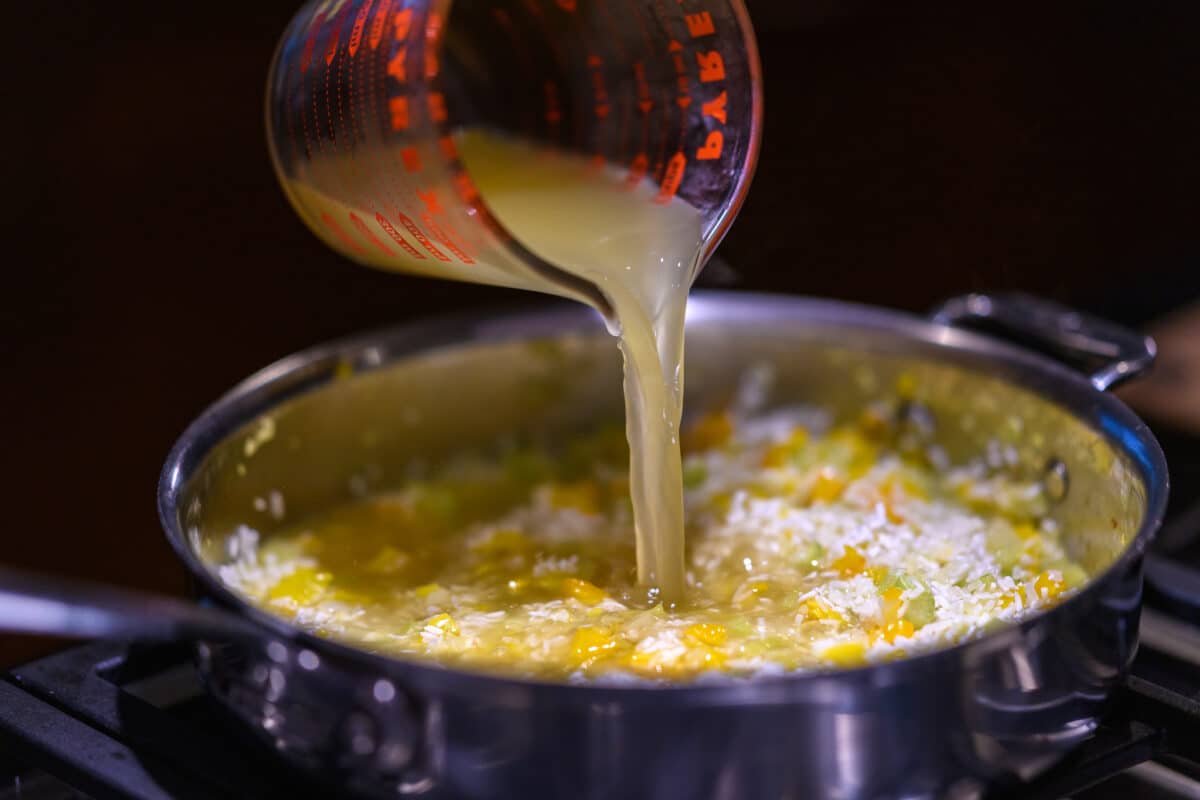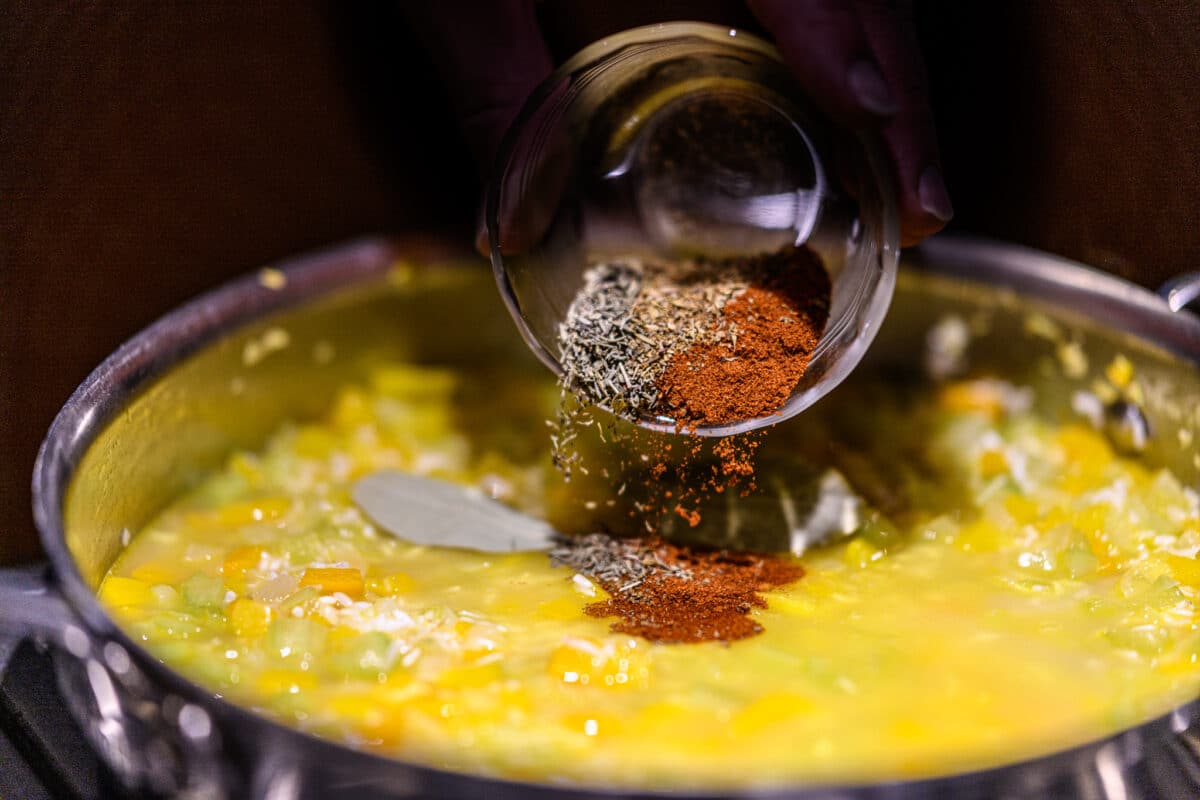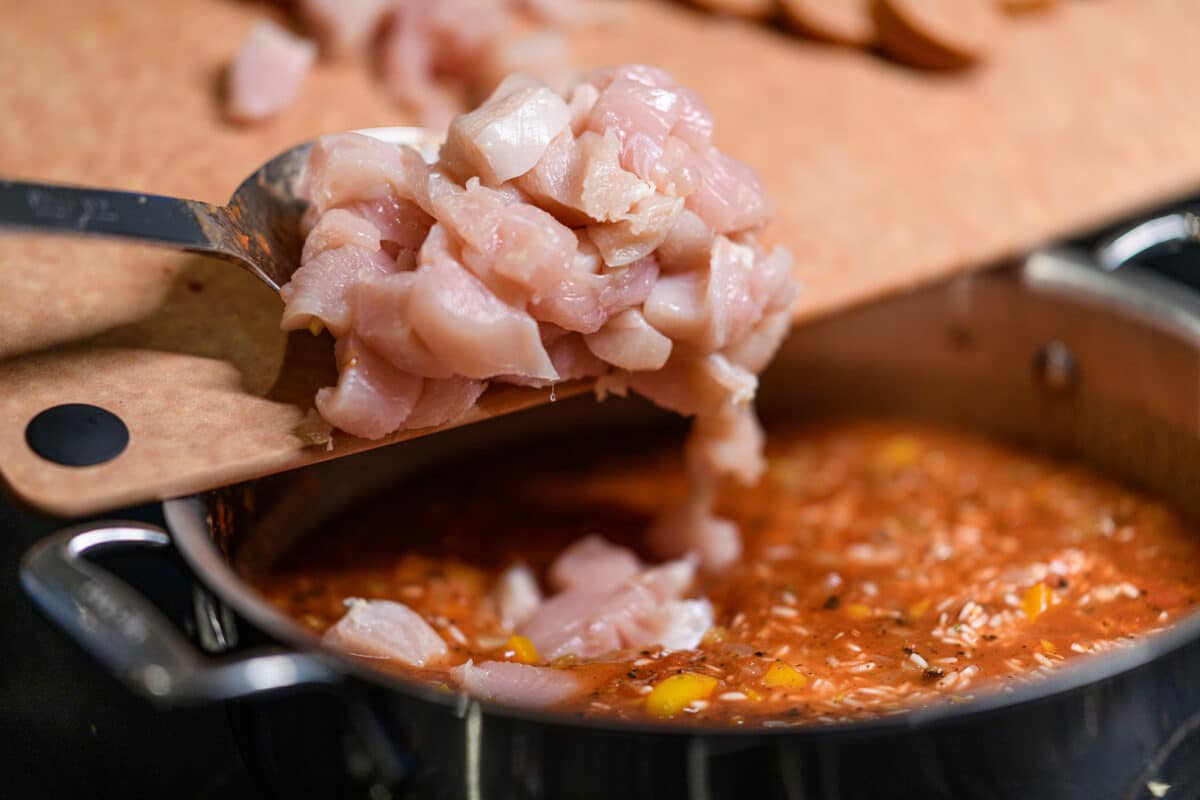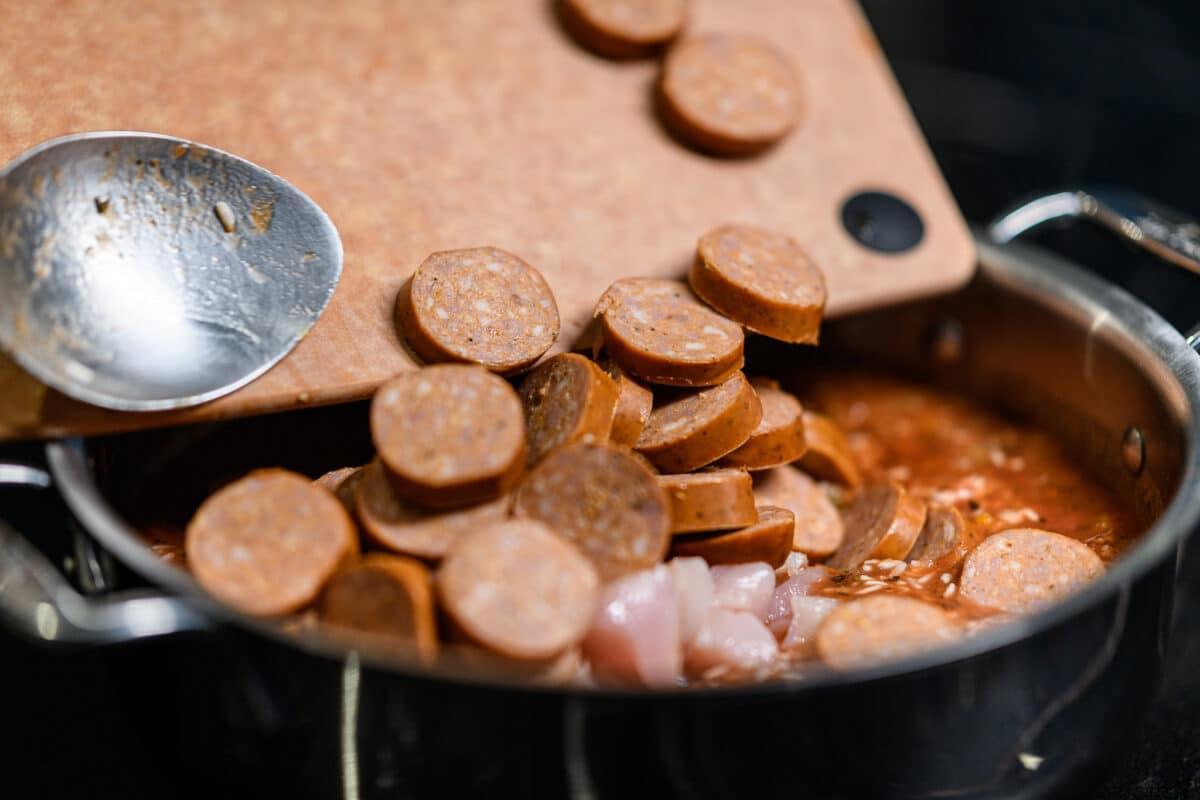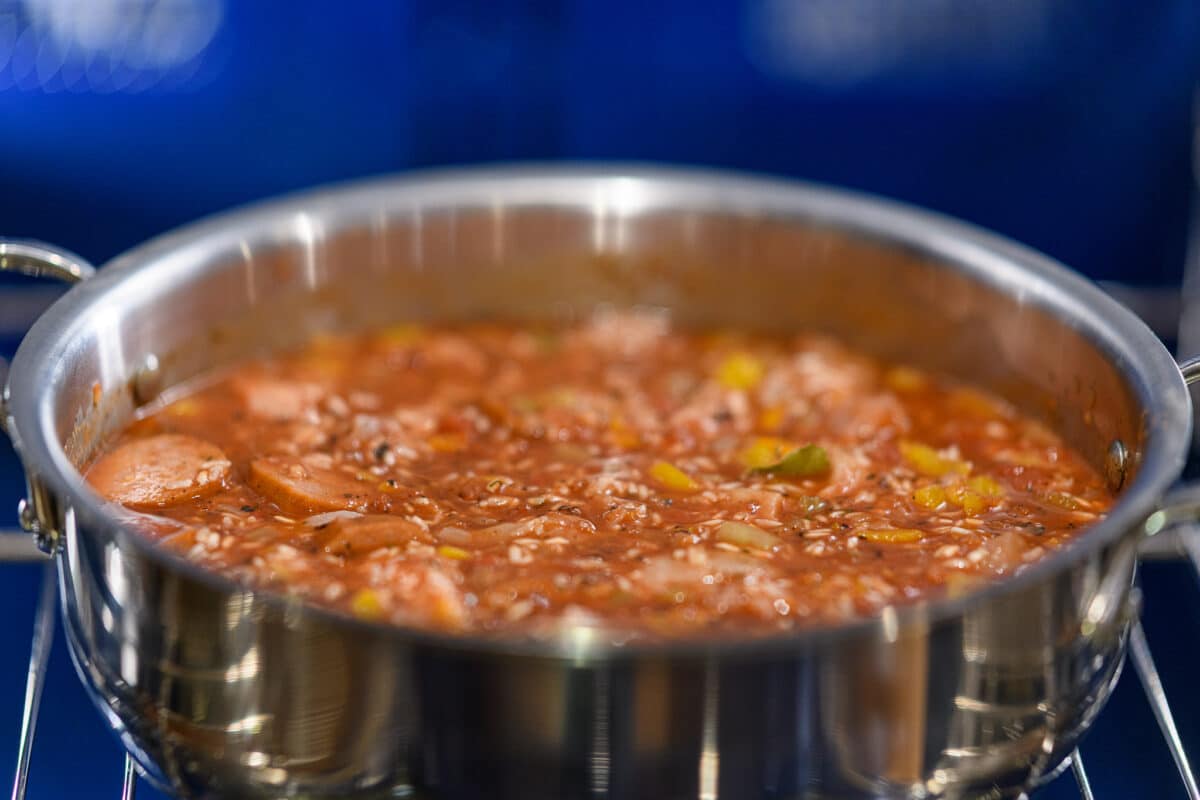 Cajun Sausage and Chicken Jambalaya
This Cajun sausage and chicken jambalaya recipe draws on both Cajun and Creole cuisines, featuring an array of traditional aromatic spices and juicy Cajun sausage in a tomato sauce.
Ingredients
3

tbsp

Olive Oil

1

medium

Sweet onion

3

Celery stalks

1

Bell pepper

Yellow or orange

14

oz

Sausage

Cajun style

1

Chicken breast

Boneless and skinless

3

cloves

Garlic

1

tsp

Oregano

dried

1

tsp

Thyme

dried

1

tsp

Cajun spice blend

1

tsp

Smoked Paprika

1

tbsp

Worcestershire sauce

2

Bay leaves

28

oz

Crushed Tomatoes

2

cups

Chicken broth

1 1/2

cups

White Rice

medium grain

1

can

Water

Fill the empty crushed tomato can with water
Instructions
Preheat oven to 375 degrees Fahrenheit.

Chop onions, celery, and bell pepper in 1/8 to 1/4 inch pieces.

Add olive oil to a heated sauté pan. Add in onions and press garlic. Cook until onions begin to turn translucent.

Add in chopped celery and bell peppers. Stir occasionally until bell peppers begin to get soft.

Cut chicken and sausage into bite sized pieces.

Rinse rice thoroughly using a fine mesh strainer.

Add rice into the sauté pan, then chicken broth, followed by the spices, and then the tomato sauce. Add in the chicken and sausage. Stir to ensure all ingredients are evenly distributed.

Cover with lid and place in oven for 1 hour 15 minutes, stirring at around 45 minutes.
Nutrition
Calories:
415
kcal
Carbohydrates:
41
g
Protein:
19
g
Fat:
20
g
Saturated Fat:
5
g
Polyunsaturated Fat:
3
g
Monounsaturated Fat:
10
g
Trans Fat:
1
g
Cholesterol:
54
mg
Sodium:
723
mg
Potassium:
727
mg
Fiber:
3
g
Sugar:
7
g
Vitamin A:
999
IU
Vitamin C:
36
mg
Calcium:
73
mg
Iron:
3
mg
Tried this recipe?
Let us know how it was – tag @themklibrary on the socials!
I strive to paint vivid landscapes with my words, bringing the magic of far-off lands and enchanting aromas to life for my readers. Combine passion for exploration and the art of gastronomy in an unending ode to the senses. When I'm not traversing the globe, I find solace in the earth beneath my fingertips, tending to my garden and working on projects around my verdant oasis. MK Library serves as a beacon, guiding fellow travelers and homebodies alike to embrace sustainability, nurturing both our planet and our souls with purpose. Full Bio.