Now that you have your SUP, it's time to get some paddleboard accessories. There are all sorts of neat gadgets and toys to add on, and I've been testing them out and discovering the best products and some of the more unique things you can do to bling out your paddleboard adventures.
There are a lot of cheap, poorly made goods on the market, and this guide attempts to sift through those and offer higher quality suggestions as much as possible.
Basics and Essentials
Start here and get the right tools for accessorizing your paddleboard.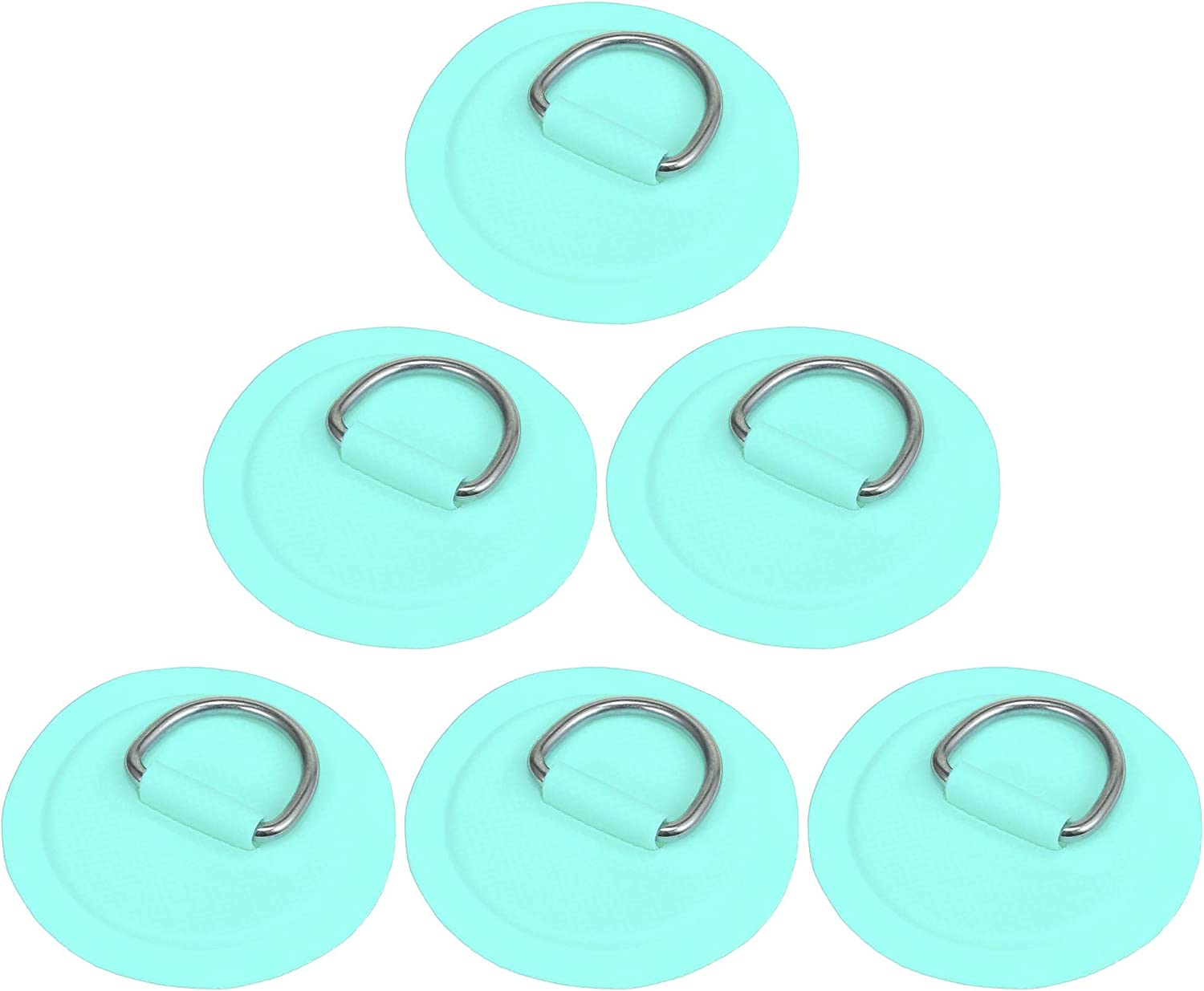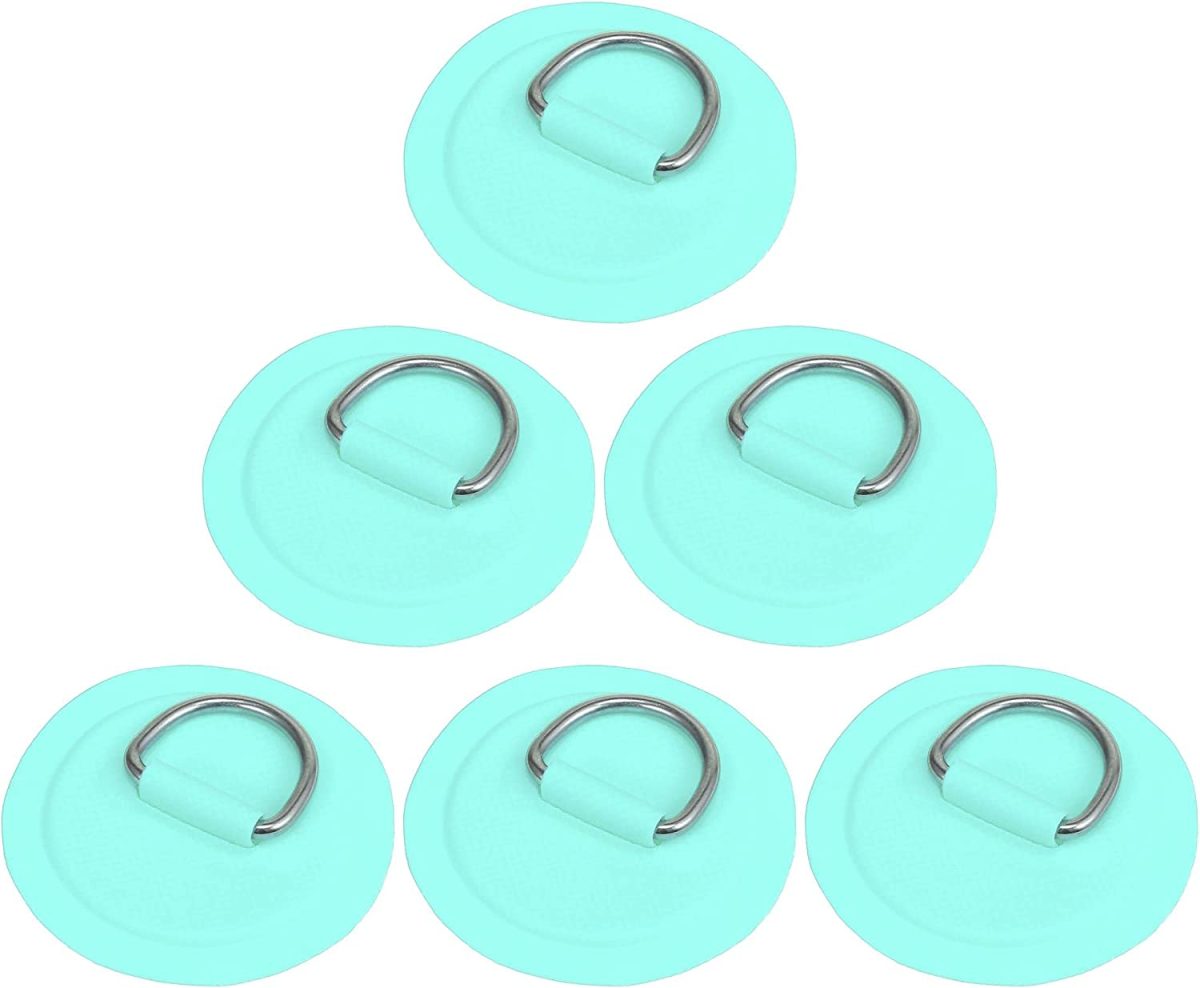 If you don't have enough D-Rings, you can easily add more to add flexibility to your SUP configuration. Many will come with 3M adhesive stickers, which can work in most situations. If you want something more permanent, you can attach D-rings with HH-66 vinyl cement.
No matter the type of adhesion, take special care and detail when prepping and cleaning your paddleboard if you want the D-rings to last.
When attaching to an inflatable paddleboard, first make note of where you fold it before placing additional D-rings.
Add some quick strap down options to the front or back of your paddleboard, or replace a worn out bungee cord.
This set is sold by Seattle Sports, based out of Washington, United States.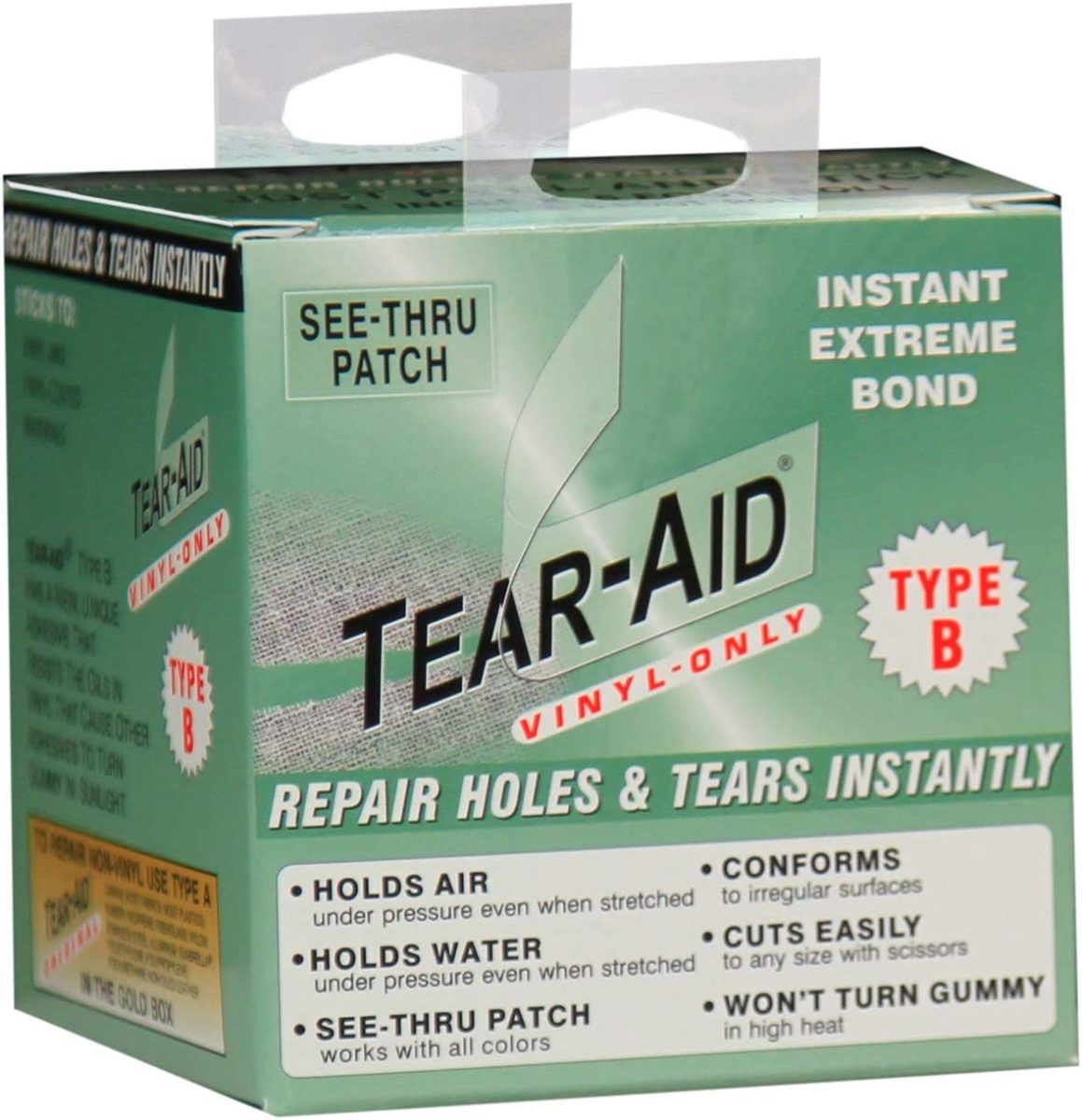 If you're using an inflatable stand-up paddleboard, keep a patch kit on hand in case there are any small leaks. Many water or sporting goods stores carry the Tear-Aid brand, making it readily accessible.
Use Type B for vinyl and vinyl coated paddleboards.
Use Type A for nearly other material types – see the box for details.
Make sure to double-check your owner's manual for manufacturer recommendations on patching the correct material.
Aluminum Locking D Carabiners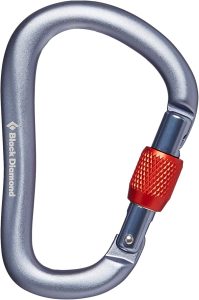 Make sure you get the kind of carabiner that locks, whether that is an auto lock or twist lock. It is a standard boating safety standard, as non-locking carabiners can attach themselves to something underwater, your PFD, or other hazards, potentially increasing the risk of drowning or ripping other things.
Aluminum is much less prone to breaking down from water contact, and the D shape offers the most flexibility for paddleboard uses. After querying around, I discovered many rafting companies prefer the Black Diamond Rocklock Screwgate Carabiner.
Black Diamond is based out of Utah, United States and manufacturers all carabiners in Taiwan.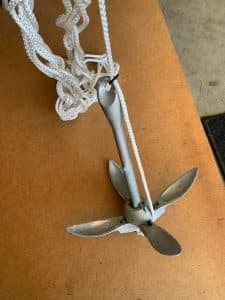 Use an anchor to remain stationary while enjoying the beauty around you. You'll need an anchor, 18 lb cable ties, rope, and a small knife.
Fellow paddlerboarder Justin Holst created a nice guide for how to use your anchor without getting it stuck, which is especially helpful in rocky areas. The knife is for a worst case scenario where you need to cut your rope.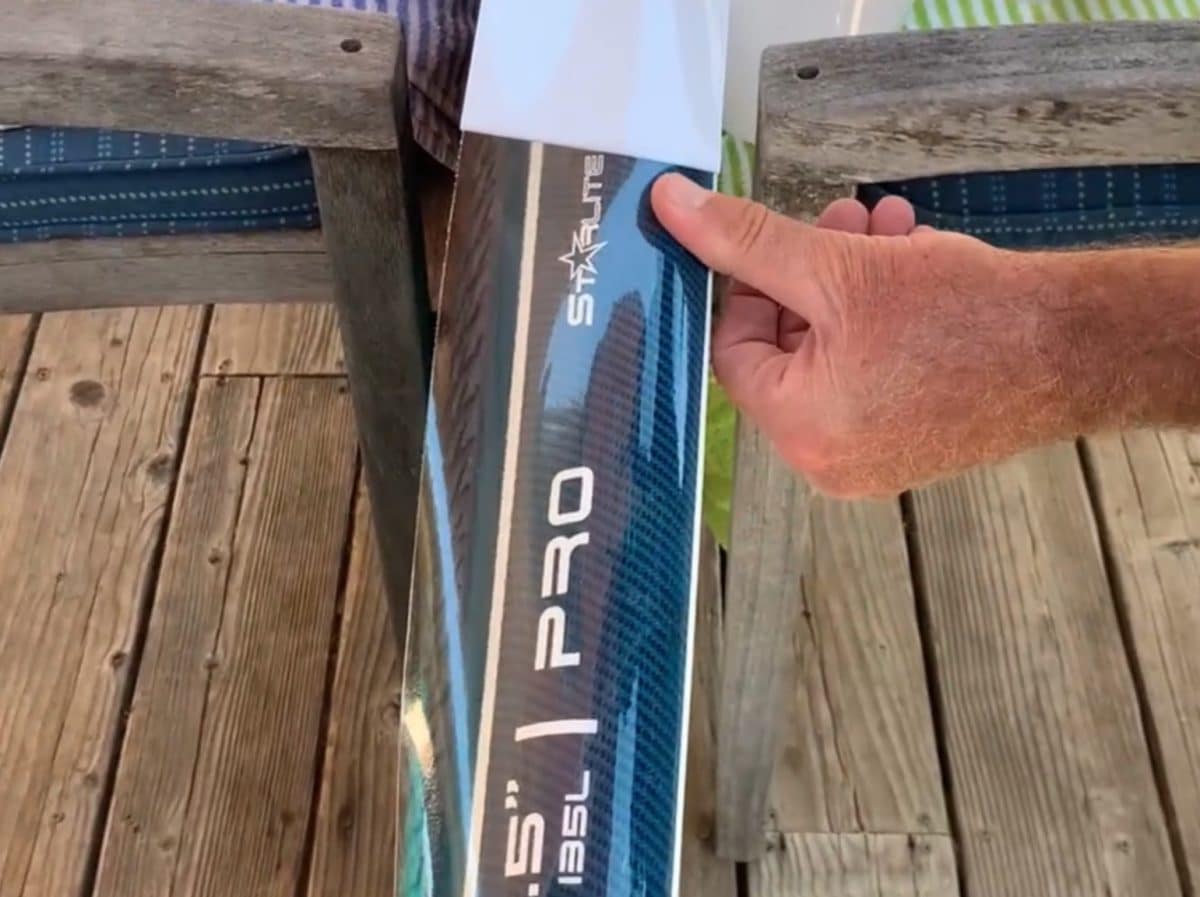 If you spent over a thousand dollars on a really nice paddleboard, you hardly want to scratch it up.
Rail savers are essentially a clear bra for the edges of your paddleboard so you can safely rest the SUP on its side or bump into rocks without damaging the sides.
You'll need to watch the video on how to install this properly.
This one is sold by the Santa Barbara Surfing Store, based out of California, United States.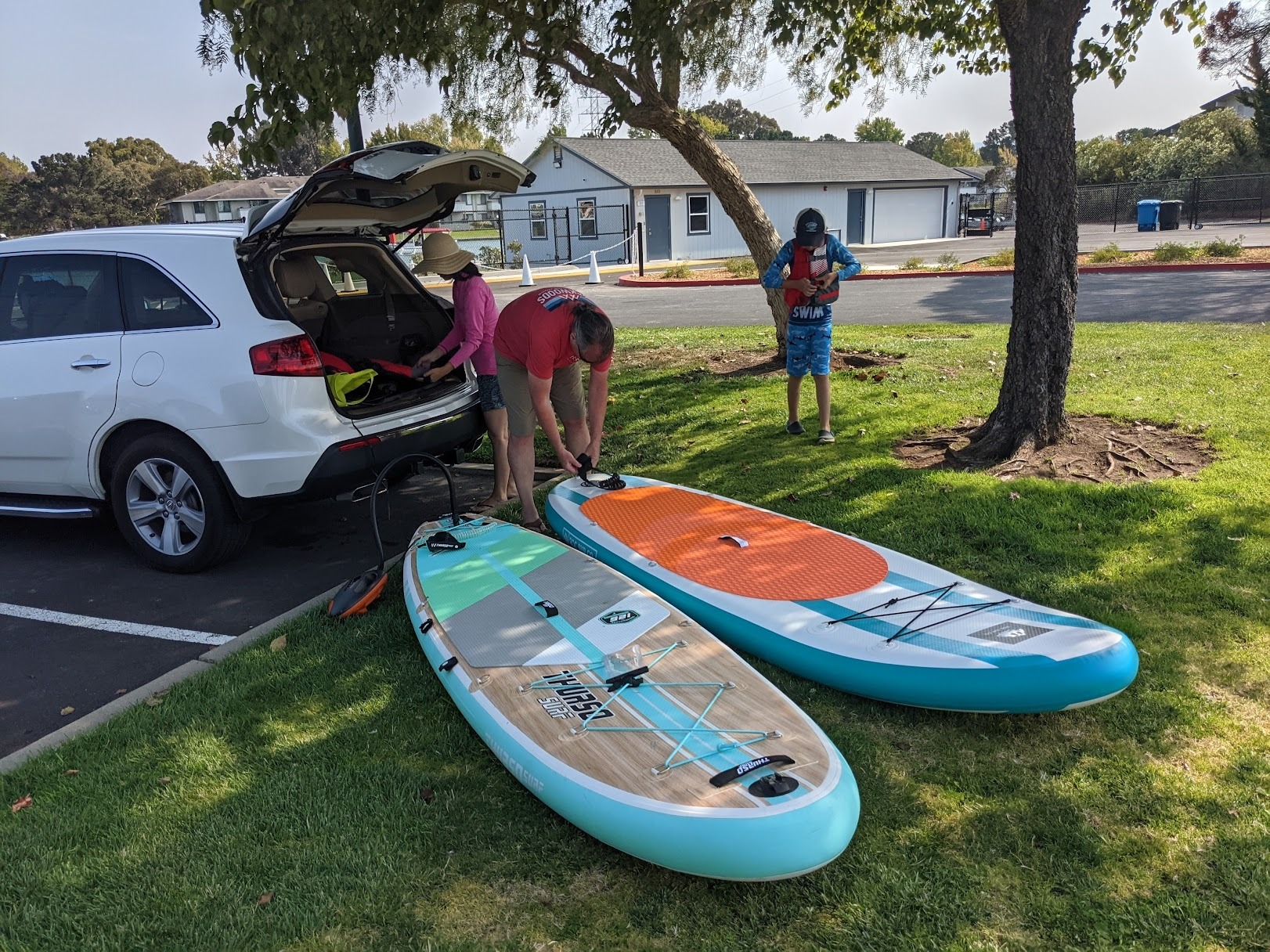 There are two electric pumps worth considering for your SUP. Both are very similar in build quality, features, and price. The deciding factor for me was which one went on sale first. But no matter which of these two pumps you choose, there is no wrong choice.
Nixy Ventus
OutdoorMaster Shark II
Each air pump supports auto shut off capabilities, dual stages, up to 20 PSI, and can pump up multiple paddleboards back to back without overheating.
The Nixy Ventus mentions supporting a battery pack, but you can use any type of portable battery pack that includes a 12V DC car plug.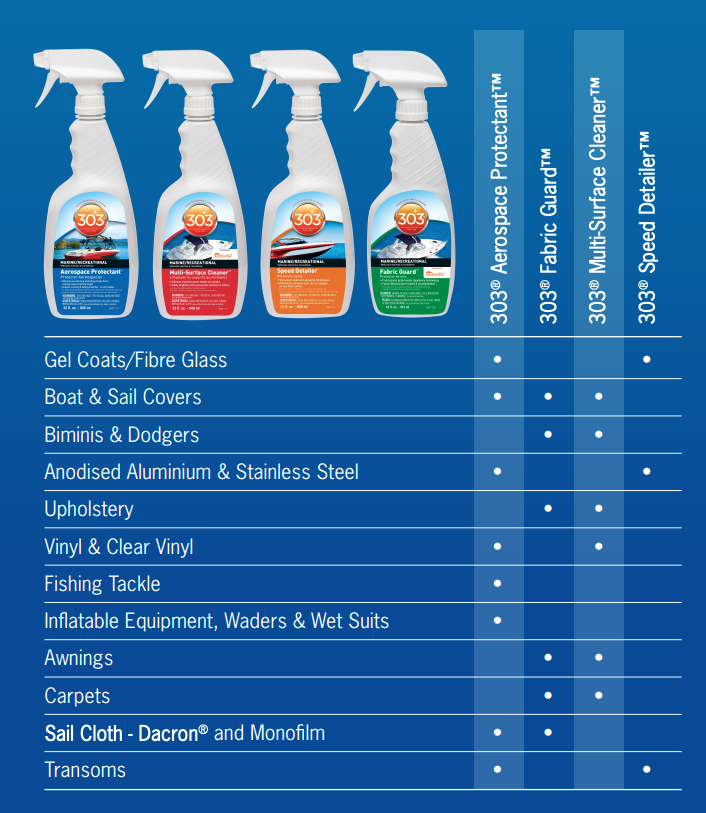 303 Aerospace Protectant is the bona fide and go to for many high-end products, from cars to boats to outdoor furniture. It adds UV protection to all sorts of vinyl and plastic.
When spending hundreds of dollars on a paddleboard, this is one product you should be using to help preserve it in good condition and looking great on the water.
I like to get a large multipack of cheap microfiber cloths just for paddleboard accessories – they get dirty fast from the paddleboard environment.
303 has multiple product lines for different materials – make sure you are using the right one accordingly and check labels.
Bonus: Get the Quick Wax too and use it on the underside of your board to glide through the water or drag your paddleboard over the beach sand and rocks easier.
This is an inflatable seat for your SUP that will attach to D-rings and allow you to sit very comfortably, while still allowing room for a kid, dog, or another adult on board. The seat has soft foam padding and an adjustable reclining angle.
Made by Bote and based out of Florida, United Sates.
The YETI Panga 50L is the most waterproof dry bag you can get.
Submersible up to a foot in water for up to 30 minutes, this dry bag is safe enough to hold my camera gear and flip the paddleboard. It is also one of the easier-to-open-and-close dry bags out there.
The material is tough enough to resist getting banged up against rocks and punctures.
It can function as a backpack or duffle, and is easily strapped to your board.
At $300, its one of the more pricey options.
Made by YETI and based out of Texas, United States with this model made in China.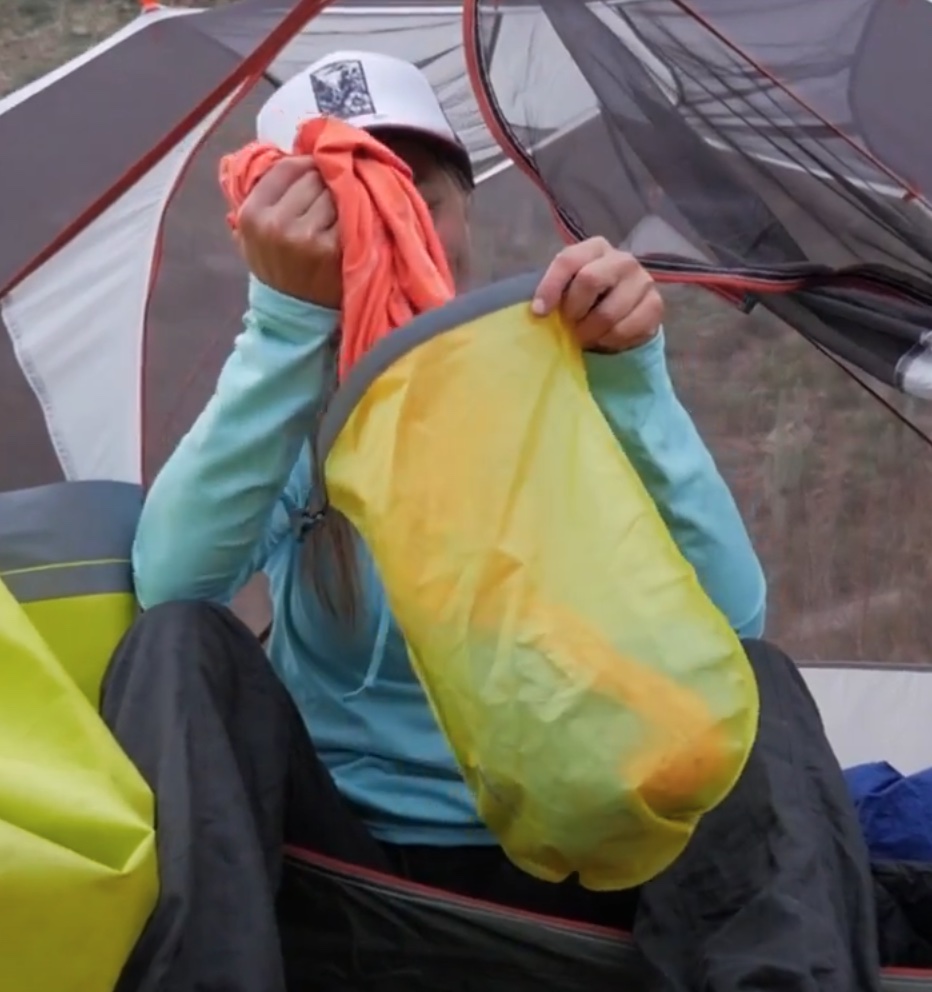 The NRS Ether HydroLock is ideal for just a basic bag to keep your stuff dry.
With a double seal in case one fails, there is also a clear urethane window allowing you to see inside.
Rated as submersible, your stuff will stay completely dry.
There aren't any straps or latch points to attach to your paddleboard, so you'll either have to be creative with the buckle or use some bungees.
Made by NRS, and based out of Idaho, United States, manufactured in Taiwan.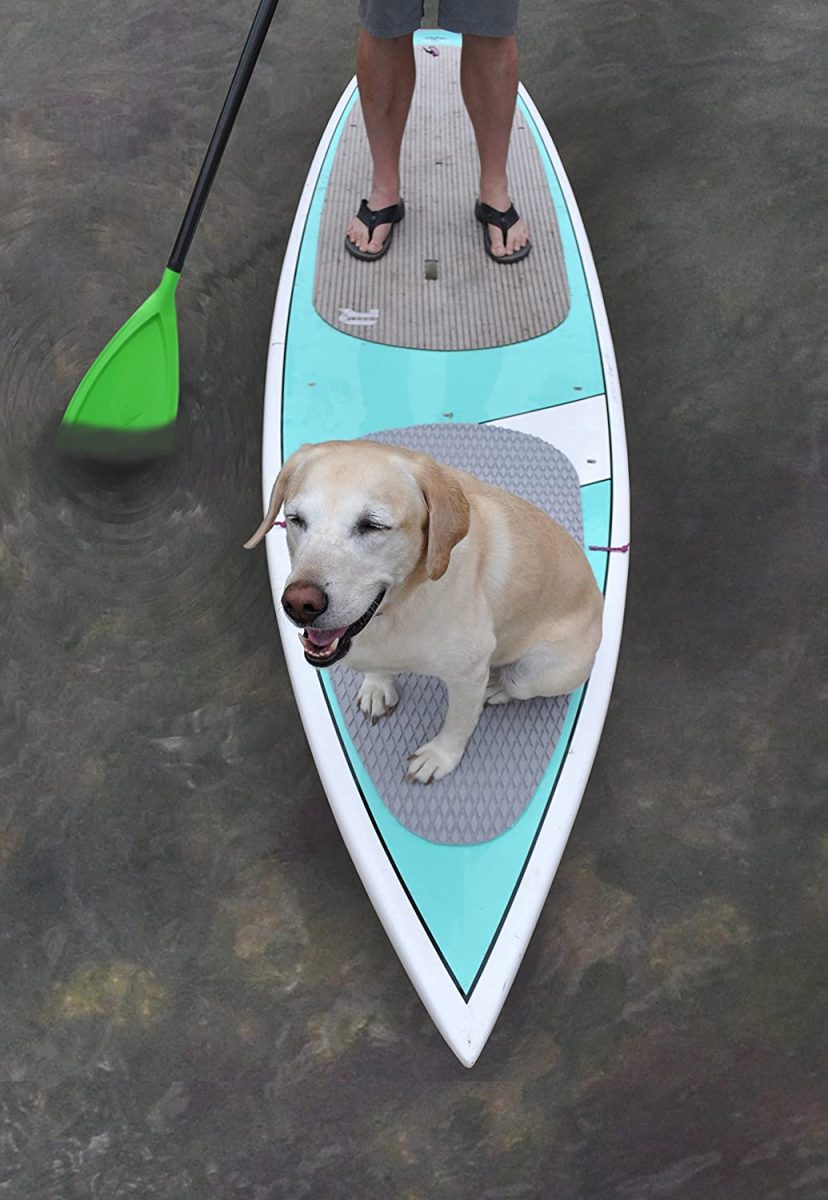 Give your dog some extra comfort while paddling with you.
This SUP pad is made out of 3M peel-n-stick EVA foam, 3mm thick.
Your dog will get its own spot with a reasonably priced and easily replaceable pad. It may be warranted because of the wear-and-tear caused by toenail scratches from your dog jumping on and off the board.
Sold by Seattle Sports, based out of Washington, United States.
Choose your paddleboard accessories for style! Whether you want to light up at night, or add some flair for tropical vibes during the day, these are some fun toys to bling out your SUP with.
The paddleboard pictured above was decorated and setup by Stephanie St.Clair Youngblood, a paddleboarder with a keen sense of style on the water in Northern California.
For anything requiring electricity, it is recommended to buy accessories with at least an IP68 rating, as that means they are submersible for short periods of time. You'll also want to make sure the battery compartment has the same water-resistant rating, too. If you have to, IP65 will work, but expect them to go bad if you flip the board.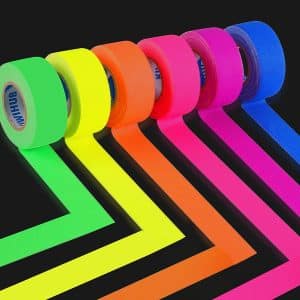 You'll want to add some extra adhesion to some of your paddleboard accessories to make sure they don't fall off, and gaffers tape is a great way to go.
You can get the tape in white, black, a color to match your SUP, or get these pictured, which are neon and UV reactive.
The GloFin is a lighted fin that attaches to your paddleboard. While it will set you back around $200, there is nothing else like it on the market.
Fits these paddle boards: Screw in style attachment -OR- slide in style, with the purchase of adapter.
1600 Lumens
Battery approx: 70 min on Medium / 40 min on High / 2 Hours on Low
Lithium ion rechargeable battery
Micro-USB charging port 5 VDC
Waterproof, drop proof, aluminum body construction
The slide in adapter is meant for inflatable paddleboards and is about $50.
Made by Esca Surf and based out of Florida, United States with all products assembled and made in the USA.
Battery Powered LED Rope Lights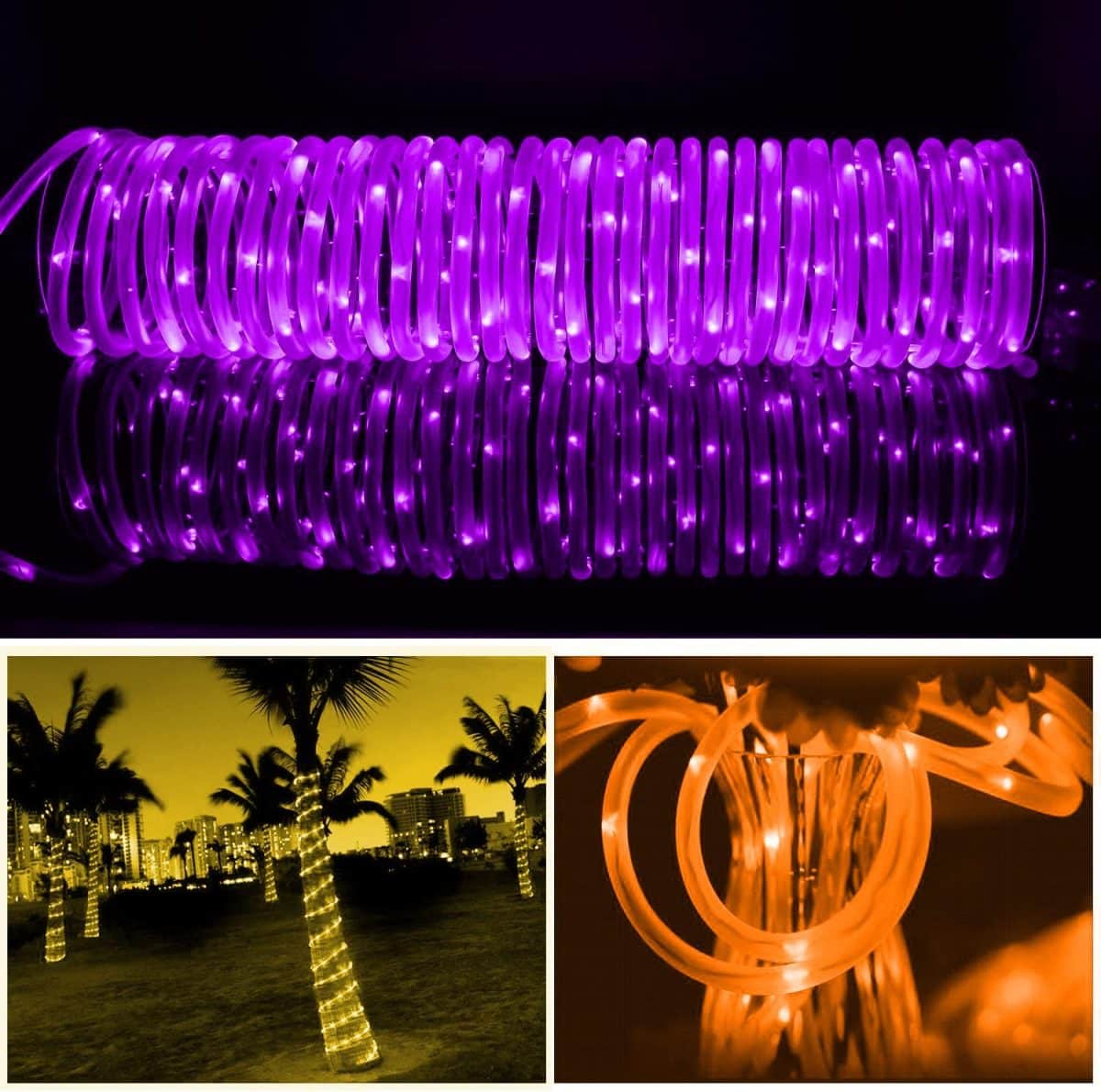 These lights are IP68 rated with a protected USB charging port and waterproof battery case. 33 feet long with 16 colors should be enough to light up your entire paddleboard!
Have your eyes on some other paddleboard accessories? What have you found that works really well on your paddleboard adventures? Leave a comment and let me know.
Ready for paddleboarding adventures?
Lake Clementine
Located on the North Fork of the American River in the Auburn State Recreation Area, Lake Clementine is one of the most beautifully serene spots I've paddled at throughout Northern California. Great for paddboarding, kayaking, hiking, boating, and swimming. Have fun for the day or make it an unforgettable camping trip, and discover why this is truly one of California's hidden gems.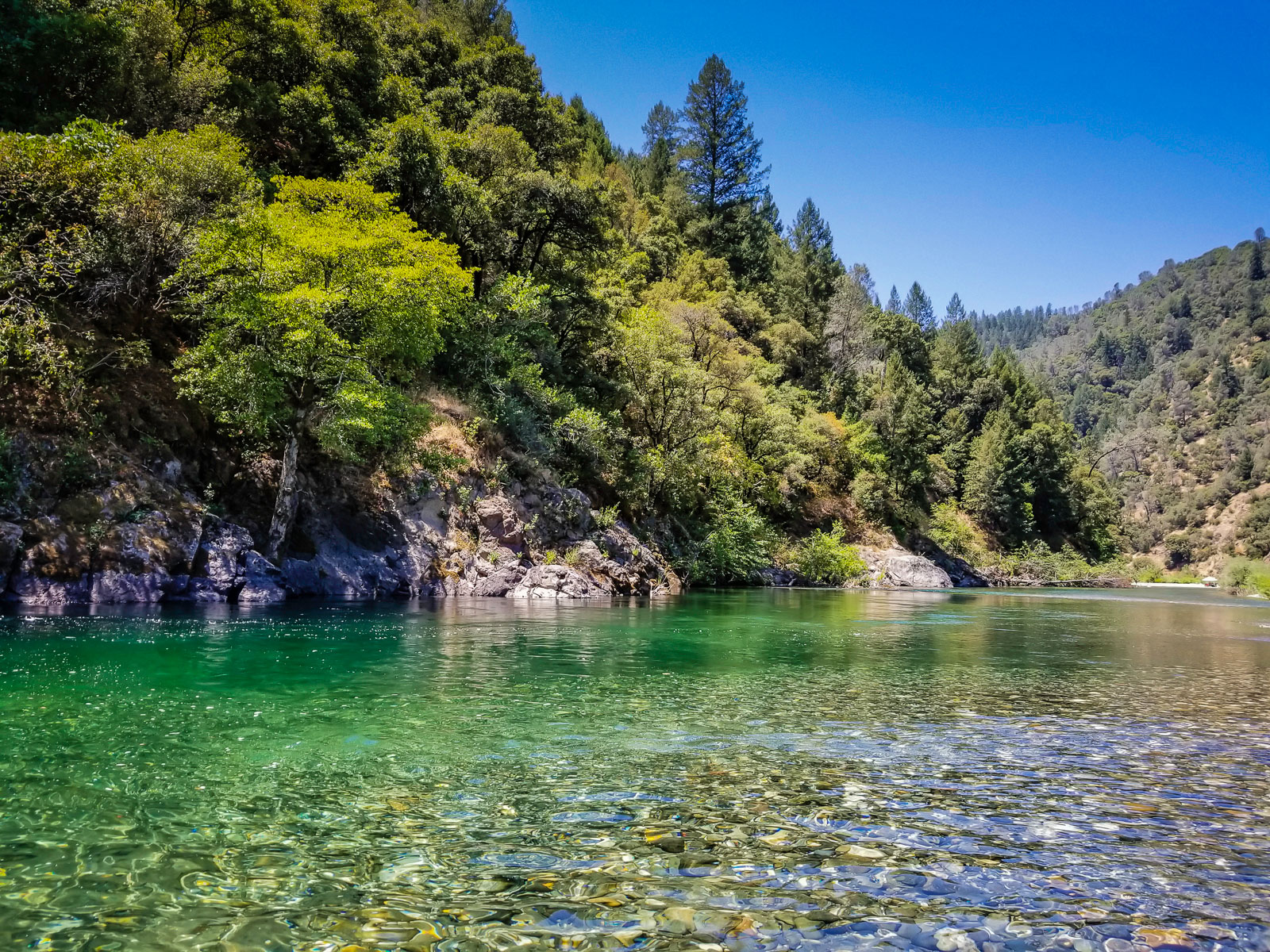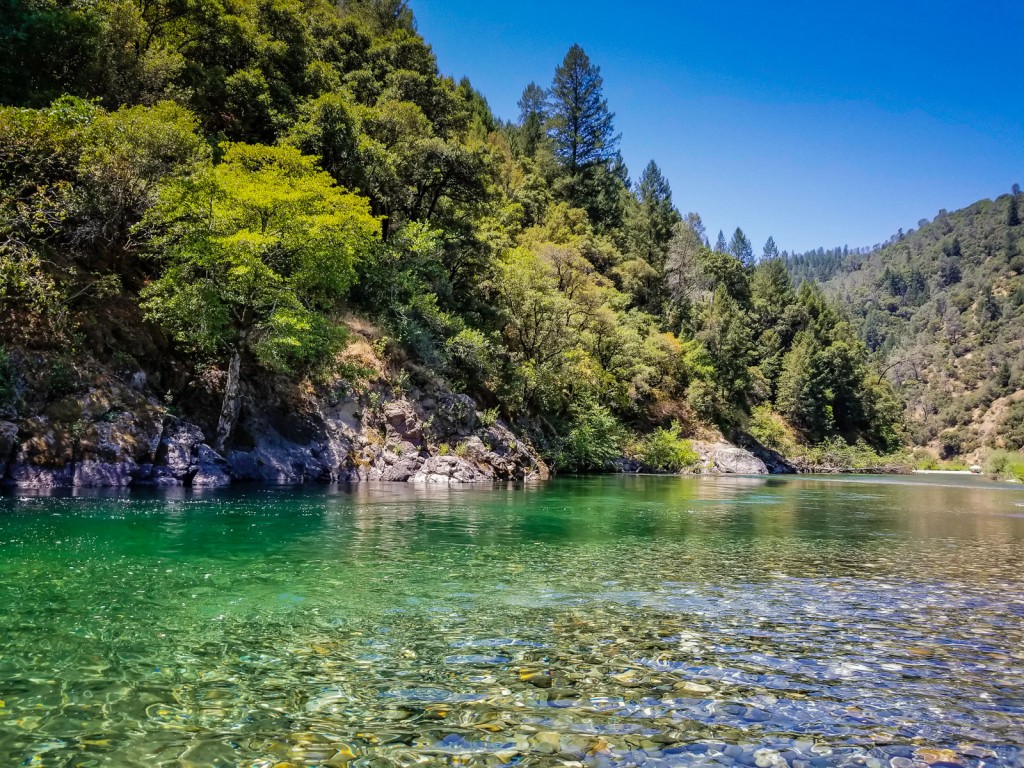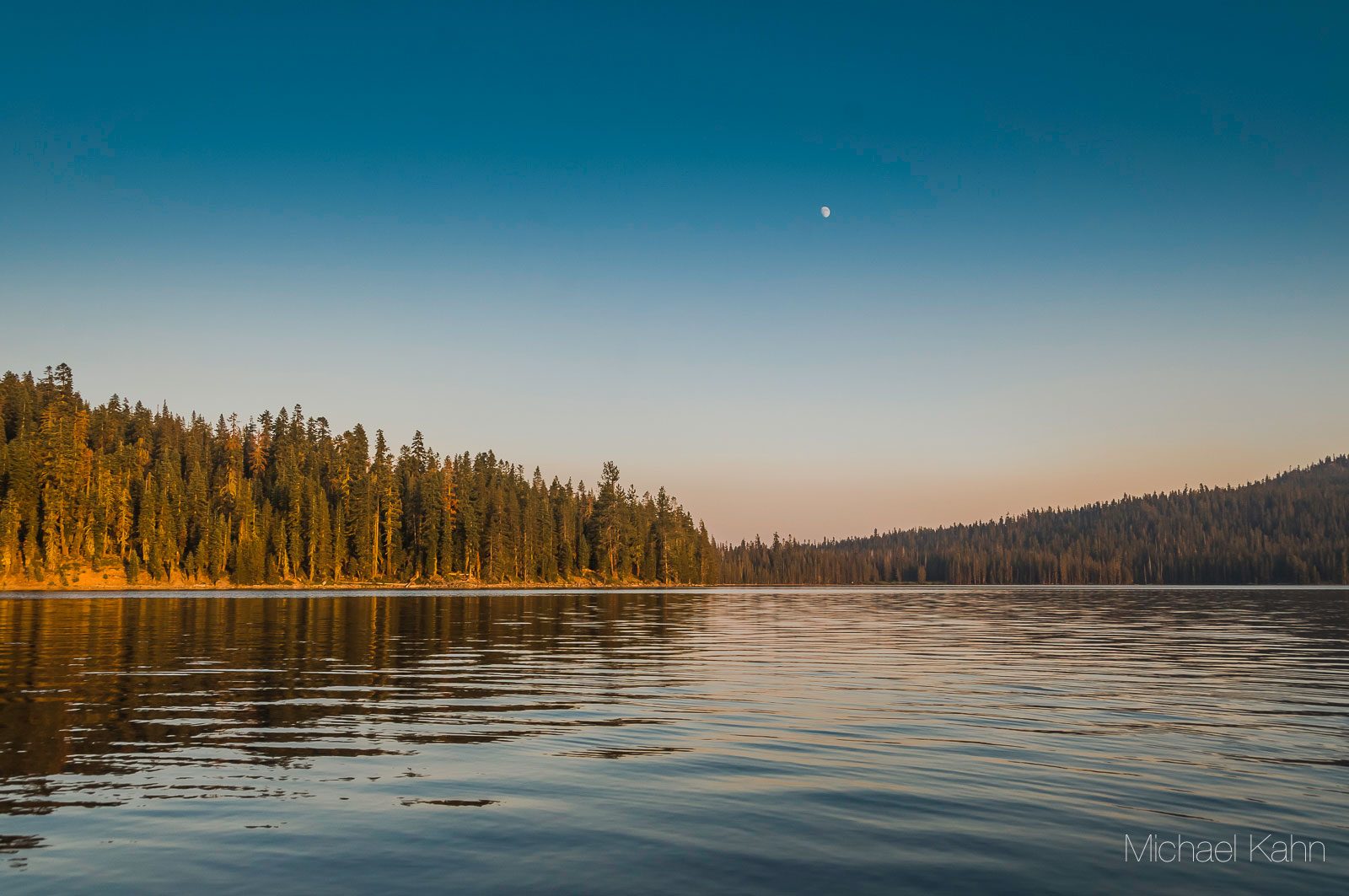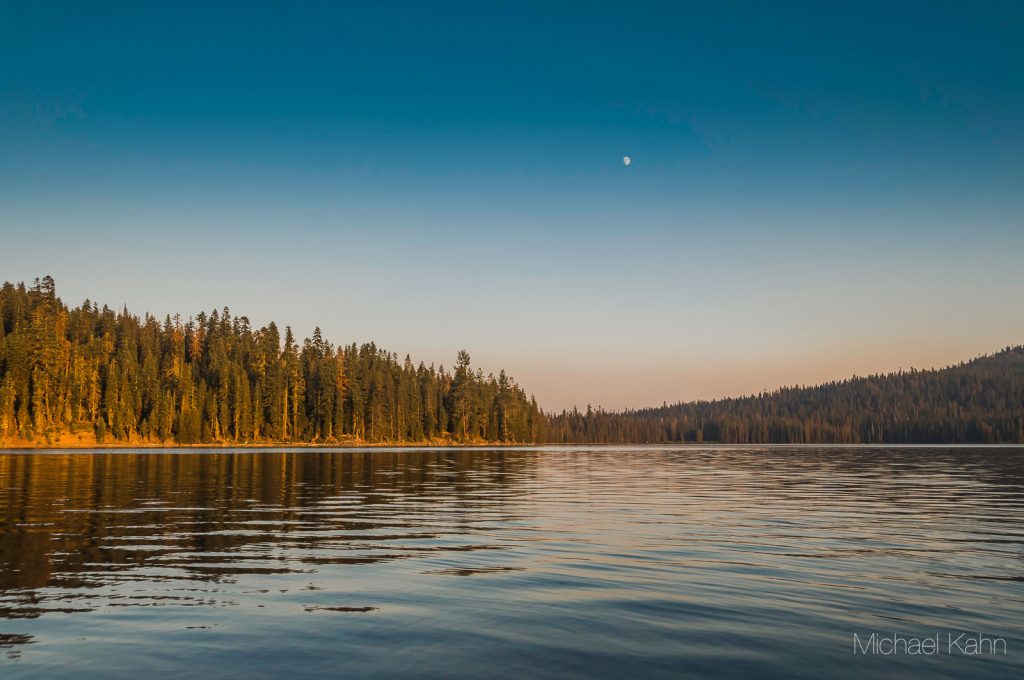 Juniper Lake
Located in Lassen Volcanic National Park, Juniper Lake is one of those picturesque mountain lakes renowned for its clarity and brilliant green and blue colors. This lake sits at 6,800 feet in elevation and is nestled in a small valley which protects it from the stronger winds. This area is great for those who love to explore, paddle, and camp along a peaceful mountain lake.
About the Author
Latest Posts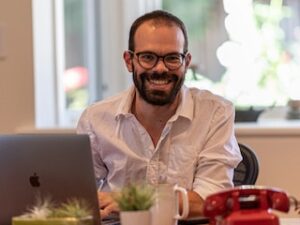 I strive to paint vivid landscapes with my words, bringing the magic of far-off lands and enchanting aromas to life for my readers. Combine passion for exploration and the art of gastronomy in an unending ode to the senses. When I'm not traversing the globe, I find solace in the earth beneath my fingertips, tending to my garden and working on projects around my verdant oasis. MK Library serves as a beacon, guiding fellow travelers and homebodies alike to embrace sustainability, nurturing both our planet and our souls with purpose. Full Bio.