If you are familiar with the mountain lakes in the Sierra Mountains of California, you'll know they are renowned for their clarity and brilliant green and blue colors. Located in Lassen Volcanic National Park, Juniper Lake is one of those picturesque mountain lakes. This lake sits at 6,800 feet in elevation and is nestled in a small valley which protects it from the stronger winds. This area is great for those who love to explore, kayak and tent camp along a peaceful mountain lake.

A message from the National Park Service:
Please Recreate Responsibly to help prevent the spread of COVID-19. A few key actions you can take to reduce risk to yourself and others:
Wear a mask when speaking to staff and when you cannot maintain a 6-foot distance from others (e.g. shared restrooms).
Maintain 6 feet of distance between yourself and others.
Carry hand sanitizer and use it often. Sinks are available only in the Kohm Yah-mah-nee Visitor Center and Loomis Plaza restrooms and in some campgrounds.
Juniper Lake Campground
Although it requires a hairy drive out to a remote area with very limited parking spots, I'd say this exclusive campground is well worth the effort. The primitive tent camps are situated right along the shore with beautiful views of the lake and Mt. Harkness in the distance. This tranquil spot is the perfect place to disconnect from social media and spend the weekend swimming, hiking and kayaking.
Getting There, Hours, and Parking
Juniper Lake is generally open from July through October, weather permitting. Access is 24/7 on open days. The campground is first-come, first-served and limited to 18 sites with a max of 6 people and 3 tents per site. These campsites are $12/night and checkout time is at 12 p.m.
There are also two group campground sites that can hold 10-15 people. These sites are $32/night and must be reserved ahead of time here. There is plenty of wildlife in the area, including bears, so be sure to store all food in the campground food lockers. There is no potable water available in the campground, so make sure you bring all the water and supplies you may need.
The lake is located about 12 miles from the town of Chester. The 12-mile drive is mostly over a dirt road which only allows a speed of 15 mph, but you will find the drive much more comfortable at 5-10mph. It took about an hour for this 12 mile drive. There is no reception once you leave town, so Offline Maps is recommended. The drive over rough dirt road is not suitable for buses, motor homes, nor trailers.
Entry is dependent on the National Park system, which is $20 for a vehicle. If you have a NPS annual pass or similar, your entry is free. There is no attendant on duty, so make sure to bring exact change or a check for the envelope. A ranger will be by at multiple points to check your entry status and payment.
View the official NPS page on the campsites here.
Campground Office: (530) 595-6121
Campsites: 18
Location: Juniper Lake, Lassen Volcanic National Park, East Entrance via Chester (Google Maps Directions)
Parking: $20 (National Park fee). $12 per campsite.
Distance: 4.7 miles (total kayaking potential around lake perimeter)
Difficulty: Easy
Dogs: Not allowed
2021 Open Dates: July – September.
Kayaking Juniper Lake
The first time I discovered Juniper Lake last year, I didn't have my kayaks with me. I was seeking a unique and quiet place to camp. I immediately fell in love with the area and its relative exclusivity and knew I had to return. This time, I came prepared with an adventurous friend, kayaks and plenty of fun snacks and beverages.
We made sure our only plans were to have no plans…
Scoring the last available spot to camp over an impromptu trip at the beginning of Labor Day weekend, we hastily got ourselves situated and read to launch. Being a first-come, first-served area, we made sure our only plans were to have no plans and wing everything. Flying by the seat of our kayaks, we successfully setup a picnic and stretch session. The kayaks were loaded with aluminum cans of beer and some snack foods. I have a personal rule against bringing glass to places like this in case of breakage.
Video: Floating on Juniper Lake
It was about an hour before sunset, which was the perfect amount of time to tool around the lake. Watching deer run around and listening to the waves lapping at the rocky edge made for a very serene environment. Despite a full campground, the lake's size allowed for many a quiet spot.
The water was crystal clear and it was easy to see the very bottom. Kayaking out some hundred feet and beyond into the lake, the bottom remained fairly visible, but the colors turned into a brilliant sapphire blue. I imagine depending on the day and the sky, parts of the lake turn emerald green. This lake is quite the hidden gem!
We paddled to the center of the lake and watched the sun disappear behind the trees. During the last moments of dusk, we paddled back to the campsite and began to make dinner. We lucked out with our camp site. We were close to the water's edge and were able to sit within feet of the water while having dinner.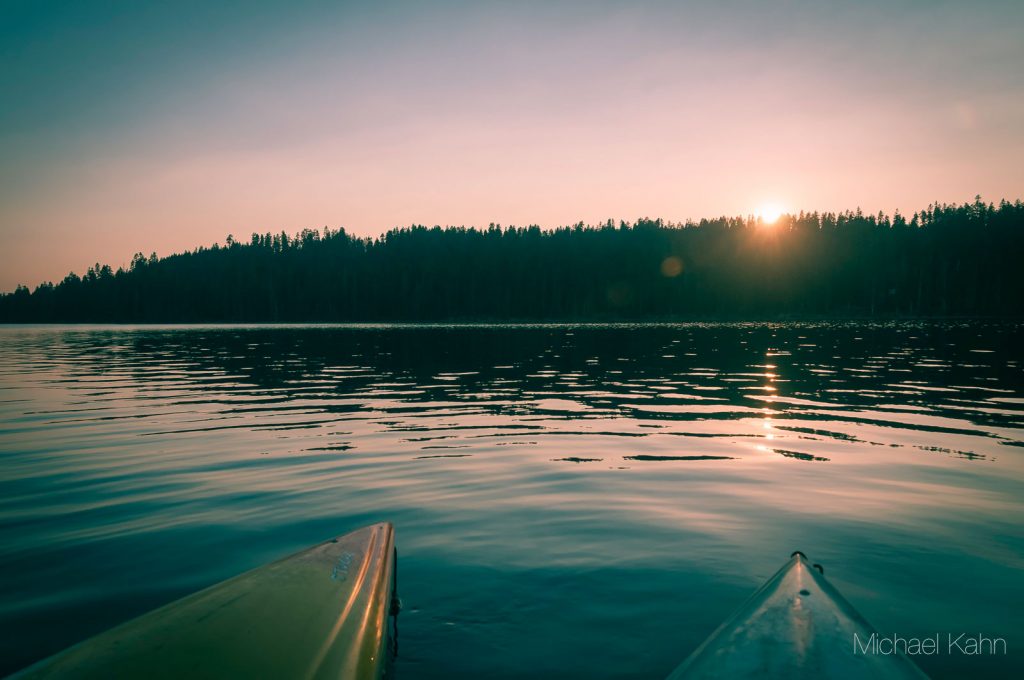 Time flew by and before we knew it, the moon was low in the sky and stars, unobstructed by city lights, lit up the night sky. There was only one thing to do on such a majestic night. Night kayaking! Flashlights weren't necessary. The only we grabbed was some water and beer before we set out on our night time adventure.
There are not too many places where I would feel comfortable night kayaking, but Juniper Lake felt incredibly safe. There are no motorized boats, and the lake is small enough to not worry about getting lost or stuck somewhere.
Floating in the lake under the night's sky and being able to see the moonlit bottom was one of the best experiences of my life. The only way I could have made the night better was if I had brought a giant floating mattress and slept on the lake. Oh well, there's always next time!
Sleeping so close the water as a light sleeper, I was constantly woken up by deer hoofing around and stepping into the water. At one point, one of the deer was grazing mere feet from my face. It didn't seem too pleased when I suddenly sat upright to get a better look.
Come morning, minutes before sunrise, the lake was absolutely still. Soft and mellow orange hues filled the sky. Smoke from nearby campfires gently wafted into the crisp morning air, and the lake was exceptionally peaceful because the other campers had yet to stir. This was another golden opportunity to kayak and take in the sunrise.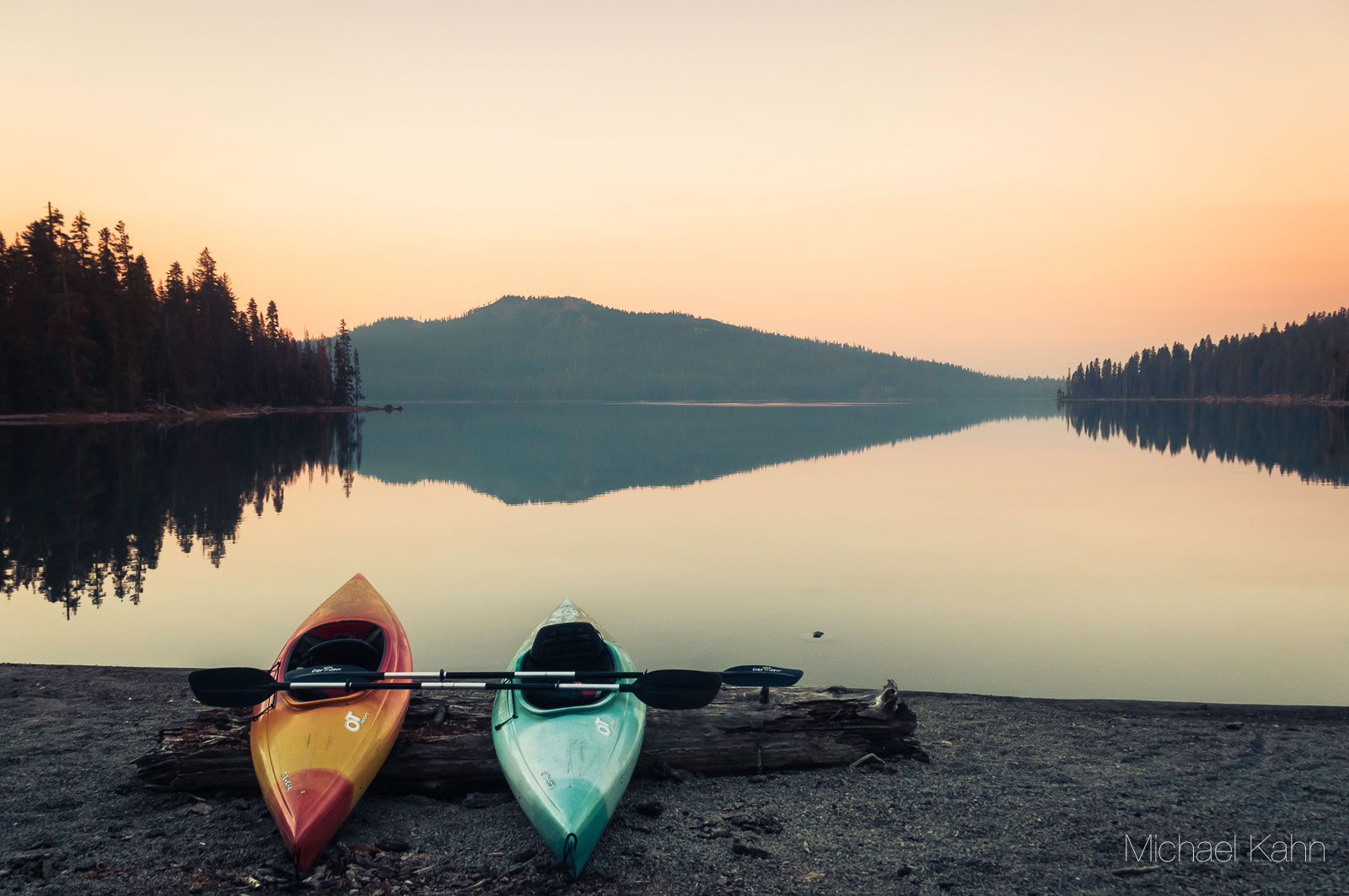 With multiple kayaking sessions from sunrise to sunset, we were exhausted but incredibly fulfilled. We spent our day floating, paddling and stopping at spots around the lake to jump on rocks and admire the scenery. In my humble opinion, Juniper Lake may just be one of the best lakes to kayak on in Northern California.
Hiking Around the Lake
Juniper Lake Loop Trail
This peaceful trail meanders along a beautiful creek and is good for all skill levels. Head in the direction of Snag Lake if you would like to tackle the slope first. The trail comes close to Horseshoe Lake, which you can reach if you walk a little off the trail.
Start: Parking area on the north side of the Juniper Lake Ranger Station on the road into the campground.

Round Trip Distance: 6.8 miles

Elevation gain: 1,131 ft
Mount Harkness Trail
This awesome 5.7-mile loop trail meanders though forest and open woodland to an active fire lookout that's been in operation since its construction in 1930. The lookout is usually manned during the summer months.
On the hike, you will traverse an ancient shield volcano, walk through red fir trees and likely see plenty of lupines. Once you reach the second meadow, you will be rewarded with views of Lassen Peak. At 1.7 miles, you will have the option of taking the trail to Warner Valley or the Juniper Lake outlet on the right. Take a left to continue to the peak of Harkness.You will climb a cinder cone volcano that formed on top of the shield volcano, and then continue along the edge of the cinder cone crater to the base of the lookout. On the peak, you will find panoramic views, which span as far as Nevada and Three Sisters in Oregon. The gorgeous view makes it well worth the steep climb.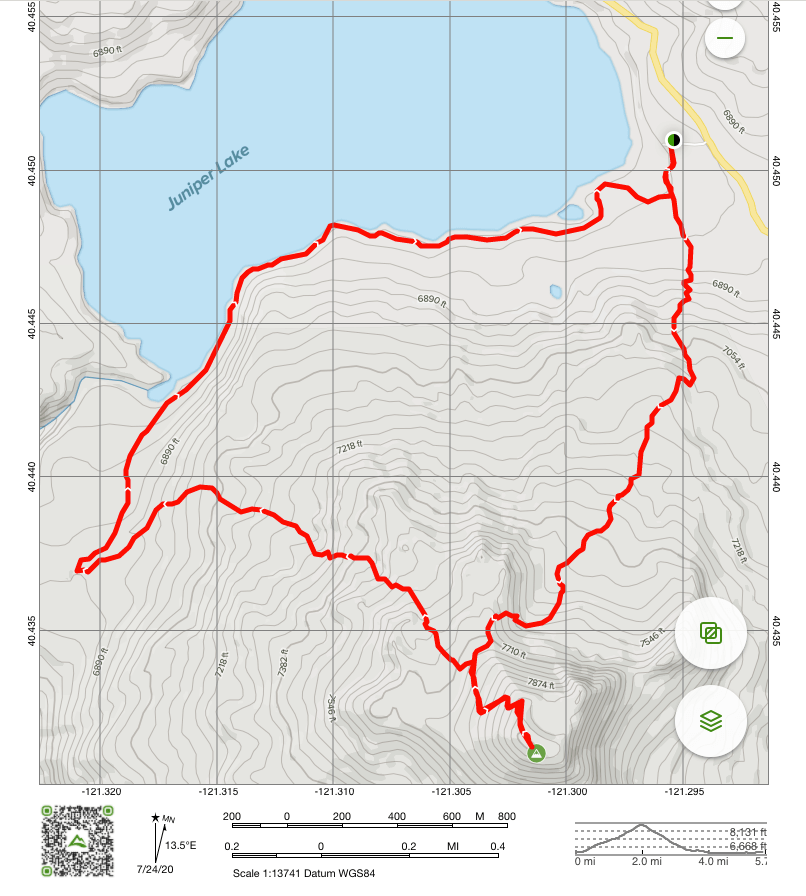 Parking: Located on the north side of the Juniper Lake Ranger Station. Follow the road to the campground to the sign for Mount Harkness Trail parking. Walk the road into the campground and bear left to the trailhead.

Round Trip Distance: 5.7 miles

Difficulty: Moderate

Elevation gain: 1,335 ft ft
Gear: Lake Kayak | Life Jacket Type III | Sunscreen | UPF Protectant Hat | Adventure Medical Kit (Watertight) | Osprey Talon 22 Daypack | Waterproof Dry Bag
Save this pin for your next adventure!
About the Author
Latest Posts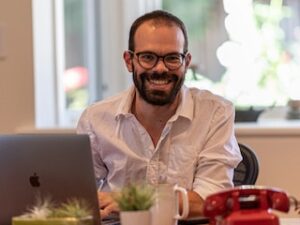 I strive to paint vivid landscapes with my words, bringing the magic of far-off lands and enchanting aromas to life for my readers. Combine passion for exploration and the art of gastronomy in an unending ode to the senses. When I'm not traversing the globe, I find solace in the earth beneath my fingertips, tending to my garden and working on projects around my verdant oasis. MK Library serves as a beacon, guiding fellow travelers and homebodies alike to embrace sustainability, nurturing both our planet and our souls with purpose. Full Bio.