Lake Clementine is one of the most beautiful, serene lakes in Northern California. Located on the North Fork of the American River in the Auburn State Recreation Area, this stunning destination is split into two sections: Upper and Lower Lake Clementine. Whether you're an avid paddleboarder or kayaker, or prefer hiking, boating, or swimming, indulge in a day trip of fun and adventure. One of California's hidden gems, discover the charm of Lake Clementine for summer outdoor activities.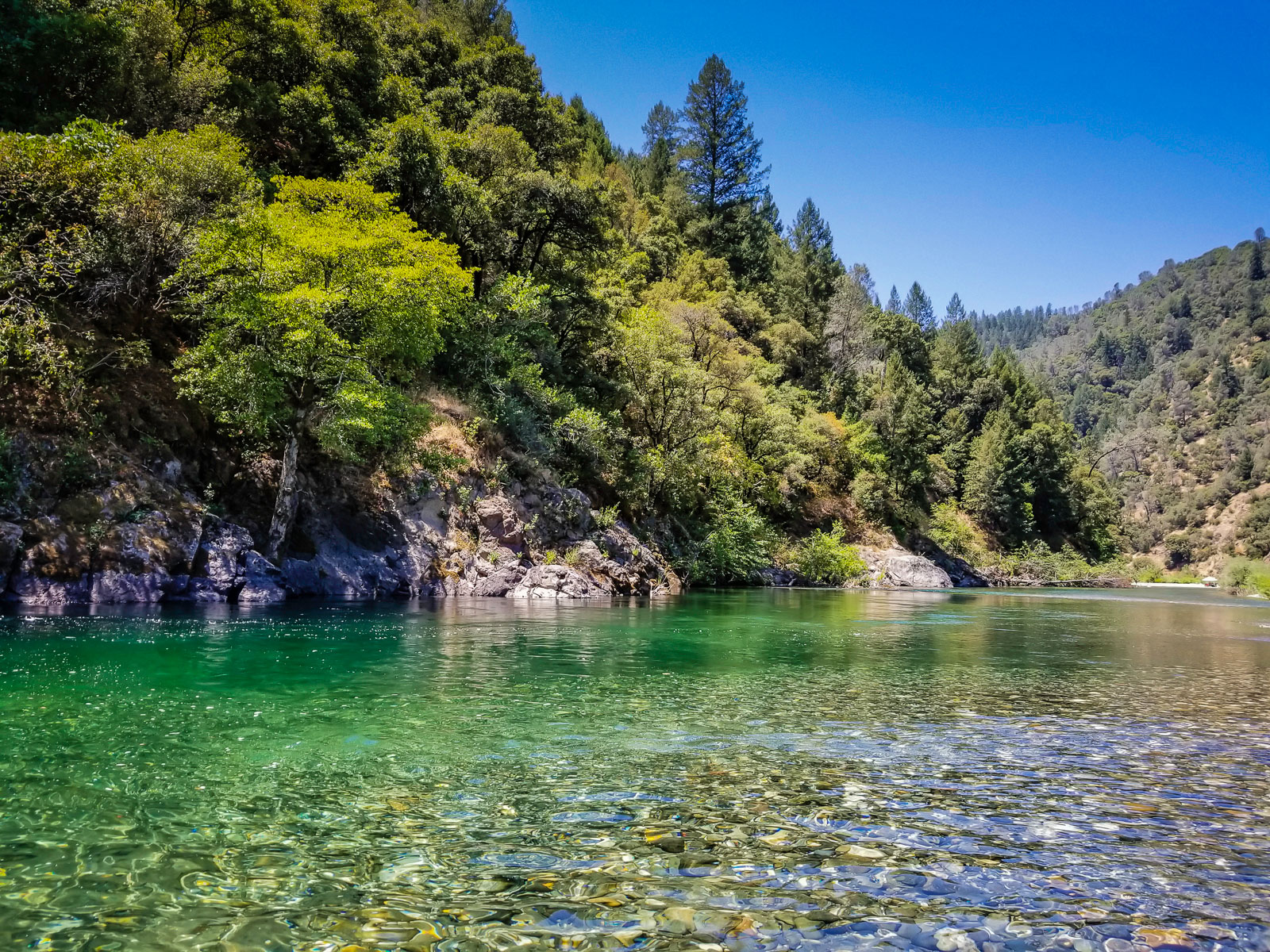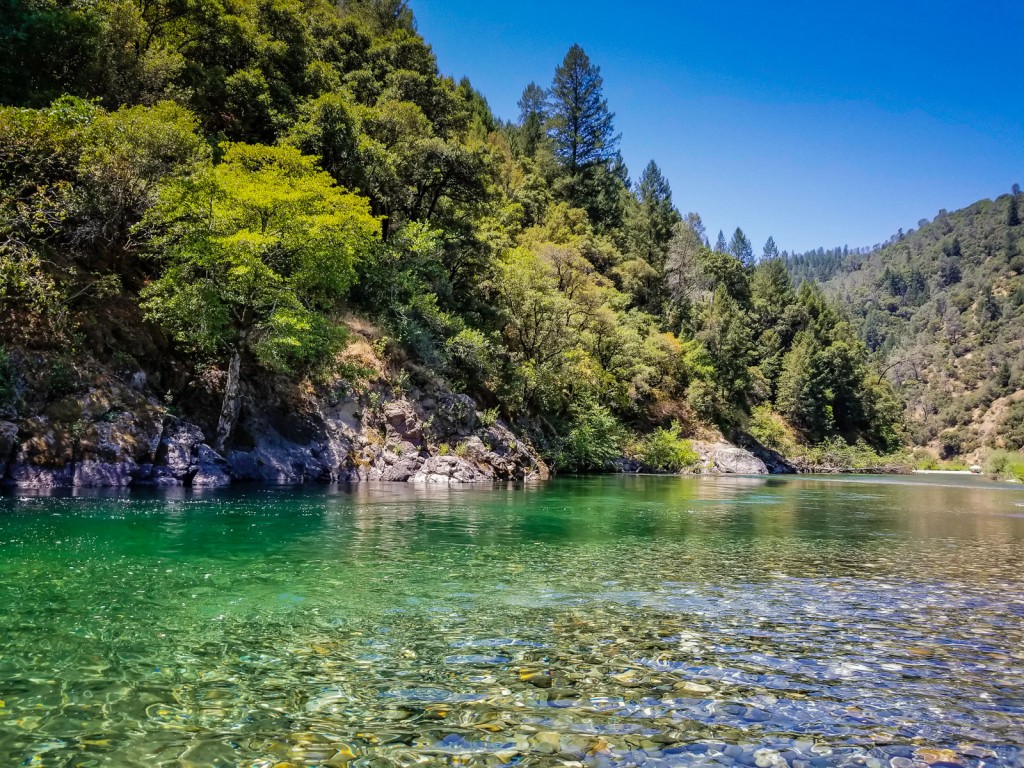 Upper Lake Clementine
Quiet, secluded, and only open seasonally, this spot is perfect for a quick getaway. With the hot summer in full swing, I've been exploring different locations to take my lake kayaks and explore nature from the water. The water around Upper Lake Clementine is absolutely stunning, but the water this year is ice cold from the snow melt in the Sierras.
Upper Lake Clementine is the place to be if you want to lounge in the river amongst floatation devices, paddleboarders, families, and the occasional kayaking blogger. Ahem. Motorized boats are NOT allowed on this day use only section of the lake/river.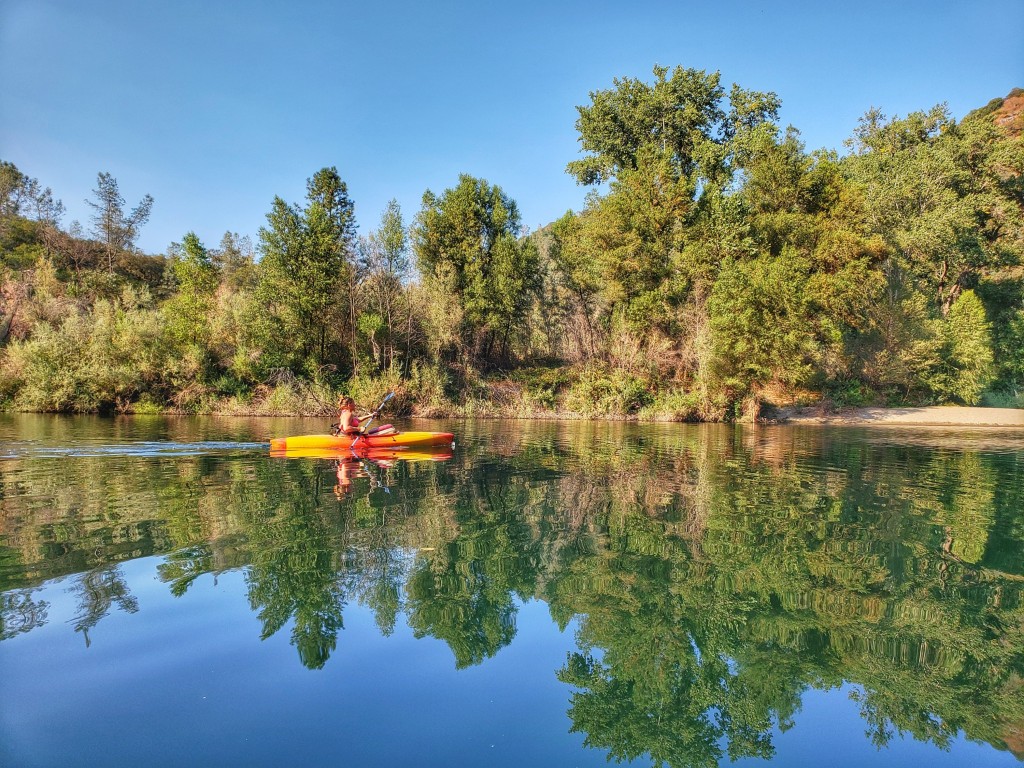 The main beach stretches along the parking lot and slightly beyond, with plenty of room for popup tents and coolers while keeping a decent-sized buffer from neighbors. The American River moves very slowly in this area, stopped by the Lake Clementine Spillway dam. However, there are a few areas near bends where water moves swiftly and in eddies. I kayaked over one of the eddies for fun and was surprised by how strong it ended up being in such slow-moving water.
2023 River Swimming Warning from the Parks Department:
The rivers in Auburn SRA are running fast and cold with spring runoff. We strongly discourage visitors from swimming this time of year. Please see the Superintendent's Message regarding water safety and drowning prevention here.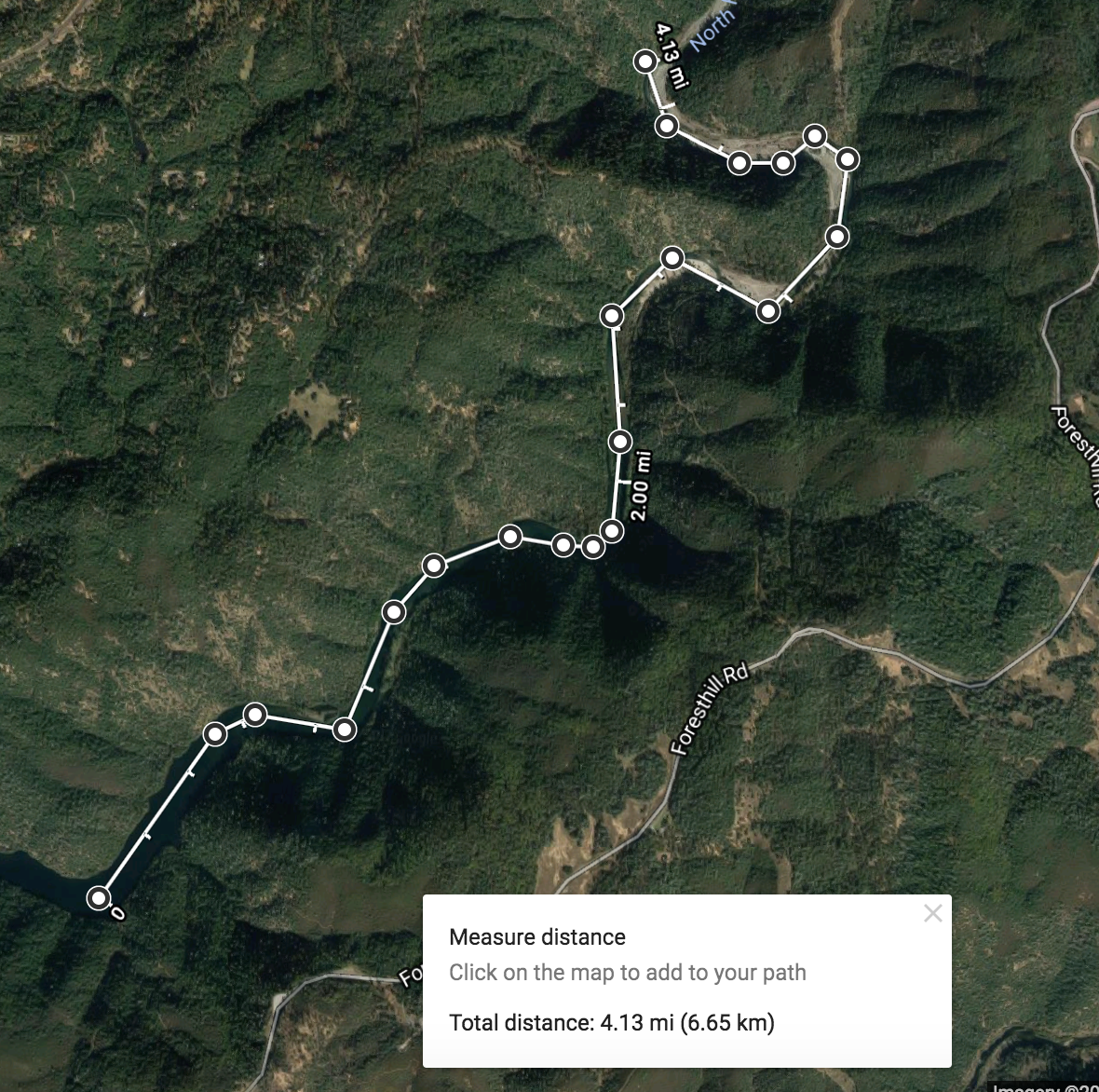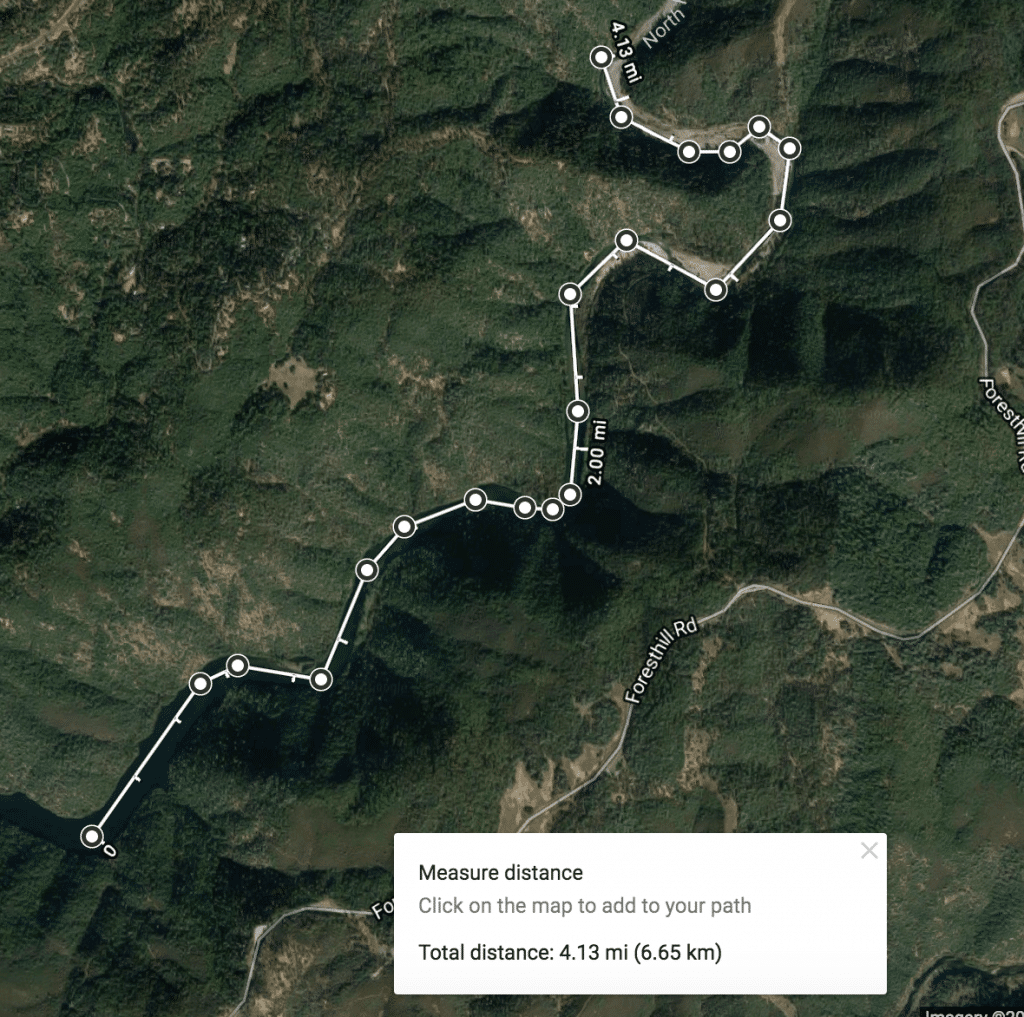 It was a lot of fun kayaking upriver. Paddling fast to move through currents, occasionally getting out and walking the kayak, and nearly dumping myself from fooling around. The effort was worth finding a big open beach area with few people. For the return, I took it easy, slowly drifting down and watching people jump off rocks and families lounge in the shallows.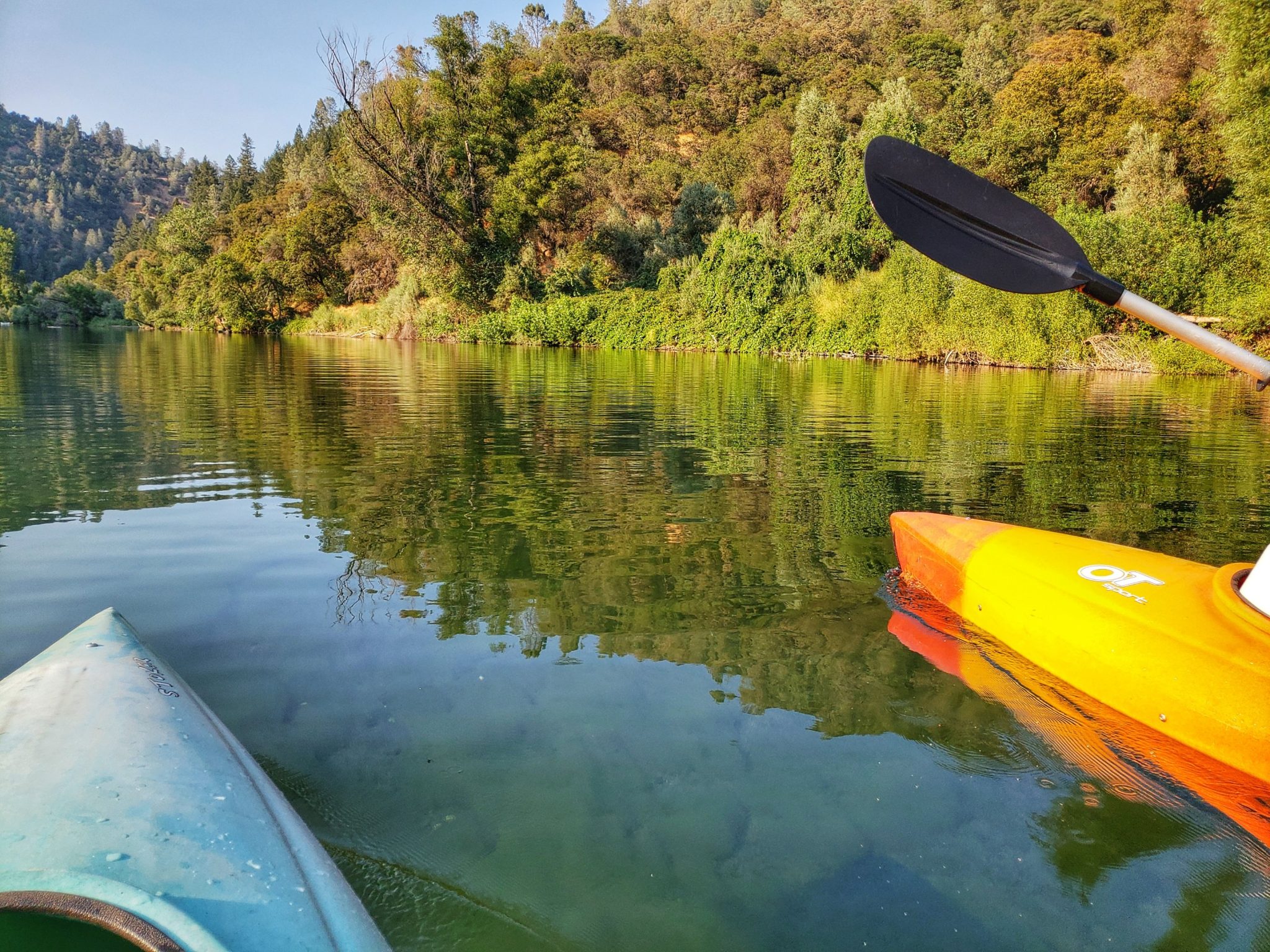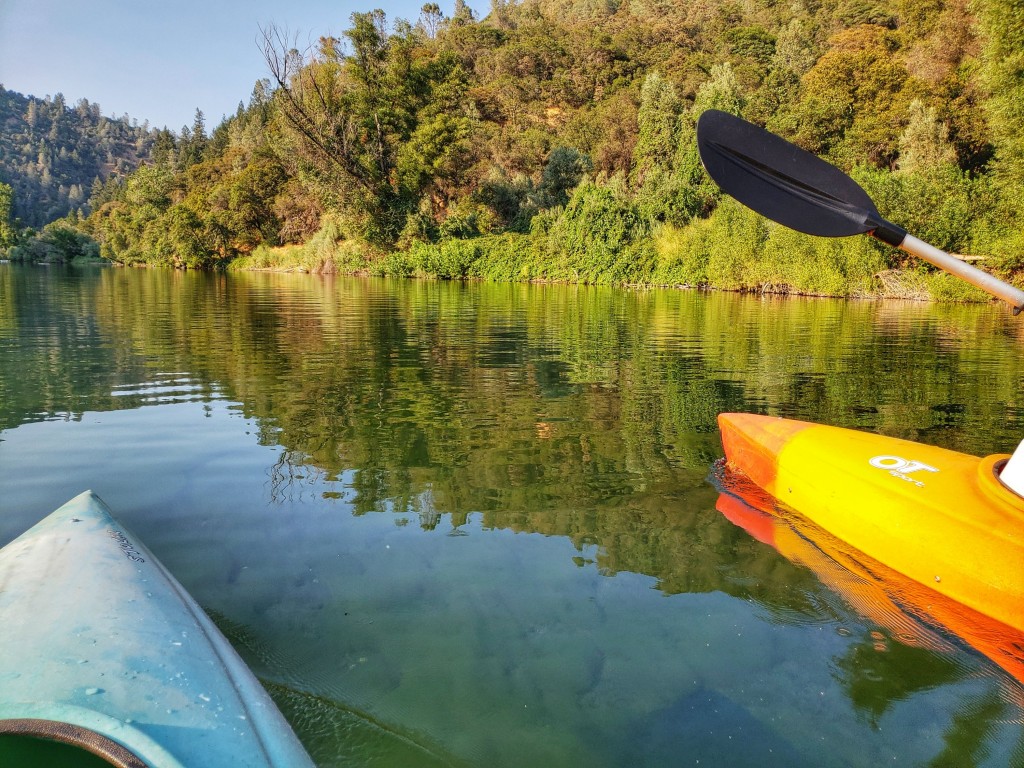 The water at the parking lot side is very shallow and warm – perfect for younger kids or sitting with a chair in the water. Across the river are a ton of rocks people were jumping off into the deeper water.
If you kayak or walk downriver from the main beach, there are plenty of somewhat secluded areas big enough for one group to set up and enjoy. We ended up tying our kayaks to a tree branch about 20 feet into the river.
Kayaking upriver from the launch point is a bit trickier. The river runs a little faster, and requires getting out and walking the kayaks in some of the shallow spots.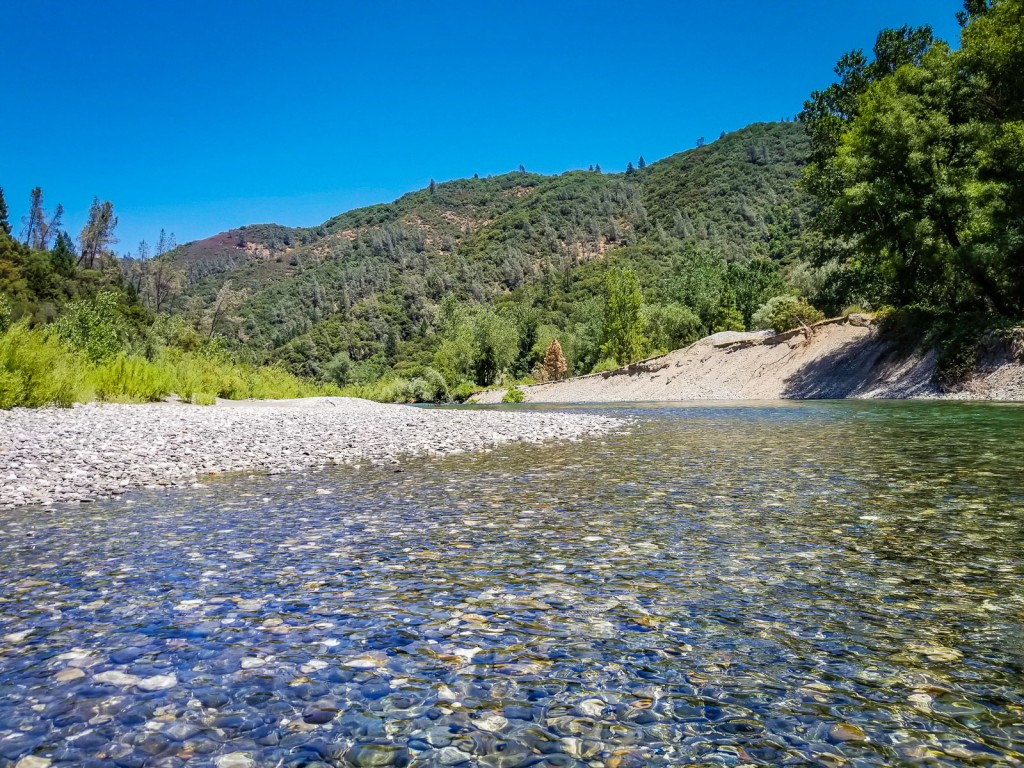 There are plenty of neat beaches to pull up to and lounge away from the many more people closer to the parking lot.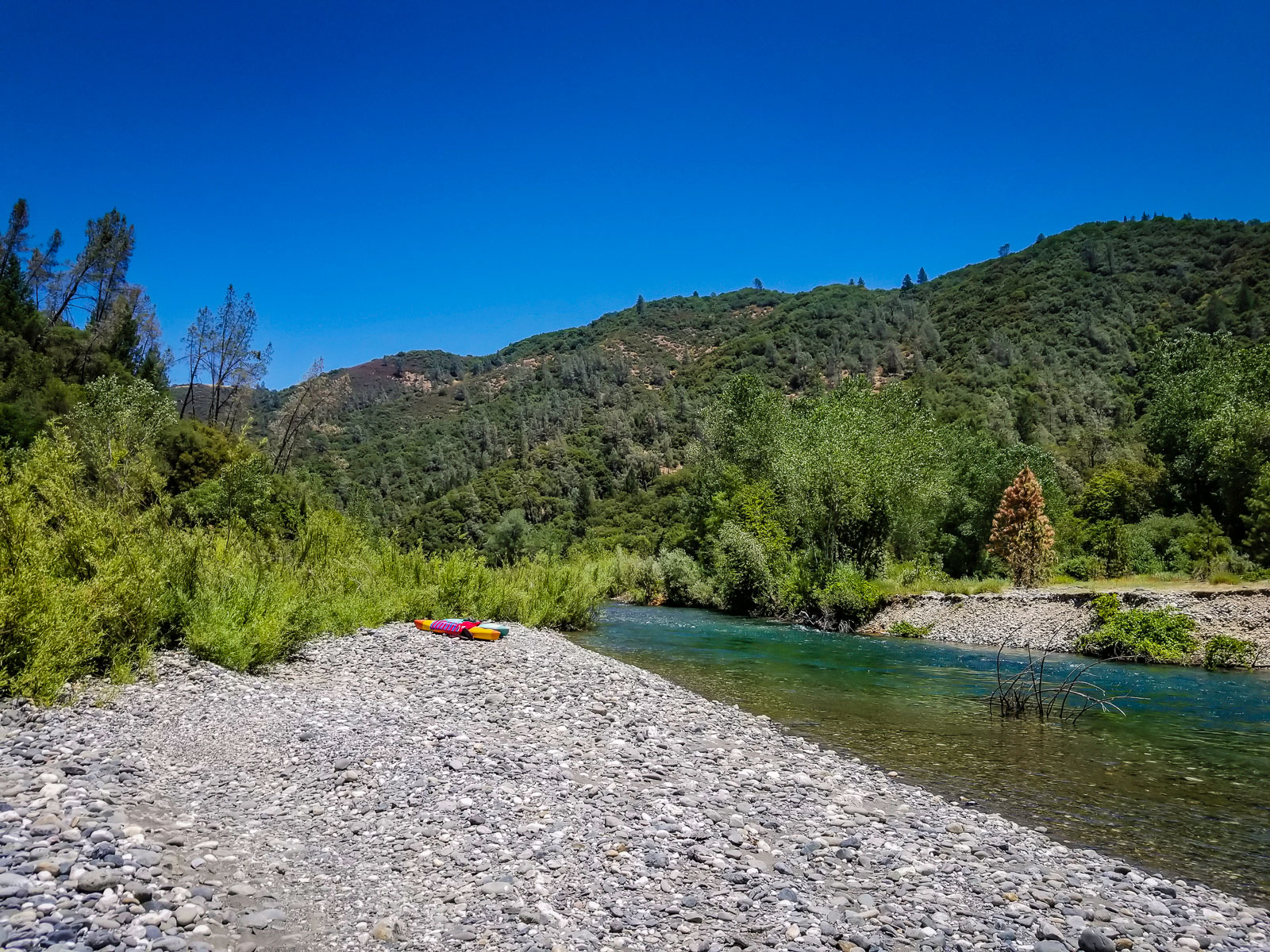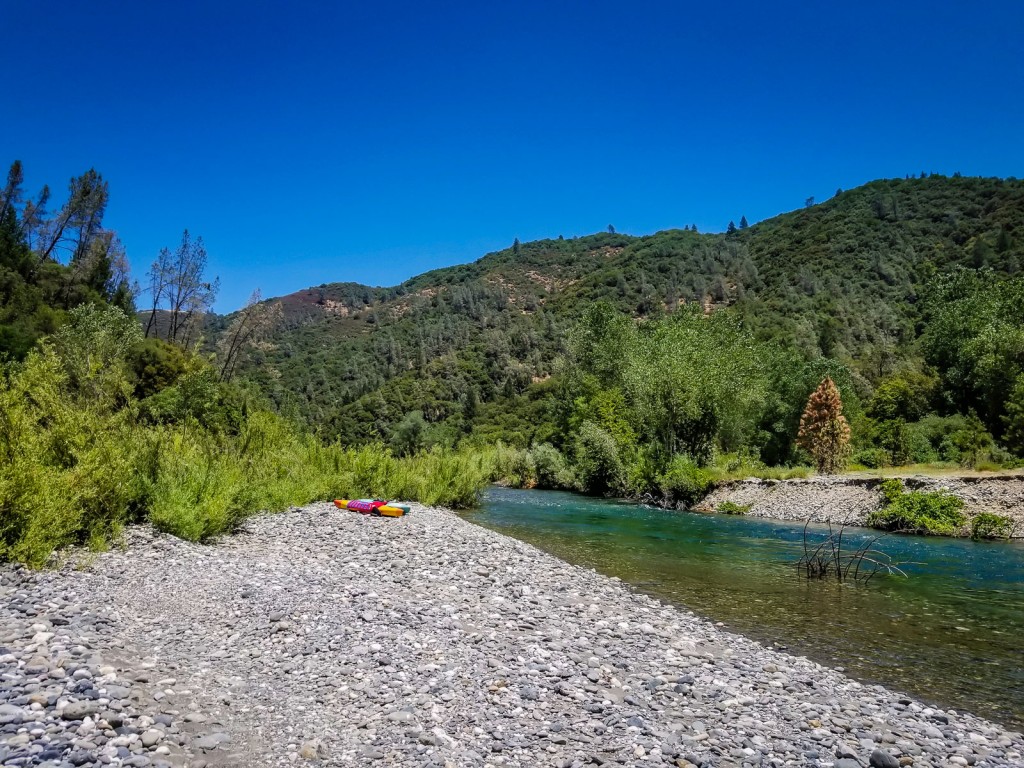 Someone set up a really awesome rope swing into a big deep swimming pool.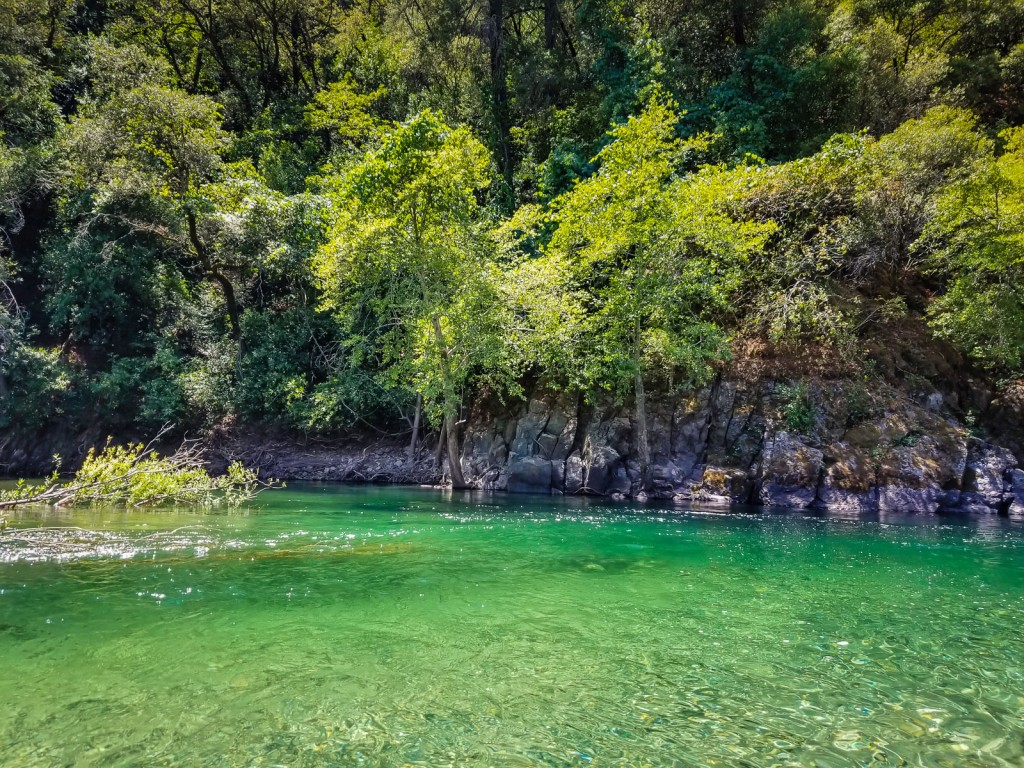 With around 4 miles of kayaking potential in nice and easy slow-moving waters, Upper Lake Clementine has made my list of awesome kayaking spots in Northern California. Plenty of shade, wildlife, and clean water. Now if you'll excuse me, there is a rope swing with my name on it. Cowabunga!
Lower Lake Clementine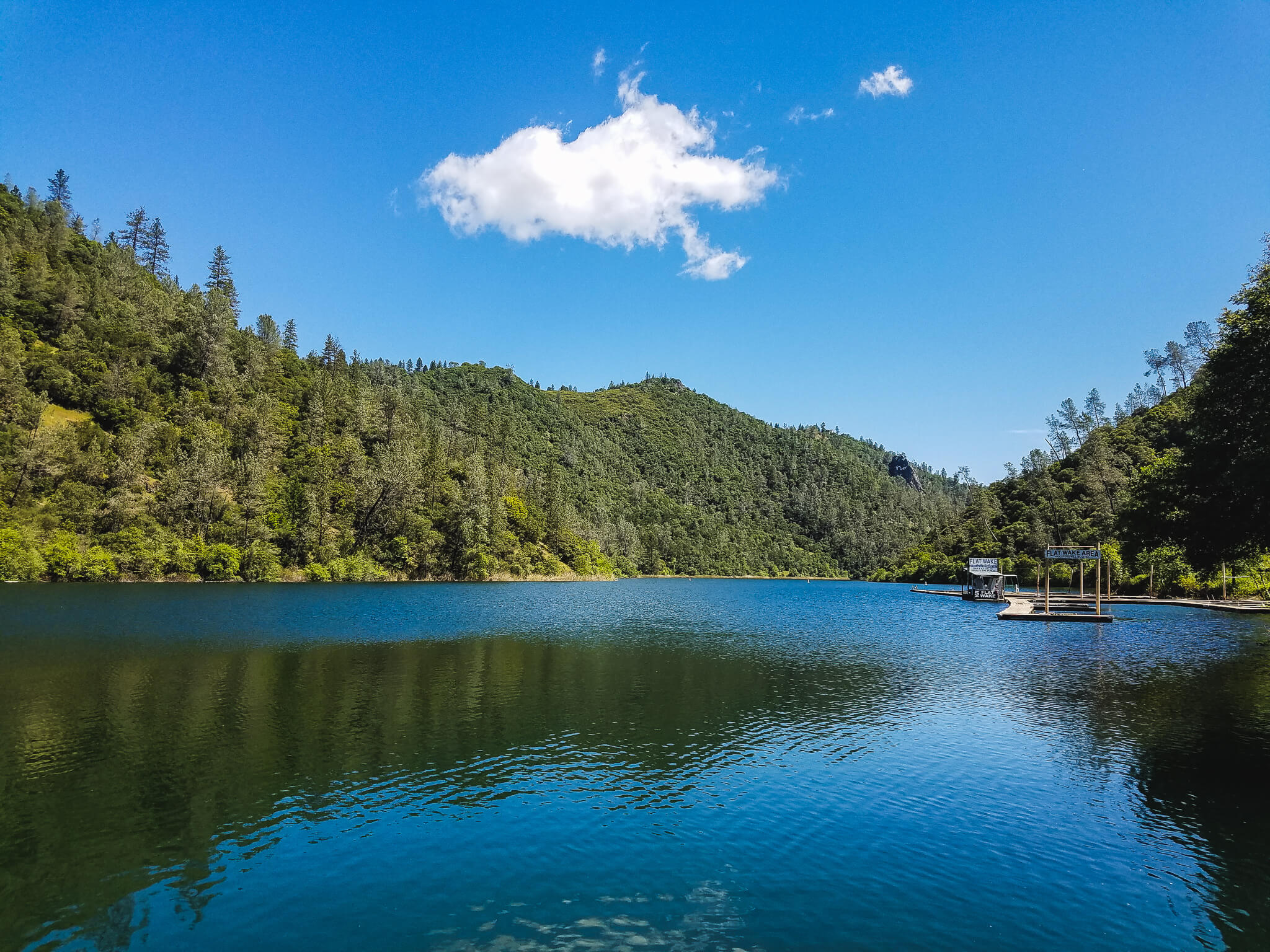 *Open for the season
Lower Lake Clementine is the actual lake portion of the American River and is the only side that allows for boat access and boat-in camping. The water is often very calm, which makes for some great water skiing or wakeboarding. It's easy to spend hours on the water here!
Note: As of 2022, Wake Surfing is no longer allowed due to large wakes causing damage to the shoreline and marina. Intertubing is also not allowed.
While there are plenty of beach spots to relax for the day, most of the beaches are reserved for camping and will be marked with a sign.
Keep your eyes peeled for the infamous Robber's Roost in the middle of the lake, a giant rock outcropping that is pretty hard to miss. This outcropping has an intriguing history of stagecoach "stick-ups" from the Gold Rush days. Would you expect anything less on a lake named after a miner's daughter?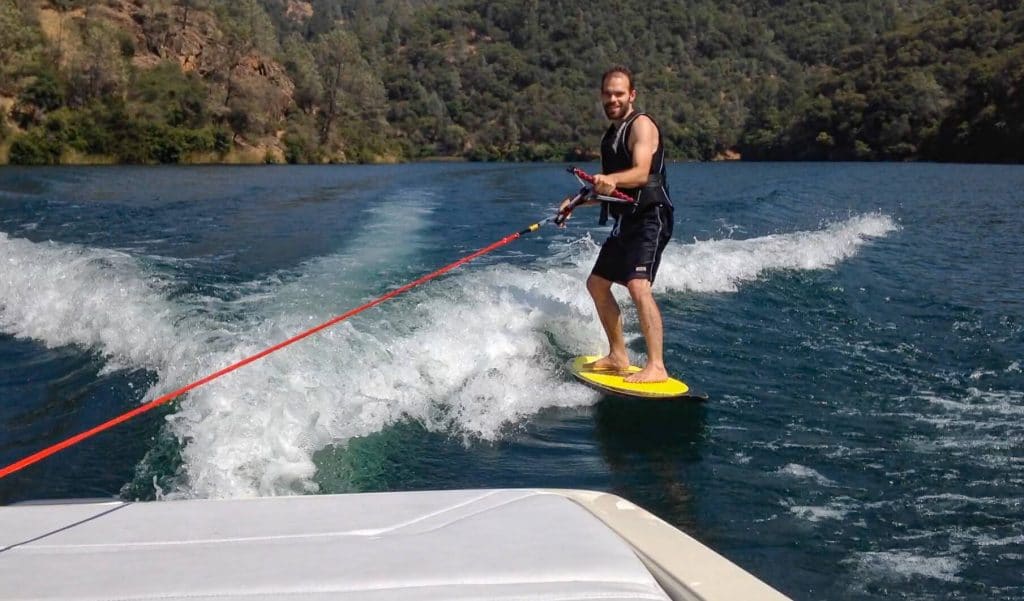 Getting There, Hours, and Parking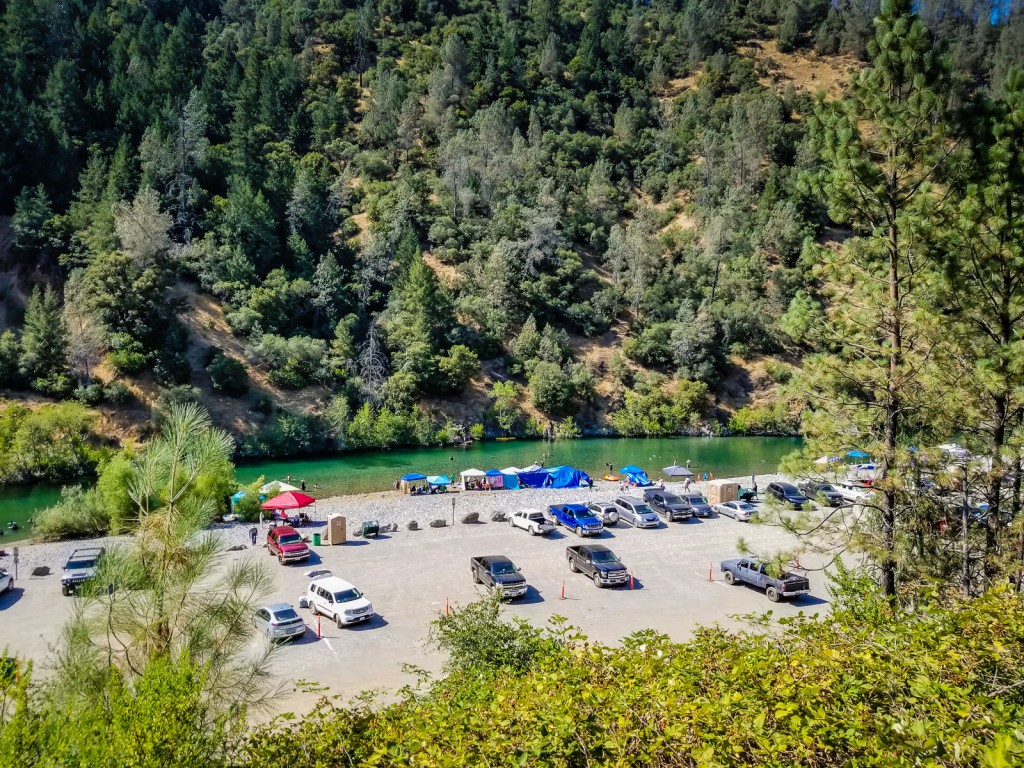 Upper Lake Clementine – Open for the season.
Open seasonally from April 15 to Oct. 14th
Daily Operating hours when open: 8 am to 7 pm
Lower Lake Clementine – Open for the season
8 am to sunset year round
Parking is limited in the lot. Drive VERY slowly down the narrow road to the lake.
Lake Clementine Boat In Campground
May 1st to September 30th (Reservations required May 15 to Sept. 15)
Camping sites go quickly, so reserve a spot quickly before they are all booked!
Directions – Upper Lake
Parking and entry to Lake Clementine State Park is $10. California State Parks allow you to use the same pass within multiple parks the same day, so you could easily go from Upper to Lower and not pay twice.
Upper Lake Clementine is located off the Auburn-Foresthill road, 7.3 miles off I-80. Upon turning onto Upper Lake Clementine Road, you will have 1.5 miles of steep switchback dirt roads in mediocre to very poor condition, depending on washouts and rain. If your vehicle has low clearance or your tires can't handle rough terrain, proceed with extreme caution.
I saw a variety of vehicles loaded down with passengers and gear in the small parking lot, but I can't imagine they had fun getting up or down. The speed limit may be 15mph, but good luck exceeding 5-10mph. The dirt road is one lane with steep drop-offs and ditches in many areas, so remember to look ahead and be courteous to other drivers.
The parking lot is small and will fill fast – you will want to arrive before 11 am if you want to find a spot and not be turned away at the gate. Parking is very limited. Cars parked along Foresthill Rd. will be towed.
The park closes at 7 p.m. officially, but park rangers will follow the last car up at 6:40 p.m. sharp, locking the gate behind them. If you don't make it, you will be stuck overnight and issued a big fat ticket.
Porta-Potties are plentiful and well-maintained.
Directions – Lower Lake
The cost of parking a car is $10, while the cost to launch a boat is $20 (car fee + launch fee). Lower Lake Clementine is located off Foresthill Road, 4.4 miles off I-80. Upon turning onto Lake Clementine Road, you will have 1 mile on a narrow switchback road along a cliff. It's best to take this road slowly, as it can be very difficult to pass large cars and boats.
If you are coming for the day, be sure to get here as early as possible. The few car and trailer spots available in the parking lot fill up fast. If you are towing a boat, it is best to arrive at the lake by 7 a.m. to ensure you snag a spot.
How far is Lake Clementine from Sacramento?
Depending on where you are in Sacramento, it will take you about 45 minutes to an hour to get to Lower Lake Clementine (around 40 miles away).
Hiking – Upper and Lower Lake Clementine
Foresthill Divide Loop Trail
While the river access is currently closed at Upper Lake, there are still many beautiful places to hike around the area. Check out the Foresthill Divide Loop Trail, which you can find near the entrance to Upper Lake Clementine Road. Parking is free in the small parking area in front of the ranger station.
The 10.7 mile-long loop runs along Foresthill Road and is extremely popular with mountain bikers (who will usually shout to let you know that they are barreling down the trail behind you). The trail does not come close to the river, but is full of beautiful mountain scenery and hills of wildflowers when in bloom. If you are not ready to take on the whole loop, there are many nice spots to set up a picnic and enjoy nature.
Tip: Bring LOTS of water and beware rattlesnakes.
Distance: 10.7 mile loop (must cross a busy road if attempting the whole loop)
Parking: Free
Elevation gain: 1,551 feet
Directions: Upper Lake Clementine Road
Lower Lake Clementine Trail
The Lake Clementine Hike is a family-friendly hike for those who have no plans to boat at Lake Clementine but want to visit the area and stand near the impressively tall North Fork Dam. I've hiked this panoramic trail multiple times and it never disappoints. From walking under the famous 730 ft.-tall Forest Hill Bridge to beautiful scenery and swimming holes along the way, this hike is well worth the small climb.
There is a self-pay kiosk by most parking areas. The area near the restrooms is sometimes manned by a ranger who can dispense change. There are multiple trailheads in the immediate vicinity – make sure you pick the correct one unless you like long detours. Although much of the trail is shaded by conifers and oaks, you should plan on bringing a hat and try not to hike in the heat of the day.
Note: This trail is narrow at points and not stroller friendly. Wear hiking shoes and bring plenty of water.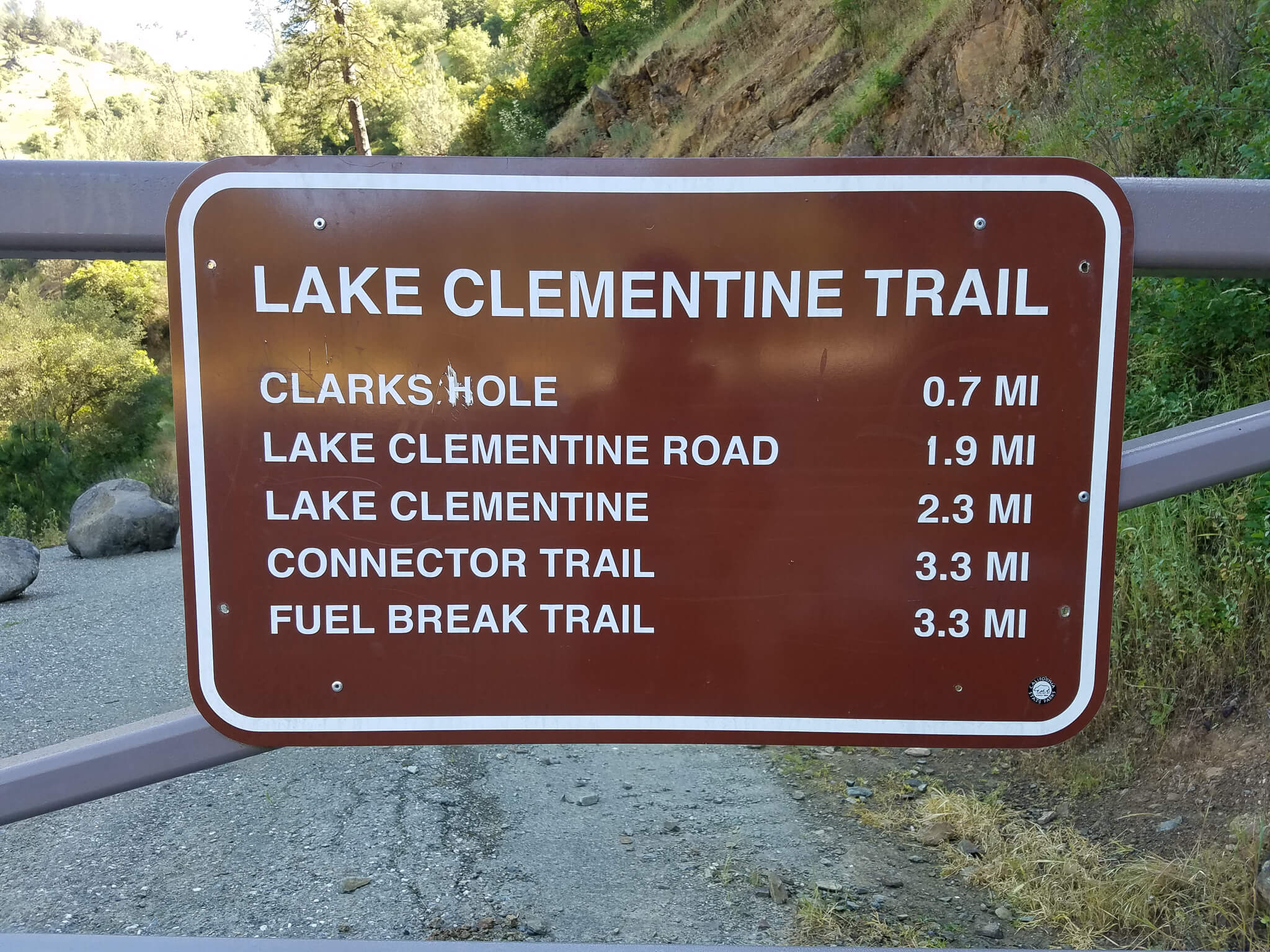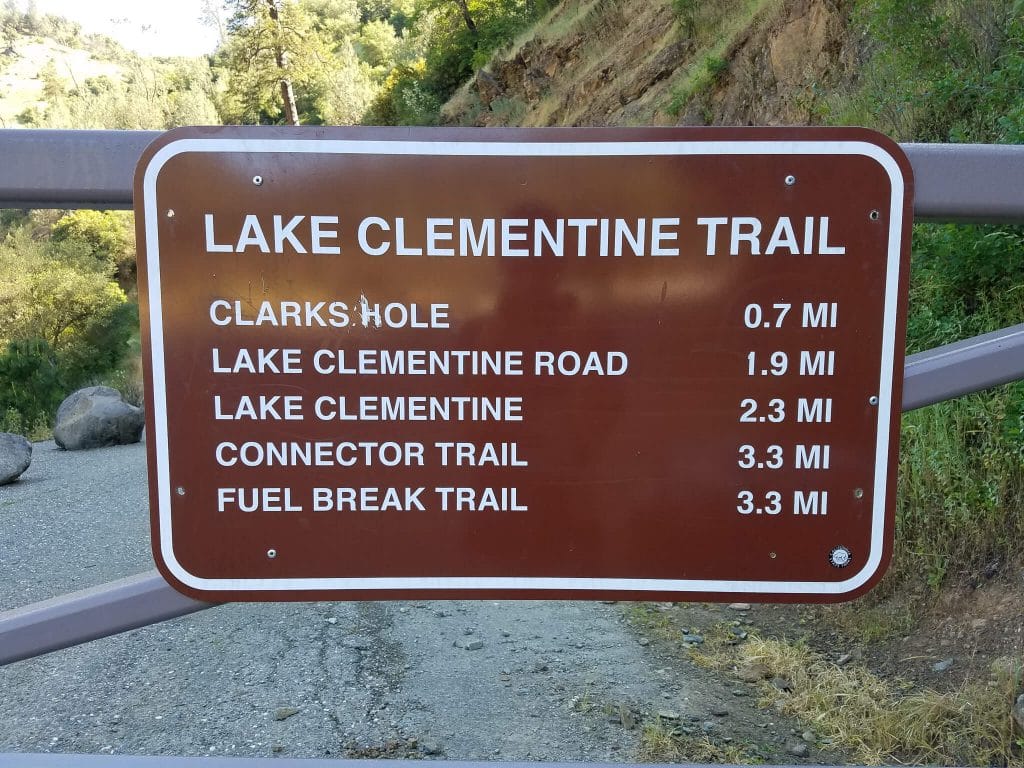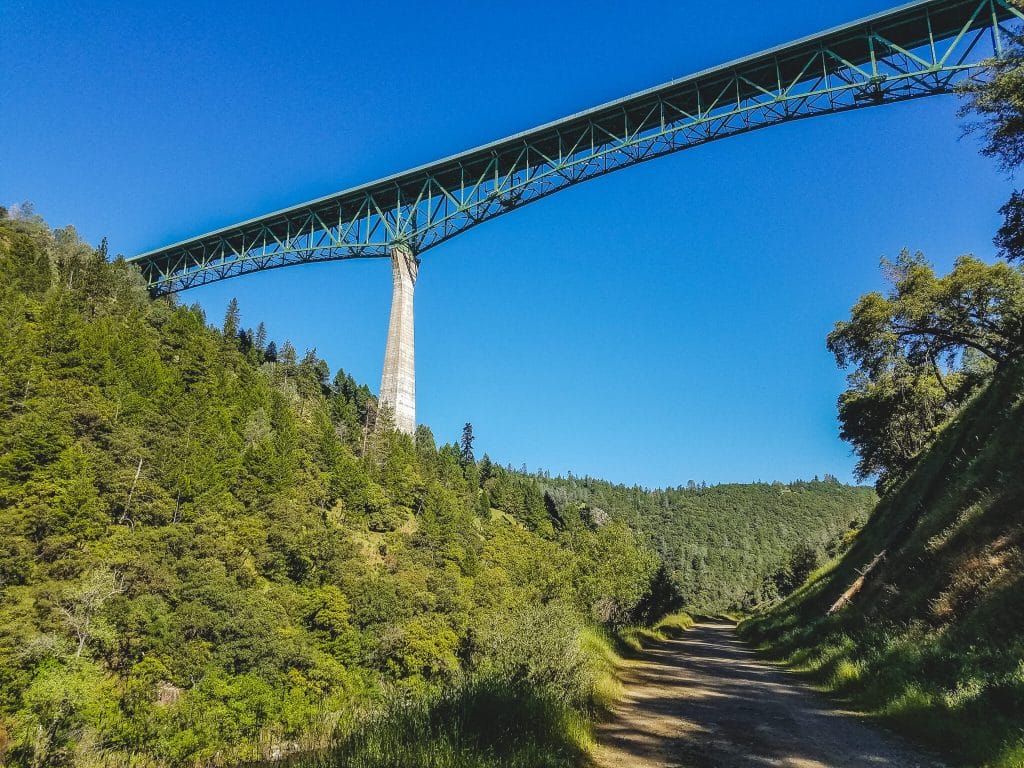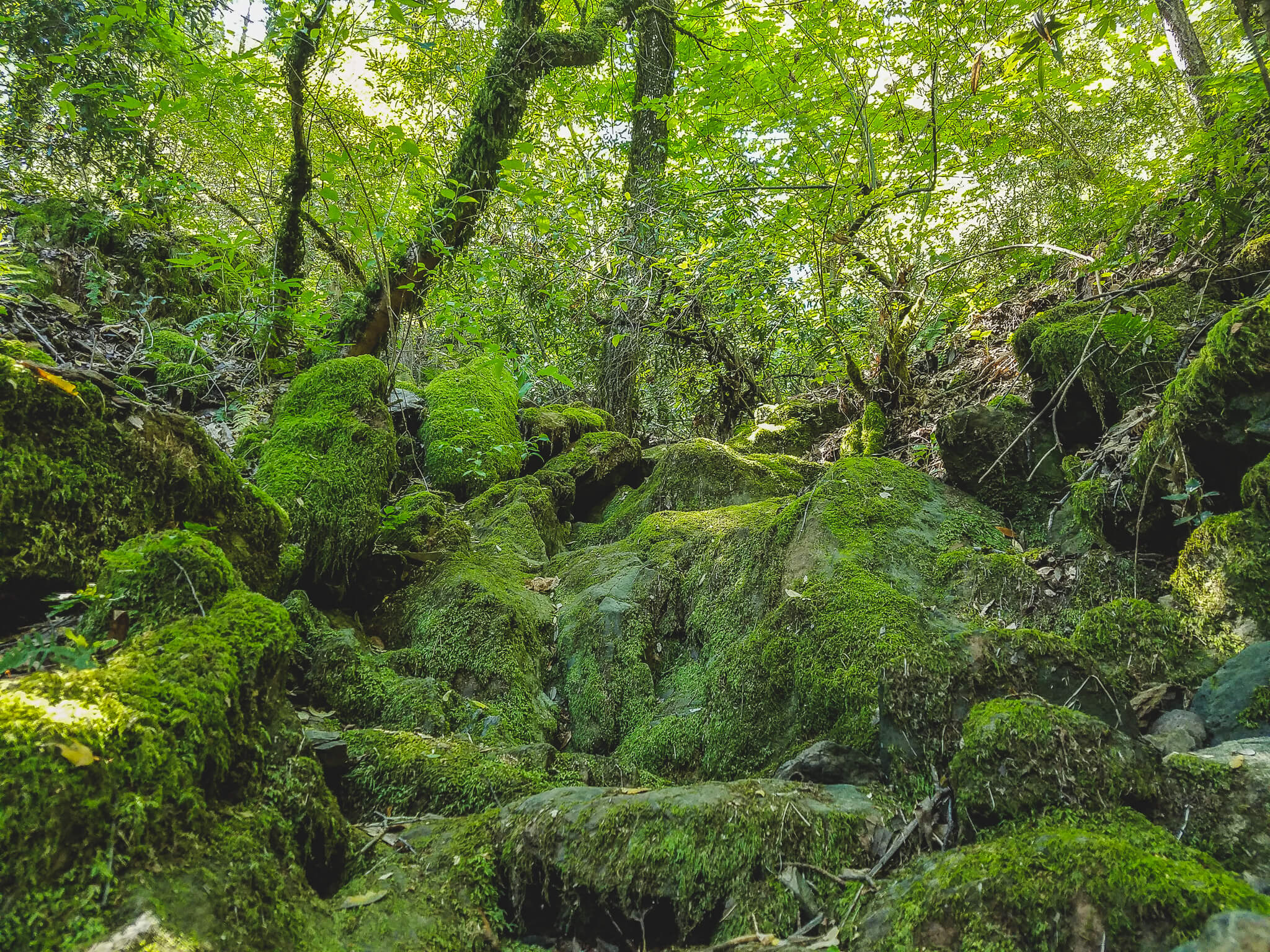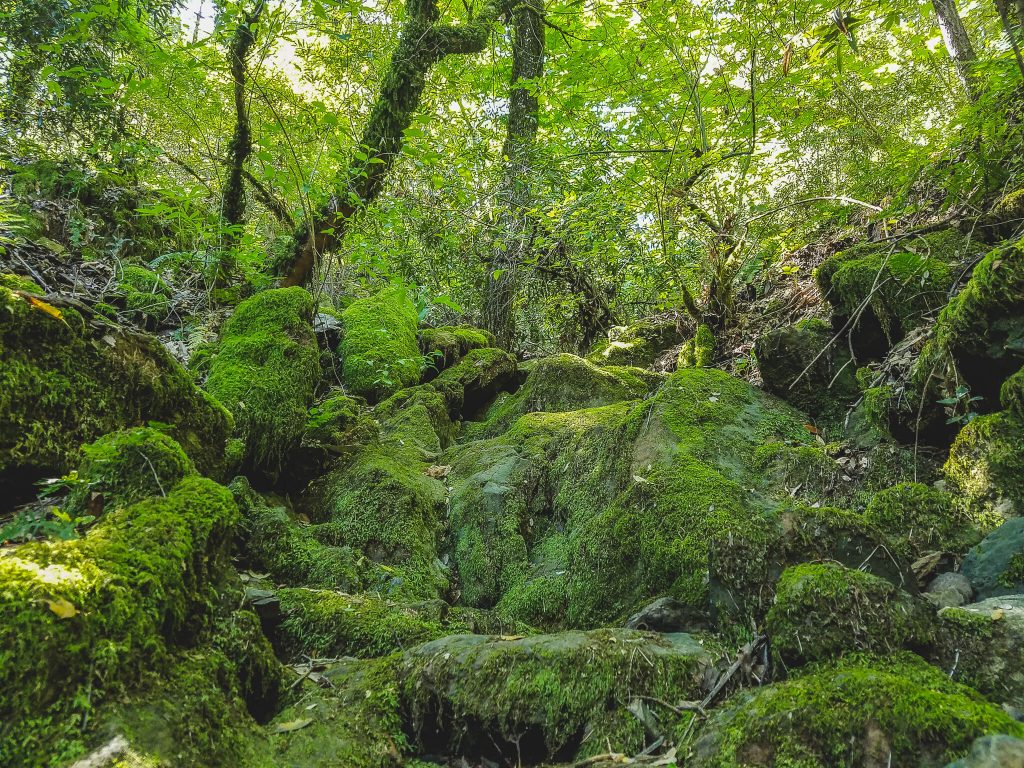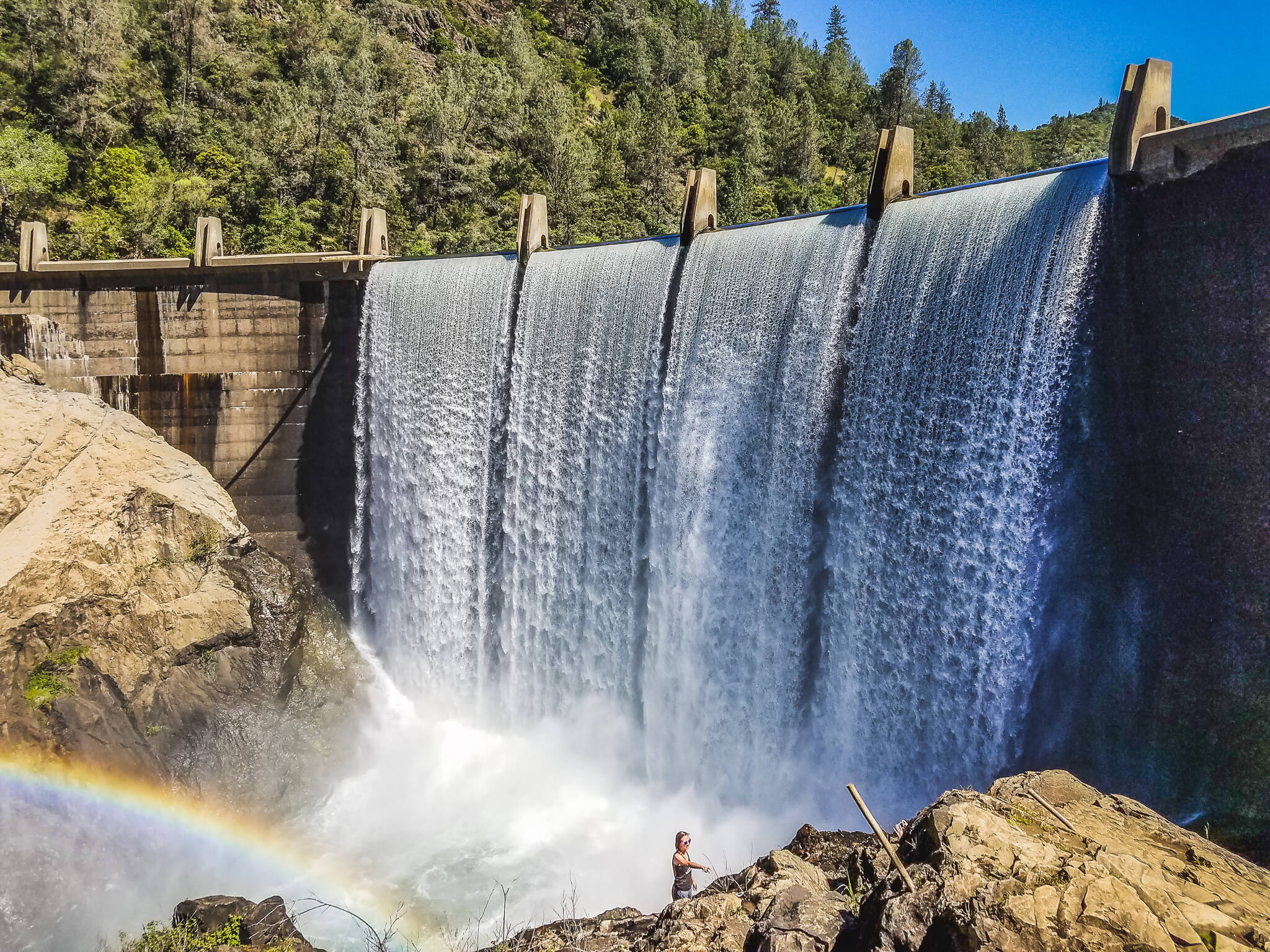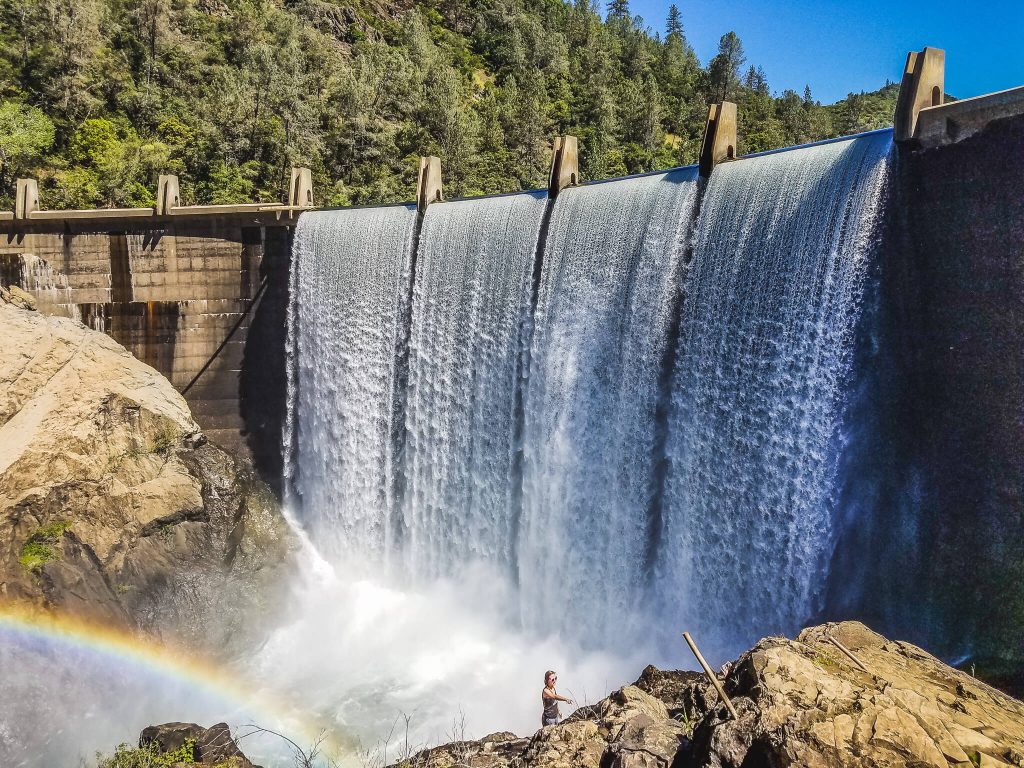 Lake Clementine Access Trail
This is a 2.8-mile, moderately trafficked out-and-back trail that begins near Foresthill Road and ends at a small beach on Lower Lake Clementine. There is beautiful mountain scenery along the trail and a picturesque lake view at the bottom (if you ignore the floating porta-potty). The water is clean and great for swimming, so pack a lunch and hang out by the water before the trek back.
This trail has an elevation gain of 744ft., which means it is easy going down to the lake but fairly difficult on the way back up. If you are not used to hiking at high elevations, you may find yourself huffing and puffing on the way back. The trail begins at the entrance to Lake Clementine Road. When you come to a fork in the trail, stay right.
The parking is free at the lot across Foresthill Rd. (adjacent to Lake Clementine Road). There is limited parking at entrance of Lake Clementine Road. If you choose to park along Foresthill Road, please exercise caution, as the speed limit is 55 m.p.h. and there have been many accidents lately due to the increased traffic.
Distance: 2.8 miles out and back
Parking: Free
Elevation gain: 744 feet
Directions: Lake Clementine Road
Note: This trail does not go to the dam. As always, watch out for rattlesnakes and poison oak, and pack out ANY and ALL garbage.
Can you swim in Lake Clementine?
Yes! The Lake Clementine Access trail will lead you to a small section of the lake where you can swim. The rest of the lake is only accessible by boat, kayak or paddle board. Swimming is not allowed at the boat launch.
Can you fish at Lake Clementine?
Yes, you can fish with a valid fishing permit. The lake is full of trout, bass and catfish.
How long does it take to hike Lake Clementine?
This depends on how long it takes you to hike. The Lake Clementine Access Trail should take about 1.5 hours to hike there and back. The Lake Clementine Trail, which leads to the North Fork Dam will take the average person 2.5 hours to hike there and back.
Is Lake Clementine Open?
Upper Lake Clementine is open from:
April 15 to September 30: Open seven days a week.  
October 1 to October 14: Open weekends only.
October 15 to April 14: Closed for Winter season.
Lower Lake Clementine is open year around.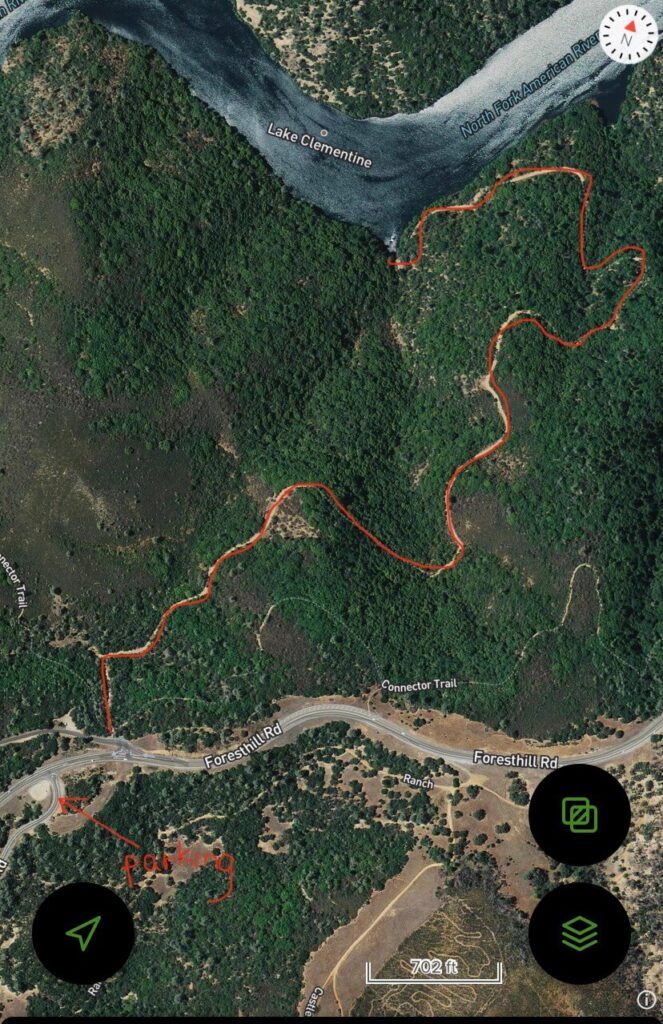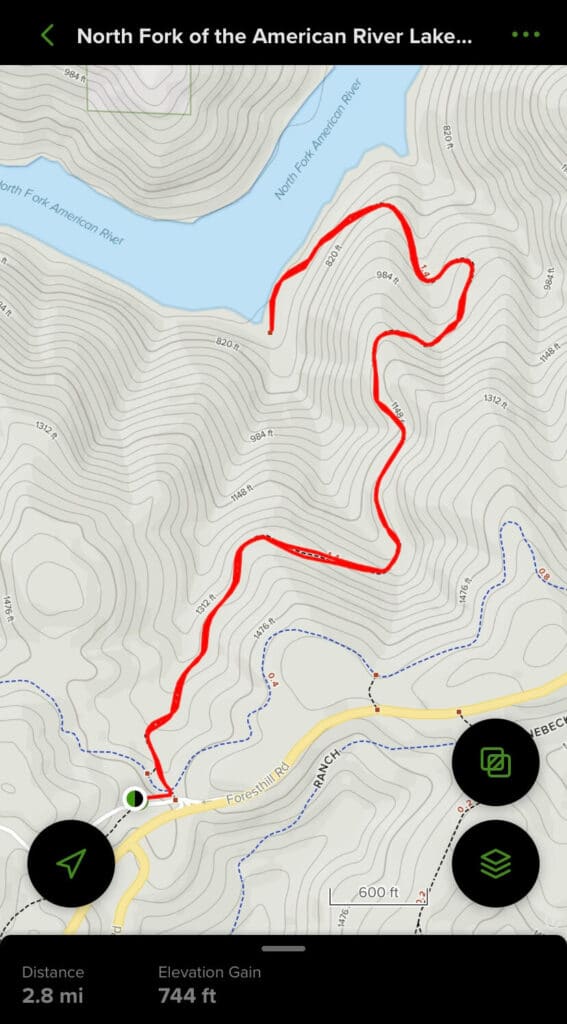 Spotting Wildlife
Upper Lake Clementine is highly trafficked, so while animal sightings are going to be extremely rare, you will see the occasional black tailed deer and rabbits during the daytime, while raccoons, opossums, gray foxes and coyotes can be seen at night. Black bears, rattlesnakes, mountain lions, and bobcats all live in the area.
Bring your binoculars and try to spot some California quail, canyon wrens, red tailed hawks, and bald eagles.
Identifying Plants
Along the lake's edge, you will see no shortage of blackberries in between white alders, willows, Fremont cottonwoods, and creek dogwoods. Poison oak dots the foothills alongside buckeyes, interior live oaks, blue oaks, manzanita bushes, deer brush, and tonyons. Conifers spotted include Ponderosa pines, Douglas firs, California black oaks, and madrones.
Spring flowers are abundant with monkey flowers, fiddleneck, Indian paintbrush, larkspur, lupine, and brodiaea.
Camping at Lower Lake Clementine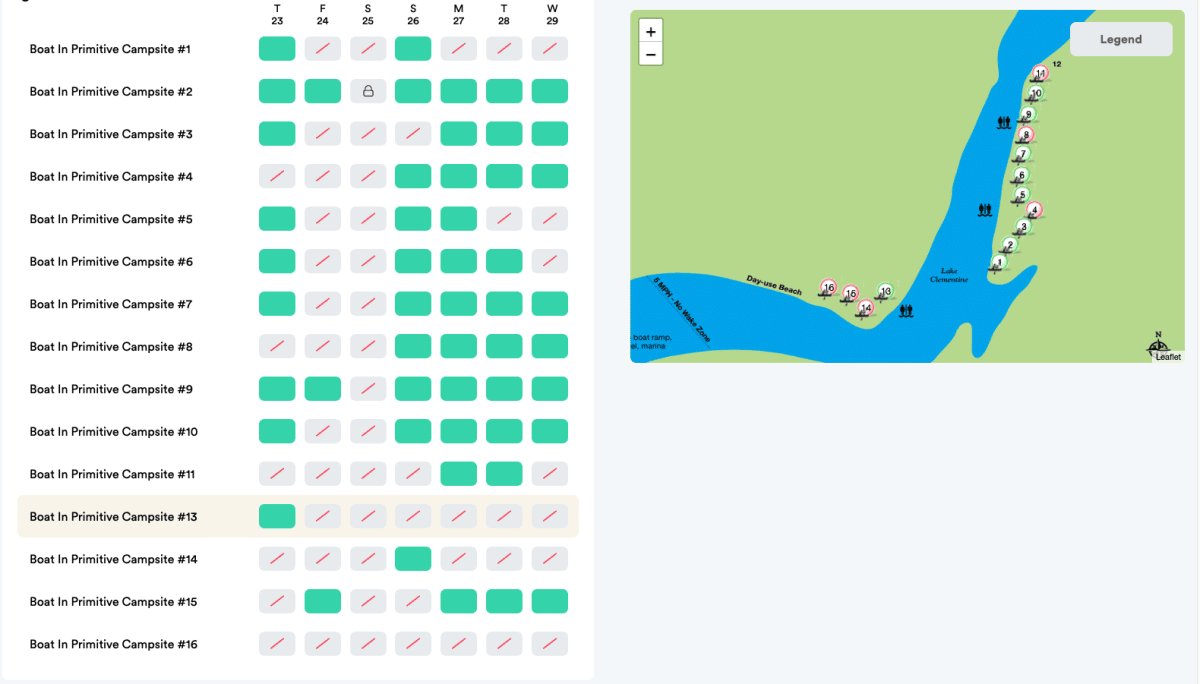 Camping is allowed at Lower Lake Clementine through boat-in access only, and it is currently open for reservations! You can book a campsite for 1-7 days with 8 people per campsite. This is an incredible camping experience in a very unique location.
There are floating porta potties at each campground, but no stations for hand washing or sanitation.
As it is fire season, campfires are currently not allowed.
Reservations: 800-444-7275
How to Reserve: https://reservecalifornia.com/Web/#!park/616/411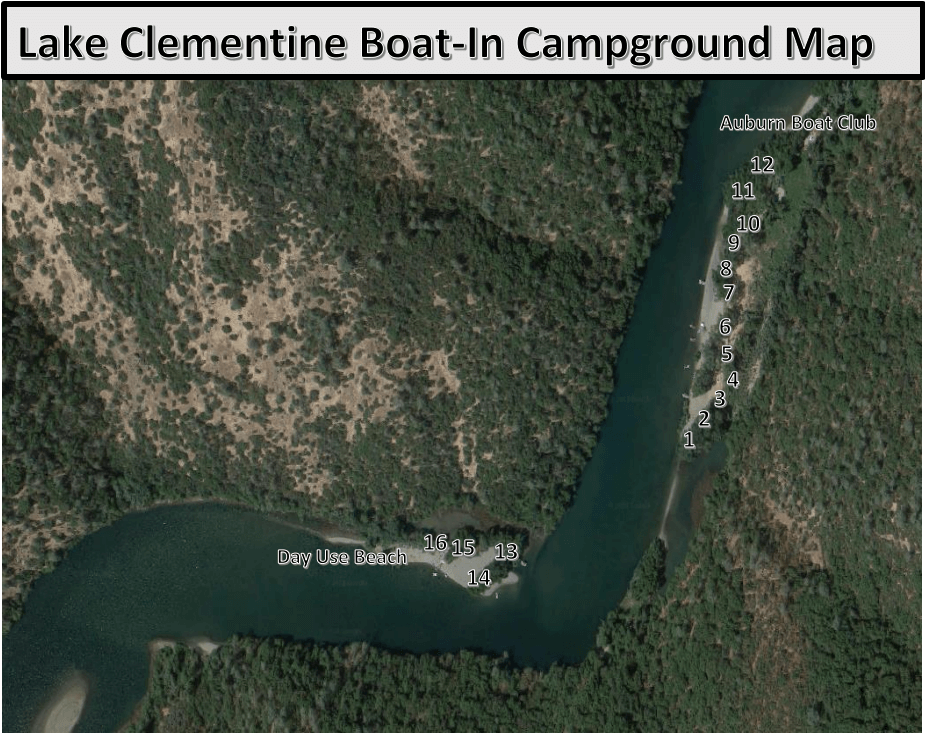 Lower Lake Clementine Rules
Water-ski and boating in a counter clockwise direction only.
Towing inner-tubes is not allowed on this lake due to the some-what narrow waterway.
Maximum speed on the lake is 40 MPH.
Maximum speed within buoyed areas is 5 MPH.
No wake allowed at the ramp, marina, and camping areas.
Swimming and water-skiing is prohibited in Marina Area.
Beach starts are prohibited.
Personal flotation devices, fire extinguishers and other normal required safety equipment must be onboard.
No parasailing.
No power boats upstream of regulatory buoy stating "No Power Boats".
No towed inflatables allowed in the ski zone. Towed inflatables may be used in the campground as swim platforms only.
Dogs are not permitted within the boundaries of Lower Lake Clementine.
No garbage removal provided; pack it in, pack it out!
The big no-no's:
Don't bring in glass.
No alcohol.
No dogs on the lake
Kayaking Info
Location: Lake Clementine California State Park near Foresthill (Google Maps Directions)
Parking: $10
Distance: 4 miles (total kayaking potential from launch point)
Difficulty: Easy
Dogs: Not allowed
Recommended Gear:
Effective July 1st to October 31st no charcoal barbecues are permitted within Auburn State Recreation Area with the exception of legally occupied campgrounds and the Lower Lake Clementine Boat-In Day Use beach. All charcoal and ash used in those areas must be deposited in campground fire rings or the hot ash receptacle at Lower Lake Clementine. Liquid fuel cooking devices, including propane-fueled barbecues, may be used in areas without flammable material 15 feet in all directions. A violation of this order may result in fines of $480.00.
Other Nearby Camping/Day Use Spots:
Ruck-A-Chucky Campground
The Ruck-a-Chucky campground is open on a first come-first-served basis with the exception of campsite 2.
Day spots are available.
Parking: $10
Sugar Pine Reservoir
The Sugar Pine campground is open. Spots can be reserved online.
Day spots are available.
Parking: $5
China Bar
Open Friday through Monday, 8am to Sunset year around.
Covid-19 Tips from CA Parks Site:
Please note: There is no water, soap, or hand sanitizer available for hand washing anywhere in Auburn State Recreation Area.
Stay Local: Stay close to home. Walk or bike into the park. Parking is very limited. Do not take road trips to parks and beaches or to neighboring states.
Stay Active: Keep walking, jogging, hiking, and biking. Watch for one-way trails.
Stay Safer at 6 Feet: Maintain a physical distance of 6 feet or more. Gatherings, picnics, and parties are not allowed. Visitors will be asked to leave if there are too many people at the park, beach or on trails to allow for the required physical distance.
Stay Clean: Be prepared. Bring soap/sanitizer and pack out all trash.
This is a very clean family-friendly environment. Please pack out what you bring in.
Pin this and plan your next adventure!
Post Updates:
July 6, 2023: Updated parking info for Upper Lake Clementine.
About the Author
Latest Posts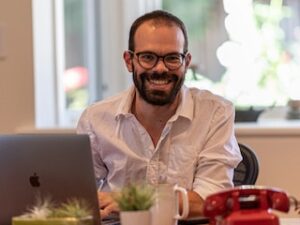 I strive to paint vivid landscapes with my words, bringing the magic of far-off lands and enchanting aromas to life for my readers. Combine passion for exploration and the art of gastronomy in an unending ode to the senses. When I'm not traversing the globe, I find solace in the earth beneath my fingertips, tending to my garden and working on projects around my verdant oasis. MK Library serves as a beacon, guiding fellow travelers and homebodies alike to embrace sustainability, nurturing both our planet and our souls with purpose. Full Bio.
Last update on 2023-11-27 / Affiliate links / Images from Amazon Product Advertising API