Here is your comprehensive list of the best coffee shops in Sacramento. *Spoiler: There are many to choose from.
The independent Sacramento coffee scene is a vibrant mix of third-wave, eclectic, minimalist, and community-oriented cafés. I'm a sucker for a great-tasting cold brew, but what makes good coffee even better is an aesthetically pleasing setting in which to enjoy it. Interior design and calming aesthetics may fall high on my list, but coffee remains the primary decider when it comes to ranking my favorite coffee spots. Almost every coffee shop on this list brews coffee that was roasted in the Sacramento region.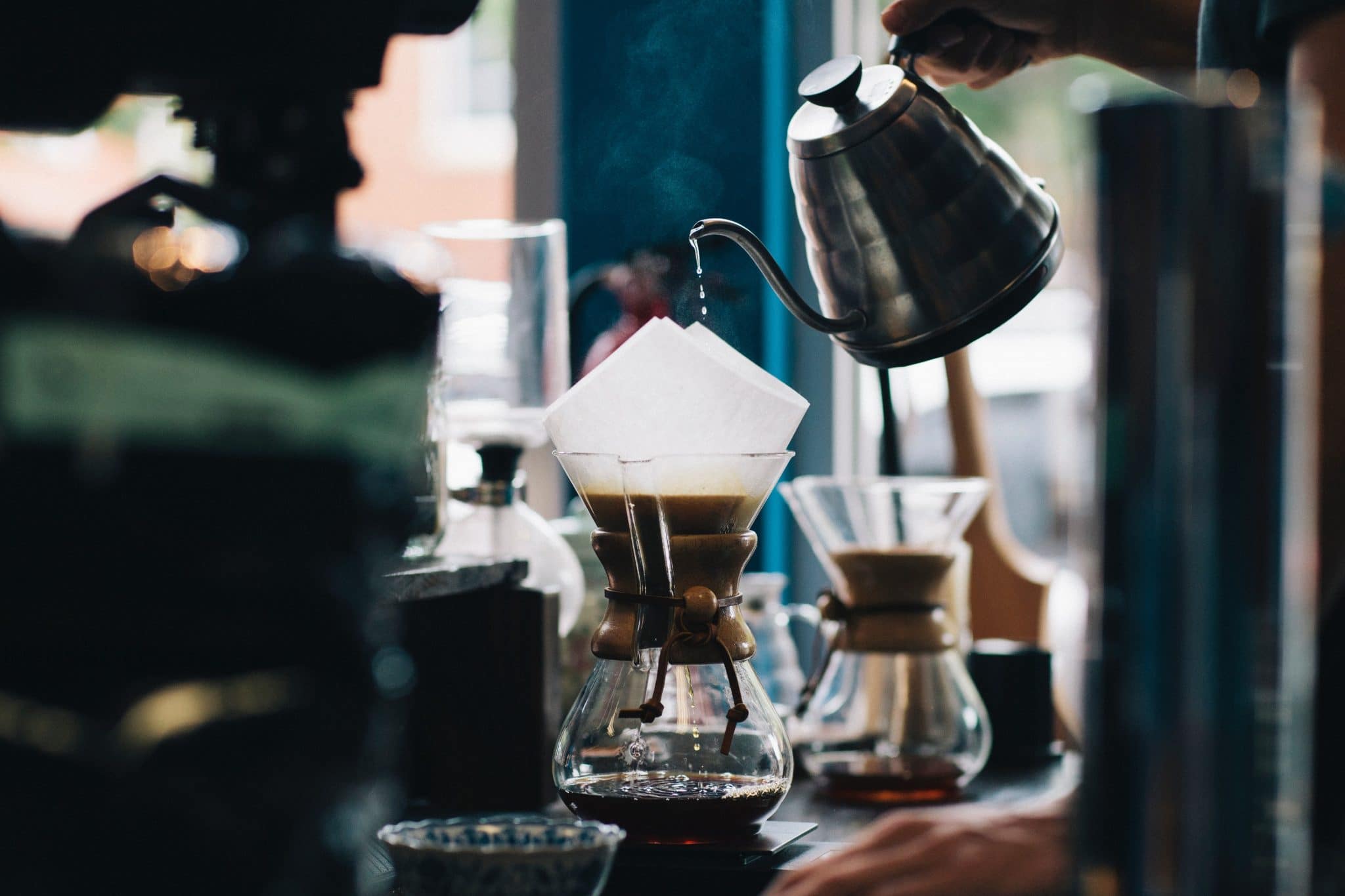 Another thing that will make me drive an extra few miles out of my way to visit a coffee shop is the allure of homemade pastries and snacks. You can probably lure me across state lines for a perfectly buttery croissant or crispy waffle. Luckily, there are so many wonderful shops dedicated to the art of coffee (and pastry) making in my own city, that I'll never have to leave!
I've listed these coffee shops in order of personal preference, but each of these businesses offers something unique, whether that be their coffee, aesthetic, food options, location, or overall vibes. These are my picks for the best coffee shops in Sacramento.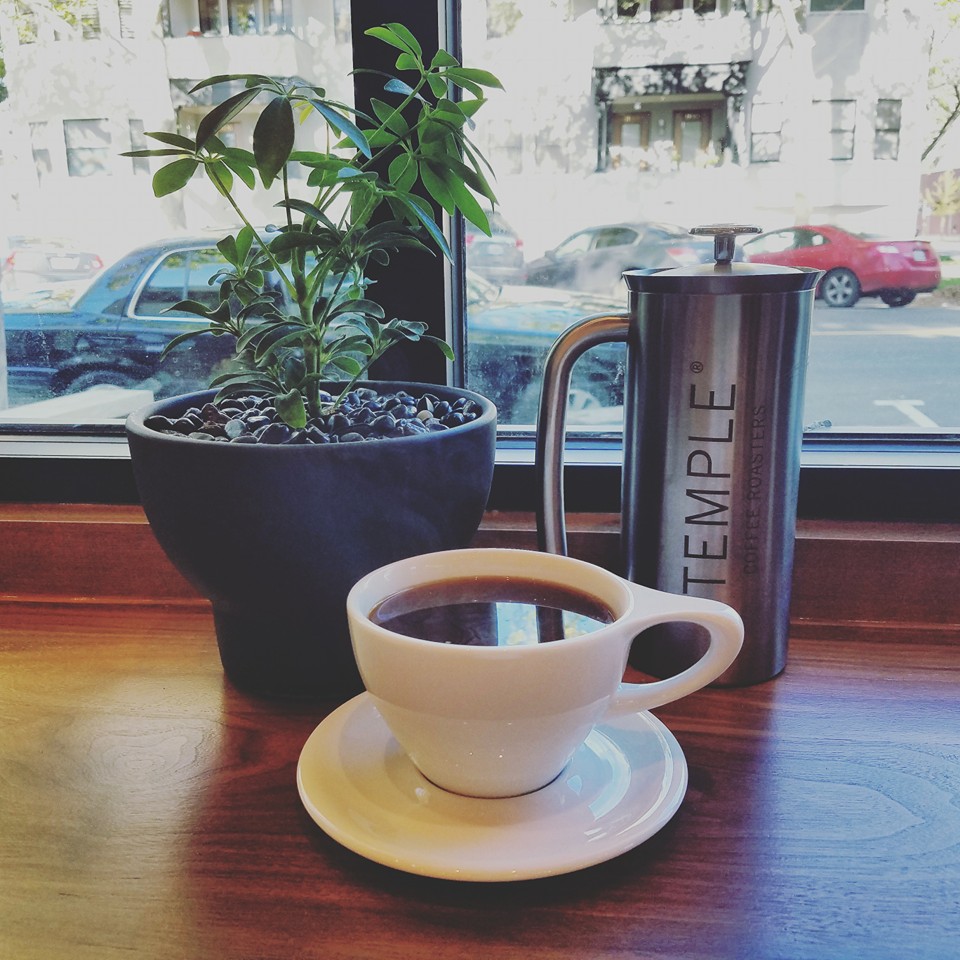 Temple Coffee
My first experience with Temple coffee was at their Davis location when it first opened. I loved the quality of their coffee and teas, along with their warm yet minimalist interior design. They now have multiple locations in the greater Sacramento area, and many point to them as the coffee authority in the city. With highly-trained baristas at each of their locations and excellent coffee bean sourcing and roasting, Temple is surely elevating the Sac coffee scene. I prefer the welcoming vibe at the S street location (along with its beautiful outdoor patio), but each location consistently serves up quality brews. Temple also offers some pastries (often with gluten-free and vegan options). If you're looking for an endless distraction while sipping on a cappuccino, try counting all the pennies adorning the floor at their K Street location.
Address: 2829 S St, Sacramento, CA 95816
Website | Instagram | Facebook
Scorpio Coffee
Scorpio Coffee in Midtown Sac has a lot to offer; innovative and artfully-plated dishes, a modern Japanese-inspired space, and last but not certainly not least, top-notch coffee. This coffee house gives the whole new-age coffee house experience, with a sleek wood interior and creative drinks such as the bouquet latte with lavender, rose, and chamomile. You'd be missing out if you stopped by without ordering one of their food items made with fresh and local ingredients, such as the strawberry ricotta toast, market pea salad, and Greek yogurt parfait. I tried one savory and one sweet toast option when I visited, and that's definitely the way to go if you're with a friend.
Address: 1905 16th St, Sacramento, CA 95811
Website | Instagram
Pivot Coffee
Pivot Coffee in Midtown Sacramento is an expansive coffeehouse in a hip industrial setting, serving up some delicious coffee roasted in-house. Their iced matcha latte is great, and you can't go wrong with a tried and true cold brew. With a small selection of breakfast pastries, plenty of table space for working, and a nice covered patio, this is the perfect place to spend a summer afternoon. Live-edge wooden slabs lining the walls and plants dotted throughout the space create a warm and welcoming contrast to the cold concrete.
Address: 1430 28th St, Sacramento, CA 95816
Website | Instagram
Camellia Coffee Roasters
Since launching their coffee company in 2015, Camellia Coffee Roasters in Downtown Sacramento has transformed into a Sac coffee staple. All of their coffee drinks are made with high-quality espresso and syrups. If their horchata latte weren't enough reason to pay them a visit, they also cook up some of the best breakfast sandwiches in Sac. These omelet sandwiches come with your choice of meat and are served on toasted brioche buns. Stop by their pink-tiled shop for a cold brew and a fresh pastry supplied by the one and only Faria Bakery.
Address: 1104 R St STE 150, Sacramento, CA 95811
Website | Instagram | Facebook
Goodside Coffee
Goodside Coffee in Mansion Flats is a modern open-plan coffee shop providing high-quality coffee drinks from Cat and Cloud Coffee. The welcoming and minimalistic ambiance at Goodside creates a great study atmosphere or a place to simply catch up with a friend. When you stop by, try their honey-lavender nitro cold brew or vanilla rose latte alongside a Solomon's bagel or a delicious pastry. Goodside is a great addition to the Sacramento coffee scene, and I recommend stopping by if you're in the Mansion Flats neighborhood!
Address: 1430 H St, Sacramento, CA 95814
Instagram | Facebook
Mast Coffee Co
Mast Coffee Co is a relaxing coffee shop with a minimalist brick-walled atmosphere and great in-house roasted coffee. In addition to their top-notch beans and brews, they serve melt-in-your-mouth pastries from Faria Bakery, huge slices of avocado toast, and high-end sandwiches on fresh focaccia.
Address: 2421 17th St, Sacramento, CA 95818
Website | Instagram
Pachamama Coffee
Pachamama Coffee is much more than a cluster of quality coffee shops in the Sacramento region. It is also a cooperative business collectively owned by Guatemalan and Nicaraguan farmers that grow and harvest the beans. Their story is inspirational, to say the least, and they've since expanded into multiple coffee houses in Sac, Davis, and even Placerville. Stop in for a rose cardamom latte, peach cream iced cold brew, or a well-balanced espresso shot. Each shop has a welcoming and vibrant interior, usually with a few small outdoor tables. If one of your main priorities is supporting socially conscious coffee shops, then Pachamama should be the first on your list.
Address: 3644 J St, Sacramento, CA 95816
Website | Instagram | Facebook
Chocolate Fish Coffee Roasters
The Chocolate Fish Coffee Roasters shops are all clean and unfussy spots for legit espresso drinks, excellently roasted coffee, great chai lattes, and some delicious avocado toast. There are multiple locations around Sacramento, and each offers a large, open interior with plenty of spots to work. They roast their own coffee and even offer coffee-cupping classes!
Address: 4749 Folsom Blvd, Sacramento, CA 95819
Website | Instagram | Facebook
Milka Coffee Roasters
Not only does Milka offer delicious and unique seasonal espresso drinks (like their maple latte), but they also have one of the most unique locations for a coffee house in all of Sacramento. Operating out of an 1861 Victorian house on the corner of G and 15th, this place is the essence of fun hipster coffee shop vibes. In addition to being highly "Instagrammable" with their occasional Anthropologie-esque decorations inside, they are brewing up some solid in-house roasted coffee. When you stop by, try their matcha latte and or a crazy-colored Thai-died-iced-tea with lemongrass tea, condensed milk, and a splash of citrus. Overall, this is a nice location to get some work done in a unique space with plenty of history.
Address: 1501 G St, Sacramento, CA 95814
Website | Instagram | Facebook
The Mill
The Mill is a cute and cozy cafe with tasty pastries, high-quality brews, and incredibly friendly service. Neutral colors fill this industrial, yet warm space, with plenty of communal seating and cozy spots to sit and enjoy an afternoon coffee. Their east Sacramento location is also their coffee roasting and tea studio, where they serve loose-leaf tea, excellent macchiatos, and vegan/gluten-free bakery options. When you stop by, be sure to order one of their signature waffles with powdered sugar.
Address: 1827 I St, Sacramento, CA 95811
Website | Instagram | Facebook
Old Soul at the Weatherstone
Old Soul at Weatherstone is located in an old brick building that was once a horse barn, which really lends to the wonderful vibes you experience at this coffee house. Stop by if you'd like to enjoy some great Sacramento-roasted coffee or a more substantive meal in a Bohemian setting. They have plenty of American breakfast and lunch options, including a fluffy quiche or BLT sandwich.
Address: 812 21st Street, Sacramento, CA 95811
Website | Instagram | Facebook
Seasons Coffee Roasters
Seasons Coffee is a beautifully decorated coffee shop that resembles a grandmother's quaint cottage in the English countryside. New to the lineup of Sac coffee shops, Seasons offers fresh-tasting coffee with a great flavor profile, as well as a few delicious food options, including paninis and avocado toast. If you prefer sweeter beverages, try the iced caramel or mocha latte. This uniquely decorated spot is located on the first floor of the CLARA (E. Claire Raley Studios for the Performing Arts). Once you enter through the big blue doors, it's just inside on the right.
Address: 2420 N St Suite 105, Sacramento, CA 95816
Website | Instagram
Cora Coffee
Cora Coffee is a spacious and modern coffee shop in the heart of Downtown that serves light and well-balanced coffee, quality espresso drinks, and some authentic matcha tea. Their sleek and minimalist black interior makes for a great work environment, and the baristas are very friendly. Their drip and pour-over coffee is light and well-balanced. If you prefer espresso, try a cappuccino or a pumpkin spice latte in the colder weather.
Address: 1201 J St, Sacramento, CA 95814
Website
Broadway Coffee Company
Broadway Coffee Company is a warm and welcoming community coffee shop with an eclectic vibe and colorful local art adorning both the outside and inside the building. They serve Temple Coffee and Teas, so you can be sure to find a great no-fuss cup of coffee here, as well as plenty of tea options. People brag about the sweet potato pie that occasionally graces their cafe.
Address: 3200 Broadway, Sacramento, CA 95817
Website | Instagram
Naked Lounge + Naked Coffee Roasting & Cafe
Naked Coffee Roasting has multiple cafes around Sacramento, each with an assortment of fun coffee drinks and small bites. The Q Street location across from Fremont Park is a homey and cheerful spot to spend an afternoon sipping on coffee. Try their Aztec mocha or their new toast and jam latte with blackberry syrup. They also have some great chai tea.
Address: 1500 Q St, Sacramento, CA 95811
Website | Facebook
Shift Coffee House
Located in Old North Sac, Shift Coffee House is truly a hidden gem in the city. It may seem like a strange combo, but they're all about grilled cheese sandwiches and coffee. Their unique grilled cheeses are unlike any you've had before, with options like "That's My Jam," with Havarti and berry jam, and "The Firehouse 20" with flavorful brisket. All of this is accompanied by quality coffee and espresso drinks. Their industrial-looking space with racing memorabilia and private outdoor patio makes for a great breakfast or lunch spot to enjoy with friends.
Address: 1616 Del Paso Blvd, Sacramento, CA 95815
Website | Instagram | Facebook
Barrio
Barrio is a clean and laid-back spot to enjoy some good coffee and incredible breakfast pastries, bagels and breakfast burritos.
Address: 1188 35th Ave, Sacramento, CA 95822
Website | Instagram | Facebook
Tiferet Coffee House
Tiferet Coffee House is a quaint coffee house with plenty of character, friendly service, and good coffee. It is located in a small Swedish-style house.
Address: 3939 J Street Inside Mercy Medical Plaza, 1st Fl, Sacramento, CA 95819
Website | Instagram | Facebook
N Street Café
With a blue-tiled exterior and bright red signage, it's hard to miss this neighborhood café and coffee shop nestled among the Victorian homes of Downtown Sacramento. The N Street Café is a laid-back spot that is serving up some delicious sandwiches, Mediterranean lunches, and coffee drinks in an unpretentious atmosphere. Everything is reasonably priced, making this an overall great spot to visit in the Downtown neighborhood.
Address: 2022 N St, Sacramento, CA 95811
Website | Instagram | Facebook
Chicory Coffee & Tea
Located just a 2-minute walk from the state capitol, Chicory Coffee & Tea is a cozy spot to get off your feet if you are sightseeing near the capitol. This centrally located coffee shop offers good coffee, ice teas, and a different array of warming soups each week. Some of their soups include beef chili with beans, Maine lobster bisque, and chicken gumbo. With an electric fireplace and personable employees, this is an intimate independent coffee shop with the coziest of vibes.
Address: 1131 11th St, Sacramento, CA 95814
Facebook
Tupelo Coffee & Roasting
Tupelo Coffee is a spacious spot in East Sacramento with a clean and open interior that is perfect for posting up with a laptop. You can even bring the dogs and sit out front on their patio. They serve Naked Coffee and offer some fun espresso drinks, from the toast and jam latte to a traditional Mexican hot chocolate or mocha.
Address: 5700 Elvas Ave, Sacramento, CA 95819
Website | Facebook
Franquette
Franquette is a new and modern French Bistro in West Sacramento, located near Drake's: the Barn and the Sutter Health Park. This small yet bright bistro is serving up all the goods, and doing so beautifully; They have coffee, pastries, sandwiches, cheese, and wine. Their breakfast, brunch, and lunch options are simple and artfully prepared, from their savory galette with leeks and potatoes to their expertly prepared ratatouille. Franquette is the perfect place for a Sunday brunch or simply for grabbing a quality coffee and pastry on your way to work.
Address: 965 Bridge St Suite 100, West Sacramento, CA 95691
Website | Instagram | Facebook
Blueprint Coffee Project
Blueprint Coffee Project is a non-profit coffee shop partnered with Project Church next-door with the goal of selling quality coffee to fund relief programs for Sacramento and the surrounding communities. Their cheery and open space is located in a historic building in Old Sac, conveniently near the Tower Bridge Garage. They offer a limited menu of coffee, espresso drinks and tea. With fresh and bold coffee and friendly baristas, this is a comfortable place to get a caffeine buzz while you work or study.
Address: 1200 2nd St, Sacramento, CA 95814
Website | Instagram | Facebook
Roots Coffee Co
Roots Coffee is a clean and convenient coffee shop located near the Old Sacramento Waterfront in the Downtown neighborhood. They serve up some decent coffee and have plenty of food options to choose from, including toast, salad, and sandwiches. This no-frills coffee shop is a quality place to study or get some work done.
Address: 428 J St Suite 120, Sacramento, CA 95814
Website | Instagram | Facebook
Insight Coffee Roasters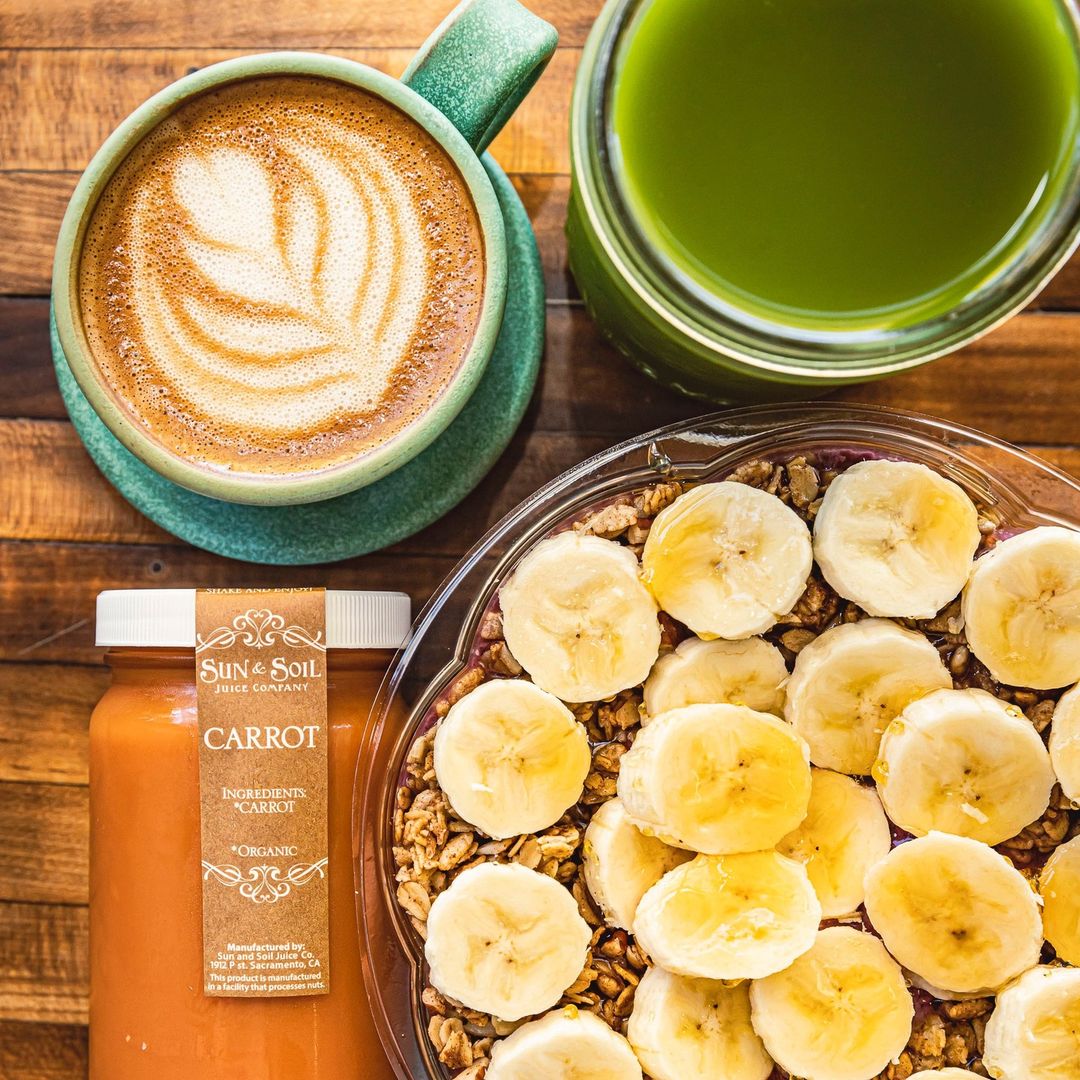 Insight Coffee Roasters used to have a beautiful location in the Southside neighborhood of Sacramento, but it shut down earlier this year. You can still find their coffee served at La Cosecha near Cesar Chavez Park. Keep an eye out for their new location that's set to open in West Sacramento soon. Until then, you can purchase their coffee beans online.
Address: 3650 Industrial Blvd Suite 140, West Sacramento, CA 95691
Website | Instagram | Facebook
Interested in more caffeinated content? Check out MK Library's AeroPress Coffee Maker Guide and everything you need to know about Cold Brew Coffee!
I strive to paint vivid landscapes with my words, bringing the magic of far-off lands and enchanting aromas to life for my readers. Combine passion for exploration and the art of gastronomy in an unending ode to the senses. When I'm not traversing the globe, I find solace in the earth beneath my fingertips, tending to my garden and working on projects around my verdant oasis. MK Library serves as a beacon, guiding fellow travelers and homebodies alike to embrace sustainability, nurturing both our planet and our souls with purpose. Full Bio.