Equipment For Cold Brew Coffee
Depending on the room available in your living space or fridge, you may want anywhere from half a gallon to several gallon jars for your cold brew coffee. Glass is going to be the safest, in terms of dishwasher safe, no chemical leeching, and safe for both hot and cold liquids. Stainless steel is a good option, but will always be much more expensive. I've selected jars with plastic lids, as these are easy to put in the dishwasher and not worry about rust or coffee picking up a weird taste. Bonus – you can use these jars for fermentation, too!
These are cool if you want an easy way to date or label the coffee – plus they are dishwasher safe. Comes in a half gallon pack as well.
This is imperative to help with cleanup and filtering your cold brew coffee. You can just stick the grounds in the jar, but then you still need to filter after – this will save a step and possibly a bit of mess. I've also heard of folks using nut milk bags for the same purpose – if you already have one of these, no need to purchase yet another filter.
If you're looking for an all in one solution and don't want to buy a mason jar and filter, this setup is for you. 100ml makes about 4 cups of coffee. You may want to get two of these, if you're not using mason jars, so you always have one ready and one brewing.
Weighing the amount of coffee will greatly help in ensuring the consistency and quality of your coffee. A scoop or cup just doesn't cut it.
Coffee Beans for Cold Brewing
Cafe Don Pablo Medium-Dark Roast – So far, I've only tried these beans for cold brew through my friends over at Epic Tiny House. They are very reasonably priced and taste decent.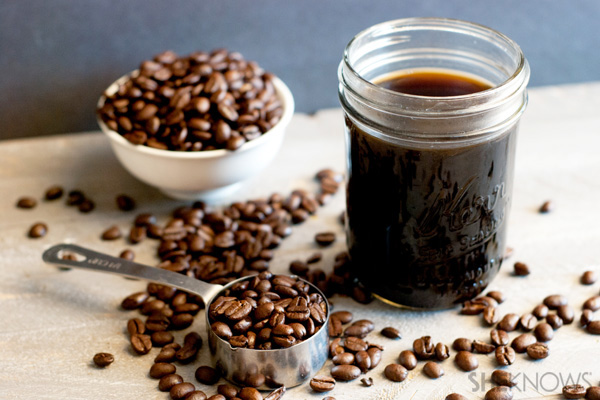 Why Does My Cold Brew Coffee Taste Weak?
There are three variables that can contribute to weak-tasting cold brew.
Amount of coffee used – Generally, you're going to want to use 125 grams of coffee per 1000mL. A 1 gallon jar will take about 475 grams of coffee.
Grind level – Depending on your taste preference, medium to french press grind will provide the best extraction.
Brew time – Minimum of 12 hours if left out on the counter, or 24 hours in the fridge.
All these factors come into play when you are trying to get that perfect taste. However, there are also different types of cold brew coffee makers that can help you get to the flavor you want.
The Difference Between Cold Brew, Ice Brew, and Iced Coffee
Iced coffee: Brewed hot then chilled. You could make a concentrated batch, refrigerate it until cool, then add ice.
Cold brew: Brewed in the fridge or room temperature for 12-24 hours. Concentrated is common, but not necessary.
Ice brew: Like cold brew but brewed with melted ice. The water passes through the coffee like drip coffee, but it is extremely slow because you need the ice to melt. You can piece these together with an Aeropress and a 20oz soda bottle for almost nothing or splurge on a $200 brewer.
Making Japanese Iced Coffee
A bit of a tangent, but for the sake of exploring different types of cold coffee, Japanese Iced Coffee is a delicious way to utilize a pour over.
You're going to need a Hario Drip Decanter to make the coffee.
54g of coffee. Fresh, aromatic coffees roasted on the lighter end of the spectrum lend themselves to this Japanese iced coffee method.
283g (10 oz.) of ice in the bottom
Pour 566g of water (20 oz.) at 195 – 205 F degrees
All the ice should melt, contributing to the total water volume without weakening the beverage and the immediate cooling of the brewing coffee helps trap in some aromatics that other iced coffee processes don't. You can add a couple more cubes of ice to the coffee and drink right away or toss it in the fridge and let it cool some more.
The downside to Japanese Iced Coffee is it is hard to make large batches at once, which you can do using cold brew methods.
Additional Coffee Resources
Vietnamese Iced Coffee – via Coffee Geek
I strive to paint vivid landscapes with my words, bringing the magic of far-off lands and enchanting aromas to life for my readers. Combine passion for exploration and the art of gastronomy in an unending ode to the senses. When I'm not traversing the globe, I find solace in the earth beneath my fingertips, tending to my garden and working on projects around my verdant oasis. MK Library serves as a beacon, guiding fellow travelers and homebodies alike to embrace sustainability, nurturing both our planet and our souls with purpose. Full Bio.