These Mexican restaurants in Sacramento and the surrounding regions all deliver unique and mouthwatering menus. I've had the opportunity to visit many of the best Mexican restaurants in Sacramento, and want to share this list with you!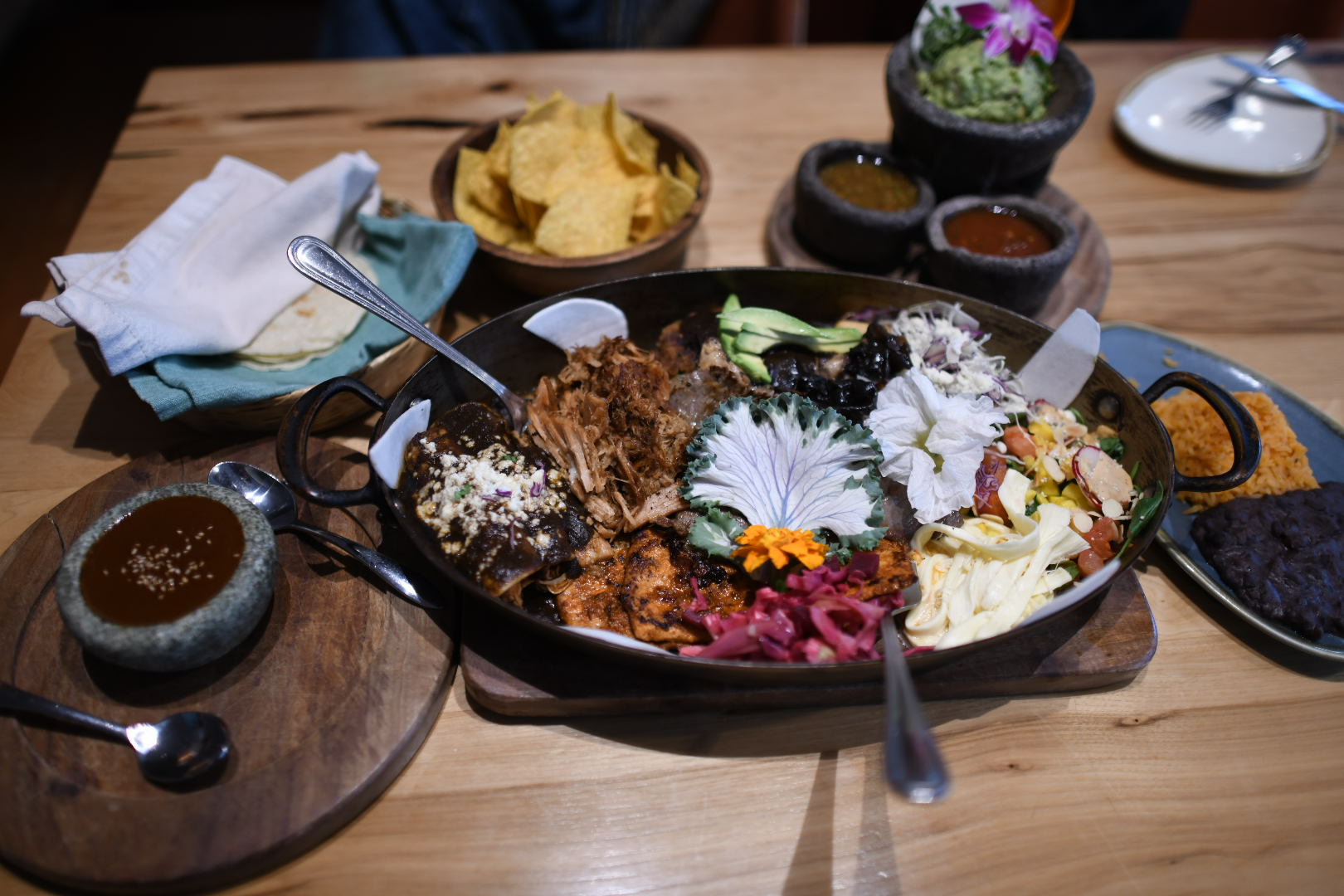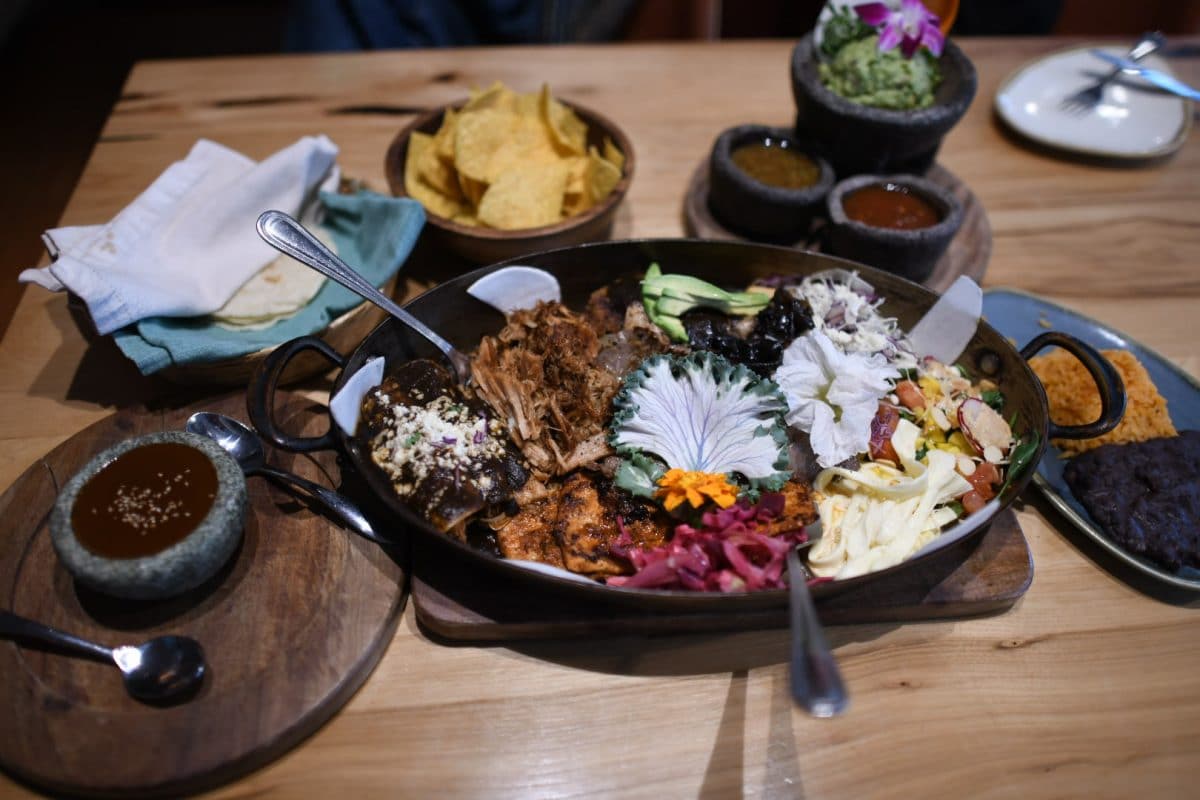 While there are a ton of exceptional taquería, Tex-Mex, and Mexicali cuisine in the Sacramento area, these are not those types of restaurants. Explore these restaurants to experience some of the more diverse and culturally significant foods of Mexico.
To make it onto this list, these Mexican restaurants throughout the Sacramento region must offer a combination of traditional Mexican ingredients, modern elements of cooking, and a unique gastronomical experience. If you're looking for more great Sacramento-area restaurants, check out the post on all the best restaurants Sacramento has to offer.
Mezcalito Oaxacan Cuisine
Mezcalito Oaxacan Cuisine in Rocklin is serving up delicious traditional Oaxacan food, with an attention to detail and dedication to freshness that is unmatched by many restaurants in the area. When you visit, I recommend you order outside your comfort zone because I've yet to taste a bad dish here.
Try a dish smothered in their rich mole or a Tlayuda (similar to a tostada) for some authentic Oaxacan flavors. The Avocado Salsa Fresca is one of the most fun guacamole-esque appetizers I've had the pleasure of eating, and their overall food presentation is on point. At Mezcalito, you will find consistently high-quality meals at a really reasonable price in a clean and simple setting.
Address: 5065 Pacific St, Rocklin, CA 95677
Website | Instagram | Facebook
Mayahuel
Mayahuel's owner hails from Michoacán, which gives a unique twist to many of the dishes here. It is possible to take a fairly comprehensive tour of various Mexican cuisines at this restaurant, from Yucatán to the Acapulco coast. Try their fish tacos, albondigas, or enchiladas verdes, and enjoy it all in a colorful and inviting atmosphere. Mayahuel also offers an extensive list of vegan options.
Address: 1200 K St, Sacramento, CA 95814
Website | Instagram | Facebook
Lalo's
Lalo's is one of those unassuming hole-in-the-wall places serving up some flavorful and authentic Mexican food. On their menu, you'll find traditional Mexican styles and ingredients, such as barbacoa and huitlacoche. Try the Al pastor burrito, tacos, consomé, or chilaquiles plate. The flavor in each of these dishes is off the charts. I recommend ordering a classic fruity drink with your meal, such as a guanabana.
Address: 5063 24th St, Sacramento, CA 95822
Website | Facebook
Midtown's Cantina Alley
Come to Cantina Alley for the vibrant Midtown-Sac vibes and delicious traditional Mexican food with a twist. They include plenty of fresh papas (potatoes), radishes, and roasted poblanos. Here are some of the many dishes that stood out to me when I visited:
The carne asada quesadilla could be an entrée on its own because it's stuffed full of so many ingredients. Ample cabbage and radish slices top each piece, which come arranged in a sushi roll-like style line on the plate. If you're a fan of soup, the pozole verde is tangy, spicy, and will have you eating beyond the point of being full. The use of cachanilla salsa really packs a flavor punch to the already nourishing hominy-based stew. The vegan taco del monte may be one of my favorite items here, with portabello mushrooms sautéed in a balsamic reduction, salsa verde, and nutritional yeast.
Address: 2320 Jazz Alley, Sacramento, CA 95816
Website | Instagram | Facebook
Nixtaco
Nixtaco in Roseville offers a diverse assortment of modern and creative taco options with fresh-made tortillas. Their entire service is automated, which can be a good thing or bad thing depending on your point of view. The dining room resembles a new-age Mexican cantina. If it's your first time visiting, try the combination taco or spicy shrimp tacos.
Address: 1805 Cirby Way #12, Roseville, CA 95661
Website | Instagram | Facebook
La Venadita
La Venadita is your go-to spot for great Mexican food in Oak park. They employ unique uses of mushrooms and chilies throughout their dishes. Enjoy their quesabirria tacos with a margarita in their inviting brick-walled setting or outside on their lovely patio. Be sure to treat yourself to some authentic churros for dessert!
Address: 3501 3rd Ave, Sacramento, CA 95817
Website | Instagram | Facebook
La Flor de Michoacán
Quaint spot offering some great authentic Mexican-Salvadoran dishes. Their pupusas are must-try items, along with their tamales with pineapple, fried plantains. Don't forget to add the curtido to the pupusas, and grab yourself some yucca and chicharrones as a snack!
Address: 2339 Northgate Blvd, Sacramento, CA 95833
Cicada Cantina
Cicada Cantina is a Mexican sports bar mashup with over-the-top style dishes, giant molcajetes, creative vegan options, and ample usage of fresh nopales. Overall, you will find decent food in a modern and lively setting.
Address: 9105 W Stockton Blvd, Elk Grove, CA 95758
Website | Instagram | Facebook
More to Try
Have a suggestion of a Mexican restaurant here in Sacramento I need to check out? Leave a comment below.
Try one of these and discover a new favorite dish or regional interpretation. I'd love to hear what foods you've tried and fell in love with!
About the Author
Latest Posts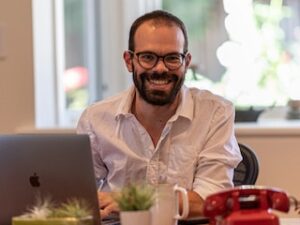 I strive to paint vivid landscapes with my words, bringing the magic of far-off lands and enchanting aromas to life for my readers. Combine passion for exploration and the art of gastronomy in an unending ode to the senses. When I'm not traversing the globe, I find solace in the earth beneath my fingertips, tending to my garden and working on projects around my verdant oasis. MK Library serves as a beacon, guiding fellow travelers and homebodies alike to embrace sustainability, nurturing both our planet and our souls with purpose. Full Bio.