These are some of the best restaurants in Oakland. From Michelin star restaurants to unassuming dine-ins and food trucks, there is an abundance of great food throughout Oakland and its many neighborhoods. The Oakland food scene has grown exponentially over the years, and I believe the diversity of cultures has always been at the root of its success.
This post was originally sponsored by Visit Oakland. All opinions are my own. #VisitOakland #OaklandAndILoveIt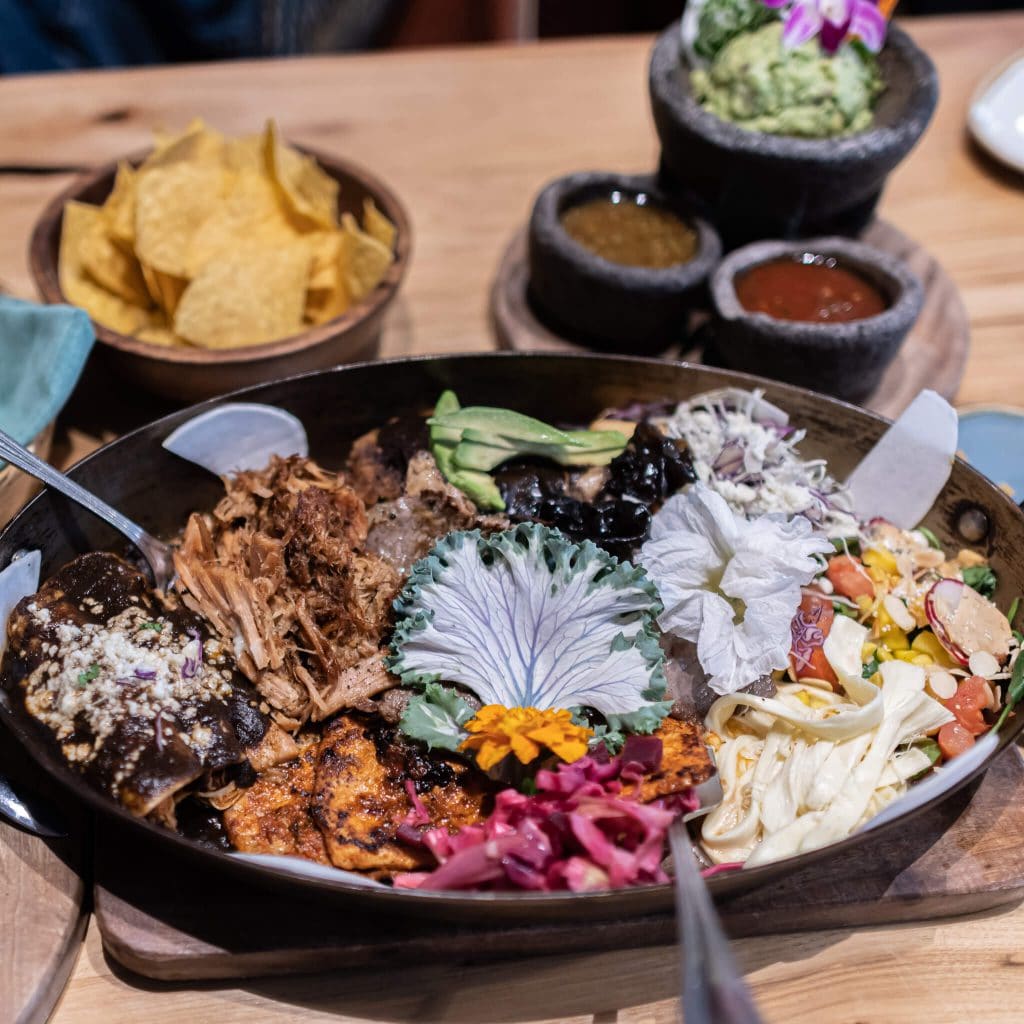 Oakland Restaurant Week
The annual Oakland Restaurant Week is happening from January 20th through 30th, 2022. This event is an exceptional way to experience the Oakland food scene for yourself. Restaurants will be providing special menus and bringing their A-game to your plates, bowls, and glasses. When I attended in 2019 with Visit Oakland, I was able to get a preview with multiple restaurants.
Here are some Instagram memories of my experience: [Post 1] [Post 2] [Story Highlights]. After exploring the city with food at the forefront of my mind, I must say I fell in love with Oakland. The entire city, the people and, of course, the food, are all full of so much generosity and good vibes.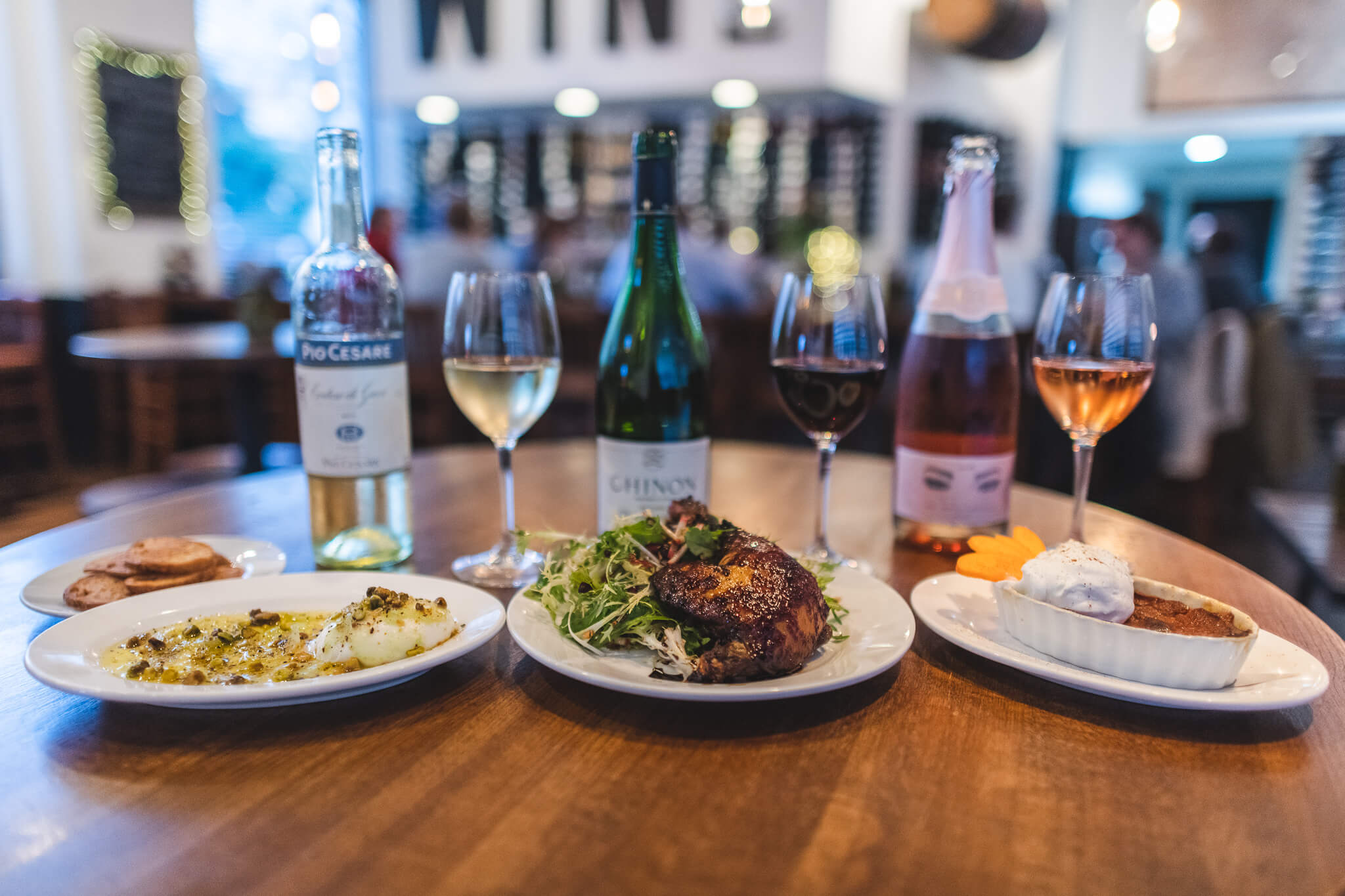 A note on the restaurants listed below: I went to quite a few, and did not have a single bad experience. I felt excited about every meal I tried in Oakland. Needless to say, the Oakland food scene is on point.
Visit Oakland Restaurant Week Official Website for up-to-date info on which restaurants are participating.
Oakland's History with Food
Oakland, California has always been an epicenter of transportation. From its beginnings in the 1860s, Oakland was home to the western terminal of the transcontinental railroad, to now being one of the busiest ports in the United States.
Around the massive transportation going through the city, the flatlands offered spectacular agricultural opportunities. Between multiple transportation centers and the canning industry in the Fruitvale neighborhood, Oakland found itself teeming with a diverse array of food cultures. It should come as no surprise that Oakland is one of the top ten most ethnically diverse cities in the United States (Source).
Today, Oakland chefs are continuing to set trends in the culinary world with their innovative creations.
Oakland Dining Experiences by Neighborhood
A very friendly hotel employee gave me a lowdown of some of the best food trucks, what to expect in walking around the various neighborhoods, and some suggestions on some restaurants which embody the soul of Oakland.
Produce and Waterfront
Everett & Jones Barbeque
Everett & Jones Barbeque located near Jack London Square was my first stop. The whole vibe of this restaurant was fun. Giant plants stretched over the entryway, with church pews on each side for restauranteurs waiting to be seated. I was all in even before I tasted the food, and that's saying something! The smokey barbecue and southern sides are like a warm welcoming hug of a meal. I said I wanted to try a little of everything and they more than obliged.
Address: 126 Broadway, Oakland
Neighborhood: Uptown
Website | Instagram | Facebook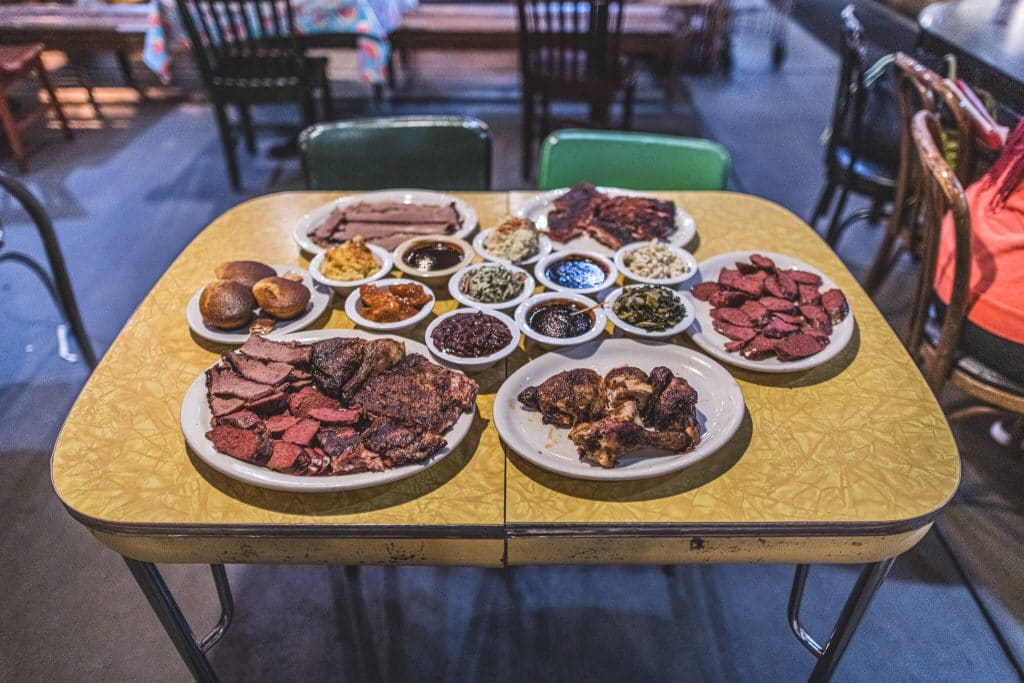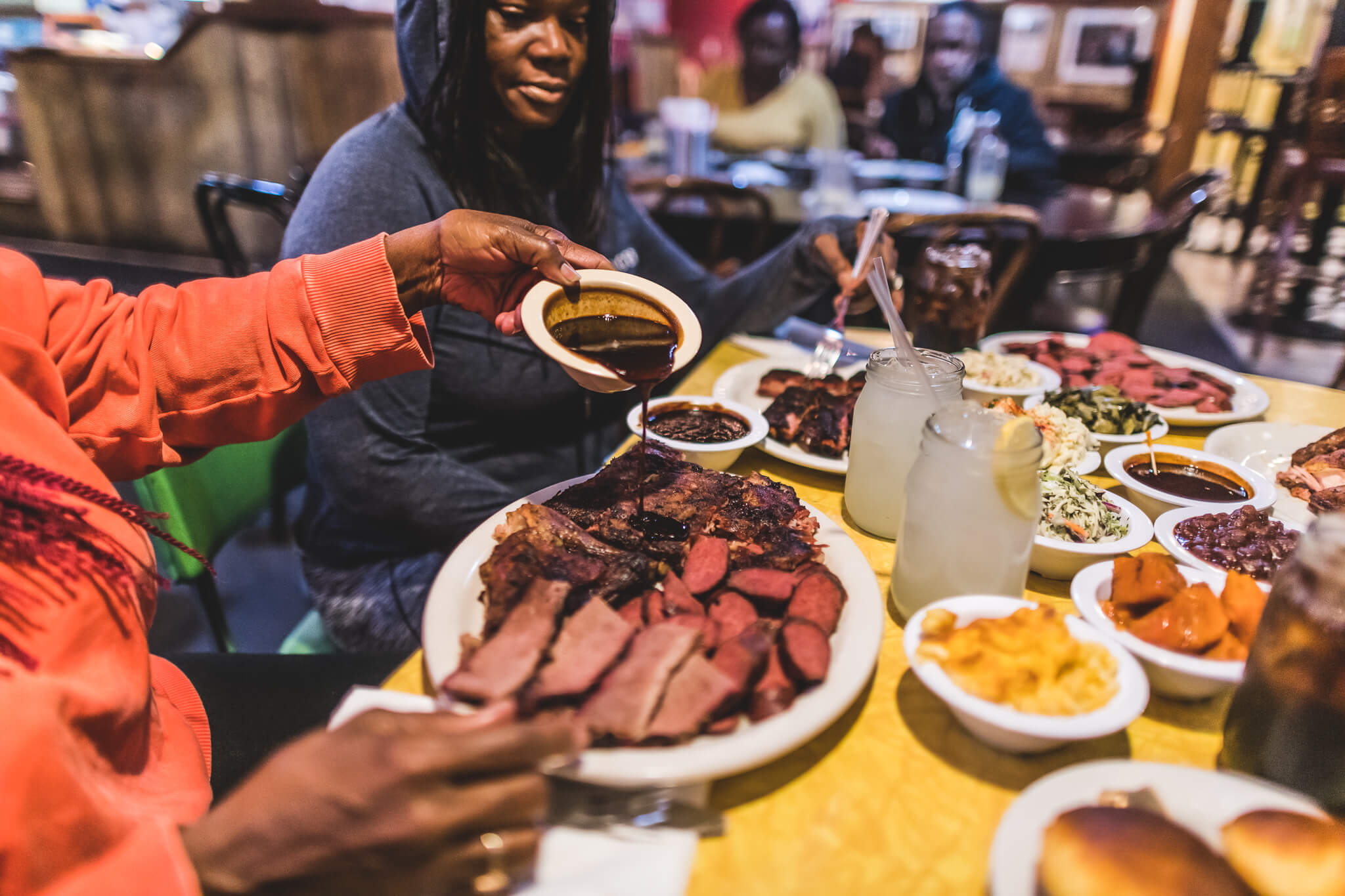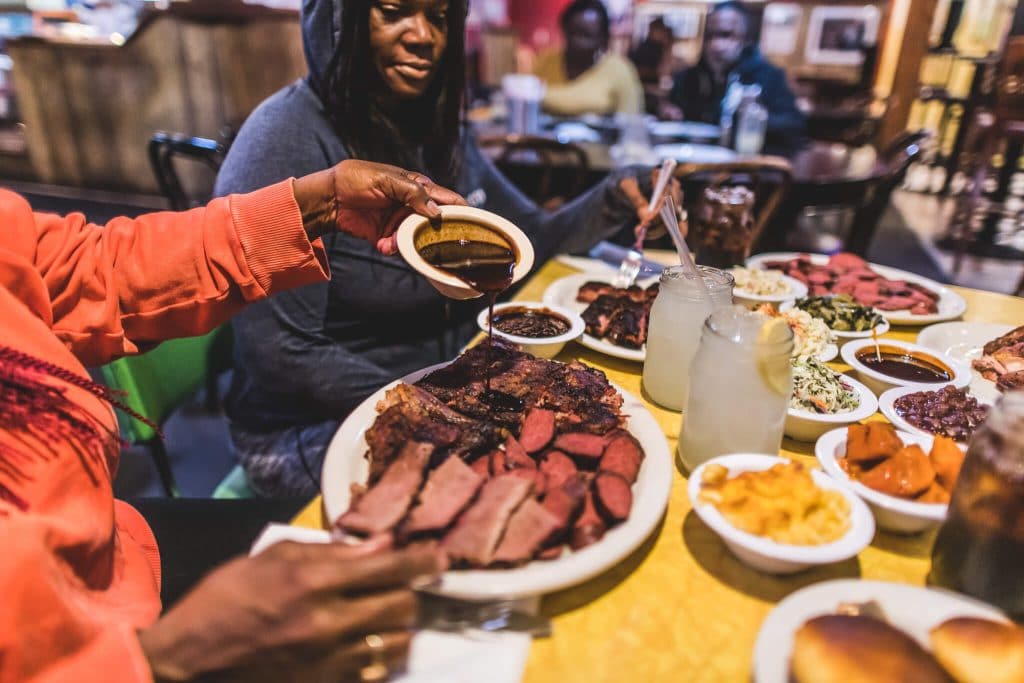 The table next to me (bemused with the amount of food in front of me) helped me by posing for some shots. Don't worry, all of my food was eventually eaten and the restaurant's leftovers are reheated and repackaged into to-go containers for the homeless every night. There is always a line of people waiting for their generous donations. This is truly an incredible thing to do to both reduce food waste and serve the community.
After eating all I could handle here, I decided to walk to one of the furthest restaurants on my list, giving my stomach some time to digest before round two.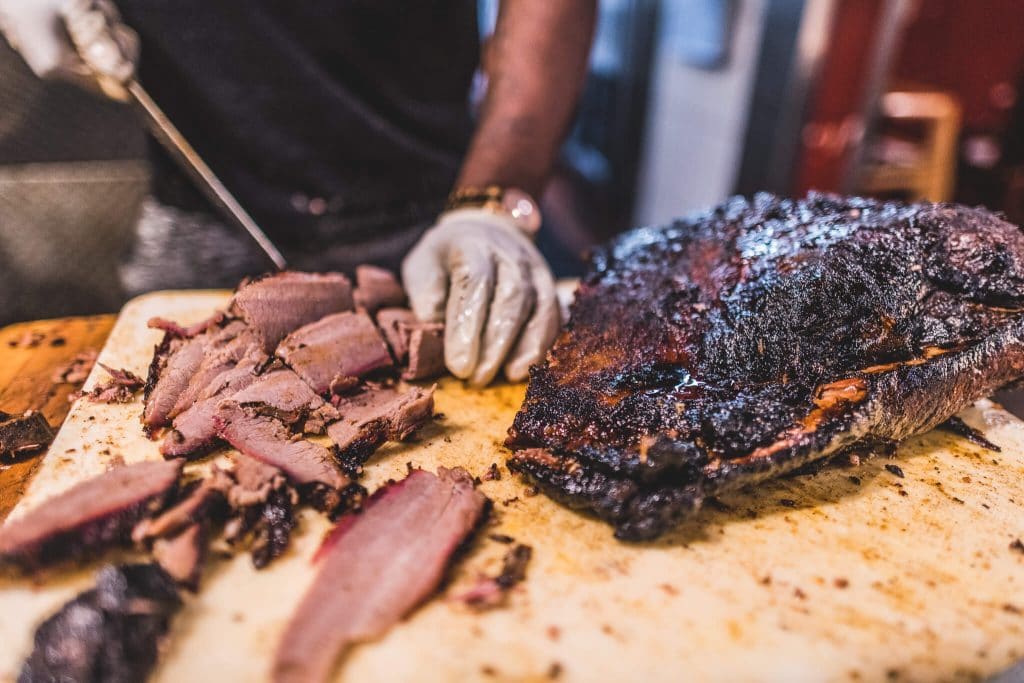 Ben's Chinese
Located in the industrial part of Oakland in between produce markets. did not have the chance to eat here myself, but have heard great things from locals about this spot. great family-run Chinese food spot, if you are looking for a hearty meal without the glitz and glamor.
Tribune
Another stop I unfortunately did not have the time to eat at the new Tribune, but the reviews so far have been outstanding. "A new American Brasserie from partners Omri Aflalo and Darrin Ballon, Tribune hopes to be a dining destination for the Oakland community and beyond. Located in the iconic Tribune building on 13th and Franklin Streets, Tribune is a place to gather with friends and enjoy brasserie favorites, exceptional cocktails, and warm hospitality. The menu pulls influences from Executive Chef Aflalo's French culinary training while embracing the year-round seasonality of the Bay Area."
Uptown
Agave Uptown
The thing that drew me to Agave Uptown was their Oaxacan cuisine and mezcal. Luckily for me, the restaurant was on the slower side, so I was able to talk to multiple staff and get a lot of fun information about the food. If you appreciate good molé, you absolutely must come here. Their mezcal is also the real deal and super high quality. It's easy to take amazing photos when the food already looks this good.
The food was so good at Agave Uptown that I actually went twice. The second time I met with the Chef and he talked about his secret family molé recipe. I'm always admiring the presentation of the plates at any restaurant I go to and I really enjoyed the use of wood and pottery to accentuate the vibrant food at Agave Uptown.
Address: 2135 Franklin St, Oakland
Neighborhood: Uptown
Website | Instagram | Facebook
First Edition
On my way to Agave Uptown, I noticed an a-frame sign which read "Villains Welcome" and had to check it out. Themed to be a comic book bar, the decor, drink menu, and entire vibe in First Edition could be classified as hipster chic. I sat down with the manager and we had a very enjoyable conversation about menu development for First Edition and the alcohol used in their unique cocktails. The ingredients are top-notch and I savored the non-alcoholic drinks just as much as their alcoholic counterparts.
Address: 1915 Broadway, Oakland
Neighborhood: Uptown
Website | Instagram | Facebook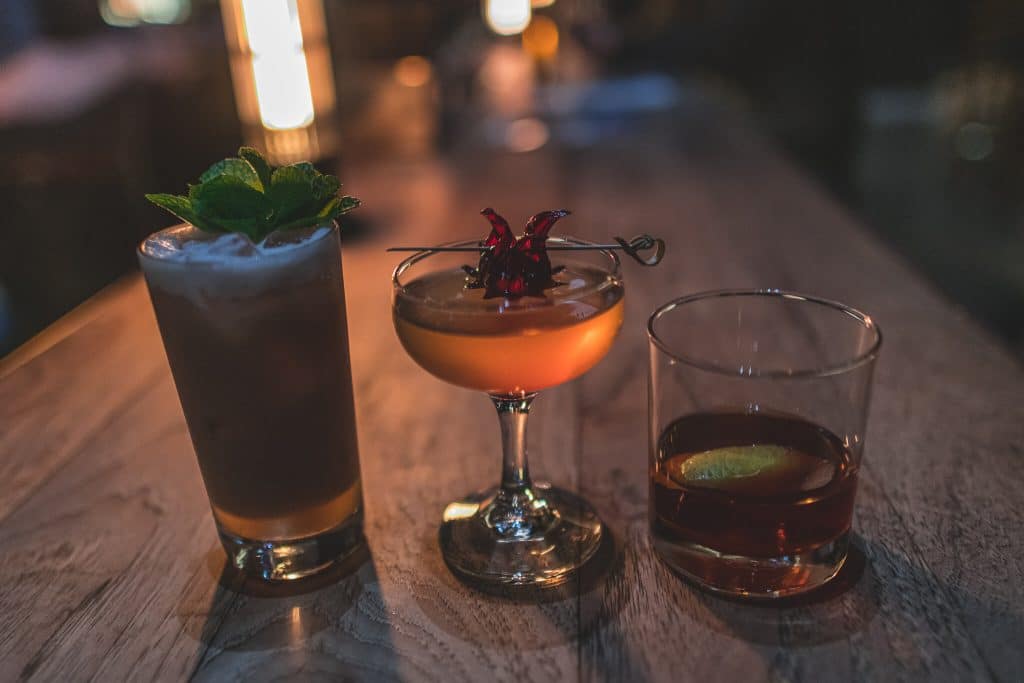 Hopscotch
For my second day of exploring the Oakland food scene, I started with brunch at Hopscotch in the Uptown neighborhood, serving American food with a Japanese flair. We shared some lovely beignets, split a few lunch entrees, and discussed what made Oakland food so incredible. We agreed that the influence of such an array of cultures is what makes it so great. When you visit Hopscotch, be sure to try their braised pork belly benedict.
Address: 1915 San Pablo Ave, Oakland
Neighborhood: Uptown
Website | Instagram
2022 Update: Downtown Wine Merchants is now closed for business.
Downtown Wine Merchants was next on my list. With a fun, diverse wine menu and incredibly well-thought-out menu, I was given a sampling of their own Oakland Restaurant Week menu. Talking to the Chef provided exceptional insight into how much care goes into preparing their dishes. Some ingredients are so local, they came from the owner's backyard!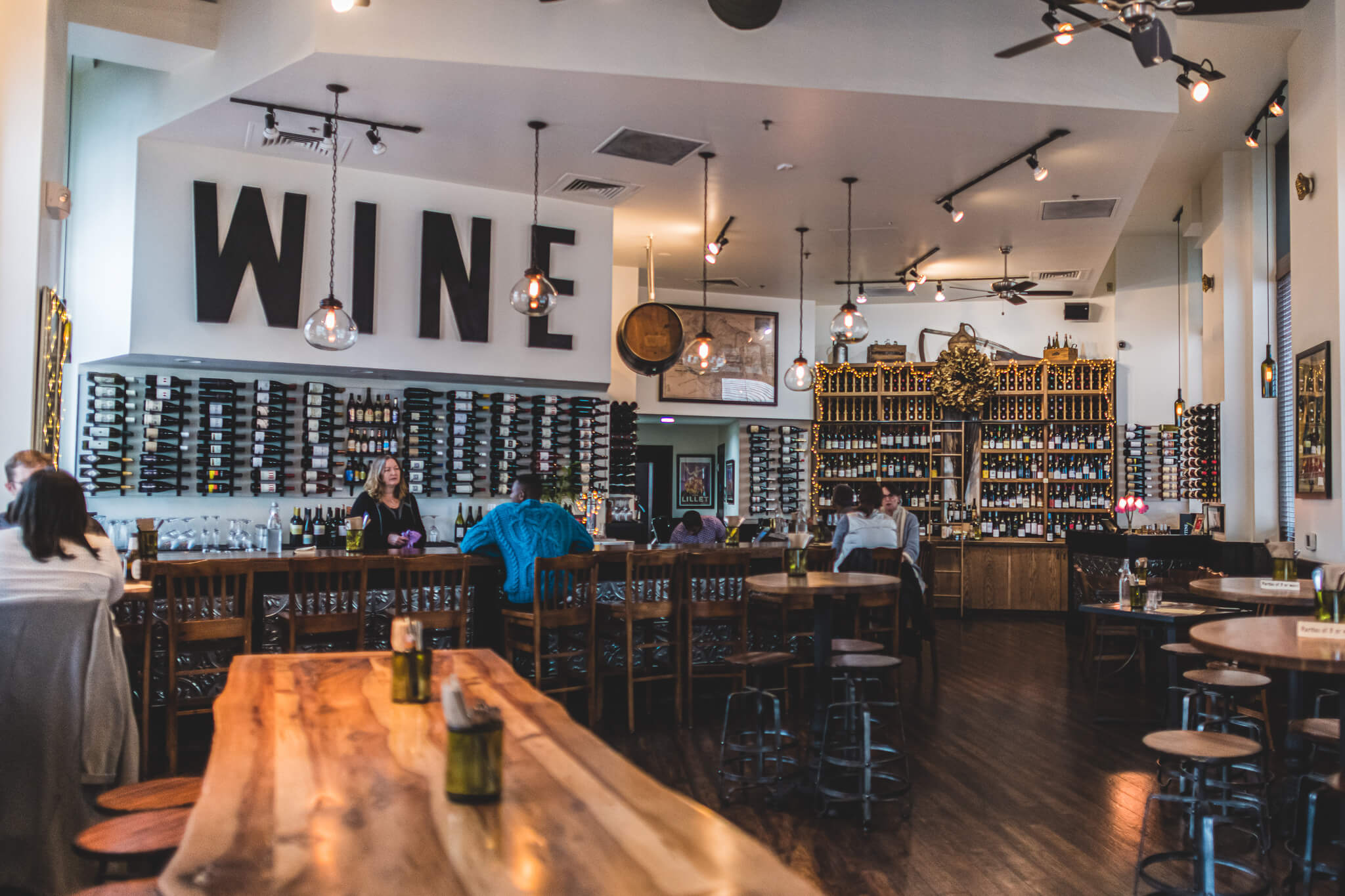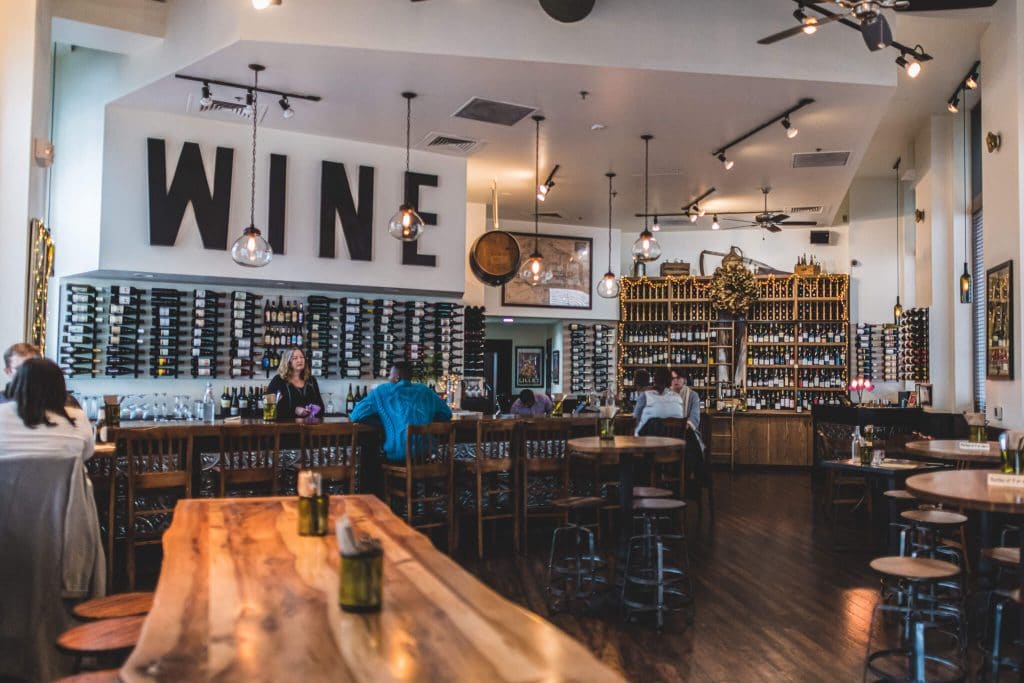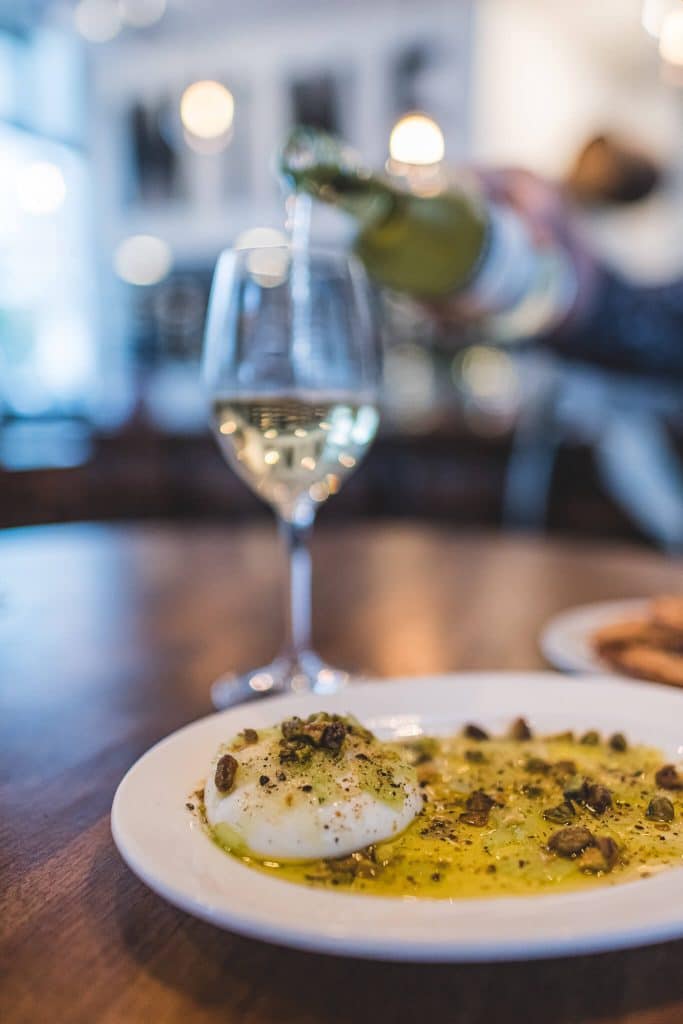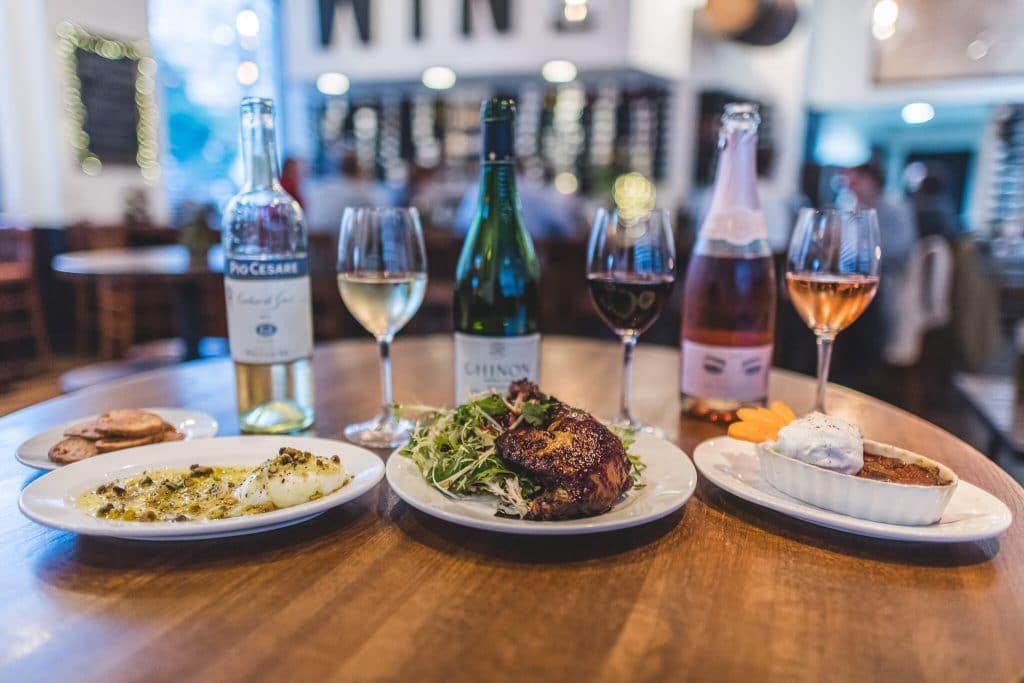 2022 Update: Tribune Tavern is now closed for business.
For my final dinner during this trip to Oakland, I embarked to the Tribune Tavern. An expansive restaurant with a beautiful cocktail list and an array of dishes amazed my tastebuds with each bite.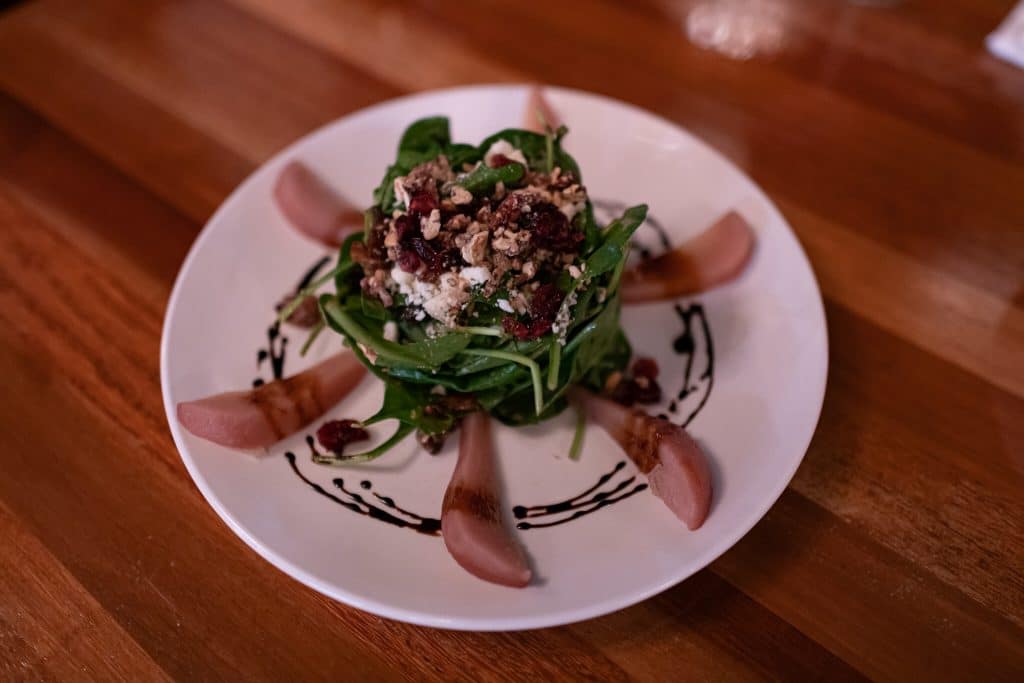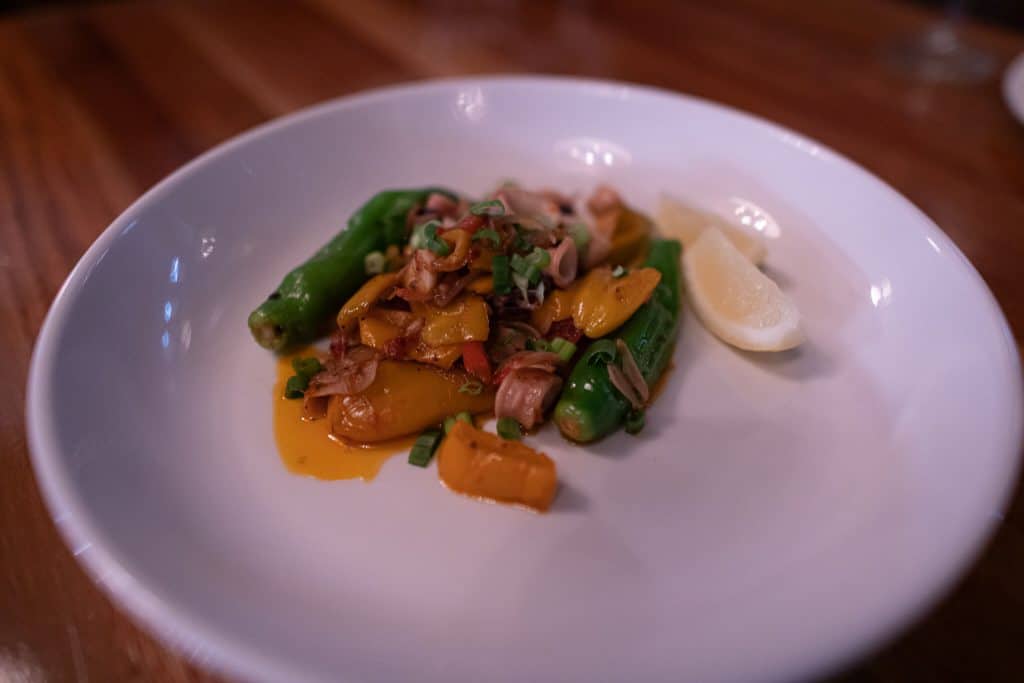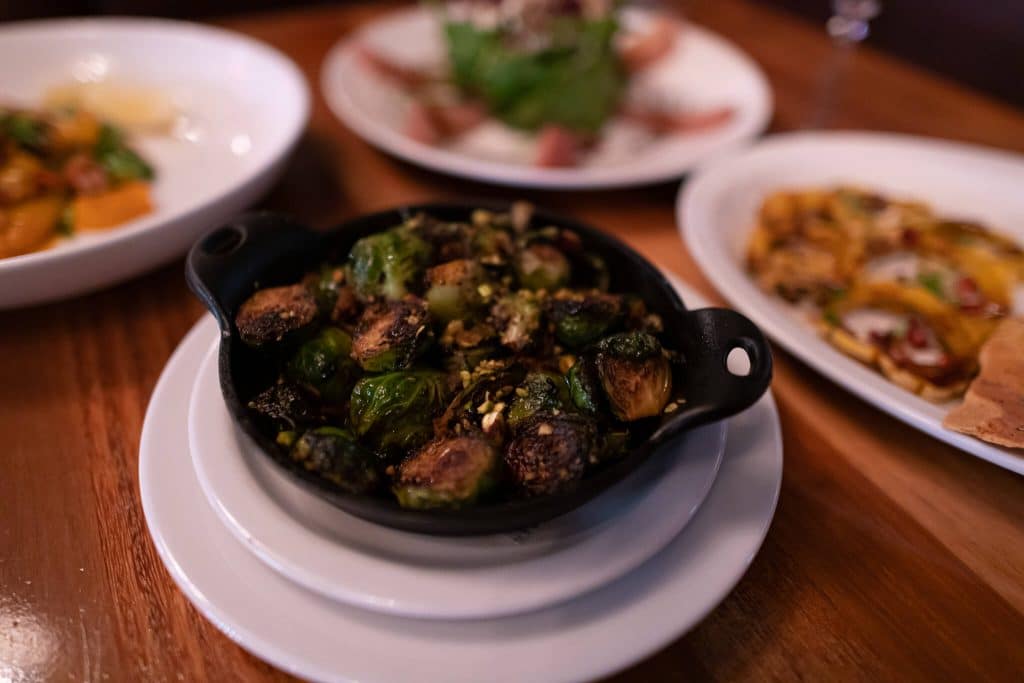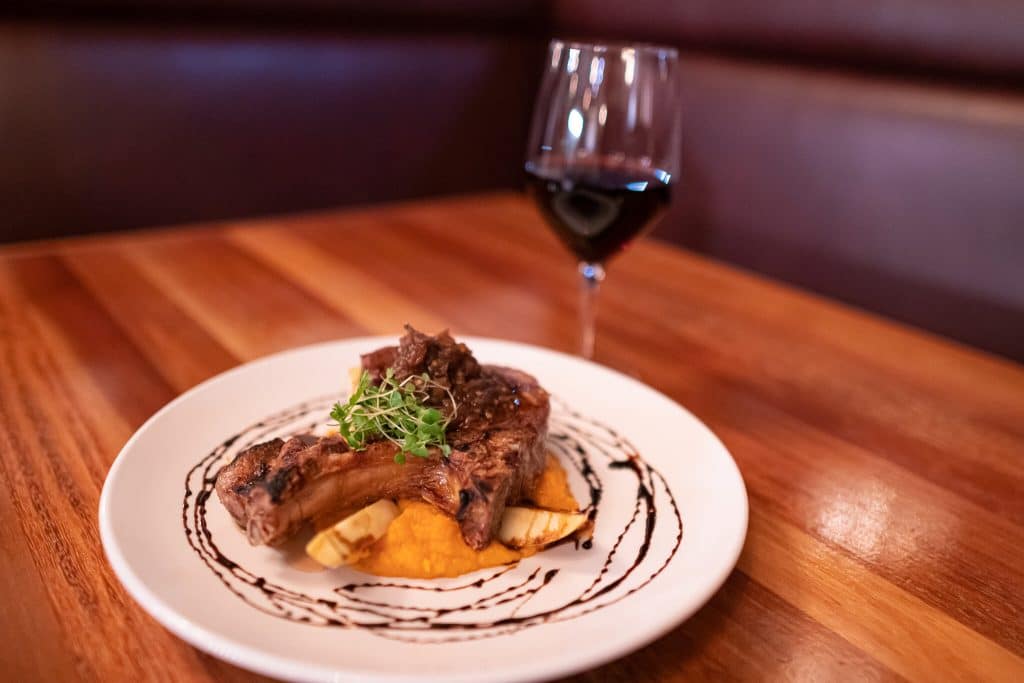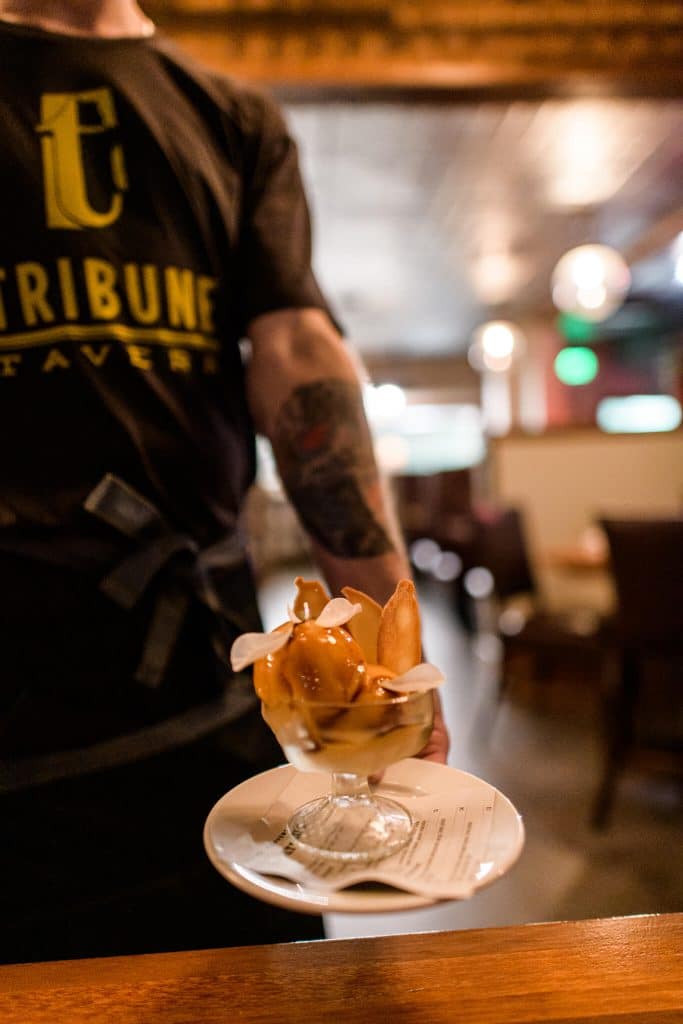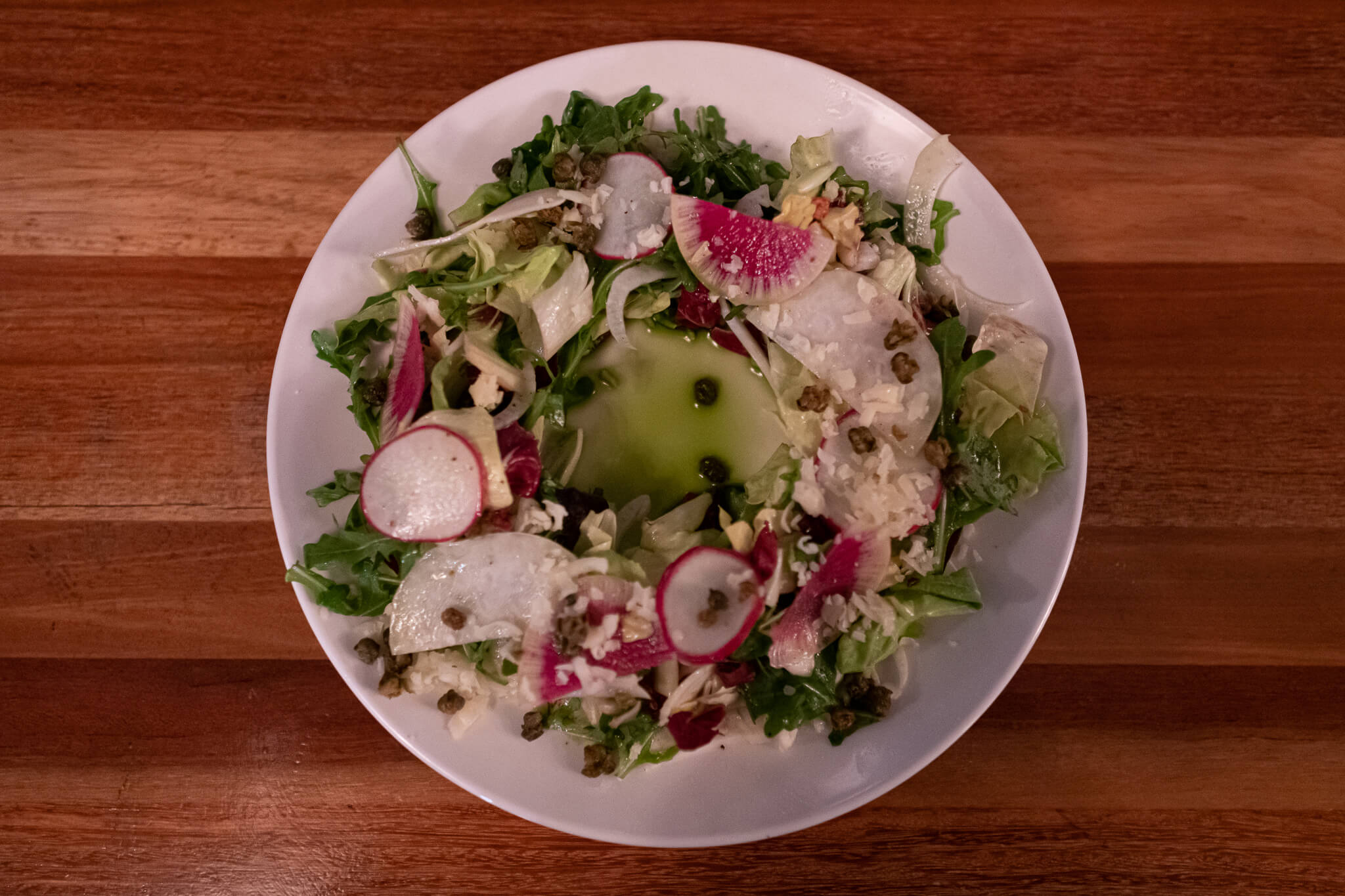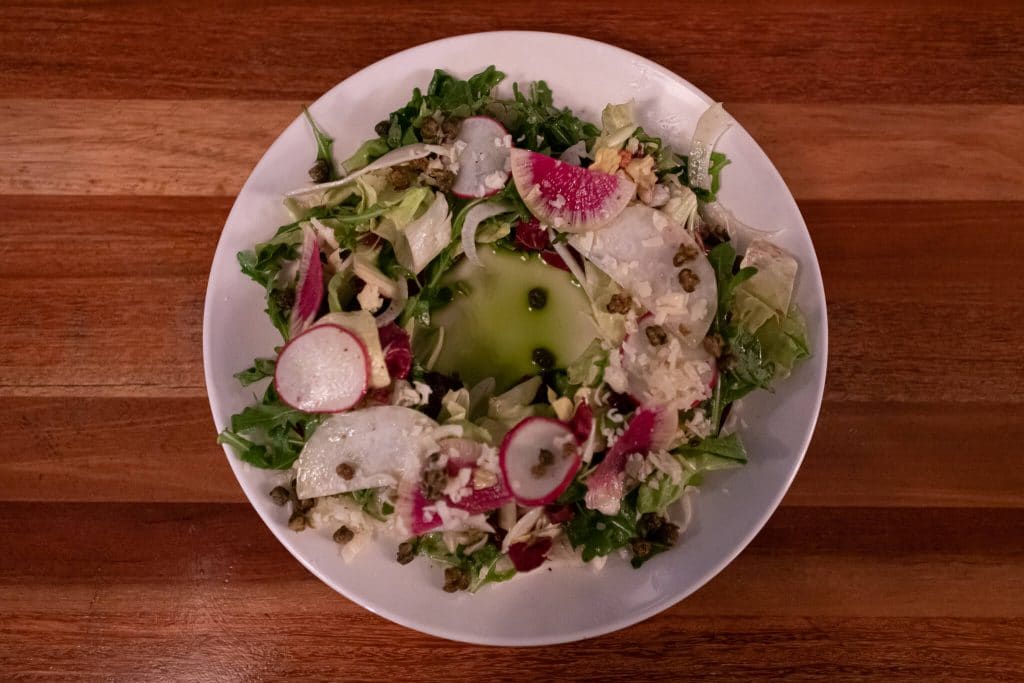 While this was my last dinner, I still had lunch the next day before I returned home via Amtrak. If the last set of pictures was any indication, it should come as no surprise to you that I had two lunches.
My first lunch was at Cosecha.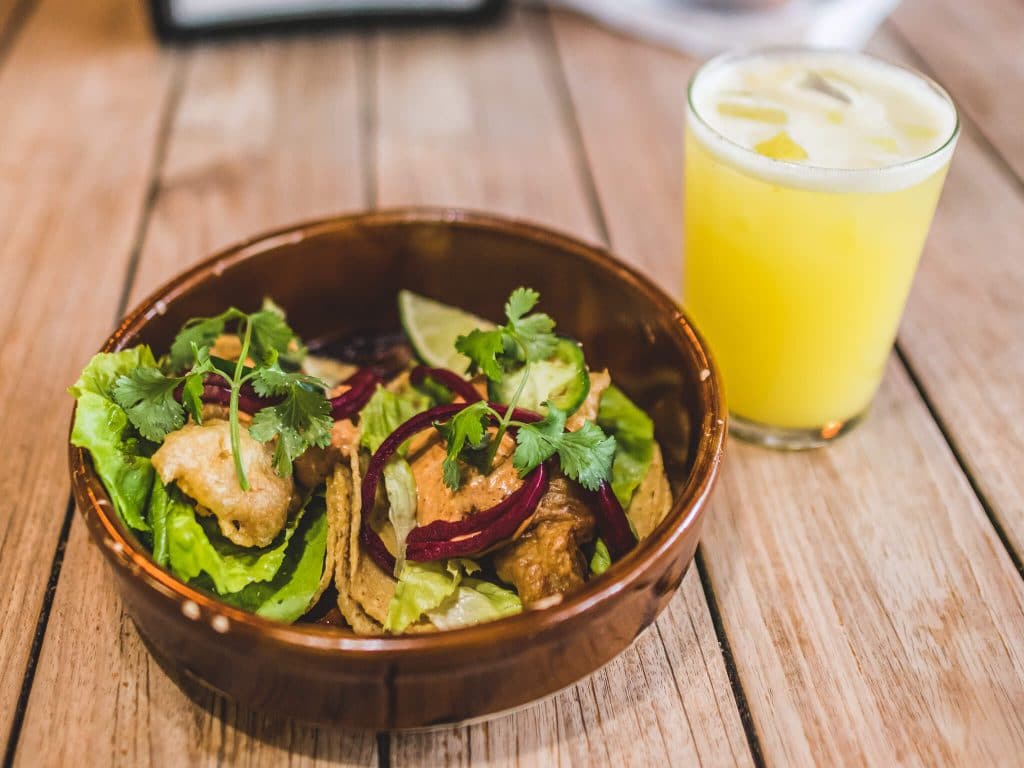 With a warm full belly, the rain had died down to a gentle mist and I made my way back to the hotel, grabbed my bags, and snagged a ride back to Amtrak for a smooth ride home. I had a ton of fun traveling from Sacramento to Oakland without a car. I able to gorge on incredible food, sip on innovative cocktails, and walk all over downtown Oakland with ease. It was such a great way to renew my knowledge of the city and explore so many gems.
Slow Food in Oakland
As a big supporter of Slow Food Nations, I reached out to the East Bay chapter for some recommendations. For those not yet privy to the wonders of slow food, the movement supports local food culture and rekindles the passion for people's interest in the food they eat. Everyone should have access to good, clean, and fair food. I had a brief exchange with Willow, who provided me with an exceptional list of restaurants.
I tried to get to a decent amount of the recommendations of slow food restaurants but unfortunately was unable to get into one, based on wait times, my schedule, and restaurant open/close timing. Some of these restaurants will be at the top of my list upon my next eating expedition to Oakland.
I was able to make it to TayHo and Cosecha out of this entire list. I know, I know – I'll promise to do better and visit more.
Some hidden gems throughout Oakland:
TayHo – Vietnamese in downtown Oakland.
El Huarache Azteca – Mexico City focused cuisine with a brick & mortar in Fruitvale.
Crystal Wahpepah only does catering, but is an Indigenous chef based in Oakland that travels widely to cook for native tribal gatherings.
Delage – Thoughtful Japanese in downtown Oakland.
Cambodian Street Food – Cash only, take out only, family run – yum!
PieTisserie – Amazing pies from an African American chef.
Bahn Mi Ni – A creative bahnmi popup at the Copper & Spoon space on Broadway & 40th.
El Potrillo – Birria to die for!
Homestead – A lovely husband & wife run place with nothing mind-blowing, but always a focus on good food and a welcoming space.
BelCampo – The founder, Anya Fernald, was a Slow Food leader for many years and they source, process, cook and serve animals from beginning to end.
Shewhat – Tiny Eritrean in North Oakland.
Kingston 11 – Fun, yummy Jamaican food in Uptown run by an amazing man, Nigel.
These restaurants receive a ton of press and are incredibly popular already.
Reem's

Nyum Bai

Cosecha
Pizzaiolo
The Neighborhoods of Oakland
In exploring the various restaurants, food trucks, food of Oakland, you'll find
Airport
As you might have guessed by the name, this is where the Oakland International Airport is. Amelia Earhart departed from this airport in 1937. There is also the Oracle Arena and O.co Coliseum Complex where a ton of events from sports to music take place. While there are plenty of quick-eats and fast options here, you can also check out some of these local restaurants:
Yoshino Sushi – Japanese/Sushi
HegenBurger – Burgers and terriaki plates
Royal Kitchen – Indian
Andale – Mexican
Chinatown
With fresh produce lining the streets, street signs in Mandarin, and Chinese decor in many shops, walking through Oakland's Chinatown immerses you in a unique amalgamation of Asian cultures. Unsurprisingly, it is one of the oldest Chinatowns in the United States. One of my favorite finds in Chinatown was not actually a restaurant, however, but a Library! Go figure, right? The Oakland Public Library Asian Branch keeps a treasure trove of books written in a variety of languages. If you are in the area, I recommend stopping by after you've grabbed a bite to eat at one of the 45 restaurants and 9 tea shops.
Here are a few of the stand-out food establishments in Oakland's Chinatown:
Tay Ho Oakland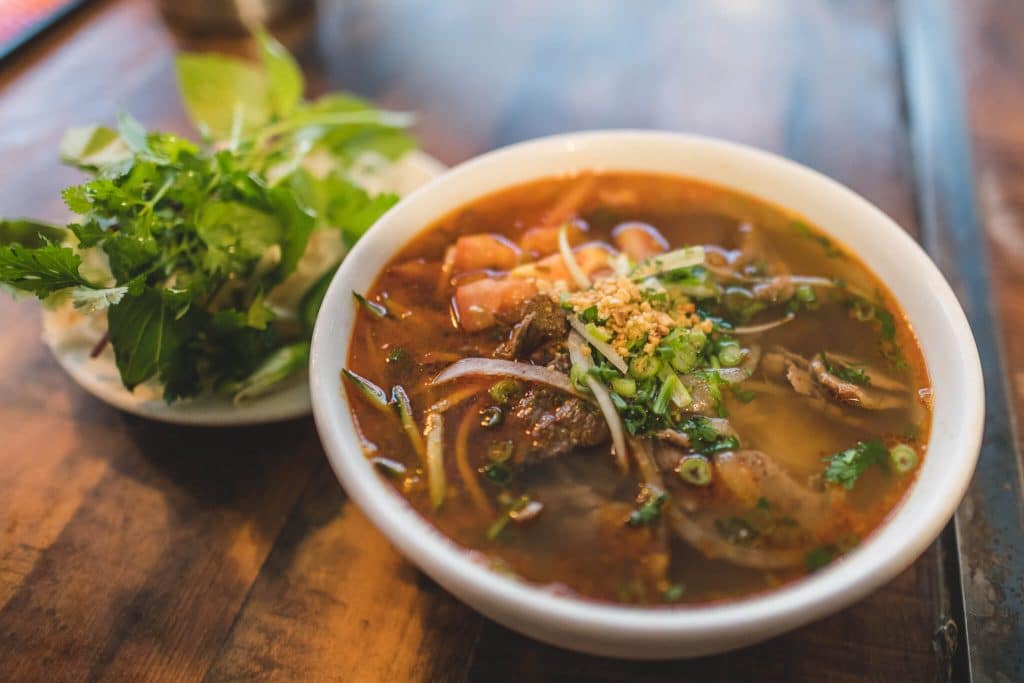 I had a second lunch at Tay Ho and did not regret my overly-full belly after. This is quality Vietnamese cuisine made with locally sourced ingredients. It started raining while I was there, the perfect weather for some of the best Pho in Oakland. They may be a bit on the pricier side, but the food is well worth it. Stop by soon to try their fresh-caught Salt & Pepper Crab and Tamarind Crab through the end of January.
Address: 344 12th Street
Neighborhood: Chinatown
Website | Instagram | Facebook
Vien Huong
An unassuming storefront, this place is truly a hidden gem for delicious and affordable Chinese and Vietnamese food in Oakland. It's also a go-to spot for noodle soups.
Address: 712 Franklin St
Neighborhood: Chinatown
Trip Advisor | Yelp
Additional restaurants to try:
Commis – Never been there but tons of press. People say it's the best restaurant in Oakland.
Aburaya – Japanese fried chicken. So freaking good, and gets everywhere, the way good chicken wings should
Itani Ramen – If you're feeling like a comforting bowl of soup but want to feel cool while you are doing it. The place has a vending machine, is trendy but the food backs it up.
Geta Sushi – only 15 spots in this place but they go fast. You can get bites of wagyu, fried squid, oysters…all the good off the menu stuff
A16 – Never been there but it's on my list. I hear it's very good Italian/pizza.
The Fortune Cookie Factory – Opened in 1957, Oakland Fortune Cookie Factory is one of the oldest fortune cookie makers in the Bay Area, stretching back three generations. There are only a handful of factories producing fortune cookies in original bay area locations. On top of that, The Fortune Cookie Factory is one of the very last places in America that still makes fortune cookies entirely by hand. You can join a short tour to learn how fortune cookies are made, or stop by the shop to get some cookies and know your fortune.
Shandong – Fresh noodles and dumplings prepared Mandarin style.
Sobo Ramen – Ramen
Golden Peony Seafood Restaurant – Dim Sum
Tacos Oscar
Featured in Eater SF a few years back, this bright and playful taco restaurant serves vegetarian/vegan tacos out of the back of a shipping container. They also serve meat, but both versions are so good.
Address: 420 40TH ST
Neighborhood: Temescal
Website | Instagram
The Best Places to Stay in Oakland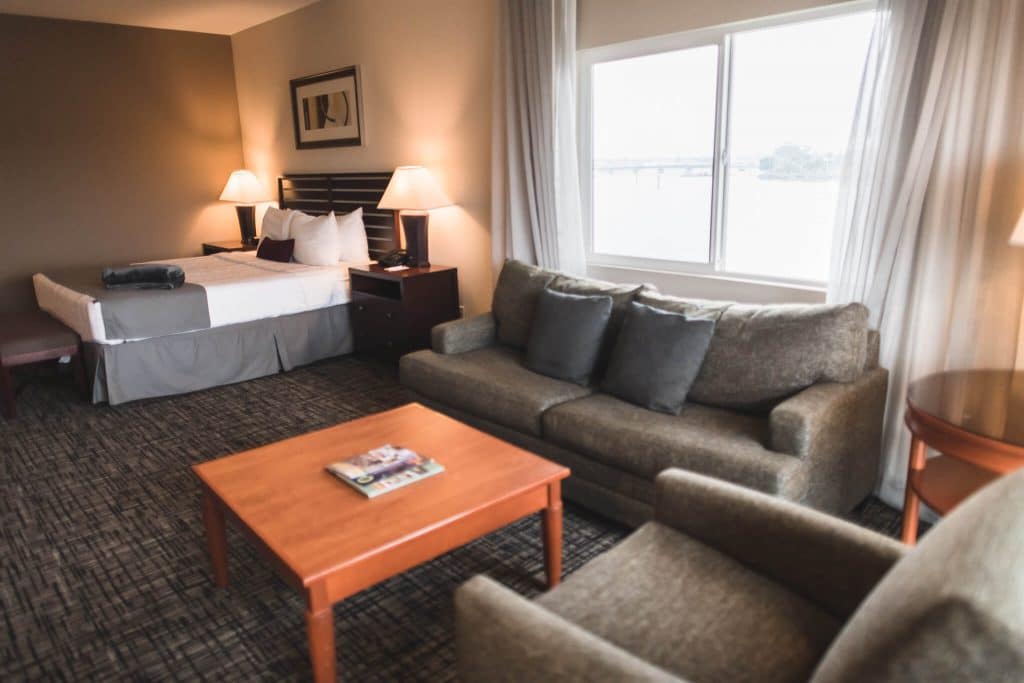 While I visited Oakland with purpose, there are plenty of cool things around Oakland as well – you'll probably want a break from all the eating. As I walked around the city, I noted some ideal locations.
I stayed at the Best Western Bayside Plus. This biggest selling point for me, besides the spacious rooms, was the shuttle service. Within 30 minutes, I could be on a shuttle to one of several locations in Downtown Oakland. Then, I could call for a pickup when I was done. This ended up saving me a ton on rideshares. Some of the dropoff/pickup locations included BART and Amtrak.
In fact, I was able to take the train from Sacramento to Oakland and get around without a car, which made the whole trip a lot less stressful without having to worry about parking or driving.
If I were to stay in a more central location, my next choice would be one of the hotels near Broadway and 11th in the Downtown district. There is also a nearby BART station that can quickly get you into San Francisco for some additional sightseeing.
Having spent not nearly enough time in Oakland, I highly recommend booking a hotel for several nights and thoroughly enjoying this city's rich culture.
Jack London Square
Uptown / Downtown
West Oakland
Montclair
East Oakland
More Restaurant Recommendations
Loved this list of the best restaurants in Oakland and looking for more epic recommendations?
I strive to paint vivid landscapes with my words, bringing the magic of far-off lands and enchanting aromas to life for my readers. Combine passion for exploration and the art of gastronomy in an unending ode to the senses. When I'm not traversing the globe, I find solace in the earth beneath my fingertips, tending to my garden and working on projects around my verdant oasis. MK Library serves as a beacon, guiding fellow travelers and homebodies alike to embrace sustainability, nurturing both our planet and our souls with purpose. Full Bio.