With such a large selection of great restaurants, narrowing down the best restaurants in Mendocino, California can be tough. Surrounded by fertile soil, spectacular ocean views, and fresh seafood, it's easy to see why talented chefs and eager foodies flock to the region. You can find a special dining experience nestled in every nook and cranny of these quaint cliffsides and vibrant mountains. Each of these spots, from high-end seasonal restaurants to lively local eateries, boasts its own unique cuisine and inviting ambiance.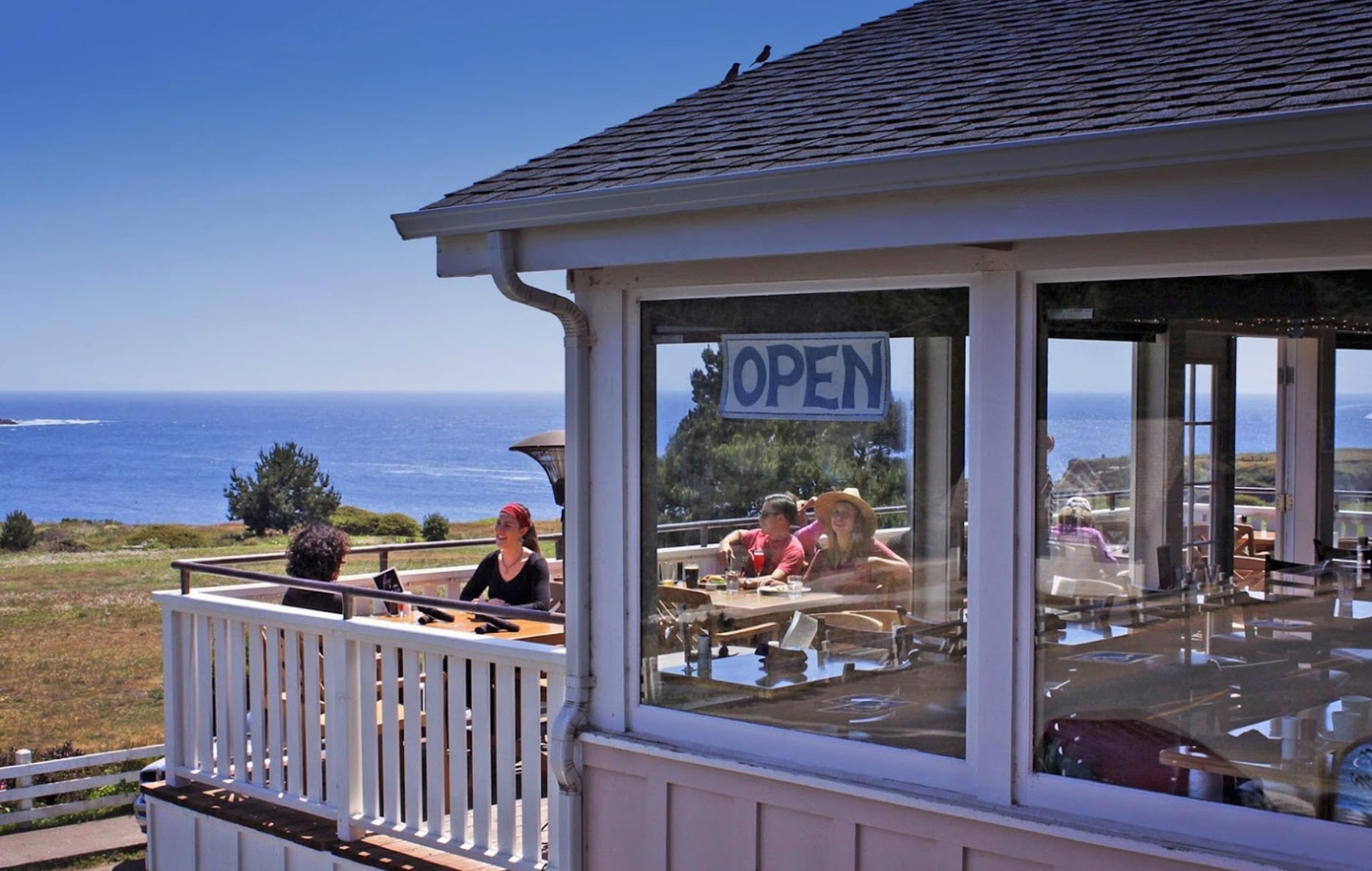 Many of the restaurants featured below focus on farm-to-table food, creating market-focused menus that rely on local produce grown sustainably in the surrounding communities. Whether you are up for an authentic Italian dish, Asian fusion, or a laid-back American meal, read on to discover some of the best places to eat in Mendocino!
Where to Eat and Drink in Mendocino
Fog Eater Cafe
This bright and playful hole in the wall in the heart of Mendocino creates fresh and flavorful vegetarian dishes. This cute and quirky eaterie with modern french patisserie vibes serves their "California cuisine with a southern twang" which is both delicious and healthy. For brunch, try their fried cauliflower and green onion sorghum waffles with pepper jelly and spicy sorghum syrup. For dinner, you can't go wrong with their Cheesy Pumpkin Grits in shiitake beer broth, alongside herb-crusted squash and trumpet mushrooms. The Fog Eater Cafe reopens from their winter break on February 15th 2023, so make sure to be first in line for this out-of-the-box dining experience!
Address: 45104 Main St, Mendocino
Website | Instagram | Facebook
Goodlife Cafe and Bakery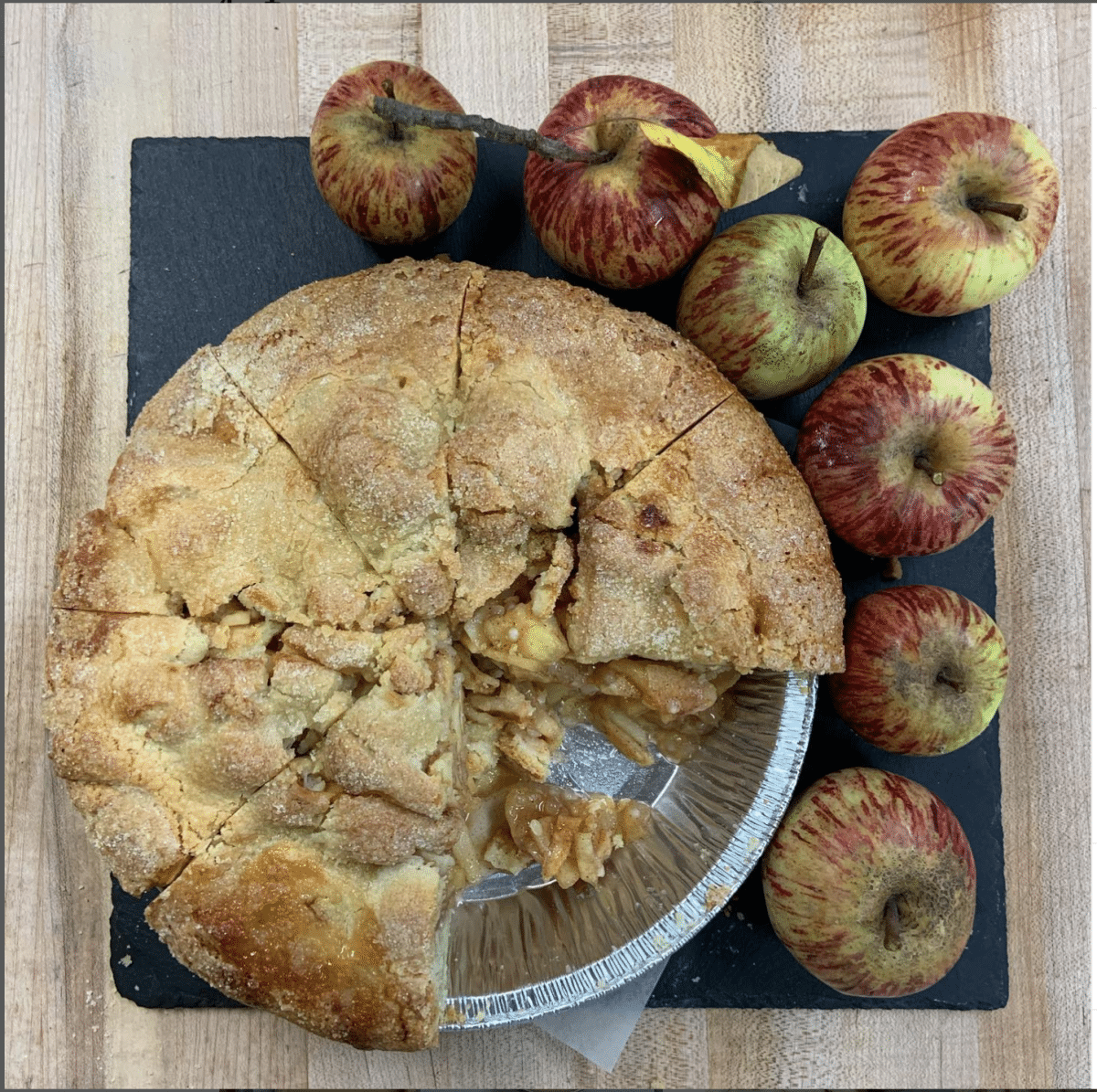 The Goodlife Cafe and Bakery is known for its top-notch baked goods and breakfasts. Stop by this quaint local eaterie for a latte and a bagel. If you are looking for something more substantial, try their bagel and lox, chilaquiles, or their bacon waffle (the bacon is INSIDE the waffle). Unfortunately, they are closed for renovations until March, but be sure to stop by when they open back up!
Address: 10483 Lansing St, Mendocino
Website | Instagram | Facebook
Trillium Cafe
Trillium Cafe is set in a New England-style house in downtown Mendocino. Enjoy a modern California-style meal indoors near their cozy fireplace, or outdoors on the enchanting patio or lush garden area. Their locally-sourced dishes are served up artfully, adding to the appeal of this classy dining experience. Try the Red Wine Braised Short Ribs with creamy polenta for dinner, the Local Rock Cod Fish Tacos with chipotle creme fraiche for lunch, and top it all off with Lemon Cheese Cake drizzled with huckleberry sauce. Trillium also offers the unique option of ordering a picnic box online. Try whale watching with a cafe-quality picnic on the beach!
Address: 10390 Kasten Street, Mendocino
Website
Patterson's Pub
Patterson's Pub is a lively local hang-out, perfect for a laid-back night out with friends or your significant other (only open to patrons 21 and older). This dimly-lit Irish pub serves typical pub fare, but with a fresh coastal flair. This Mendocino staple doesn't skimp on quality. Stop by for dinner and try their popular fish and chips or one of their filling salads. If you are in town over the weekend, their decadent crab benedict is one of many wonderful items on their weekend-only brunch menu. Enjoy your meal indoors at the giant moose head table, or outside in their tented dog-friendly garden area.
Address: 10485 Lansing Street, Mendocino
Website | Facebook
Frankies Pizza and Ice Cream
This popular spot serves pizzas with locally-sourced ingredients, as well as Mediterranean falafel dishes. This hometown establishment is great for a pizza night out (or in) with the family. Try the Virgin Creek Housemade pizza with cremini mushrooms or the Pesto Chicken Piadine. If you are in the mood for something sweet, they've got you covered with a rotating variety of tasty ice cream flavors. My favorites are the almond joy and candy cap mushroom. They do both take-out and delivery, so you can call in a pizza and enjoy it in your own hotel!
Address: 44951 Ukiah Street, Mendocino
Website | Facebook
Mendocino Hotel Restaurant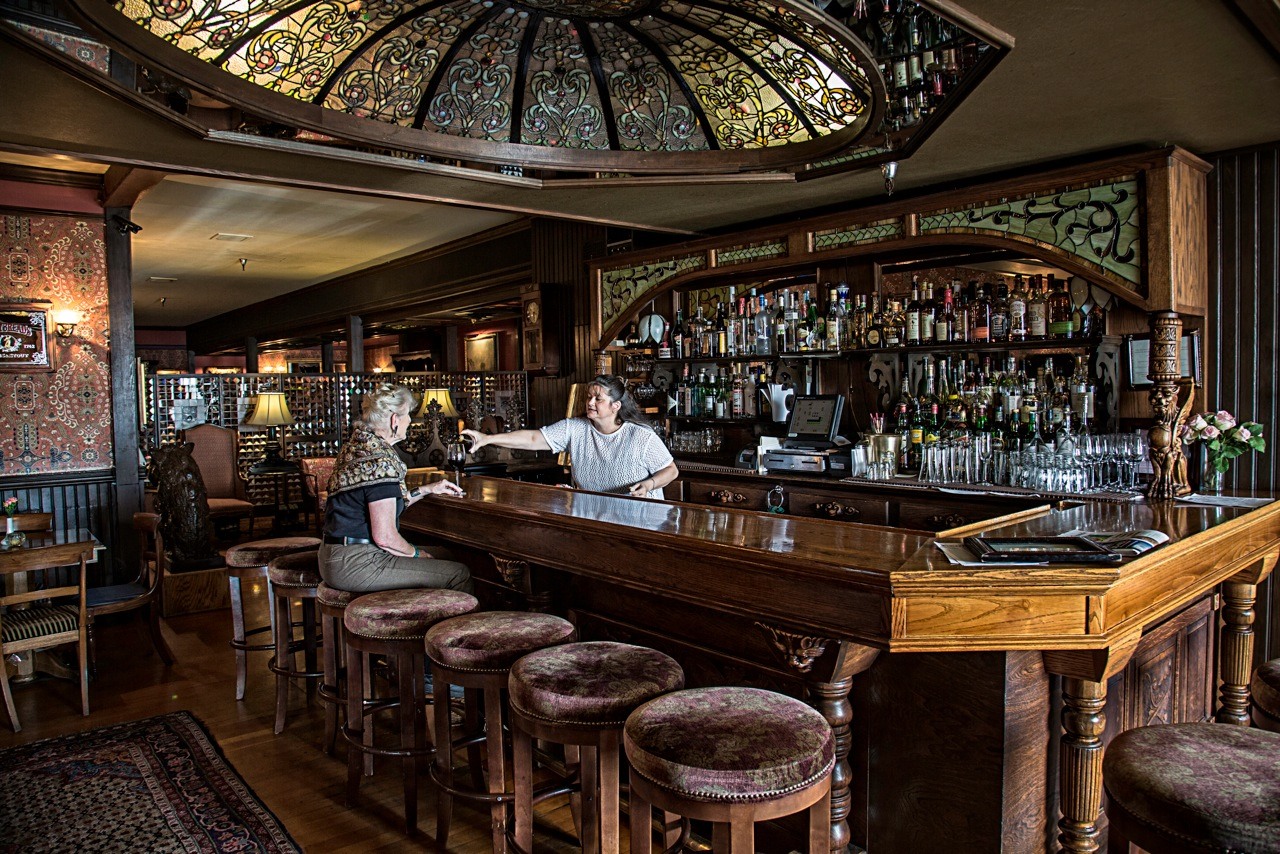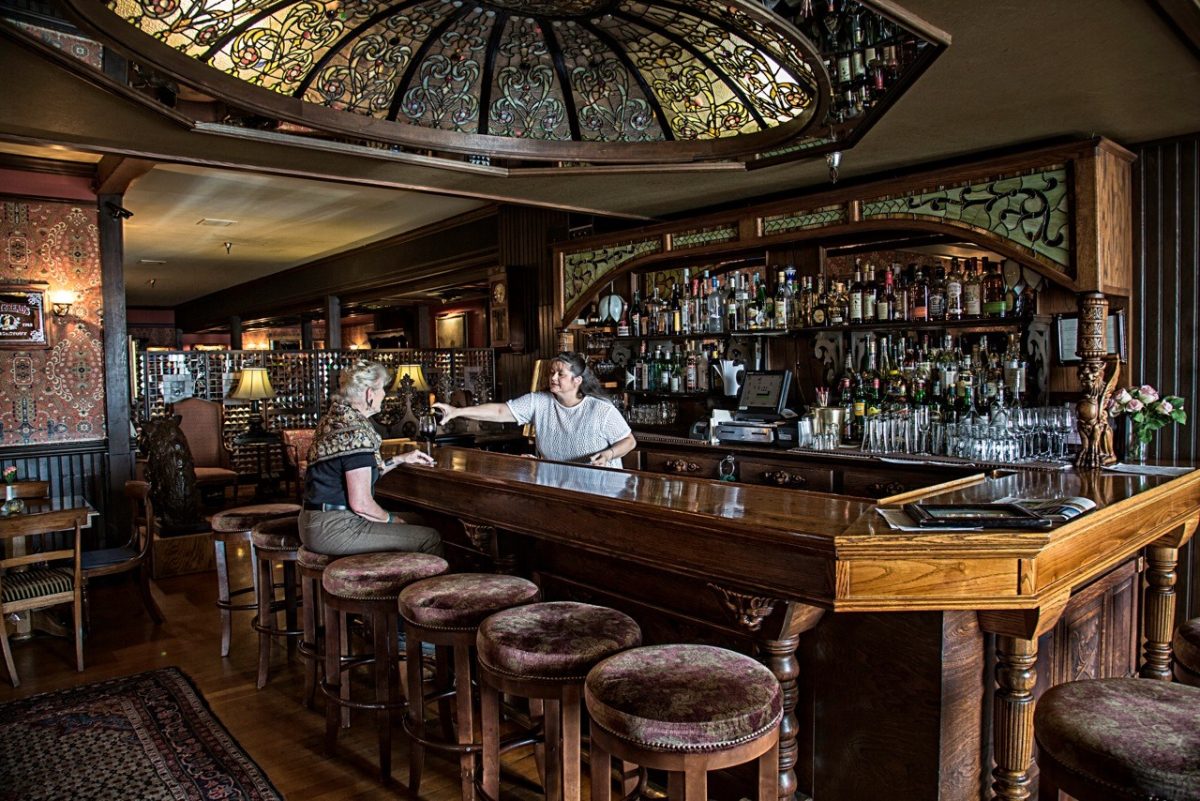 This restaurant within the Mendocino Hotel is something out of a television show. With purple walls and colorful stained glass, it looks similar to a victorian-era saloon. Come sit by the fireplace and sip on wine after you've tried their seared tuna salad, with sesame seed-encrusted yellowfin tuna and wasabi aioli drizzle. They also offer breakfast for those looking to start off their coastal journey right. The restaurant is currently closed due to covid. Be sure to check in on their Facebook page for updates as spring and summer draw near.
Address: 45080 Main St, Mendocino
Website | Instagram | Facebook
Luna Trattoria
Luna Trattoria is an authentic Northern Italian restaurant that surely impresses with hand-stretched pastas, freshly baked bread, and decadent desserts. Their menu is always evolving with new seasonally-based dishes. Eat indoors in Luna's quaint dining room or outside in the romantic garden decorated with twinkling lights. Some truly irresistible dishes include the linguine alla vongole with steamed clams and the orecchioni, a green ravioli filled with creamy ricotta cheese, parmesan, and spinach in a sage and butter sauce. Obviously, no Italian meal is complete without a dessert of heavenly tiramisu. Call ahead for reservations, as they only seat people at 5 p.m. and 7 p.m.
Address: 955 Ukiah Street, Mendocino
Website | Facebook
MacCallum House Restaurant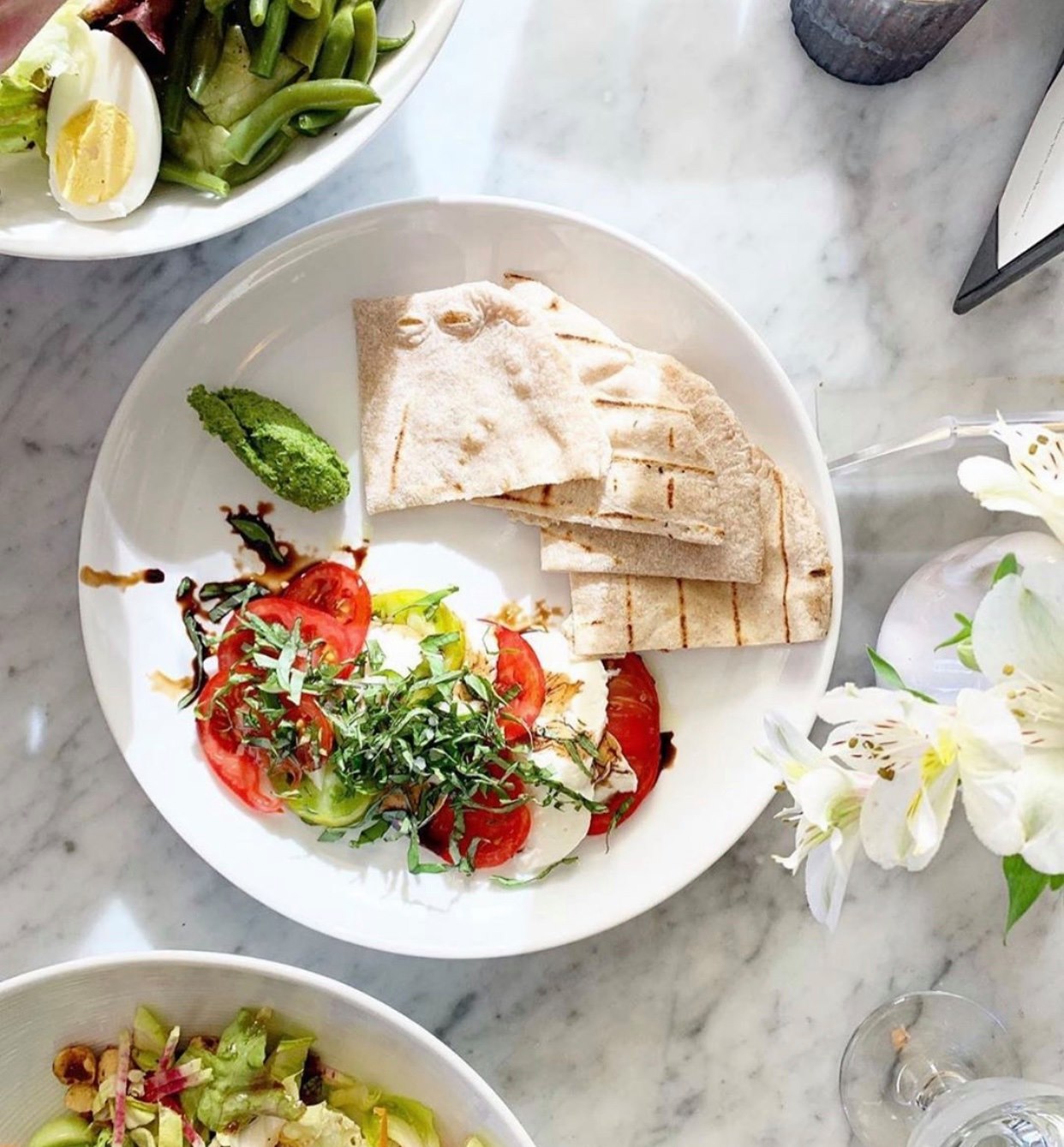 Set in a historic Victorian house nestled in the center of town, the MacCallum House Restaurant is a centerpiece of Mendocino dining. Everything, from the bread to the pasta, is handmade and the menu reflects a focus on sustainable farming and market-driven ingredients. You can expect to find dishes such as pan-seared scallops with ginger-lime wasabi butter sauce, wild mushrooms & quinoa sauté, and a great selection of wine and cocktails. Enjoy a meal in the dining room and former library, accented by two large river stone fireplaces. If you prefer eating al fresco, take a seat outdoors at the sunporch café. The restaurant is open Thursday through Monday. Check back in on their website or social media for their hours or to make a reservation.
Address: 45020 Albion Street, Mendocino
Website | Instagram | Facebook
Café Beaujolais
Set in an 1893 Victorian farmhouse, Café Beaujolais continues its legacy of providing premier California French cuisine to the town of Mendocino. Whether you opt for one of their house-made pasta, fresh seafood, or prime meat selections, you can truly taste the quality and attention to detail in every dish at Café Beaujolais. Although the indoor seating can be somewhat cramped, the food makes up for any lost elbow room in my opinion. You can't go wrong with the Local Ling Cod plated with crispy potatoes and cauliflower puree or the Spaghetti Norcina with pork sausage and Italian black truffle. Fine dining opens back up on February 2, 2022, so make your reservations soon because they fill up quickly.
Address: 961 Ukiah Street, Mendocino
Website | Instagram | Facebook
The Brikery + The Waiting Room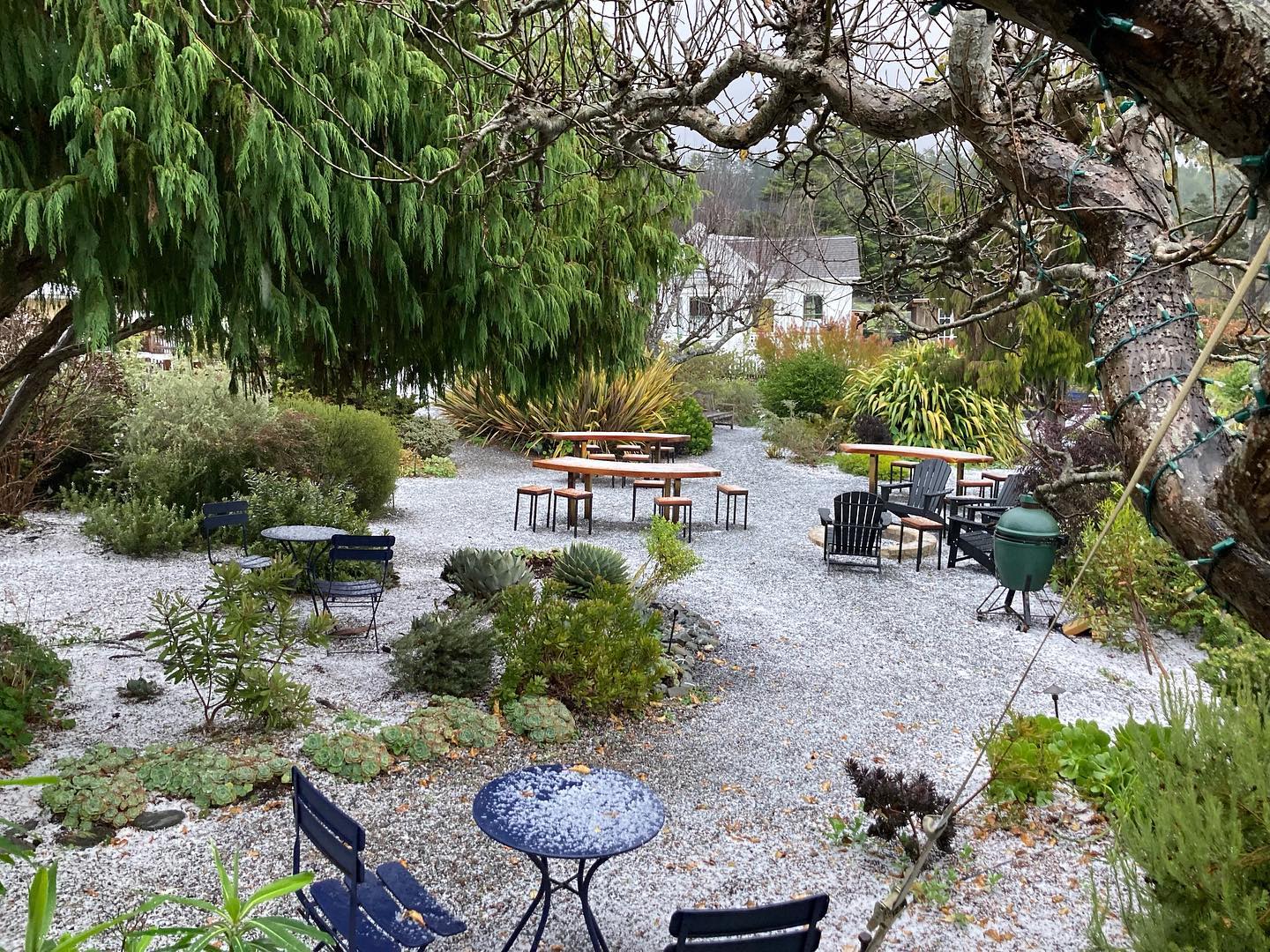 Both offshoots of Café Beaujolais, I can't say enough great things about these small yet superb eateries. On a recent trip to Mendocino, I stopped by The Waiting Room for coffee each morning. I even managed to snag one of their freshly-baked ham and cheese croissants. Their pastries sell out fast each morning, so make sure to get there early if you are hoping to snag one. At night, The Waiting Room transforms into an intimate hangout serving wine, beer, and more. The atmosphere is sleek yet cozy, with built-in seating and a nice selection of records to put on while you sip on coffee or wine.
For lunch, I visited The Brikery, a small pizzeria that utilizes fresh ingredients to turn out truly delicious sourdough thin-crust pizzas. I ordered the Artichoke & Pepperoni pizza and was thoroughly impressed by the fresh flavors. If you are in the mood for burgers, stop by The Brickery on a Wednesday or Thursday for a juicy "smash" burger. Enjoy lunch and a beer in their beautifully manicured garden or under their outdoor tented area. Their outdoor seating is both kid and dog friendly.
Address: 961 Ukiah Street, Mendocino
Website | Instagram | Facebook
Where to Eat and Drink in Mendocino County
Harbor House Restaurant
The only Michelin star restaurant north of San Fransisco, the Harbor House Restaurant is an unforgettable hyper-local dining experience. Sourcing ingredients directly from the ocean and lush onsite gardens, Chef Matthew Kammerer dreams up a unique and ever-changing 8-12 course tasting menu nightly. He is focused on delivering an exceptional culinary experience driven by the seasonal products available along the rugged Mendocino coastline and dense inland forests. Although the menu is never the same, you can expect to indulge in complex flavors such as Ieeks rockfish infused with egg yolk cured in miso, blue hubbard squash with crème fraîche and eucalyptus, and toasted wakame ice cream with an infusion of garden herbs and grilled honey. Dinner is served in a cozy dining room overlooking the ocean. A night here is truly a one-of-a-kind experience, so be sure to book your reservation well in advance.
Address: 5600 South Highway 1, Elk
Website | Facebook | Instagram
Brewery Gulch Inn Restaurant
I've heard rave reviews from friends who've visited the Gulch Inn Restaurant as well as read some stellar online reviews from guests. Like much of the fine dining in Mendocino, the meals here are organic and fresh, drawing on what produce and meat are local and seasonal. You may enjoy a plate of pumpkin french toast and their special "Millionaire's Bacon" for breakfast, sesame-seared ahi with kabayaki & siracha aioli for dinner, and Chocolate-Grand Marnier Mousse for dessert. Each evening during the Inn's "wine hour," you can experience a menagerie of appetizers in "Mendo Boxes" hand-crafted locally out of redwood. I recommend cozying up by the fireplace and enjoying a box of goodies along with a glass of wine. You can thank me later.
Address: 9401 North Highway One, Mendocino
Website | Facebook | Instagram
Ravens Restaurant
Located in Ukiah within the Stanford Inn, about a 5-minute jaunt down Highway 1, this forward-thinking vegan restaurant will satisfy both herbivores and carnivores alike. With a continually changing menu based on the availability of local produce, you will find a unique dining experience each time you visit. A few stand-out dishes on their menu include the Wild Mushroom & Creamy Polenta with oven-roasted Chanterelle mushrooms and roasted Brussels sprouts, as well as the Savory Breakfast Crepe with turmeric tofu, zucchini, avocado chimichurri sauce, and Rosemary Potatoes. Come enjoy an exceptional breakfast or dinner in this enchanting cabin by the sea. Indoor seating is currently available by reservation to vaccinated guests with proof of vaccination.
Address: 44850 Comptche Ukiah Road
Website | Instagram | Facebook
Albion River Inn Restaurant
Just down the road from Mendocino sits the Albion River Inn Restaurant, a picturesque building perched on a cliff. With a substantial wine menu and fresh locally grown produce to accompany creative pasta dishes and fresh seafood, it's no wonder why they are a sought-after dining experience along the coast. The dining room, surrounded by windowed walls, offers spectacular views of the ocean from every seat. Come witness mesmerizing sunsets while you enjoy savory goat cheese panna cotta, tandoori grilled prawns, and house-made sorbets. Reservations are highly encouraged.
Address: 3790 N. Hwy. 1, Albion
Website | Facebook
Ledford House Restaurant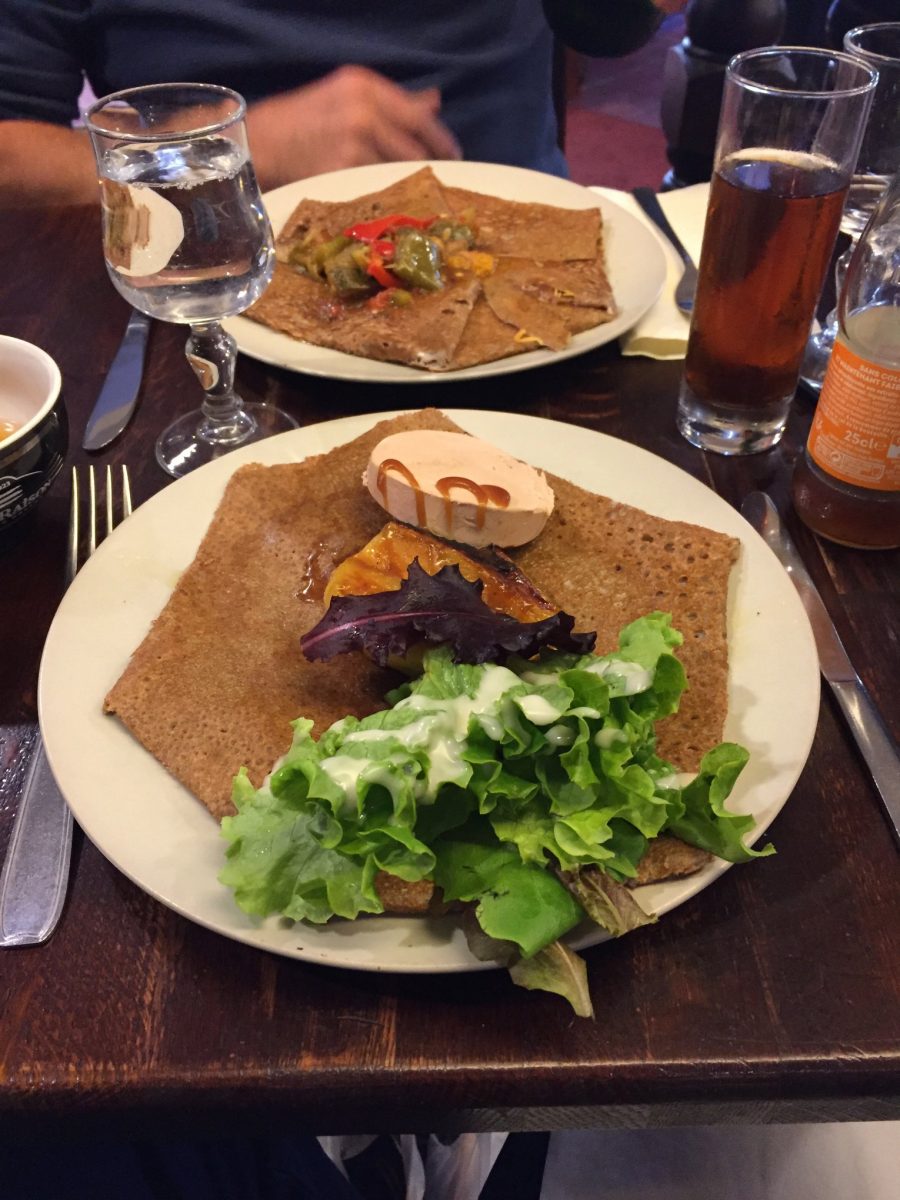 Just seven miles south of Mendocino off of Highway One sits the Ledford House Restaurant. In this warm and welcoming restaurant, taking inspiration from the Provencal style of Southern France, guests can enjoy an elegant meal while surrounded by panoramic views of the ocean. With fresh seafood, rabbit, lamb, duck, and steak on their menu, the Ledford House Restaurant is a carnivore's delight. That said, there are plenty of equally delicious vegetarian options on the menu featuring fresh herbs from their gardens. A couple of stand-out dishes include the Roast Duck Breast with a blackberry zinfandel sauce and the Caramelized Garlic Eggplant Pie with a garbanzo bean flour crust. The restaurant will take a brief hiatus from February 21, 2022, to March 9th. Reservations are required and indoor seating is limited.
Address: 3000 North Highway One, Albion
Website | Facebook
Have suggestions for a contender not listed as one of the best restaurants in Mendocino? Drop a comment with your feedback below!
More Restaurant Recommendations
Loved this list of the best restaurants in Mendocino and looking for more epic recommendations?
I strive to paint vivid landscapes with my words, bringing the magic of far-off lands and enchanting aromas to life for my readers. Combine passion for exploration and the art of gastronomy in an unending ode to the senses. When I'm not traversing the globe, I find solace in the earth beneath my fingertips, tending to my garden and working on projects around my verdant oasis. MK Library serves as a beacon, guiding fellow travelers and homebodies alike to embrace sustainability, nurturing both our planet and our souls with purpose. Full Bio.