These are the best restaurants in San Luis Obispo to dine at for an unforgettable experience. You'll find an incredibly diverse selection of restaurants that have elevated SLO's food scene and have made the city worthy of culinary acclaim. Between fine dining, craft cocktails, extensive wine lists, and locally sourced and organic foods, you won't leave SLO hungry.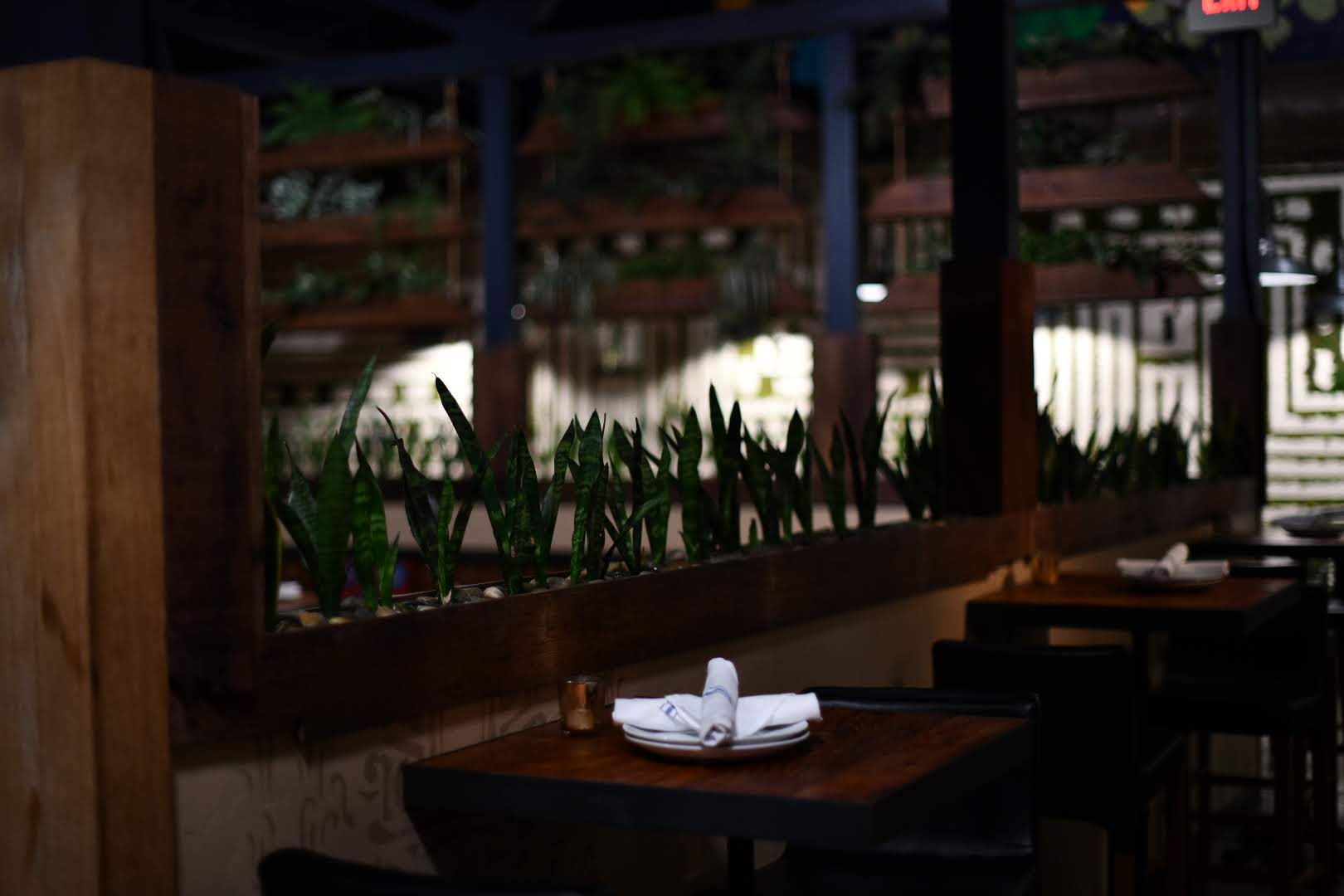 The success of restaurateurs and chefs in SLO can partially be credited to the city's prime location near the ocean and rich agriculture. Chefs get the best of both worlds; hyper-local produce and fresh seafood from the Pacific Coast.
Peruse to your stomach's content and check out the best local eats and fine dining around the city of San Luis Obispo. From pizza and beer to fresh seafood and wine, there is no way to go wrong with one of these distinctly SLO eateries.
Best of the Best Restaurants in San Luis Obispo
Mistura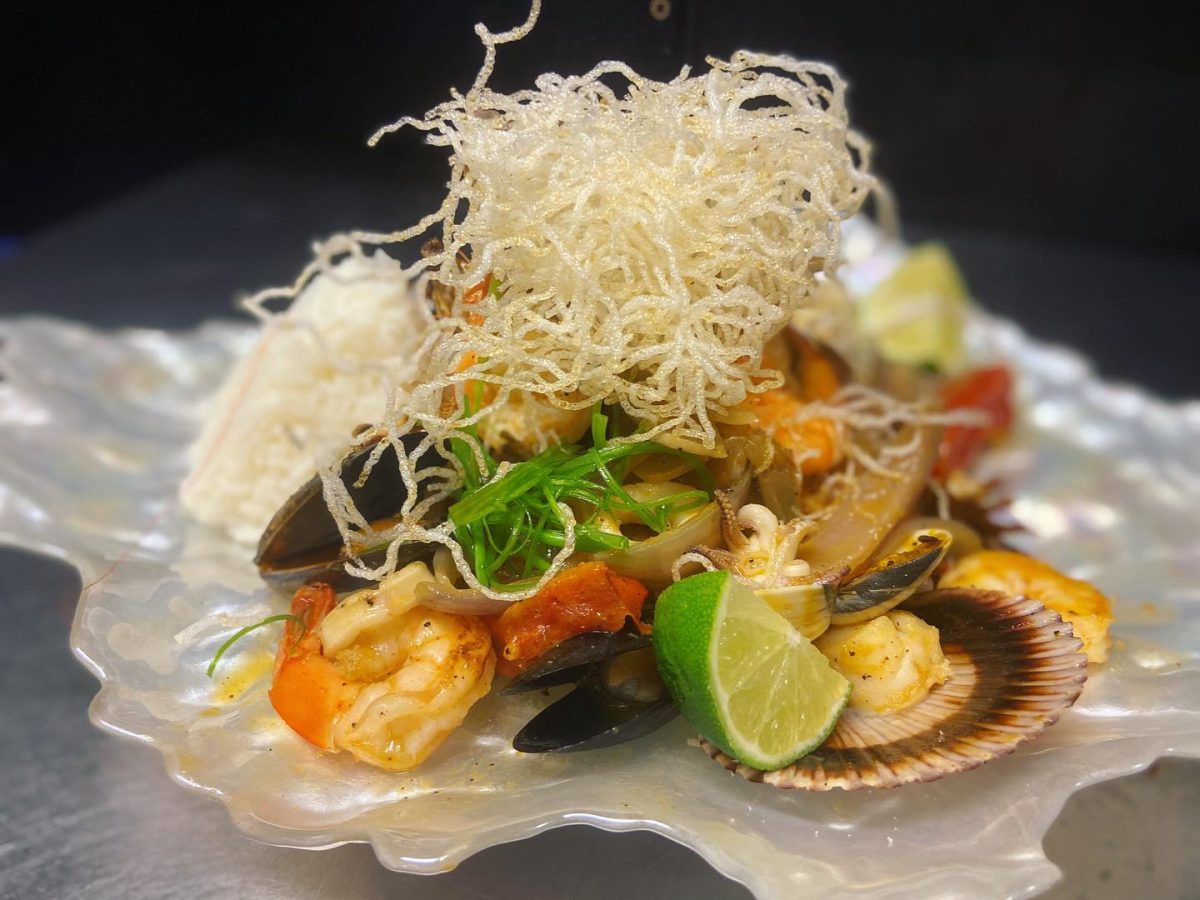 Mistura offers a truly unique dining experience with modern, artfully-plated Peruvian dishes. Not only do their dishes look like a work of art, but the flavors will transport you to high in the Andean mountains. If you come with friends, order the Muy Machito special, with clams, mussels, shrimp, and calamari for the entire table. The Ravioli de Champignon filled with shiitake and portobello mushrooms and drizzled with truffle oil is a must-order, as well as one of the many ceviche (cebiche) options.
With so many appetizing menu options, it's tempting not to leave room for dessert. Trust me, dinner is not complete until you've tasted the chocolate-coffee-vanilla bean-pisco English custard dessert or the mouthwatering Papaya Crème Brûlée under a thin caramelized sugar crust. Mistura offers catering and private dining, available to reserve online.
If you only had time for one restaurant during your trip to San Luis Obispo, an evening dining at Mistura would be at the top of my list.
Address: 570 Higuera Street, San Luis Obispo
Website | Instagram | Facebook
Flour House Pizza Bar + Pastaria
Named one of the top 50 pizzerias in the USA, I stepped into Flour House for the first time with high hopes. I've been privileged to stuff my face with real pizza Napoletana in Italy, and I must say Flour House's pizza is the closest I've come to the real thing since.
They bake their naturally leavened thin-crust pizzas in an imported Italian wood-fired oven made with clay from Sorrento. You can taste the attention to detail in everything made at the restaurant, from the housemade pasta to the craft cocktails. Enjoy a classic Margherita pizza made with Italian tomatoes in their sophisticated dining room, or outside on their cozy heated patio.
While you really shouldn't pass up ordering at least one pizza, you won't be disappointed with a dish like the Bottoni in Brodo, mortadella, and ricotta-stuffed pasta. For a truly complete dining experience, finish off the night with the Semifreddo alla Nocciola, a mouse-like hazelnut ice cream covered in a milk chocolate glaze.
Flour House is not currently taking reservations.
Address: 690 Higuera Street, San Luis Obispo
Website | Instagram | Facebook
Ember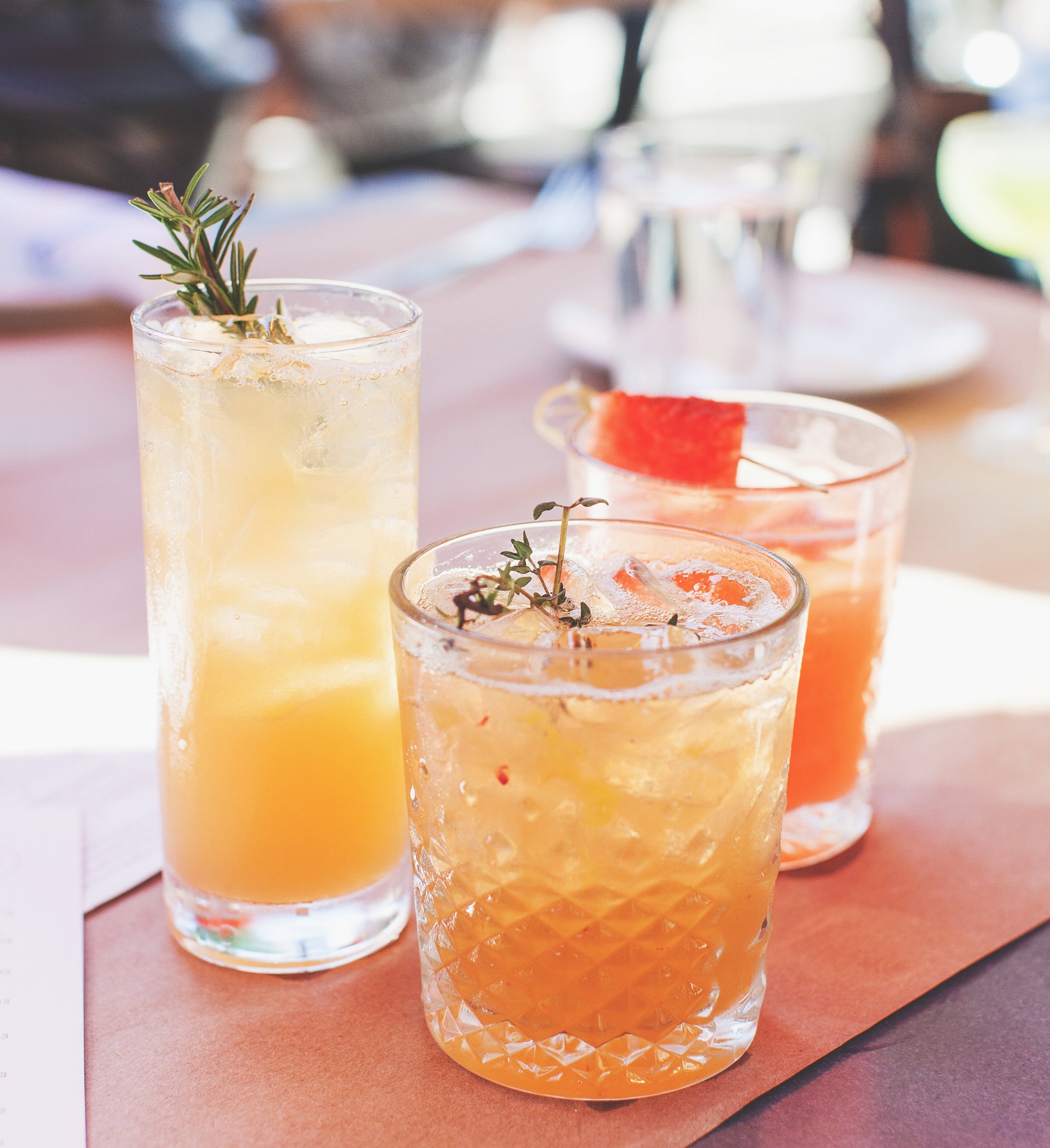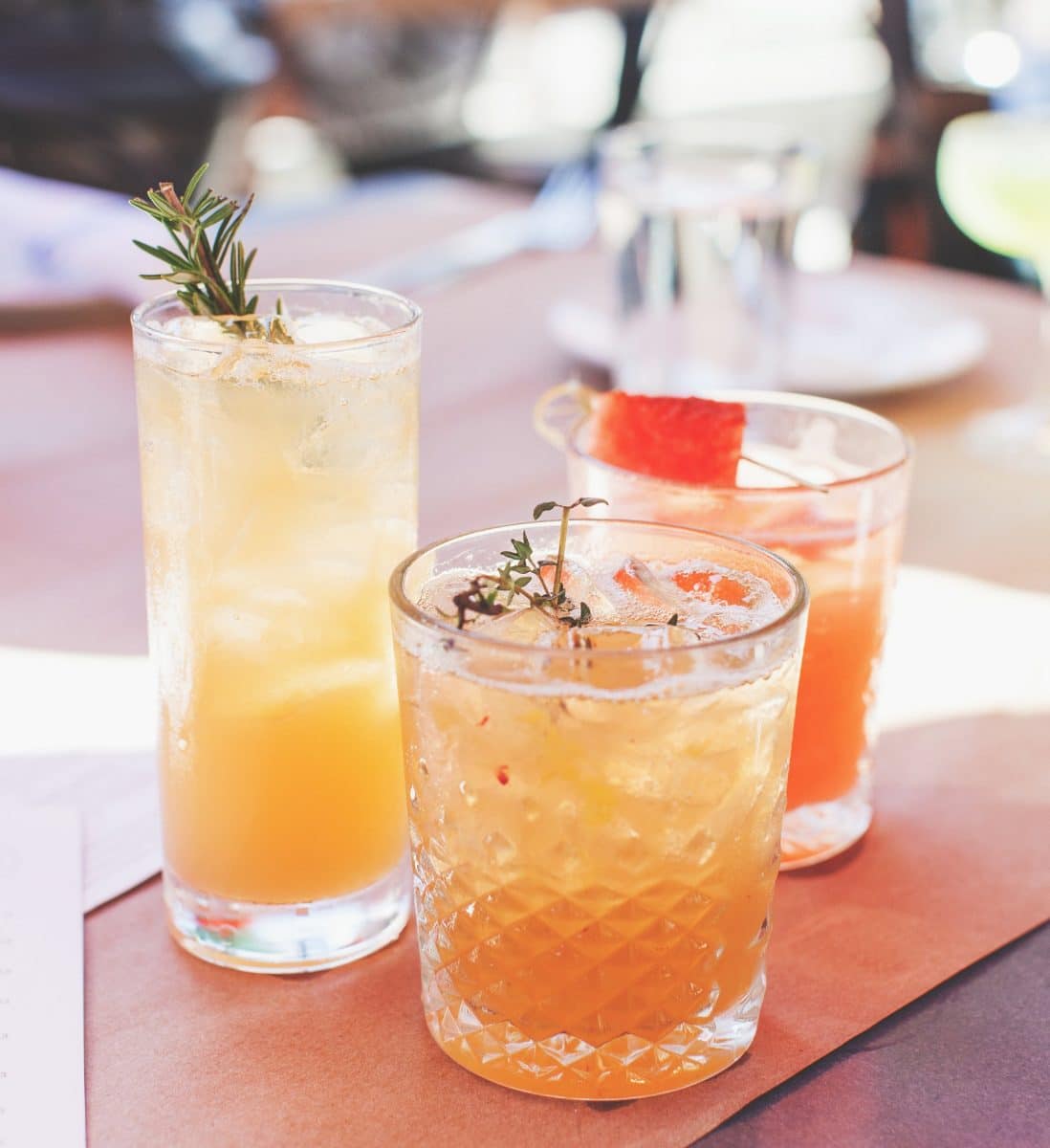 Located just 20 minutes down the coast in Arroyo Grande, Ember creates Italian-inspired Californian dishes using a wood fire. Chef Brian Collins is dedicated to fresh, hyper-local cuisine, creating seasonal dishes every month on a rotating farm-to-table menu. Dishes include a dream-inducing wild chanterelle mushroom and artichoke cream pizza.
Their 50 layer lasagna with house-made pasta is also a stand-out menu item. Come enjoy one of their many delicious cocktails in their warm and intimate setting while you watch the chefs hard at work in the kitchen on your meal. Ember also boasts an exceptionally long and varied wine list. This restaurant is very popular, so make sure to make a reservation beforehand!
Address: 1200 E Grand Avenue, Arroyo Grande
Website | Instagram | Facebook
Outdoor Dining in San Luis Obispo
Luna Red
With a festive terra cotta tiled patio overlooking a historic Spanish mission, it's easy to see why Luna Red was voted one of SLO's best outdoor dining experiences. Sip on a glass of wine from their award-winning wine list while dining on a variety of globally-inspired plates and family-style entrees.
Their paellas are a must-try, along with the bacon-wrapped dates and spicy shrimp (gambas al aljillo). With a pitcher of Sangria and a plate full of paella on the vibrantly lit patio, you can easily pretend you're on your dream Spanish vacation.
Address: 1023 Chorro Street, San Luis Obispo
Website | Instagram | Facebook
Novo Restaurant & Lounge
With an impressive selection of Latin-inspired dishes, Novo has been voted SLO's Best Restaurant 13 times. It's easy to see why. They use only fresh, locally-sourced produce to create Latin-inspired innovative dishes.
For brunch, try the portobello benedict with avocado, and make sure to eat it on their charming patio if the weather is nice. Novo has been dubbed one of the best outdoor eating experiences in SLO. Located near Mission Plaza, their raised patio is built around a towering oak tree and overlooks a picturesque babbling brook.
If you are coming here for dinner, I recommend the pappardelle al limon with sun-dried tomatoes and artichoke hearts, and the fresh avocado-shrimp spring rolls as an appetizer. The Pacific halibut with celery root purée, pork belly, and a blood orange salad is another dish to write home about. Start with a craft cocktail or a glass of local wine and enjoy! Novo is open for late lunch on the weekends.
Address: 726 Higuera, Street San Luis Obispo
Website | Instagram | Facebook
Brasserie SLO at Hotel Cerro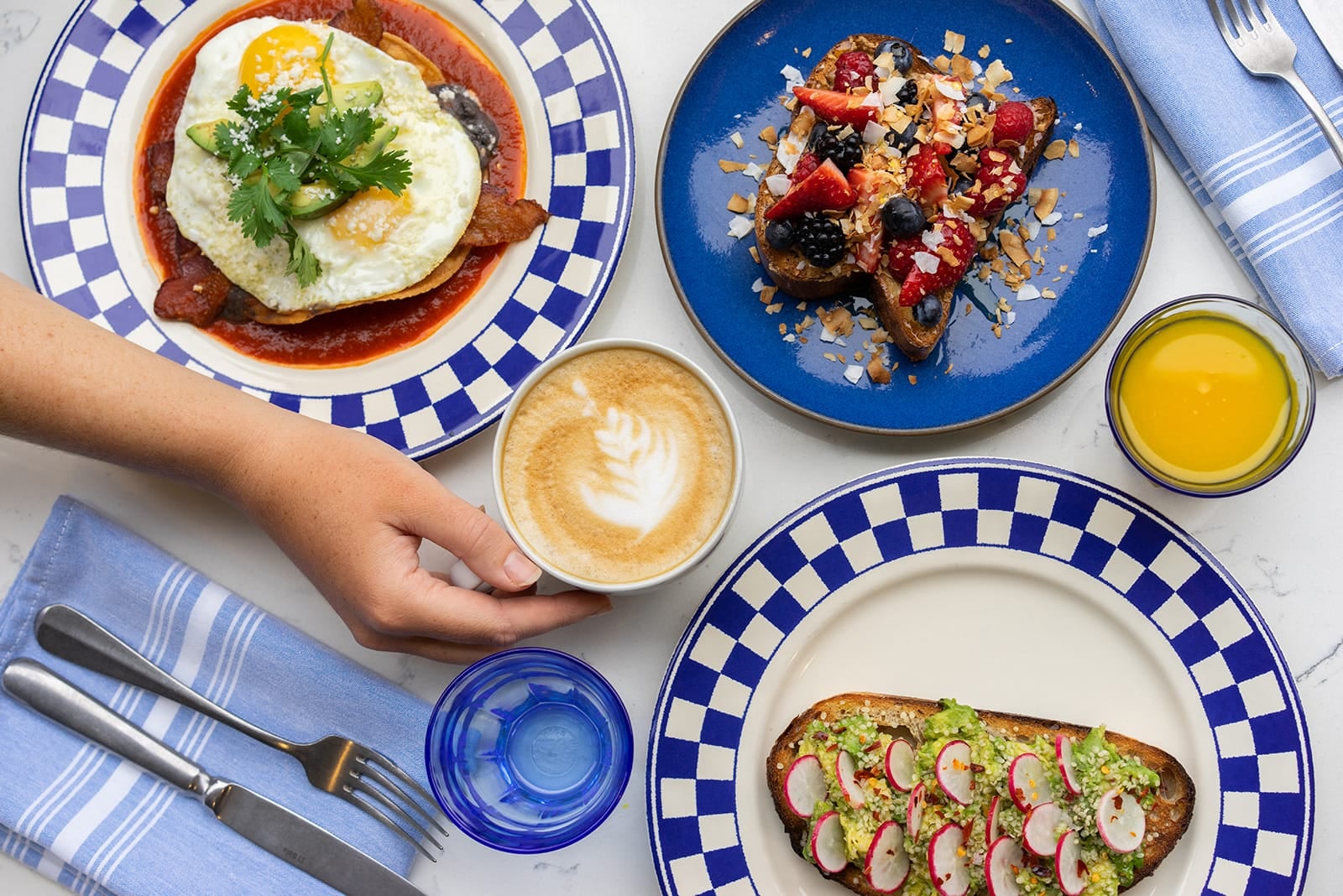 With fresh produce sourced from onsite gardens, it's no wonder why Brasserie SLO located within the Hotel Cerro is an excellent choice for a high-end brunch, lunch, or dinner. Enjoy a meal on their welcoming patio, featuring a living wall of succulents and cozy fire pits.
The banana bread french toast with whipped cream cheese and candied pecans is a must-try for breakfast, and the crispy Brussels sprouts with Marcona almonds and golden raisins are a perfect appetizer. For dinner try the fresh oysters or the black truffle honey-glazed salmon with potato and parsnip puree.
The Brasserie has an extensive list of both local and French wines to choose from. Be sure to check out The Distillery while you're at Hotel Cerro, and grab a freshly baked pie at Life of Pie.
Address: 1125 Garden Street, San Luis Obispo
Website | Instagram | Facebook
SLO Restaurants with Great Vibes
Highwater
If you're looking for the perfect mix of great food and great vibes, there's possibly no cooler place in town than Highwater. With a retro music-themed menu, you can order aptly-named craft cocktails such as the Rebel Rebel with habanero tequila, pineapple, and black lava salt or the Killer Queen with lavender-infused Lillet.
Even without the retro swank and welcoming vibes, Highwater's innovative dishes are delicious enough to hold their own. The fried chicken with pickles, mac n' cheese, and apple butter are to die for, along with the Mighty Cap King trumpet mushroom build-your-own tacos on fresh tortillas.
Come enjoy live music and a slice of the past: PB&J cheesecake with pretzel crumble! Highwater is open for dinner on Wed-Sun and for brunch on Sundays.
Address: 1127 Broad Street, Suite B, San Luis Obispo
Website | Instagram
Bear & The Wren
What began as a catering business run from an impressive food truck with a built-in pizza oven, Bear & The Wren has gone on to make its mark as a true staple of SLO. They are no longer available for catering but never fear.
All you need to do is visit their brick and mortar, with a sleek dark-wood aesthetic, to get your fill of their traditional Neapolitan-style pizzas and deep dish Detroit pies (nick-named Bear Squares). The Italian pizza oven that they use to make their pizzas is on display in the center of their dining room for all to drool around.
When you stop by, be sure to try the Mushroom + Sausage pizza with fontina and the Bee Stang bear square, with mozzarella, spicy calabrese salami, ricotta, basil, and hot honey. Pair your meal with a glass of local wine and you are practically guaranteed a great time. I mean…what's better than wine and carbs?
Address: 570 Higuera Street #2, San Luis Obispo
Website | Instagram | Facebook
Date Night Restaurants in San Luis Obispo
Koberl at Blue
Located in the historic J.P. Andrews Building in Downtown SLO, Koberl at Blue is an up-scale yet welcoming dining experience. Perfect for a romantic candle-lit dinner with your significant other, you'll be treated to beautifully-plated meals such as the Sautéed Duck Breast & duck confit with bacon, or filet mignon and lobster with crispy onions.
They also have plenty of vegetarian options, such as the wild mushroom ravioli with sauteed spinach. It's easy to spend hours sipping wine over great conversation in their cozy brick-walled dining room, or outside at one of their street-side tables people watching. I recommend ending the meal with their gooey Chocolate lava cake.
Address: 998 Monterey Street, San Luis Obispo
Website | Instagram | Facebook
Buona Tavola
Buona Tavola offers authentic Italian fare in a uniquely charming setting. Their heated courtyard patio, strung with twinkling lights and draped with greenery, provides that quintessential romantic vibe. Of course, all the ambiance is only an added bonus to their fantastic Italian pasta, seafood, and meat dishes.
Start with a glass of local wine and fresh bread topped with olive tapenade. Then move on to one of Buona Tavola's mouthwatering house-made pasta, such as the tortellini de zuca stuffed with pumpkin, sage, and ricotta cheese. They offer a variety of gluten-free options as well, including the tortiglioni del buon gustaio, a wide ridged tube pasta with braised eggplant and dry ricotta cheese.
Buona Tavola is open for lunch and dinner, and even publish their own recipes on their website for you to try at home. But we know half the fun is having someone else cook for you!
Address: 1037 Monterey Street, San Luis Obispo
Website | Facebook
Goshi
I think it's safe to say that Goshi is serving up the best authentic Japanese food in SLO. Whether you are in the mood for sushi, Japanese fried chicken, or noodle soup, there is something on their menu to satisfy any craving.
Start with cold sake and a plate of garlic edamame, and then move on to the halibut tempura roll (a must-try for newcomers). If you're a regular sushi connoisseur, expand your seafood horizons with the chef's special nigiri plate or go all-out with the Kanpai Boat for two. With beautifully prepared fish, attentive employees, and an inviting atmosphere, there's really no way you can go wrong.
Address: 570 Higuera St #155, San Luis Obispo
Website | Facebook
Seafood in San Luis Obispo
Ciopinot Seafood Grille
Ciopinot is the best place to go if you are looking for incredibly fresh seafood or expertly prepared steak. Take a seat at their bar and enjoy raw oysters while you thumb through their impressive wine list.
The Mexican chees-stuffed prawns wrapped in bacon are a favorite among patrons, as well as the Chilean Seabass flash-fried and topped with crispy leeks. Ciopinot offers seasonal specials and you don't want to miss out on a slice of their decadent Butterfinger pie.
Address: 1049 Nipomo Street, San Luis Obispo
Website | Facebook
Splash Cafe
Splash Cafe is well known in the both SLO and Pismo areas for their award-winning clam chowder bowls. Served in freshly baked bread bowls from their in-house bakery and topped with an optional heap of crab and shrimp, Splash Cafe's clam chowder is certainly worth the hype.
If you're not in the mood for chowder, their salmon sandwich and fish and chips are great options. Come for the seafood and stay for the fresh-baked pastries, including custom cakes baked fresh daily. Enjoy your meal inside their welcoming bright-yellow restaurant or with an oceanside view at their Pismo location. If you do not live on the coast, never fear! Splash Cafe ships their clam chowder and bread bowls throughout the entire U.S.
Address: 1491 Monterey Street, San Luis Obispo
Website | Instagram | Facebook
Petra Mediterranean Pizza and Grill
Petra Mediterranean Pizza and Grill is a great spot to hit up if you are craving the fresh meat, veggies and sauces of the Mediterranean. In addition to a variety of kabobs and shwarma plates, they make great pizzas and pita sandwiches.
Their BBQ Cilantro Chicken Pizza with pineapple, jalapeño, and chicken has received praise. The grill offers a variety of vegetarian options, as well as a good selection of beer. Enjoy an appetizer of garlic-butter bread knots on their covered patio, and finish off your meal with a delicate baklava dessert.
Address: 1210 Higuera Street, San Luis Obispo
Website | Instagram | Facebook
Small Bites and Shareables in San Luis Obispo
Park 1039
Park 1039 is the go-to spot if you are looking for incredibly fresh small plates, wine, artisanal cheeses and charcuterie. This wine bar/restaurant has an extensive and unique list of wines from all over the world. Sitting outside on their tasteful patio with olive trees and heaters is reminiscent of a European eaterie.
They get all their produce from local farms, and their attention to detail shows in the quality of their dishes. Try the San Luis bowl with kale, quinoa, sweet potatoes, and avocado or their artfully-plated charcuterie board. Their menu is not currently not on their website, but you can visit their Instagram for a peek at their dishes.
Address: 1039 Chorro Street, San Luis Obispo
Website | Instagram | Facebook
Sidecar
Sidecar is a cocktail bar and restaurant with tasty craft cocktails and small comfort food bites. Even though the space has a trendy academia vibe, you'll typically find a more laid-back crowd here.
I ended up sitting on the patio for my visit, tasting way too many cocktails and bantering with the manager on duty.
Some of their stand-out cocktails include "midnight in the garden" with chile liqueur and pink guava and "the sun never sets on the British Empire" with bourbon and grapefruit. While you sip on a cocktail, enjoy the Brussels sprouts with garlic aioli and blue cheese or the glazed pork belly with parsnip and potato puree.
You could spend hours here working your way through all of Sidecar's spectacular drinks and appetizers, and that's exactly what I recommend!
Address: 1040 Broad Street, San Luis Obispo
Website | Instagram | Facebook
Coffee Shops in San Luis Obispo
Field Day Coffee
Field Day Coffee is the go-to morning hangout for San Luis Obispo locals and tourists alike. I ended up coming here multiple times, I loved their baristas so much. If you are looking for a carefully-crafted coffee drink in an open, non-pretentious atmosphere, this is the place to come.
Their espresso and coffees are intentionally sourced with attention to quality. Try a creamy cappuccino or latte with their house-made almond-cashew milk. If coffee isn't your thing, their matcha lemonade is the perfect drink for a hot summer's day.
They also offer pastries and bagels made in-house by Wayward Baking. Feel free to enjoy everything in their open warehouse-like space or on their store-front tables. This is a perfect spot to start off a chill day in SLO.
Address: 1185 Monterey Street, San Luis Obispo
Website | Instagram
Scout Coffee Co.
Scout Coffee is a staple in SLO for great coffee in a light and open, brick-walled setting. It's a popular spot on weekends, and understandably so. Their coffee drinks come with "Instagramable" latte art and their great selection of parties are baked in-house.
You don't want to miss out on one of their thick and chewy Scout cookies, made with oats, pecans, and thick chunks of chocolate. A few other tasty pastries that have garnered recognition are their chocolate croissants, banana walnut muffins, and mixed berry bars. Stop by and work from their cafe or enjoy a coffee and snack with friends.
Address: 1130 Garden Street, San Luis Obispo
Website | Instagram | Facebook
Kreuzberg California
Kreuzberg California is a mellow spot with great coffee, breakfast items, and even booze. With WIFI and an open artsy setting, this is the perfect place to sit down with a drink and write that first novel. They make a great chai tea latte and breakfast burrito stuffed with tater tots.
They have a nice patio out front, where you can enjoy a beer and burger in the summer. If you are working from home and need a break from the house, you can even book one of their quiet front nooks.
Address: 685 Higuera St. San Luis Obispo
Website | Instagram | Facebook
Lunch Spots in San Luis Obispo
High Street Market & Deli
High Street Deli is a small local sandwich shop with top-notch sandwiches. They use fresh ingredients and offer plenty of vegan and gluten-free options as well. Enjoy a sandwich inside their small rustic western-themed shop, or take it outside where there is more seating. Grab a beer from their large selection of local beers while you wait for your sandwich to be made. The Chipotle Beef sandwich on sourdough is a must-try, as well as the Tropical Vacation with smoked turkey and jalapeño Havarti. The deli can get busy on weekends, so call in ahead of time if you don't want to wait.
Address: 350 High St, San Luis Obispo
Website | Instagram
SLO Provisions
SLO Provisions is a unique option in downtown SLO for fresh takeaway and dine-in meals, such as rotisserie meats, sandwiches, salads, baked goods, wine, and coffee. They offer unique daily and weekly specials, and Friday is the best day of all: Pie Day!
When you stop by, you can expect to find quiches, breakfast burritos, and chocolate chip cookies. Either eat inside their cafe, with modern French patisserie vibes, or take the meal to go and pretend it's your own home-cooked comfort food. With affordable prices and foods prepared with quality ingredients, this is a must-try spot when you're in SLO.
Address: 1255 Monterey Street, San Luis Obispo
Website | Instagram | Facebook
FAQ for SLO Restaurant Dining
What are the best restaurants in San Luis Obispo?
For my own preferences, I found Mistura, Flour House, and Ember to offer my favorite dining experiences between food, cocktails, and ambiance.
How many days do you need in San Luis Obispo?
My initial trip to try out many of these restaurants was three nights and I ate at 2-3 restaurants per night. A week of lunches and dinners would offer plenty of time to explore nearly everything around SLO for most people.
More Restaurant Recommendations
Loved this list of the best restaurants in San Luis Obispo and looking for more epic recommendations?
Sophia server, Josuv bartender,
Taste Craft Eatery
Big Sky Cafe – fresh market cuisine
SloDoCo Donuts – fun donuts, pastries and coffee
Kin Coffee Bar
Cafe Roma – "white-tablecloth old-world feeling Italian restaurant"
Seeds – healthy brunch, smoothie bowls and juices
Firestone Grill – BBQ spot
Granada Bistro + Nightcap –
I strive to paint vivid landscapes with my words, bringing the magic of far-off lands and enchanting aromas to life for my readers. Combine passion for exploration and the art of gastronomy in an unending ode to the senses. When I'm not traversing the globe, I find solace in the earth beneath my fingertips, tending to my garden and working on projects around my verdant oasis. MK Library serves as a beacon, guiding fellow travelers and homebodies alike to embrace sustainability, nurturing both our planet and our souls with purpose. Full Bio.