You don't have to travel far to find hundreds of roses in one spot, a diverse desert landscape, or to simply admire an array of native vegetation. To get a glimpse of California's diverse landscapes, simply take a tour through the diverse botanical and rose gardens of Sacramento. These spectacular gardens are rich in the history of Sacramento, home to many award-winning varieties of roses and exemplary displays of native plants.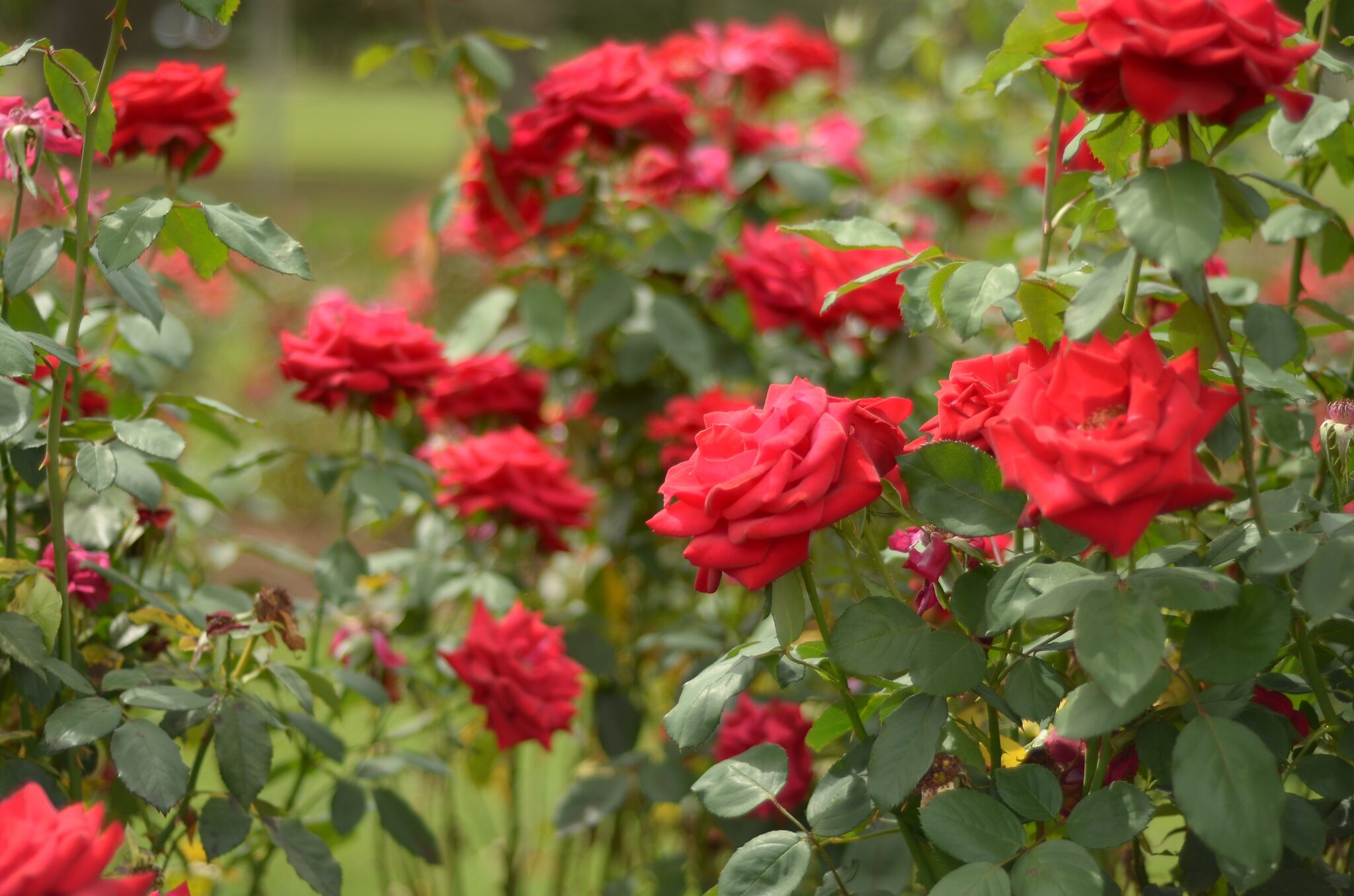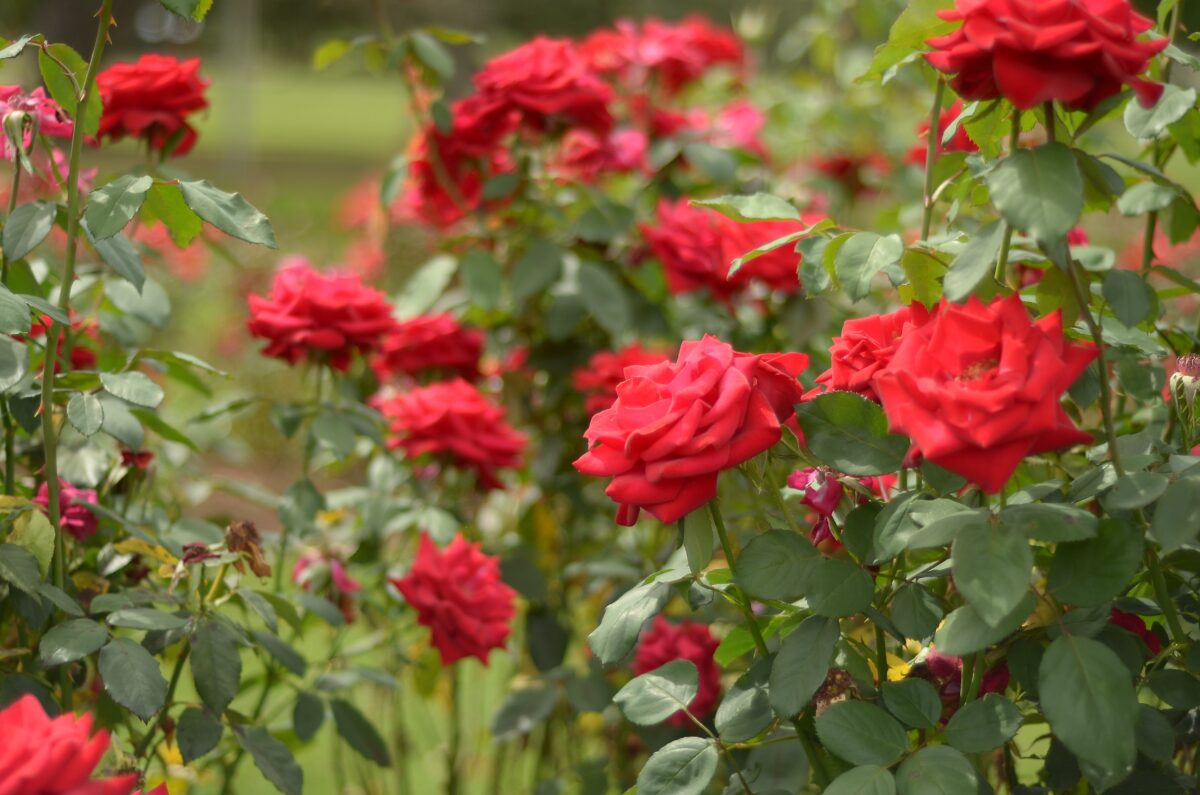 There are several rose gardens in the Sacramento, California area, including the Rose Garden at William Land Park, the Rose Garden at the Sacramento Zoo, and the Sacramento Historic City Cemetery Rose Garden. Each garden features a variety of different rose varieties and provides a peaceful, picturesque setting for visitors to enjoy.
As a gardener, I can tell you that Sacramento is an excellent location for growing roses. The Mediterranean climate in Sacramento provides mild winters and hot summers with cool nights, which creates a long growing season for roses to bloom. The well-drained soil in the area is also ideal for rose cultivation, whether it is in a community garden or your own backyard. Learn how to plant and grow your own front or backyard roses with this guide for how to grow roses from seed and when to plant bare-root roses.
Desert Garden in Capitol Park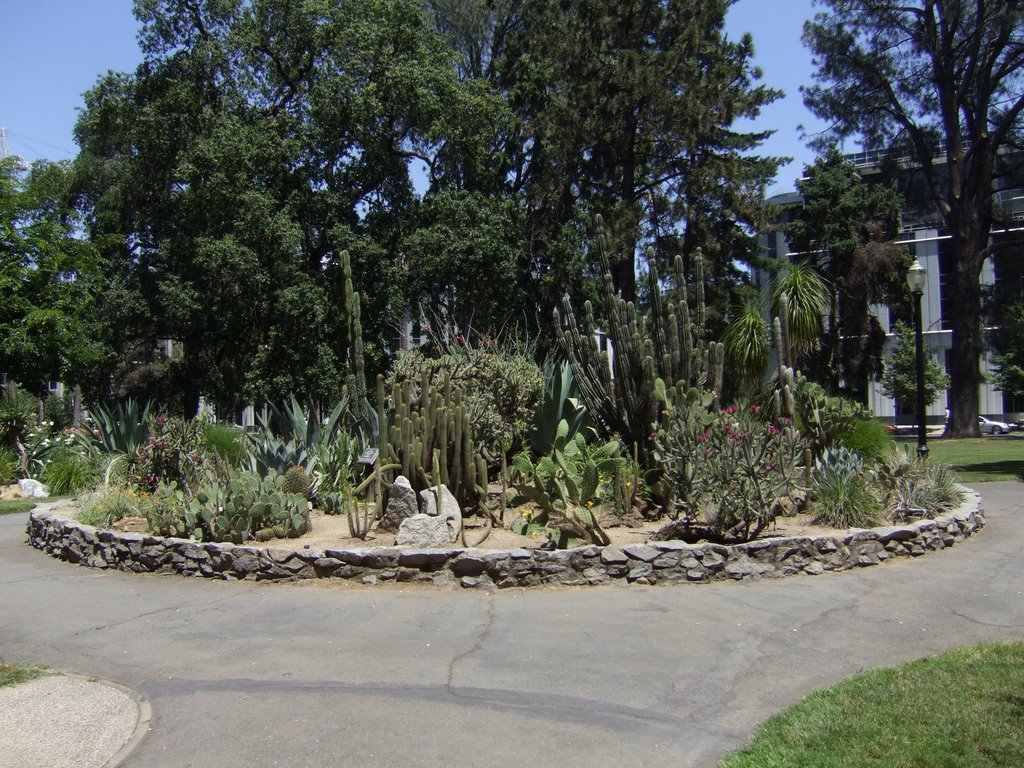 A tiny vignette of a native California landscape, the Desert Garden is part of Capitol Park with decomposed granite pathways surrounding cacti. The garden scene is a small, but impressive sample of California cacti and succulents. Perfect for a quick walk or a nice place to eat lunch.
From the State Capitol Museum:
In 1911, the Native Sons of the Golden West appealed to their parlors statewide for "trees, flowers, plants and shrubs peculiar to the locality in which such Parlor is located." Soon the section was improved, and ninety trees were planted, along with fifty-six shrubs and several thousand flowers.
In 1913, several redwoods were planted, a gift from Big Basin Redwoods State Park in the Santa Cruz Mountains. In 1914, a "corps of collectors" was sent throughout the state to gather native California flowers. The golden poppy, California's official flower, is cultivated here.
A 1914 appeal to the school children of California to provide native species further added to the collection. Although some non-native species were later planted in the California Native Plant Section, a renewed effort has begun to plant only native flora.
Also located in this section are trees planted in loving memory of two former State Capitol Museum tour guides — the Desert Willow (Chilopsis linearis) (#68) for Dody Wheaton, and the non-native Japanese Black Pine (Pinus thunbergiana) (#111) for Oscar Warner.
The Cactus Garden was dedicated in 1996 to the memory of Bill Grund, Capitol Park groundskeeper for twenty-five years and park historian.
Fredrick N. Evans McKinley Park Rose Garden
Nestled in McKinley Park, East Sacramento, this is Sacramento's largest rose garden. The park was created in 1928, and features more than 1,200 rose bushes, tree roses, and blooming annuals. New award-winning varieties are planted in the garden each year.
Named after Fredrick N. Evans, Sacramento's first Parks superintendent and original garden designer.
Originally a private park founded in 1871, called East Park, the City of Sacramento purchased the land in 1902 and renamed it to William McKinley, the 25th President of the United States, whom had just been assassinated.
Mrs. J Henry Miller, known as the mother of McKinley Park, began proposing the idea of beds of flowers in the park as early as 1906. For several years, she performed fundraising to put her plans of flowers into fruition.
In 1929, the garden began to take shape, under the city's first park's superintendent, turning the park into a showplace of Sacramento's park system. It was originally Evan's plan to create an educational garden where Sacramentans interested in flowers and plants could study their culture.
The garden grow from 400 roses to 944 by 1940, and continued to grow to the 1200 varieties showcased today.
Photos of McKinley Park Rose Garden by Rob Stewart, Rob on the Road PBS KVIE.
Historic Rose Garden in the City Cemetary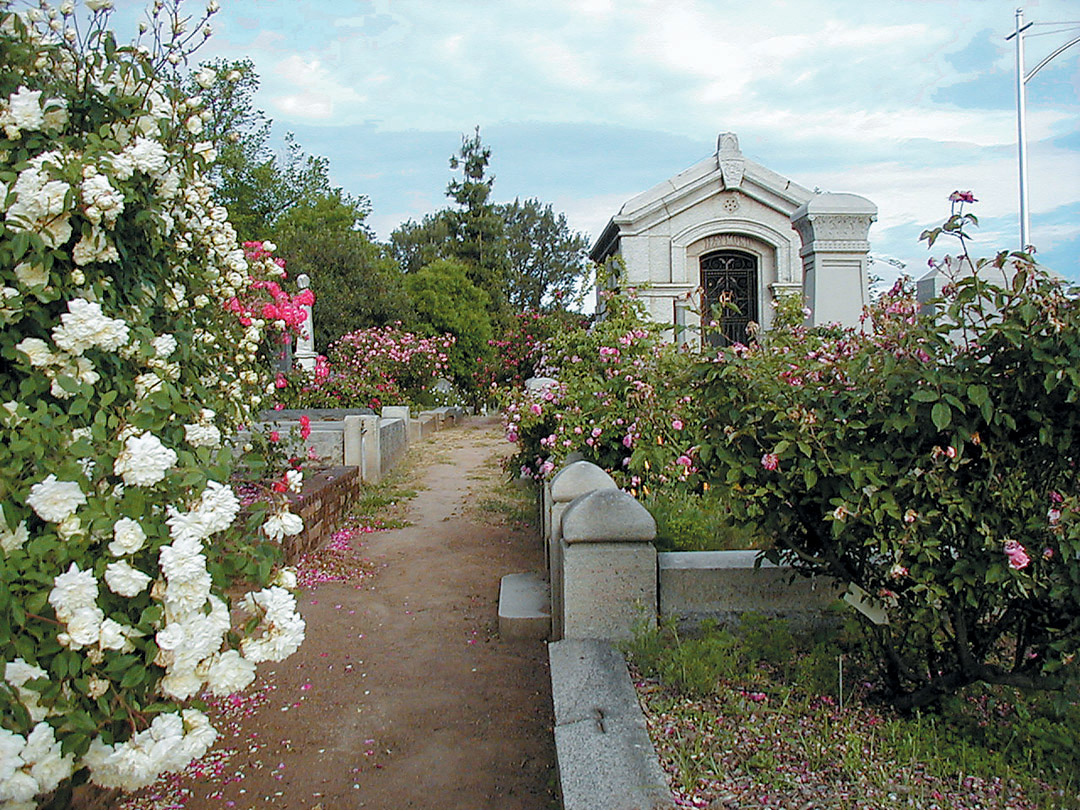 Found at the Sacramento Historic City Cemetery on Broadway, the Historic Rose Garden consists of approximately 500 antique and old garden roses located on some two acres in the Historic City cemetery in Sacramento, California. The roses are primarily from the 19th and early 20th centuries, many of them found growing on abandoned properties, old cemeteries, and in the wild throughout California. More than twenty volunteers work to maintain this garden and share information about the roses.
More info: https://www.pacifichorticulture.org/articles/sacramentos-historic-rose-garden/
View a comprehensive catalog of the roses: http://www.cemeteryrose.org/sites/default/files/article-files/2019%20Collection%20Catalog%20FINAL.pdf
Jensen Botanical Garden in Carmichael
The 3 1/2 Acre garden was founded in 1958 by Charles C. Jensen. After his retirement as a produce buyer. Mr. and Mrs. Jensen moved from their home in Oakland to their new property in Carmichael. They made regular trips to Oakland to bring back truckloads of plants and trees. The property already had Oaks, Coastal Redwoods and blackberry brambles. He gradually cleared the land and began planting the many Magnolias, Azaleas, Dogwoods and Japanese Maples which were among the first plants brought from Oakland.
Hybridizing, grafting and acquiring new varieties of plants, he built a garden that caught the eye of many passersby. He especially enjoyed showing visitors around his garden and opened it to parties and weddings. After his death, a group of citizens formed the Charles C. Jensen Botanical Garden, Inc Committee to preserve the garden. Their fundraising efforts were successful and the garden became the property of the Carmichael Recreation and Park District in 1976.
Today, the District continues to work the garden in cooperation with the endless talent of the Friends of Jensen Botanical Garden. Since 2004, this volunteer group has transformed the garden into the beautiful paradise that it is today. One of the jewels of Carmichael, it has many varieties of Magnolias and Dogwoods, Japanese Maples and thousands of Tulips. Springtime is amazing.
Natomas Rose Garden
A relatively newer garden, The Natomas Rose Garden is located in the South Natomas Community Center, opened for public use on May 28, 2008.
Designed by landscape architect Michael Rosales, the .4 acre community rose garden utilizes four intersecting circles connected with wide walkways are planted with over 500 roses.
One of the rose circles is dedicated to Veterans. Others are dedicated to heritage roses and new rose varieties. A larger semi-circle of rose beds leads to the central Grand Trellis, creating a lovely setting for weddings and other community events.
Wide walkways are lined with a variety of tree roses. Climbing roses will adorn the four 10-foot tall steel trellises as well as the three-part Grand Trellis. Councilmember Ray Tretheway and Mayor Heather Fargo donated the Grand Trellis at the first fundraiser held on November 3, 2005.
Stone seat walls at the edge of circular rose beds welcome visitors to sit and enjoy the garden's beauty. As funding permits, more benches will be installed throughout the garden. Future plans also include a five-tier fountain.
The Natomas Rose Garden is funded and maintained entirely by volunteers who keep more than 500 roses and perennials in good health, and the garden ready for visitors. Under the direction of team captains, they assist with weekly planting, pruning, deadheading, weeding/sweeping walkways, as well as assisting with workshops and fundraising.
View a gallery of the Natomas Rose Garden collection: http://www.natomasrosegarden.org/inbloom.html
UC Davis Botanical Conservatory
The collection began in 1959 as a collection of coleus plants within the 3,600 sq foot greenhouse now known as the Botanical Conservatory. Today, the complex north of Storer Hall serves the University and public communities as an educational facility, research resource and genetic diversity preserve. The complex houses over 3,000 plant species in more than 150 families, including examples from most of the world's climatic regions.
World Peace Rose Garden in Capitol Park
With over 650 roses in 153 varieties, the Victorian-designed World Peace Rose Garden in Capitol Park sits on .42 acre in the California State Capitol Park. Walkways lead through a small courtyard with a fountain in the center. A heart-shaped seating wall surrounds a pavilion, also used for events. Benches are scattered throughout the garden for visitors to sit and enjoy the breathtaking beauty of multi-colored roses at the Capitol.
Forty-four winning Inspirational Messages of Peace by the youth have been engraved on individual plaques and placed throughout the garden to serve as points of inspiration.
The southeast section serves as a test garden for the All-American Rose Selections. Visitors can view new rose varieties before they are available to the public. The World Peace Rose Garden is one of the very few gardens in America selected for this honor.
Near the Vietnam Memorial, there is a veterans' section with roses named after wars, honor medals, and veterans.
Along with sections dedicated to specific types of roses, the rose garden includes varieties of special roses. Meander and discover celebrity rose bushes. The Santa Claus Rose, Michelangelo Rose, César Chávez Rose, Bing Crosby Rose, Diana, Princess of Wales Rose, Barbara Streisand Rose, Rosie O'Donnell Rose, John F. Kennedy Rose, and the Betty Boop Rose are several varieties you can find.
Photos of World Peace Rose Garden by Rob Stewart, Rob on the Road PBS KVIE.
WPA Rock Garden in Land Park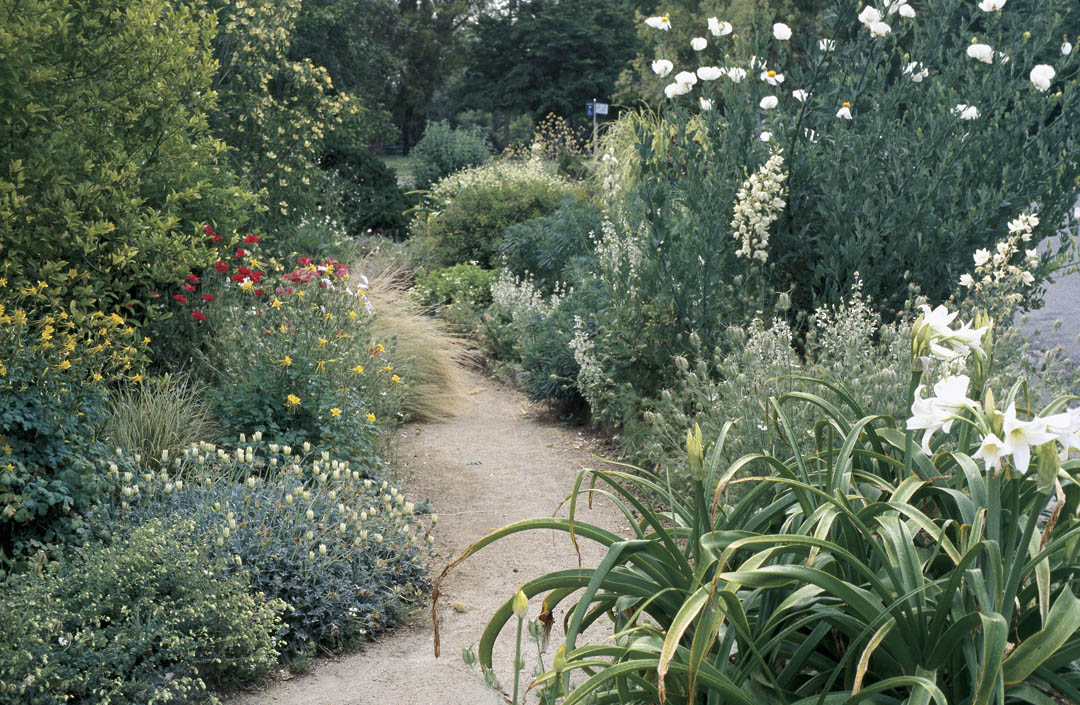 Located in William Land Park, the 1-acre WPA Rock Garden takes you through some meandering paths near the amphitheater, where you can explore the native vegetation of Sacramento in a very unique way.
The garden was initiated as part of Franklin D. Roosevelt's Works Progress Administration (WPA) work-relief program in the late 1930s and early 1940s.  The Depression had left a lot of artisans out of work, so the WPA put them on projects to help beautify their local cities and towns.
Beyond the Botanical and Rose Gardens of Sacramento
If you quickly find yourself becoming addicted to admiring wildflowers, you may also be interested in the California Super Bloom guide.
About the Author
Latest Posts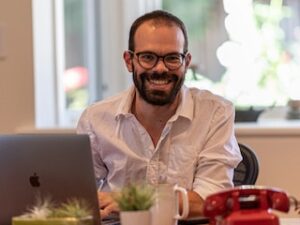 I strive to paint vivid landscapes with my words, bringing the magic of far-off lands and enchanting aromas to life for my readers. Combine passion for exploration and the art of gastronomy in an unending ode to the senses. When I'm not traversing the globe, I find solace in the earth beneath my fingertips, tending to my garden and working on projects around my verdant oasis. MK Library serves as a beacon, guiding fellow travelers and homebodies alike to embrace sustainability, nurturing both our planet and our souls with purpose. Full Bio.