The Hocus Pocus Cocktail is a light and fragrant drink to sip on while enjoying a spooky Halloween night with friends! Adapted from the Hanky Panky, a sweet 50/50 martini created by Ada Coleman, head bartender at the Savoy Hotel in London. The Hocus Pocus balances out sweet vermouth and orange Curaçao liqueur with a touch of bittersweet Fernet Branca.
Looking for some equally-delicious and festive Halloween-themed cocktails? The Death in the Afternoon may kill you (metaphorically) but the Corpse Reviver No. 2 is enough to bring you back to life!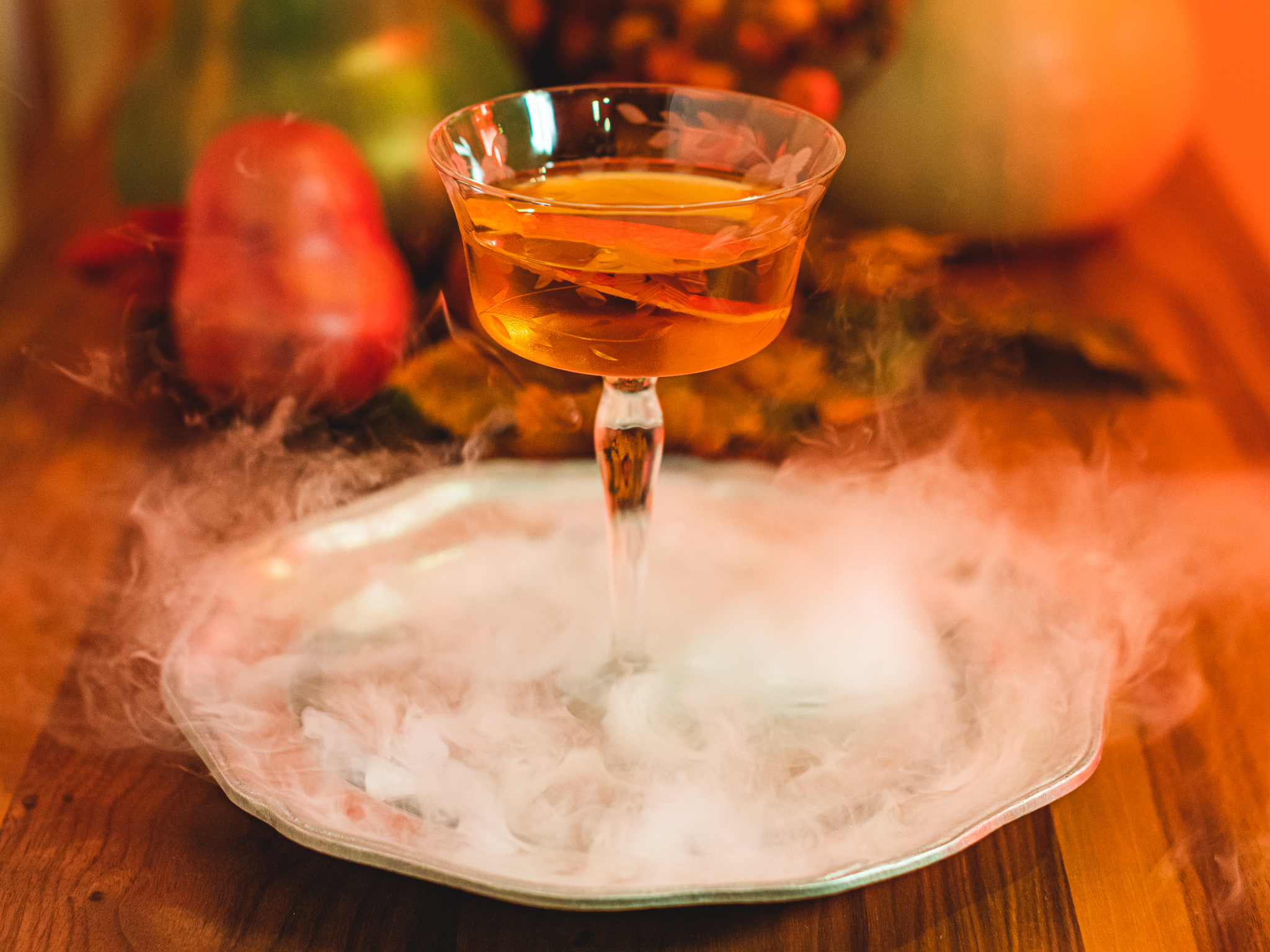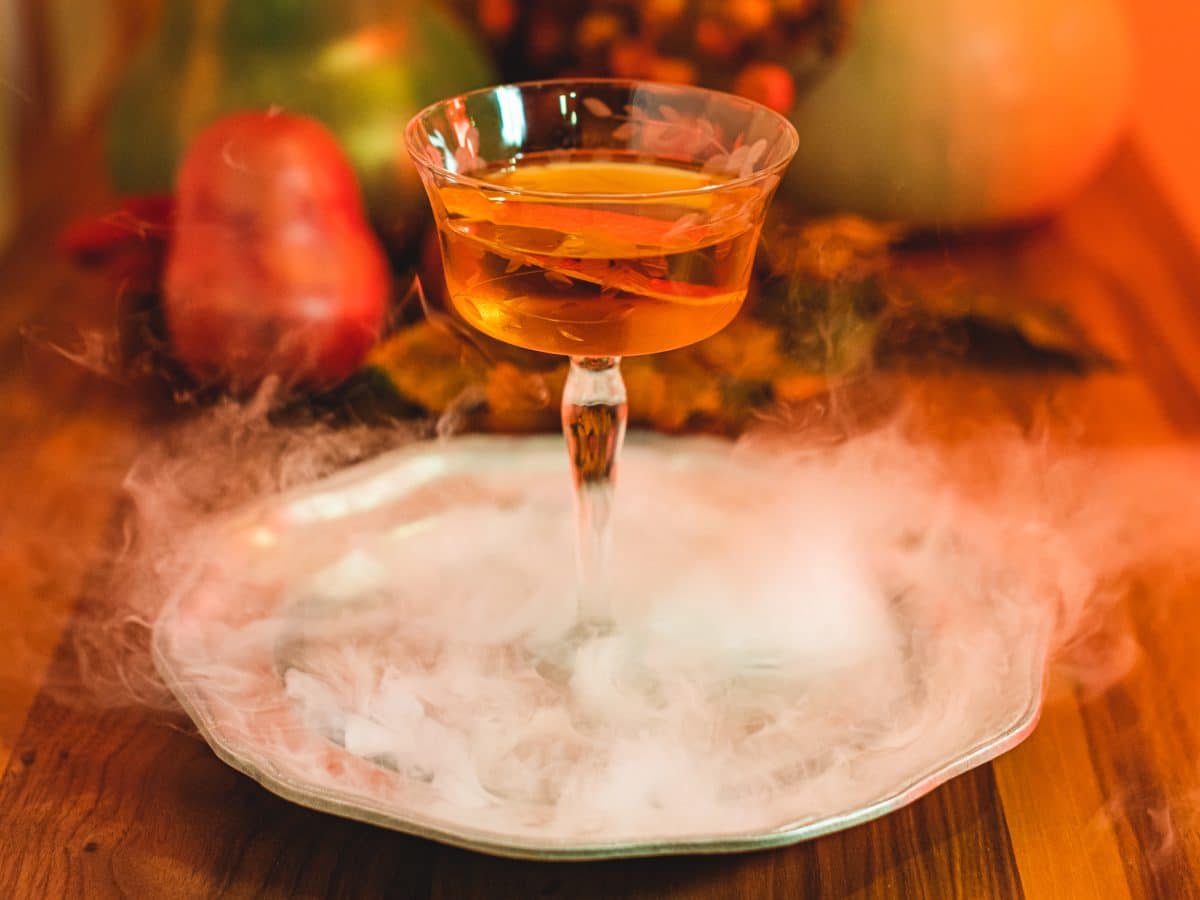 Hocus Pocus Ingredients
Orange Curaçao liqueur – A bittersweet liqueur flavored with the peel of the Laraha Orange, commonly found on the Dutch-Caribbean island of Curaçao. (Avoid the blue-dyed version)
Fernet Branca – An Italian style of bitters made from over 27 aromatic herbs and aged in oak barrels for over a year.
Sweet Vermouth – Cocchi Vermouth di Torino is a complex, sweet vermouth with flavors of rhubarb, bitter orange, cocoa, and baking spice. It comes from Italy's Piedmont region and is produced under strict, historical parameters.
Pro Tip: Dry ice is the key to taking your adult Halloween party to the next level. Carefully decorate your cocktail serving tray with a few dry ice pieces to create this mystic smokey effect. Use gloves or tongs in order to avoid touching the dry ice.
Bring Ada Coleman's Memory Back to Life
Ada Coleman, 1875 to 1966, was the head bartender at Savoy Hotel in London for 23 years. One of only two woman to have worked that position. She is also famous for having invented the Hanky Panky cocktail, another favorite of mine.
Ada has been hailed as "England's most famous barmaid" and The Queen of Cocktail Mixers". It is estimated she had served one hundred thousand customers and poured one million drinks.
Hocus Pocus Cocktail
The Hocus Pocus balances out sweet vermouth and orange curacao liqueur with a touch of bittersweet Fernet Branca. Light and fragrant, this cocktail is a great way to start a spooky night in with friends!
Ingredients
2

oz

London Dry Gin

3/4

oz

Sweet Vermouth

Cocchi preferred

3/4

oz

Orange Curacao liqueur

1/6

oz

Fernet Branca
Instructions
Stir all ingredients in a shaker filled with ice.

Strain into a chilled cocktail glass and serve. Cheers!
Nutrition
Serving:
1
cocktail
Calories:
231
kcal
Carbohydrates:
9
g
Protein:
0.03
g
Fat:
0.1
g
Saturated Fat:
0.02
g
Polyunsaturated Fat:
0.02
g
Sodium:
2
mg
Potassium:
8
mg
Sugar:
9
g
Calcium:
0.2
mg
Iron:
0.03
mg
Tried this recipe?
Let us know how it was – tag @themklibrary on the socials!
I strive to paint vivid landscapes with my words, bringing the magic of far-off lands and enchanting aromas to life for my readers. Combine passion for exploration and the art of gastronomy in an unending ode to the senses. When I'm not traversing the globe, I find solace in the earth beneath my fingertips, tending to my garden and working on projects around my verdant oasis. MK Library serves as a beacon, guiding fellow travelers and homebodies alike to embrace sustainability, nurturing both our planet and our souls with purpose. Full Bio.