Whether you are a cocktail aficionado or a casual imbiber, learn about the history of the most popular cocktails in the world and how they came to be.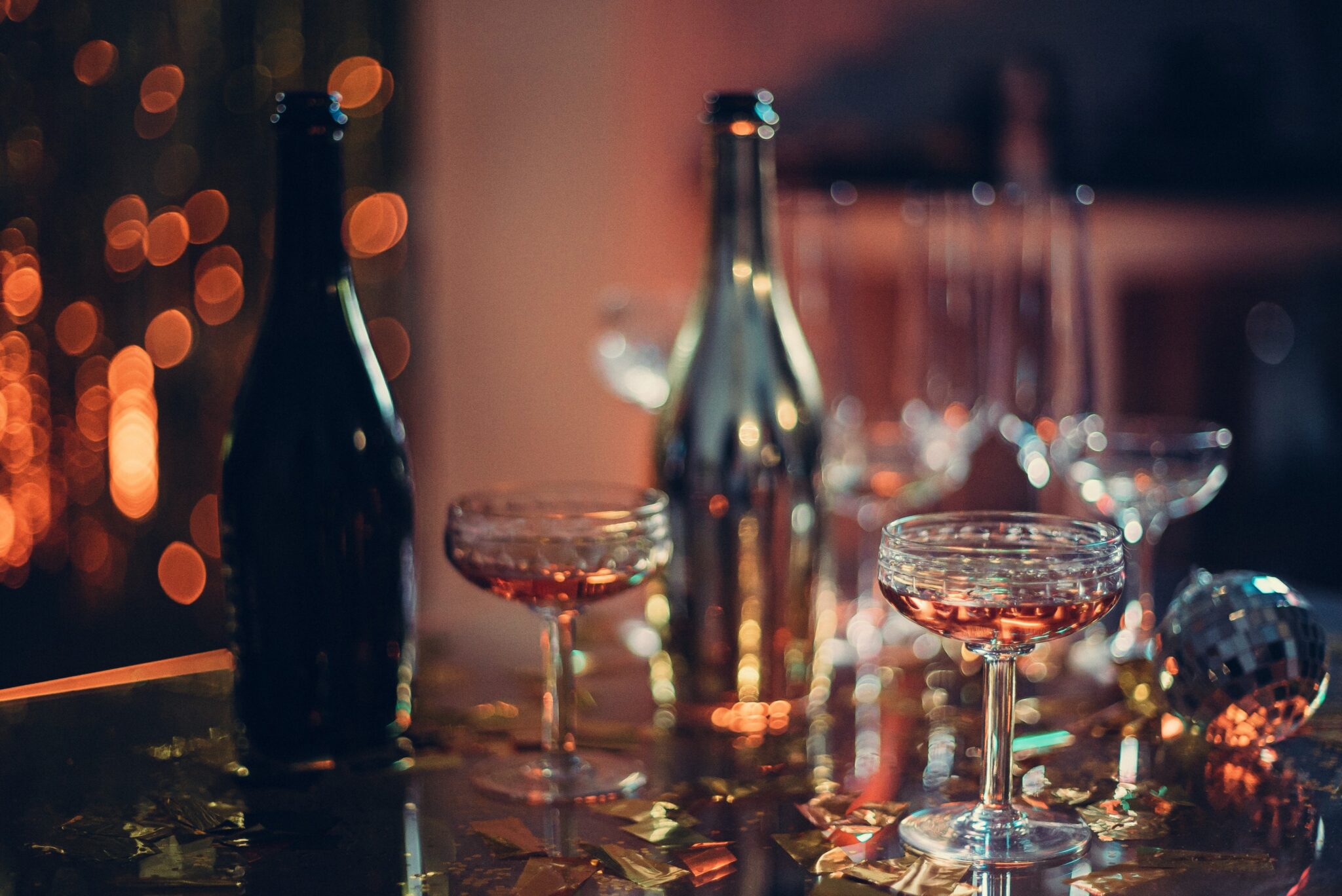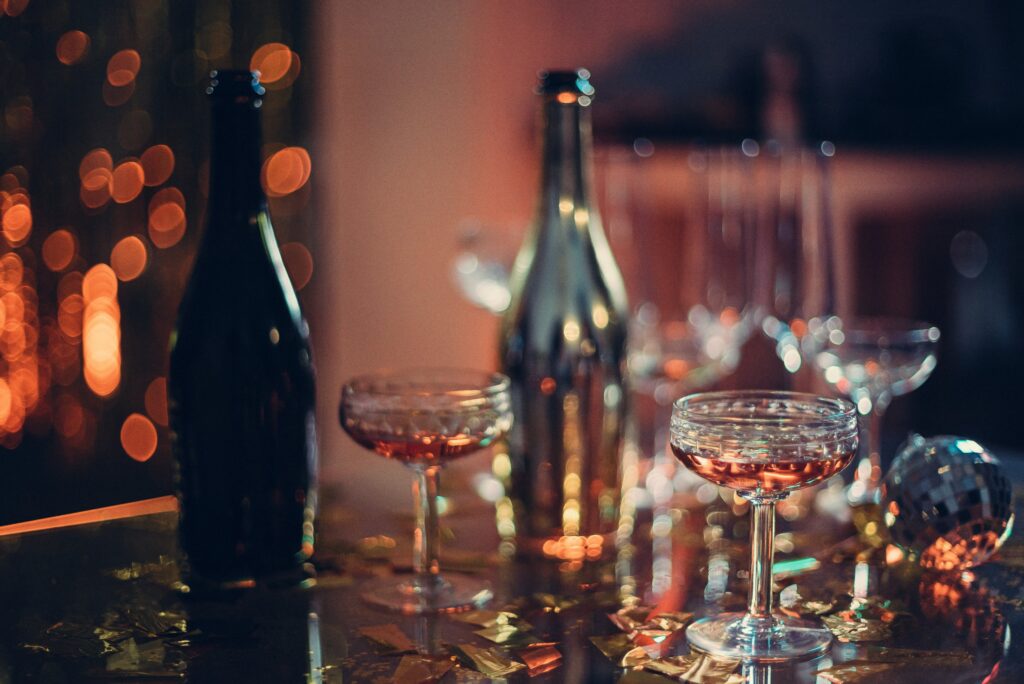 Cocktails are as old as America, dating back to the late 1700s. Initially a mixture of spirits, sugar, water, and bitters, cocktails were introduced to liqueurs in the 1860s.
Between the 1910s to 1930s several prominent bars in Paris, London, New York City, created many of the popular cocktails we enjoy today.
These are their origins.
Amaretto Sour
1½ oz amaretto
¾ oz cask-proof bourbon
1 oz lemon juice
1 tsp 2:1 simple syrup
½ oz egg white, lightly beaten
Combine ingredients in a cocktail shaker and shake without ice. Shake well with cracked ice. Strain over fresh ice in an old fashioned glass. Garnish with lemon peel and brandied cherries.
While the first Amaretto Sour originated in the 1970s during the resurgence of Italian spirits and liqueurs, the modern and beloved Amaretto Sour cocktail comes courtesy of Jeffrey Morgenthaler, bar manager at Clyde Common and Pepe Le Moko in Portland, Oregon. Source.
Americano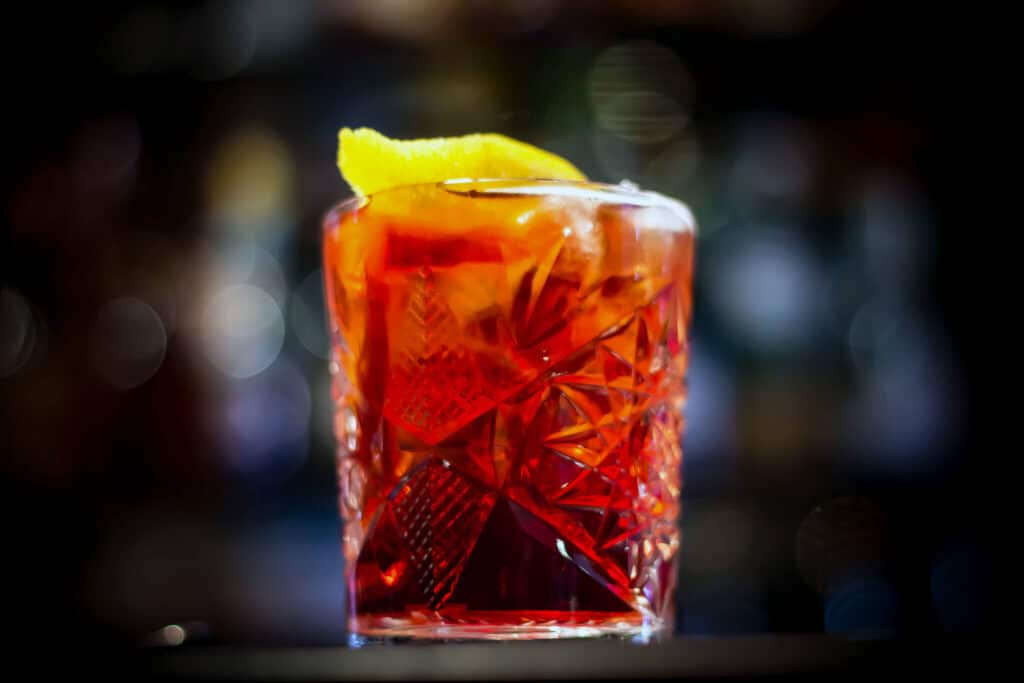 1 oz Bitter Campari
1 oz Sweet Red Vermouth
A splash of Soda Water
Pour the Campari and vermouth over ice into a highball glass, add a splash of soda water and garnish with half orange slice and a lemon twist.
The Americano has been making the rounds since the 1860s, first-served in Caffè Campari in Milan by the Italian drinks manufacturer Gaspare Campari. Yes, that Campari.
Another story of its name dates to the 1930s, in honor of the Italian boxer Primo Canera, who was active in the United States at the time.
Aperol Spritz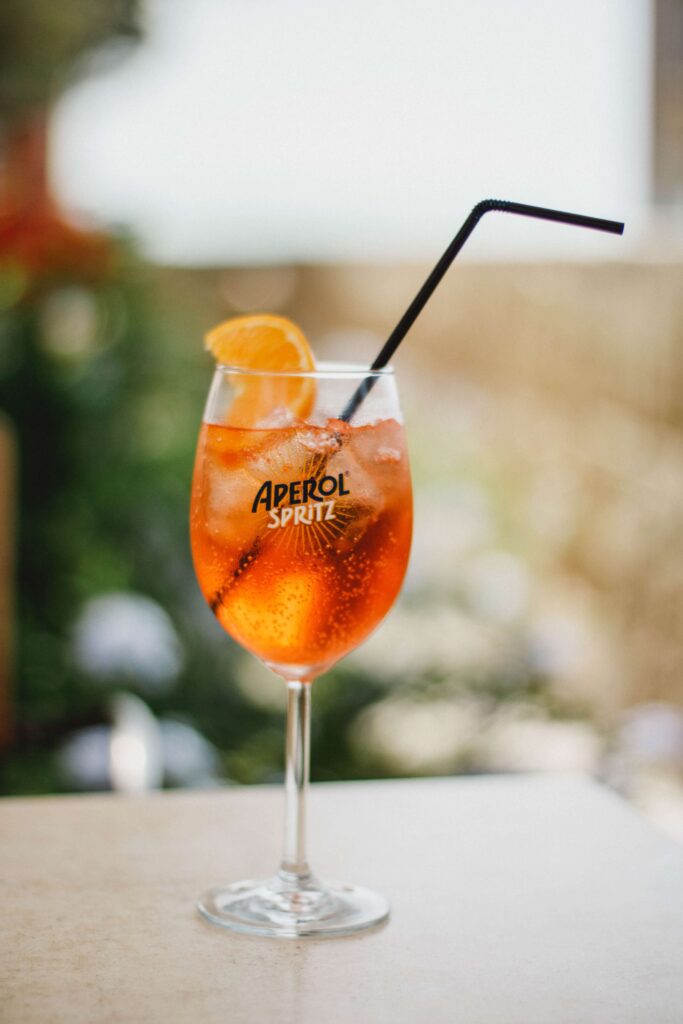 3 oz Prosecco
2 oz Aperol
Splash of soda water
Pour all ingredients into a wine glass filled with ice. Stir gently. Garnish with an organge slice.
The Aperol Spritz came about in 1919, however the original Spritz was born in the 1800s during the reign of the Habsburg Empire in Veneto. Soldiers were not used to the higher alcohol content of local wine and asked for a spritz of water to be added to the wine.
When the Italian aperitif Aperol came to fruition, the drink was originally called a Spritz Veneziano, which originated in Padua, Italy. The drink only recently became widely known and made internationally popular when Aperol was acquired by Campari Group. Source.
Aviation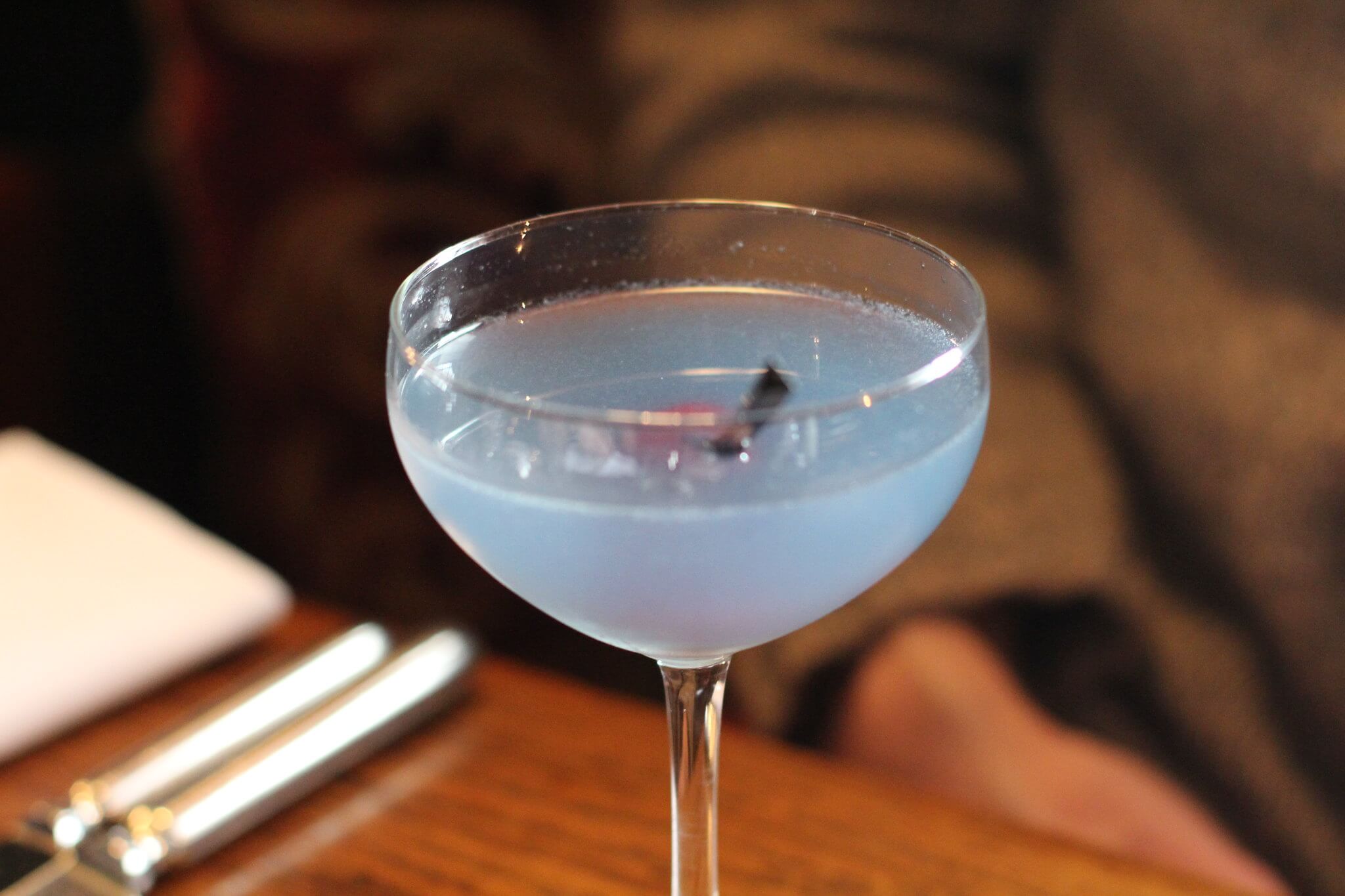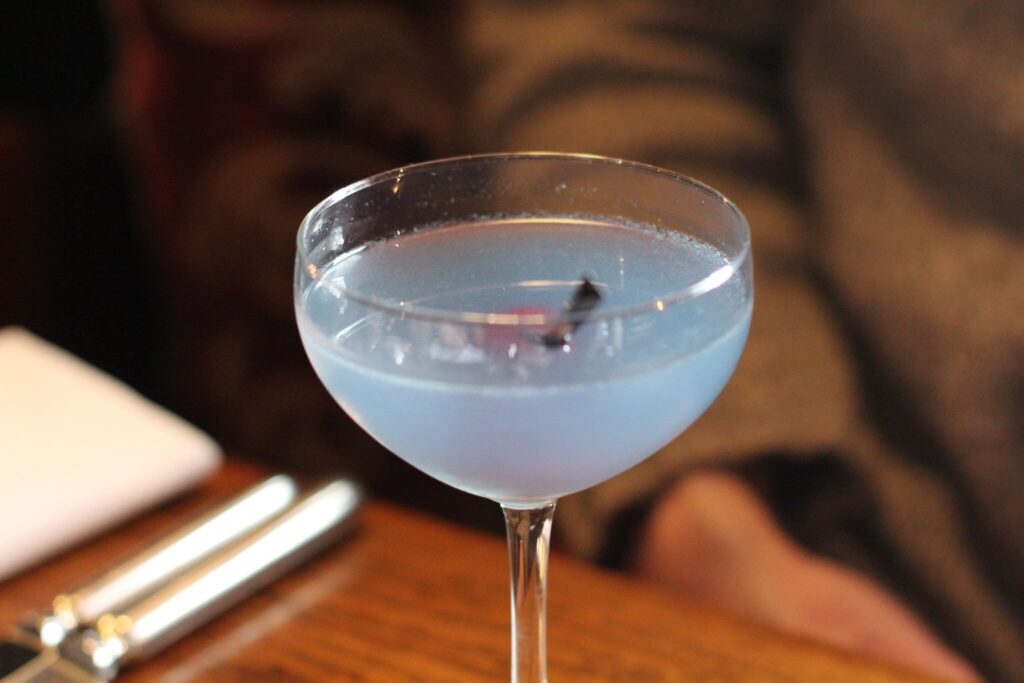 2 oz gin
3/4 oz lemon juice
3/4 oz maraschino liqueur
1 barspoon crème de violette
Add all ingredients into a cocktail shaker filled with ice. Shake well and strain into a cocktail glass. Garnish with a maraschino cherry.
A classic New York cocktail, the drink first appeared at the Hotel Wallick in 1916 by Hugo Ensslin, the head bartender.
Source: Recipes for Mixed Drinks
Bamboo
1 1⁄2 oz. dry amontillado sherry
1 1⁄2 oz. Noilly Prat dry vermouth
2 dashes orange bitters
1 dash Angostura bitters
Twist of lemon
In a mixing glass, combine sherry, vermouth, bitters, and ice. Stir ingredients for 30 seconds and strain into a chilled cocktail glass. Garnish with a lemon twist.
Louis Eppinger was a German Bartender working at the Grand Hotel in Yokohama, Japan in the 1890's when he created the Bamboo cocktail. Bartenders worldwide were trying different vermouth pairings to see what would stick.
The Bamboo was later published in Thomas Stuart's book, Stuart's Fancy Drinks and How To Mix Them in 1904. It was largely forgotten until the 2000's, when several New York bars brought the cocktail back into the public's eye.
One of the more popular modern recipes is by Chip Tyndale of Dutch Kills:
1 ½ ounces of Lustau Amontillado sherry
1 ¼ ounces of Dolin dry vermouth
¼ ounce of Dolin blanc vermouth
A dash each of orange and Angostura bitters
Served with a lemon twist
Bees Knees
2 oz Gin
3/4 oz fresh lemon juice
3/4 oz honey simple syrup
Add all ingredients to a shaker. Shake with ice and strain into a chilled cocktail glass. Garnish with a lemon twist.
A prohibition-era cocktail, the Bees Knees was slang for "the best." During prohibition, citrus and honey ingredients were used to hide the quality of poorly made gin. Created by Frank Meier, who worked as a bartender at the Hôtel Ritz Paris and was training at New York's Hoffman House hotel in 1903.
Source: Meier, Frank [1936]. The Artistry of Mixing Drinks.
Blood & Sand
1/4 oz blended scotch
1/4 oz blood orange juice
1/4 oz sweet vermouth
1/4 oz cherry brandy
Pour all ingredients into cocktail shaker filled with ice. Shake well. Strain into cocktail glass. Flame orange zest over the top of the glass.
Named after Rudolph Valentino's 1922 bullfighter movie Blood and Sand, this is a rare Scotch whisky cocktail. The blood orange juice is meant to serve as symbolism to the film.
Source: Craddock, Harry [1930]. The Savoy Cocktail Book.
Bloody Mary
1.5 oz vodka
3 oz Tomato juice
1/2 oz / 1 tbsp Lemon juice
2 to 3 dashes of Worcestershire Sauce
Tabasco sauce
Celery salt
Black pepper
Stirring gently, pour all ingredients into highball glass. Garnish.
The Bloody Mary was invented at Harry's in 1921 by the bartender Fernand Petiot, also known as. "The story is that there were a few customers, a few friends, and the bartender, Fernand Petiot, made a cocktail for them with tomato juice and vodka," Mr Da Silva, manager of Harry's Bar in Paris, said in an interview with David Chazan of the BBC.
"It got its name because one of the friends said, 'It looks like my girlfriend who I met in a cabaret.' "The cabaret's name was the Bucket of Blood and the name of the lady was Mary so it was very simple to call it a Bloody Mary." Source.
Boulevardier
1 oz Bourbon whiskey
1 oz Vermouth
1 oz Campari
Stir with ice, strain, garnish with an orange peel and cherry, and serve.
American-born writer Erskine Gwynne created the Boulevardier cocktail sometime between 1927 and 1932.
Source: McElhone, Harry and Wondrich, David [1927]. Barflies and Cocktails.
Bramble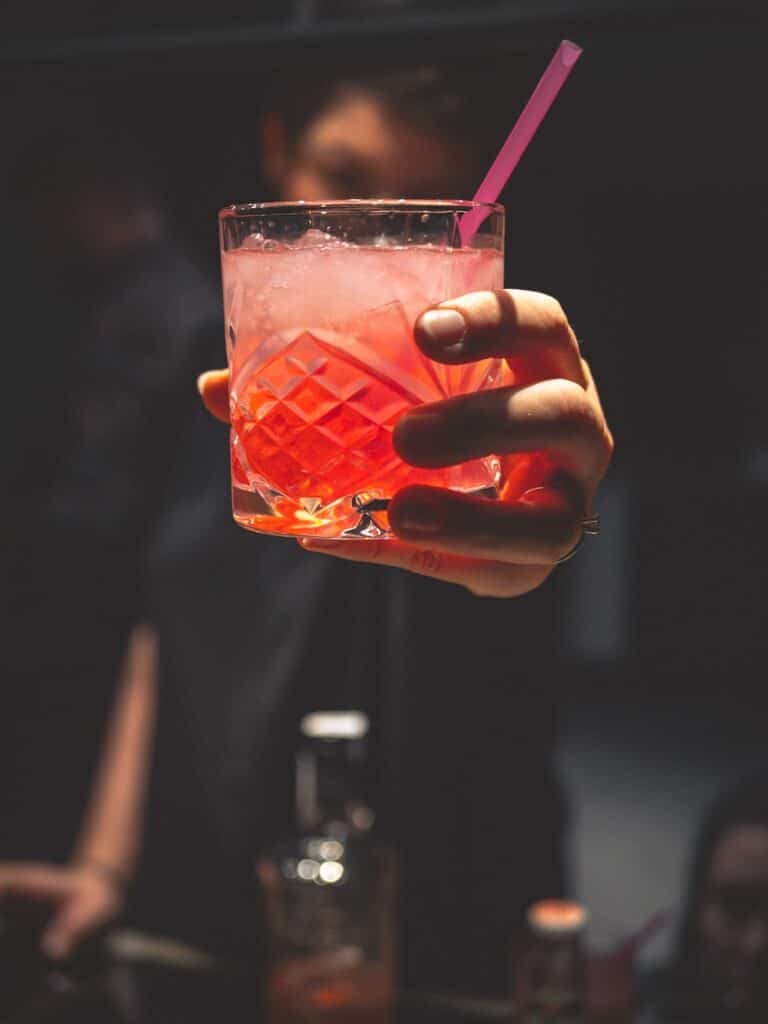 3 oz gin
2 1/4 oz freshly squeezed lemon juice
3/4 oz simple syrup
1 1/2 oz Creme de Mure (blackberry liqueur)
Fill glass with crushed ice. Add gin, lemon juice, and simple syrup. Stir, then pour blackberry liqueur over in a circular fashion to create a marbling effect. Garnish with two blackberries and lemon slice.
The Bramble Cocktail was created by Dick Bradsell in 1985. Bradsell was bartending at Fred's Club in Soho, London. Inspired by memories of blackberrying during childhood on the Isle of Wight and a desire to create a British cocktail, the Bramble was born. Source.
Caipirinha
5 cl cachaça
Half a lime cut into 4 wedges
2 teaspoons sugar
Place lime and sugar into old fashioned glass and muddle. Mash the two ingredients together using a muddler. Fill the glass with ice and add the Cachaça. A wide variety of fresh fruits can be used in place of lime.
The Caipirinha first began appearing in bars around 1918 in Alentejo, Portuga, indicated for patients with the Spanish Flu. Depending on who you ask, Caipirinha is based on Poncha, a similar drink from Madeira, Portugal.
The drink migrated to Brazil when the Portuguese moved their sugar cane production to the region of Piracicaba.
Caipirinha comes from the word caipira, which refers to someone from the countryside – similar to the hillbilly of the United States.
Clover Club
1.5 oz gin
3/4 oz fresh lemon juice
3/4 oz raspberry syrup
1/2 oz fresh egg white
From the 1880's to 1920's, a group of gentlemen met regularly at the Bellevue-Stratford Hotel in Philadelphia. This group called themselves the Clover Club.
Hotelier George Bold was recruited to serve as the proprietor for the Waldorf-Astoria Hotel in New York, where the Clover Club Cocktail rose to popularity. Published in the New York Press in 1901, the cocktail enjoyed a 50 year stint of popularity until it fell out of favor.
A recent resurgence has brought the Clover Club cocktail back into the limelight of speakeasy and prohibition bars alike.
Source: Deacon, Mary R [1897]. The Clover Club of Philadelphia.
Corpse Reviver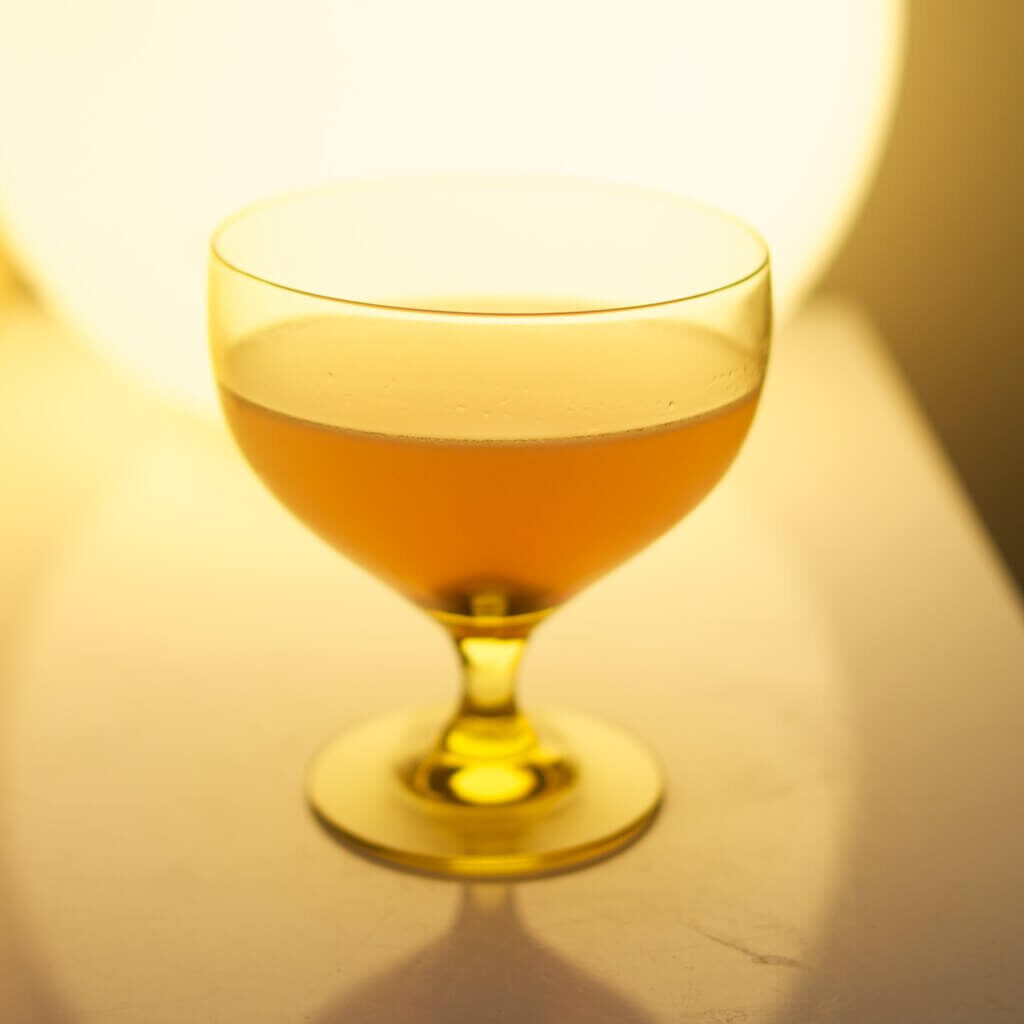 2 oz cognac
1 oz apple brandy
1 oz sweet vermouth
Stir with ice, strain into a chilled cocktail glass.
Rumors of the Corpse Reviver date back to the 1930's at the American Bar at the Savoy Hotel in London. Multiple recipes have evolved from the three basic ingredients, espoused and adapted by famous bartenders such as Harry Craddock, Trader Vic, and published Punch Magazine.
Variations of the Corpse Reviver evolved, such as the most popular variation, No 2, by Savoy Cocktail Book, which incorporates absinthe. A 1948 variation, aptly called No 3 brings into play Fernet-Branca as an ingredient.
Quotes which play upon the name run the gamut such as:
"To be taken before 11AM, or whenever steam or energy is needed." – Harry Craddock.
"Four of these taken in swift succession will unrevive the corpse again" – Savoy Cocktail Book.
Source: The Savoy Cocktail Book.
Cosmopolitan
1 1/2 oz Vodka
1/2 oz Cointreau
1/2 oz Fresh lime juice
1 oz Cranberry juice
Add all ingredients into cocktail shaker filled with ice. Shake well and strain into large cocktail glass. Garnish with lemon twist.
The Cosmopolitan has a history of many authors, tumultuous with its origins dating back to the 1930s in the book Pioneers of Mixing at Elite Bars. Neal Murray of Cork & Cleaver steak house in Minneapolis claims to have created the Cosmopolitan in 1975.
Miami-based bartender Cheryl Cook created a variation of the Cosmopolitan in 1985, meant to be both visually stunning and something anyone could pallet.
Another potential author of the modern Cosmopolitan is The Odeon, a restaurant created by Toby Cecchini and Melissa Huffsman-Roth. By the time Toby had made his own tweaks to the cocktail, it had made its way around the nation and had been influenced by the big cities of America. He modified Cheryl's recipe to use fresh lime juice and Cointreau.
Fern bars, or bars considered uppity, with Tiffany lamps and well-dressed singles have been credited to making this cocktail popular.
Source: Ardent Spirits interview with Cheryl Cook and Toby Cecchini, Volume 7 Issue 6, October, 2006.
Daiquiri
2 oz white rum
1/2 oz lime juice
1 bar spoon fine sugar
In a cocktail shaker add all ingredients. Stir well to dissolve the sugar. Add ice and shake well. Strain into a chilled cocktail glass.
The Daiquiri cocktail can trace its origins all the way back to the 1780s, to a drink called Grog British sailors drank to prevent scurvy. The official Royal Navy daily grog ration contained rum, water, 3/4 ounce of lemon or lime juice, and 2 ounces of sugar.
The Daiquiri name comes from an iron mine of the same name, near Santiago de Cuba, with the etymology originating from the Taíno people. Jennings Cox is assumed to have given this cocktail its now-famous name, which was subsequently introduced to New York when congressman William A. Chanler bought the Santiago iron mines in 1902.
In 1909, the Daiquiri went from a local and naval drink to an international favorite, enjoyed by many, from Ernest Hemingway to President John F. Kennedy. The cocktail's popularity peaked during World War II, which caused the rationing of whiskey and vodka, while rum remained easily obtainable due to the Good Neighbor policy, meant to encourage trade with Latin America, Cuba, and the Caribbean.
Jason Wilson of the Washington Post once wrote a column, A good daiquiri deserves the right rum, in which he describes the perfect daiquiri cocktail. "Now, when I say daiquiri, I mean a simple, elegant, shaken daiquiri with three ingredients – rum, lime juice, sugar – served straight up. … A daiquiri, a real daiquiri, is one of the essential cocktails.
Sources: The United Confederation of Taíno people [2007]. Brown, Stephen [2004]. Scurvy.
French 75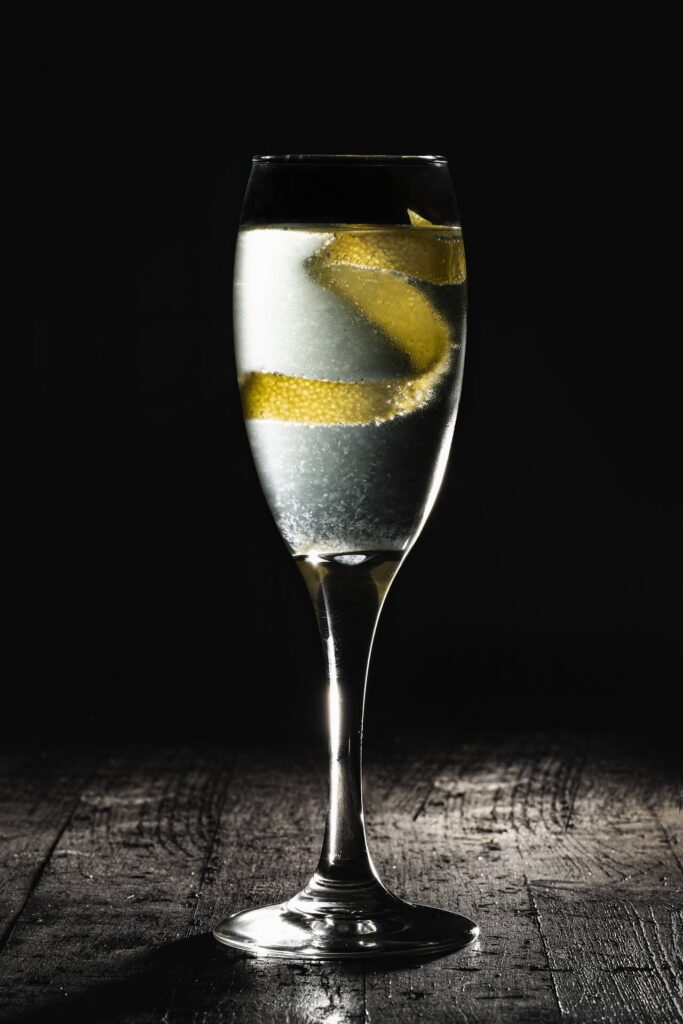 2 oz gin
2 dashes simple syrup
1/2 oz lemon juice
Champagne
Combine gin, syrup, and lemon juice in a cocktail shaker filled with ice. Shake vigorously and strain into a chilled champagne glass. Top up with Champagne. Stir gently.
Officially named in 1915 by Harry MacElhone, the name French 75 is a reference to World War I, with the drink having such a kick it felt like being shelled by the French 75mm field gun.
However, references to a combination of gin and Champagne date back to an 1885 article about Charles Dickens staying at the hotel Parker House, Boston, where Dickens would entertain with Tom gin and champagne cups.
The French 75 had its first print mention in 1927, printed by Here's How, a New York bootlegger humor magazine. It was included in the 1930 Savoy Cocktail Book, where it holds the honor of being the only classic born in America during the dry period.
Source: Letters and Liquor | Liquor.com | Here's How 1927
Gimlet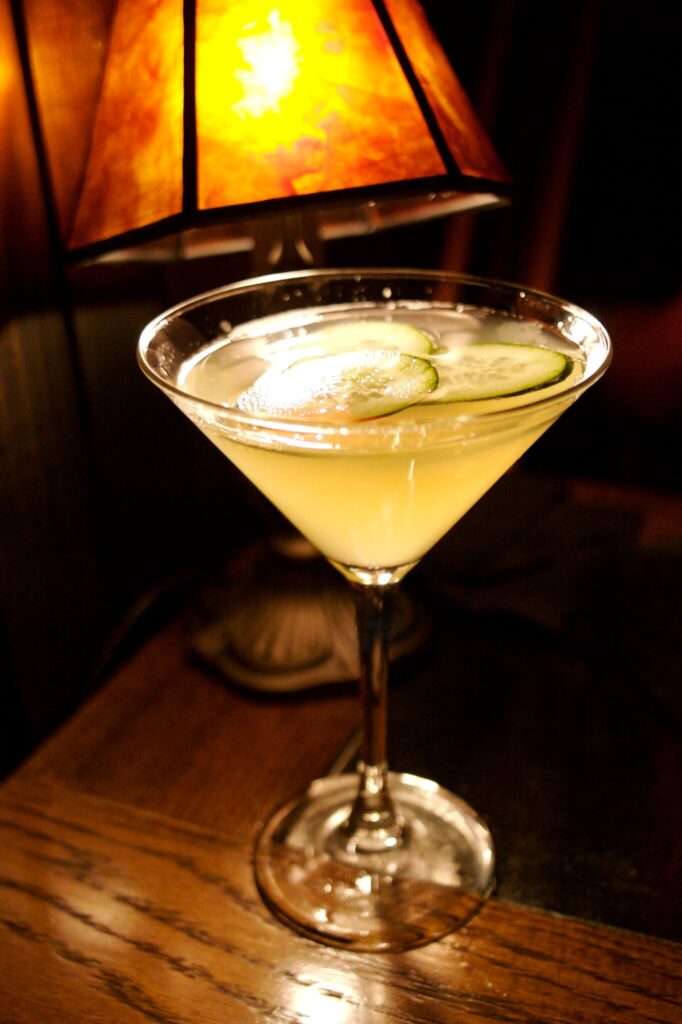 Two parts gin
One part sweetened lime juice
Mix and serve. Garnish with a slice of lime.
D.B. Wesson first described a Gimlet in his 1928 book, I'll never be Cured, as "gin, a spot of lime, and soda."
Named for the gimlet tool, meant for drilling small holes. Gimlet is also a figurative word to describe something sharp or piercing. The name hints at having a piercing effect on the drinker.
Several renditions of the gimlet cocktail recipe call for a touch of simple syrup, while purists implore the use of Rose's lime juice only.
Source: D. B. Wesson, I'll Never Be Cured III
Gin Fizz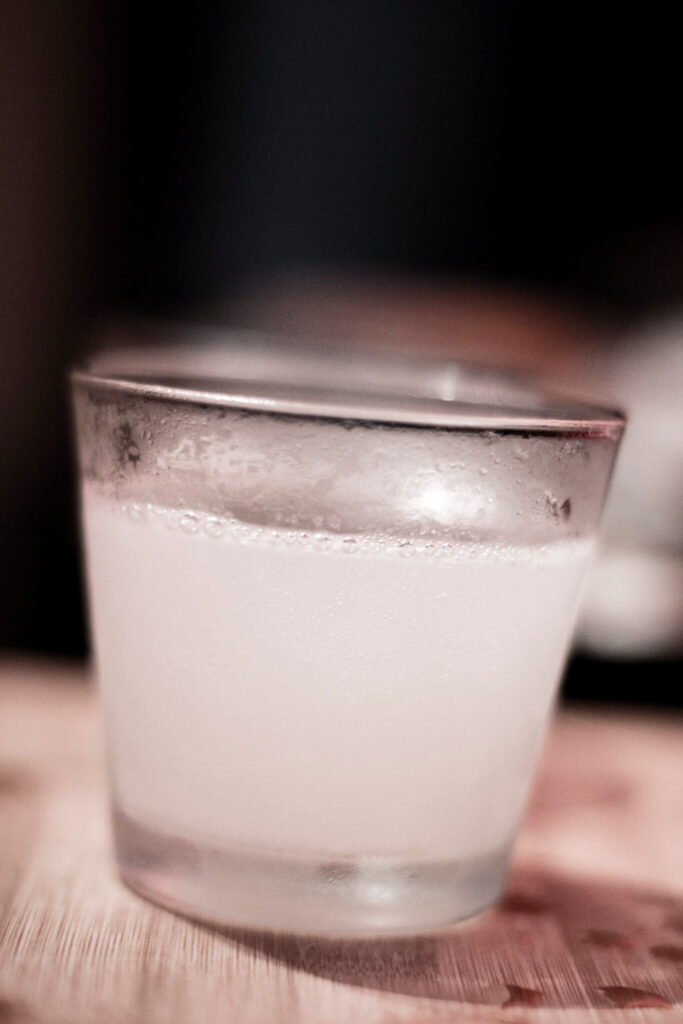 1 1/2 oz Gin
1 oz fresh lemon juice
1/3 oz simple syrup
2 1/2 oz soda water
Shake all ingredients with ice cubes, except soda water. Pour into glass. Top with soda water.
A specialty of New Orleans, the Gin Fizz became popular between the 1900s and 1940s. The first mention of any sort of fiz goes to the appendix of Jerry Thomas Bartenders Guide, which included four variations of fizz drinks.
The Fizz in Gin Fizz refers to an acidic juice and carbonated water.
Common types of fizz include:
Silver fizz – addition of egg white
Golden fizz – addition of egg yolk
Royal fizz – addition of whole egg
Diamond fizz – sparkling wine instead of carbonated water, more commonly known as a "French 75".
Green fizz – addition of a dash of green crème de menthe
Source: Jerry Thomas Bartenders Guide 1862 | Harry's ABC of Mixing Cocktails
Hanky-Panky
1 1/2 oz London Dry Gin
1 1/2 oz Sweet Red Vermouth
1/4 oz Fernet Branca
Stir ingredients over ice, strain into a chilled glass, garnish with orange zest, and serve up in a cocktail glass.
Ada Coleman, nicknamed "Coley," created the Hanky-Panky cocktail in 1903 while working at the Savoy Hotel.
Coley revealed the story during a newspaper interview with The People in 1925:
The late Charles Hawtrey … was one of the best judges of cocktails that I knew. Some years ago, when he was overworking, he used to come into the bar and say, "Coley, I am tired. Give me something with a bit of punch in it." It was for him that I spent hours experimenting until I had invented a new cocktail. The next time he came in, I told him I had a new drink for him. He sipped it, and, draining the glass, he said, "By Jove! That is the real hanky-panky!" And Hanky-Panky it has been called ever since.
Charles Hawtrey was a famous English comedy actor and musician, which is important to note, a Hanky Panky had a different connotation in Britain than it did in America. Hanky-panky referred to something being close to magic or witchcraft.
Source: The Savoy Cocktail Book. | The People
Jungle Bird
1 ½ oz blackstrap rum
¾ oz Campari
½ oz fresh lime juice
½ oz simple syrup
1 ½ oz pineapple juice
Combine ingredients in a shaker with ice and strain into an Old Fashioned glass filled with crushed ice.
What was once served as welcome drink at the Aviary bar in Kuala Lumpur Hilton, the Jungle Bird is a wild tiki inspired 1978 cocktail. It is traditionally served in a ceramic bird container.
Last Word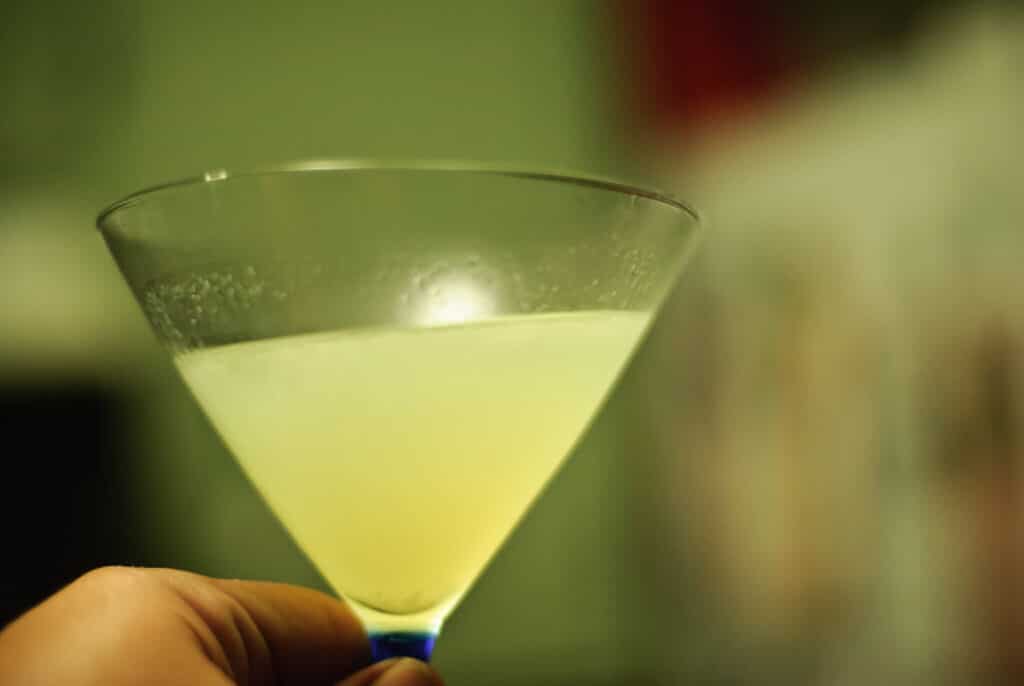 One part gin
One part lime juice
One part Green Chartreuse
One part maraschino liqueur
Shake with ice and strain into a cocktail glass.
A pre-prohibition cocktail, the Last Word was created at the Detroit Athletic Club. First spotted on the club's menu in 1916 for 35 cents, this was considered an expensive drink – $8.22 in 2019 dollars. The original recipe called for bathtub gin from the Club.
The cocktail fell out of fashion during World War II until it reemerged in 2004. Murray Stenson found an old copy of a 1952 cocktail book Bottoms Up! by Ted Saucier, which included the recipe. Stenson turned the Last Word into a cult hit at the Zig Zag Cafe in Seattle, where it has continued to grow in popularity.
Source: Ted Saucier's Bottoms Up
Long Island Iced Tea
1/2 ounce vodka
1/2 ounce gin
1/2 ounce tequila
1/2 ounce light rum
1/2 ounce triple sec
1/2 ounce sour mix
Splash of Coke
Wedge of lemon
Add all ingredients except the cola into a highball glass with ice. Top with a splash of the cola and stir briefly. Garnish with a lemon wedge.
The Long Island Iced Tea made its debut in 1972, when Robert "Rosebud" Butt entered the cocktail as an entry in a contest for triple sec cocktails. Bob invented the cocktail while working at the Oak Beach Inn East in the Hamptons.
Despite the tea in the name, most variants do not actually include any tea in the cocktail ingredients.
Note: There is a report of this cocktail being mentioned in the 1961 edition of Betty Crocker's New Picture Cook Book – if you have a copy and can verify, I'd love to see the scanned page.
Mai Tai
3/4 ounce fresh lime juice
1/2 ounce orange curaçao (Pierre Ferrand preferred)
1/4 ounce orgeat
1/4 ounce rich demerara simple syrup (2:1 ratio) — use real, full-flavored sugar in this drink.
2 ounces aged pot still or blended rum
Combine all ingredients with 12 ounces of crushed ice and some cubes in a shaker. Shake until chilled and pour including ice into a double old fashioned glass. Garnish with a spent lime shell and mint sprig.
The Mai Tai was invented by Victor J. Bergeron of Trader Vic's in Oakland California in 1944. Coming from the Tahitian word maita'i, which means good or excellence, the drink is spelled as two words.
I was at the service bar in my Oakland restaurant. I took down a bottle of 17-year-old rum. It was J. Wray Nephew from Jamaica; surprisingly golden in color, medium bodied, but with the rich pungent flavor particular to the Jamaican blends. The flavor of this great rum wasn't meant to be overpowered with heavy additions of fruit juices and flavorings. I took a fresh lime, added some orange curacao from Holland, a dash of Rock Candy Syrup, and a dollop of French Orgeat, for its subtle almond flavor. A generous amount of shaved ice and vigorous shaking by hand produced the marriage I was after. Half the lime shell went in for color … I stuck in a branch of fresh mint and gave two of them to Ham and Carrie Guild, friends from Tahiti, who were there that night. Carrie took one sip and said, "Mai Tai – Roa Ae". In Tahitian this means "Out of This World – The Best". Well, that was that. I named the drink "Mai Tai".

by Victor J. "Trader Vic" Bergeron
San Francisco 1970
During the 1950s to 1060s, the Mai Tai became popular in tiki-themed restaurants and bars, where it is now celebrated as synonymous with Tiki culture.
Source: Trader Vics
Manhattan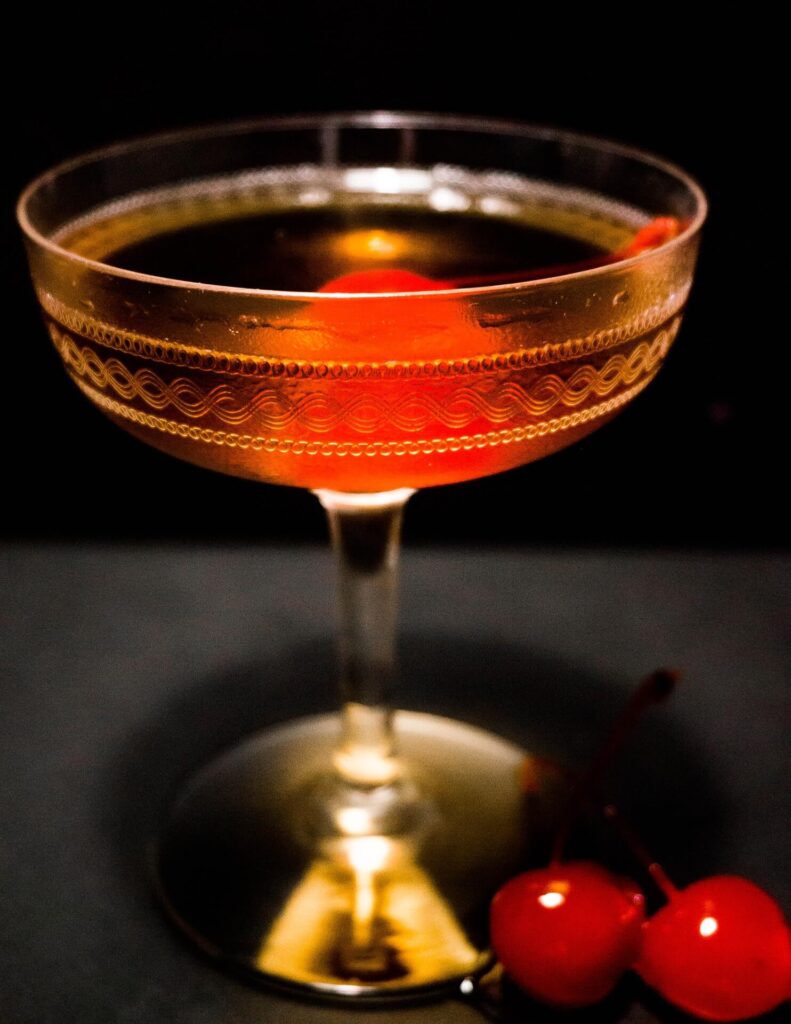 2 oz Rye Whiskey
1 oz Sweet Vermouth
1 dash Angostura Bitters
1 Maraschino Cherry
Stir ingredients over ice until chilled, strain into a chilled glass, garnish with a cherry, and serve up.
As you may have guessed by the name, the Manhattan originates from New York City during the mid 1870s.
Dr. Ian Marshall is said to have invented the cocktail for a banquet in honor of presidential candidate Samuel J. Tilden. The drink was so popular, it was requested later on, and referred to as the name of the place where the banquet was held, the Manhattan Club Cocktail. However, in a memoir by Winston Churchill, the dates and names do not match up to a cross-reference, leaving some to believe this is a story of fiction.
Another account gives credit to a bartender named Black, who worked at a bar on Broadway near Houston Street. In the 1923 book, Valentines Manual of Old New York, written by William F. Mulhall, he writes:
The Manhattan cocktail was invented by a man named Black who kept a place 10 doors below Houston Street on Broadway in the (eighteen) sixties – probably the most famous drink in the world in its time.
Sources: Valentines Manual of Old New York | Winston Churchill – My Early Life
Margarita
2 oz tequila
1 oz orange liqueur
1 oz lime juice
Pour all ingredients into shaker with ice. Shake well and strain into cocktail glass rimmed with salt.
Several accounts of the origins of the Margarita have emerged from the 1930s. James Graham, a newspaper editor in Iowa, writes of finding the cocktail in Tijuana.
Another story claims Carlos "Danny" Herrera invented the Margarita in 1938 at his restaurant Rancho La Gloria. It was created for his famous customer, Marjorie King, who was allergic to many spirits, but not tequila.
Another inventor claims to be Francisco "Pancho" Morales in 1942 at Tommy's Place.
According to famous Tequila producer Jose Cuervo, the cocktail was invented in 1938 by a bartender to honor Mexican showgirl Rita de la Rosa.
Despite the many origin claims, the first printing of the margarita cocktail recipe was in the December 1953 issue of Esquire.
Martini
2 1/2 ounces of dry gin
1/2 ounce of dry vermouth
Green Olives or Lemon twist
In a cocktail shaker filled with ice, combine gin and vermouth. Stir well, then strain into a martini glass. Garnish with olives.
The origins to the Martini cocktail will take you to the 1860s at the Occidental Hotel in San Francisco. Before taking an evening ferry to the nearby town of Martinez, a "Martinez Cocktail" would be in short order.
The cocktail was first described in the 1987 edition of Jerry Thomas' Bartenders Guide: How to Mix All Kinds of Plain and Fancy Drinks, titled the Martinez Cocktail.
The monicker changed from Martinez to Martini somewhere around World War I, growing in popularity over the next 30 years. Mentions of the Martini gained traction from authors such as Hemmingway and Flemming, powerful political figures from Rockefeller to Roosevelt and Stalin, to pop culture celebrities of the time.
Source: Jerry Thomas' Bartenders Guide: How to Mix All Kinds of Plain and Fancy Drinks | The Martini: An Illustrated History of an American Classic
Mimosa
1 part orange juice
1 part champagne
Chill both ingredients, mix into champagne flute with equal parts.
The Mimosa cocktail is named after the yellow-flowered mimosa plant, Acacia dealbata, which strangely enough, is native to Australia and later introduced to the Mediterranean. The Mimosa cocktail comes from Frank Meier, who was working at the Ritz Hotel in 1925, said to be inspired by its trembling leaves.
The cocktail went on to its first printing in Meier's 1936 book, The Artistry of Mixing Drinks.
Another cocktail often mislabeled as a Mimosa is the Buck's Fizz, which is actually two-parts champagne and one-part orange juice. A common misconception for those wanting just a slightly stronger cocktail.
Source: The Artistry of Mixing Drinks
Mint Julep
1/4 ounce simple syrup
8 mint leaves
2 ounces bourbon
6 sprigs of mint
In a highball glass, muddle the mint, sugar and water. Fill the glass with cracked ice, add bourbon, and stir well until the glass is well frosted. Garnish with a mint sprig.
The earlies found mentions of the Mint Julep come from a play in 1770 which describes the drink as a prescription drink for sickness at the stomach. In 1793, Rev. Harry Toulmin spoke of the Mint Julep as a tumbler of rum and water, well sweetened, with a slip of mint in it.
The cocktail began appearing in taverns around the 1780s to 1807, as taverns began including ice-houses. This was a cocktail enjoyed by the rich and made by their slaves.
As one of the first cocktails to use ice, the cocktail quickly caught on in popularity.
The Mint Julep became an item of local identity in Virginia by 1820, where a master of mint juleps was Jasper Crouch of Richmond, who was identified as a Free Person of Color.
In 1938, the Mint Julep was promoted by Churchill Downs in association with the Kentucky Derby, in part with bourbon maker Early Times, creating the official drink of the Kentucky Derby.
The Kentucky Derby has gone on to promote the Mint Julep in various forms, from a $1000 cocktail, to the world's largest mint julep glass.
Source: Kentucky Derby | The Daily Beast
Mojito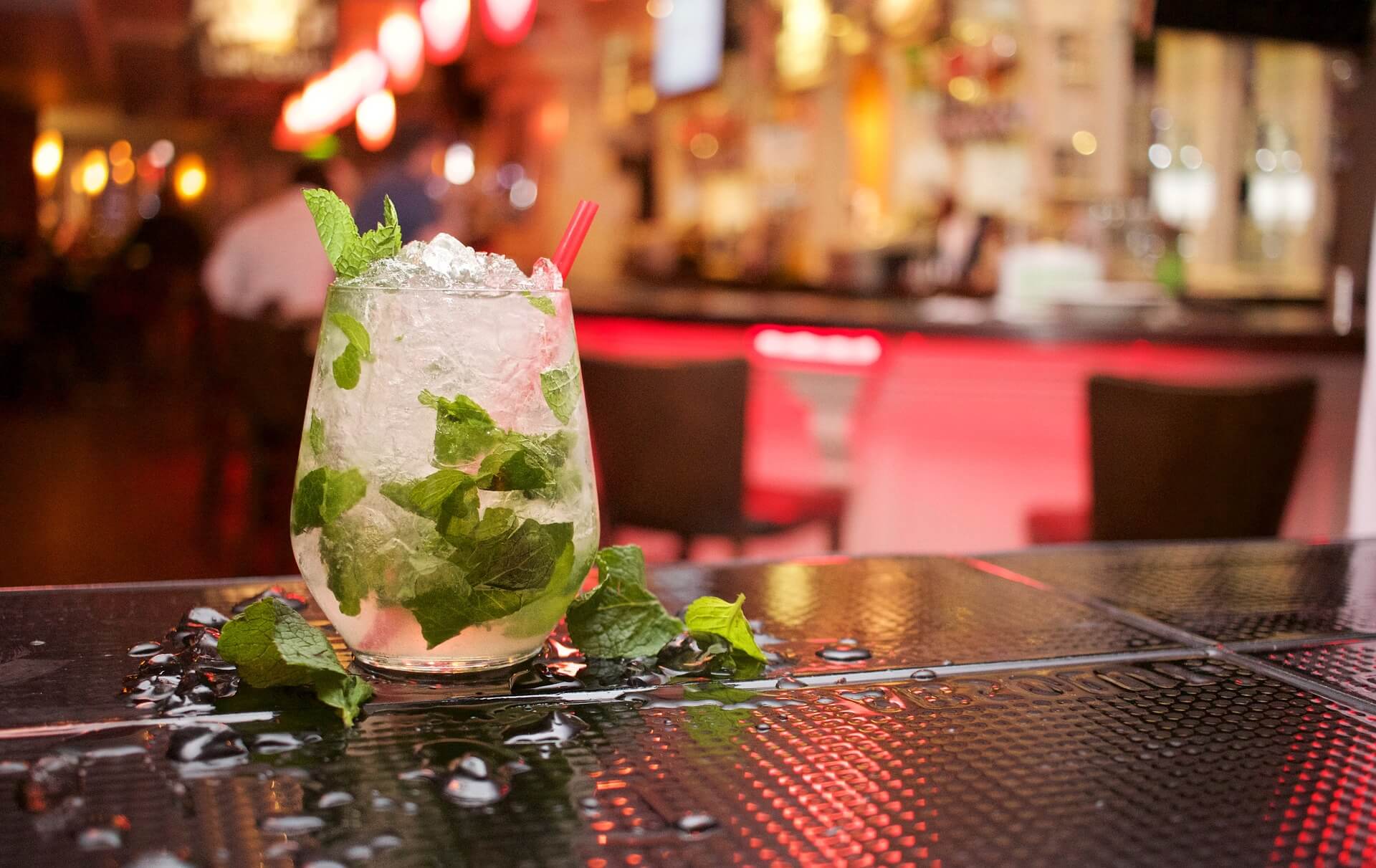 1 teaspoon powdered sugar
Juice from 1 lime (2 ounces)
4 mint leaves
1 sprig of mint
Havana Club white Rum (2 ounces)
2 ounces club soda
Add powdered sugar, then gently smash the mint into the lime juice and sugar with a muddler. Add crushed ice, then the rum and stir. Top off with club soda. Garnish with a mint sprig.
The Mojito Cocktail finds its origins in the 1500s in Havana, Cuba. When Sir Francis Drake unsuccessfully tried to sack Havana for its gold, his crew begged the locals for help in easing the suffering from dysentery and scurvy. The crew returned with aguarediente de cana, mint leaves, and the juices from sugar cane and limes. While lime was the secret ingredient, the combination of all these ingredients turned into the the Mojito known today.
The name is said to be a combination of Spanish and Cuban words. The Spanish word "mojadito" means "a little wet" and the Cuban lime-based seasoning "mojo".
During the mid-1800s, the Barcardi company is given credit for spreading the drink's popularity around the world. Paired with becoming the national drink of Cuba and Ernest Hemingway's adoration of the cocktail and naming it his favorite drink, the Mojito became the immensely popular cocktail it is today.
Sources: Taste Cocktails | Taste of Cuba | Bacardi
Moscow Mule
2 ounces vodka
1/2 ounce freshly-squeezed lime juice
4 ounces ginger beer
Ice
Fill a copper mug or a highball glass with ice. Add vodka and lime juice. Top off glass with ginger beer. Stir gently and add mint and lime garnish.
The invention of the Moscow Mule comes Wes Price, head bartender of the Hollywood Cock 'n' Bull Tavern around 1938. Price was looking for ways to get rid of dead stock and tried this combination. After serving the cocktail to actor Broderick Crawford, the Moscow Mule caught on like wildfire.
The introduction of the copper mug came to fruition when John G. Martin, president of G.F. Heublein Brothers Inc., a spirits producer, took a polaroid picture of the bartenders posing with copper mugs and a bottle of Smirnoff vodka. With its iconic presentation, the copper mug became a popular way to make the cocktail identifiable.
Negroni
1 oz Gin
1 oz Sweet red vermouth
1 oz Campari
Stir into glass over ice, garnish with an orange twist, and serve.
The Negroni Cocktail was first created in 1919 in Florence, Italy, at the Caffè Giacosa – now named Caffè Roberto Cavalli. Count Camillo Negroni asked bartender Fosco Scarselli to strengthen his previous favorite cocktail, the Americano, by replacing the soda water with gin. Scarselli switched the standard lemon for orange, and the Negroni was born.
Historians question the validity of the story, with potential attribution going to Camillo's grandfather, Luigi Negroni in 1857. Either way, the Negroni Cocktail is a family creation and international favorite.
Source: The New York Times | How's Your Drink?: Cocktails, Culture, and the Art of Drinking Well
Old Fashioned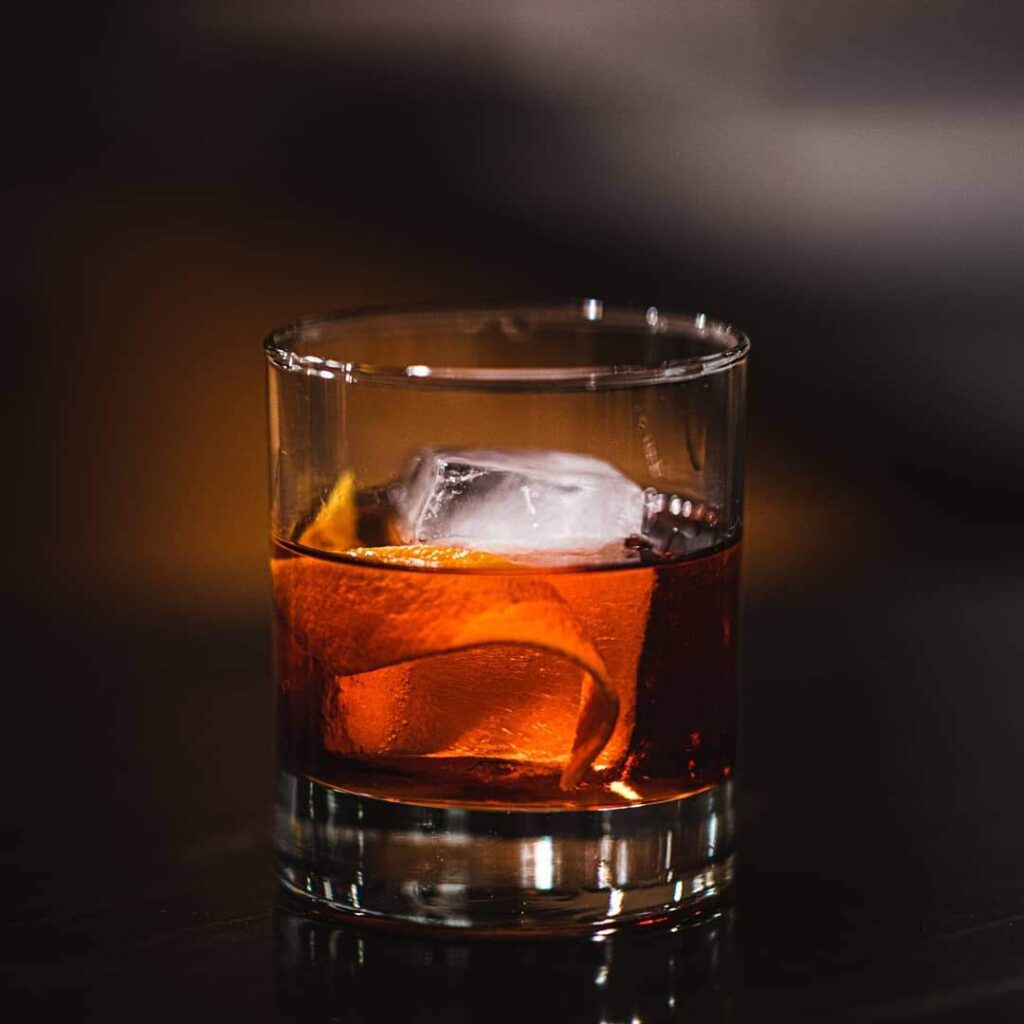 1.5 oz bourbon or rye whiskey
1 sugar cube
Few Dashes Angostura Bitters
Few Dashes Plain Water
Place sugar cube in old fashioned glass and saturate with bitter, add few dashes of plain water. Muddle until dissolved. Fill the glass with large ice cube and add whiskey. Stir gently. Garnish with orange slice or zest, and a cocktail cherry.
The Pendennis Club in Louisville Kentucky claims to have invented the old fashioned in 1881. A bartender created the cocktail in honor of Colonel James E. Pepper, a prominent bourbon distiller at the same, who later brought it to the Waldorf-Astoria Hotel bar in New York City.
The first printed recipe appeared in George Kappeler's 1895 book, Modern American Drinks.
Old Fashioned Whiskey Cocktail
Dissolve a small lump of sugar with a little water in a whiskey-glass;
add two dashes Angostura bitters,
a small piece of ice, a piece of lemon-peel,
one jigger whiskey.
Mix with small bar-spoon and serve, leaving spoon in glass.

George Kappeler
During the 19th century, Irish, Bourbon, or Rye whiskey would have all been considered acceptable types of whiskey to use for the cocktail, based on region availability.
The introduction of orange and cherry garnishes came about in the 1930s when the practice of including fruit was popular.
Source: The Old Waldorf-Astoria Bar Book | Modern American Drinks
Paper Plane
1 oz Bourbon whiskey
1 oz Amaro nonino
1 oz Aperol
1 oz Fresh lemon juice
Pour all ingredients into cocktail shaker, shake well with ice, strain into chilled cocktail glass. Garnish with either a folded orange peel or paper plane.
One of the newest cocktail inventions, the Paper Plane made its debut in 2007 by Sasha Petraske and Same Ross for The Violet Bar, a Chicago bar run by Toby Maloney at the time.
The name comes from the song Paper Planes by M.I.A., which was a favorite of Petraske at the time.
Penicillin
2 oz Blended scotch whisky
3/4 oz lemon juice
3/8 oz ginger syrup
3/8 oz honey syrup
1 splash peated Islay single malt or blended malt scotch
1 piece candied ginger, to garnish
Add all ingredients except the peated scotch to a shaker with ice. Shake for 10 seconds. Strain over a large ice cube or several smaller cubes in a rocks glass. Float peated whisky on top by slowly pouring it over the back of a spoon. Garnish with candied ginger.
Sam Ross created the Penicillin Cocktail in 2005 for New York City bar Milk & Honey. Based off a variation of the Gold Rush, Ross created a modern classic offered globally.
Piña Colada
1 oz heavy cream
6 oz freshly pressed pineapple juice
1 oz cream of coconut
2 oz rum (any flavor)
4 oz crushed ice
Add all ingredients into a shaker with ice and shake vigorously for 30 seconds. Strain into a chilled Hurricane glass over pebble ice. Garnish with a pineapple wedge and pineapple leaf.
Ramón "Monchito" Marrero created the Piña Colada in 1954 while working as a bartender for the Caribe Hilton Hotel in San Juan, Puerto Rico. The aim was to capture the essence and nature of Puerto Rico within a cocktail.
In 1978, Puerto Rico proclaimed the cocktail to be its official drink.
Source: Caribe Hilton
Pisco Sour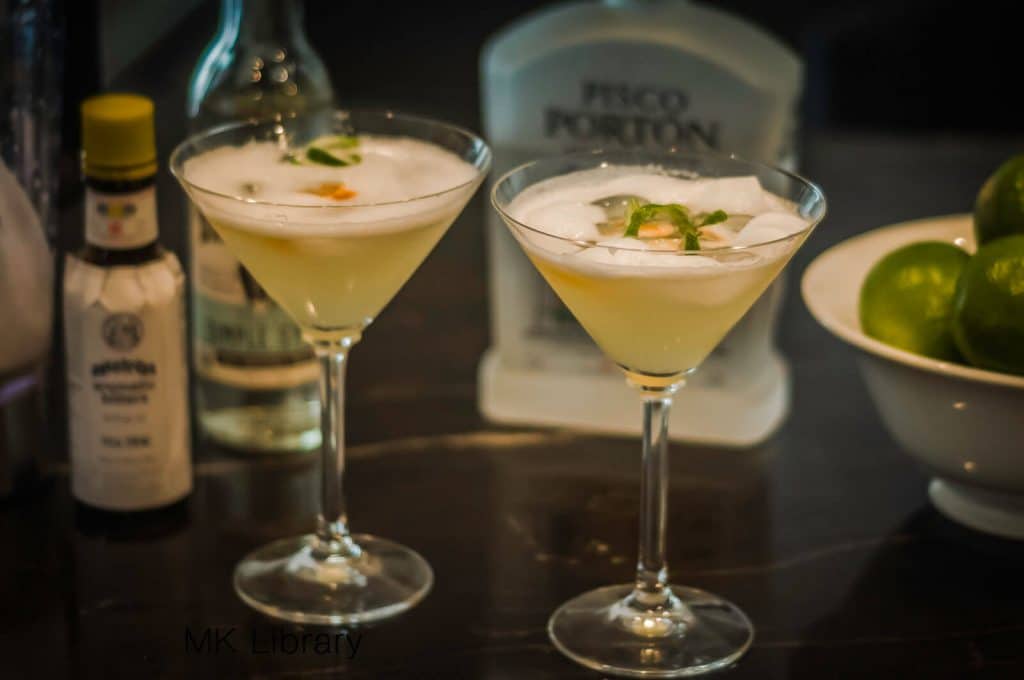 3 ounces Pisco Sour
2 ounces Lime juice
1 tablespoon Egg whites
1 1/2 ounces Simple syrup
4 Ice cubes
3 drops Angostura bitters
Vigorously shake contents in a cocktail shaker with ice cubes, then strain into a glass and garnish with bitters. Full Pisco Sour recipe.
While tales of Pisco cocktails date back to the 1700s, the modern Pisco Sour Cocktail enjoyed today was pioneered in the 1920's in Lima, Peru. American bartender Victor Vaughen Morris opened Morris' Bar in Peru, catering to the Peruvian upper class and English-speaking foreigners.
Morris hired another bartender, Mario Bruiget, local to Peru, who added Angostura bitters and egg whites to the receipe in the late 1920s.
Early printings attribute Morris as the inventor in 1921, and the cocktail soon found its way to California in the 1930s. By the 1950s, hotels throughout Peru were adopting the Pisco Sour as their own.
A cultural dispute exists between Peru and Chile over where the Pisco Sour originates. Chile alleges Elliot Stubb, and Englishman created the cocktail in 1872 while experimenting, and later opened a bar in Iquique, which at the time belonged to Peru, but now belongs to Chile.
Sources: El Comercio | Storied Sips: Evocative Cocktails for Everyday Escapes
Sazerac
Absinthe, to rinse
1 Sugar cube
1/2 tsp Cold water
3 dashes Peychaud's bitters
2 dashes Angostura bitters
1 1/4 oz Rye whiskey
1 1/4 oz Cognac
Rinse a chilled rocks glass with absinthe, discarding any excess, and set aside. In a mixing glass, muddle the sugar cube, water and both bitters. Add the rye and cognac fill with ice, and stir until well-chilled. Strain into the prepared glass. Twist a slice of lemon peel over the surface to extract the oils and then discard.
Sazerac's history begins in 1850, when bar owner Sewell T. Taylor sold his New Orleans bar, The Merchants Exchange Coffee House, and began importing a bran of cognac named Sazerac-de-Forge et Fils. The new proprietor, Aaron Bird, changed the name of the bar to Sazerac Coffee House.
Bird began serving the Sazerac cognac imported by Taylor, using Peychaud bitters which were made by the local apothecary. Ownership changed several more times until 1870, when Thomas Handy became the new proprietor. The primary ingredient was changed to rye, due to an epidemic in Europe which affected the producers of Cognac in France.
Around 1889, Handy officially recorded the recipe for the Sazerac Cocktail for print in The World's Drinks and How to Mix Them.
While absinthe was banned in the United States, the recipe underwent several variations with various anise-flavored liqueurs. The popularity of the Sazerac waned outside of New Orleans until 2008, when it became Louisiana's official state cocktail and also experienced multiple pop culture references.
Sources: The World's Drinks and How to Mix Them | Sazerac Company
Screwdriver
1 part vodka
2 parts orange juice
Mix in a highball glass with ice. Garnish with an orange slice and serve.
The Screwdriver Cocktail was first mentioned in 1944 by Newsweek, calling it "a drink compounded of vodka and orange juice and supposedly invented by interned American fliers" – a reference to Americans interned during World War II.
While the cocktail is basic with only 2 ingredients, it allows for an untold amount of variations.
Source: Newsweek 1944
Sidecar
2 oz Cognac
3/4 oz Lemon juice
3/4 oz Triple sec
Pour all ingredients into cocktail shaker filled with ice. Shake well and strain into cocktail glass.
Pioneered at the Ritz Hotel in Paris around the end of World War I, the Sidecar Cocktail was named for the motorcycle attachment, which was commonly used in Paris at the time.
Credit to the original inventor goes to an American army captain staying in Paris during World War I and made by Pat MacGarry, bartender of Buck's Club.
South Side
2 oz gin
1 oz lime juice
3/4 oz simple syrup
1 sprig mint
Shake with ice and strain into a chilled large cocktail glass. Garnish with mint.
Named for the South Side district of Chicago, Illinois, the South Side Cocktail gets its origins from the days of Al Capone's gang, who is rumored to have considered this cocktail a favorite.
Tipperary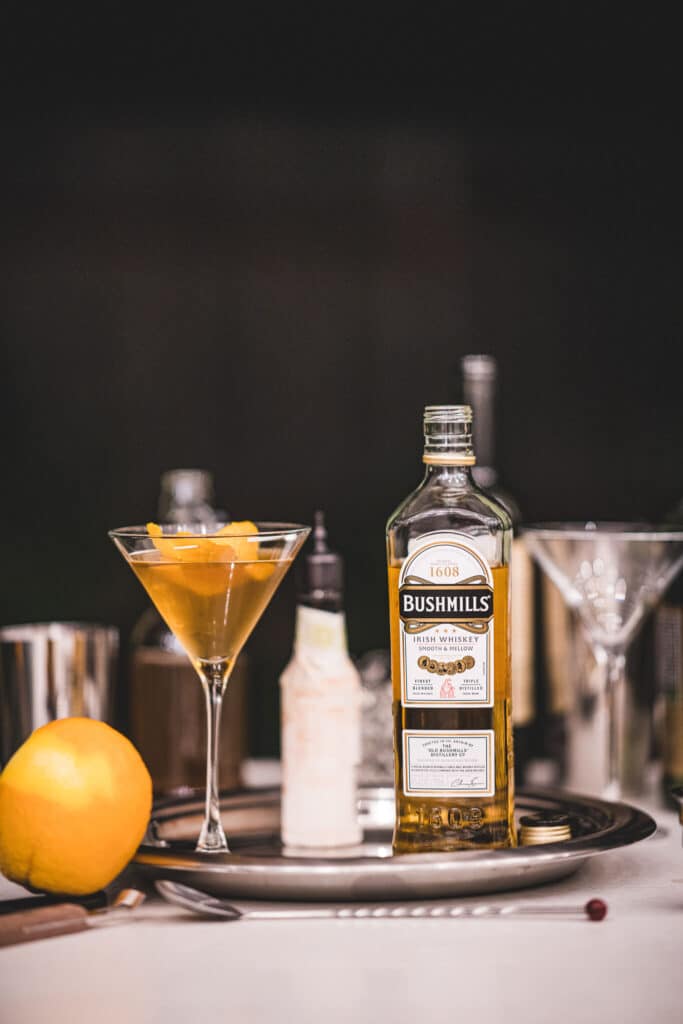 1 1/2 oz Jameson Black Barrel Irish whiskey
1 oz sweet vermouth
1/2 oz Green Chartreuse
2 dashes Angostura bitters
Orange peel
Add all ingredients into a mixing glass with ice and stir. Strain into a chilled cocktail glass. Express the oils from an orange peel over the glass and garnish.
Check out this post for the full recipe and printable instructions for the Tipperary Cocktail.
The Tipperary Cocktail first appeared in the book Recipes for Mixed Drinks in 1916. Named for the rural county in southern Ireland, it was one of the few cocktails made with Irish Whiskey.
The cocktail became popular during World War I by the song, It's A Long Road to Tipperary.
Source: Recipes for Mixed Drinks
Tom Collins
2 ounces London Dry gin
1 ounce fresh lemon juice
1/2 ounce simple syrup
club soda, to top
Add the gin, lemon juice and simple syrup into a Collins glass. Fill with ice, top with club soda and stir. Garnish with a lemon wheel and maraschino cherry.
The first printed mention of a Tom Collins cocktail arises from an English Magazine, Fortnightly Review, naming the creator to be John Collins from the originating country of England.
Punch Magazine disputed the claim, noting the name was Jim Collins.
Meanwhile, in America, people throughout cities would ask "Have you seen Tom Collins?" with some folks not knowing who he was, and others in the know proclaiming he was around the corner. Several newspapers printed mysterious sightings of the elusive Tom Collins. This was all one big practical joke which seemed to exist for no reason, except to push the name of the cocktail into people's minds.
In Harry Johnson's 1882 book, New and Improved Bartender's Manual or How to Mix Drinks of the Present Style there is a Tom Collins calling for Old Tom gin and a John Collins calling for Holland Gin, in what is presumed to be a Genièvre.
The name behind the cocktail continued to cause confusion as Tom Collins became a menu item amongst the American Bars in England, France, and Germany.
For the next 20 years, interest in the Tom Collins faded away until it experienced a resurgence in the 1930's.
Sources: New and Improved Bartender's Manual or How to Mix Drinks of the Present Style | Myths and Legends Beyond Our Borders | The Great Tom Collins Hoax
Vieux Carré
4 dashes Pimento aromatic bitters
2 tsp Bénédictine
3/4 oz Sweet vermouth
3/4 oz Cognac
3/4 oz Rye whiskey
Add all ingredients into a mixing glass with ice and stir until well-chilled. Strain into a cocktail glass. Garnish with a maraschino cherry or lemon peel.
A classic 1930s New Orleans cocktail, Walter Bergeron created the Vieux Carré cocktail while head bartender at the Carousel bar at Hotel Monteleone in the French Quarter.
The pronunciation is "voo-ka-ray" which means "old square" – a reference to the French Quarter where the cocktail was born.
Whiskey Sour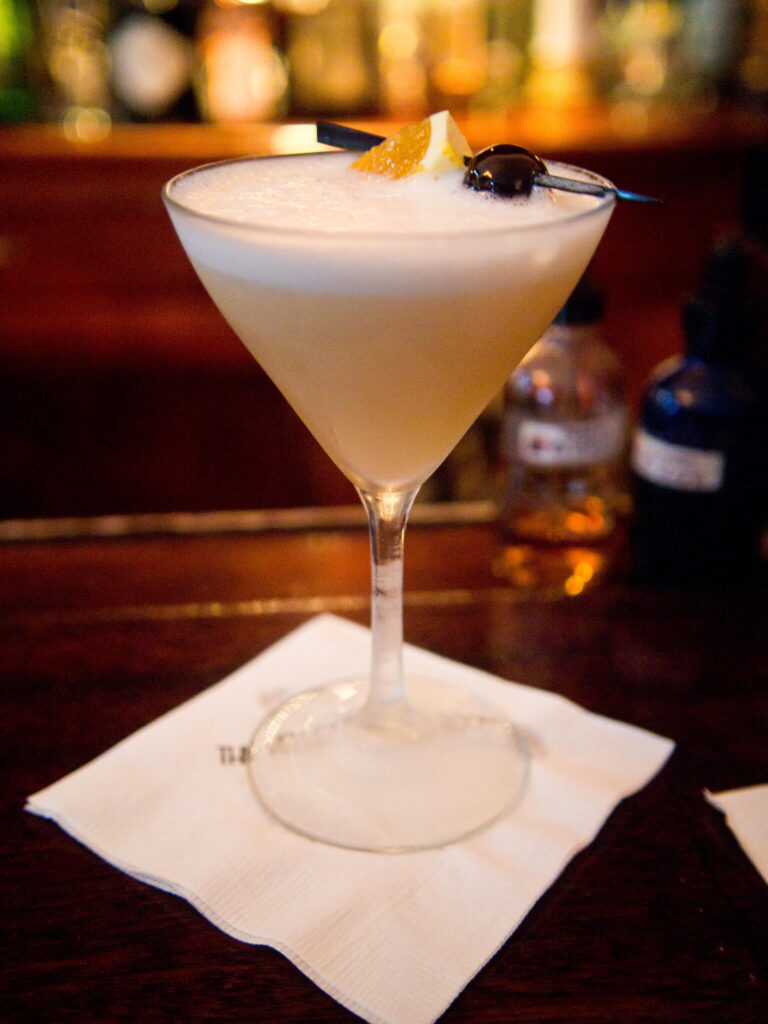 2 ounces bourbon
3/4 ounce fresh lemon juice
1/2 ounce simple syrup
1/2 ounce egg white (optional)
Dash Angostura bitters
Add all ingredients into a shaker and dry-shake. Add ice and shake again. Strain into a coupe glass. Garnish with 3 or 4 drops of Angostura bitters.
The Wisconsin newspaper, Waukesha Pain Dealer, first published the Whiskey Sour cocktail in 1870. The cocktail was popular amongst the British Navy as a way to combat scurvy, using the citrus.
White Lady
2 ounces gin
1/2 ounce orange liqueur or triple sec
1/2 ounce lemon juice
1 egg white
Add all ingredients into a shaker with ice and shake. Strain into a chilled cocktail glass.
The White Lady Cocktail was first created by Harry MacElhone in 1919 at Ciro's Club in London, and later revised to use gin at Harry's New York Bar in Paris in 1929.
The gin variation was solidified upon inclusion in the Savoy Cocktail Book in 1930 while Hollywood icons claimed the cocktail as a favorite.
Other names for the White Lady include the Delilah or Chelsea Side-car.
Source: Savoy Cocktail Book
Pin this!
I strive to paint vivid landscapes with my words, bringing the magic of far-off lands and enchanting aromas to life for my readers. Combine passion for exploration and the art of gastronomy in an unending ode to the senses. When I'm not traversing the globe, I find solace in the earth beneath my fingertips, tending to my garden and working on projects around my verdant oasis. MK Library serves as a beacon, guiding fellow travelers and homebodies alike to embrace sustainability, nurturing both our planet and our souls with purpose. Full Bio.