The Tipperary Cocktail is one of my favorite summer classics.
The Tipperary originated in 1917 and is named for Tipperary, a county in Ireland. A classic summer cocktail, using the Irish Whiskey Bushmills Original from the world's oldest licensed whiskey distillery, Bushmills has a high-quality original whiskey that makes this cocktail shine.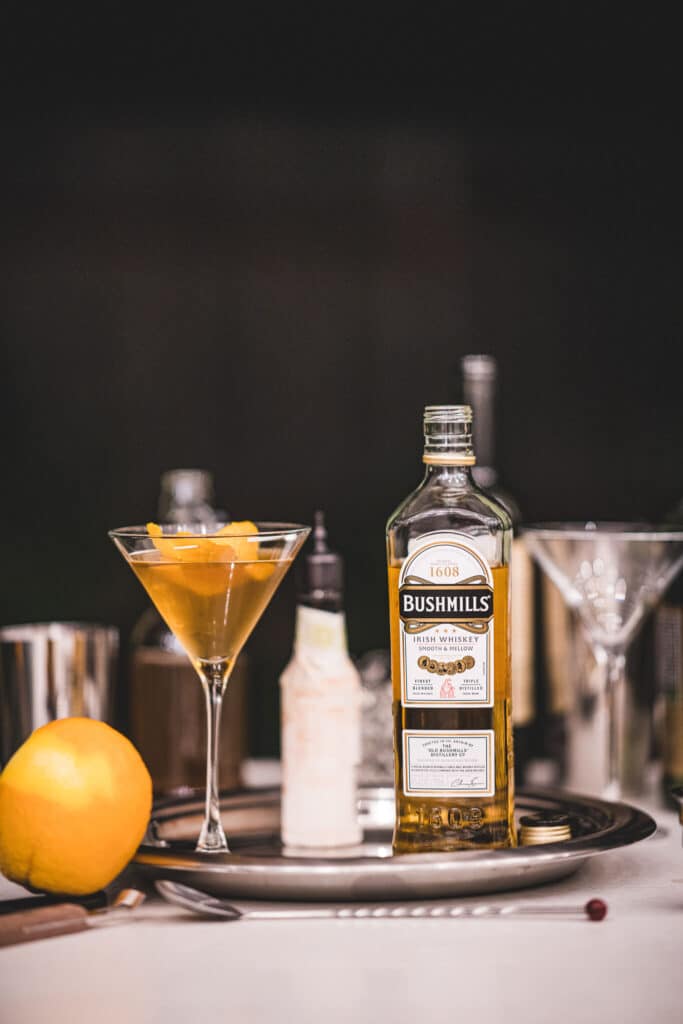 A Classic Cocktail
The Tipperary Cocktail was published in these books by famous bartenders in the 1920's and 1930's, which helped it gain quite a bit of popularity:
Ensslin's recipe calls for equal parts in this cocktail variation.
Harry MacElhone's variation uses 1/2 ounce of Green Chartreuse, 2 ounces Irish Whiskey, and 1 ounce sweet vermouth.
Harry Craddock's Tipperary recipe returns to equal parts.
In trying multiple variations of the Tipperary, I settled on this rendition, which uses more Irish Whiskey and also a bit of dilution with chilled water and simple syrup. My test subjects found the original cocktails to be pretty strong and this recipe seemed to provide an excellent balance of drinkability and homage to its origins.
Tipperary Cocktail
This cocktail calls for high-quality Irish Bushmills Original Whiskey from the world's oldest licensed whiskey distillery. The added orange bitters and sweet vermouth make this a classic summer cocktail.
Equipment
cocktail strainer/shaker (optional)
Ingredients
1 1/2

oz

Whiskey

Bushmills Original Irish Whiskey

1/2

oz

Chartreuse

Green

1

oz

Vermouth

Sweet

1/2

oz

Water

Chilled

2

dashes

Orange Bitters

1/2

tsp

Simple Syrup

1

Orange Twist

For garnish
Instructions
In a mixing glass, stir together all ingredients (except garnish) with ice. Strain into a martini glass. Garnish with an orange twist.
Nutrition
Serving:
1
g
Calories:
199
kcal
Carbohydrates:
10
g
Protein:
1
g
Sodium:
3
mg
Sugar:
8
g
Tried this recipe?
Let us know how it was – tag @themklibrary on the socials!
Slainte!
Learn some more cocktail facts from the History of the Most Popular Cocktails in the World.
I strive to paint vivid landscapes with my words, bringing the magic of far-off lands and enchanting aromas to life for my readers. Combine passion for exploration and the art of gastronomy in an unending ode to the senses. When I'm not traversing the globe, I find solace in the earth beneath my fingertips, tending to my garden and working on projects around my verdant oasis. MK Library serves as a beacon, guiding fellow travelers and homebodies alike to embrace sustainability, nurturing both our planet and our souls with purpose. Full Bio.
Last update on 2023-09-25 / Affiliate links / Images from Amazon Product Advertising API