The late Queen Elizabeth II enjoyed this Dubonnet and gin cocktail daily before lunch for many years of her life. While the cocktail has many minor variations and names depending on who you ask, this version is called The Queen's Dubonnet and Gin Cocktail.
This particular cocktail was quite popular in the 1920s, and in particular by Queen Elizabeth II's mother. Her daughter carried on the tradition of her favorite lunchtime aperitif, being one of the few people in the Royal Palace to enjoy this particular cocktail.
This habit was passed down by the Queen Mother, who once sent a note to her favorite page, William Tallon, asking him to be sure to include "two bottles of Dubonnet and gin" for a picnic "in case it [was] needed." This note was sold to an anonymous bidder for $25,000 at an auction of Tallon's Royal Mementoes in 2008.
"I've seen the Queen with this red drink on many occasions and she makes it last a whole reception," Arthur Edwards, a 35-year veteran photographer of the British royalty, told The Sun newspaper in London.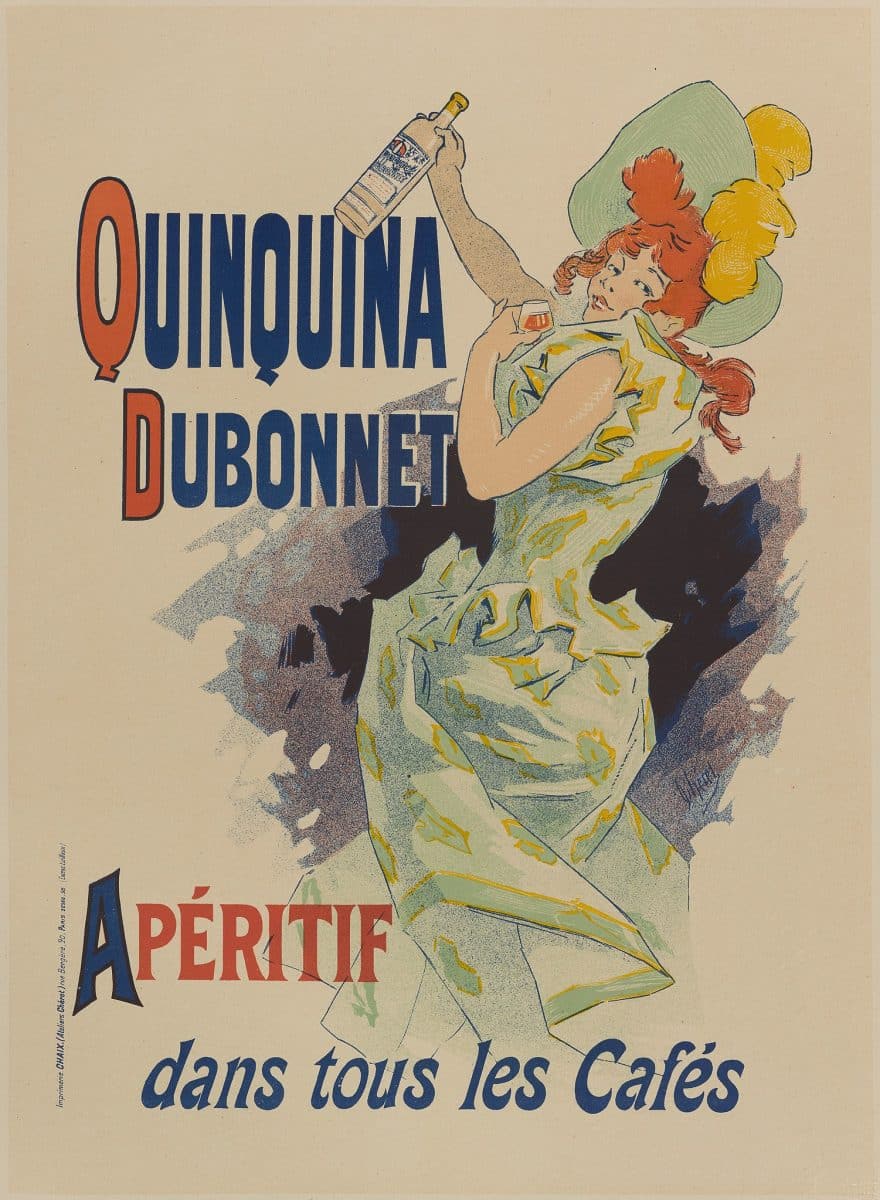 Pronounced doo-bonn-ay, Dubonnet is a French wine-based aperitif that was invented in 1846 by Joseph Dubonnet, a Parisian chemist, and wine merchant. It sits at 19% alcohol and is flavored with cinnamon, green coffee, orange, quinine, and many other top-secret herbs. At the time, Dubonnet was a good way (rewarded by the French government) to make the bark of quinine more acceptable in terms of taste for soldiers of the Foreign Legion.
Quinine comes from the bark of a cinchona tree, native to Peru. This very bitter ingredient was used to treat malaria as early as 1632 in Spain, sent abroad as the European countries built their empires around the world.
The taste of quinine was absolutely horrid, so much that soldiers would rather suffer from malaria than take their medicine. Parisian chemist Joseph Dubonnet's creation became so popular amongst French soldiers that is remained in popularity to drink recreationally when back in France.
By the 1900s, Dubonnet was the apéritif du jour, commonly served in cafés and bistros in France and Britain. It was around this time that Queen Mother Elizabeth took a fancy to her Dubonnet and Gin cocktail.
The category of drinks containing quinine is called quinquinas.
Dubonnet has a viscous mouth feel and a spicy, fruity taste; something like Campari meets sweet vermouth, but without the wormwood.
In the UK, Dubonnet is produced by Pernod Ricard. In the United States, Heaven Hill produces a different formula of the liqueur. For a while, aficionados of the spirit seem to think Americans got the worst version. In 2018, Heaven Hill refactored its recipe. Pernod's version is proprietary, so Heaven Hill had to work with their own research staff, replacing high-fructose corn syrup with cane sugar. Flavors were enhanced with black currant and black tea, adding dimensionality and tannins.
If you haven't had a bottle since the new recipe, it might be worth revisiting.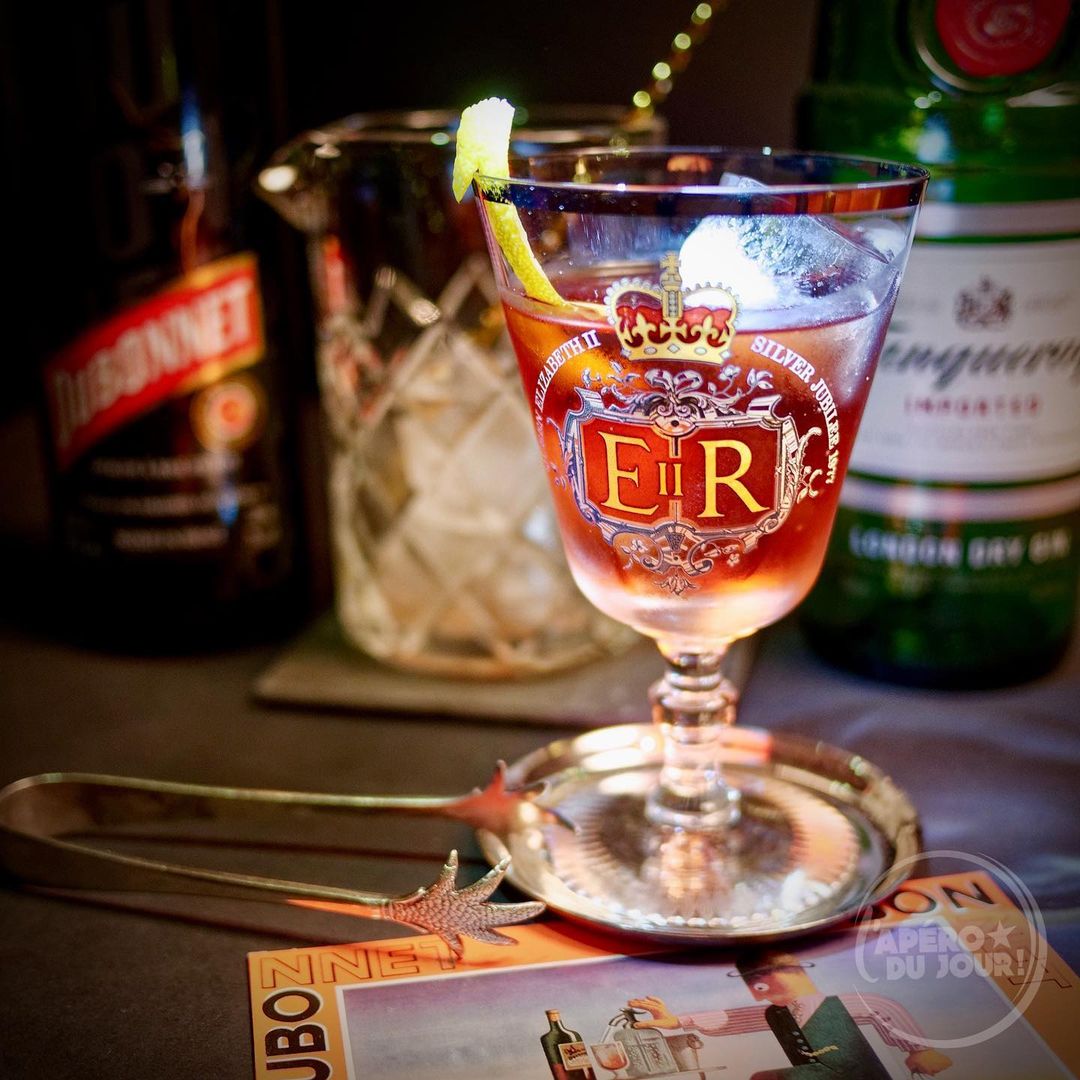 For those with a more sophisticated cocktail palate, substitute the lemon slice for 1/2 oz lemon juice, add a couple of drops of saline, and either garnish with a lemon twist or shake it with the spent lemon half in a shaker.
Robert Large, the yeoman (or royal sommelier) of the royal cellars, mixes the Queen's cocktail by adding one-third London dry gin to two-thirds of Dubonnet, topped with a thin lemon slice and two rocks of ice, as he demonstrated in this 2007 BBC documentary.
If you're trying to find ER glasses, they have been in short supply since the news of her death. You can try searching for Royal Jubilee or Silver Jubilee.
Next up, try a Corpse Reviver #2 and see if you can meet the Queen herself.