Thassos Greece, located in the Northern Aegean Sea, is the perfect summer vacation spot for those looking to escape the overcrowded Western tourist hotspots. Discover through firsthand experience the best places to eat, swim and visit while exploring the Island of Thassos. Whether this is your first or fifth time visiting Greece, this is one underrated island in the Aegean!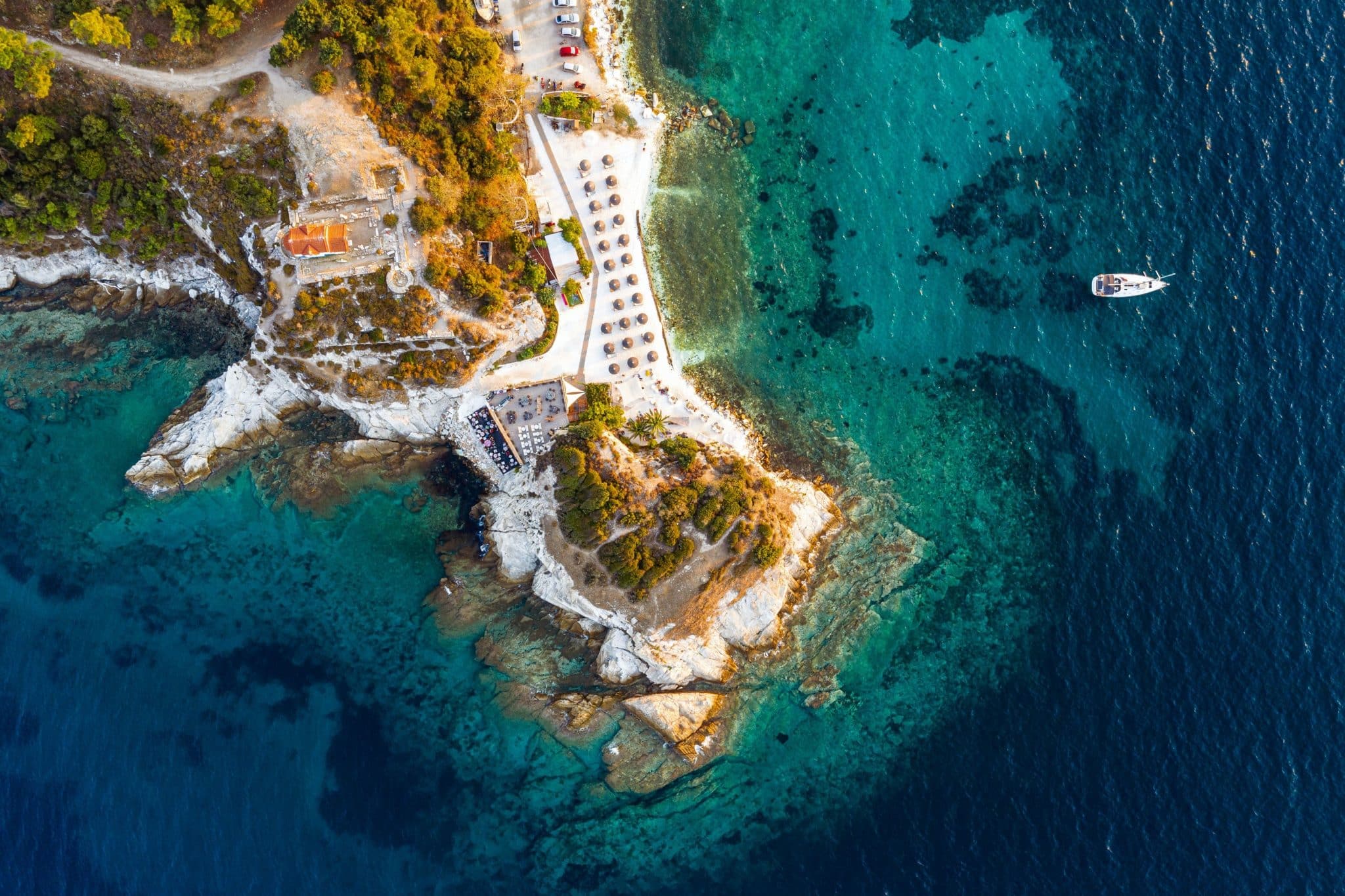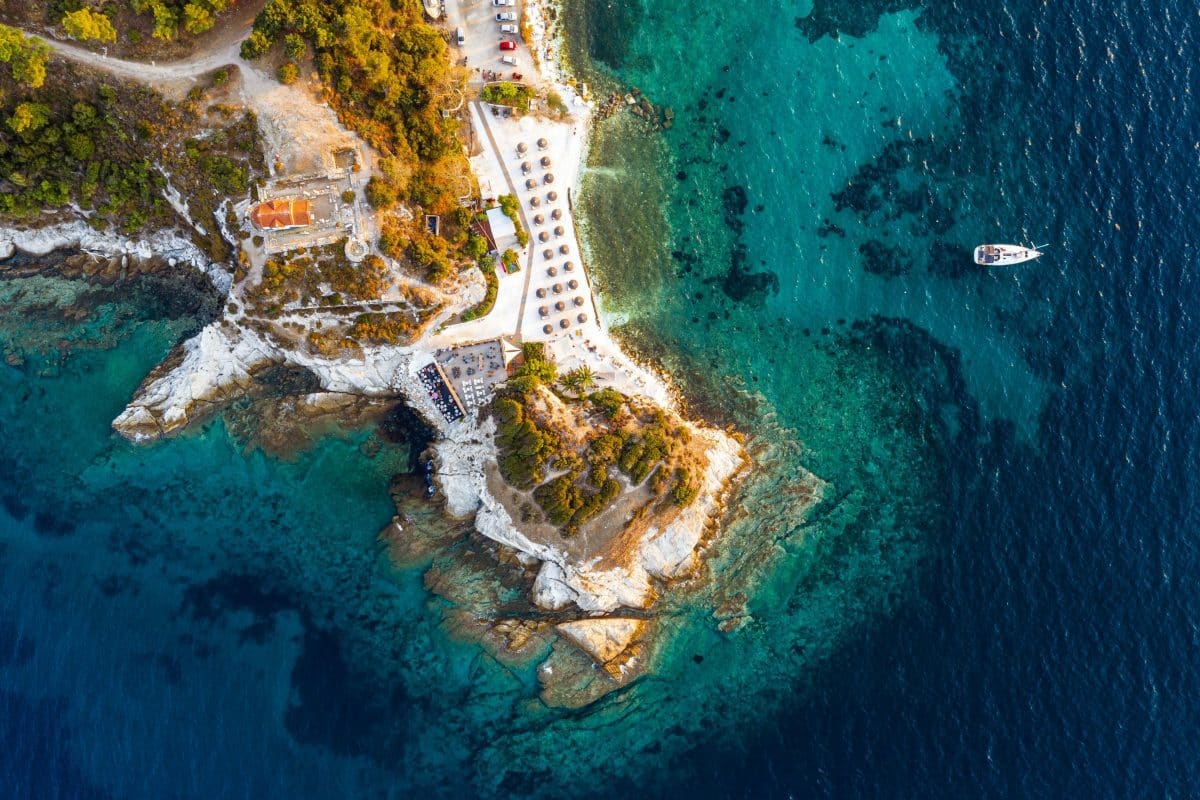 My Trip to Thassos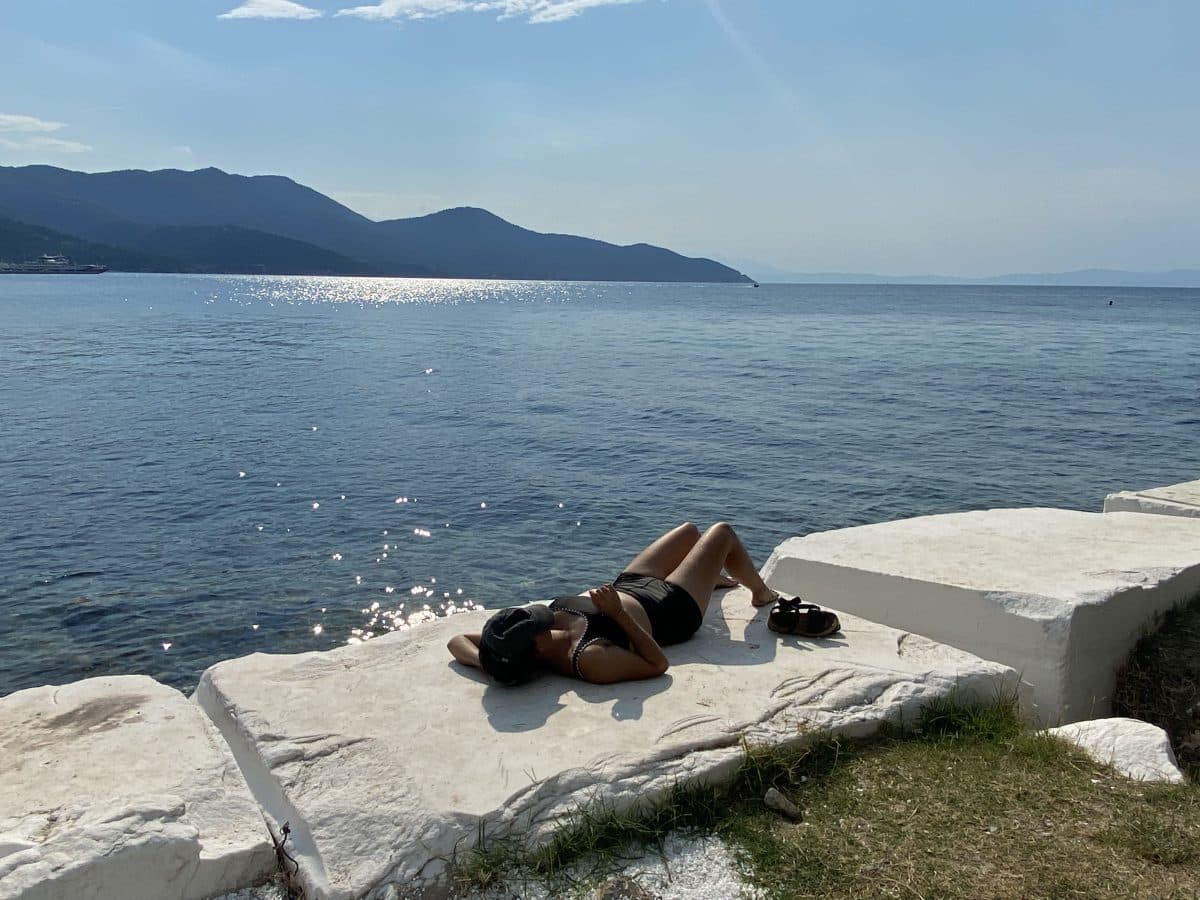 This past July, my mother, my friend, and I made the voyage to Thassos Island after visiting a family friend in the beach town of Kavala. You can see the island clearly from the mainland, and our family friend insisted this was a must-see place while in the area. Because reaching this island requires taking another short flight from Athens and is far removed from other popular destinations, it remains an unexplored area to many Western travelers.
After experiencing incredible food, architecture, Grecian culture, and pristine beaches, I feel as though I didn't miss out on anything by not visiting the more popular islands like Mykonos or Santorini. In my opinion, you get to experience the best of both worlds by vacationing on a lesser-known island like Thassos. You avoid the overpriced and overstuffed beaches of popular islands while getting access to crystal-clear swimming spots, authentic and affordable food, and quaint villages. There are still some touristy areas that are fun to walk through during the day, but you also become accustomed to the laid-back feel of Grecian life.
With only four days on the island, we tried to visit as many beaches and eat as much food on the island as possible. But at the end of the day, we learned that embodying the Grecian spirit simply means posting up at a grape vine-terraced taverna for a 3-hour meal after a long day soaking up the sun.
**The Greek spelling of Thassos is Thasos. We will be sticking with the Western spelling in this post.
Follow MK Library's Google Maps of Places to Visit on Thassos Island, Greece!
Why You Should visit Northern Greece
Northern Greece is not on many tourists' itineraries because most of the popular islands are located in the southern part of the Aegean. If you are more of an Off-the-Beaten-Path type of traveler, you will love visiting the regions of Northern Greece. No matter where you choose to visit, you will find fewer western tourists, cheaper prices, and an overall authentic Grecian experience.
Northern Greece is the site of the towering rock formations of Meteora, with Eastern Orthodox monasteries built precariously on top. Of course, the most famous sightseeing location is Mount Olympus, which served as the inspiration for many Greek mythologies. If you are a history buff, you may want to visit the city of Philippi, a UNESCO World Heritage Site and a place where the Christian apostle Paul preached.
How to get to Thassos island
If you are arriving in Athens, the first step is taking a second hour-long flight to either Thessaloniki Airport (SKG) or Kavala Airport (KVA). Driving from Athens to Kavala is at least a 7-hour journey.
Flying into Thessaloniki
Once you arrive, there are multiple ways to reach the island. By far the easiest and cheapest method is by ferry from the mainland. The two main ports that you can leave from are Kavala and Keramoti. If you fly into Thessaloniki Airport, the Kavala port will be about a two-hour journey north by car. The Kavala ferries leave about every hour and a half and will drop you off at Skala Prinos on the Northwest side of the island.
Flying into Kavala
This is my suggested route. If you fly into Kavala Airport, the Keramoti Port is only a 15-minute drive away and easily accessible by taxi. From Keramoti, ferries leave for Thassos every 30 minutes and drop you at the main port of Limenas, on the Northern tip of the island. From the Keramoti port, it's about a 35-minute ferry ride to Thassos.
I recommend spending a day or two in Kavala either before or after you visit Thassos. There are some great historical points of interest to see in the old city of Panagia and fun outdoor markets to peruse. If you are staying in Kavala and simply looking for a day excursion to the island, there are plenty of private boat tours available to book through Airbnb experiences.
The ferry schedules can be found online here. Tickets cost 5 euros per person and can only be purchased at the port kiosks.
Places to stay on Thassos island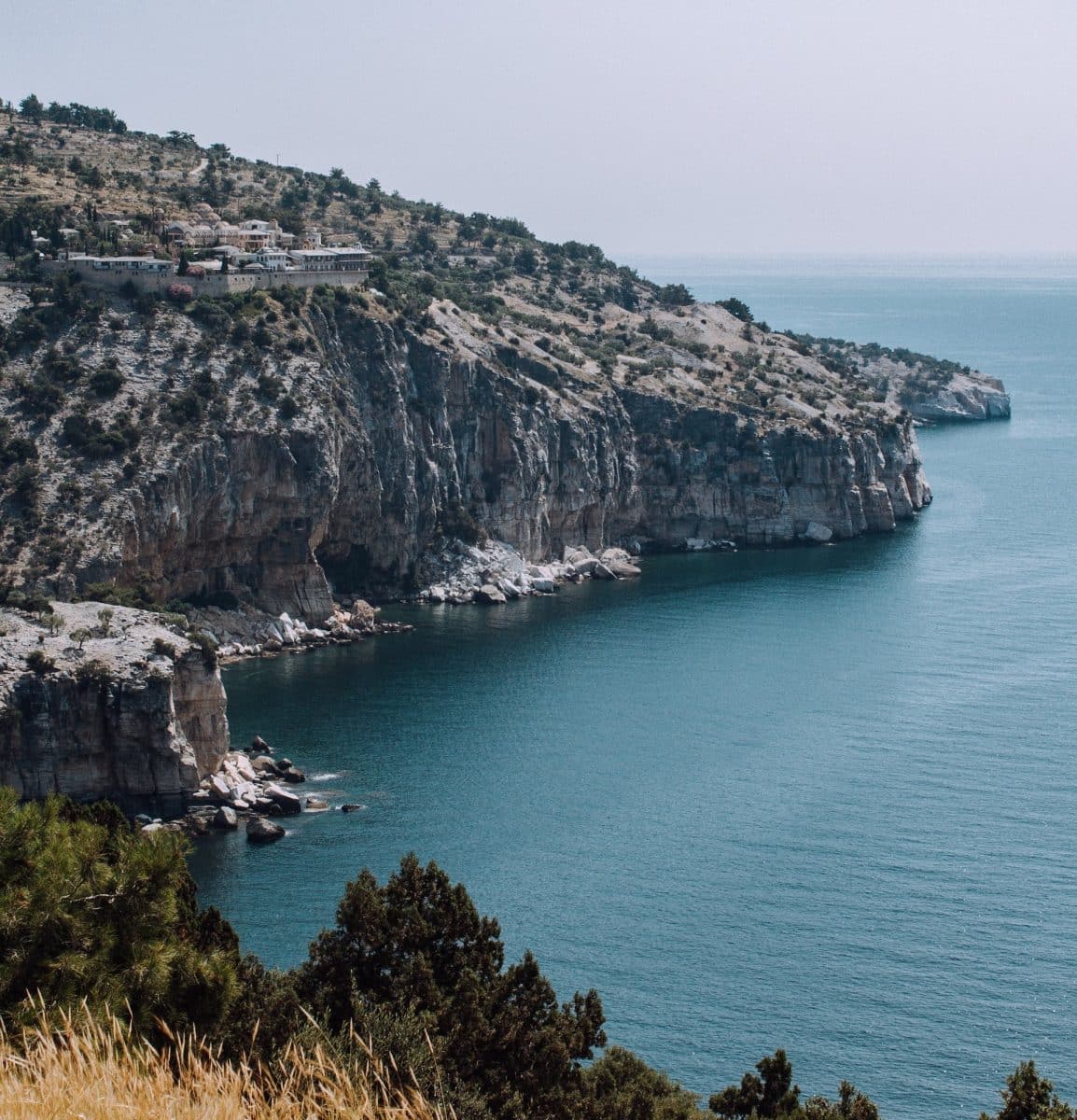 There are plenty of Airbnb's and hotels on the island, but the prices are noticeably higher in the summer months. We rented an Airbnb in the middle of the port town of Limenas. Although somewhat busy in the main touristy areas, this location turned out to be perfect for us. Our Airbnb was within short walking distance of shops yet tucked far enough from the main thoroughfares that noise was never an issue. It also had a gated parking area, which was a lifesaver in an area with incredibly narrow streets and limited parking.
You will find many places to stay in the mountains of Thassos which often have beautiful views of the sea. The drawback to staying in the mountains is that you are further from the beaches. Limenas is the biggest town on the island, followed by Limenaria, Potamia, Prinos, and Portos, respectively.
Things to do on Thassos Island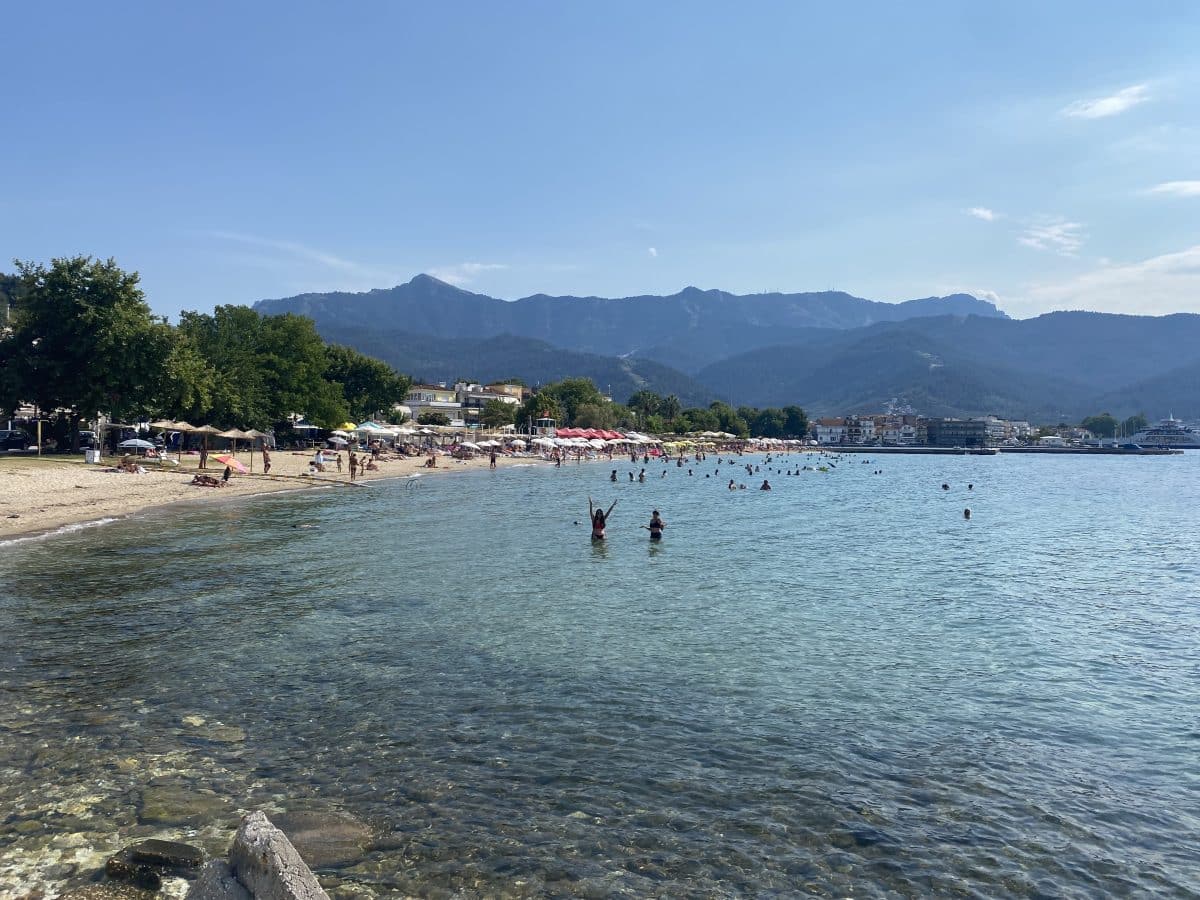 Go beach hopping – There are both established and non-established beaches that line the perimeter of Thassos. I visited around 6 beaches during my stay on the island and each had its own unique vibe. Most beaches provide sunbeds and an umbrella for a fee of anywhere from 4-20 euros depending on the popularity and size of the beach. Someone will usually come by around noon to collect payment.
There are often restaurants or snack bars associated with the beach spots, and sometimes all you have to do is buy some food or drinks to secure an umbrella. Scroll down to learn the pluses and minuses of each beach I visited.
Visit Panagia. This quaint and quintessentially Greek-looking town in the mountains of Thassos has plenty to see and do. Visit the olive oil museum (still in use) and check out the old methods and machinery for making the single most important ingredient in Greek cooking. Once you've purchased a few gallons of olive oil, have a snack at Smaro, a traditional pastry shop in town.
Next, venture uphill along a picturesque stream and under meandering vines until you make it to the three "Love Springs." Take a picture on the small bridge in the middle of the square, surrounded by large shade trees with heart-shaped holes in their base. If you're feeling adventurous, fill up your bottle with fresh water from the springs (we all did it and lived to tell the tale). Continue on for a quick walk through the ornately decorated Greek Orthodox church around the corner. Finally, take in the incredible outdoor atmosphere overlooking the springs at Thymari, a truly spectacular lunch spot.
Rent a buggy or motorcycle. Take a tour of the island in a small off-roading vehicle and access some more secluded beaches or cruise around in style on a motorcycle.
Visit museums and archeological sites. Spend an hour or two looking at ancient artifacts found on Thassos at the Archeological Museum of Thassos in Limenas. Beyond that, there are a myriad of ancient ruins to see, including the Temple of Artemis and the Acropolis of Thassos.
Be a tourist. Take in the hustle and bustle with a summer night stroll through the touristy areas of Limenas. There are plenty of great souvenir shops to peruse and more than enough gelato flavors to "sample."
Eat, eat and eat some more! There are many great tavernas around the island serving up authentic Greek dishes. Scroll down to check out some of my favorites!
Hop on a boat. Rent a private boat or hop on a chartered cruise and spend the day sightseeing and swimming in different bays around the island. If you're feeling extra adventurous, you can even take a ride on a submarine!
Popular attractions include:
Archaeological Museum of Thasos and the nearby ancient agora in Thasos town
Acropolis of Thasos and ancient theater near Thasos town
Polygnotos Vagis Municipal Museum in Potamia
Folklore Museum of Limenaria
Archangel Michael's Monastery
Saint Panteleimon Monastery: it was built in 1843 and became a monastery in 1987.
Monastery of the Assumption
Kastro: This village may have been created during the years of Frankish domination.
Krambousa Isle: Found across the coast of Skala Potamia. The thick vegetation makes it impossible to explore all parts of it. It is thick with a special wild vegetable called "Krambi". The little church of Saint Daniel is located at the top of the hill. The inhabitants visit this church on the day of the saint every year.
Mount Ypsario (Ipsario): The highest point of elevation on the island at 1,203 meters (3,947 ft). Hikers begin at Potamia.
Artificial Lake in Maries
Where to Eat on Thassos island
Every meal I had on Thassos (apart from a few quick beach snacks) was fresh and flavorful. If there is one thing I learned about Greek cooking, it's that even the simplest ingredients cooked with care can make one spectacular meal. The best part? Most traditional tavernas offer a complimentary dessert or fresh fruit at the end of the meal! These are some of the best restaurants I visited during my stay on the island, listed by personal preference.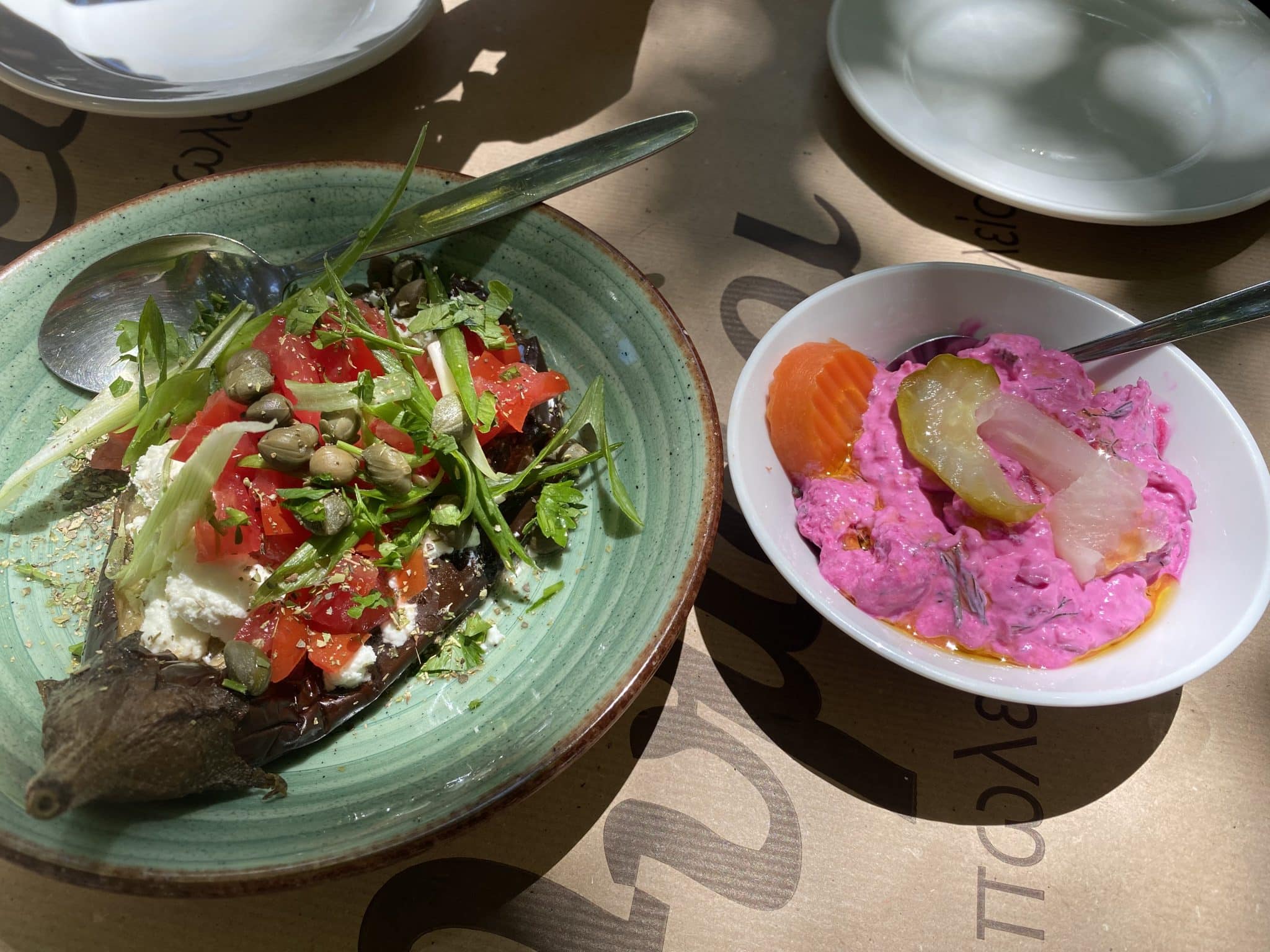 Thymari – This is a magical lunch or dinner spot in the quaint mountain town of Panagia. Thymari is situated within a romantic square shaded by large trees, and a backdrop of the Three Springs. If the tranquil atmosphere were not enough to delight, then the modern take on traditional Greek dishes will be. The beetroot tzatziki is creamy and flavored with plenty of herbs. The mushrooms in a sweet sauce were the perfect combination of sweet and savory, and they paired well with the cheese-stuffed deep-fried zucchini flowers. This is one dining experience on Thassos you won't want to miss.
Address: Unnamed Road, Panagia 640 04, Greece
Instagram | Facebook
Taverna PIGI – PIGI is a no-frills taverna in Limenas serving traditional Greek dishes. Locals and tourists alike frequent this unassuming establishment tucked in the corner of a lively little square. Local children use ancient ruins in the center of the square as a playground. What could be more Greek than that? Make sure to order the incredibly fresh Greek salad and flavorful moussaka.
Address: P. Mela, Limenas Thassos 640 04, Greece
Website | Facebook
Taverna "To Tavernaki" – Just across the square from PIGI, To Tavernaki is another great spot for authentic Greek food. A long grapevine terrace shades tables in a small alleyway, creating a very romantic and quintessentially-European atmosphere. We ate a rich roasted lamb dish (lamb kleftiko), rice-stuffed grape leaves (dolmas), and a vinegary coleslaw salad (pikantiki). Everything was delicious and we were completely stuffed by the end!
Address: Polignotou Vagi 7, Limenas Thassos 640 04, Greece
Website | Facebook
Taverna Glyfoneri – Taverna Glyfoneri is a relaxed yet elegant spot just a few yards from a small crystal-clear bay. We came to this small hidden gem of a beach for a relaxing day of swimming and lounging. The fact that this delicious eaterie was only a few steps from our beach spot made it even better! We had a refreshing eggplant salad, roast lamb, radish salad and our go-to Greek wine, Retsina Malamatina.
Address: Grecia, Skala Rachoniou 640 10, Greece
Website | Facebook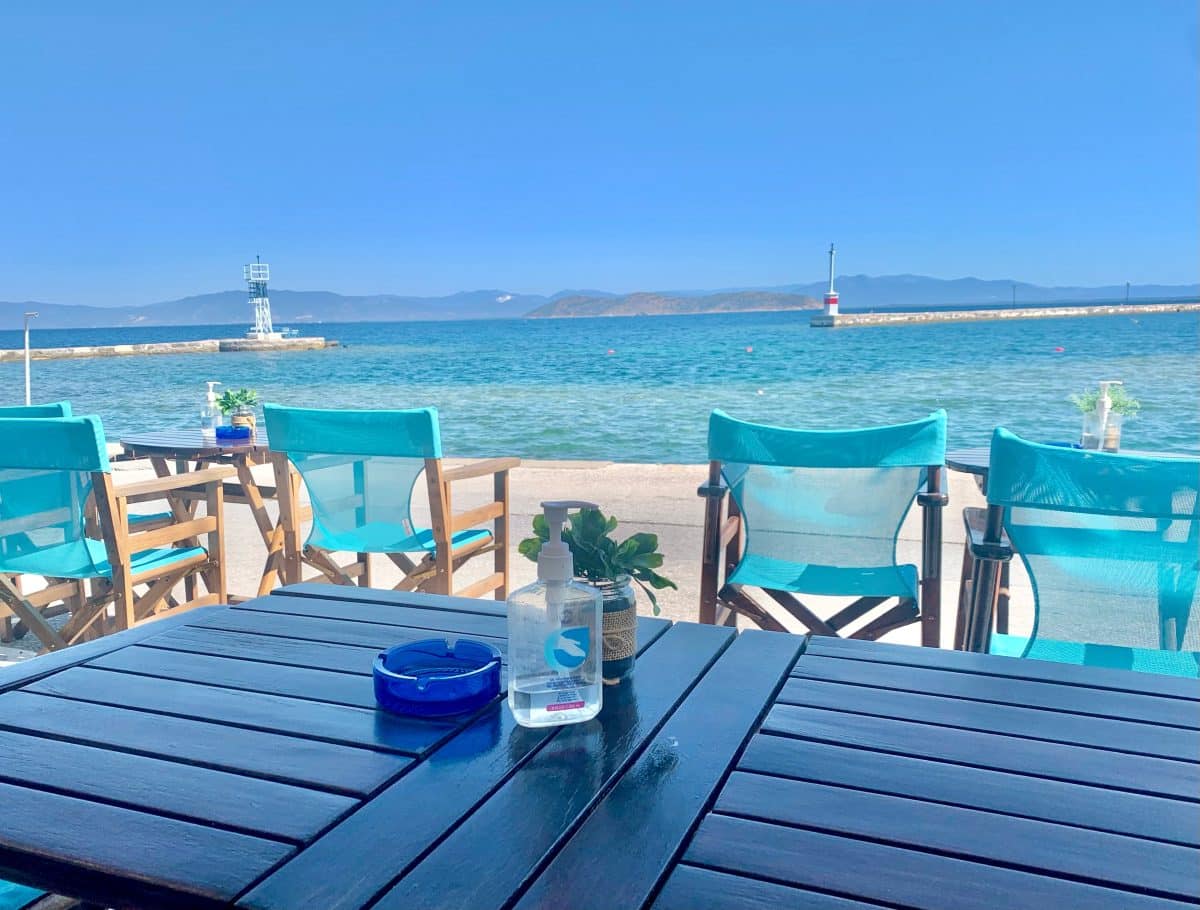 Remezo Bar – Situated right along the waterfront, this bar with small bites has one of the premier views on Thassos. We visited Remezo for breakfast, so I can't speak to the food or alcoholic drinks. Our breakfast was simple but delicious, and the waiter was exceptionally friendly. We enjoyed sipping coffee while looking out at fishermen and chartered boats coming in and out of the harbor.
Address: 18is Oktovriou 4, Limenas Thassos 640 04, Greece
Website | Facebook
Sarantis Bakery
This corner bakery, serving coffee drinks and a wide range of freshly-baked pastries, is one of the few places open for breakfast in Limenas. We grabbed an assortment of savory and sweet pies and ate them on their outdoor tables with coffee. Each pastry was flaky and delicious. Their menu is full of Greek goodies and they even serve ice cream! Sarantis Bakery is definitely worth a stop if you are in Limenas.
Address: 18ης Οκτωβρίου, Theagenous 11, Limenas Thassos 640 04, Greece
Instagram | Facebook
Stamatis Patisserie
We stopped at Stamatis Patisserie after dinner one night for some honey-drenched loukoumades. Loukoumades are similar to donut holes in the U.S., but they are fluffier and traditionally come covered in a warm honey syrup. They are especially delicious sprinkled with cinnamon and chopped walnuts. Despite already being stuffed after a full Greek meal, we downed two plates of these dough balls fried to perfection. When ordering, be forewarned that a single serving usually means a plate of 5-8 loukoumades. Stamatis has a lovely covered area outside their shop for enjoying coffee and dessert. Service can be hit or miss, but we were lucky to have a friendly waiter.
Address: Thasos 640 04, Greece
Facebook
Simi restaurant – Simi is one of the restaurants that multiple people recommended we try. Situated right along the waterfront in Limenas, I found the atmosphere at lunchtime to be relaxing and beautiful. That said, the food was just OK. Simi is worth visiting for daytime drinks and hot appetizers in a tranquil atmosphere. I have heard it can get pretty crowded at night.
Address: Thasos 640 04, Greece
Website | Facebook
Beaches of Thassos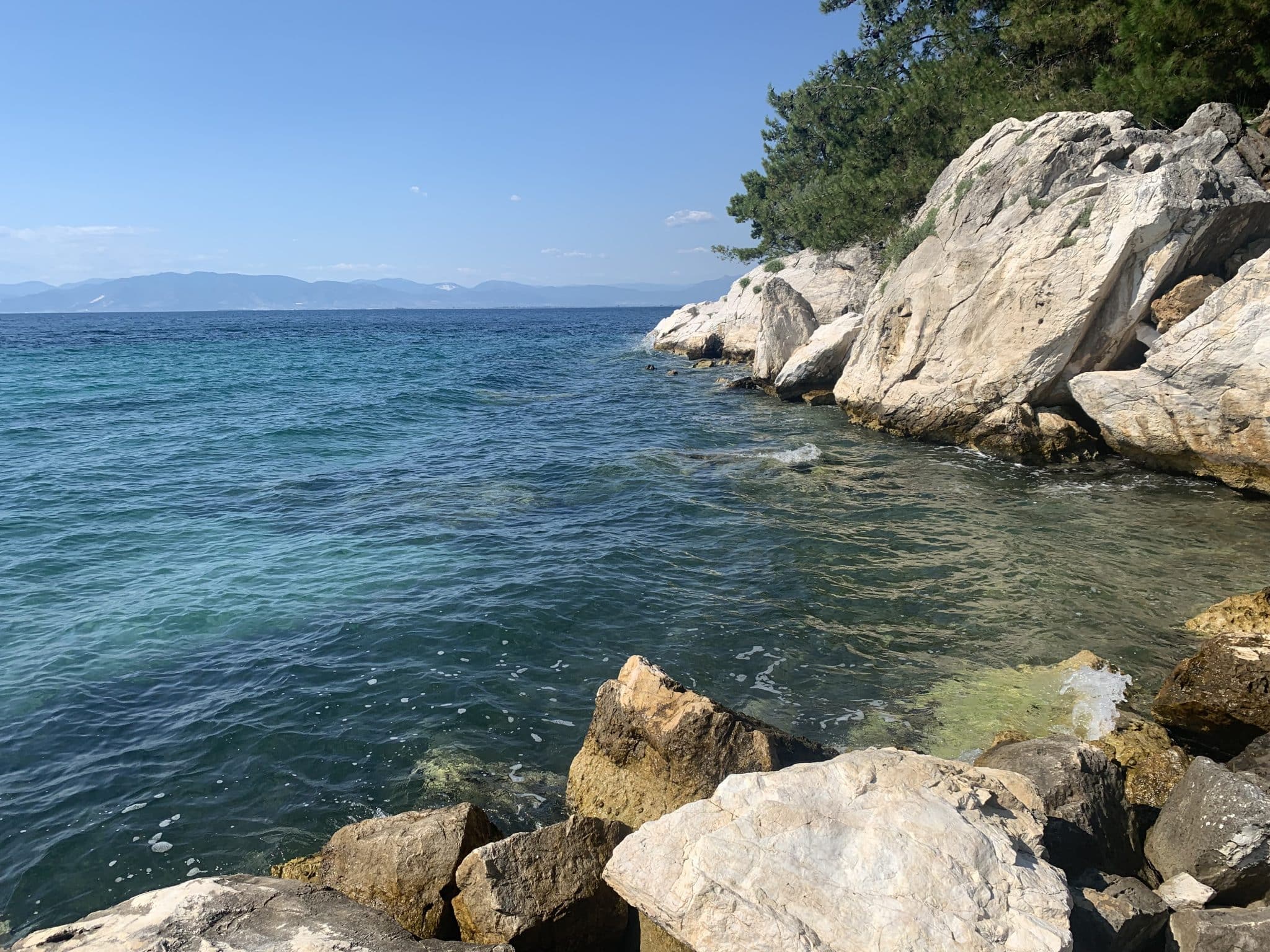 I visited around 6 beaches during my 4-day stay on the island. Each beach had a unique vibe and some were more suited to my personal preference than others. Most established beaches provide sunbeds and an umbrella for a fee of anywhere from 4-20 euros depending on the popularity and size of the beach. There are often restaurants or snack bars associated with the beach spots, and sometimes all you have to do is buy some food or drink to secure an umbrella. Whether you are looking for an open beach with a lively setting or a more intimate hideaway, there are new beach spots to explore every day!
Glyfoneri Beach – This tiny beach spot tucked within a crystal clear cove was one of my favorites. The small beach has a limited number of beds without umbrellas, but many are shaded by pine trees. This is one place you want to arrive at early during the summer, as both the beach and parking spots are very limited. The water is shallow enough for kids to wade out and snorkel. In addition to the beautifully secluded atmosphere, there is a snack bar and taverna located just yards above the beach.
Papias Beach – This beach spot is great because it's very close to the main town of Limenas, but less crowded than the beaches in town. There are plenty of sunbeds and umbrellas to relax under, which you can reserve with an order from the snack bar. The beach is sandy and the water is clear and deep. This is a great spot to come for the day. As with most beaches on the island, it's best to arrive either early in the morning or later in the afternoon when the morning crowd starts heading out.
Paradise Beach – Paradise Beach is one of the more popular beaches on the island because it provides a long stretch of beach and clear blue water for snorkeling. Although many people enjoy this spot, there were a few drawbacks that I noticed during my visit. In order to reach the beach, you either have to risk ruining your non-4WD vehicle down a long, steep dirt road OR park along the main road and walk down with all of your gear.
We happened to arrive in the afternoon, so the beach was packed with people and all the sunbeds were already occupied when we got there. With a little patience and finagling, we managed to snag a couple. The beds are placed very close to each other, so you are only within reaching distance of another family. The water had significantly larger waves than other beaches due to the wind that day, which made swimming more of a chore. I could see how arriving early on a calm day, this beach would surely live up to its name.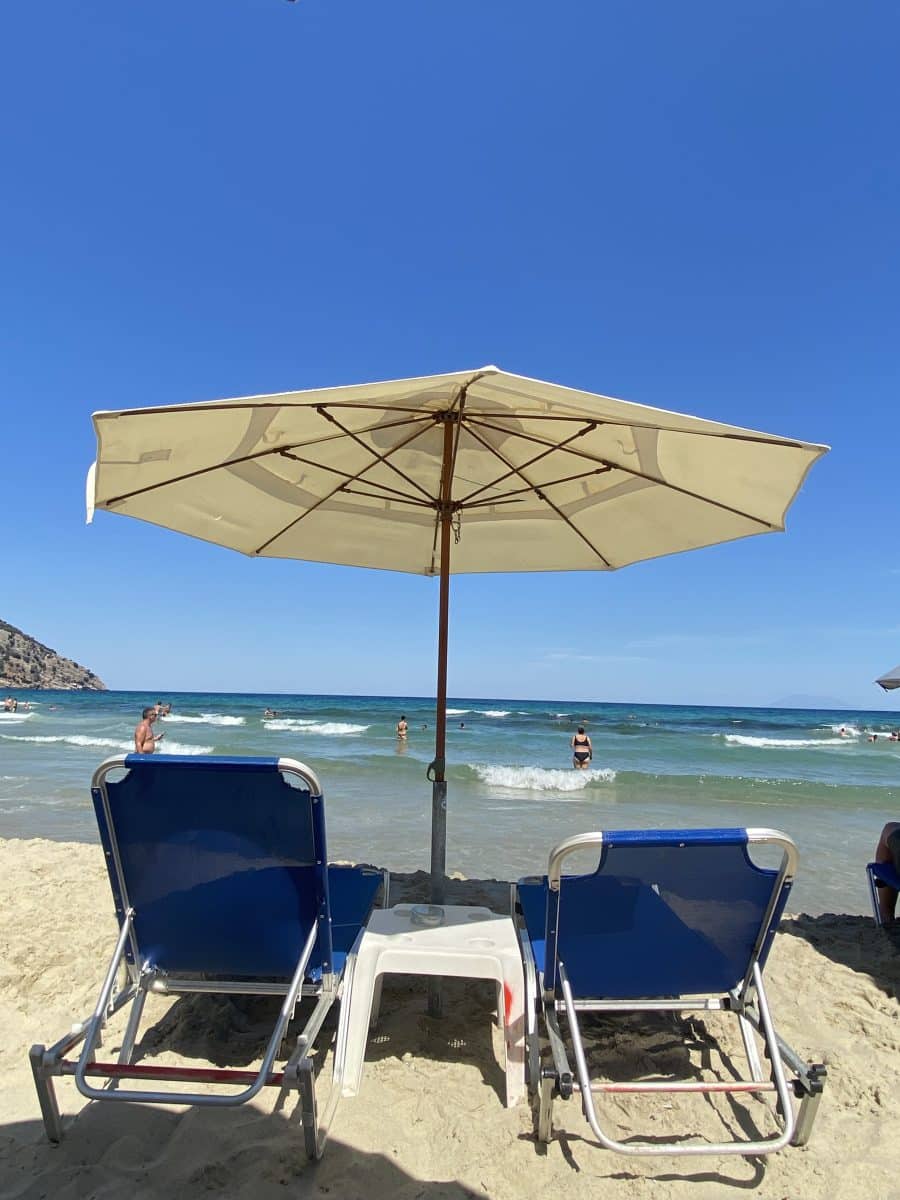 Limenas Beach – This is a long strip of beach located in the port town of Limenas lined with bars and restaurants offering sunbeds along the water. It can get very crowded during the day, but there is a lively atmosphere that is fun to experience. Some spots require you to pay for a sunbed separately, and others only require you buy something from the adjoined restaurant. As with any of these beaches, you do not have to pay for anything if you bring your own beach set-up. If you don't decide to spend the whole day here, I recommend at least taking a stroll along the beachfront here.
Golden Beach – Golden beach is an extremely large and popular beach with many surrounding hotels and restaurants. There is a good amount of easy-access parking and lots of space on the beach to lay out. It gets crowded here, but the good thing is that there is enough room for everyone. Swimming is great for kids, even when there are some waves breaking in the water. You may pay a slightly higher price for a sunbed here because they are in high demand.
Glikadi beach – Glikadi is a small sand beach off the road between Papias and Glifoneri beaches. There is a small dirt parking area above, and it's a short jaunt down to the sand. This beach is far less crowded than others, with options to sit shaded under trees or on a sunbed for 10 euro. There is a small snack shack with food and drinks, but there is no bathroom. Glikadi is a great spot to post up if you are looking for a calmer place to swim that's not too far from Limenas.
Note: If you are looking for a bit more solitude, there are plenty of undesignated spots along the west side of the island off of the main road to set up camp. There are many more beaches on Thassos that I didn't have time to visit, so I recommend taking time to explore some new locations!
Driving on Thassos
There are taxis on the island, mostly near the ports. When you arrive on the island, I recommend asking your hotel or Airbnb host for a number to a local taxi service. If you choose to rent a car, I recommend going to Potos Car Rentals. There are many locations around the island, and the staff is very friendly and helpful. They also provide shuttles from your hotel to the rental office. You can even pick up your rental car at the airport and drive it onto the ferry so you have it upon arrival.
Once you have your car, driving around the island is pretty painless. The main road circling the island reminds me of winding along CA Highway 1 or along some mountain roads in Hawaii. There are some locations where you don't want to take a small car without 4WD down (like Marble Beach for example). DO NOT attempt to drive down to Paradise Beach in a rented car… you will regret it.
When you book your stay on Thassos, I suggest looking for a place with designated parking spots or easy parking access. The roads in the towns are extremely narrow and full of one-way streets, so make sure to pay attention. If you don't want to rent a car, there are places to rent motorcycles and Vespas as well.
Note: You do not absolutely need a foreign driver's license, but if you want to be completely safe, then purchase a license before renting a car. We DID NOT have a foreign driver's license and drove around with no problems.
Greek Food to Try While in Greece
Bougatsa – Delicious flaky pastry made with phyllo dough and stuffed with a sweet or savory filling, such as cheese, meat, or custard.
Loukoumades – Similar to donut holes in the U.S., loukoumades are fluffy dough balls that traditionally come covered in a warm honey syrup. They are delicious sprinkled with cinnamon and chopped walnuts.
Greek Salad – This one needs no explanation, but you can't visit Greece without having at least one (or five) Greek salads. Traditionally, they come with diced tomato, cucumber, bell pepper, onion, and Greek olives all drenched in virgin olive oil and white vinegar. The most important part is the hunk of fresh feta balanced delicately on top.
Tzatziki – I'm not normally a fan of yogurt, but I could eat this stuff by the spoonful. Tzatziki is Greek yogurt mixed with a variety of fragrant herbs such as dill, mint, parsley, and thyme. It's usually also mixed with cucumbers, garlic, salt, and olive oil. My favorite tzatziki has a crazy amount of herbs and garlic. We even tried a version that was dyed pink by the addition of beets!
Freddo Cappucino – Once you've tried a traditional Greek coffee, which is somewhat like a thicker espresso shot and looks like a Turkish coffee, I recommend moving on to a freddo cappuccino next. This is a normal cappuccino topped with a thick foam of sweet whipped Nescafé instant coffee, and all served over ice. As a coffee lover, I initially found the idea strange, but soon became addicted to the things. They even still taste great after all the ice has melted.
Greek Yogurt – Even if you are not a fan of yogurt like me, I would bet money that you would love Greek yogurt. If you go to a traditional spot, you will probably have the option of sheep's milk (which I prefer), goat's milk, or cow's milk yogurt. This breakfast treat comes drizzled with a thick layer of honey and sprinkled with walnuts. It's a decadent breakfast that deserves a try when you come to Greece!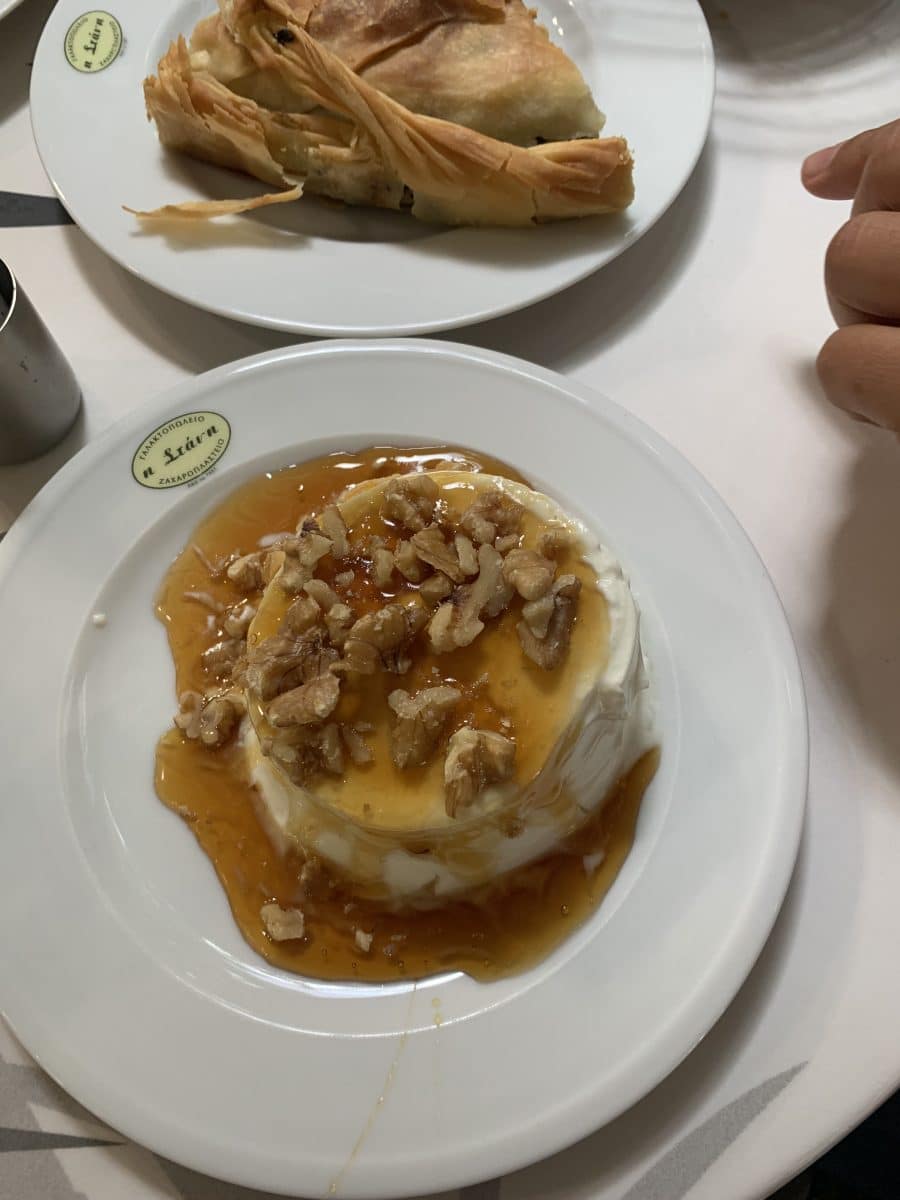 Ntakos/Dakos with Farro – I had never heard of this salad before visiting Greece, but this Cretan dish quickly became one of my favorites. Essentially, it's a tomato salad with crumbled feta cheese piled onto a giant crouton (dried barley rusk) soaked with olive oil and tomato juice. It's usually topped with olives and dried oregano.
Moussaka – The Greek moussaka is a sort of eggplant and potato layered casserole with ground meat. I tried this dish at a few different restaurants, and each time it tasted different! I preferred the versions with a layer of mashed potatoes.
Lamb Kleftiko – I am a huge fan of grilled lamb, but I discovered that this slow-cooked and marinated lamb cooked in parchment paper is a close runner-up. Each time I tried it, it was tender and infused with all the classic Mediterranean flavors you could hope for while on the Aegean.
Retsina Malamatina – Retsina may cause an uproar among wine "purists", but this Greek white wine made from Greek grapes and pine resin was our go-to dinner (and lunch) beverage. It's refreshing and light enough to accompany your long line-up of Greek plates.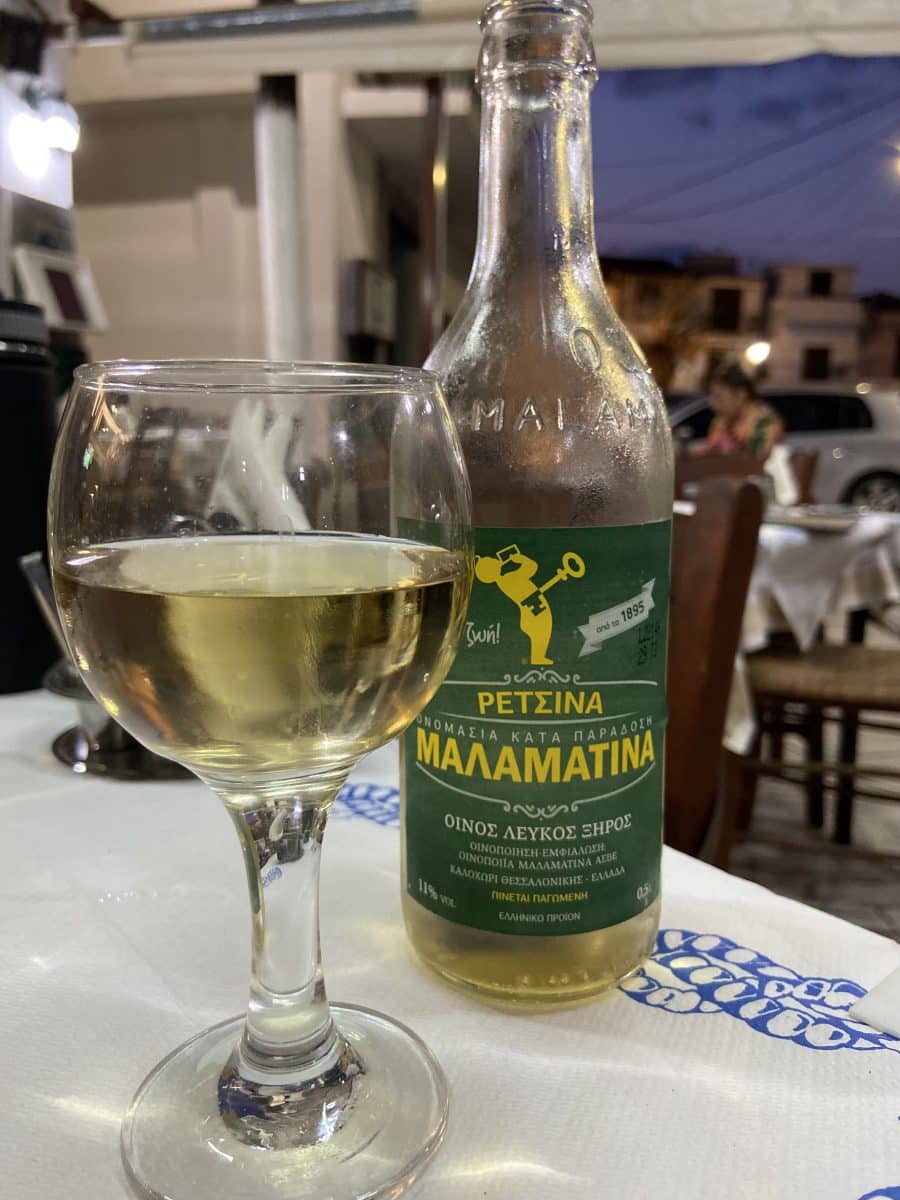 Ouzo – Ouzo is an anise-flavored alcoholic beverage that is common throughout Greece. Because of its strong flavor, it's supposed to be used as a palate cleanser before or after a meal. When it's served over ice, you can watch it turn from clear to opaque before your eyes!
Looking for more summer vacation destinations abroad? Learn more about my travels through Modena, Italy!
FAQ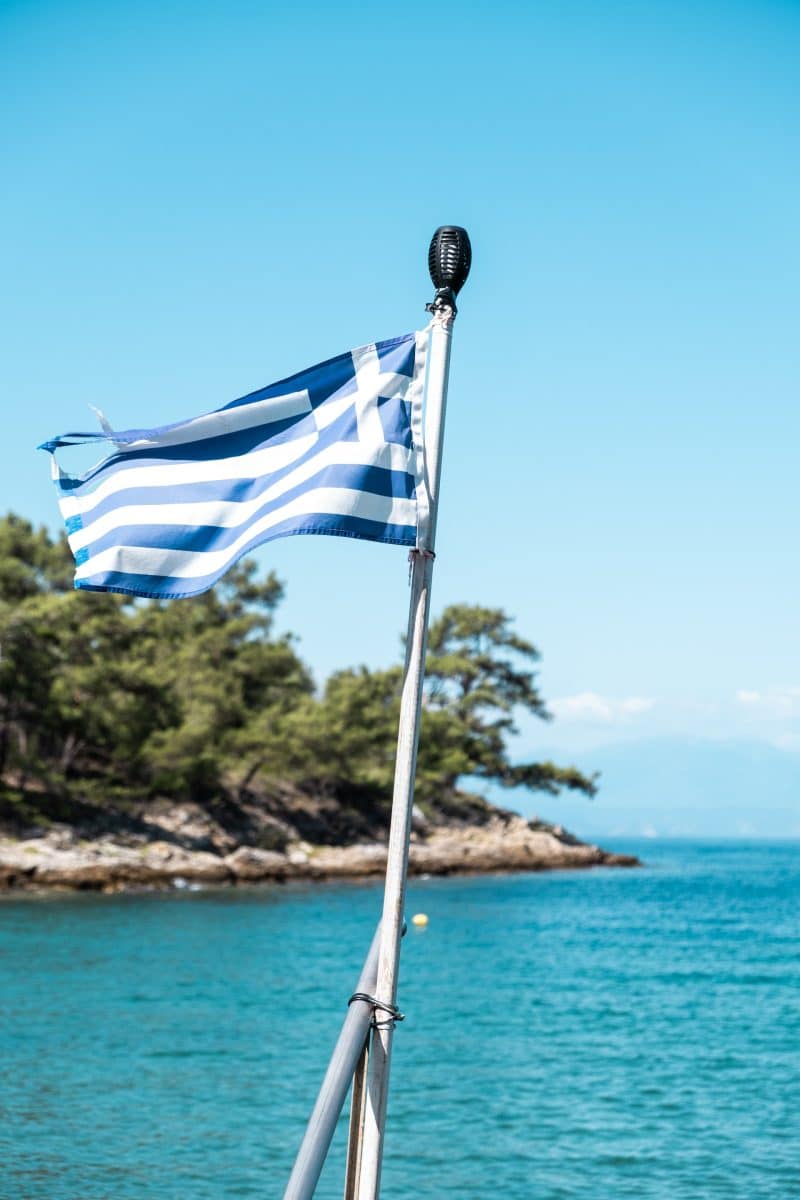 Is Thassos worth visiting?
Yes! Thassos is a beautiful island in Northern Greece where many Europeans and Greeks go on vacation. By heading North, you will escape the crowd of Westerners on the more popular islands, pay less for meals and accommodations, and experience more of an authentic Greek vacation.
How many days should you spend on Thassos?
You will want to spend AT LEAST 3 days on the island, if not longer.
How do you get to Thassos, Greece?
Fly into either Thessaloniki or Kavala Airports and then take a ferry to the island. Ferry ports are located in Keramoti and Kavala.