Whether this is your first time attending the Sundance Film Festival or you're a seasoned old hat, these are some general tips and tricks to help make navigating around the numerous events throughout Park City and Salt Lake City, Utah easier.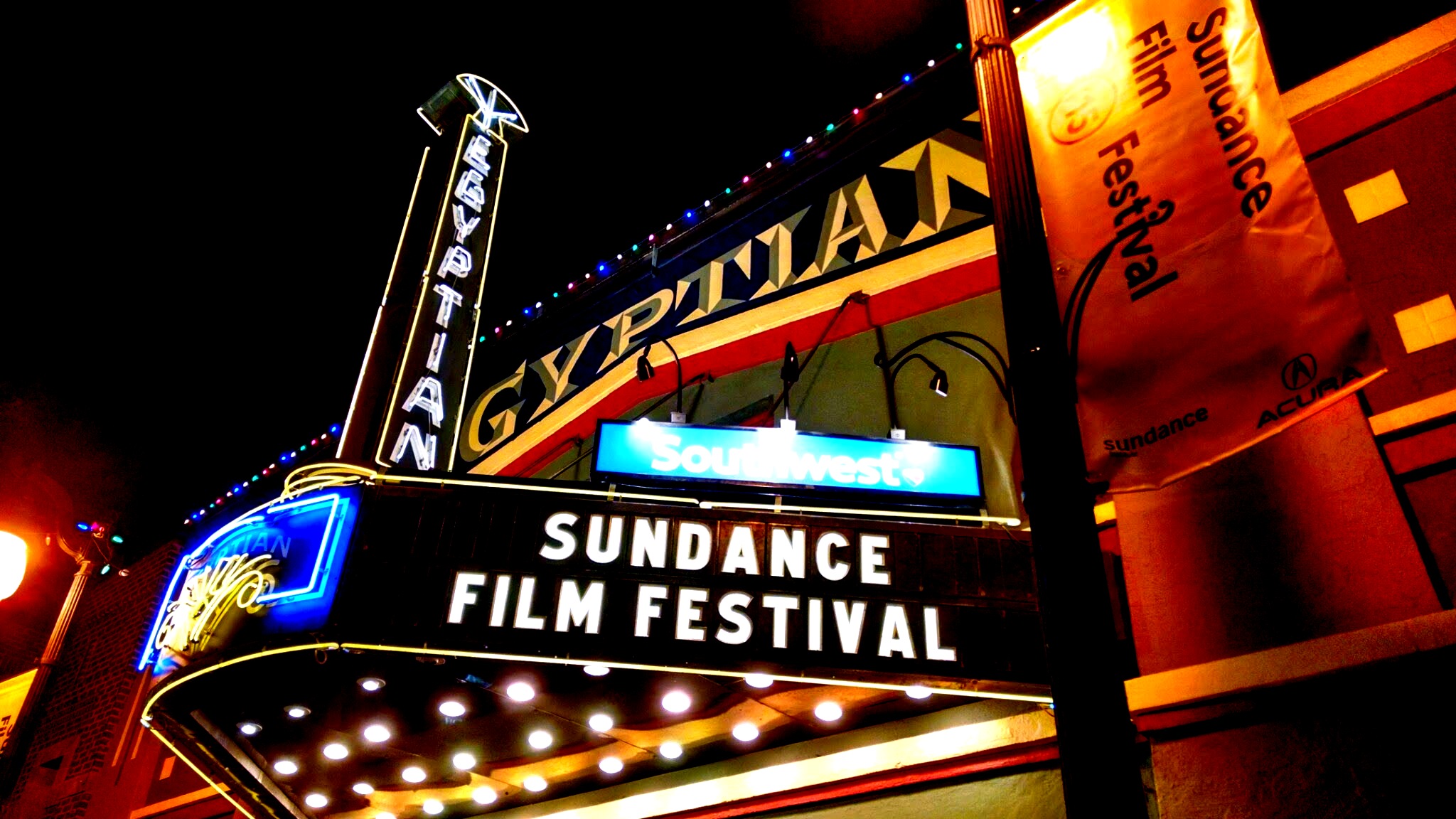 About Sundance
The Sundance Film Festival is an annual film festival held in Park City, Utah, which focuses on independent filmmaking. The festival was founded in 1978 by Robert Redford and is now run by the non-profit Sundance Institute. Throughout the event, you can preview a wide variety of films, including feature-length dramas and documentaries, as well as short films and new media projects. Sundance is renowned for premiering new and innovative films and has become one of the most important events in the independent film world, attracting thousands of film industry professionals, critics, and fans from around the world.
Typically taking place in January, the Sundance Film Festival is like a giant party for indie film lovers, where all the cool kids from the movie biz come to show off their latest and greatest projects. The festival includes screenings, panel discussions, and Q&A sessions. Utilize your badge status, and you might stand a chance at getting into some of the exclusive parties. You'll find the festival to be a great opportunity to discover new films and new talent.
For 2023, the Sundance Film Festival runs from January 19 to January 29, 2023.
2023 Sundance Film Festival Quick Tips
Mask must be worn at all times.
Each theater and location has different policies for bags etc of what you can and can't bring in with you.
Emailing official Sundance channels will not always get you fully accurate info and it may change on the fly.
Saturday is usually the busiest day. Sunday is the slowest day because a lot of people fly home.
Bring a handkerchief or tissues. These films will move you.
The Beginning of the Festival
For the first few days of Sundance, you should expect there to be hiccups and delays as organizers and volunteers work out logistics pain and bumps. It is not unheard of to experience 20-minute delays – plan for these delays and hope for the best.
Make sure to utilize the Sundance app. iOS | Android
Time Management
For screenings, plan for the film runtime, about 5 minutes for an introduction, and an additional 15–20 minutes for any post-screening Q&A, although you don't have to stay for that if you have another showing to get to.
Don't feel bad for leaving in the middle of Q&A, people do it in premiers too, but perhaps take a seat closer to the end of the row if you know you're going to leave early to cause less disruption.
Do arrive early as the instructions say because if you aren't there you will get your seat taken by someone on the waitlist even if you have a ticket. Don't think you can show up right before and get in because you will be let down.
Consider the travel time as well if films are at different locations, since you want to be in line at the next one about 30 minutes before the start time. Make sure to include a buffer for the shuttle in Park City; it can take longer than what it says on Google Maps.
They block showings in 3-hour windows to give volunteers time to shuffle everyone out/clean before the next screening. When you leave, you will see the line for the next showing waiting to be let in.
Screenings Locations
The Sundance Film Festival typically takes place in Park City, Utah, and the majority of screenings are held at various venues in the city, including the following:
Eccles Theater
Library Center Theater
MARC Theater
Redstone Cinema 1-8
The Ray
Prospector Square Theater
Egyptian Theater
Holiday Village Cinema
The Yarrow
The Kimball Art Center
Park City High School
Park City Mountain Resort
In addition to Park City, the festival also holds screenings in Salt Lake City and at the Sundance Resort in Sundance, Utah.
Finding Sundance Film Festival Winners
There are several ways to find the winners of the Sundance Film Festival:
Visit the Sundance Institute website: The official website of the Sundance Institute, the organization that produces the Sundance Film Festival, provides a list of winners from past festivals.
Check the festival's social media: The Sundance Film Festival uses social media platforms to announce the winners during the festival.
Follow the news: Many major news outlets will report on the winners of the Sundance Film Festival as they are announced.
Attend the awards ceremony: The awards ceremony is typically held on the last day of the festival, during which the winners in various categories are announced.
Look for the Sundance Film Festival winners list on the Sundance Institute website, which will be updated after the festival.
Dress Code
The dress code for the Sundance Film Festival varies depending on the events you plan to attend. Generally, it's best to dress in comfortable, layered clothing as the weather in Park City, Utah can be quite chilly. Here are a few tips for dressing for the festival:
Dress in layers: Bring a jacket or sweater for the chilly evenings and mornings, and layers that you can take off during the day if it gets warm.
Be comfortable: You'll be doing a lot of walking, so dress in comfortable shoes and clothing that allows you to move easily.
Dress nicely: The festival is a professional event, so avoid wearing anything too casual.
Think about the weather: Pack a hat and gloves if it's cold, and an umbrella if it's expected to rain.
Dress for the event you're attending: Keep in mind the type of event you're going to, for example, for the premiere screening, you might want to dress up a bit more than for the daytime screening.
Don't forget to bring a scarf or a poncho, they will be handy in case of snow.
Bring a sweater or a jacket because the venues are usually chilly.
Overall, the key is to be comfortable, warm and look presentable.
Basic Differences Between Ticket and Package Types
The Sundance Film Festival offers several different types of tickets, each with its own set of benefits and restrictions. Here are the main differences between the most common types of tickets:
Box Office Tickets: These are the most basic tickets for the festival, and are available for purchase at the box office on a first-come, first-served basis. They are usually the cheapest, but availability is limited and you will have to be there early to get them.
Festival Passes: Festival passes provide access to all screenings and events, but do not guarantee a seat at any specific screening. They are more expensive than box office tickets but are more likely to secure you a seat.
Premium Passes: Premium passes offer the same access as festival passes, but also include reserved seating at select screenings, priority access to box office tickets, and other perks such as VIP lounges and receptions.
Rush Tickets: Rush tickets are released on a first-come, first-served basis and they are usually cheaper than box office tickets, they are only available if the screening is not sold out.
Package Deals: Some of the package deals include a combination of tickets, hotel accommodations, and other perks. These packages are usually the most expensive option but offer the most benefits.
Single Tickets: Single tickets are sold for each individual screening and are usually the most expensive option, but they guarantee a seat at the screening.
It depends on your budget, preferences, and the level of access you want to have to the festival, you can choose the type of tickets that best fits your needs.
Buying Tickets Used
It is generally not recommended to buy Sundance Film Festival tickets from someone else, as there is a risk of purchasing counterfeit or invalid tickets.
The Sundance Institute, the organization that produces the festival, advises buyers to purchase tickets only through official channels such as the festival's website or the box office. The official website and box office are the only places where you can buy legitimate Sundance Film Festival tickets.
Additionally, the Sundance Film Festival has a policy of not allowing the re-selling of tickets, and will not admit anyone who holds a re-sold ticket.
It is safer to purchase tickets through official channels to ensure that you are buying a legitimate ticket and will be able to gain entry into the festival.
If you decide to purchase Sundance Film Festival tickets from someone else, it's essential to check the tickets' authenticity. You should check if the tickets have the Sundance Film Festival logo, a barcode, and the name of the festival.
You can find tickets in social media groups if you do decide to go this route. Screenings tickets are generally the safest type of tickets to acquire secondhand.
While the website does allow transfers of purchases, this can ONLY happen at the time of purchase and not later.
Transportation between Salt Lake City and Park City
There are several ways to get from Salt Lake City to Park City during the Sundance Film Festival:
Bus or Shuttle: The Sundance Institute provides a shuttle bus service between Salt Lake City and Park City during the festival. The shuttle buses run frequently and make several stops in both cities. They are the most convenient and affordable way to travel between the two cities.
Car rental: You can also rent a car to drive from Salt Lake City to Park City. This is an excellent option if you want more flexibility and independence during your trip.
Taxi or Uber: If you prefer a more comfortable way of transportation, you can also hire a taxi or Uber to take you to Park City. As of 2023 people have reported spending anywhere from $100 to $200 each way.
Public transportation: The Utah Transit Authority (UTA) offers bus and train service between Salt Lake City and Park City. Use the app Ride UTA and use the route 902 PC-SLC Connect. Cost is $5 each way on 902. Within the city is $2.50 per ride or $5 for a day pass.
Drive your own car: You can also drive your own car to Park City, but be aware of the parking situation in Park City during the festival as it can be complicated and expensive.
Keep in mind, during the festival days, the traffic can be heavy, so it is best to plan ahead for your trip and make sure you have enough time to reach your destination.
Invite-Only Parties
Access to invite-only parties at the Sundance Film Festival can be difficult to come by, as they are typically only open to celebrities, filmmakers, industry professionals, and sponsors. Here are a few ways to potentially gain access to these parties:
Network: Build relationships with industry professionals, filmmakers, and sponsors who can extend an invitation to exclusive events. Attend industry panels, seminars, and networking events to make connections. Do your best to strike up as many organic conversations with as many people as possible.
Volunteer: Volunteering for the Sundance Institute or for specific events can give you an inside look at the festival and the opportunity to meet people who can help you get into exclusive parties.
Part-time work: Look for job openings for the festival or for the parties, such as event planning, promotions, or security. This will give you access to the parties and the opportunity to network.
Be creative: Sometimes, you can gain access to exclusive parties by being creative. For example, you can dress up in a costume or come up with a clever pick-up line to get the attention of the people in charge of the party.
Chase Sapphire Reserve Card Benefits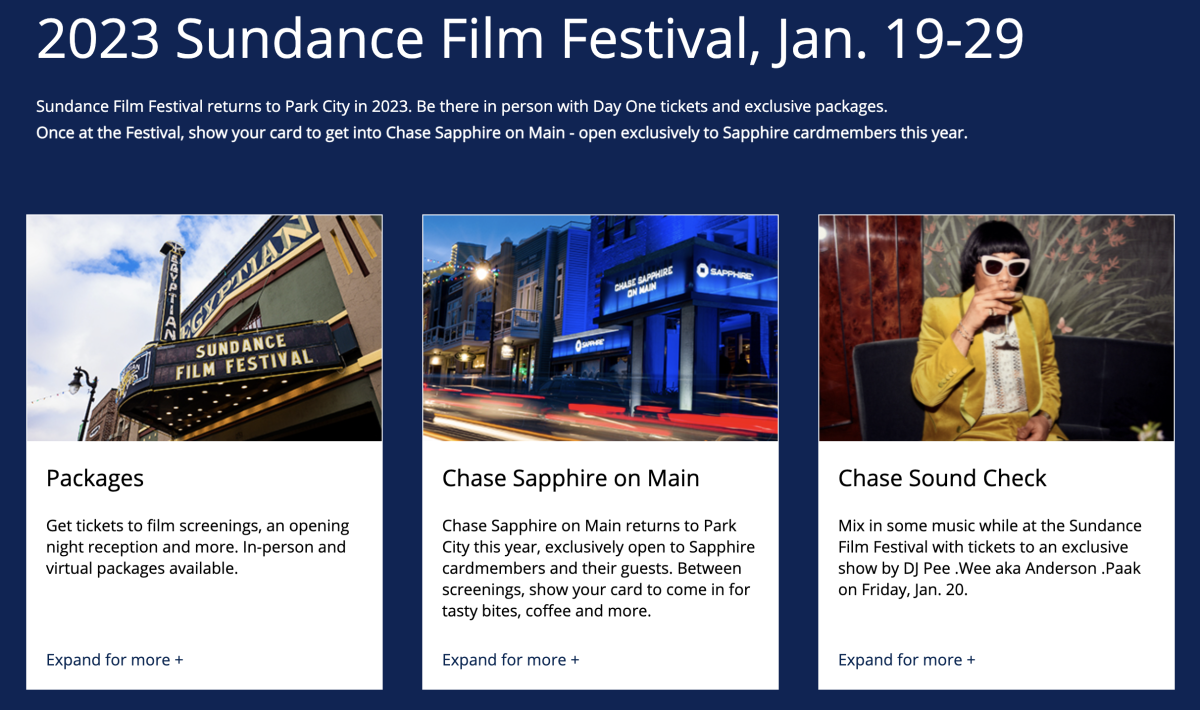 Chase cardholders of Sapphire Preferred and Sapphire Reserve – From private dinners hosted by award-winning chefs to VIP access at the most sought-after events, see where your Sapphire Reserve card can take you.
Daily: Visit Chase Sapphire on Main at 573 Main Street in Park City. Open daily (Jan. 20–24) from 11 a.m.–5 p.m. Show your Sapphire card to enter for complimentary coffee, bites and more.
Premiere Party: Join us at Chase Sapphire on Main on Saturday, Jan. 21, and celebrate with an open bar, music and more. Show your Sapphire Reserve card to enter.
You need to show your Chase Sapphire card for entry. This is all info from the Chase benefits page within the app.
The Chase app will also offer private dining options in Park City. Book your prime-time reservation at our highly sought-after partner restaurants through specially reserved tables and timeslots with Reserved by SapphireSM.
Film Categories
The award categories are as follows:
Alfred P. Sloan Feature Film Prize: The Pod Generation (not available online)
Audience Award: NEXT
Audience Award: U.S. Documentary
Audience Award: U.S. Dramatic
Audience Award: World Cinema Documentary
Audience Award: World Cinema Dramatic
Festival Favorite Award
NEXT Innovator Award
U.S. Grand Jury Prize: Documentary
U.S. Grand Jury Prize: Dramatic
World Cinema Grand Jury Prize: Documentary
World Cinema Grand Jury Prize: Dramatic
TBA Best of Fest (1 of 2): Documentary
TBA Best of Fest (2 of 2): Documentary
TBA Best of Fest (1 of 2): Narrative
TBA Best of Fest (2 of 2): Narrative
TBA Award Winners (Do not "favorite" this category. Award-winner film pages will go live on Jan. 27 and films can be "favorited" then.)
You can view all of the award winner categories in the program by exploring the program, clicking the "Films" tab, clicking the green "Reset Filters" text, and selecting "Award Winners" from the "Category" drop-down menu.
Map of Sundance Locations
Exploring more of Utah? Check this out next!
I strive to paint vivid landscapes with my words, bringing the magic of far-off lands and enchanting aromas to life for my readers. Combine passion for exploration and the art of gastronomy in an unending ode to the senses. When I'm not traversing the globe, I find solace in the earth beneath my fingertips, tending to my garden and working on projects around my verdant oasis. MK Library serves as a beacon, guiding fellow travelers and homebodies alike to embrace sustainability, nurturing both our planet and our souls with purpose. Full Bio.