Discover some of the best restaurants in Salt Lake City, Utah. Home to a vibrant food scene, you'll discover a variety of options for all types of cuisine and budgets. The city has a mix of traditional and modern restaurants that are influenced by its geographical location, the diverse population, and the local food culture. Whether you are on a ski vacation or searching for the best new films at the Sundance Film Festival, there will always be exceptional food just around the corner in Salt Lake City.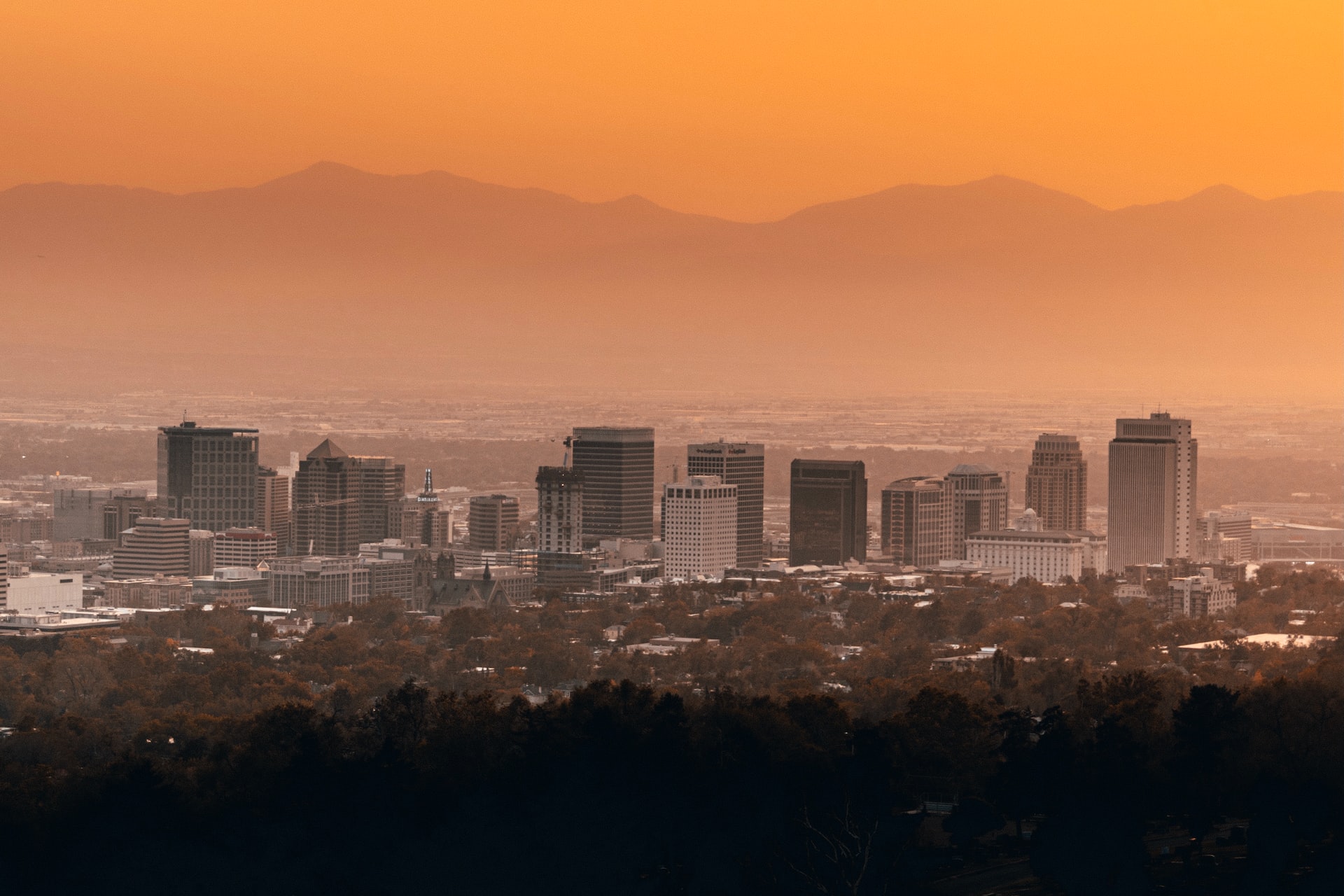 The Overall Food Scene
Salt Lake City's dining scene is a mix of traditional American and southwestern fare, with a strong Mexican and South American influence on the cuisine. The city has a thriving food truck scene and a number of farmer's markets that sell fresh produce and artisanal products. The city's restaurant scene is also notable for its focus on sustainability and locally-sourced ingredients.
Salt Lake City also has a growing number of specialty food stores and markets, such as Caputo's Market and Deli, which offers a wide range of imported Italian products, and Liberty Heights Fresh, which specializes in organic produce and specialty products.
The city also has a thriving craft beer scene, with many local breweries like Epic Brewing, Red Rock Brewing, and Wasatch Brewery.
All in all, Salt Lake City's food scene offers a diverse range of options for foodies and people who appreciate good quality and locally sourced food.
Waterpocket Distillery
Waterpocket Distillery, located just 10 to 15 minutes south of the airport, is the brainchild of Julia and Alan Scott. Their hand-crafted spirits meld the exploration in taste with the couple's actual adventures in the natural world. Their unique botanically infused liquors, amaros, and tonics are forward-thinking and feature fragrant flavor profiles inspired by the wilderness. Not only are the labels beautifully designed, but there is always a wonderful story behind the spirit that points toward the passion and care with which it was made. They've notably won double gold in the prestigious World Spirits Competition two years in a row for both their Toadstool Box-Death Amaro No. 3 in 2022 and their Temple of the Moon Gin in 2021. Be sure to sign up for a tour of their facilities online, and spend an afternoon tasting and learning about what goes into making these hand-crafted spirits from their knowledgeable staff.
Address: 2084 W 2200 S, West Valley City, UT 84119
Website | Instagram | Facebook
Carson Kitchen
I had the pleasure of eating at Carson Kitchen while in town attending the lauded Sundance Film Festival, and it was just what I needed after an exciting day of movie premiers. This upscale eatery, with exceptionally creative American comfort food and craft cocktails, is the perfect place to fill up and warm up after a day in the cold weather. Inside is a dynamic and open industrial space decorated with unique light fixtures and pop art murals. Their classics include their crispy chicken skins, killer shrimp with ají peppers, and baked mac and cheese. The Jerk Turkey Burger is a must-try, along with the hot dog burnt ends with a BBQ glaze, a playful take on a treasured American comfort food. Be sure to stop by for Sunday brunch for the chicken and waffles, and (of course) don't miss out on the glazed donut bread pudding with rum caramel, no matter how full you may be.
Address: 241 W 200 S, Salt Lake City, UT 84101
Website | Instagram | Facebook
The Green Pig Pub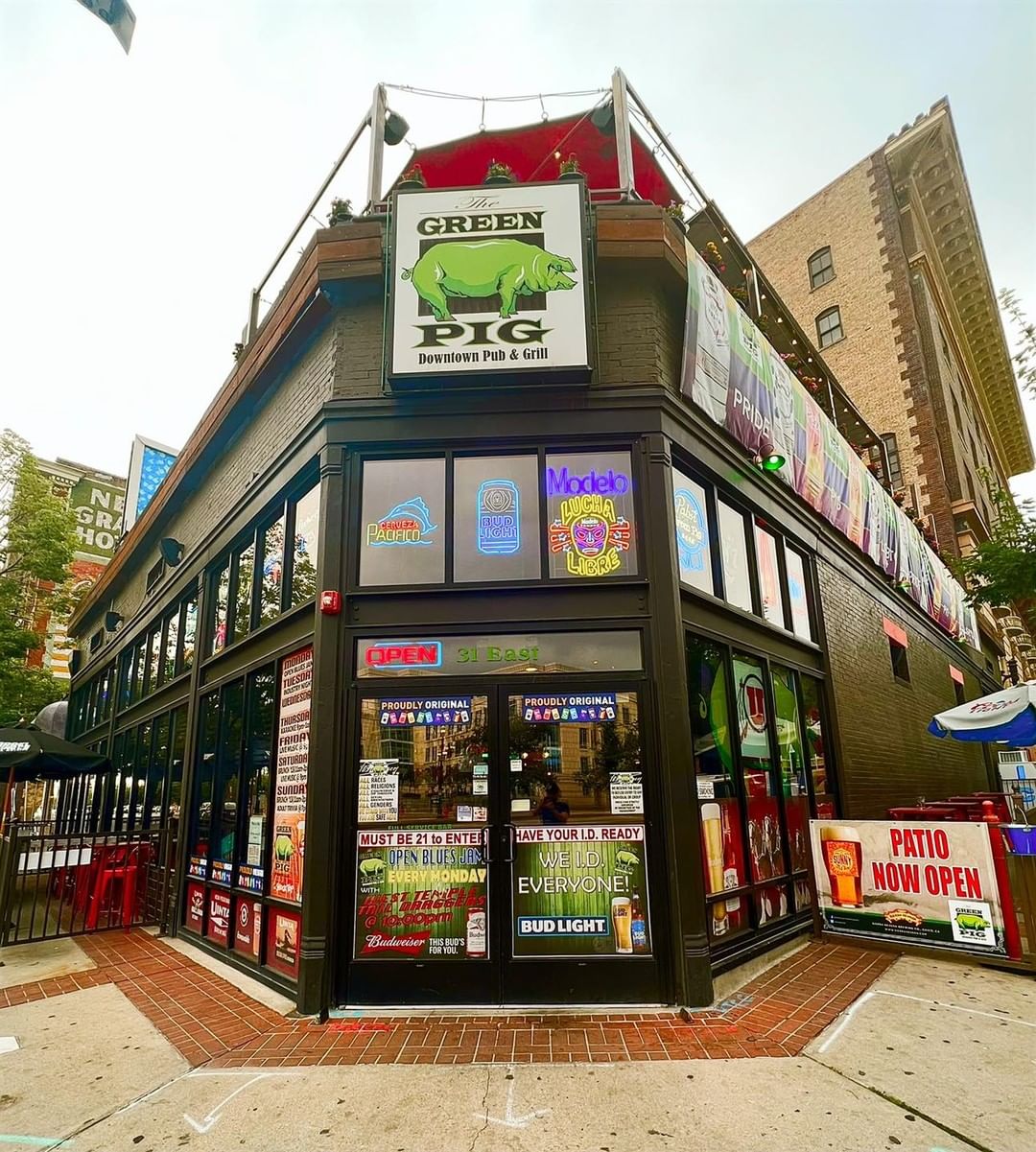 The Green Pig Pub may look like your average TV-filled sports bar, but they are turning out some exceptional bar food, from marinated carnitas street tacos to a spicy vegan chicken sandwich with Cajun vegan bacon. Their vegan menu is almost as big as their other offerings, and the food is certainly just as tasty. Whether you stop by in the middle of the week or on a weekend, there is always a fun event taking place, including Monday night open blues jams and Wednesday trivia nights. Enjoy a beer from their affordable alcohol selection out on the rooftop patio overlooking downtown Salt Lake City.
Address: 31 E 400 S, Salt Lake City, UT 84111
Website | Instagram | Facebook
Bodega and The Rest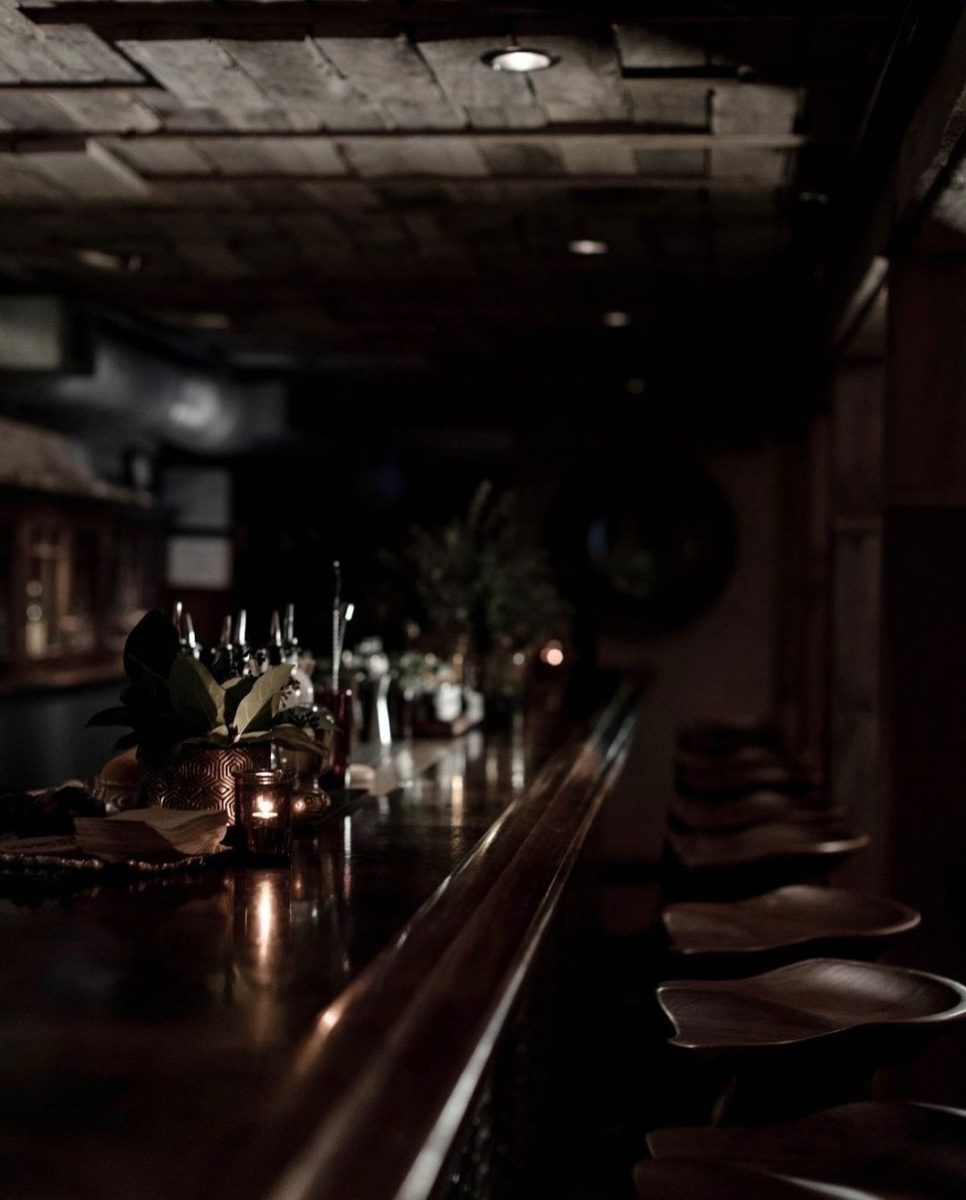 Make your way through the Bodega upstairs – with affordable drinks and music – and meander downstairs to The Rest, an underground speakeasy with elevated craft cocktails and creative eats. If the dark-academia atmosphere were not enough to immediately bewitch you, then the cocktails and modern American food certainly will. Their menu changes frequently, but you must try the beer-can chicken and BBQ pork belly sliders if they are available. A couple intriguing cocktails include the Blame Game, with rum and apple cinnamon simple, and the Mid Lane with bourbon and cranberry cinnamon syrup. A perfect place for date night or an intimate night out with friends, you'll experience nothing but chill vibes away from the bustle of downtown Salt Lake here.
Address: 331 Main St, Salt Lake City, UT 84111
Website | Instagram | Facebook
Eva
Eva is a quaint and cozy Mediterranean-inspired eatery serving tapas-style shareable plates, wine and unique craft cocktails. You will find incredibly thoughtful dishes here that feature carefully chosen ingredients, such as melt-in-your-mouth prosciutto and a jalapeño aioli sauce on an asparagus dish. Other memorable dishes include the fig & pig pizza with fig jam, the fried cauliflower with whipped ricotta, and the slow-roasted tri-tip bruschetta. Enjoy food inside their compact dining room or in their enclosed brick-walled outdoor eating space. This place has a great handle on their food, and you really can't go wrong with whichever dishes you choose. Be sure to try a cocktail, like the desert sage with tequila and sage, and finish off the night with warm banana bread pudding with custard ice cream. You'll want to make a reservation if you plan on eating here on a weekend.
Address: 317 S Main St, Salt Lake City, UT 84111
Website | Instagram
Purgatory
Purgatory is a hip bar serving up beer, cocktails, and Asian-American bar bites in a low-lit industrial space. Enjoy drinks and food outdoors in their fun outdoor patio space, featuring corn hole and giant Jenga, and stop by on Mondays to dance the night away with a DJ. Two must-try dishes include the pork belly bao and the K-pop fries with Asian braised beef and kimchi. Another great option is the Eastern Burger, topped with an egg and gochu BBQ sauce among other things. One exceptional cocktail to try is the "Take Me Back" with mezcal, lemongrass, and pineapple.
Address: 62 E 700 S, Salt Lake City, UT 84111
Website | Instagram | Facebook
Beehive Distilling
Located in South Salt Lake, Beehive Distilling is an open and laid-back spot to enjoy great craft cocktails, beer, and small bites. Stop by their welcoming and spacious industrial distillery and try their high-quality gin in a gimlet, with pear syrup and sage. They also feature seasonal cocktails, including The Coley Handshake with beehive vodka, lime, cranberry syrup, prosecco, and pomegranate seeds. They have a nice selection of sliders and snack options. Try their pork belly bahn mi sliders or their churro french fries with caramel sauce. With great drinks and delicious bites, Beehive Distilling is an ideal place for a drink on date night or simply to hang out with friends.
Address: 2245 S W Temple St, South Salt Lake, UT 84115
Website | Instagram | Facebook
SLC Eatery
SLC Eatery is cooking up some delicious modern and eclectic mix of international dishes in a minimal and airy space. Their menu changes often, but a few current stand-outs include the swordfish with spiced hazelnut crumble and the Okonomiyaki benedict on a napa cabbage pancake for brunch. SLC Eatery has an extensive wine list to accompany their unique menu, as well as a small but tasty selection of specialty cocktails. Be sure and try one of their cart items as well, whether it be the peel 'n' eat shrimp or the clam dip. Whatever you order here, you really can't go wrong.
Address: 1017 S Main St, Salt Lake City, UT 84111
Website | Instagram | Facebook
Water Witch Bar
The Water Witch is a well-known somewhat "hipstery" bar in Salt Lake with modern witchy vibes, a lively yet cozy setting, and plenty of creative cocktails to try. If you don't see a cocktail that immediately jumps off of the blackboard menu, their incredibly friendly and skilled bartenders will concoct a custom drink based on your personal preferences. Try the flaming mai tai, the Hot Todd, or Saturn's Grog with rum, passion fruit, grapefruit, lime, allspice. You can also find some small tapas-like bites in addition to the excellent alcohol options. This is a fun spot to grab drinks after work with friends and discover your new favorite cocktail.
Address: 163 W 900 S, Salt Lake City, UT 84101
Website | Instagram | Facebook
Blue Copper Coffee Room
Blue Copper Coffee has two locations in Salt Lake and a roastery. The Blue Copper Coffee Room is a great place to enjoy high-quality coffee and espresso drinks in a modern industrial setting. Their espresso is smooth and their beans are roasted locally. Stop by to enjoy some quality coffee and some delicious baked goods, such as their coffee cake, in their bright modern industrial space.
Address: 179 W 900 S, Salt Lake City, UT 84101
Website | Instagram | Facebook
Tradition
Tradition in Salt Lake is aptly named, serving up modern versions of comfort food in a bright yet cozy space. This food will bring back memories of home, like the meatloaf with a brown sugar glaze and green beans or biscuits and gravy for brunch. People have also raved about the Brussels sprouts and cauliflower appetizer and the funeral potatoes with cheddar cheese and bacon jam. You don't want to miss out on the creative cocktails, like the Little Tokyo with Japanese whiskey and Waterpocket's Notom Amaro. Tradition is always packed with hungry patrons, so be sure to make a reservation in advance.
Address: 501 E 900 S, Salt Lake City, UT 84105
Website | Instagram | Facebook
Stanza Italian Bistro & Wine Bar
Stanza Italian Bistro & Wine Bar is a modern restaurant serving classic and elevated Italian dishes. The food is fresh and flavorful, with an incredible bolognese and Agnolotti di Granchio. There is also a whole separate menu with vegan options. The restaurant is located within a large window-lined building that is very contemporary and clean indoors. Out front, there is a lovely patio that is an ideal place to enjoy a meal in the summer. With a diverse list of wines and the option to choose from three different sizes, you can find an affordable glass of wine to accompany any dish. You won't want to skip dessert at Stanza with so many decadent options, from the decadent cherry chocolate bomba cake to the passion fruit panna cotta.
Address: 454 E 300 S, Salt Lake City, UT 84111
Website | Instagram | Facebook
Under Current
Under Current is a contemporary yet comfortable neighborhood bar located right next to its sister restaurant, Current. This multi-level bar serves flavorful and artfully presented craft cocktails and small bites, including oysters, clam dip, and poke bowls. Their cocktails are divided into three categories: Citrus & Refreshing, Boozy & Direct, and Beach Classics. When you stop by, be sure to try the Cruise Control with pisco logia, guava and ancho verde child liquor. If you're looking for a mellow spot to have a nice conversation over drinks and appetizers, this is your spot.
Address: 270 S 300 E, Salt Lake City, UT 84111
Website | Instagram | Facebook
London Belle Supper Club
The London Belle Super Club has everything you could hope for in a bar/club, with delicious drinks and food, upbeat music for dancing, and attentive service. Inside you'll find a dark and sleek yet cozy dining room with comfy seats to sit back and listen to live music. They are serving modern American and international dishes, such as bison tika masala and miso fried chicken with pickled chili peppers. The waitresses are quick and attentive, and the atmosphere is always lively. The London Belle has become a cornerstone of nightlife in Salt Lake City, so it's best to make a reservation before you visit!
Address: 321 Main St, Salt Lake City, UT 84111
Website | Instagram | Facebook
Franklin Ave Cocktails & Kitchen
Franklin Ave Cocktails & Kitchen is a classy and comfortable restaurant and cocktail bar in downtown Salt Lake City that is serving up incredible food and vintage vibes. With an expansive array of alcohol on full display in their apothecary-esque bar, you can sample many different whiskeys and crafty signature cocktails. Try the off-white negroni with local Waterpocket gin. You can't come to Franklin Ave without trying the food, a mix of modern comfort food with a heavy international influence. Their loaded potatoes with bacon and hollandaise is to die for. Follow up your appetizer with mushroom beignets and a fried fish sandwich stacked high with napa slaw. Franklin Ave is truly a hidden SLC gem, but it certainly won't be hidden for long!
Address: 231 S Edison St, Salt Lake City, UT 84111
Website | Instagram | Facebook
Bar-X
Bar-X is a mix between a cozy speakeasy and a lively dive bar where you can find beer, craft cocktails, and a large selection of quality spirits. With dark underground vibes inside and a small patio out front, Bar-X is a great after-dinner place to sip on some alcohol, especially when they have live music lined up. If you get hungry while there, don't worry, the Beer Bar next door will deliver some well-dressed gourmet brats, sausages, and burgers. This spot is really the best of both worlds: quality cocktails in a space with all the character and intrigue of an actual dive bar.
Address: 155 E 200 S, Salt Lake City, UT 84111
Website | Instagram | Facebook
The RUIN
The RUIN in downtown Salt Lake is a dimly lit cocktail bar serving up craft cocktails and elevated bar food in a calm and classy setting. The RUIN is located about a block north of the main drag, so it is calmer than most other bars, and the staff is incredibly friendly and professional. It's easy to wind down in this clean and modern setting with a quality cocktail in hand. One exceptional beverage is the Bluebell, featuring blueberry, basil, and citrus. They also have creative mocktails, including the fruity and flavorful Tiny Boy, Baby Boy with watermelon, pomegranate Molasses, and hibiscus. The food menu is currently missing from their website, so you'll just have to stop by and see what tasty selections await!
Address: 159 S Main St, Salt Lake City, UT 84111
Website | Instagram
Ivy & Varley
Ivy & Varley is a restaurant and bar offering an elevated and eclectic American cuisine and playful cocktails in an open and cheerful dining room. Their globally inspired dishes are beautifully plated and equally tasty. When you stop by, get started with the grilled beet hummus and the hibiscus margarita and then move on to the seared salmon with chimichurri. With a great selection of bourbon, beer and wine in addition to craft cocktails, Ivy & Varley is the perfect date-night spot with an upscale atmosphere. In the warmer months, enjoy your meal outside in their large brick-walled patio surrounded by plenty of greenery.
Address: 55 W 100 S, Salt Lake City, UT 84101
Website | Instagram | Facebook
Exploring more of Utah? Check this out next!
I strive to paint vivid landscapes with my words, bringing the magic of far-off lands and enchanting aromas to life for my readers. Combine passion for exploration and the art of gastronomy in an unending ode to the senses. When I'm not traversing the globe, I find solace in the earth beneath my fingertips, tending to my garden and working on projects around my verdant oasis. MK Library serves as a beacon, guiding fellow travelers and homebodies alike to embrace sustainability, nurturing both our planet and our souls with purpose. Full Bio.