My own introduction to good Irish Whiskey was facilitated by a natural-born Irish citizen. We were working together on a project when I first met him. His accent and fast-paced talking quickly became thick with excitement on sharing his culture and history, to the point where I could barely understand the lad. Upon learning my experiences consisted of the very American Irish Car Bombs, he became determined to convert me to good Irish Whiskey. We tasted many a whiskey and I fell in love with Redbreast. I haven't looked back since.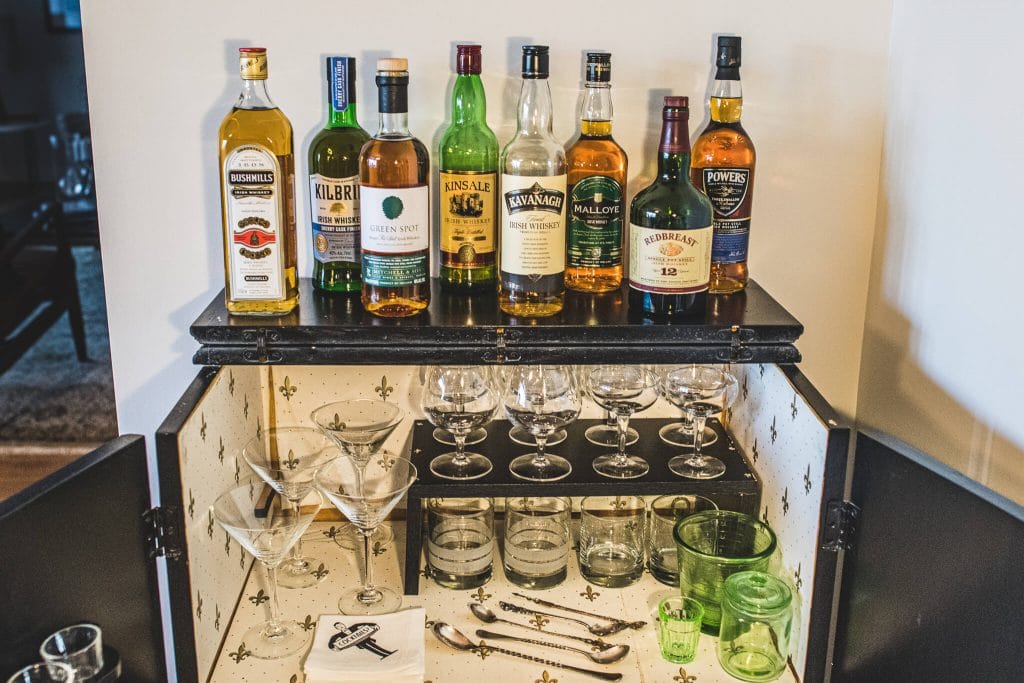 History of Irish Whiskey
The word "whiskey" originated from the Gaelic phrase uisce betha, which means "water of life". This is translated from the Latin phrase aqua vitae, a term used to describe distilled spirits throughout the Middle Ages.
The art of distilling originated in the Mediterranean countries, although it was used for perfumes. Irish monks brought the technique of distilling back to Ireland around 1000 A.D. and modified the technique to create drinkable spirits.
If you were to try whiskey during this time, you would experience something quite different than what you'd taste today. The whiskey was not aged and was often flavored with aromatic herbs such as mint, thyme, or anise. The Whiskey "Irish Mist Liqueur" is a throwback to the ancient times, albeit much better tasting.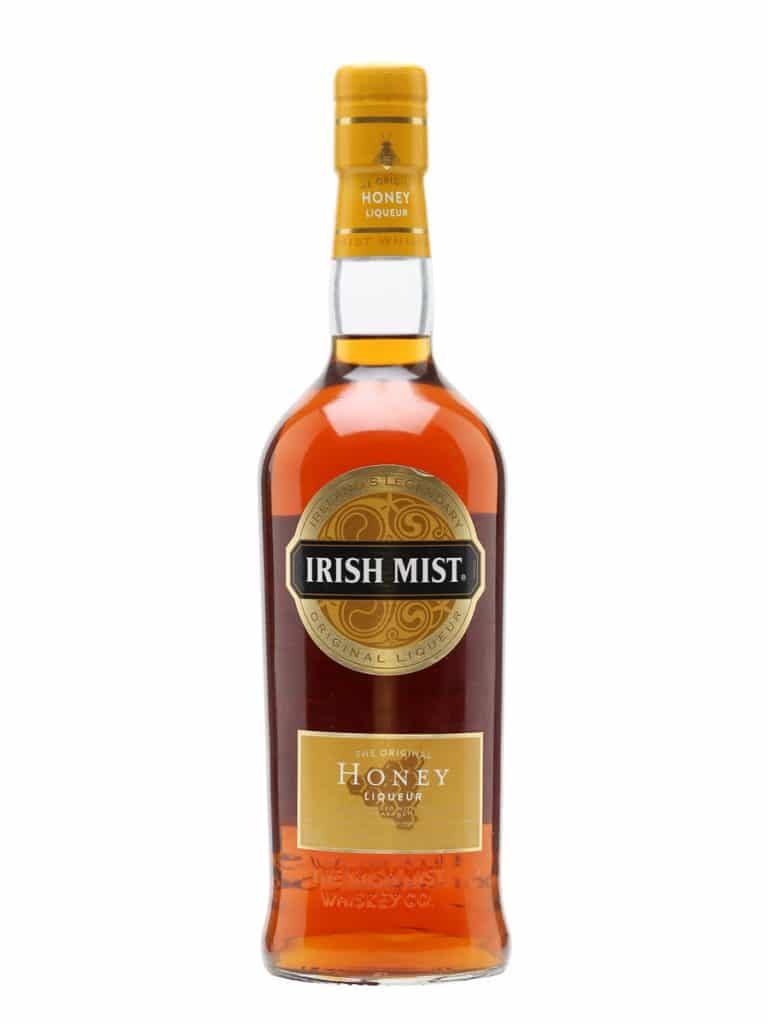 The early years of Irish Whiskey were largely unregulated, with techniques and records passed down through oral tradition. The oldest known written record of Irish Whiskey is found in the Irish chronicle, Annals of Clonmacnoise from 1405. By the mid 1500's, whiskey was on its way to becoming incredibly popular.
Old Bushmills Distillery is the oldest surviving Irish whiskey distillery in the world. King James I granted a license to distill in 1608 to Sir Thomas Philips, landowner in Bushmills, Country Antrim.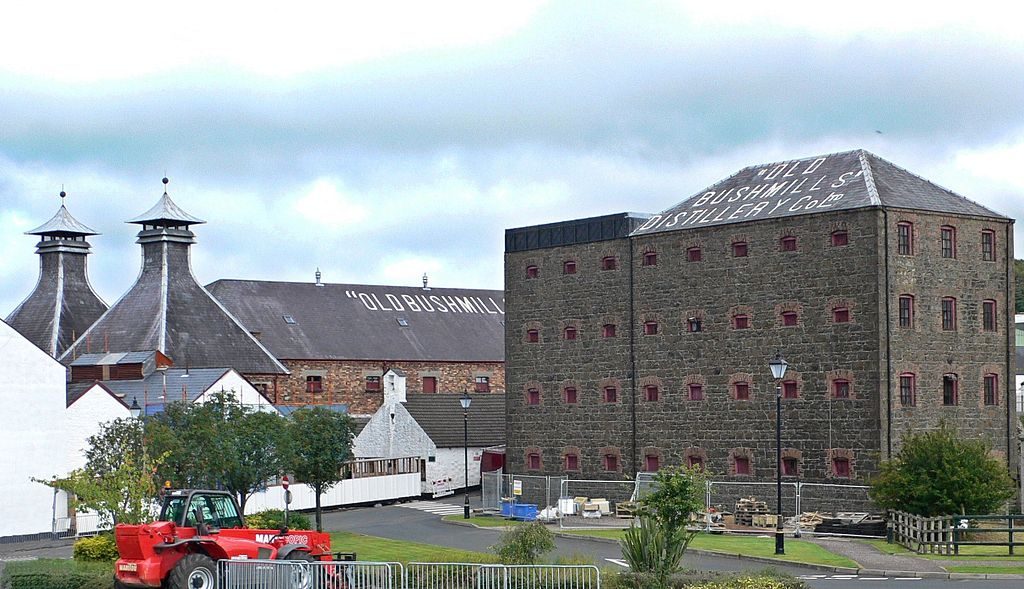 In theory, whiskey distillers were required to register and pay taxes to the British crown, however these laws were rarely enforced. The law introduced two terms for Irish whiskey: Parliament whiskey, whereas the distillers payed their tax, and Poitín, Gaelic for "small pot," a reference to the small pot stills used by illicit distillers. Poitín Irish Whiskey has become a popular marketing term in recent years, despite being very legal and regulated.
The book "The Whiskeys of Ireland" is full of some great history if you'd like to expand your knowledge and dive deeper.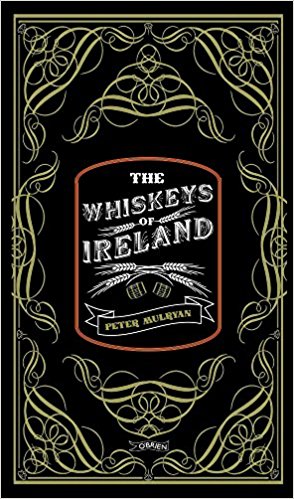 Regulation of Irish Whiskey
To be labeled as a bonafide Irish Whiskey, the following requirements must be met:
Irish whiskey must be distilled on the island of Ireland (comprising the Republic of Ireland and Northern Ireland) from a mash of malted cereals with or without whole grains of other cereals and which has been:

Saccharified by the diastase of malt contained therein, with or without other natural enzymes;
Fermented by the action of yeast;
Distilled at an alcoholic strength of less than 94.8% alcohol by volume in such a way that the distillate has an aroma and taste derived from the materials used;
Subject to the maturation of the final distillate for at least three years in wooden casks, such as oak, not exceeding 700 litres (185 US gal; 154 imp gal) capacity

The distillate, to which only water and plain caramel colouring may be added (E150a), retains its colour, aroma and taste derived from the production process referred to above
Irish whiskey is to have a minimum alcoholic by volume content of 40%
Individual technical specifications for the three varieties of Irish whiskey, "single pot still", "single malt", "single grain", and "blended" whiskey (a mix of these two or more of these varieties) are also outlined in the technical file. The use of the term "single" in the aforementioned varieties being permissible only if the whiskey is totally distilled on the site of a single distillery.
Maturation only takes place on the island of Ireland
Bonus Fact: After realizing that whiskey matured better in already-aged barrels, Europeans began repurposing Spanish sherry casks to age their whiskey. Once these sherry producers started bottling their product before shipping, American bourbon casks replaced sherry casks as an ideal barrel for maturation, leading to bourbon cask-aged whiskey. "Cask-strength" whiskey refers to whiskey bottled directly from the barrel that has not been diluted with water.
Source: "Technical file setting out the specifications with which Irish whiskey / Uisce Beatha Eireannach / Irish Whisky must comply." Food Industry Development Division Department of Agriculture, Food and the Marine October 2014.
Irish Whiskey Distilleries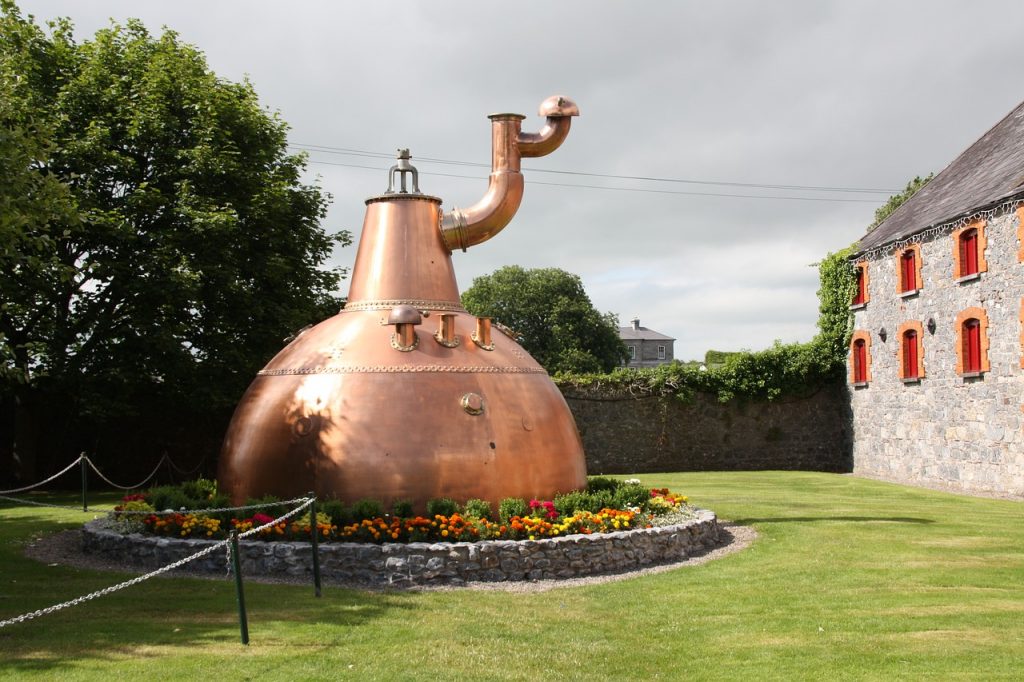 There are currently 16 Irish Whiskey distilleries throughout Ireland. Many are newly established and have not yet been around long enough to sell aged whiskey. In order from oldest to newest:
Kilbeggan Distillery – est. 1757. Located in River Brosna, Kilbeggan, County Westmeath, Ireland. Re-commissioned 2007. A sister distillery of the Cooley Distillery, both were bought by Beam Suntory in 2011. The distillery can also be powered by a steam engine when the river runs low. Produces Kilbeggan, Locke's Blend, and Locke's Malt.
Old Bushmills Distillery – est. 1784. Located in Bushmills, County Antrim, Northern Ireland. Produces a range of blends (Bushmills Original, Black Bush) and single malts (Bushmills 10, 16 and 21 year olds). As of 2014, it has been owned by Jose Cuervo.
New Midleton Distillery – est. 1975. Located in Middleton, County Cork, Ireland. Produces Jameson, Powers, Paddy, Midleton, Tullamore Dew, Redbreast, and others, including the independently sold rarities Green Spot and Yellow Spot.
Cooley Distillery – est. 1987. Located in Cooley Peninsula, County Louth, Ireland. – Along with its sister distillery in Kilbeggan, Cooley produces Connemara, Tyrconnell, Kilbeggan, Greenmore, and 2 Gingers blended whiskeys. It has been owned by Beam Suntory since 2011. Over 300 awards won since opening.
West Cork Distillers – est. 2008. Located in Skibbreeen, West Cork, Ireland. The distillery produces Two Trees Poitín whiskey, whiskey liqueur, vodka, and gin.
Dingle Distillery – est. 2012. Located in Dingle, Gaeltacht, Ireland. Produces Dingle single malt whiskey. Distills gin, vodka and whiskey. The first batches of whiskey were released in late 2016.
Echlinville Distillery – est. 2013. Located in Gransha, Newtownards, Northern Ireland. Echlinville was the first Northern Irish distillery to be granted a distilling license in almost 125 years. The distillery is relaunching the Dunville's brand, previously produced at the Royal Irish Distillery in Belfast. The distillery also produces gin and poitín.
The Connacht Whiskey Company – est. 2014. Located in Ballina, County Mayo, Ireland. Plans to release a single pot still whiskey at the end of 2019. Currently produces gin, vodka and poitín. Also markets a single malt sourced from other distilleries.
The Shed Distillery – est. 2014. Located in Drumshanbo, Co. Leitrim, Ireland. Production began in December 2014. The spirit has not yet aged enough for sale as whiskey. The distillery also produces a gin.
Tullamore Distillery – est. 2014. Located in Tullamore, County Offaly, Ireland. Opened in September 2014, returning production of Tullamore Dew to Tullamore after a break of sixty years. The distillery is owned by William Grant & Son.
Blackwater Distillery – est. 2015. Located in Waterford, Dublin, Ireland. Does not yet have spirit aged for sale as whiskey. Currently produces gins.
The Great Northern Distillery – est. 2015. Located in Dundalk, County Louth, Ireland. John Teeling, founder of the Cooley distillery developed two distilleries on the site of the Great Northern Brewery in Dundalk. The distilleries began operations in 2015.
Rademon Estate Distillery – est. 2015. Located in Downpatrick, County Down, Northern Ireland. The distillery plans to release malt whiskey when it's first mature stocks become available in August 2018. The distillery also produces ShortCross gin.
The Renegade Waterford Distillery – est. 2016. Located in Grattan Quay, Waterford, Ireland. Craft distillery established in a converted Diageo facility. Production of spirit began in January 2016. The distillery will produce a single malt whiskey.
Teeling Distillery – est. 2015. Located in Merchants Quay, Dublin, Ireland. The first new distillery built in Dublin city for over 125 years, it was founded by the Teeling family, who previously established the Cooley Distillery. When the Cooley Distillery was sold in 2011, the Teelings negotiated the purchase of mature stock, which is being used in their whiskeys until mature stock from the new distillery becomes available. Produces Teeling Whiskey, small batch, single grain, and single malt.
Walsh Whiskey Distillery – est. 2016. Located in Clorusk Lower, Carlow, Ireland. An Irish-Italian venture, 50% owned by Illva Saronno the makers of Tia Maria. Produces The Irishman and Writers Tears.
There are 11 more distilleries to be opened, currently in various stages of planning and construction. Over the last 200 years, over 1,000 distilleries have opened and closed across Ireland, and many more operating illegally.
Types of Irish Whiskey
Single Malt Irish Whiskey
Made from malted barley, distilled in a pot still within a single distillery. Can be double or triple distilled.
Single Pot Irish Whiskey
Made from a mixture of malted and unmalted barley, distilled in a pot still within a single distillery. Single pot differs from single malt in that it uses raw, unmalted grain in the mash. Also referred to as "pure pot still" and "Irish pot still whiskey."
Grain Whiskey
Made from continuous distillation in a column or Coffey still, rather than a pot still. Can be produced from a variety of grains. Often used to make a blended whiskey and rarely bottled on its own.
Blended Whiskey
A mixture of the above styles. One of the most common types of Irish Whiskey found in stores.
Best Irish Whiskeys
Choosing the best Irish Whiskey is a very subjective task. This is a very short list of a range of Irish Whiskeys worth trying to wet your palate. Everything on this list is fairly available in the United States. Local-to-Ireland or rare, out of stock releases are the excluded for the purposes of this being an intro to Irish Whiskey lesson.
Redbreast Irish Whiskey 12 Year – $48. Toasted oak, brown sugar and cedar leading into a creamy, wonderfully briny mouthfeel with candied orange peel and vanilla. 96 points.
Bushmills Single Malt 16 Year – $90. Deeper scents of red fruit, soft malt, paraffin, ripe apple and citrus rind appear. Midpalate shows red fruit, apple and butterscotch tastes. Finishes oaky and mild. 95 points.
Jameson 18 Year – $120. Rich honey color, tropical fruit scent with a touch of caramel. Flavor is bright and vibrant, lychee, banana, orange peal tempered by a wash of honey. Finish is dry with nuances of white chocolate banana, leather and nutmeg. 95 points.
Tyrconnell's Sherry Cask 10 Year – $95. Layers bold and lovely dried fruit and hazelnut tones over the existing warm golden-vanilla, 10-year-old whiskey base. 94 points.
Midleton Rare Irish Whiskey – $190. Entry is satiny, potent yet grainy sweet, and honeyed; at the midpalate the flavors include sweet grain, paraffin, salted butter, dry breakfast cereal, toffee, honey and a trace of Sherry. 93 points.
Powers Three Swallow – $50. Spicy, robust, smooth. Delicate scent of herbs, green banana, grapefruit, marzipan. Mouth-coating barley followed by a finish of spicy sweetness and a crisp cereal finish with toasted oak notes. Powers Gold Label is the classic whiskey, but Three Swallows is imbibed with an elevated flavor profile and smoothness. 92 points.
Malloye Irish Whiskey – $20. Sweet but slightly spicy with hints of wood, cherry, and nuts with a vanilla background. 92 points.
Yellow Spot Irish Whiskey – $96. Flavors of coffee, creamy milk chocolate & creme brulee with notes of red apples and toasted oak on the palate. The Red Spot and Green Spot are excellent choices as well 91 points.
Irish Whiskey Recipes



A note on Irish Car Bombs
A drink offensive to anyone outside of America, especially in Ireland, mostly ordered by college-aged morons (yours truly included), is meant to get drunk quickly.
Irish Whiskey Terminology
Barley: Type of whole grain.
Column Still: Also known as a Cofey still. Mash enters near the top and flows downwards. Operates continuously.
Malted Barley: Barley which has soaked in water for several days then dried in a kiln. The barley begins to sprout then the process is stopped, creating sugar, starch, and an enzyme called diastase.
Pot Still: A large kettle or pot which is heated from the bottom. Operates on a per-batch basis.
Still: Apparatus used to distill liquid, by heating to boil then cooling to condense the vapor. Made of copper, as the copper will help rid the spirit of sulfur.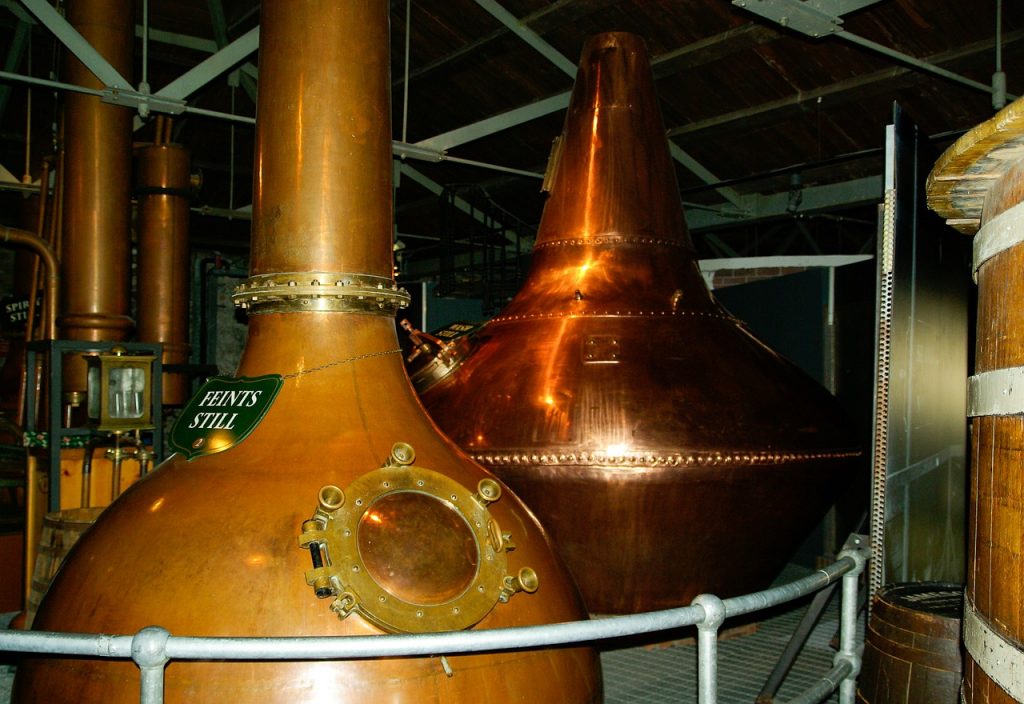 Irish Toasts
General Toasts
Sláinte! Pronounced slawn-cha, meaning Health! A popular toast in Ireland, the equivalent to Cheers.
A bird with one wing can't fly. —said to encourage someone to take a second drink
It is better to spend money like there's no tomorrow
than to spend tonight like there's no money!
That the tap may be open when it rusts!
My friends are the best friends
Loyal, willing and able.
Now let's get to drinking!
All glasses off the table!
Here's to a long life and a merry one.
A quick death and an easy one.
A pretty girl and an honest one.
A cold pint– and another one!
Here's to a temperance supper,
With water in glasses tall,
And coffee and tea to end with–
And me not there at all!
When money's tight and hard to get,
and your horse is also ran,
When all you have is a heap of debt,
a pint of plain is your only man.
Here's to being single…
Drinking doubles…
And seeing triple!
I drink to your health when I'm with you,
I drink to your health when I'm alone,
I drink to your health so often,
I'm starting to worry about my own!
Here's to women's kisses,
and to whiskey, amber clear;
Not as sweet as a woman's kiss,
but a darn sight more sincere!
Saint Patrick's Day Toasts
Saint Patrick was a gentleman,
Who through strategy and stealth,
Drove all the snakes from Ireland,
Here's a toasting to his health.
But not too many toastings
Lest you lose yourself and then
Forget the good Saint Patrick
And see all those snakes again.
'Beannachtam na Feile Padraig!'
Happy St. Patrick's Day!
Christmas Toasts
Nollaig shona duit!
Happy Christmas!
Nollaig faoi shéan is faoi shonas duit.
A prosperous and happy Christmas to you.
May peace and plenty be the first to lift the latch on your door, and happiness be guided to your home by the candle of Christmas.
New Year's Toasts
Go mbeire muid beo ar an am seo arís.
May we be alive at this time next year.
Athbhliain faoi mhaise duit!'
A prosperous New Year!
In the New Year, may your right hand always be stretched out in friendship but never in want.
Irish Wedding Toasts
Sliocht sleachta ar shliocht bhur sleachta.
May there be a generation of children on the children of your children.
Health and long life to you, land without rent to you, a child every year to you, and death in Old Ireland.
May the roof above you never fall in,
And those gathered beneath it never fall out.
Here's to health, peace and prosperity. May the flower of love never be nipped by the frost of disappointment, nor shadow of grief fall among your family and friends.
May you be poor in misfortune, rich in blessings, slow to make enemies and quick to make friends. And may you know nothing but happiness from this day forward.
May your home always be too small to hold all your friends.
May I see you grey and combing your grandchildren's hair.
Sláinte go saol agat,
Bean ar do mhian agat.
Leanbh gach blian agat,
is solas na bhflaitheas tareis antsail seo agat.
Health for life to you,
A wife of your choice to you,
Land without rent to you,
A child every year to you,
And the light of heaven after this world for you.
Here's an Irish toast to your wedding:
May the roof over your heads be as well thatched
As those inside are well matched.
Birthday Toasts
May you live to be 100 years, with one extra year to repent.
We drink to your coffin. May it be built from the wood of a hundred year old oak tree that I shall plant tomorrow.
May God grant you many years to live, for sure he must be knowing, the earth has angels all too few and heaven is overflowing…
May the doctor never earn a pound out of you.
May the good Lord take a liking to you…
But not too soon!
May you die in bed at 95, shot by a jealous spouse.
Pin this article!
About the Author
Latest Posts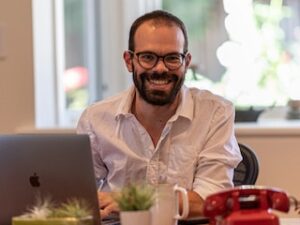 I strive to paint vivid landscapes with my words, bringing the magic of far-off lands and enchanting aromas to life for my readers. Combine passion for exploration and the art of gastronomy in an unending ode to the senses. When I'm not traversing the globe, I find solace in the earth beneath my fingertips, tending to my garden and working on projects around my verdant oasis. MK Library serves as a beacon, guiding fellow travelers and homebodies alike to embrace sustainability, nurturing both our planet and our souls with purpose. Full Bio.