Happy Paddy's Manhattan is a spectacular modern remake of the classic Manhattan cocktail using Irish Whiskey as the base. Best served as an aperitif or evening cocktail, this Manhattan derivative will inspire thoughts of a magical Irish journey. Allow each sip of absinthe and chartreuse to take turns dancing Irish jigs on your taste-buds. As you drink this cocktail, the citrus oils of peeled blood orange and bitters is surely to invoke fond winter memories. This is by far my favorite cocktail to celebrate St. Patrick's Day with.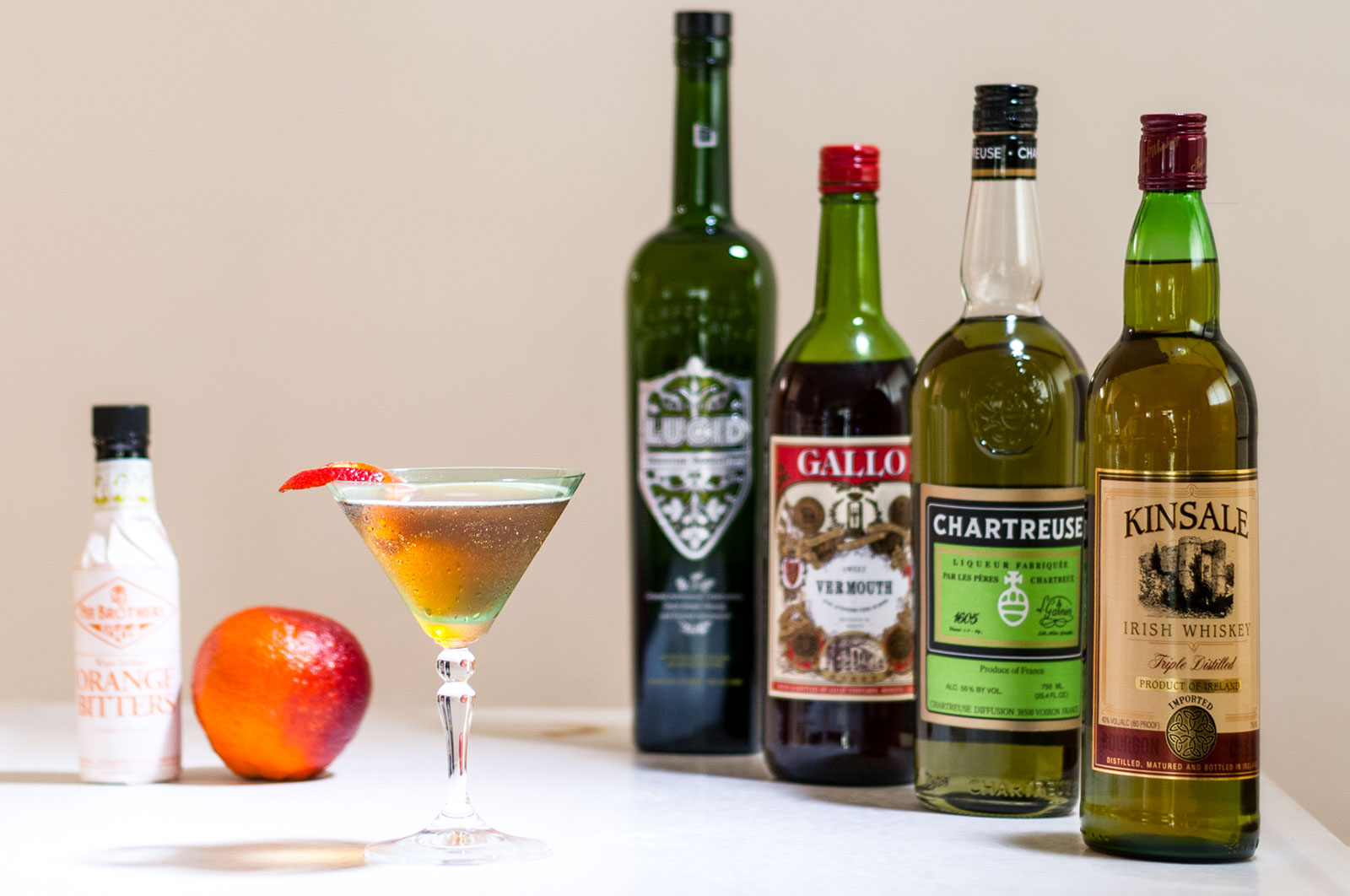 This is the perfect time to address some Irish holiday terminology. Saint Patrick's Day? Patty's Day? Paddy? Woe be the the Irish and amateur alcoholics drinking in honor of Saint Patrick amongst endless green dye using the name Paddy. Patrick is an Old English name. Patty is diminutive of a burger or a woman named Patricia. Not something you want to call an Irish lad. Paddy is a nickname derived from the Irish name Pádraig, a very masculine name. It comes on very good authority that there isn't a single person in all of Ireland whom would refer to their friend Patrick as Patty. If you're daft, you'll continue using Patty improperly. If you're grand, Paddy, Pat, Packie, Podge, Pád, and Pod are all acceptable nicknames.
For the sake of keeping to a modern cocktail which celebrates Irish culture, I chose Kinsale Irish Whiskey. This balanced whiskey blend is a silver medal winner in the 2017 San Francisco Spirits Competition and runs about $20/bottle. Kinsale holds a lot of significance in the culture of distilling whiskey. Located in County Cork, Kinsale is one of the oldest towns, hailed as the Gourmet Capital of Ireland. The town also just so happens to reside on the Irish Whiskey Trail. It is only here in Kinsale where you can find a whiskey cask with three ends. To learn more about Irish Whiskey culture and distillery locations, check out my other post, Introduction to Irish Whiskey.
While sweet vermouth is usually the only other ingredient found in a Manhattan, I wanted to add some complexity while still paying homage to the original cocktail. Using small amounts of chartreuse and absinthe, a smooth layer of herbal texture comprised of anise and fennel is brought into the mix.
Chartreuse is the only liquor in the world with a completely naturally green color. Made by Carthusian Monks in France since the 1700's, this distilled alcohol is aged with 130 herbs, plants, and flowers. This is one of the very few liquors which age well and continue to improve in the bottle.
The absinthe I chose to pair with the rest of the ingredients in this cocktail is Lucid, a genuine absinthe made with real Grande Wormwood. You won't hallucinate, but this elixir is made with traditional French methods and pays homage to centuries of tradition – perfect to incorporate into celebration of St. Patrick's Day. There are no artificial additives, oils, or dyes in this bottle. The use of such a strong herbal liquor turns the cocktail into a drink with a moderately long finish.
For the sake of aromatics and adding a bit of color, orange bitters and the blood orange oils adds a delightful layer of complexity to the drink. The blood orange is a less acidic hybrid of a tangerine and pomelo, compared with a standard orange. Releasing the oils as you make this cocktail will fill your nostrils with notes of citrus, raspberry, and strawberry. While agnostura bitters are used in a classic Manhattan, I switched to Orange Bitters to add to the citrus notes and mellow out the herbal complexities of the other liquors used.
All in all, this is an exceptional cocktail and I am very, very pleased with how it turned out. I'll be making plenty of these to celebrate St. Patrick's Day!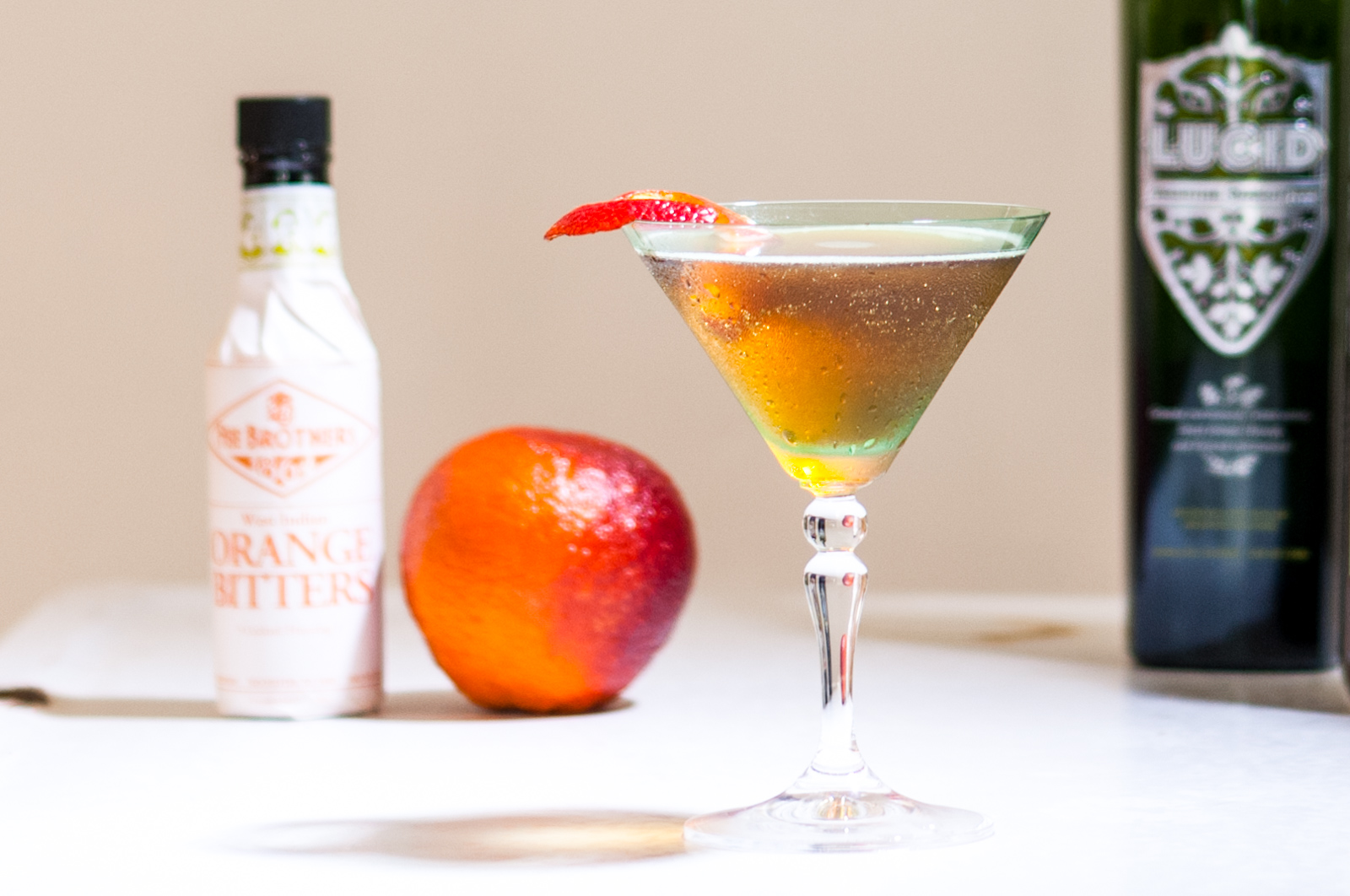 Cost to make this cocktail:
Kinsale Irish Whiskey – $20
Sweet Vermouth – $13
Lucid Absinthe – $58
Chartreuse Green – $53
Orange bitters – $7
Blood orange – $2
Happy Paddy's Manhattan
Happy Paddy's Manhattan is a spectacular spirit forward modern classic of an Irish whiskey cocktail.
Ingredients
1 1/2

oz

Whiskey

Irish whiskey

1 1/2

oz

Vermouth

Sweet

1/2

oz

Chartreuse

1/3

oz

Absinthe

3

dashes

Orange bitters

1

peel

Blood orange
Instructions
Add all liquid ingredients to a shaker and fill with ice

Rub the blood orange rind peel on the inside of glass to release oils

Shake and strain into a chilled cocktail glass

Garnish with blood orange peel
Nutrition
Serving:
1
g
Calories:
207
kcal
Carbohydrates:
9
g
Protein:
1
g
Sugar:
6
g
Tried this recipe?
Let us know how it was – tag @themklibrary on the socials!
More Irish Whiskey Cocktails


Pin to Pinterest
About the Author
Latest Posts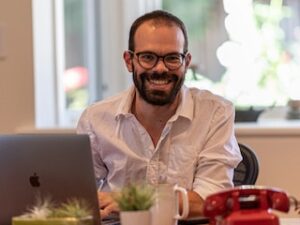 I strive to paint vivid landscapes with my words, bringing the magic of far-off lands and enchanting aromas to life for my readers. Combine passion for exploration and the art of gastronomy in an unending ode to the senses. When I'm not traversing the globe, I find solace in the earth beneath my fingertips, tending to my garden and working on projects around my verdant oasis. MK Library serves as a beacon, guiding fellow travelers and homebodies alike to embrace sustainability, nurturing both our planet and our souls with purpose. Full Bio.