FTC Disclosure: This post is sponsored by Autotrader. All thoughts and opinions are my own. @Autotrader #AutotraderGreatEscape #LifeInDrive
Embarking on a Plumas County road trip is a spectacular summer activity option for anyone needing to get away from home for a day, or even several days. From a driving perspective, there are some breathtaking roads to intertwined with surrounding counties which bring you to this tree-filled magical place. The sights and towns of Plumas County are home to those who appreciate the quiet moments of nature, creating no shortage of excellent getaway destinations.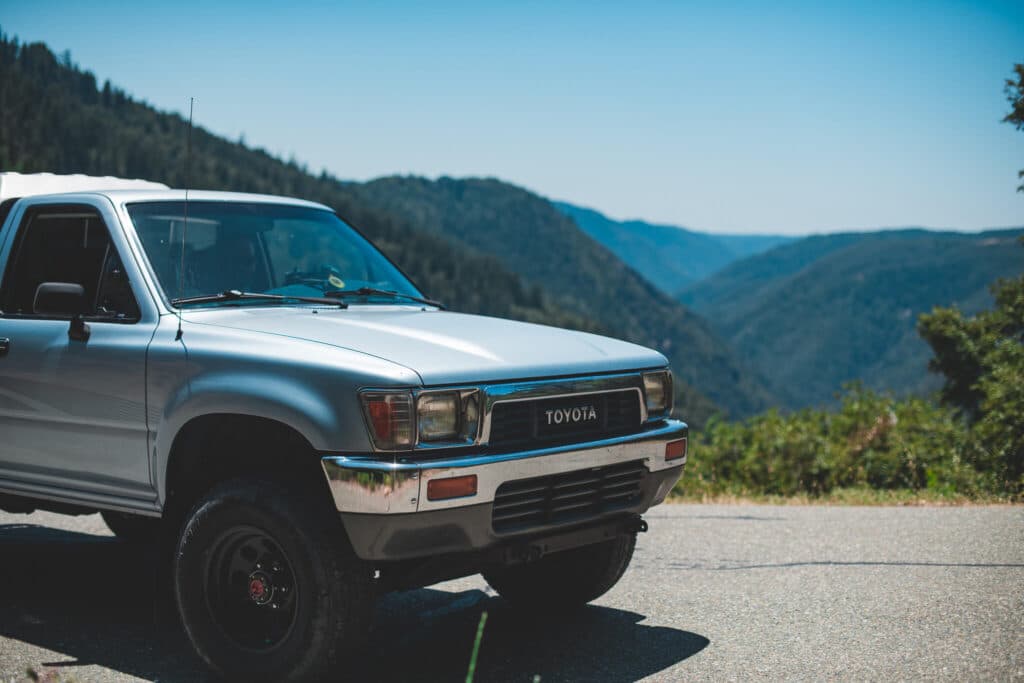 Before you go on your own road trip, check out some of the tips Autotrader has on their own blog. We are in a different world now, and there is some helpful advice around COVID-19 Autotrader has provided.
Driving Through Plumas County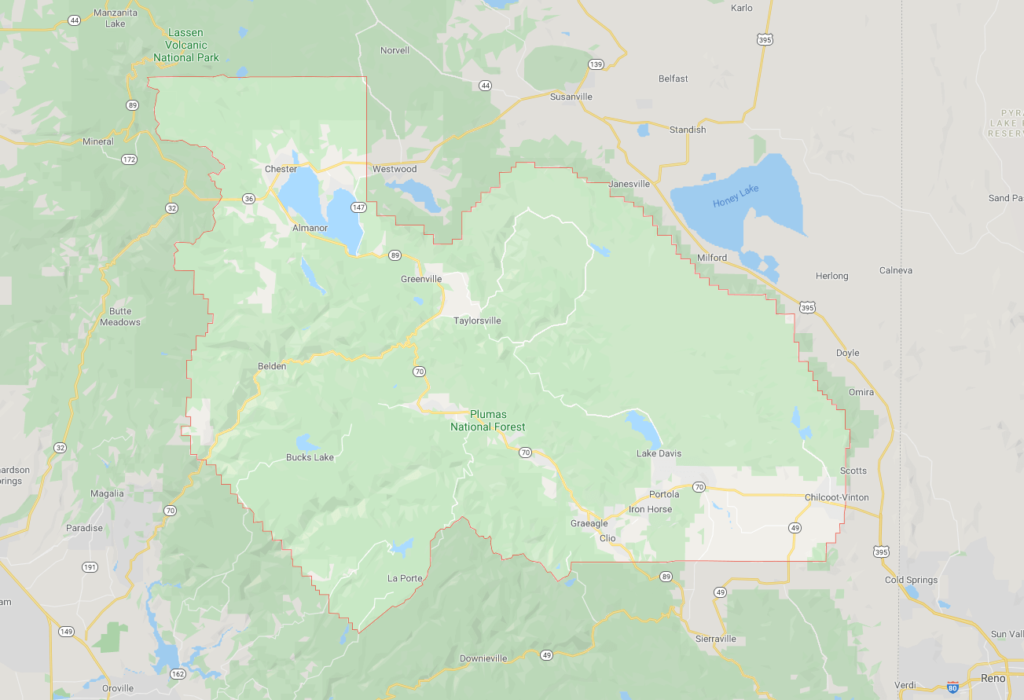 No matter which direction you are coming from, Plumas County is home to some really amazing California roads.
Driving from Sacramento will take you along one of my favorite driving loops. A nonstop eight hour drive, at 419 miles, this will be nearly a full tank of gas with most cars. Treat my loop as a source of inspiration for your own road trip.
Choose the landmarks and stops which resonate with you, and modify your own route base on your starting point and how long you want to get away.
Starting from Interstate 80, head Northeast past Colfax and just past Emigrant Gap until you get to Highway 20. The Emigrant Gap marker is a fun place to stop and stretch your legs. In the 1800s, wagons would come through this same ridge through the Sierra Nevada Mountains as pioneers emigrated to California. Directions here.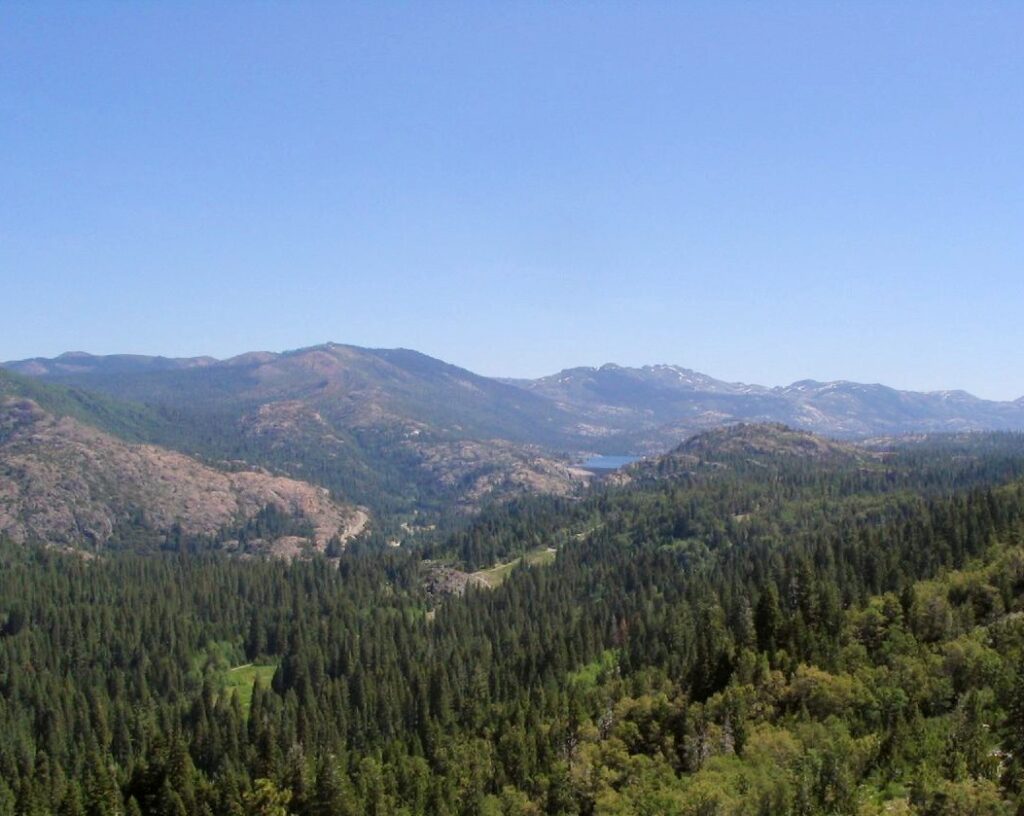 Heading West on Highway 20, you'll find yourself weaving along North Fork Deer Creek. There are a ton of overlooks and vistas to stop at. If you look carefully, you will be able to spot a few small aqueducts in the area.
Right before you get to Nevada City, there is a 0.8 mile trail called Rock Creek Nature Trail Loop. This is another great short option to stop at. Wheelchair accessible and full of shady nature, you have no excuse not to go for a walk in the woods! Info on the trail.
As you drive through Nevada City, resume heading North up Highway 49. You'll cross the Yuba River multiple times, which is home to some pretty unique bridges.
The South Yuba River Bridge, also known as Hoyt Crossing, has some excellent swim holes during the summer to dip your feet into. Directions here.
Continuing on just a bit further along 49, you'll soon cross the Yuba River once more, this time where the Oregon Creek Covered Bridge resides. Built around 1860, this is one of the few covered bridges you'll find in California.
Officially, it is considered a covered singular howe pony truss bridge. While light vehicle traffic is allowed, it is certainly worth getting out of your automotive vehicle for. Directions here.
Past the covered bridge, continue up 49, where you will find views of the nearby creeks, including Oregon Creek, Willow Creek, and Mississippi Creek.
Eventually, you will find yourself in Downieville, which is a really cool quaint town. There are a few places to stop, including a cafe/deli type place and a grocery store. I've always enjoyed stopping here to get a snack. If you are interested in turning this trip into more than a day trip, Downieville has some very picturesque resorts along the river.
Fun fact: Downieville was the first state capital of California.
As you cross the bridge through Downieville, you'll follow along the Yuba River for another 45 minutes or so, beyond the Sierra Buttes North, and you will get to Highway 89.
If you want to include a side trip for some pretty tall waterfalls that are fairly easy to get to, make a left onto Gold Lake Highway and head for Frazier Falls. Info and directions.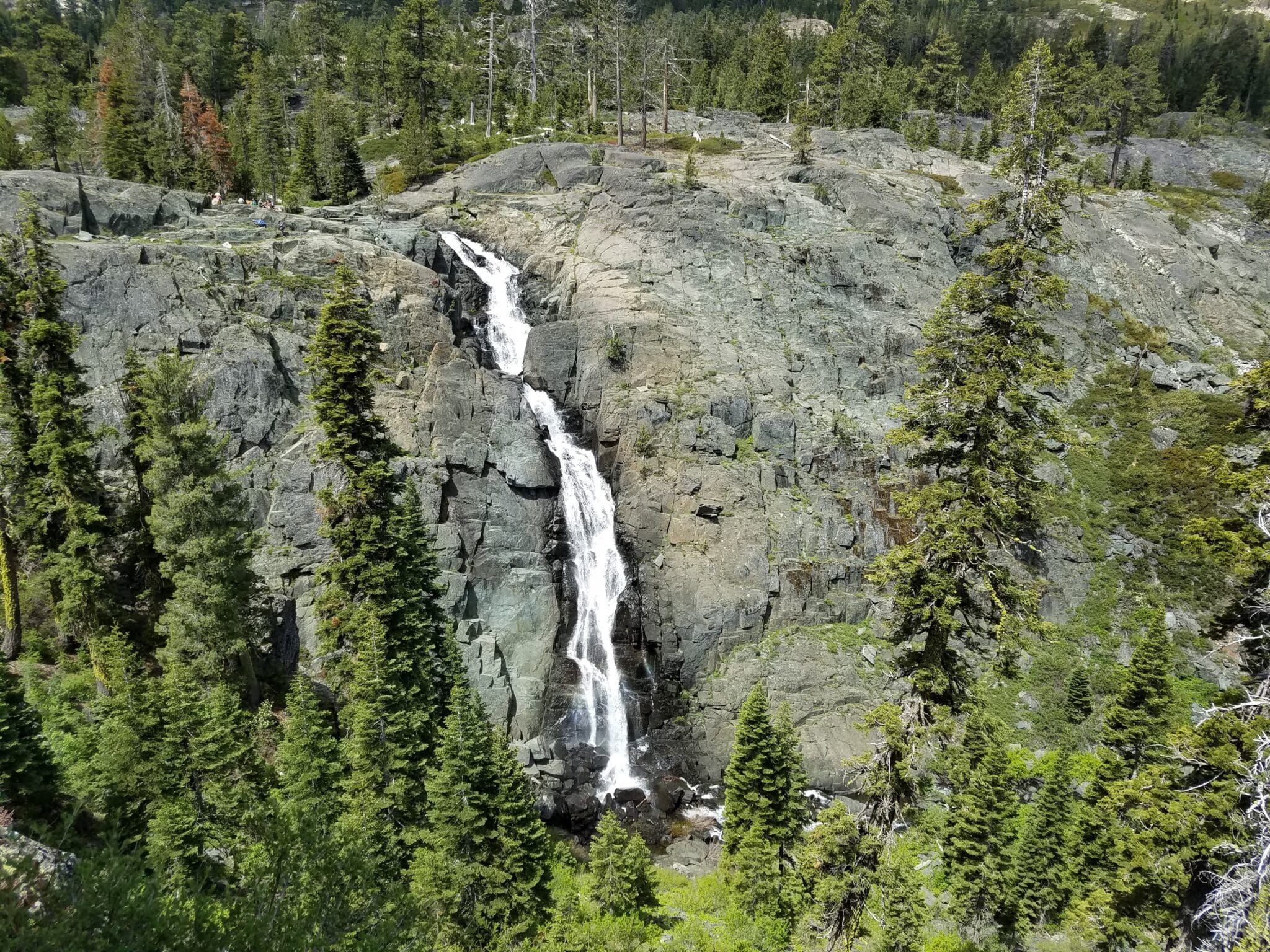 One of the gateways to Plumas County, you will switch from driving along the Yuba River to the Feather River. The road from 89 to 70 is fairly short, a mere 20 miles. Dead ending at Highway 70, you can continue up North, or go for an extra scenic route along the Walker Mine Road, which follows Little Grizzly Creek. Both roads will take you to through some incredible views.
Taking Highway 70 will showcase gorgeous granite river banks along the Feather River. I never get tired of gazing out the window along this road. There are numerous bridges and one lane roads to venture down should you seek a little off the beaten path trip.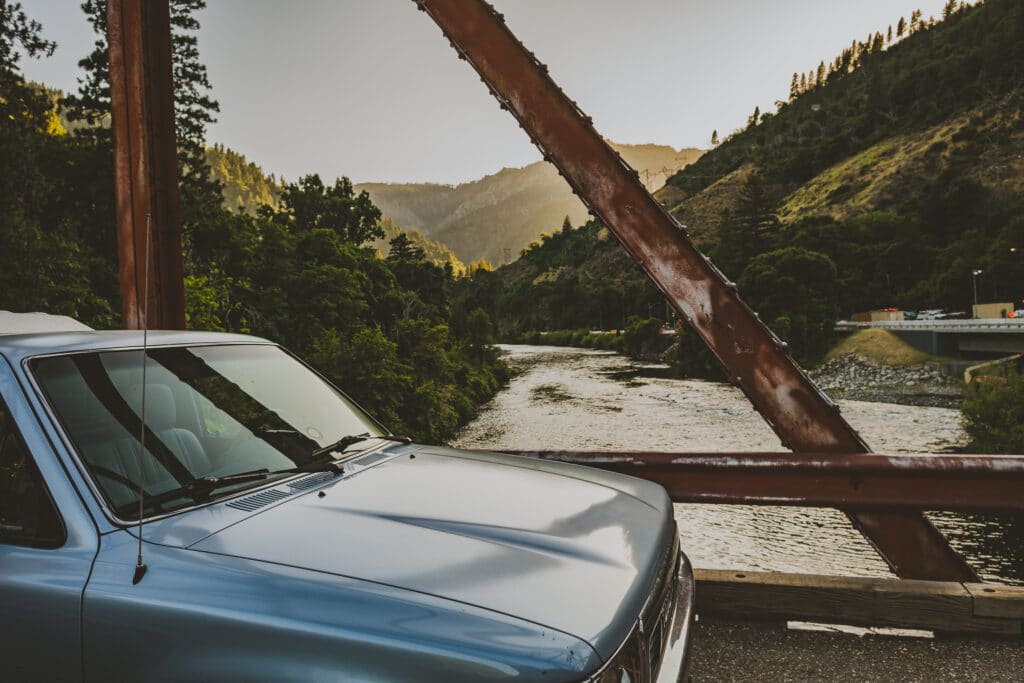 The road Walker Mine Road along Grizzly Creek is a little less secluded and will take you straight through the wonderful town of Taylorsville.
Taylorsville, while small, is full of rich history for the surrounding Indian Valley. Grab some snacks from Young's Market, be sure to check their cash register. If you aren't driving anywhere for a while, check out the Taylorsville Tavern, which is renowned throughout Plumas County.
Whether you are continuing your adventure from Taylorsville or coming up from 89, head over to Indian Falls. These particular falls are one of my favorites in Northern California for the soundscape. It is so easy to get lost in your own thoughts with the sounds of the water falling and cascading over the rocks below. There is ample room to swim below the falls and breathe in the nature around you.
From here, Highway 89 takes you to Lake Almanor. Anywhere from 20 to 40 minutes, depending on where you want to end up, this entire area is full of excellent campgrounds. With views of Lassen in the distance, this is one of my favorite spots in Plumas to enjoy a sunset.
As shown in my initial map, I loop around Lake Almanor, then go back down 89 and follow 70 towards 99. The drive from Indian Falls down to Lake Oroville continues with endless views of the river. There are a lot of old PGE Powerhouses and hydroelectric stations which are interesting to observe.
This is officially known as the Feather River National Scenic Byway.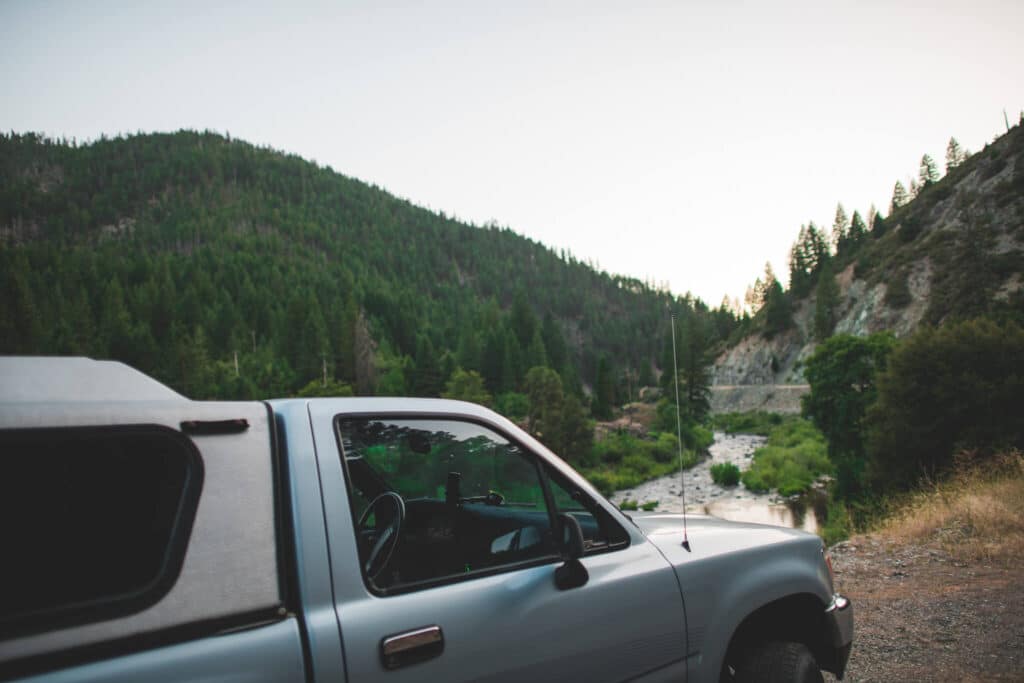 Once you reach 99, its a near straight shot back to Sacramento. I must admit, this part of the drive pales in comparison to the last 340 miles driven, but it can be a nice reprieve from mountain-driving and plenty of gas stations to stop at to refuel.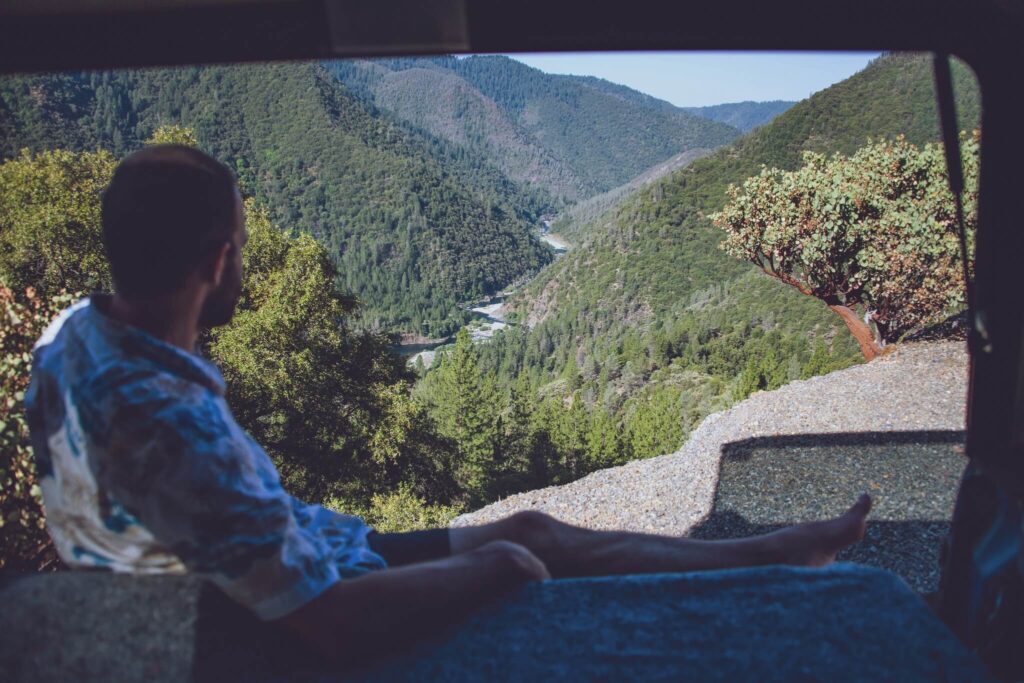 Keys to a Successful Road Trip
Your car is the key to what will make your road trip successful. From fuel efficiency, a comfortable ride, and an interior with plenty of room for your loved ones and road trip essentials.
Autotrader has an article on the 10 Best Car Interiors of 2020, which includes one of my favorites, the 2020 Toyota Rav4.
A variety of snacks and beverages are another key item. When you're spending a full day on the road, bringing along a good assortment will help keep you occupied and excited about taking breaks. I try to stick to items that don't need too much refrigeration and don't make a mess. This is also a great opportunity to try some fun beverages you may not have experimented with yet. Some snack ideas for you:
Fruit like grapes or apple slices which won't stain if dropped
Energy or granola bars, precut into 1/4ths
Coconut water
Kombucha flavors not yet tried
Cured meats like prosciutto
Assorted nuts
Make sure to bring a bag to serve as a trash for discarded wrappers or other items to discard when you get home.
Know in advance what your car's fuel economy and driving range look like. Look for a gas station or two along your route for planned fuel stops. Expect some extra breaks and straying off your planned itinerary when calculating your driving range. If you don't know your exact specs offhand, you can use the Autotrader model research tool to help you learn more about how far you can drive.
The most important thing to remember on any road trip is you're there to have fun. Relax and enjoy your time behind the wheel. Don't worry about other drivers around you, but also be courteous and use pull-outs so you can spend more time enjoying the sights along the road. Don't be afraid to turn down a road that looks interesting – sometimes it will be epic and sometimes you'll find nothing. Don't forget to breathe and smile. Enjoy your life in drive!
Further reading:
Pin this:
I strive to paint vivid landscapes with my words, bringing the magic of far-off lands and enchanting aromas to life for my readers. Combine passion for exploration and the art of gastronomy in an unending ode to the senses. When I'm not traversing the globe, I find solace in the earth beneath my fingertips, tending to my garden and working on projects around my verdant oasis. MK Library serves as a beacon, guiding fellow travelers and homebodies alike to embrace sustainability, nurturing both our planet and our souls with purpose. Full Bio.