This is the simplest, healthiest, and quickest recipe for pickled red onions. Tangy and delicious, these pickled onions add the perfect bite to a whole host of meals, from ceviche to tacos. Don't be afraid to just snack on them straight from the jar!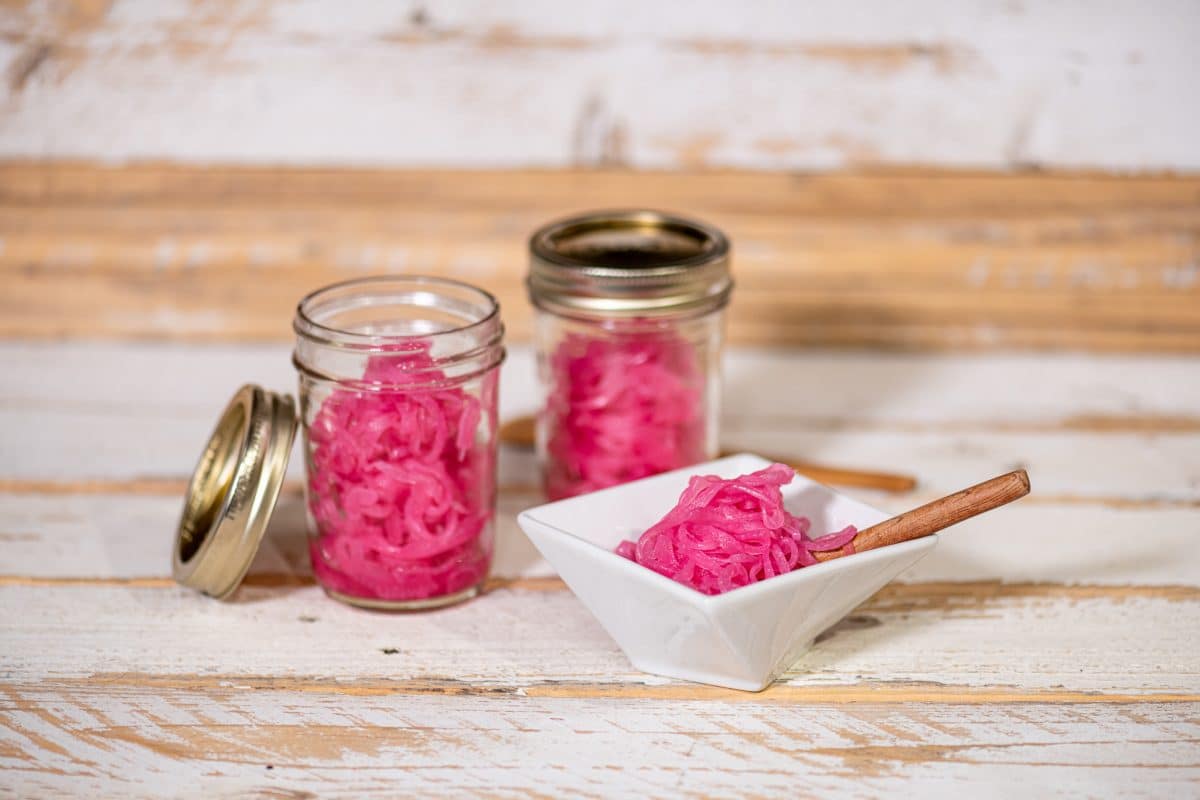 Why You'll Love Pickled Red Onions
Easy + Simple. With only three ingredients, this is one of the simplest pickled onion recipes.
Onion + Citrus. Pickled onions made with lime juice elevate any meal with a hint of citrus.
Quick. These quick-pickled onions are ready to eat after marinating for just 1 hour in the fridge.
Prefer a quick look through the recipe steps? Watch this story instead!
Pickled Red Onion Ingredients
Red onion – You'll only need about one large red onion. Slice the onion as thinly as you can, using either a sharp knife or a mandoline slicer.
Limes – Acid is the magic pickling ingredient. While most recipes call for some type of vinegar, the acidity in the lime juice works just as well and you get a bonus hit of citrus flavor.
Salt – Salt is the second key ingredient in the "quick pickling" process, as it helps break down the raw onion.
Water – The water is for slightly cooking the raw onion slices so that they are even more permeable and soak up more of the lime/salt mixture.
Lime Juice vs. Vinegar
So what's the difference between citrus and vinegar? Vinegar contains acetic acid. Fruit contains citric acid. They're different products from different processes and they taste vastly different. The acetic acid in vinegar comes from bacteria metabolizing alcohol. Citrus fruits produce their acid themselves.
This particular version of pickled red onions calls for lime juice only. The acidity and flavor of the lime juice balance out the strong onion taste, making these your new go-to garnish for any dish. In a pinch, you could substitute some of the lime juice for apple cider vinegar, but I've found the lime juice to be far superior and versatile.
Simple Ingredients for Your Health
This recipe for pickling the red onions is meant to be dead simple and easy. You get all of the flavors of the red onion and lime juice without complicating the recipe with other unnecessary ingredients.
I went through dozens of other recipes in searching for different methods and alternatives and was horrified at some of the recipes out there. This is a recipe with less than 100 calories. Other recipes which incorporate numerous spices, vinegar, and sugars end up with upwards of 700 calories.
I'm of the strong opinion any other spices and additives should be saved for the main meal itself. This gives you a more versatile base without limiting you to clashing flavors.
Using a Mandoline Slicer
This is the mandoline slicer I use.
When preparing your red onions, slicing them with a mandoline will help you with a more consistent slice and also allow you to get the onions as thin as you need. You can go from paper-thin translucent to 9 mm. I love the texture of a thinner onion slice, especially when incorporated into other dishes or layered as a beautiful garnish.
The mandolin slicer is an effective, yet potentially dangerous tool. This one includes cut-resistant safety gloves and a food holder. It is easy to get momentum going and suddenly slice yourself. I've heard stories from many chefs about cut fingertips. I did forego the gloves for the sake of taking photos at the same time but rest assured, as soon as I got a couple of shots, the safety tools were back in use.
Storing Pickled Red Onions
Make sure to store your pickled foods in a glass, ceramic, or plastic container. Using aluminum metal containers with acidic food causes a reaction that leeches metal into your foods. If you have those stainless steel containers restaurants use, those are safe for food storage.
I use ceramic mixing bowls and glass containers for storage, but you could also just pickle the onions inside of your glass storage and save some dishes. The onions will last at minimum a week, and possibly up to several weeks. If they last longer than that, you aren't eating them fast enough!
How to Make Pickled Red Onions
STEP 1: Slice the onion.
Start boiling several cups of water. Peel an onion and quickly rinse under water to remove excess sulfur and reduce eye irritation. Thinly slice the peeled onion with the mandolin slicer. Put slices into a large bowl.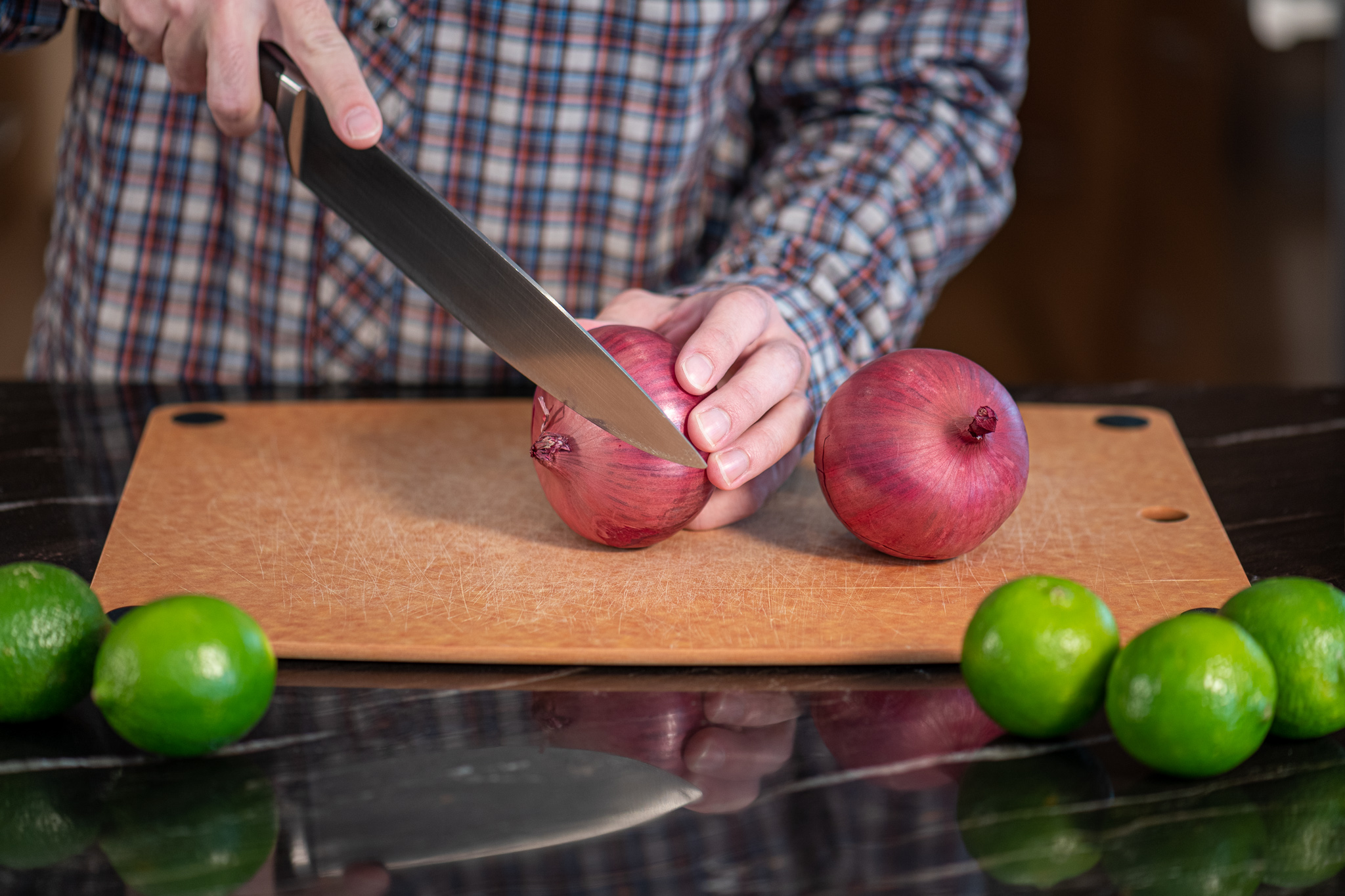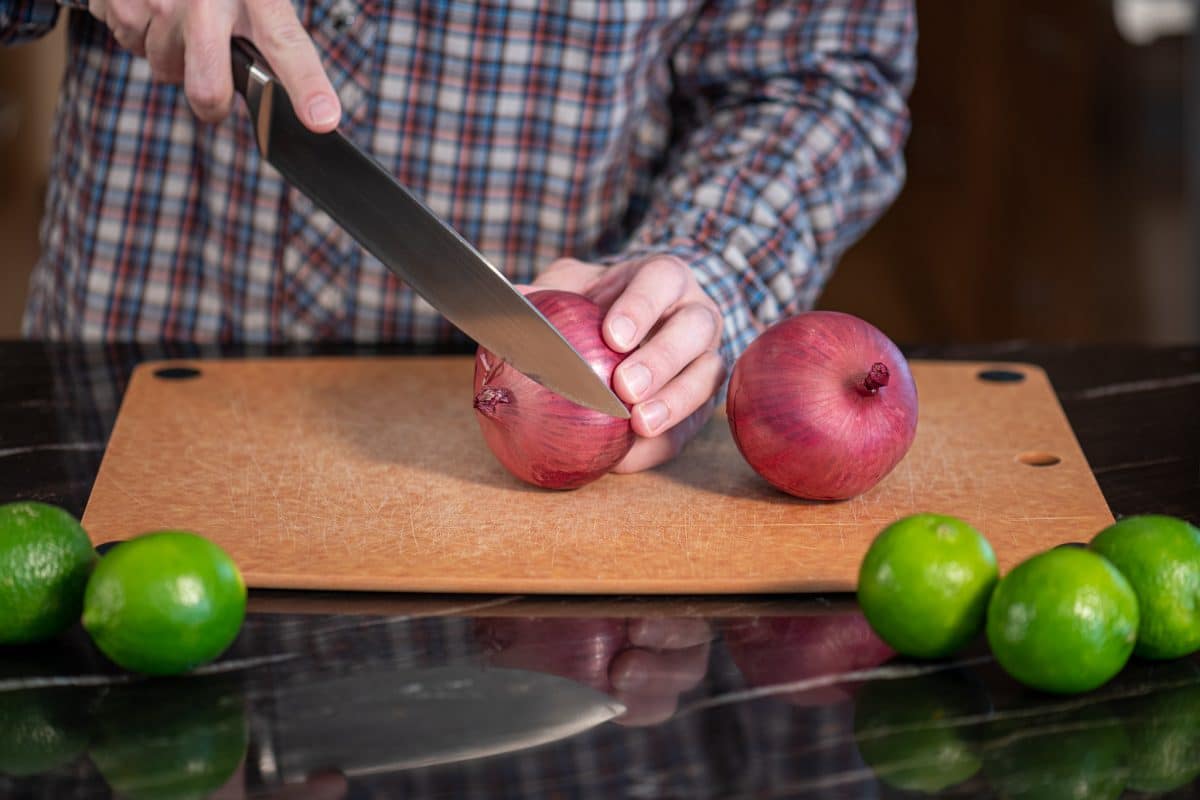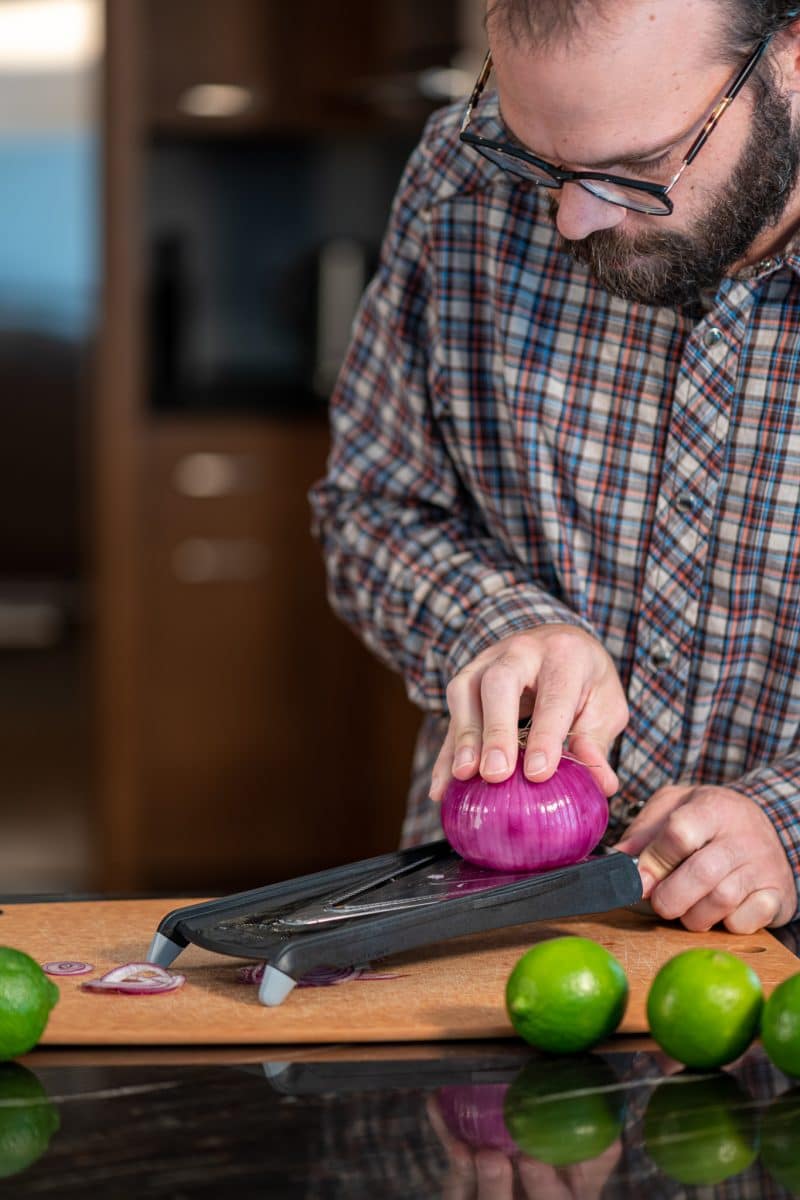 STEP 2: Juice the limes.
Juice 3-4 limes until you have 1/2 cup of juice.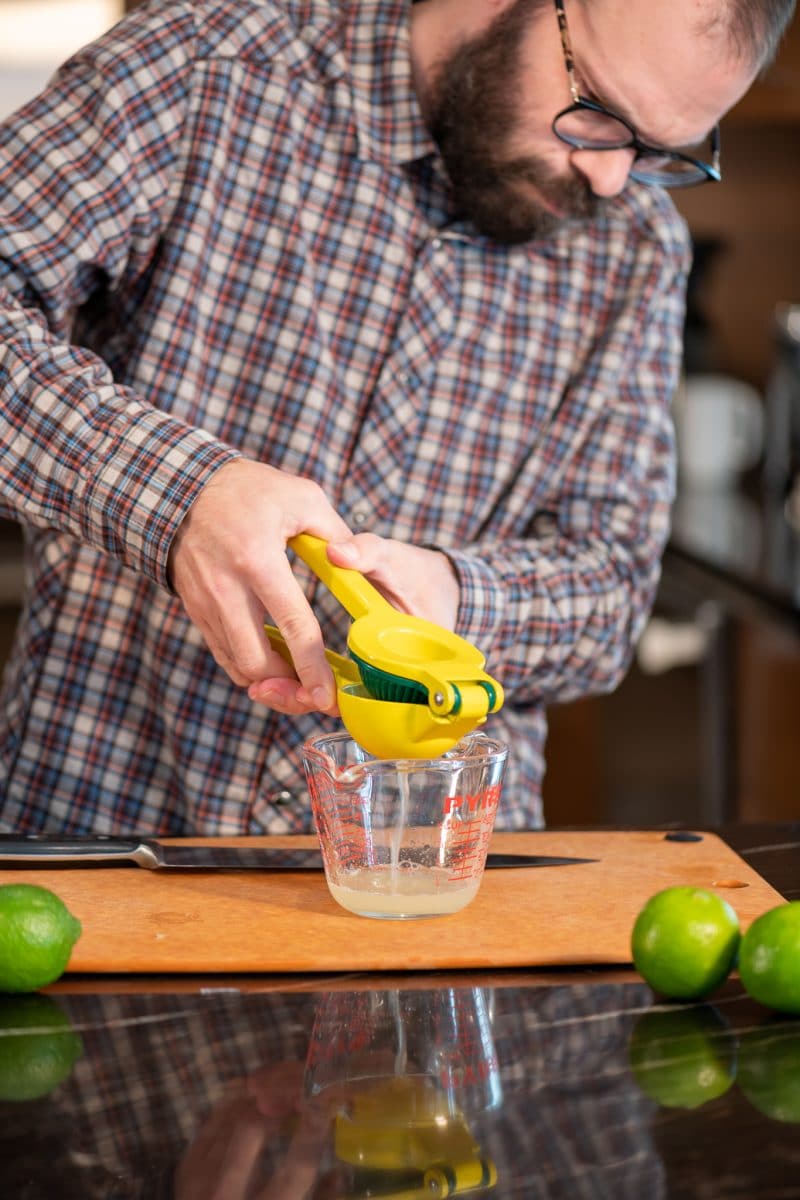 STEP 3: Soak the onion.
Slowly pour the boiling water over the onions until they are fully submerged. Soak the onion slices for 10 seconds and then drain. Gently shake the onions and pat with a cloth towel to dry the excess water.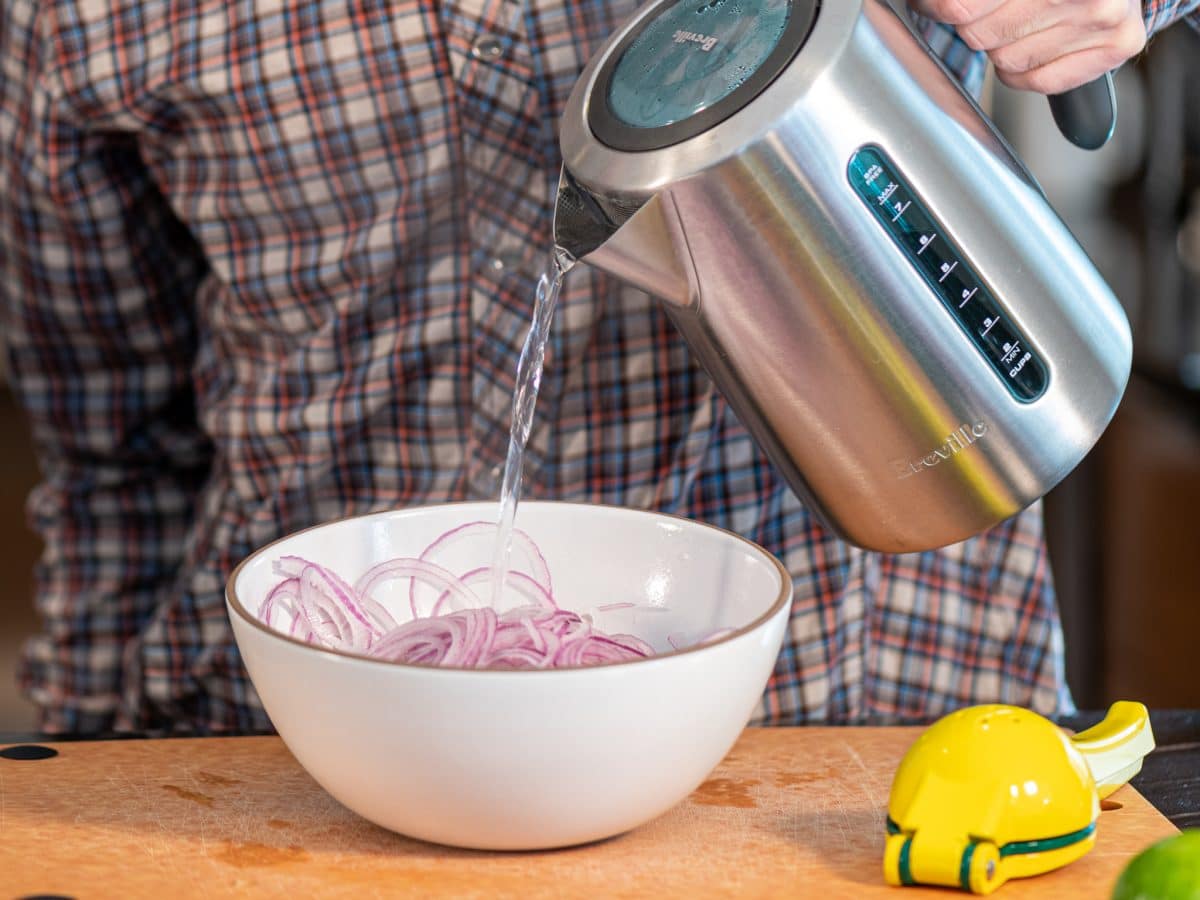 STEP 4: Add the juice.
Put the onions back into the mixing bowl, and pour in the lime juice.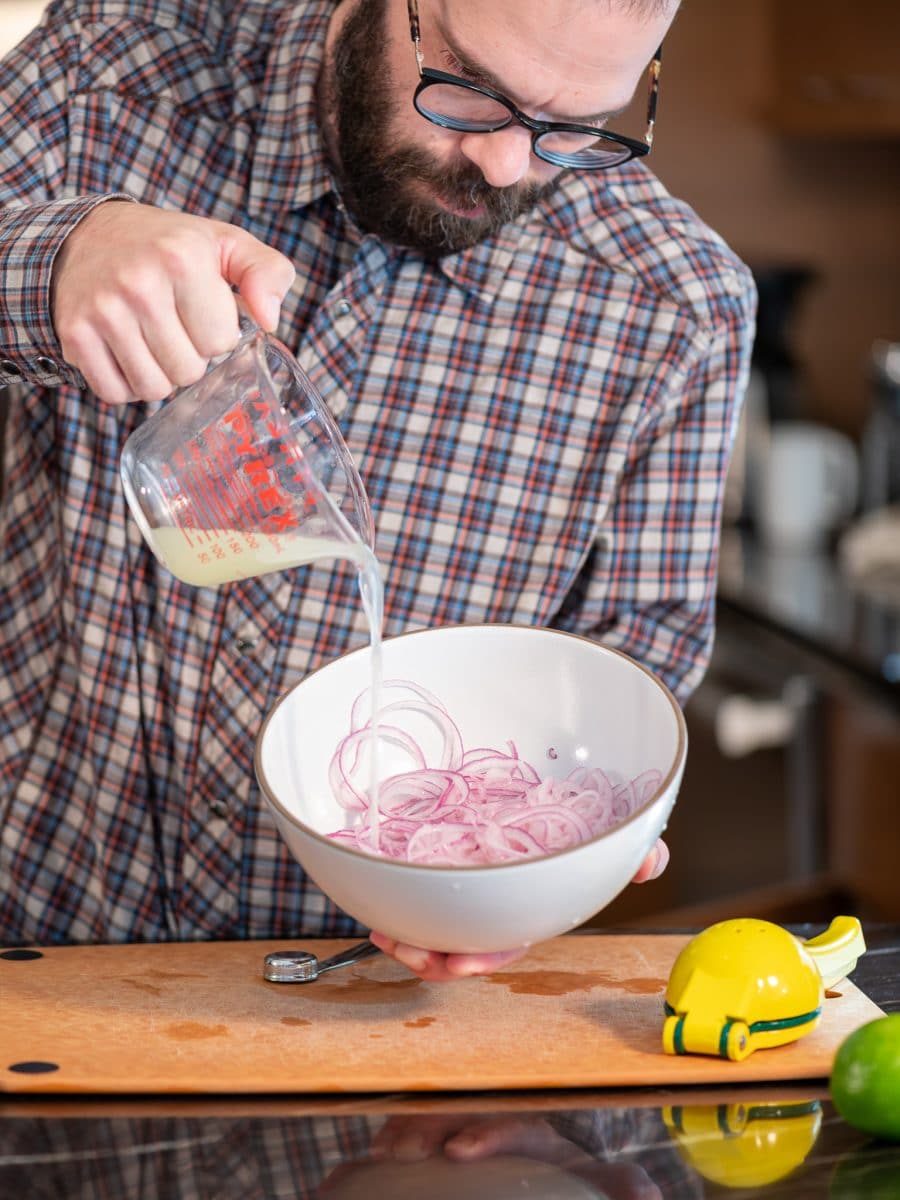 STEP 5: Add the salt.
Add two teaspoons of salt. Mix thoroughly with a fork, careful not to smash the onions.
STEP 6: Marinate and refrigerate.
Place the entire mixture into an airtight container, making sure the onions are fully submerged in lime juice. Refrigerate for at least one hour. After an hour, the onions will have completed their quick pickling process and will be ready to accompany any meal!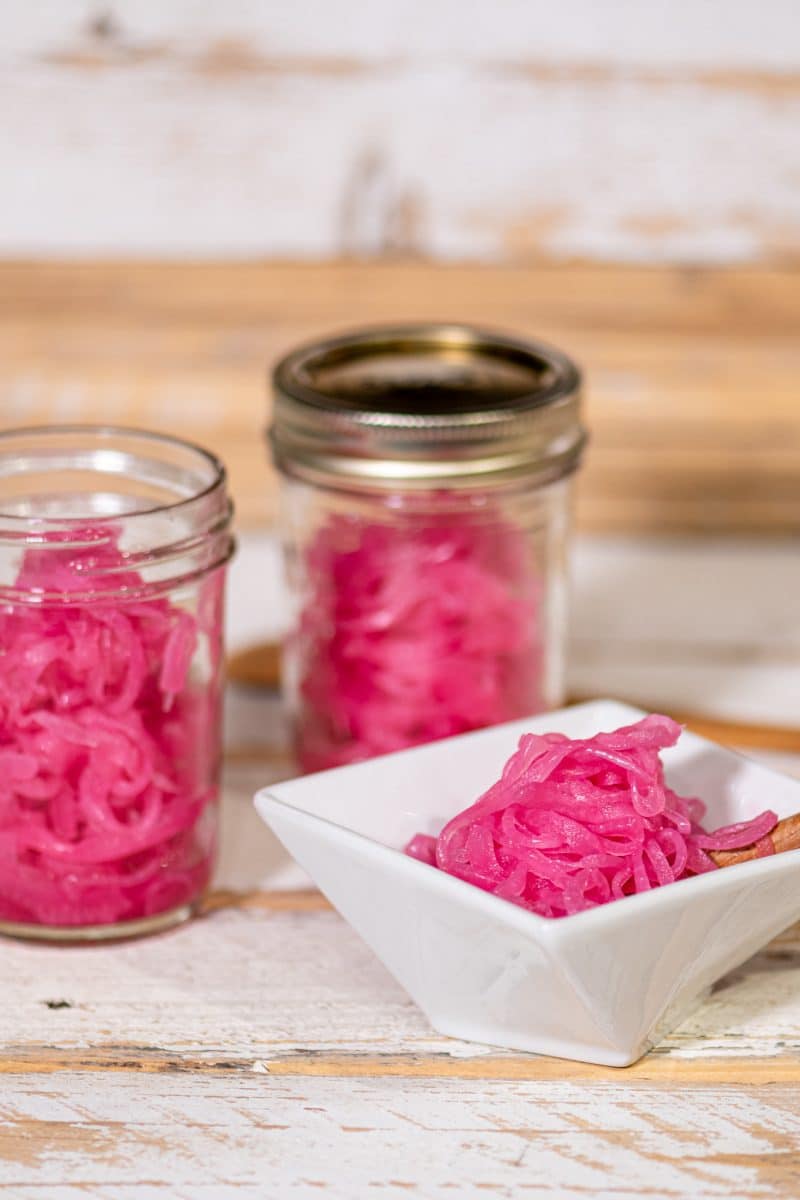 What to Eat with Pickled Red Onions
Tacos – Add a bright hint of citrus to fish, chicken, or carnitas tacos.
Mexican food – Top a plate of enchiladas, tamales, or even chilaquiles with pickled onions to balance out the rich flavors.
Sandwiches – Pickled onions pair wonderfully with pulled pork sandwiches. They will elevate your everyday deli sandwich as well!
Avocado toast – Pickled onions will take your avocado toast to the next level.
Salads – Liven up a dense egg or potato salad, and add an extra bite to your leafy green salad.
Cook-out foods – Top hot dogs and burgers to cut through the grease. Pickled onions are a great substitute for sauerkraut or pickles.
Pickled Red Onions
This is the simplest, healthiest, and quickest recipe for pickled red onions. Perfect for all sorts of garnishes and accompaniments, from ceviche to tacos, or just snacking on plain.
Equipment
Mixing bowl

Colander

Airtight container
Ingredients
1

Red onion

Small to medium sized

1/2

cup

Lime juice

3-4 limes freshly squeezed

2

teaspoons

Salt

Flake salt or sea salt

3

cups

water
Instructions
Start boiling several cups of water.

Peel outer layer of red onion.

Thinly slice the onion with your mandolin slicer.

Juice 3-4 limes until you have 1/2 cup of juice.

Slowly pour the hot water over the onions until they are fully submerged.

Soak the onion slices for 10 seconds, and then drain in a collander.

Put the onions back into the mixing bowl and add the lime juice.

1 Red onion,

1/2 cup Lime juice,

2 teaspoons Salt

Add the salt and mix thoroughly. Use a fork so as to not smash the onions.

Place the entire mixture and onions into an airtight container, making sure the onions are fully submerged in the lime juice.

Let the onions marinate in the refrigerator for at least one hour before eating.
Notes
If you want a stronger onion flavor and less of the lime-pickle flavor, reduce salt to 1 1/2 teaspoon.
The pickled red onions will last for one week refrigerated.
Nutrition
Serving:
1
cup
Calories:
74
kcal
Carbohydrates:
20
g
Protein:
2
g
Fat:
1
g
Saturated Fat:
1
g
Polyunsaturated Fat:
1
g
Monounsaturated Fat:
1
g
Sodium:
4693
mg
Potassium:
303
mg
Fiber:
2
g
Sugar:
7
g
Vitamin A:
63
IU
Vitamin C:
44
mg
Calcium:
66
mg
Iron:
1
mg
Tried this recipe?
Let us know how it was – tag @themklibrary on the socials!
I strive to paint vivid landscapes with my words, bringing the magic of far-off lands and enchanting aromas to life for my readers. Combine passion for exploration and the art of gastronomy in an unending ode to the senses. When I'm not traversing the globe, I find solace in the earth beneath my fingertips, tending to my garden and working on projects around my verdant oasis. MK Library serves as a beacon, guiding fellow travelers and homebodies alike to embrace sustainability, nurturing both our planet and our souls with purpose. Full Bio.