Phantom Falls is an incredible 135-foot waterfall on North Table Mountain Ecological Reserve in Oroville, California.
Surrounded by flowering green hills and sharp drop-offs, this water feature nestled in Coal Canyon is a sight to behold in the spring. Along the beautiful trek to the falls, you will discover tiny waterfalls and creeks that meander through a valley with unique geography and flora.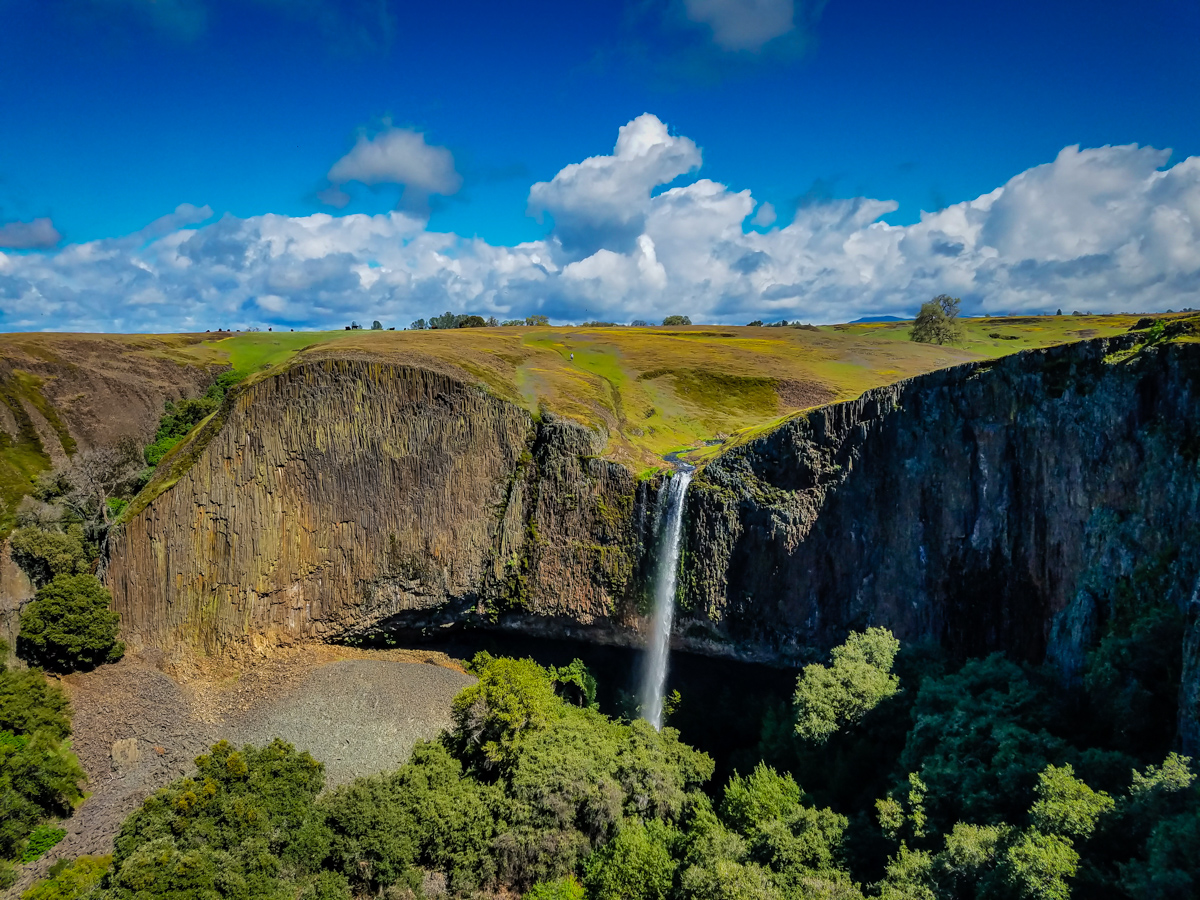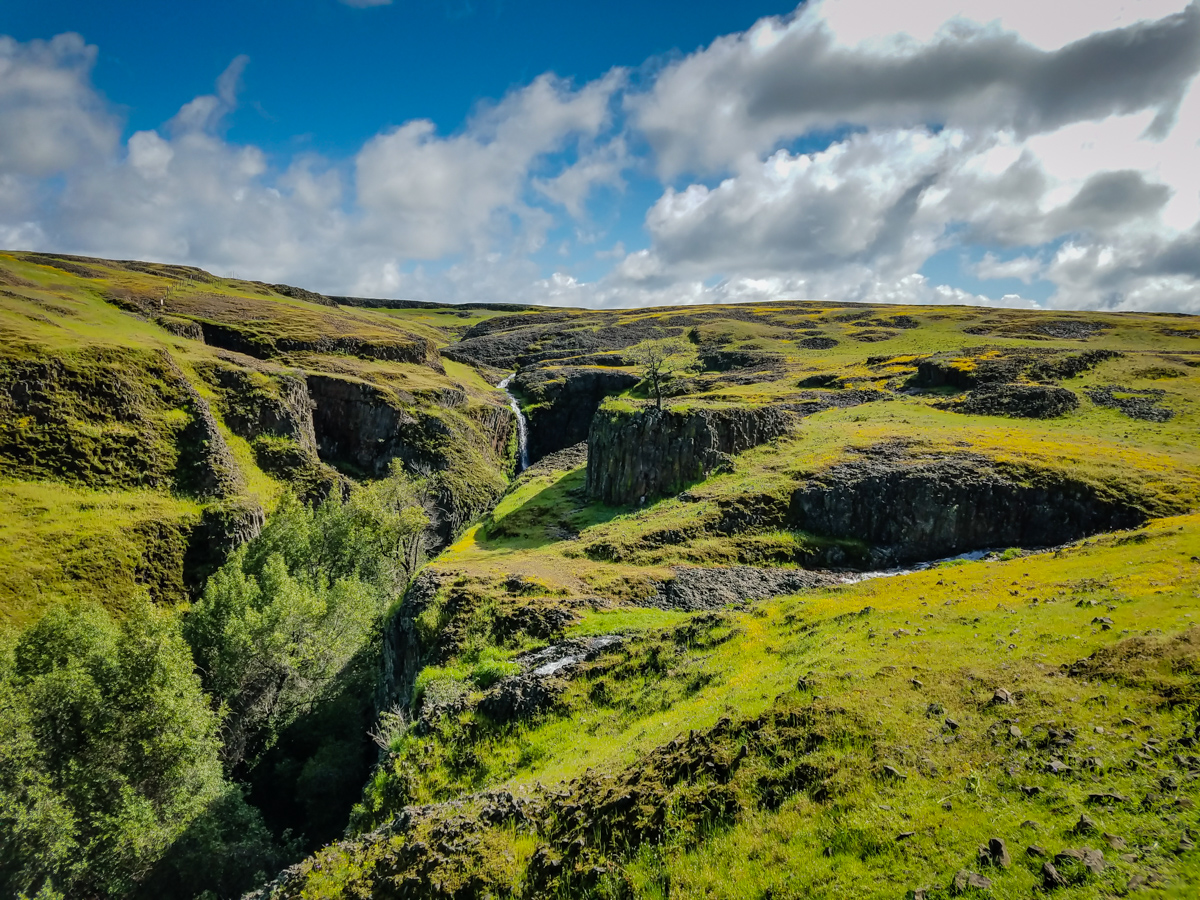 Trail Stats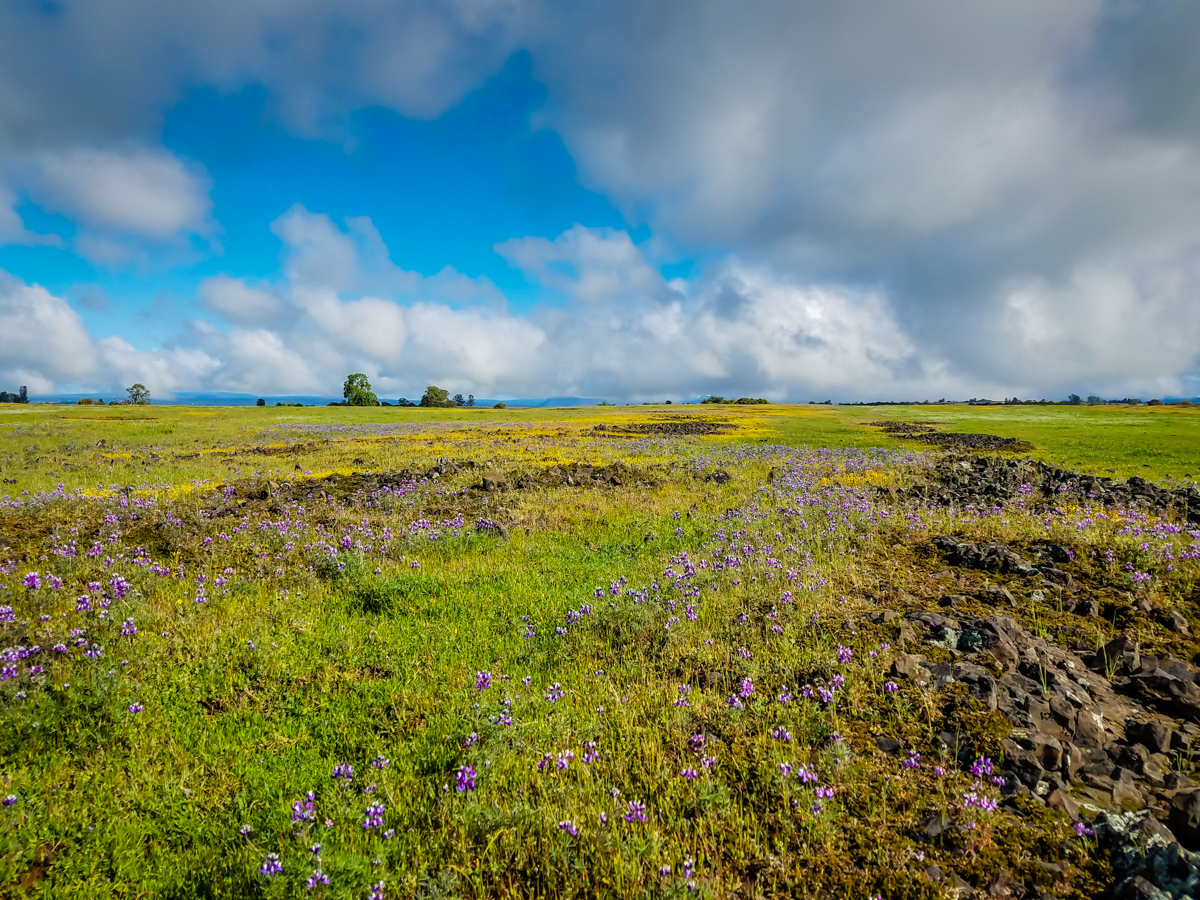 Trail length: 6 – 9 miles
Elevation gain: 985 feet
Best time to hike: Spring
Dogs: Allowed on leash
Cell reception: Little to none
Waterfall GPS: 39.61041, -121.56063
Cost: Land Pass Required.
While parking is free, make sure you have purchased a Land Pass in advance.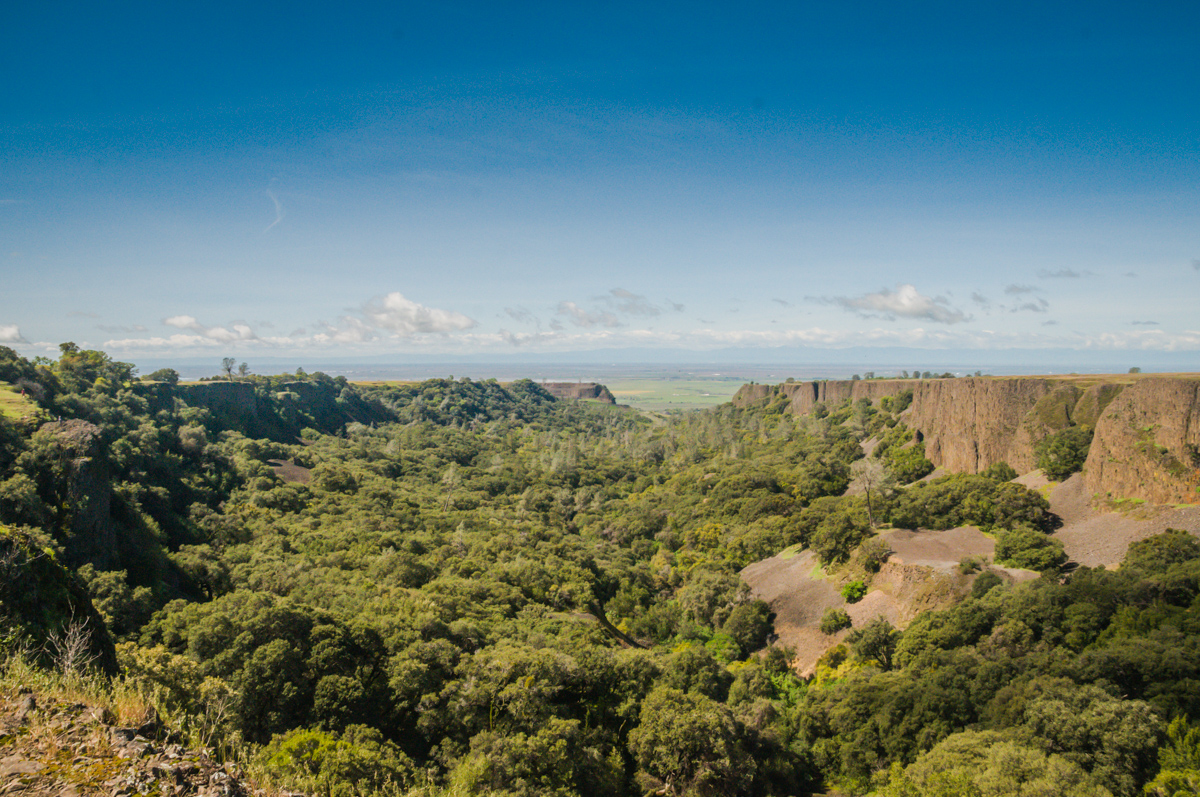 Trail Conditions
The waterfalls are at their peak after rain and quickly disappear as the land dries, lending to its name Phantom Falls. As such, the best time to hike this trail is in spring when the wildflowers are in bloom and water is flowing.
Within the North Table Mountain Ecological Reserve, you can either hike all around the edges of the valley and explore each waterfall or find your way through to the center and bottom of Phantom Falls. Whichever way you plan to go, prepare for roughly a 9-mile hike out and back or round trip.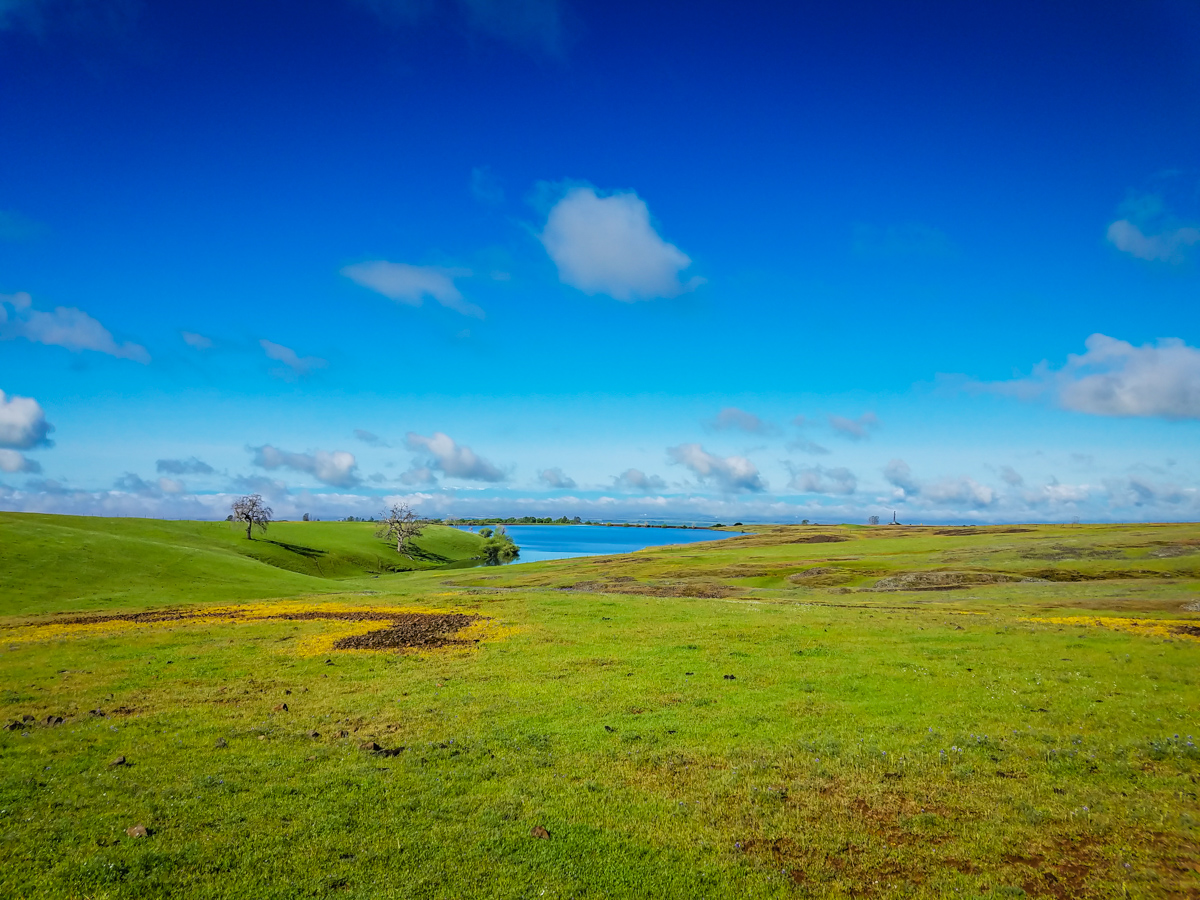 When you begin your hike at the trailhead, you will need to head northwest and traverse the landscape to reach Phantom Falls. When possible, stick to trails and do not stomp through wildflowers. The trails do tend to disappear at various points throughout the hike, so a little cross-country hiking may be necessary.
The trails in the reserve meander through active cow pastures. Grazing cattle are generally safe to be around, but I would avoid getting too close to a bull. Cow trails may lead you astray, so be sure to stick to your GPS.
*You will absolutely need GPS or offline maps downloaded to help you make your way to the Phantom Falls overlook.
The only landmark that will lead you in the right direction is an old fence line on the right. Follow this until you reach the top of Ravine Twin Falls. You will pass three other waterfalls on your journey to Phantom Falls. All of these waterfalls on Table Mountain have very small drainage, so they will be flowing nicely only after quite a lot of rain. You will likely never see any waterfalls during the summer months.
Be sure to watch out for cow pies and wear shoes that you don't mind getting muddy!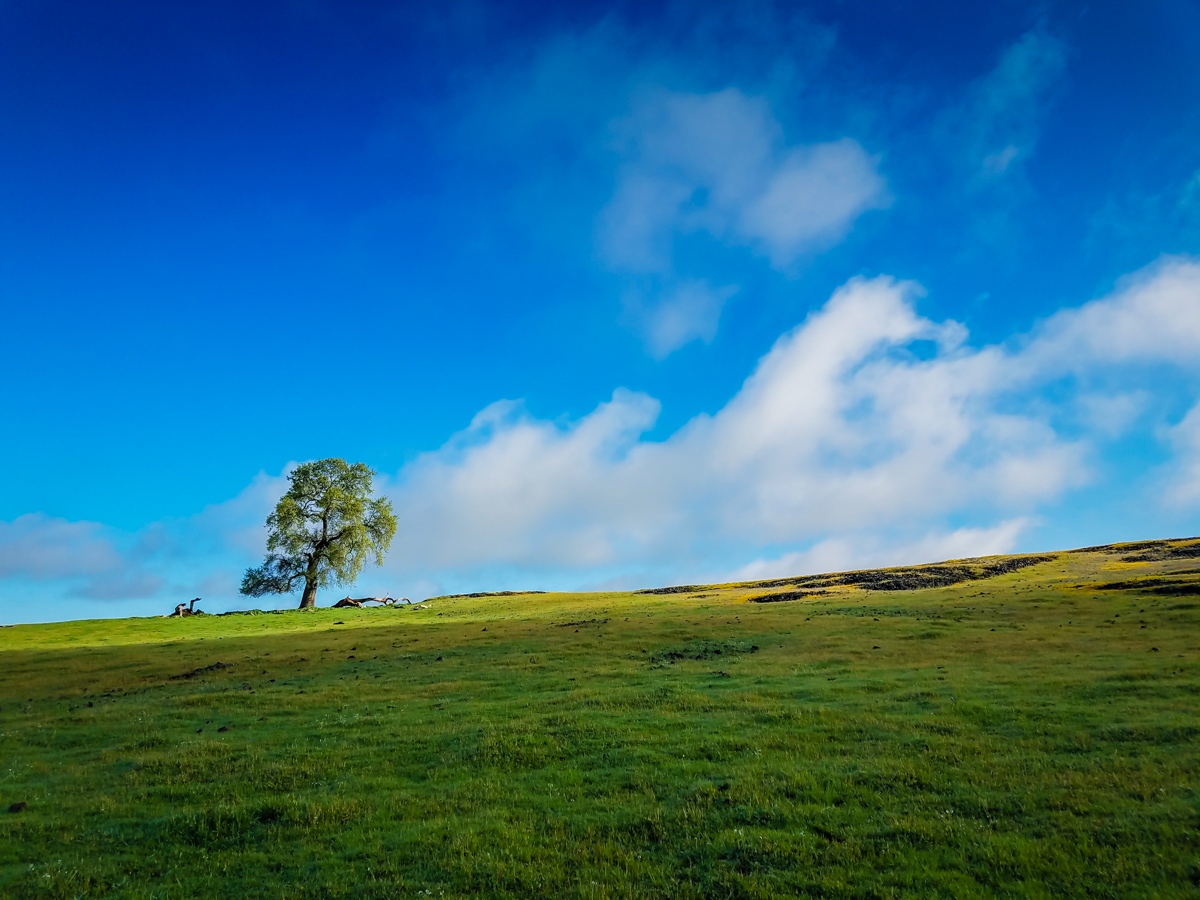 Lower Phantom Falls
You might have stretched your neck over the ledge and wondered if there was a way down. Well, there is, and you can make it if you are sure-footed, have good upper body strength, and can lightly rappel down some steep inclines. This portion is not dog or kid-friendly.
Parking
The Phantom Falls parking lot is located off Cherokee Road. Follow this Google Maps link.
Parking lot GPS: 39.595923, -121.541736
Supplies
Land Use Pass
Mosquito repellant
Sunscreen
Water
Offline maps or GPS
Trail Cost
While the parking itself is free, you are required to purchase a land-use pass PER PERSON to hike North Tabletop Mountain.
The passes are $4.89 for 1 day only or $27.26 for a year. The website may keep trying to show you commercial options – I struggled to get the regular cheap passes to show up and essentially had to just click Lands Pass and Purchase Licenses from the menu several times to get it to show up.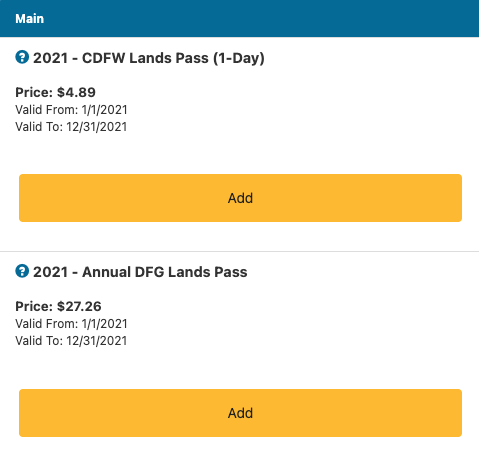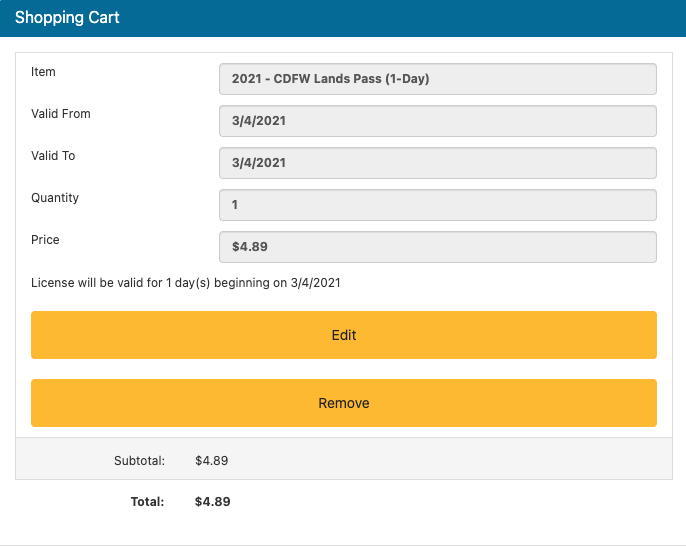 If you're a hiking procrastinator like me and will wait to get it until you arrive, this hiking pass will not oblige.
Reception is going to be hard to attain at the parking lot, no matter what carrier you are using. There are some areas on the actual hike near the falls that have limited reception, but ideally, you need to get a pass before you arrive. Highway 70 is the last dependable area for good reception to buy a pass from your phone.
First, you need to register yourself for a GO ID here: https://www.ca.wildlifelicense.com/internetsales/CustomerSearch/Begin
You will need to have your California driver's license handy to register/login.
Select the location, North Table Top Mountain, input all your personal info, purchase the pass, and save the PDF on your phone and screenshot the QR code and purchase receipt.
This was one of the more annoyingly complicated passes I've had to purchase, and the website is frustrating on mobile. As you go through the process, you'll realize why I included instructions on how to buy the thing.
You can also purchase passes by phone or at an office:
By phone: (800) 565-1458. Be sure to carry the temporary authorization number (TAN) provided to you by the sales associate.
In Person: Find a Sales Agent or a CDFW License Office
About the Author
Latest Posts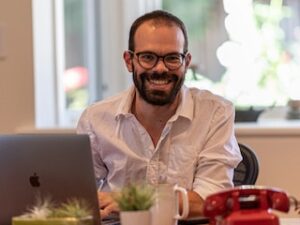 I strive to paint vivid landscapes with my words, bringing the magic of far-off lands and enchanting aromas to life for my readers. Combine passion for exploration and the art of gastronomy in an unending ode to the senses. When I'm not traversing the globe, I find solace in the earth beneath my fingertips, tending to my garden and working on projects around my verdant oasis. MK Library serves as a beacon, guiding fellow travelers and homebodies alike to embrace sustainability, nurturing both our planet and our souls with purpose. Full Bio.