This jerk chicken recipe combines the fiery flavors of traditional jerk spices with modern cooking techniques and the essence of the Caribbean.
To put it simply, Jamaican jerk spices are aromatic, sweet, and intensely hot (in the best way possible). When combined with allspice, wine vinegar, and a hint of molasses, this jerk chicken recipe is elevated to the level of BBQ greatness. The chicken pairs beautifully with the Jamaican side dishes listed below, which serve to cut through the heat and round out the entire meal.
The Fire and Spice
The primary ingredients to any jerk spice are allspice, a dried unripe Pimenta dioica berry, and scotch bonnet peppers – similar to the habanero but much sweeter. These specialty peppers can either be found at a Caribbean specialty store or a Latin supermarket. If you can't (or won't) get your hands on Scotch bonnets, habanero chiles are a good substitute. Other common ingredients found across jerk spice recipes include brown sugar, cinnamon, cloves, garlic, ginger, nutmeg, salt, scallions, and thyme.
A word of caution: Scotch bonnet peppers are dangerously hot. To avoid a burning-eyeball situation, it's wise to wear disposable gloves when chopping. For the love of spice, DO NOT touch your eyes!
The dark smokey flavors come from cooking the meat above a wood fire. Historically, pimento wood was used for Caribbean cooking. While the cooking methods of using fire have evolved over the years, you'll often find jerk being made over hardwood charcoal in a steel drum laid horizontally. Essentially, the modern charcoal barbecue.
If you don't have a wood stove or fire pit handy, don't fear! This recipe still shines if you are using a barbecue like me.
Looking to get the most out of your BBQ this summer? Try this delicious Peruvian Anticuchos (grilled skewers) recipe next!
Jerk Chicken Tips
To get the most out of these jerk spices, try marinating the chicken overnight or up to 36 hours before cooking.
For less spice, reduce the number of peppers, remove their seeds or substitute with de-seeded serrano peppers.
Use only fresh ingredients for the best flavor!
To pack in as much flavor as possible, carefully rub some jerk marinade under the chicken skin without tearing it.
Clean and oil your grill before use and keep a watchful eye to achieve a perfectly even char.
Extra jerk chicken can be stored in the fridge or freezer for future use on other dishes. Jamaicans use jerk spices on everything from veggies to seafood. Make a little extra and try spicing up some of your staple dishes!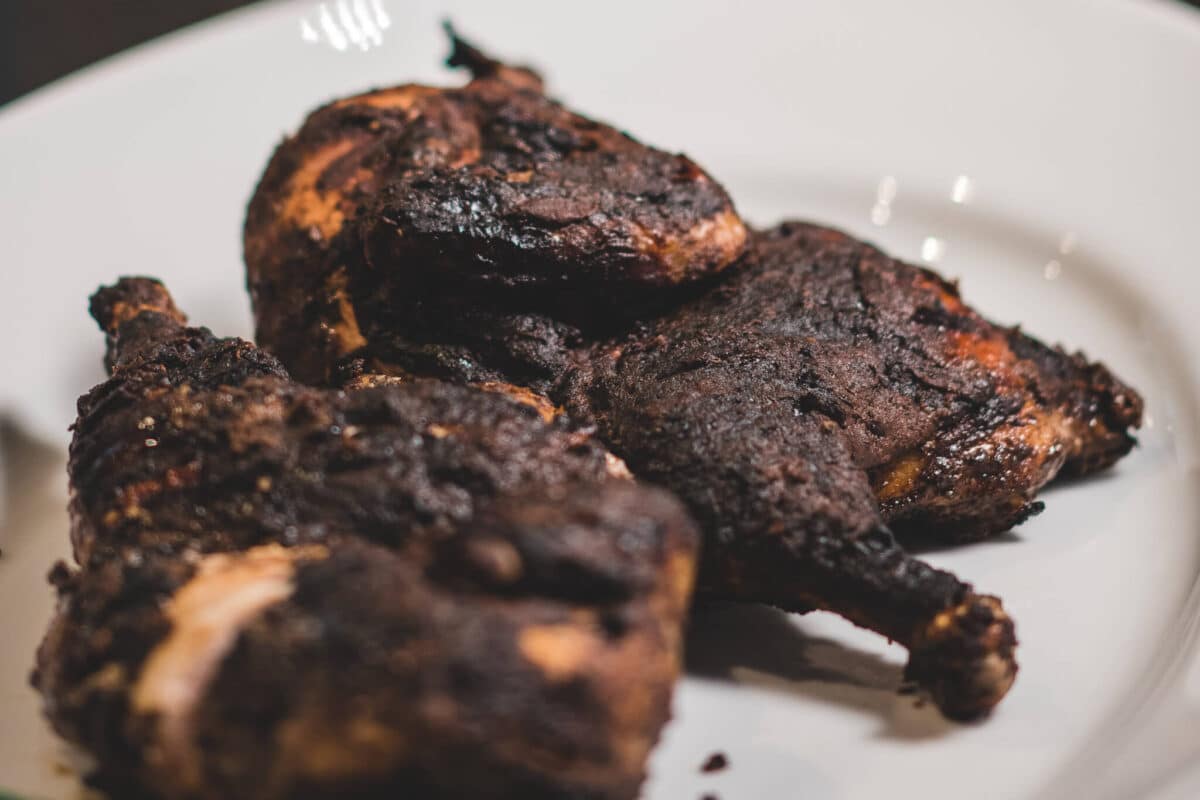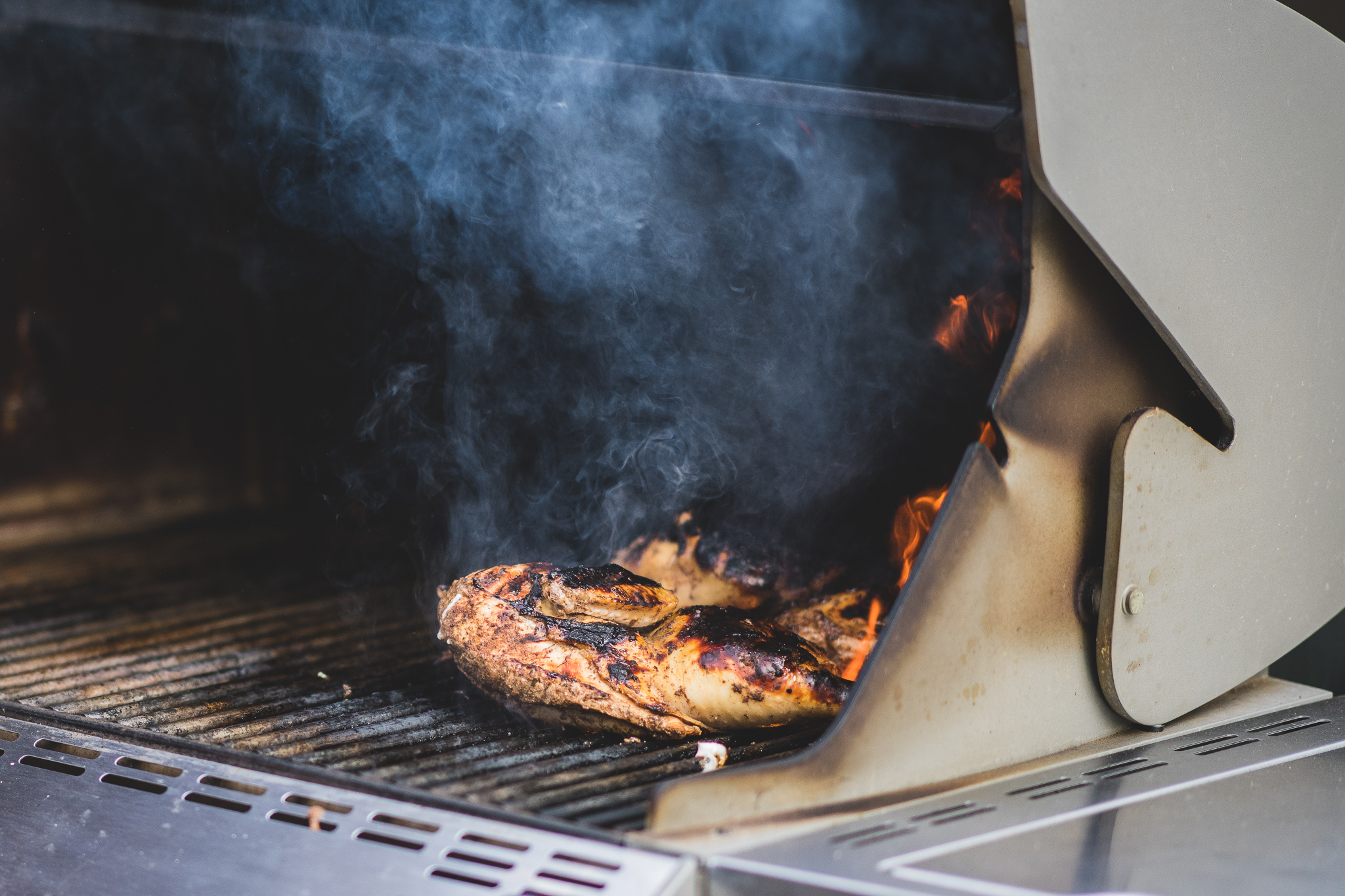 Choosing a Rum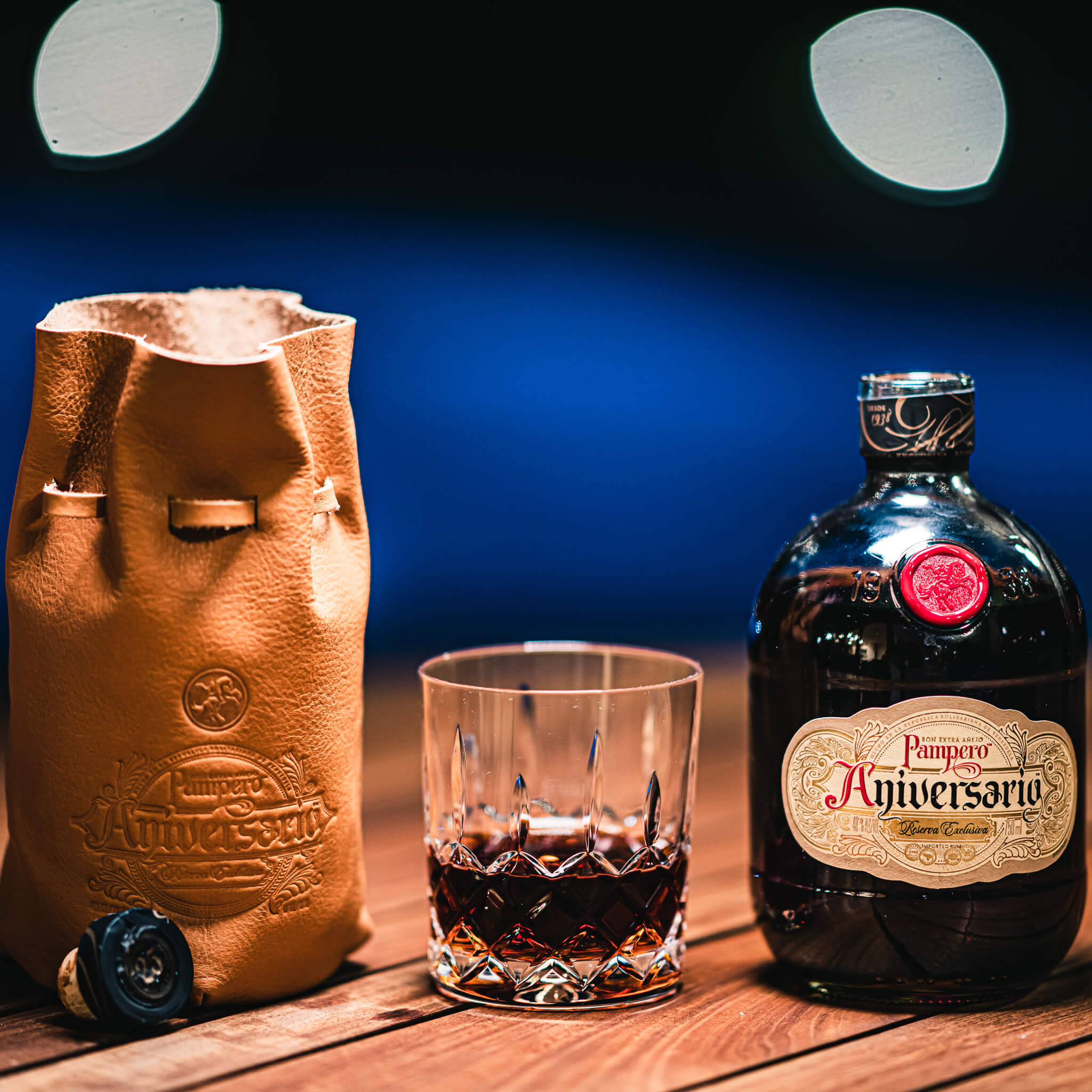 As the French saying goes, "The better the wine, the better the dish." The same philosophy holds true to dishes cooked with rum. If you don't have rum in stock, head to your nearest liquor store and look at some of the anejos.
Stay away from the big brand names you recognize and spiced rums – at least for this recipe. My favorite rums have been in the $20-$40 range. Look for rums produced in Central America to match the terroir behind the inspirations of the jerk chicken.
Why Is Vinegar Used?
Vinegar balances out the meal with a bit of acidity. Marinating the chicken in the vinegar marinade will break down the proteins, causing the meat to be a lot more tender.
Although many jerk chicken recipes called for malt vinegar, I chose to go with a combination of red and white wine vinegar. Here's why:
Red wine vinegar is great to use for rich flavor profiles, and white wine vinegar is great for chicken and fish dishes. White wine could also be considered a bit brighter in flavor, depending on your personal palette.
Based on the combination of chicken and spice ingredients, I believe using both brought out the different nuances in flavors while the chicken was marinating.
Malt vinegar is barely-based, and in my opinion, best used for oily, heavy dishes. Think fish and chips. This jerk chicken recipe is far from oily and will not leave you with that heavy feeling after you've finished eating and a strong desire to wash your hands.
If you happen to have sherry vinegar on hand, this is a great option as well.
Jerk Chicken Side Dishes
There are several great Central American side dishes that pair well with jerk chicken.
Rice and beans. A Jamaican staple. I used white rice, black beans, and coconut milk.
Curtido. Lightly fermented red cabbage, with some carrot and scotch bonnet, you'll want to prepare this a day or two in advance.
Cornbread. For this dish, I made cornbread and threw in some honey and half a scotch bonnet to keep with the sweet, spicy theme.
Grilled Plantains. With the chicken finished and a hot grill, throw on some sliced ripe plantains for dessert. Protip: They are ripe when the peel is black.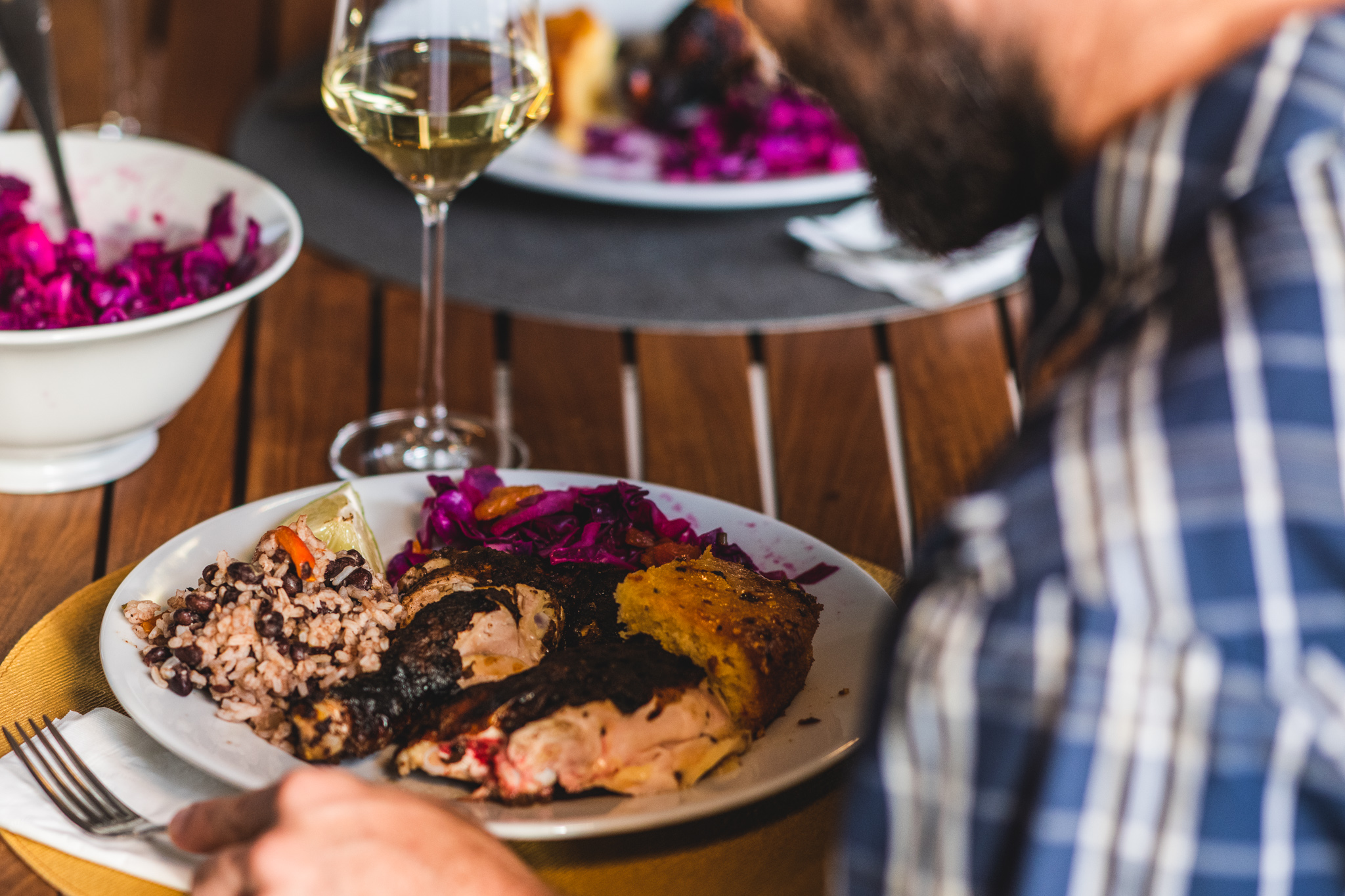 Oven Cooked Jerk Chicken
If you don't own a grill or like to cut some time and effort from this recipe, cooking the chicken in the oven is a great time saver. Don't worry, it will still come out tasting delicious.
Preheat the oven to 350 °F. Arrange the chicken halves on a baking sheet, skin-side up. Roast until they are no longer pink on the inside and the breast and thigh juices run clear. About 40-50 minutes. Test the chicken with a meat thermometer if you'd like to be absolutely sure they're ready. Breast: 165 °F, Thigh: 170 °F
Let the chicken rest under tented foil for 15 minutes after you've taken it out of the oven. Serve it with one or more of the side dishes mentioned above!
Pro Tip: Use your cold jerk chicken leftovers to create a spicy chicken salad sandwich or as a protein source on a leafy green salad.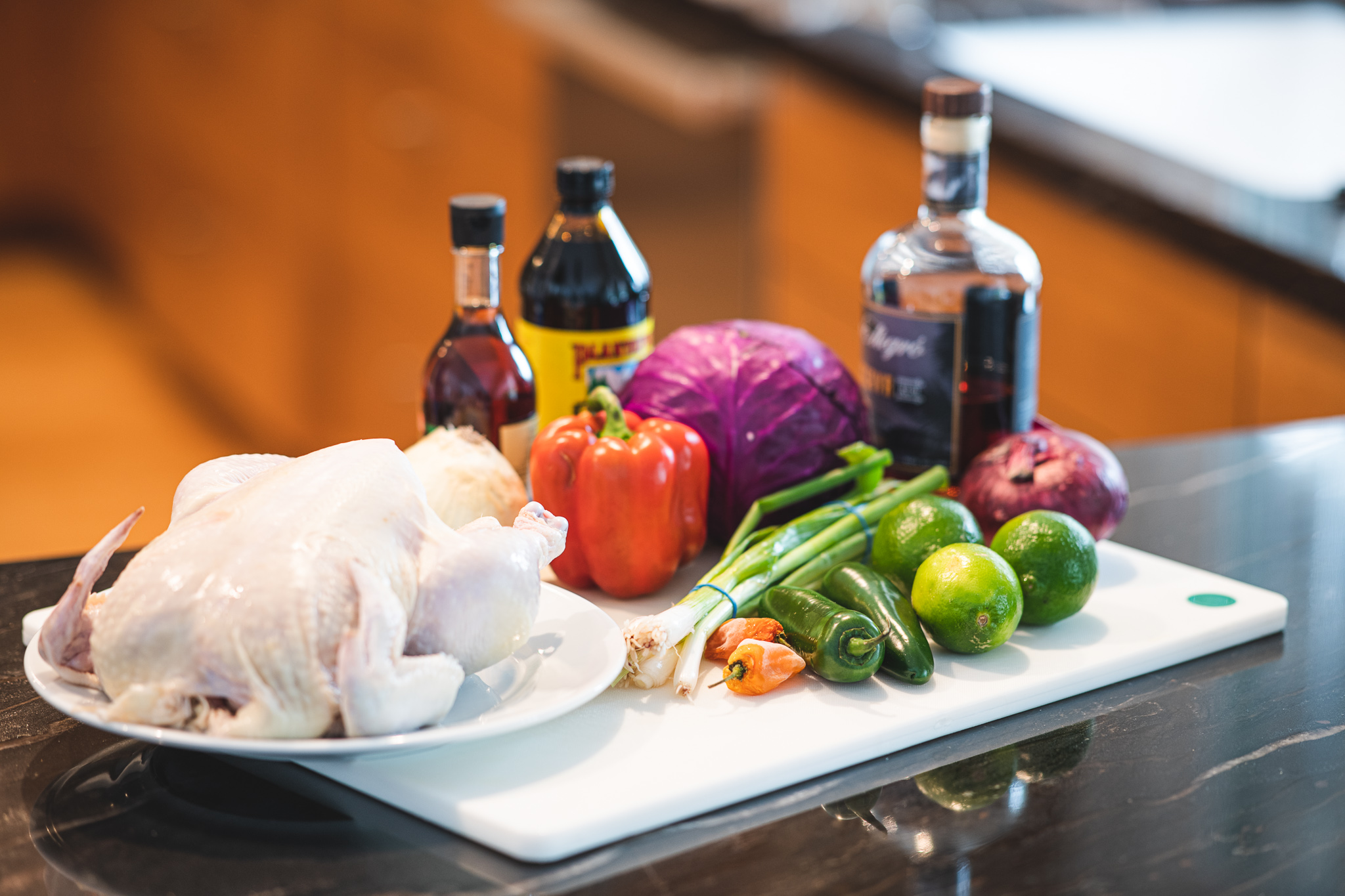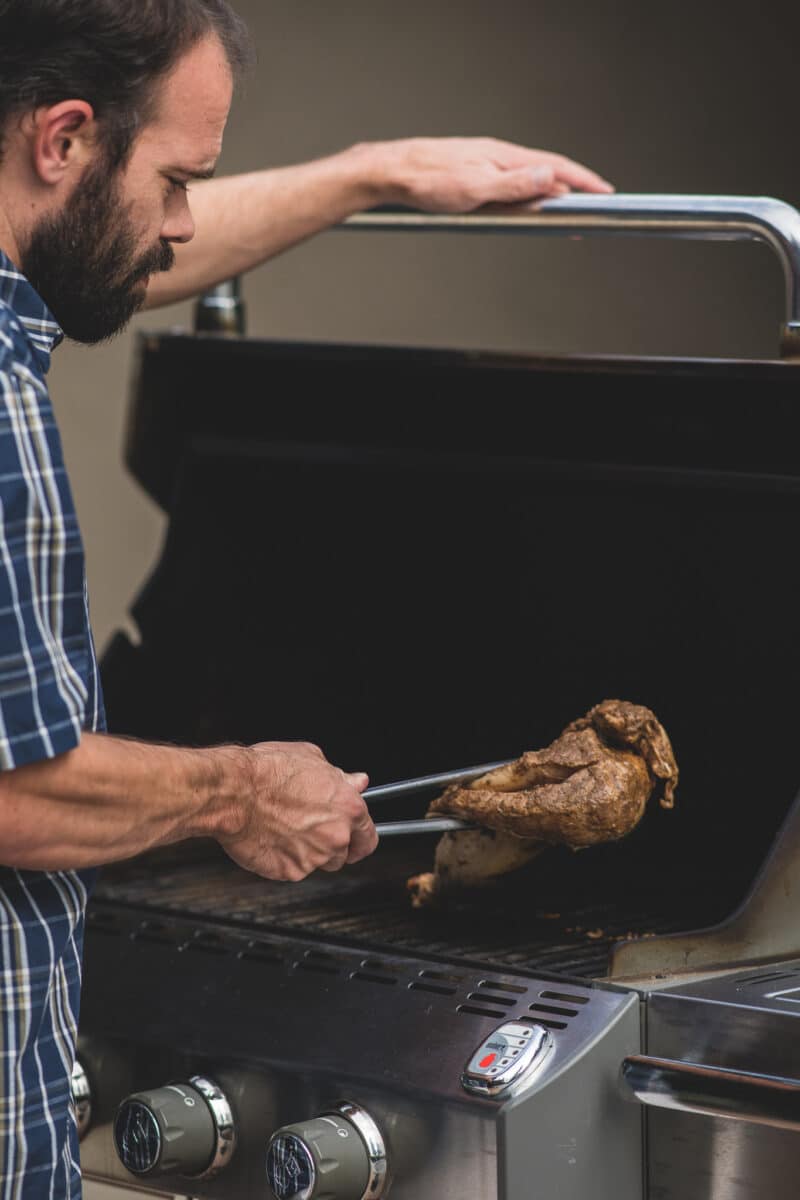 Jerk Chicken Recipe
This jerk chicken recipe combines the flavors of traditional Caribbean jerk spices with modern cooking techniques to create an intensely flavorful BBQ experience.
Ingredients
Jerk Chicken
1

Whole chicken

Skin on, cut in half, lengthwise

1/2

cup

Lime juice

Freshly squeezed

pepper
Jerk Chicken Marinade
1/4

cup

Red wine vinegar

1/4

cup

White wine vinegar

2

tablespoons

rum

anejo

2

Scotch bonnet peppers

With seeds, chopped

1/2

red onion

chopped

4

green onion

tops chopped

2

tablespoon

Thyme leaves

Fresh, chopped

2

tablespoons

Olive Oil

2

teaspoons

salt

2

teaspoons

black pepper

freshly ground

4

teaspoons

allspice

ground

4

teaspoons

cinnamon

ground

4

teaspoons

nutmeg

ground

4

teaspoons

ginger

fresh, grated

2

teaspoons

molasses
Instructions
Marinade
Combine the vinegar, rum, habaneros, onion, green onion tops, thyme, olive oil, salt, pepper, allspice, cinnamon, nutmeg, ginger, and molasses into a blender or food processor. Pulse until mostly smooth.

Place the chicken in a large freezer bag, or in a large non-reactive bowl or baking dish. Pour lime juice over the chicken and coat well.

Rub the jerk paste over the chicken pieces, coating evenly and thoroughly. Seal the bag or cover the chicken in the pan with plastic wrap.

Refrigerate for 3-4 hours.

Remove chicken from the marinade bag or pan. Put the remaining marinade into a small saucepan.

Bring to a boil, reduce heat and simmer for 10 minutes. Set aside to use as a basting sauce for the chicken.

While basting the chicken, reserve a little of the boiled marinade to serve with the chicken for those who like it extra saucey.
Barbecue Chicken
Preheat grill to 400 °F (204.44 °C). Add salt and pepper to chicken halves. Place chicken halves skin side down on the grill. Cover and cook for about 40-50 minute. Keep the grill temperature between 350 °F (176.67 °C) and 400 °F (204.44 °C), turning the chickens occasionally and basting with marinade, until the chicken is cooked through.

The chicken is done when the juices run clear, not pink, when a knife tip is inserted into both the chicken breast and thigh. If using a meat thermometer, the temperature should read about 165 °F (73.89 °C) for the breast and 170 °F (76.67 °C) for the thigh.

Transfer chicken to a large platter and tent loosely with foil. Let stand 15 minutes.

Cut chicken into pieces. Serve with black beans and rice, and your favorite Central American lightly fermented cabbage relish.
Notes
For even more flavor, marinate the chicken overnight or up to 36 hours before cooking. 
Nutrition
Calories:
363
kcal
Carbohydrates:
9
g
Protein:
26
g
Fat:
25
g
Saturated Fat:
7
g
Cholesterol:
98
mg
Sodium:
874
mg
Potassium:
398
mg
Fiber:
2
g
Sugar:
3
g
Vitamin A:
410
IU
Vitamin C:
19
mg
Calcium:
66
mg
Iron:
2
mg
Tried this recipe?
Let us know how it was – tag @themklibrary on the socials!
Recipe adapted from Elise Bauer @ Simply Recipes.
About the Author
Latest Posts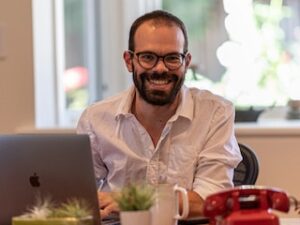 I strive to paint vivid landscapes with my words, bringing the magic of far-off lands and enchanting aromas to life for my readers. Combine passion for exploration and the art of gastronomy in an unending ode to the senses. When I'm not traversing the globe, I find solace in the earth beneath my fingertips, tending to my garden and working on projects around my verdant oasis. MK Library serves as a beacon, guiding fellow travelers and homebodies alike to embrace sustainability, nurturing both our planet and our souls with purpose. Full Bio.