Peruvian Anticuchos is a traditional dish consisting of skewered and grilled meats, typically made with non-offal or cheaper cuts of meat, including beef heart. Variations can also include other meats such as chicken or pork. The meat is marinated in vinegar and a blend of spices including cumin, ají pepper, and garlic, before being skewered and cooked over hot coals. This dish is commonly found as street food or as a starter in Peruvian cuisine-focused restaurants. This recipe, however, calls for more traditional cuts of meat for us less-adventurous folks who still want a taste of Peruvian culture.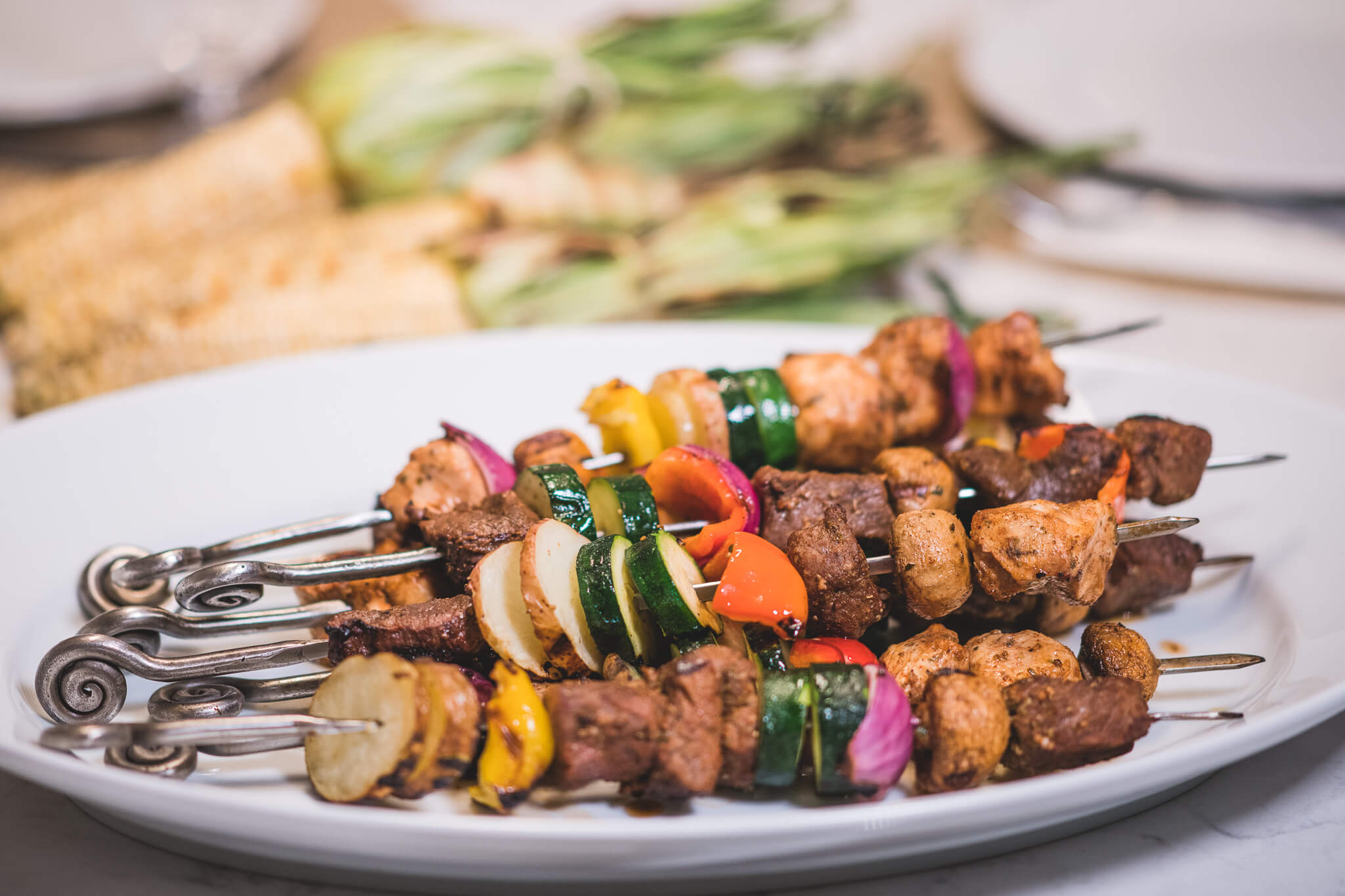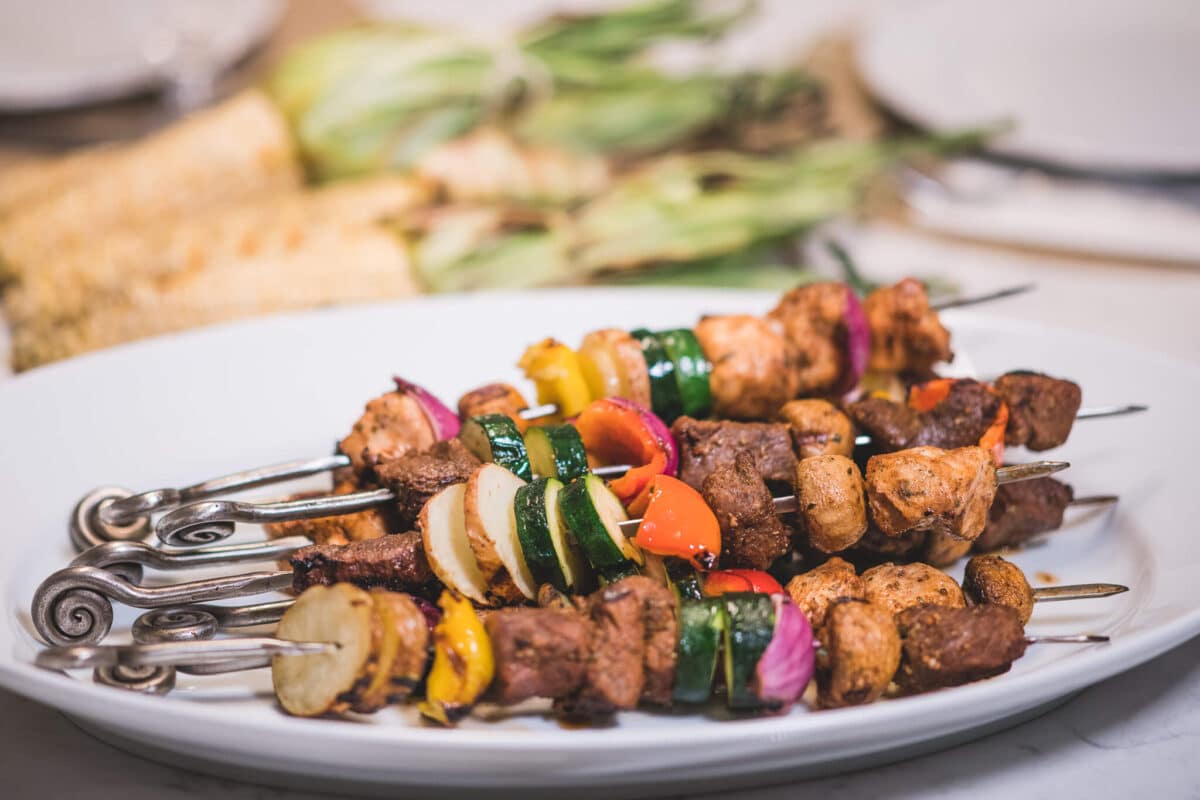 Anticucho History
Peruvian historians believe the word anticuchos comes from the Quechua word antikuchu. Dating back to Inca Empire, anticuchos originated in the Antisuyo region of what is now modern-day Peru. When the Spanish conquistadors invaded the region, they brought garlic and introduced the practice of putting meat on skewers.
Today, anticuchos variations are incredibly popular throughout Peru and South American countries as a street food staple. An Anticuchera is a woman who cooks and sells anticuchos on the street. People usually gather, drawn in by the incredible smell and clouds of smoke wafting from the large grills. You know a food is popular when they have their own day dedicated to celebrating them; October 17 in Peru.
Traditionally, the anticuchos are marinated in ají panca, a Peruvian red pepper paste with a smokey flavor and mild heat, along with various spices. If you don't feel like making your own, you can order the pre-made paste online. They can be served as a side dish along with other dishes such as choripanes, boiled potatoes, corn, sausages, salad, and other ají sauces.
Looking for the perfect cocktail to accompany this Peruvian meal? Try this smooth and slightly tart Peruvian Pisco Sour Cocktail Recipe.
Ají Dipping Sauces
Ají sauce is a spicy Peruvian green or yellow sauce that complements anticuchos perfectly. Ají panca and ají amarillo paste can usually be found in any Latin market.
Ají Verde: A spicy and tangy Peruvian green sauce that includes ají amarillo paste. Here is an example of an authentic ají verde recipe.
Ají amarillo: Peruvian yellow sauce is creamy, tangy, and spicy.
A Bolivian version of anticuchos uses a peanut sauce, similar to spicy Thai peanut sauces. If you go this route, I would certainly suggest spicing up the marinade to give the anticuchos that necessary kick.
Traditional with Beef Heart
If you want to make more traditional style anticuchos skewers, you'll want to use beef heart. Beef heart has a strong, rich flavor that is similar to other organ meats. It is often described as having a slightly gamey taste with a chewy texture. Some people find it to be quite flavorful, while others find it to be quite strong or overpowering.
It is considered a delicacy in many cultures, including Peruvian. It is often marinated to tenderize the meat and bring out the rich flavor. Beef heart is also considered a very nutritious cut of meat, high in iron and protein.
Anticuchos Marinating Tips
Here are some tips for marinating meat for your anticuchos skewers:
Use acid: Acidic ingredients such as lemon juice, vinegar, or yogurt can help to break down the fibers in the meat and make it more tender.
Add oil: Adding oil to the marinade can help to keep the meat moist while it cooks on the skewer.
Use herbs and spices: Herbs and spices can add a lot of flavor to the meat. Try using a combination of herbs like rosemary, thyme, and oregano, and spices like cumin, paprika, and garlic powder.
Marinate overnight: Marinating the meat overnight allows the flavors to fully penetrate the meat and results in a more flavorful finished product.
Cut the meat evenly: To ensure even cooking, be sure to cut the meat into even-sized pieces.
Don't reuse marinade: If you use the marinade as a baste or sauce, do not use it again to marinate the meat. The marinade that has come into contact with raw meat can contain harmful bacteria and should be discarded.
Peruvian Anticuchos Side Dishes
Peruvian corn: Also known as choclo, it is a larger and sweeter variety of corn.
Potatoes: Boiled or fried potatoes are a popular side dish in Peru.
Ceviche: This is a popular Peruvian dish made of raw fish marinated in lime juice, chili peppers, and other seasonings.
Fried yucca: Fried yucca is a popular side dish in Peru, made by frying yucca root, which is a starchy vegetable.
Aji: It is a Peruvian hot sauce made of chili peppers, cilantro, and lime juice and it is often used as a condiment for anticuchos.
Salad: A simple green salad made with lettuce, tomatoes, and onions.
Chicha morada: it is a Peruvian drink made of purple corn, spices and sweetened with pineapple and cinnamon, it can also be served as a side dish.
Peruvian Anticuchos Recipe
Peruvian Anticuchos (Grilled Skewers) are incredibly popular throughout Peru and South American countries. Not meant to be the main course, these tasty skewers are served as a side dish along with other dishes such as choripanes, potatoes, sausages, or salad.
Ingredients
1

pound

beef

1

pound

chicken

4

pounds

Seasonal vegetables

Red onions, bell peppers, mushrooms, yellow or red potatoes, squash, or zucchinis.

1/2

cup

soy sauce

1/2

cup

red wine vinegar

1/2

cup

vegetable oil

1

teaspoon

ground cumin

2

tablespoons

fresh ginger

Finely grated

4

cloves

Garlic

Finely chopped

1

teaspoon

hot pepper sauce
Instructions
Cut meat into cubes of 3/4″ x 3/4″.

Soak mushrooms for several minutes so they retain moisture on the grill.

Slice vegetables into 1/4" to 1/2" thick pieces. Less dense vegetables like onions and bell peppers can be on the thicker side, as they cook faster.

For the marinade: In a bowl mix soy sauce, vinegar, oil, garlic, ginger, cumin, and chili sauce. Stir well with a fork.

Marinate meat for 3 hours, covered and refrigerated.

For the vegetables, use a brush to coat them with the marinade before skewering.

Heat grill to high.

Place meat and vegetables on the skewers leaving 1/4" between each piece, allowing heat to circulate and cook the meat and vegetables through.

For best results in cooking, place each type of vegetable or meat on its own skewer, as cooking times vary.

Rotate skewers every 2 minutes until the meat and vegetables are cooked to the amount desired, up to about 10 minutes. Brush with remaining marinade as you rotate during cooking.

Serve hot.
Notes
For extra flavorful meat, try marinating the skewers in the fridge overnight. 
Nutrition
Serving:
1
g
Calories:
675
kcal
Carbohydrates:
4
g
Protein:
33
g
Fat:
58
g
Saturated Fat:
33
g
Cholesterol:
121
mg
Sodium:
1766
mg
Potassium:
531
mg
Fiber:
1
g
Sugar:
1
g
Vitamin A:
92
IU
Vitamin C:
3
mg
Calcium:
49
mg
Iron:
4
mg
Tried this recipe?
Let us know how it was – tag @themklibrary on the socials!
About the Author
Latest Posts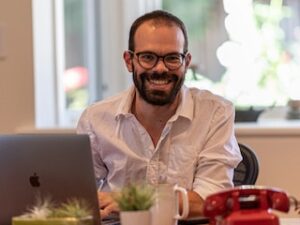 I strive to paint vivid landscapes with my words, bringing the magic of far-off lands and enchanting aromas to life for my readers. Combine passion for exploration and the art of gastronomy in an unending ode to the senses. When I'm not traversing the globe, I find solace in the earth beneath my fingertips, tending to my garden and working on projects around my verdant oasis. MK Library serves as a beacon, guiding fellow travelers and homebodies alike to embrace sustainability, nurturing both our planet and our souls with purpose. Full Bio.