This vegan Mexican street corn recipe is my new summer favorite for using the grill. I'm just as passionate about high quality sustainable food sources as I am for Mexican food. So, I took the classic grilled elote and turned it into the best combination of plant-based sustainability and Mexican culture that I could.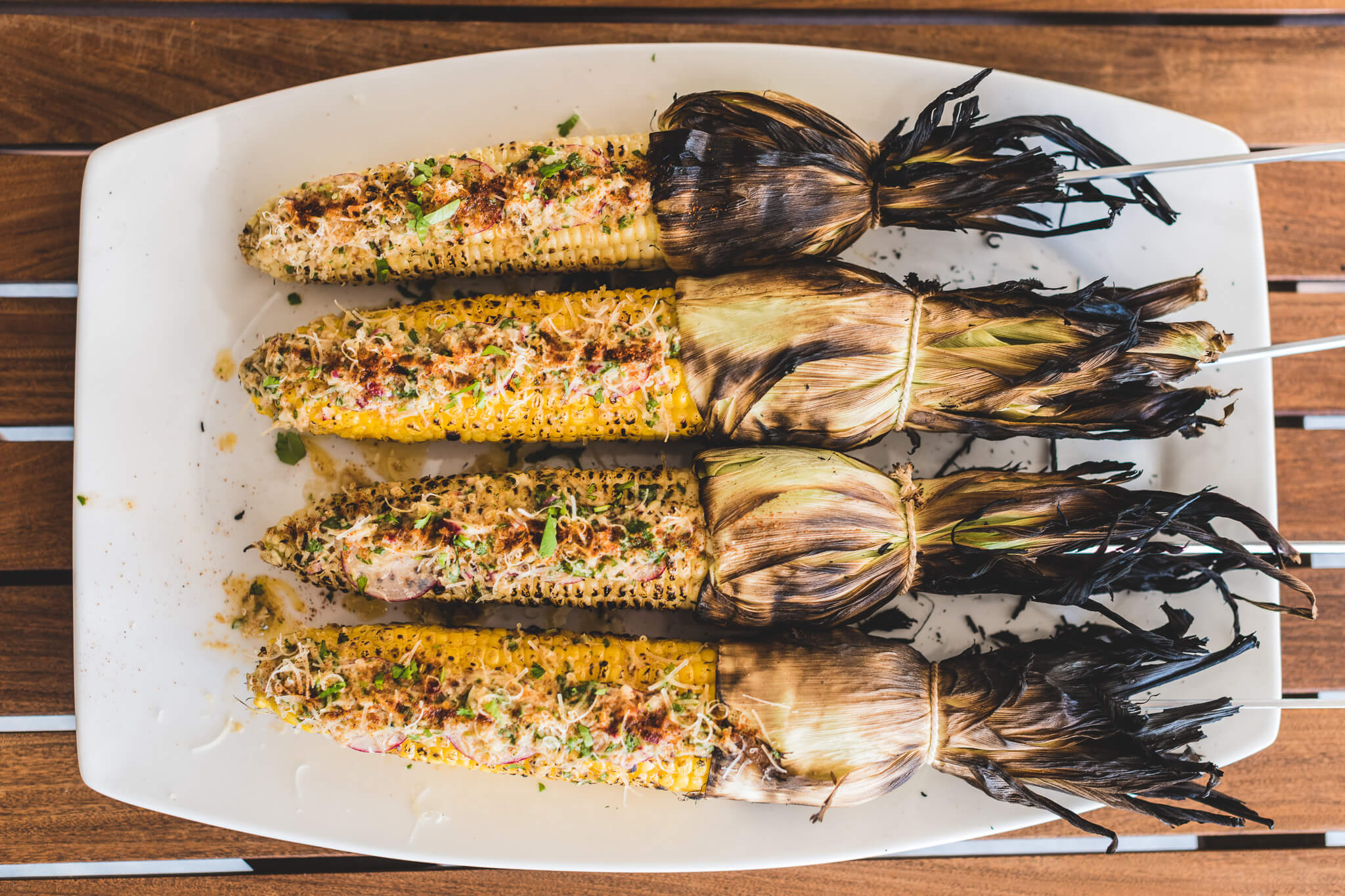 A Homage to Elote – Mexican Street Food
Throughout Mexico, elote is eaten as either a sweet or salty treat. I have incredibly vivid and pleasant memories of walking through the parks of Oaxaca after dark where the street vendors, known as eloteros, had lines over a dozen deep all waiting for their freshly grilled elote, doused with a variety of condiments to order.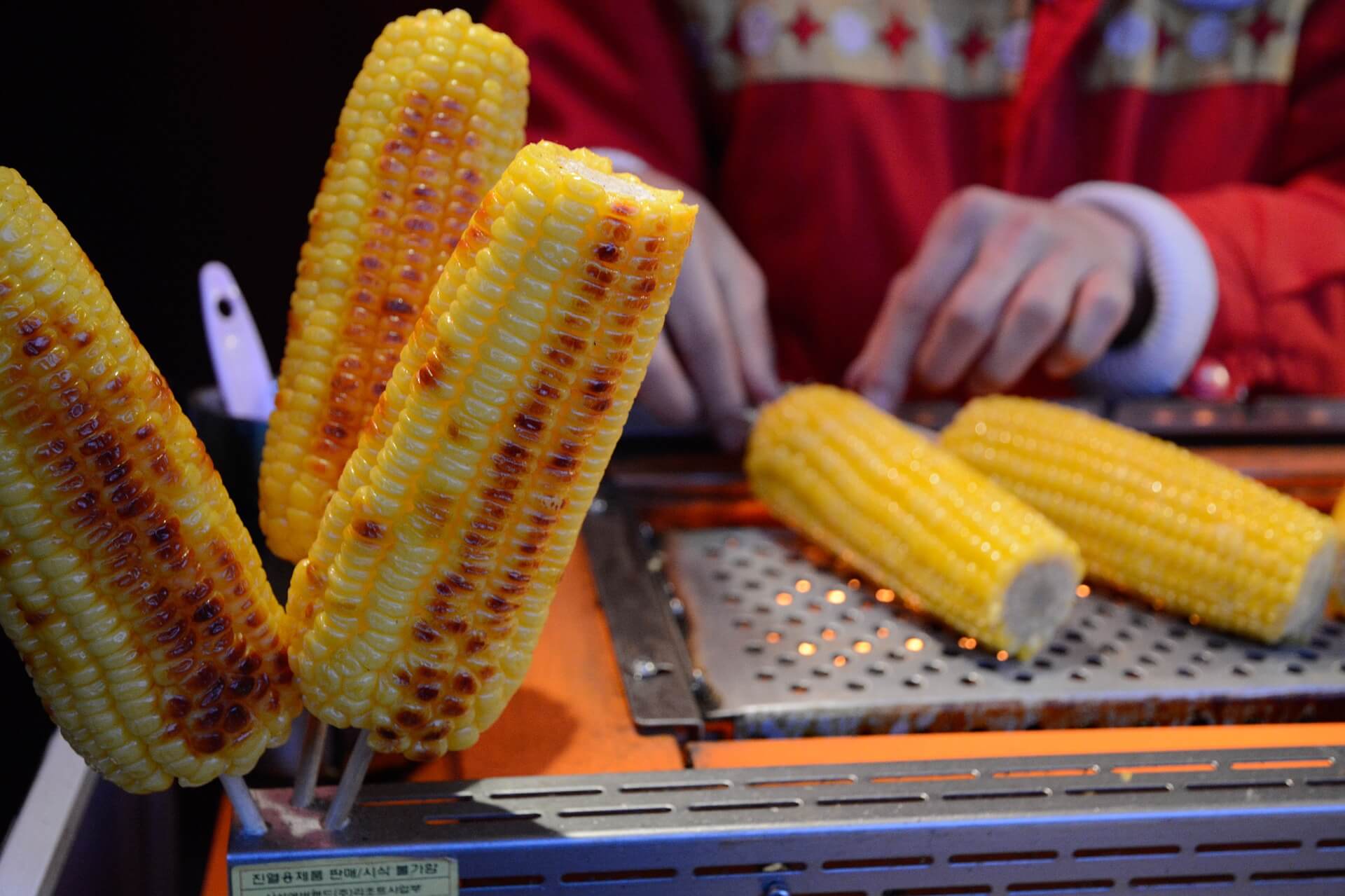 An experienced connoisseur of elote knows you can order them hard or soft, with small or large kernels, and a whole variety of amazing condiments. Just to give you an idea:
Mayonnaise – which I personally find gross, but is incredibly popular with many others
Sour cream
Melted cheese
Chile powder – one of my favorite ways
Grated cheese
Butter
Lime juice and salt
Cinnamon and sugar
I personally love getting a combination of cheese, chile powder, cheese (yes I put it in twice), butter, lime juice, and salt. Soft large kernels. So sweet, and nothing beats this snack after an epic dinner while walking around a Mexican town square at night.
Throughout Mexico and Mesoamerica, it is traditional to eat coal-grilled elote during the first harvest of the year, which can be from the end of June through the beginning of September.
Depending on the street vendor and availability of resources, either the Mexican street corn is first cooked in boiled water, then cooked over a grill or over coals, or the entire thing is cooked over coals. It is almost always cooked with the husk on to retain flavor.
With all this in mind, I wanted to respect the tradition of elote throughout Mexico as I incorporate vegan and plant based diets into the colorful Mexican street corn delight.
Melt Organic has an exceptional plant-based butter, checking all the boxes I look for on butter that supports the environment as well as our bodies, which I used as my base. For a parmesan alternative, you're going to want to use the grated plant-based variety. Pre-grated usually doesn't melt and won't have the flavor profile this recipe is going for.
Recommended Kitchen Tools
Vegan Mexican Street Corn (Elote)
This vegan Mexican street corn recipe is my new favorite summer grilling recipe. Inspired by the classic grilled elote, this street corn recipe is a delicious plant-based version of a Mexican street food staple.
Equipment
Barbecue Grill

Skewers

Parmesan grater

Mixing bowl

Tongs

Culinary torch
Ingredients
The Sauce
3

tbsp

Butter

Plant Based

2

parts

Cumin

Finely ground

1

part

Coriander

Finely ground

2

parts

Chili powder

Finely ground

2

cloves

Garlic

Minced fine or pressed

1

Red radish

Thinly sliced

4

sprigs

Cilantro

Chopped

2

tbps

parmesan

Vegan, Non-grated, hard plant-based varieties only
Instructions
Vegan Crema
Start small when mixing in the cumin, coriander, and chili powder. Adjust to your own personal preference, and keep the ratios consistent. I begin with a couple big pinches and build up from there, based on who I'm serving and their tolerance for spices.

Add the plant-based butter, cumin, coriander, chili powder, garlic, and vegan parmesan to a mixing bowl. Melt with your favorite heat source, whether microwave, stove, or the barbecue, until butter is melted. Stir ingredients together.

Add in minced garlic, thinly sliced radishes, and chopped cilantro.

Set aside until corn is ready. This will be poured on top of the ears of corn once served.
Garnish and Pizzazz
Chop some more cilantro to sprinkle on top of the sauce once corn has been served.

Slice some more of those radishes cause they are delicious and you'll probably want some more.
Grilled Corn (Elote)
Gently peel back the husks and remove as much of the stringy stuff as you possibly can. Don't remove the husks to the end completely.

Put the husks back into place, pat each corn, and tell it how good it is.

Soak the husk-covered corn for at least 20 minutes. If you soak the corn longer because you are way better at prepping fun meals than me, then great!

Meanwhile, heat your grill or barbecue to 400 degrees.

Skewer your corn, leaving enough room and balance to hold the corn up, and also hold the skewer in one hand.

Place the corn, husk on, onto the grill. Rotate 1/4 every 3 minutes.
Culinary Torch Pizzazz
As mentioned above, grilling with the husk on retains so much more flavor. However, if you're looking for that slightly charred look to impress your guests with, you're going to need to go the extra mile.

Turn the grill off and carefully peel back the husks. You may need to tie them, using either culinary string or the husks themselves.

Fire up the flamethrower, I mean culinary torch, and gently run it over the corn until they blister. It only takes a hot second, pun intended, for a kernel to turn.
Serve
Place the finished corn on a serving platter, add more radish and cilantro to taste, then gently douse the corn with the Vegan Creme. If your guests are like mine for this recipe, douse will turn into soak. Grate some more vegan cheese on top.

For those of you like myself with an aversion to messy foods, you can use the skewer to balance the corn upright and cut the corn off the cob and into a bowl. Pour some of that sauce on top and now you've turned this into a vibrant salad.
Nutrition
Serving:
1
g
Calories:
110
kcal
Carbohydrates:
1
g
Protein:
3
g
Fat:
11
g
Saturated Fat:
7
g
Cholesterol:
28
mg
Sodium:
205
mg
Potassium:
30
mg
Fiber:
1
g
Sugar:
1
g
Vitamin A:
635
IU
Vitamin C:
1
mg
Calcium:
97
mg
Iron:
1
mg
Tried this recipe?
Let us know how it was – tag @themklibrary on the socials!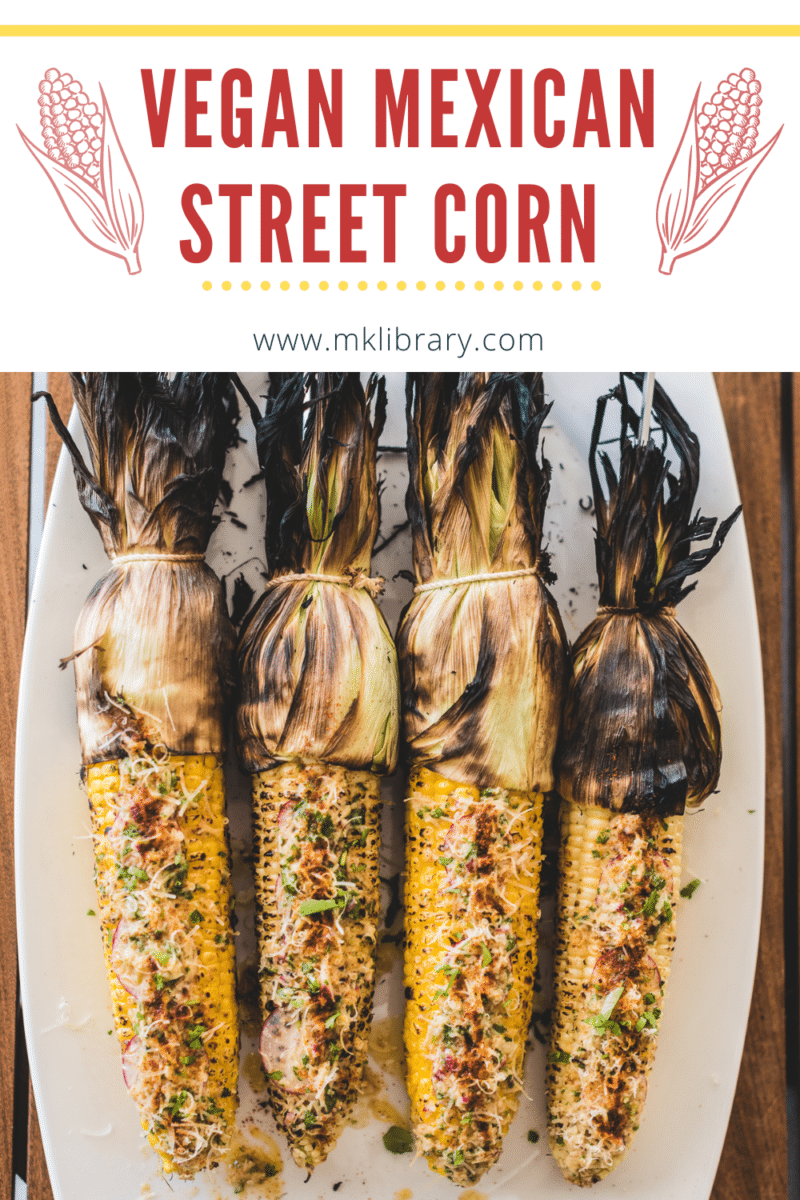 I strive to paint vivid landscapes with my words, bringing the magic of far-off lands and enchanting aromas to life for my readers. Combine passion for exploration and the art of gastronomy in an unending ode to the senses. When I'm not traversing the globe, I find solace in the earth beneath my fingertips, tending to my garden and working on projects around my verdant oasis. MK Library serves as a beacon, guiding fellow travelers and homebodies alike to embrace sustainability, nurturing both our planet and our souls with purpose. Full Bio.