This super simple applesauce recipe is just that; a quick and delicious applesauce recipe that mainly relies on apple variety and quality.
Applesauce is a versatile side dish or main meal that pairs with everything from granola and yogurt for breakfast to pork chops or sausages for dinner. You can even have it for dessert with some pie crust and ice cream! Maybe, just maybe, you're a baby and this is your favorite food (by the way, congrats on your reading abilities).
This is going to be the most simple applesauce recipe you'll find online!
You might wonder what makes this recipe so successful compared to the countless other recipes which use extra ingredients. I'm going to let you in on the secret… 
It's the apples.
Not just any apples. These are straight from the orchard and recently harvested. If you're lucky enough to live in an area with direct access to apple orchards, nothing beats buying direct. These apples haven't seen the inside of a refrigerator and were harvested within a week. They are often smaller than apples from a grocery store and come with many a bruise and scuff. But that's okay – this adds character and personality to the apples. The quality is superb. The batch of apples used in this recipe is Fujis from Apple Hill in Placerville, California.
Store bought apples certainly have their place – with a limited harvest season, it's not feasible to acquire this quality of apple at any time of year. However, during the Fall and early Winter months, it is quite advantageous to take advantage of orchard-quality apples.
As an added bonus, this recipe qualifies as vegan, paleo, and whole30.
The History of Applesauce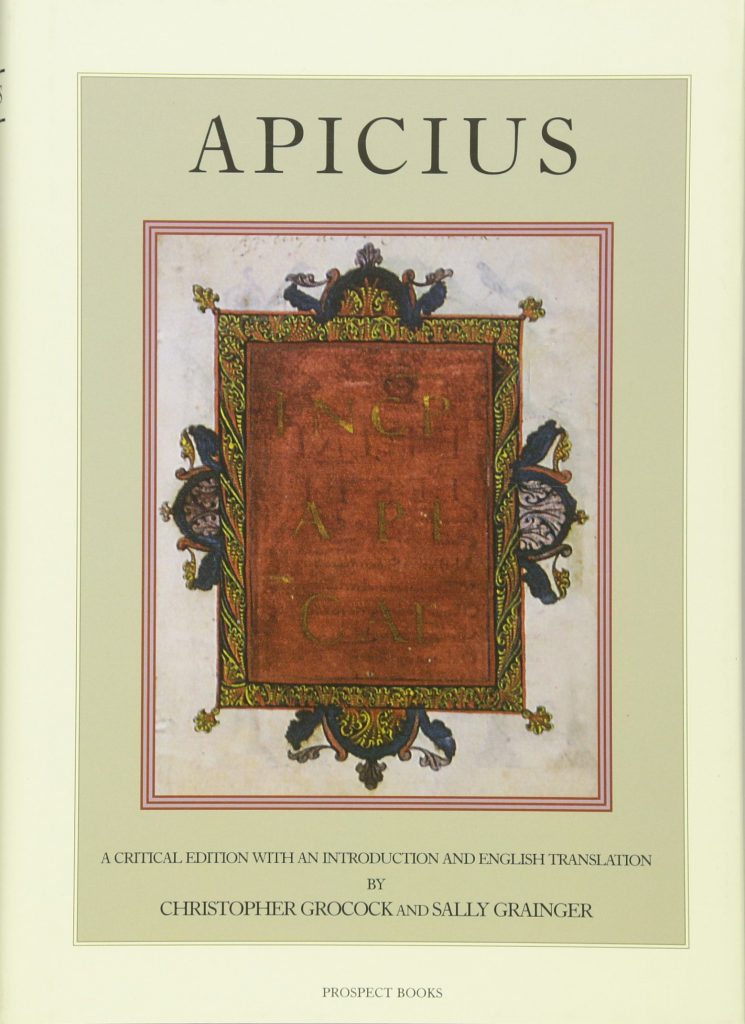 Food historians cite applesauce as originating in Europe in the 1300s as an accompaniment to a variety of foods, mainly meat dishes. Applesauce was easy to store and was a contributor to storing food during the winter months. Apples were paired with fatty foods such as pork and duck – the sharpness of many apple varieties was used to offset the fattiness of the accompanying dish. This is noted in 14th-century cookbooks, The Forme of Cury and the Menagier de Paris. Apicus, the sole remaining cookbook from the Roman empire, also makes note of the use of applesauce for the recipe Minutal Matianum, claiming it helps with the digestion of fatty meats.
The Forme of Cury excerpt: "Take apples and poach them. And let them cool and put them through a strainer. And on flesh days, add good, rich beef broth and good white grease and sugar and saffron. On fish days, add almond milk, olive oil and ground spices. And serve it forth."
14th-century cookbook The Vivendier provides an applesauce recipe, Amplummus, made for the sickly:
"To make an Apple Sauce. Get peeled apples, cut them into pieces, then set to boil in fresh water. When they are thoroughly cooked, drain off all of the water and sautee them in good fresh butter; get fresh cream and well-beaten egg yolks, saffron, and salt judiciously. On dishing it up, cinnamon and sugar generously over top."
The use of saffron, cream, and egg yolk makes this recipe particularly interesting to me. I kinda want to try it for fun. I also wonder if saffron was a less expensive herb in the 14th century. Material for another blog post!
Pairing Applesauce with Spices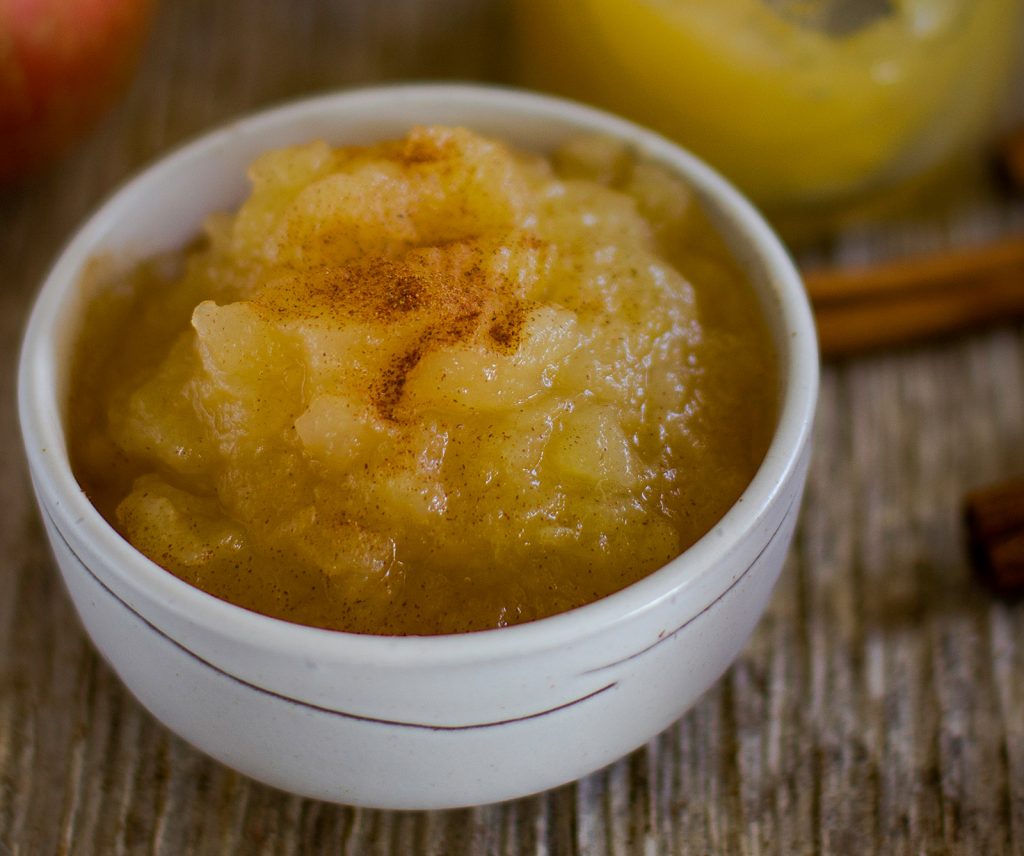 Applesauce is an incredibly versatile side that pairs well with savory dishes. These are some spices you can mix with your applesauce successfully.
Black pepper
Cumin, coriander, or caraway
Minced fresh chile such as jalepenos, red pepper flakes, or cayenne pepper
Chipotle chiles, dried or canned
Minced ginger
Nutmeg
Cloves or allspice
Cinnamon
Any spice blend (ex: jerk seasoning)
Roasted garlic
Different Types of Apples for Different Types of Applesauce
If you want to create delicious applesauce without adding sugar, these apple varieties will get you there. Try mixing some of them for different flavors:
Braeburn
Cortland
Crispin (Mutsu)
McIntosh
Fuji
Golden Delicious
Gravenstein
Liberty
Jonamac
Ida Red
Rome
Tips on Perfecting Applesauce
Leave the skins – to add a reddish hue to your finished applesauce. You will still want to core the apples and remove the seeds. Leaving the seeds in will produce a highly tannic bitter flavor. If you go with the skins, make sure to use a mill to catch the skins after they are done cooking.
Cut efficiently – too large of slices means your applesauce will take longer to cook down. Too small and you will spend an inordinate amount of time preparing the apples to cook. Aim for 1/4″ thick slices that are 1″ to 2″ long.
Sweetening the applesauce – If you must sweeten, stay away from white sugar – it's a single-note sweetener that will make your compote taste a bit funky. Stick with honey, maple syrup, or brown sugar to keep that desirable caramel sweetness.
Keep out the butter – This goes against the grain of many other recipes, but if you read History of Applesauce above, you will recall that applesauce is used to pair with fatty foods. Butter is fatty and will dull any tartness and flavor your applesauce has. If you must add a finisher, try a little lemon juice or lemon zest.
Super Simple Applesauce
Ingredients
20

Cups

Apples

Peeled, cored, and cut into 1/4" slices

1/2

Cup

Water
Instructions
Peel, core, and slice apples. About 4 dozen small to medium sized apples will bring you to 20 cups.

Place all sliced apples into large pot on stove. Add water. Set heat to low / simmer and cover with lid.

Stir periodically, bringing the apples up from the bottom to the top of the pot.

When the apples have cooked into an ideal chunkyness and consistency, the applesauce is ready.

You can serve immediately, or chill, or freeze. Garnish with spices such as cinnamon, allspice, or cloves to taste.
Notes
Too much water will make the applesauce runny. You can always add small amounts of water to thin the sauce, but you cannot take the water back out!
Use sweet apples such as Fuji apples  - no extra sugar is needed.
Tried this recipe?
Let us know how it was - tag @themklibrary on the socials!
About the Author
Latest Posts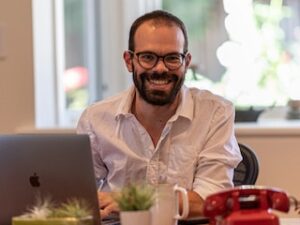 I strive to paint vivid landscapes with my words, bringing the magic of far-off lands and enchanting aromas to life for my readers. Combine passion for exploration and the art of gastronomy in an unending ode to the senses. When I'm not traversing the globe, I find solace in the earth beneath my fingertips, tending to my garden and working on projects around my verdant oasis. MK Library serves as a beacon, guiding fellow travelers and homebodies alike to embrace sustainability, nurturing both our planet and our souls with purpose. Full Bio.