If your goal is to create a magical butterfly sanctuary in your own backyard, look no further! These must-have flowering plants that attract butterflies are sure to attract a variety of beauty to your yard, in addition to other native pollinators such as hummingbirds and bees.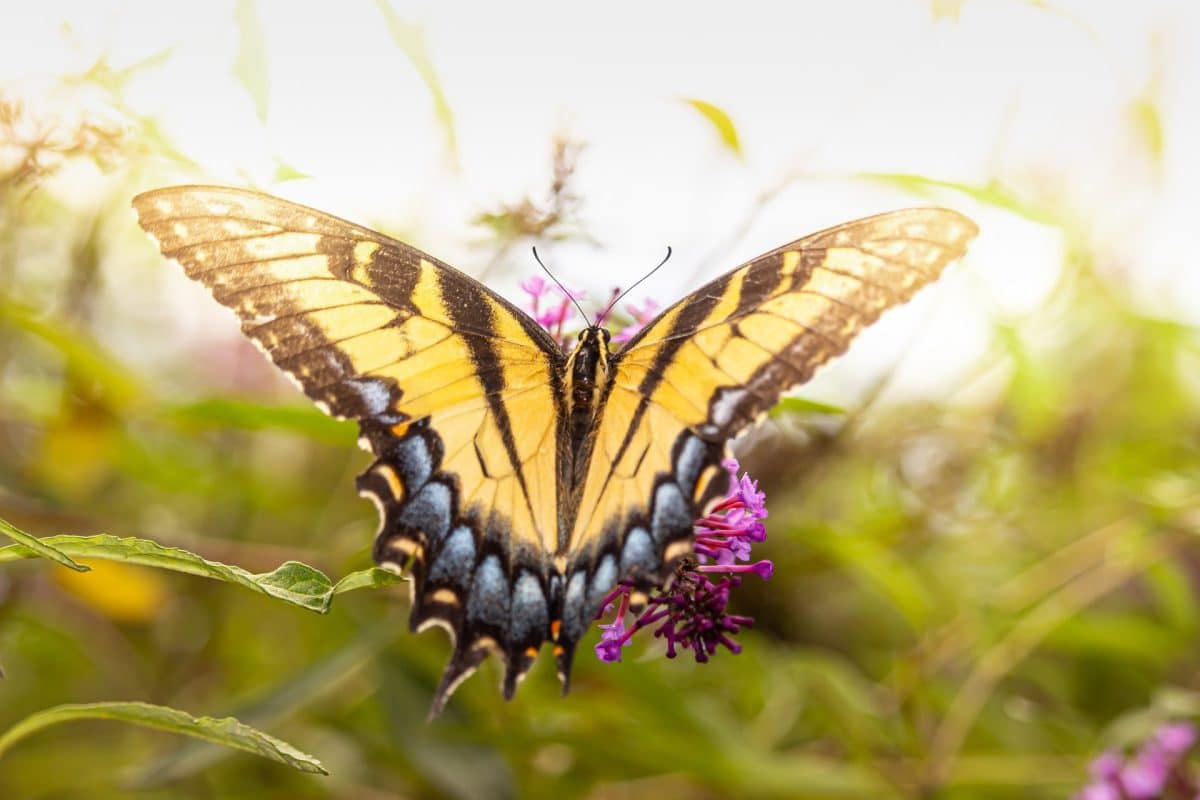 Some are better at drawing in a specific species, such as monarch butterflies, while many others attract a wide range of insects. Most of these plants are fairly common all over the U.S., and each would make show-stopping additions to any garden.
To understand which plants are best for butterflies, you need to first understand their needs. Butterflies love nectar, so many flowering plants with rich nectar stores will attract these fluttering creatures. But just because a plant attracts butterflies doesn't necessarily mean that the plant will keep them around for an extended period of time.
To create a true butterfly habitat in your front or backyard, you should include a variety of host plants as well as showy nectar-rich plants. As a rule of thumb, integrating native plant varieties in your garden is always the best option, as they are more environmentally friendly and more likely to attract local pollinators. Butterflies also prefer shelter from harsh winds, a freshwater source, and a wide-open sunny space.
And if you want some natural inspiration to attract butterflies, visiting the scene of a California Super Bloom can give you some vividly spectacular ideas for your own garden.
For a comprehensive list of butterfly species present in California, check out Art Shapiro's Butterfly Site. The Old Farmer's Almanac has also put together this complete butterfly plant list for your reference.
Host Plants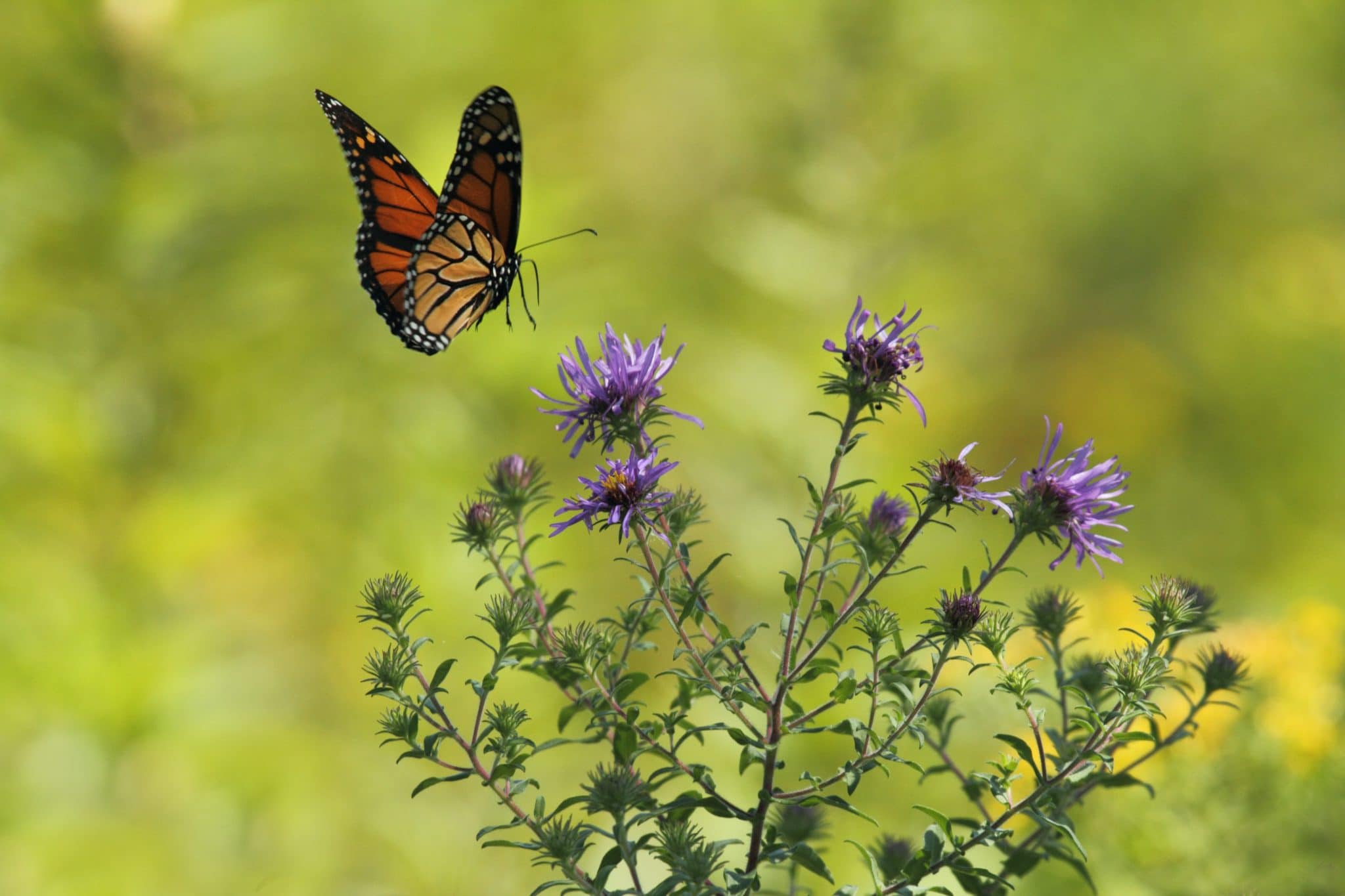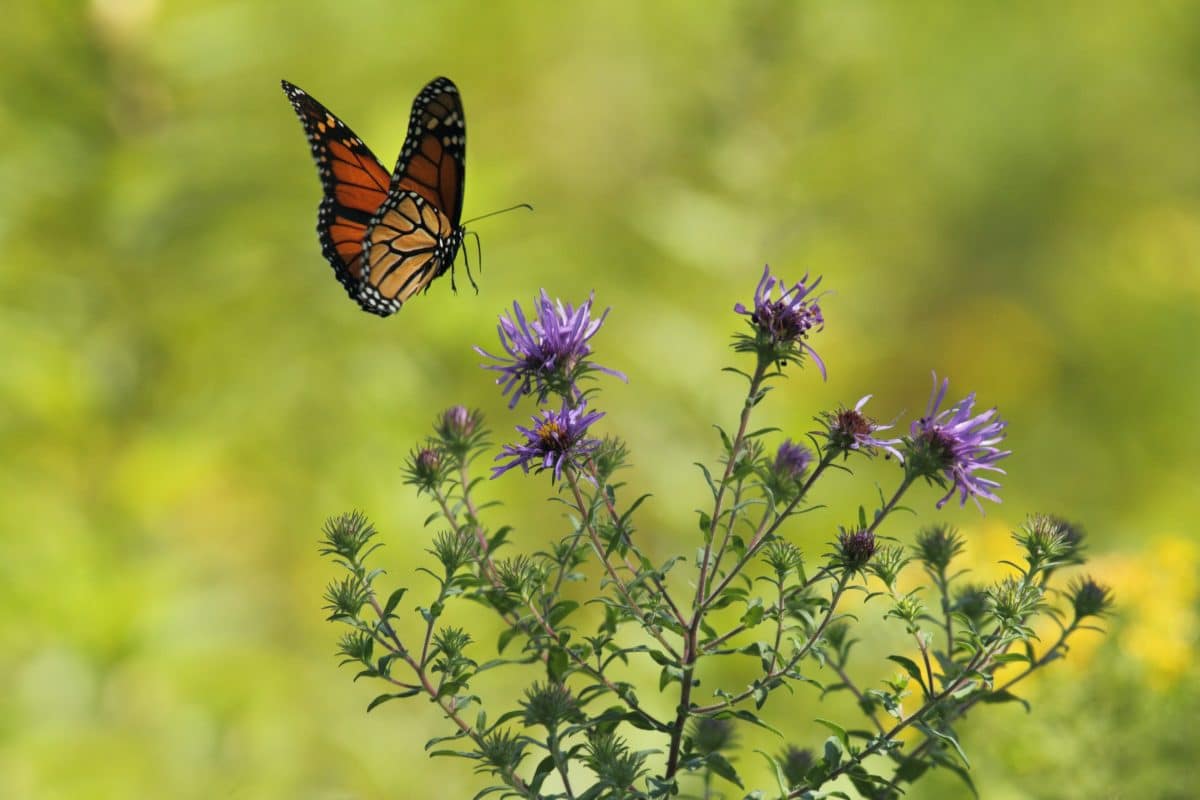 Host plants provide a food source for caterpillars and are often a safe place for butterflies to lay their eggs, while nectar plants simply attract butterflies with their nectar stores. These plants attract female butterflies through the chemicals they emit. Once found, females will begin laying eggs on various parts of the plant. Males are also attracted to host plants because these are the places they are most likely to find females for mating. Some common butterfly host plants include violets, dill, asters and native grasses.
Not all host plants are equally attractive across the board. Different species of butterfly rely on different host plants for the reproductive process and also prefer differing nectar sources. Gardeners hoping to design a butterfly garden might focus on a few key butterfly species they wish to attract, and select host and nectar plants accordingly. Another option is to simply plant a diverse selection of native plants and take pleasure in witnessing all the native butterflies that show up.
Plants That Attract Monarch Butterflies
Monarch butterflies tend to require no introduction. Although most people are aware of this species of butterfly, few are aware of their specific biology. Monarchs acquire protective chemicals from its host plant, the milkweed. Although Monarchs rely on milkweed flowers, they widely visit other flowering plants. They are skilled at getting the nectar out of flowers with their long proboscis, so they tend to stick to flowers with a long corolla (the tube where nectar is stored).
Host Plants:
Milkweed species: Asclepias spp., A. syriaca, A. incarnate, A. tuberosa
Nectar Favorites:
Milkweed
Asters
Butterfly bush
Sedum
Verbena
Ironweed
Milkweed
Simply put, without milkweed plants, there would be no monarch butterflies. Not only do the plants contain a chemical that protects monarch caterpillars when ingested, but they also attract adult butterflies when in bloom. Milkweeds produce bunches of small flowers and come in quite a few varieties of colors, from bright orange to pink and white. There are many species of milkweed, but some common varieties include Asclepias fascicularis, A. speciosa and A.cordifolia.
Siberian Wallflower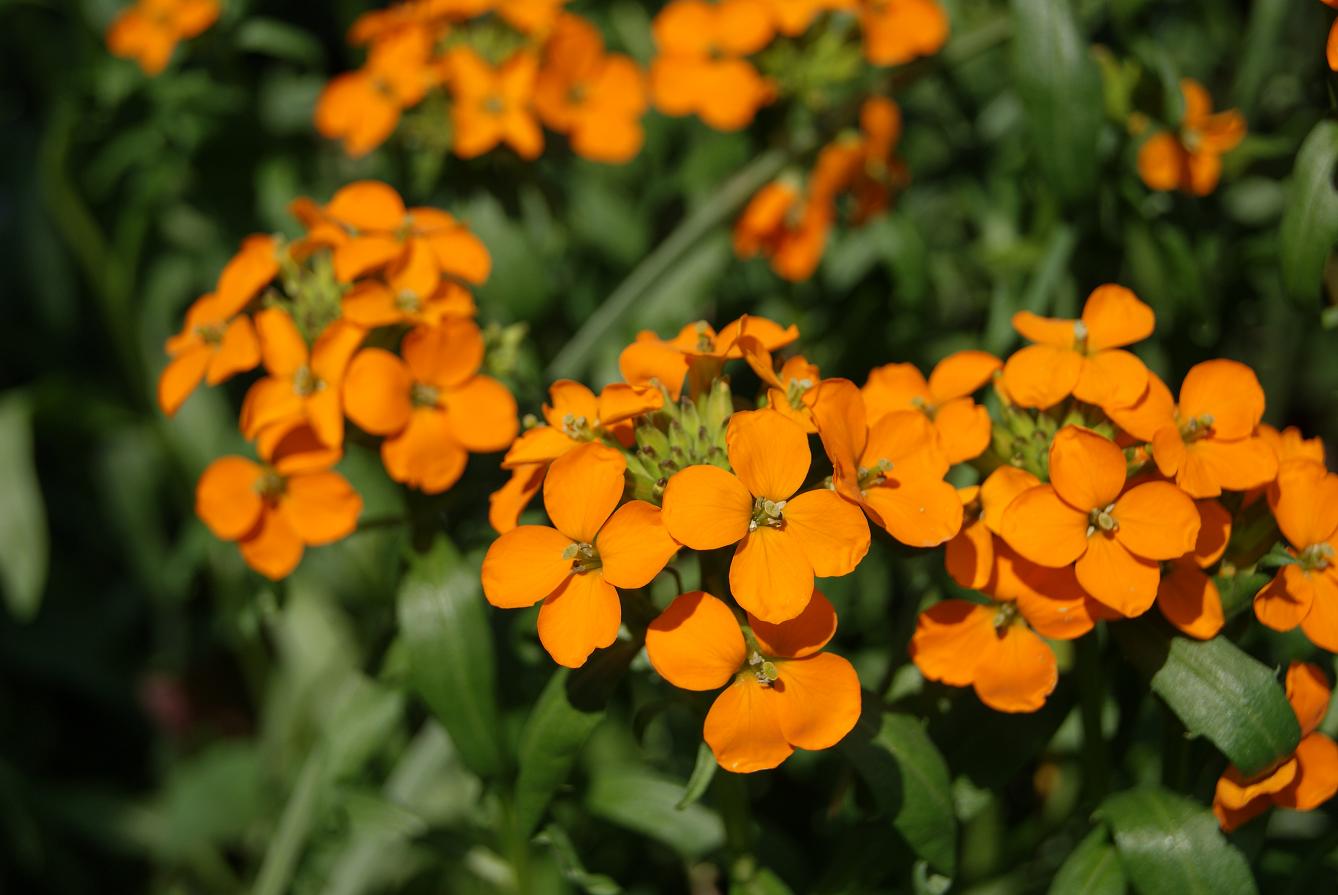 The simple yet vibrant Siberian Wallflower gives off a fragrant aroma that is practically irresistible to bees and butterflies, including any passing monarch. These dazzling orange wallflowers are easy to grow in many types of soil and will create an unforgettable burst of color in any garden. Their smell and bright color make them a butterfly guarantee.
Brazilian Vervain Verbena
Brazilian Vervain Verbena is often overlooked because it is fairly common and not particularly showy, but its effectiveness in attracting beneficial pollinators cannot be understated. This perennial flowering plant is widespread in North America and is a regular stop for hummingbirds, bees, finches, and the monarch butterfly. In residential landscapes, vervain is often layered with other shorter plants because of its tall, "see-through" structure. This hardy plant is also beautiful in its own right, producing clusters of small magenta-purple to lavender flowers from early summer through late fall.
Lantana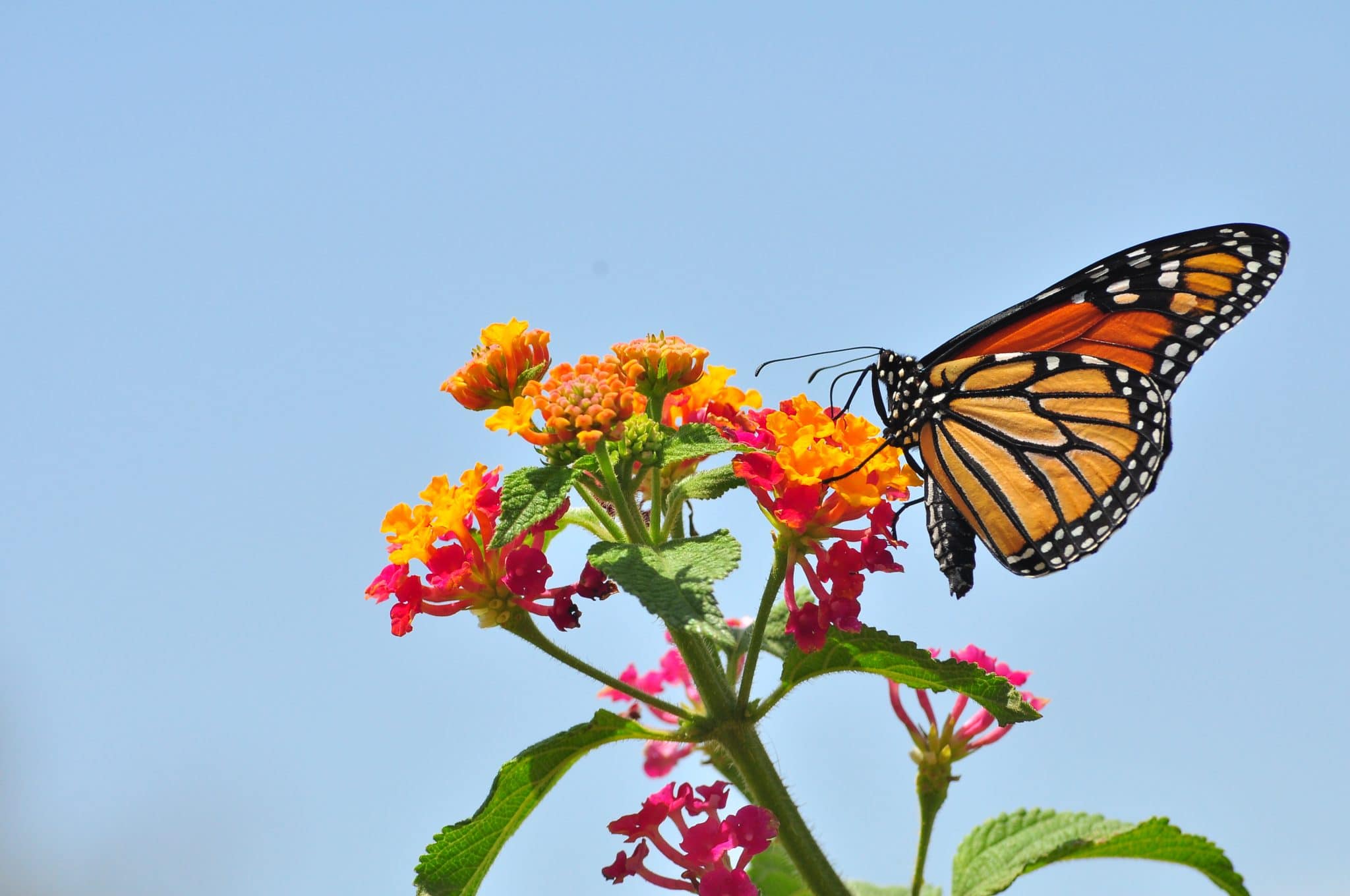 Monarchs will flock to you with the vibrant multi-colored lantana plant. Lantanas thrive in full sun and well-drained soil, making them perfect for more arid conditions or if you live along the beach. The small clusters of flowers come in a variety of colors (even on the same plant), from orange and red to purple and hot pink. The bright flowers have a long blooming season and provide plenty of nectar for foraging Monarchs.
Plants That Attract Swallowtails
Eastern Swallowtails
Host Plants:
Dill
Fennel
Parsley
Queen Anne's Lace
Rue
Nectar Favorites:
Milkweed
Butterfly weed
Butterfly bush
Joe Pye weed
Plox
Ironweed
Tiger Swallowtails
Host Plants:
Cherry
Ash
Willow
Birch
Tuliptree
Nectar Favorites:
Ironweed
Butterfly weed
Butterfly bush
Purple Coneflower
Blazing star
Oregano
Zinnia
Lilac
Fennel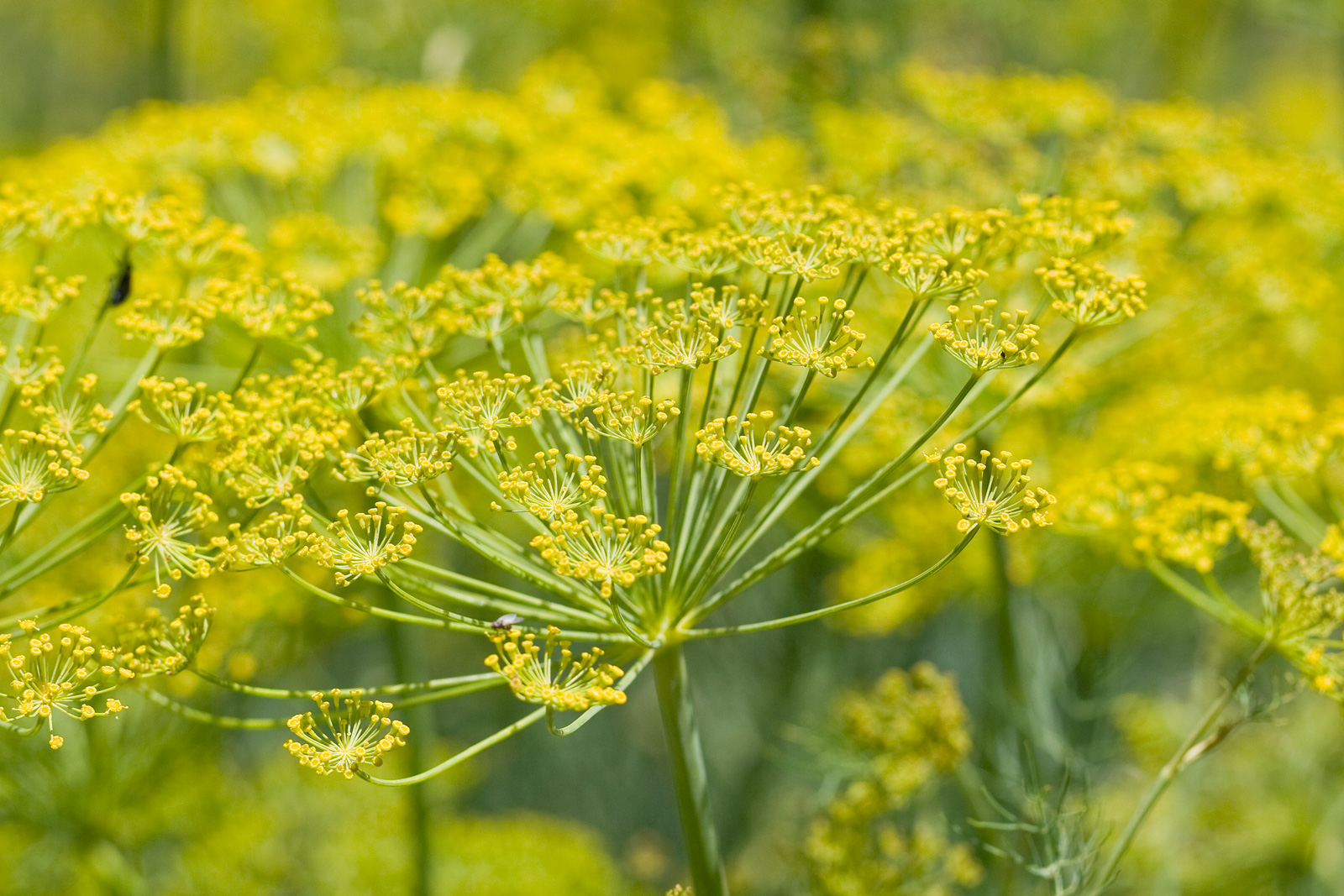 Fennel is a popular perennial herb that is commonly used in cooking, but few people are aware of just how important this plant is to the lifecycle of swallowtail butterflies. Fennel is a host plant to Eastern black swallowtails and anise swallowtails, providing both nectar and a safe place for females to lay their eggs. This herb grows tall feathery blue-green plumes and fronds crowned by small yellow flowers. These delicate flowers attract a variety of beneficial insects, including ladybugs and lacewings.
Ironweed
Ironweed is a significantly tall plant that blooms into densely-packed bouquets of purples and creams. These somewhat-late bloomers are not only a favorite among swallowtails for their nectar stores, but are also frequented by monarchs, American and painted ladies, skippers, and sulfurs. Native pollinators including bee flies, cuckoo bees, and bumblebees will take advantage of ironweed's rich pollen and nectar stores as well. These valuable plants grow attractive lance-shaped leaves and are a great accent to any garden. They can be found in woodland landscapes and have become adapted to growing in abused or disturbed landscapes.
Butterfly weed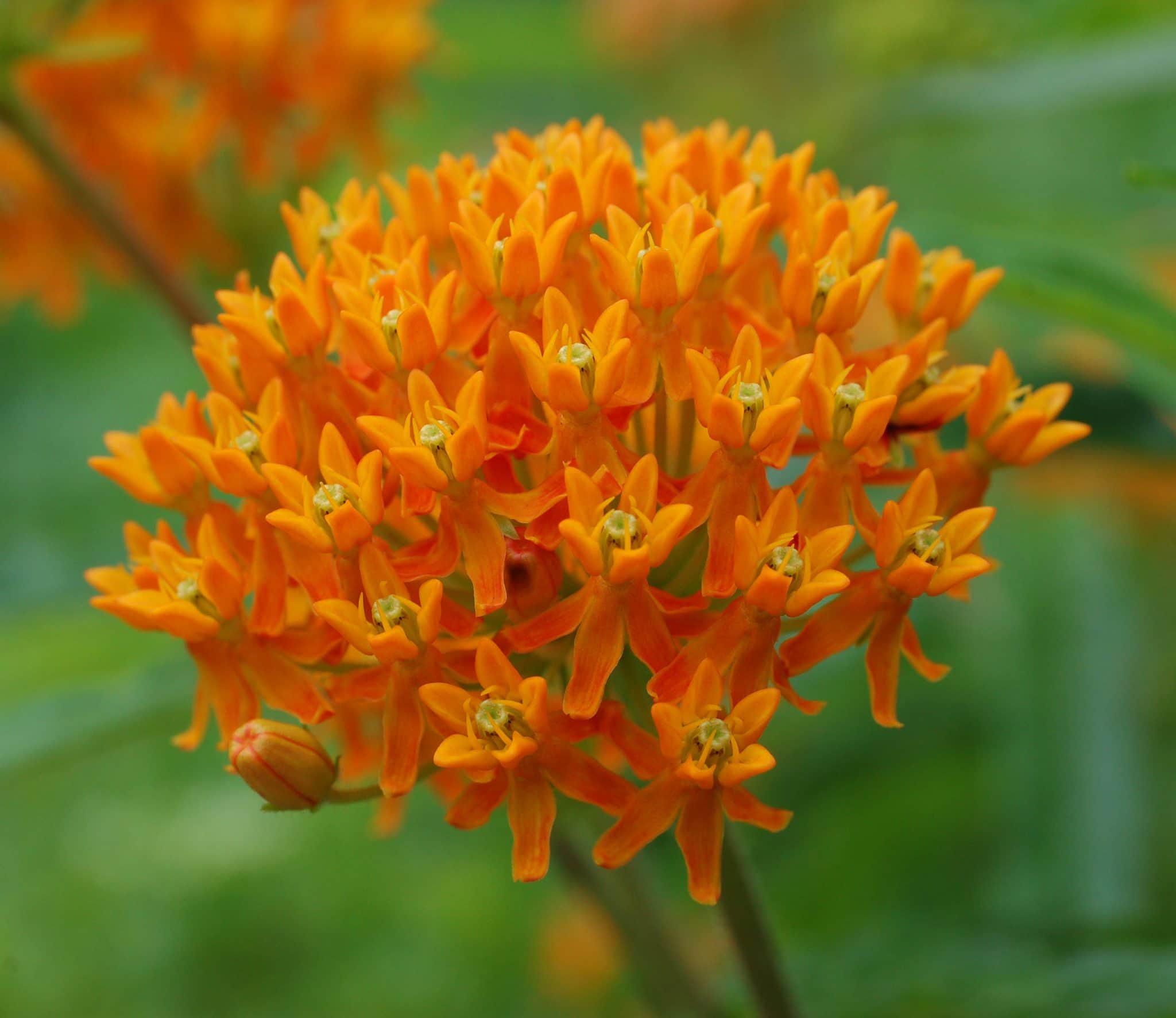 The bright butterfly weed attracts a host of pollinators with its neon orange color and rich nectar stores, including swallowtail butterflies, bees, hummingbirds, and moths. This species of milkweed is native to North America and is different than the butterfly bush, which is considered to be invasive in many parts of the country. Butterfly weed can reach from 1 to 3 feet tall, and dark green foliage provides a great backdrop to its clusters of vibrant yellow-orange flowers. Like other milkweeds, the butterfly bush is also a host plant to monarchs.
Butterfly Bush
If you couldn't already tell by the name, the butterfly bush attracts many species of butterflies, including swallowtails and monarchs, with its spikes of small tubular flowers. This attractive plant, which blooms in vibrant deep reds and purples, does come with its share of downsides. Some varieties of the fast-growing butterfly bush are considered invasive in many regions of the U.S. and have the potential to push out beneficial native plants and their pollinators.
Although these hardy, low-maintenance plants provide nectar to adult butterflies, they do not support caterpillars and are not considered host plants. If you are considering planting a butterfly bush, be sure to keep it contained in your yard and add native host plants such as milkweed, aster, and dill.
The Miss Molly butterfly bush is a non-invasive variety with rods of fragrant crimson pink to red blooms. It is a favorite among monarch butterflies and hummingbirds alike and thrives in hot climates.
Joe-Pye Weed
It may be called a weed, but the Joe-Pye weed is far from a garden nuisance. This plant produces clusters of light pink-purple flowers that emit a vanilla fragrance that is attractive to swallowtails and provides plenty of nectar. Growing in woodlands throughout the eastern half of North America, these tall-growing wildflowers can reach an impressive height of 12 feet. Joe-Pye blooms from mid-summer throughout fall and is a perfect native garden addition for those who live in the eastern part of the U.S.
Plants That Attract Painted Lady Butterflies
For a simple and stress-free way of creating a garden that will attract these delicate North-American butterflies (as well as others), try sprinkling this painted lady nectar seed collection from American Meadows. This seed mix includes Hollyhock, Liatris, Joe-Pye Weed, Ironweed, and New England Aster.
Host Plants:
Asters
Hollyhock
Ironweed
Mallows
Nectar Favorites:
Asters
Tickseed sunflower
Butterfly bush
Mexican sunflower
Brazilian vervain
Chaste tree
Common zinnia
The Mexican Sunflower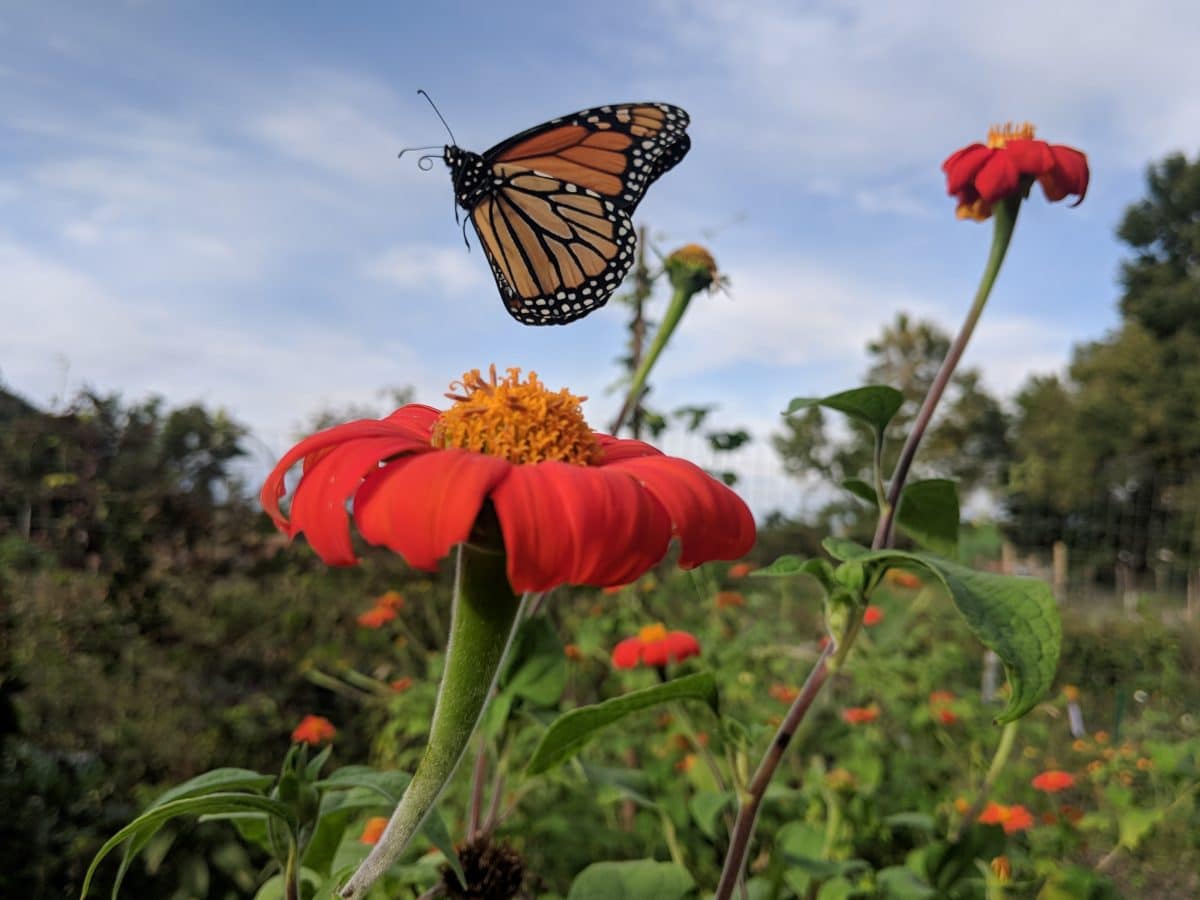 These bright, eye-catching flowers in the daisy family are a favorite amongst painted ladies, monarchs, and butterflies of all kinds. The Mexican Sunflower is smaller than a sunflower and comes in many vibrant varieties, from a fire-orange to bright yellow. In addition to attracting pollinators such as hummingbirds, these flowers are also drought tolerant and low maintenance.
Hollyhock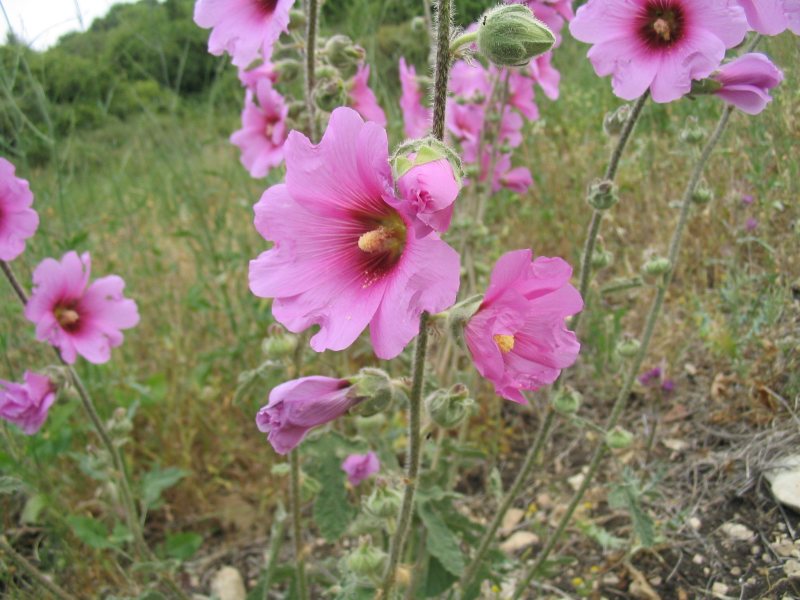 Hollyhocks are tall plants with colorful spikes of large, delicate flowers that come in a range of colors from white to light pink and deep maroon. Their fragrance attracts many butterflies, the most important of which is the painted lady butterfly, which relies on the plant to complete its lifecycle. If you have too many painted lady caterpillars on your plants, however, they can drain the plant of nutrients. These perennial plants can grow up to six feet tall and will spread easily by means of self-propagation. If you do not want hollyhock to spread and re-emerge year after year, make sure you remove the whole plant including the taproot. In addition to attracting beautiful and beneficial insects, this flower makes a great show-stopping perimeter plant in your garden.
Zinnias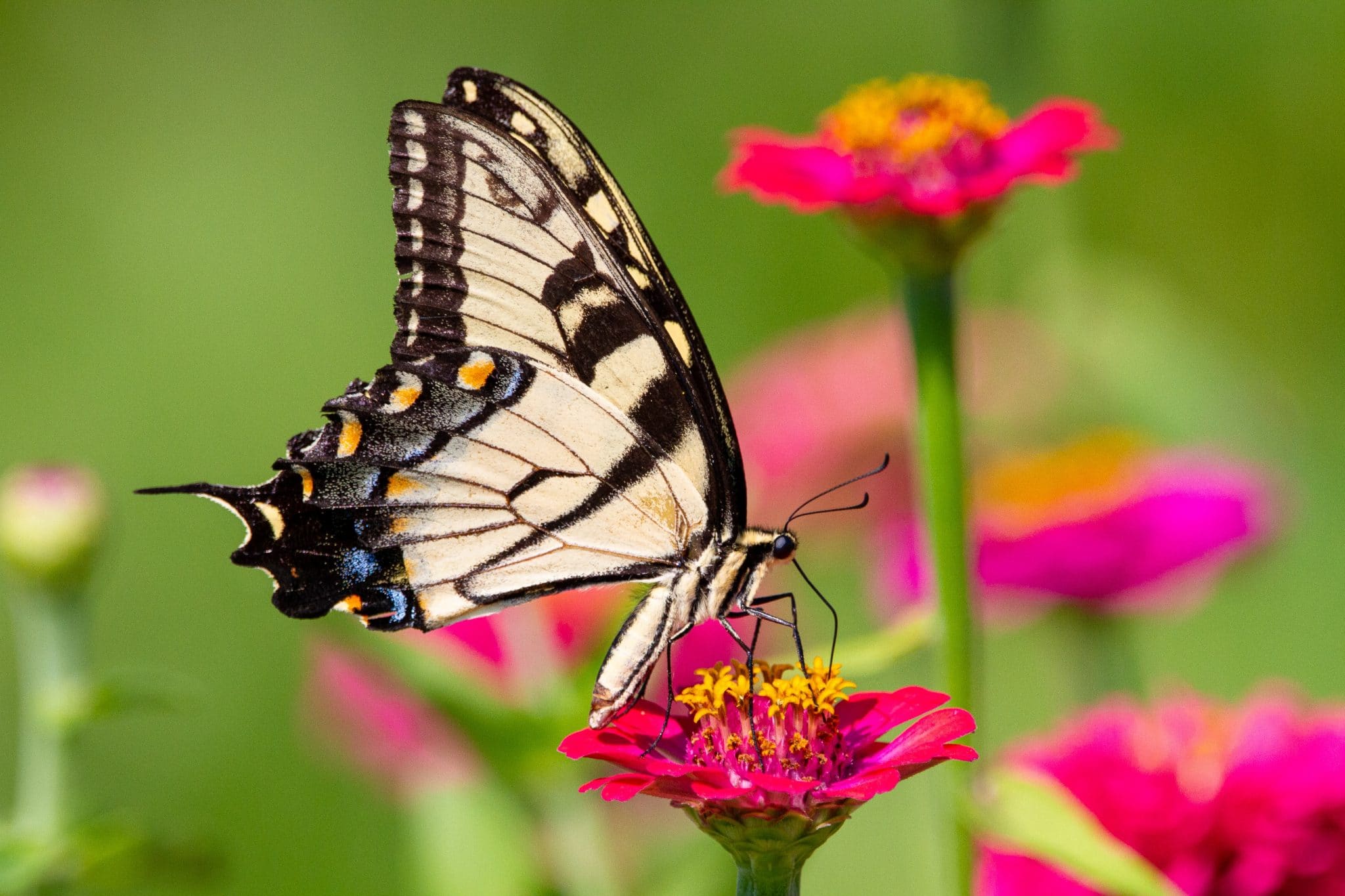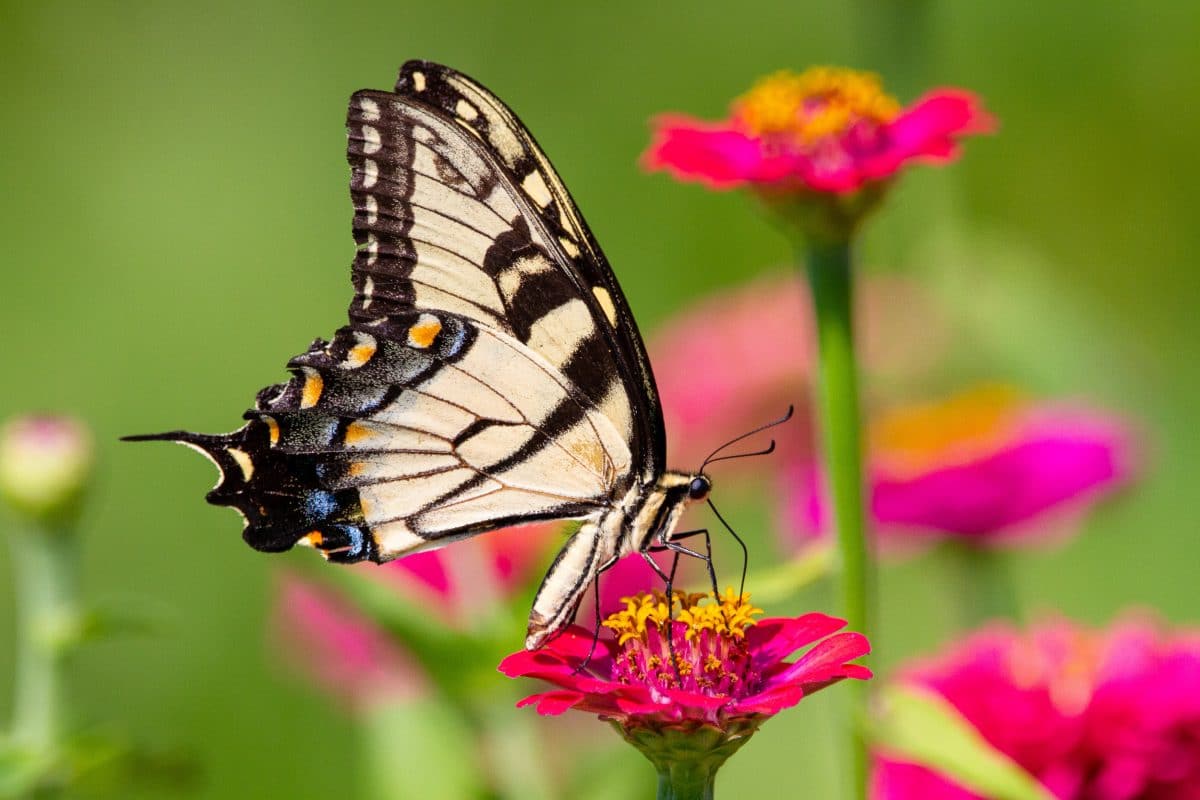 Zinnias are annual flowers that produce bright multicolored blooms that attract pollinators of all kinds, including butterflies. The full daisy-like flowers grow quickly and make a great addition to any garden.
More Plants That Attract Pollinators
Here are some colorful flowers that attract a wide range of pollinators, from hummingbirds to native bees. Planting any of these plants will guarantee you a garden full of spring visitors.
Goldenrod
Goldenrod plants, sometimes mistaken for ragweed, produce bright-yellow plumes of flowers that attract bees and butterflies. Not only do they create a pop of vivid color throughout your backyard landscape, but they also draw harmful insects away from your garden vegetables and provide nectar for migrating butterflies.
Hummingbird Mint 'Ava Agastache'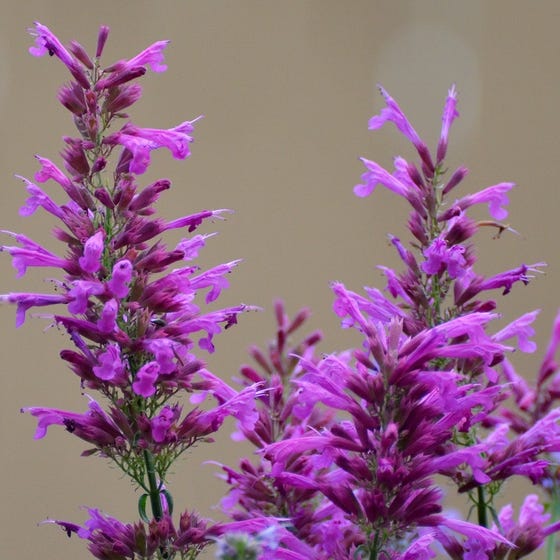 With tall spikes of fragrant deep red-pink to purple flowers, ava flowers are best known for attracting hummingbirds in the spring. In addition to hummingbirds, they attract a host of beneficial pollinators, from monarch butterflies to bees.
May Night Sage
The May Night Sage plant has tall spikes of deep indigo blue flowers that not only add a gorgeous pop of color to the front or backyard but attract everything from butterflies to bees and hummingbirds. They are cold-hardy plants that usually bloom twice; once in the spring and then later in the summer.
Cosmos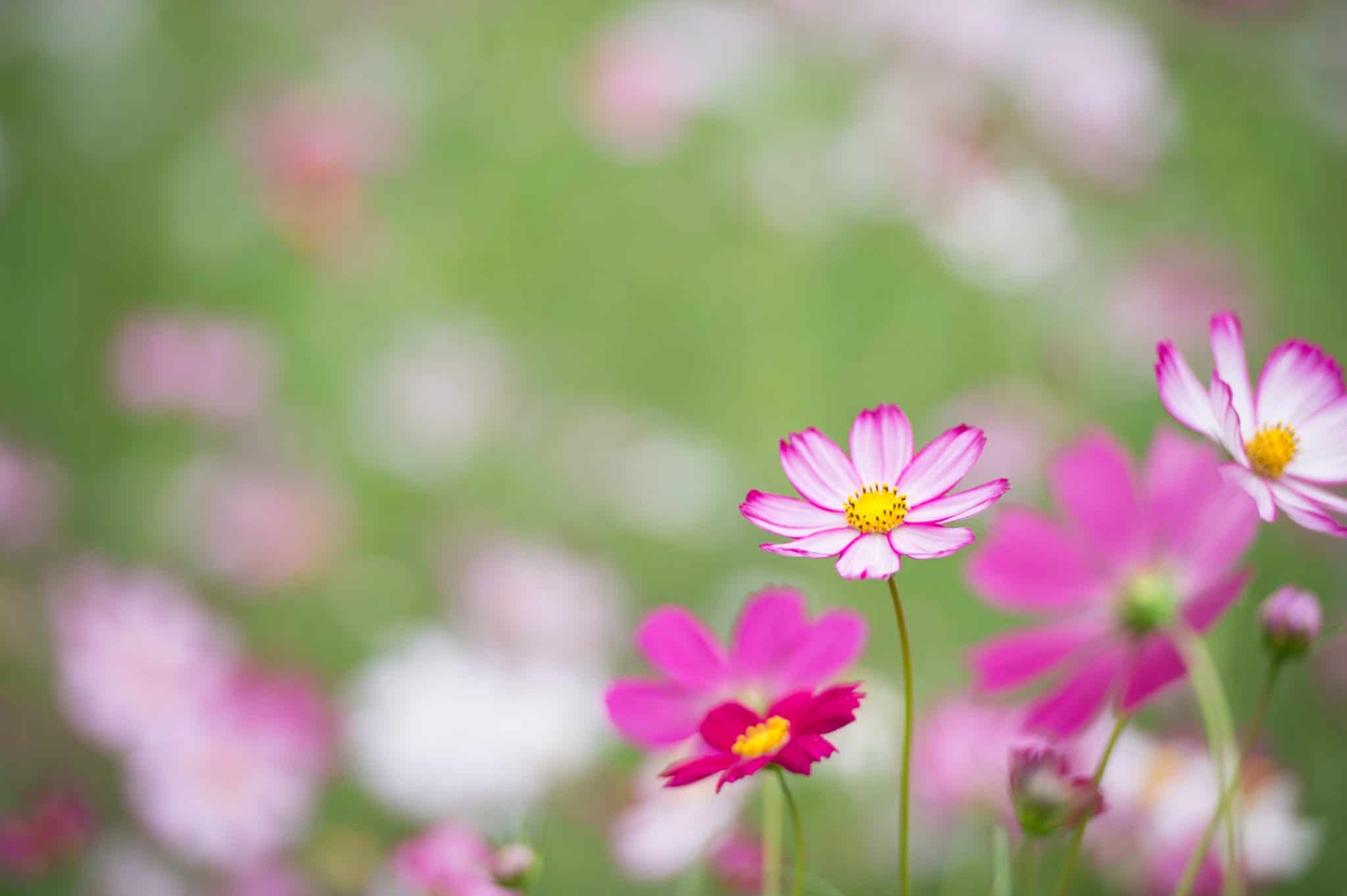 These daisy-like flowers draw in butterflies and bees with their attractive colors, unique patterns, and rich nectar stores. Cosmos flowers grow easily and in abundance, making them a great addition to any garden. Though they come in a wide variety of colors, some popular varieties include the yellow Cosmos sulphureus, 'Bright Lights' Mix, Cosmic Orange, and the award-winning Peppermint Candy.
Wild Violets
Wild violets are extremely important to the endangered butterfly community but can be a contentious wildflower for those who prefer a more carefully cultivated garden. These wildflowers spread rapidly through a system of underground rhizomes or through self-seeding. This can either can cause them to spread rapidly, which is good or bad depending on the type of garden you are trying to cultivate.
Wild violets are host plants to fritillary butterflies and a few endangered species of butterfly, the Oregon Silverspot and Myrtle's Silverspot. Wild violets have heart-shaped leaves with indigo, white or yellow flowers, and grow well in a variety of soil conditions. Wild violets make great accents around trees, near water sources, and beds, and create a woodland-garden feel. The flowers and leaves of some wild violet varieties can even be eaten and have beneficial medicinal effects. Some common varieties you may see are Viola odorata and Viola sororia.
From recipes using locally sourced ingredients and terroir-centric cooking, craft cocktails, to the latest in tech and home DIY projects, Michael yearns to share his learned and found knowledge of the world.