When you're building a tiny house, it's important not to forget about the furry members of your family (and no, I'm not referring to Uncle Frank). Here's how we made our tiny home pet friendly:
Our little baby boy and tiny house pet is named Bucket. He's most definitely our child because he demands so much attention!  When we thought about about how we wanted to build our house, we made sure to include features and pet accommodations that would make him feel at home in his new space.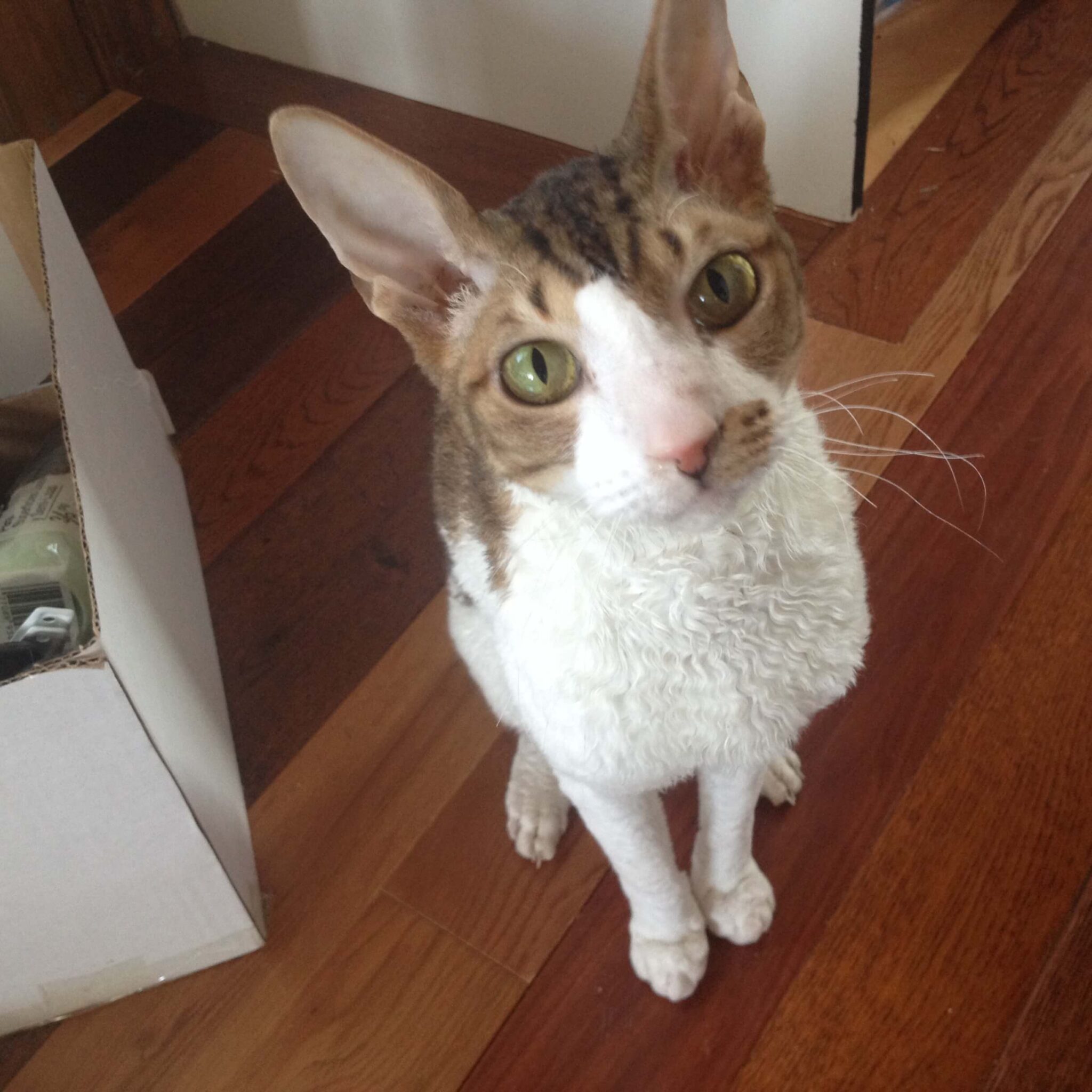 The first thing we knew we needed were stairs up to the loft.  
See, Bucket has to sleep with Mrs. Epic every night under the blanket and behind her knees.  If he doesn't get his way, he cries, and we REALLY don't want that happening all night!  He's also a middle-of-the-night bathroom user (just like his momma), so he really needed to be able to get up and down by himself.  We designed these stairs so that both humans and kitty could climb up and down the stairs with ease.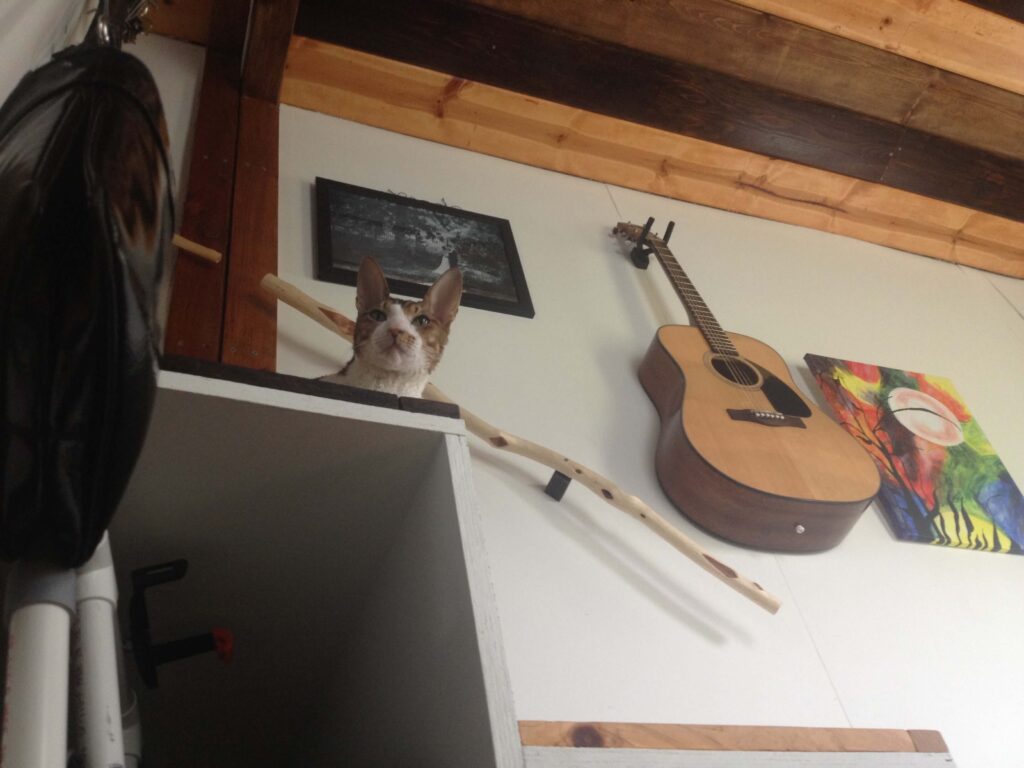 The next thing we knew would be on our kitty's demand list was a window perch!  
Bucket LOVES his sun spot and LOVES to sleep, so this was the perfect solution! Mrs. Epic designed and built this window perch out of left over materials from the build, and the kitty loves it! We can find him curled up in his bed pretty much every afternoon.
After a long nap, what do most kitties want?  A place to scratch!  
Our Bucket has all of his claws, so it's important that he has a place (or several) to get out his need to scratch and to groom his nails. Bucket use to have a large cat tree in our previous house, but that simply wasn't feasible in the tiny house. He loved scratching the carpet on the tree as well as the posts, so I decided to give him both options. I found some free carpet square samples and glued those down to a section of my wheel well next to the stairs. This is his absolute favorite scratching place.
I then purchased some sisal rope and glued it to a piece of scrap 3/4″ plywood and secured it to the outside of our top stair step. If you look closely, you can see that the screw holding the scratching post in place is serving double duty – it's ALSO holding the pantry shelf in place inside the step! Can you say multi-functional??
Of course, we had to make sure that the kitty had a place to eat and do his business!  
Mrs Epic built a small food and water dish that sits next to the couch. It's out of the way for us and in an undisturbed location for him.
And then there's infamous litter box. To back up, our tiny house pet, Bucket, used to be toilet trained (meaning that he DID use a human toilet). However, as you know most cats like to dig before going, and Mr Bucket was no exception, except he liked to dig in the toilet water, so we had to leave the lid open for him. Now we have a composting toilet, and leaving the lid open would be… a very bad idea. So, back to the litter box for him, which he took to like a champ!
Since we have a rather large shower, we decided to let it serve double duty (so to speak) and hold his litter box during the day, which we move when we shower. The litter box is made out of an 18 gallon tub and a door is cut into the side about 8 inches up. This way most of the litter stays inside the box and does not track out.  What little does track out is caught mainly by the mat in front of the box, or it falls on the shower floor, which we vacuum up with a Dirt Devil prior to showering.
Bucket, is so grateful that we thought of him during our tiny house build…for him it's just purrrrrrfect!
#I'mthepunniest
About the Author
Latest Posts
The DIY Tiny House idea started in 2014. A complete DIY process, Will and Alicia did everything themselves from drawing up the plans, building the framework, electrical, plumbing, and finishing touches and appliance selections.
Over several years, they documented what it was like to live in a Tiny House, conducting very thorough research on how to solve the many issues and problems which come up. In 2019, they sold their Tiny House as their lives continued to evolve and change.
You can continue to follow the lives of Will and Alicia at @ironwillruns on Instagram.