If you're anything like me, a long, hot shower is not just a luxury, it's a NECESSITY. That's why when it came time to choose a water heater, I carefully considered all of my options.
When looking for the right water heater, here are a few questions you may want to ask yourself:
Do I want a tankless or tank water heater?

This is the difference between on-demand water and letting the water run for a few minutes to heat up.

How big of a water heater do I want?
What type of venting situation will I have?
How many gallons per minute do I want my water heater to be able to handle?
If you want a good article that discusses these various factors, check out this article from The Tiny Project. Rather than hash out all of the pros and cons of each model, I'm going to give you my review on my selection, the Rinnai V65EP 6.6 GPM Outdoor Low NOx Propane Tankless Water Heater.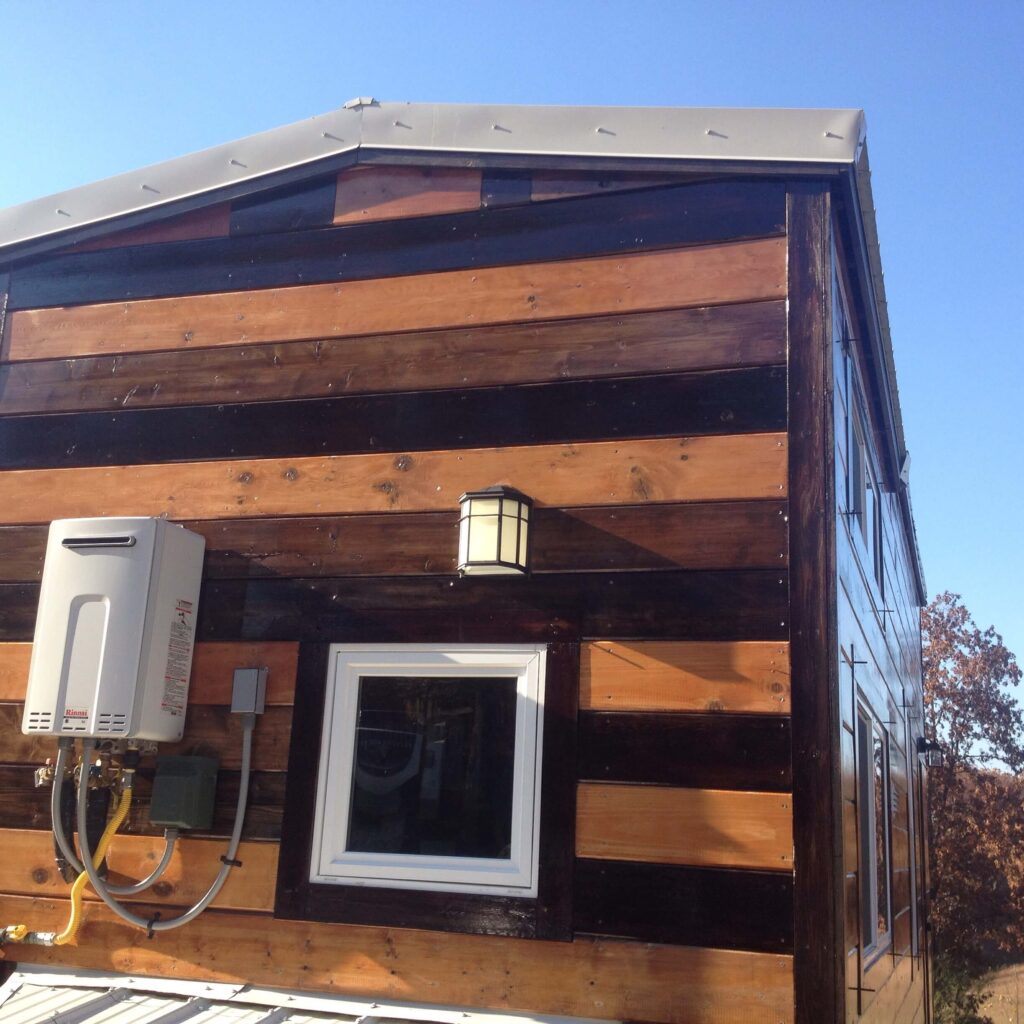 First, some of the general specs:
Dimensions: 9 x 14 x 23 inches
Weight: 47.4 pounds
Model: V65EP
Color: White
BTU: 150,000 Max
Fuel: Propane
Pilot light source: Electric
Installation Location: Exterior
Certified for Installation in Manufactured (Mobile) Homes
Delivers up to 6.6-Gallon per minute (GPM) of hot water (i.e., a lot of hot water!)
Price: currently $613 on Amazon
*An optional separate temperature controller (controlled from inside the house) requires a very small, simple, electrical connection to the Rinnai – 18 gauge, 2 wire, non-polarized thermostat wire works perfectly for this. The controller comes with the Rinnai purchase, but it's just not required to be installed for the tankless water heater to work.
When I started looking for a water heater, I knew I wanted it to fit the following criteria:
Good for off-grid solution
Lot's of great reviews on Amazon so that I knew it would be durable and last a long time
Certified for mobile home installation
Something that wasn't going to bust my budget of around $800
Small and wouldn't take up valuable interior space
Withstand some cold temps in the winter
DIY installation
With that criteria in mind, I started looking at what options were available to me. Early on I decided an exterior unit was the best solution for us, as that means I'm not using valuable interior space for a unit that could just as easily sit on the outside of my house – yah!
I had already spoken to a few other tiny housers who had this Rinnai unit and loved it, and I saw it post installation first hand, and thought that it would be durable enough to withstand some cold temperatures in the winter.
Tankless water heater options are awesome and can save so much space. Another benefit of tankless water heaters is that they tend to be more efficient as the water is heated only when needed. From all of the research that we did, we've concluded that the propane water heater options are going to be better at supplying instantaneous, on-demand water better than the electric and tank water heaters.
This unit can withstand cold temps down to -4° F if protected from direct wind exposure without additional protection. I live in Tennessee where it can freeze in winter but isn't too terribly cold, so this should be sufficient for me.  
The Rinnai manual states that if you need additional protection, you can install drain down solenoid valves that will automatically drain the unit in case power is lost. So far I have not installed that so I can't speak to its effectiveness, but if it looks like it's going to be really cold this year, I might just do that!
I also was seeking a propane based model. We are currently on-grid, so an electric model would have worked for us, but we might try to go off-grid in the future and use solar panels for our electric needs. So even though the Rinnai needs a small electric current to light the pilot and use the control panel, it's not very much.
The certification for mobile home installation was important to me not because I'm concerned about the warranty issues, but rather because I was concerned about having a unit that was built to be traveled with. We don't intend to move our house often, like when we hired a driver to move across the country with our tiny house, but it will happen from time to time, and it's important that the unit we chose was able to withstand that movement and still operate effectively.
Lastly, the DIY installation was very important to me.  I wanted to try to build and install everything myself, so I wanted a unit that I felt comfortable enough installing. I screwed the Rinnai onto the house, removed the cover, made the electrical and plumbing connections with the use of the Webstone 44443WPR 3/4-Inch IPS Isolator EXP E2 Tankless Water Heater Service Valve Kit.
Thanks for coming along on our water heater journey. Check out our post about everything you need to do to winterize your tiny home. Happy showers!
About the Author
Latest Posts
The DIY Tiny House idea started in 2014. A complete DIY process, Will and Alicia did everything themselves from drawing up the plans, building the framework, electrical, plumbing, and finishing touches and appliance selections.
Over several years, they documented what it was like to live in a Tiny House, conducting very thorough research on how to solve the many issues and problems which come up. In 2019, they sold their Tiny House as their lives continued to evolve and change.
You can continue to follow the lives of Will and Alicia at @ironwillruns on Instagram.