When visiting Palm Springs, the Moorten Botanical Garden is a wonderful spot to include in your travel plans. Whether you are a nature lover, gardener, or succulent propagator, this family-owned desert oasis is teeming with diverse plant life.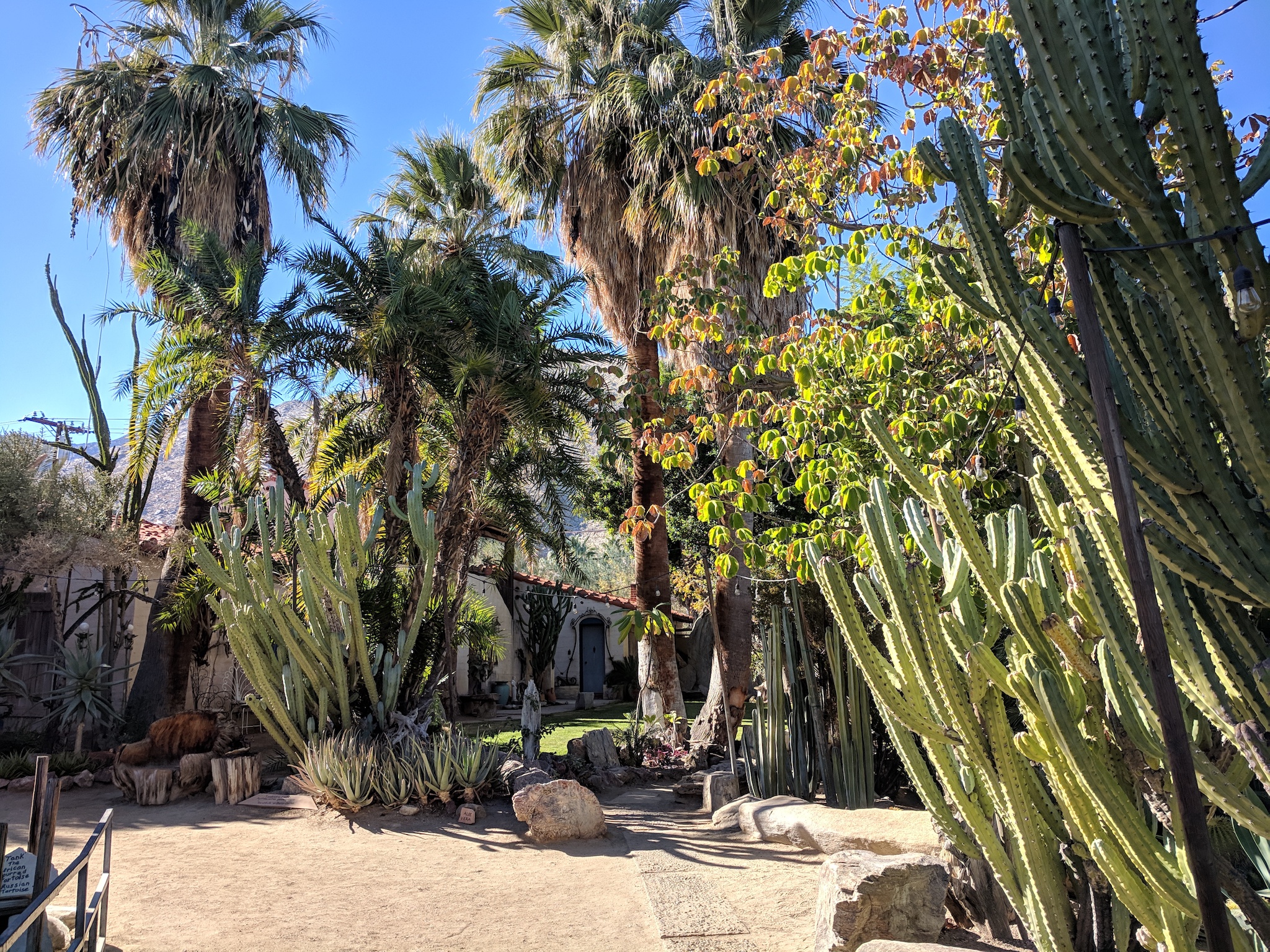 This desert utopia located near the heart of downtown Palm Springs is home to over 3,000 varieties of unique desert plants from around the world. With a small footprint of around an acre, the gardens have fascinating and rare things to enjoy in every corner.
One can quite literally smell the greenery and life when walking these gardens.
History of the Gardens
Founded by Chester "Cactus Slim" and Patricia Moorten in 1938 as an arboretum, their legacy lives on and continues to provide wonder and inspiration to visitors through the years, all the while maintaining that old Palm Springs charm. The property was purchased from Stephen Willard, famous nature and desert photographer.
Cactus Slim was given his name for his tall, lanky figure and contortionist work, having once worked for Howard Hughes. Patricia worked as a biologist, maintaining a very strong interest in botany. The two met in Palm Springs in 1938. They obviously hit it off quite well, as they created the beginnings of the Moorten Botanical Garden the same year.
Slim was an original Keystone Cop and stand-in for Howard Hughes. After developing tuberculosis and recovering in Cottonwood Springs, a community near Joshua Tree, he panned for gold and began collecting cacti. Slim quickly found mining for gold to be hard work and selling plants paid much better.
Together, they explored Palm Springs surrounding areas collecting desert plants.
From designing and installing landscapes at the ranches for the likes of Frank Sinatra to Walt Disney's Smoke Tree Ranch, to the Disneyland park itself at Frontierland, and Red Skelton, Jimmy Van Heusen, even Bing Crosby, the Moorten duo were well versed in displaying cacti and desert life in their full beauty.
With their son Clark, the family would frequently embark on trips into Mexico and through Guatemala collecting plants.
Today, their son Clark Moorten is the curator of the Moorten Botanical Garden, considered a leading expert on succulent plants in the United States.
Diverse Plant Life
More than desert trees, plants, and cacti, you can discover crystals, rocks, ancient fossils, and gold mining relics of old. And should you find these gardens to be the picturesque venue you've always wanted, you can even book a small wedding here with up to 100 guests.
The Moorten Botanical Garden groups its plant by arrid geographic regions, or biomes.
Arizona, Baja California, California, Colorado, Mojave desert, Sonora desert, South Africa, South America, and Texas.
Outdoor collections include agaves, bombax, crested Cereus, cardon and boojum trees, arborescent "candelabra" Euphorbia, a two-story Pachypodium, thorned Caesalpinia and Bursera, and aloes of southern Africa and Madagascar.
In the "Cactarium" greenhouse are cacti and succulents, with caudiciform species exhibiting thickened root crowns, many species of Asclepiads, Aztecia, Gymnocalyciums, Alstromeria, Euphorbia, and Ferocactus, plus two Welwitzia mirabilis from Namibian deserts.
Location
1701 S Palm Canyon Drive, Palm Springs, CA 92264
Parking: Free, streetside
Hours
10-4 p.m. daily, closed Wednesdays.
July through August are subject to reduced summer hours due to the heat. Call ahead to verify.
Cost
Visiting the Moorten Botanical Garden is a very economically priced experience and well worth it to support the diverse wonders going on inside.
Adults and Seniors: $5.00
Children 15 and Under: $2.00
Children Under 5: Free
The botanical garden offers guided tours, which needs to be booked prior to your arrival. If you have the time and planning ability, the guided tour can offer a ton of interesting info you might miss while wandering on your own. In fact, I recommend trying to make a tour happen during your trip to Palm Springs – you'll learn so much more than wandering about on your own.
The Nursery
After you've completed a tour of the Moorten Botanical Gardens, should you feel inspired to create your own desert garden at home, you can visit their nursery and pick up some nifty plants to get started with.
Tucked behind a few palm trees sits a picturesque Mediterranean-style house that remains the Moorten family home, dubbed "Cactus Castle." As you make your way through the landscaped property, you will meander through towering cacti and monstrous agave plants.
This desert oasis might be smaller than expected, but an interesting way to spend an hour. There are many interesting cacti to look at. One favorite section was the "Cactarium," a greenhouse full of twisted succulents and snake-like cacti. You might even spot the odd hummingbird nest in here.
If not hibernating during your visit, say hello to the Moorten desert tortoise. The desert tortoise is endangered, partially due to an exploding population of ravens who eat the juveniles in the Mojave desert.
As you return to the entrance, purchase a cactus or succulent to take home.
I strive to paint vivid landscapes with my words, bringing the magic of far-off lands and enchanting aromas to life for my readers. Combine passion for exploration and the art of gastronomy in an unending ode to the senses. When I'm not traversing the globe, I find solace in the earth beneath my fingertips, tending to my garden and working on projects around my verdant oasis. MK Library serves as a beacon, guiding fellow travelers and homebodies alike to embrace sustainability, nurturing both our planet and our souls with purpose. Full Bio.