This is a list of every single influencer marketing agency you need to sign up for.
Signing up for these various networks is a great way to get a huge increase in opportunities and income. I can tell you from personal experience that I resisted signing up for a bunch of networks for the longest time. I finally bit the bullet and spent several days registering for these and setting up email notifications.
Within a week of taking the time to do this, my inbox became inundated with brands interested in working with me almost daily. My income has continued to skyrocket and I love the opportunities these agencies have brought in.
For Brands
Brands looking to connect with influencers would be well served to browse this list and figure out which agencies are a good match. Check out this accompanying article on Influencer Marketing, which goes over several strategies and tips for success from the perspective of both agencies and influencer.
Tips For Success
Fill out every single field allowed for the profiles.
Connect all of your social accounts, even if they don't have a big following. Create accounts as needed.
Create a document where you can quickly copy a description, keyword list, etc into the various profiles. Many of them have redundant boxes to fill in and this will help you maintain cohesiveness.
Login to each agency and poke around at least once per month. Many of them have secret algorithms which reward activity on their systems.
Many of these platforms have an internal rating system for brands to rate influencers. I've found by completing campaigns that may not have the desired compensation, I've had much higher campaigns unlocked for me, as well as getting invited to exclusive fun things.
Sponsored Blog Content
Sponsored guest posts provide an avenue for bloggers to monetize their platforms and generate income. In this arrangement, a blogger collaborates with a third-party sponsor or advertiser to publish an article or content piece on their blog, promoting the sponsor's product, service, or brand.
By incorporating well-crafted sponsored content into their blog, bloggers can earn money through various means. One common approach is to negotiate a fee with the sponsor for publishing the guest post, based on factors such as the blogger's audience size, engagement metrics, and overall influence. Additionally, bloggers may also earn income through affiliate marketing, where they receive a commission for each sale or referral generated from the sponsored content.
Sponsored guest posts offer bloggers a valuable opportunity to leverage their platform, reach a wider audience, and establish mutually beneficial relationships with sponsors while generating revenue.
Authority Builders is one of the more reputable companies to work with. Its not unheard of to increase your monthly income by the thousands using a company like this. They do require a minimum of 10,000 visitors per month via ahrefs verification.
Blog Influencing and Passive Income
Many of the influencer networks also call for blog posts. Obviously you are reading this because you want to increase your revenue. If you are running a blog with more than 10,000 visitors per month, the Ezoic ad network is a great additional way to increase earnings on content. The network supports multiple types of ad streams and pairs well as you continue to bid on sponsored post opportunities.
The Influencer Marketing Agency Master List
Advertising Disclosure: When applicable, I have used affiliate links for the signup process. At no extra cost to you, I may receive a small commission when you register or complete a campaign. None of these agencies have paid me directly to be listed.
Activate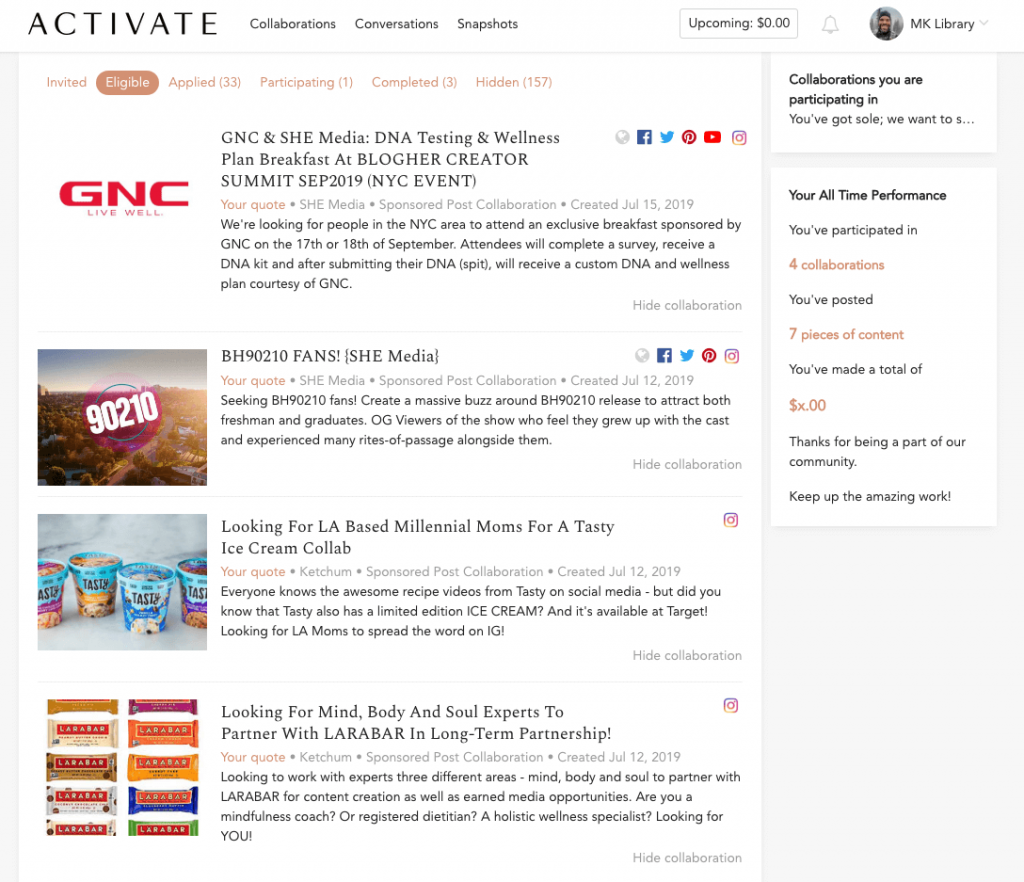 Activate has one of the more extensive profile forms out there and does a good job of matching you to campaigns. The genres available are varied, with a great selection of different types of campaigns to choose from. Payment is usually Net 30 from content approval dates. Compensation quality has varied from product-in-trade to multi-thousand dollar campaigns.
Activate will connect you to multiple agency partners through their platform. Overall experiences have been good, with varying degrees of communication and turnaround depending on the person.
Joined August 2016. As of February 2021, 32 campaigns completed.
AspireIQ
With a complex platform, AspireIQ has integrated a basic CRM and project management features within their platform to let you keep track of opportunities and sponsorships. Initially limited to 5 proposals per month, successful brand partnerships allows you to start bidding on more. This influencer marketing agency has a ton of variety. Compensation quality has varied from product-in-trade to multi-thousand dollar campaigns.
Joined November 2018. As of February 2021, 3 campaigns completed.
Blog Meets Brand
This influencer platform seems to focus on health, food, and travel genre campaigns. Payment terms are NET 60 days from the content publishing. The response times and communication from the team on Blog Meets Brand is one of the fastest I've encountered among the various agencies. Compensation quality has varied from product-in-trade to thousand dollar campaigns.
I've worked with this agency for numerous campaigns now. They are well worth signing up for, whether you are a brand or influencer.
Joined August 2017. As of February 2021, 4 campaigns completed.
BraVoMark
This agency focused on small budget campaigns which are almost always blog posts. This is a good one for influencers just starting out. Compensation quality has varied from product-in-trade to one hundred dollar campaigns.
Joined February 2017, 0 campaigns completed.
Buzoole
I haven't completed a campaign for this company yet.
Cohley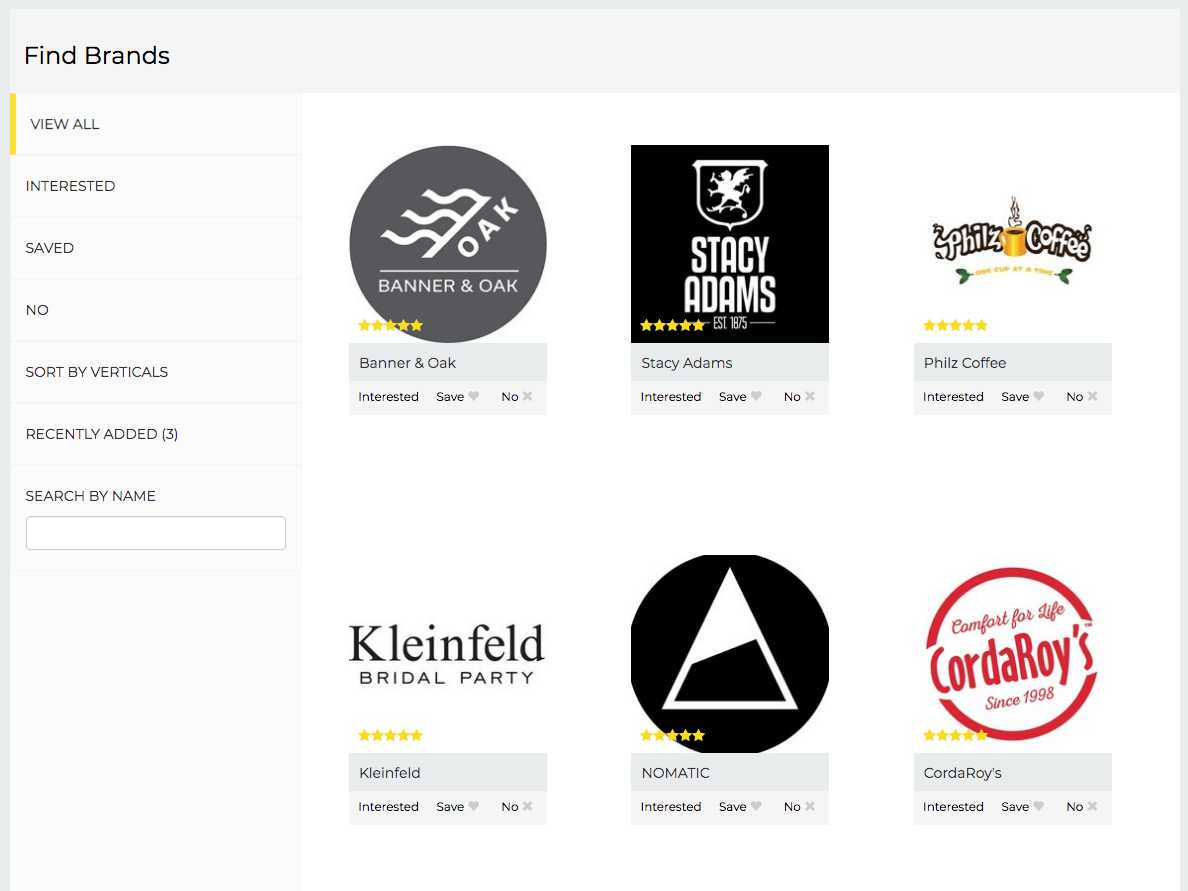 Compensation quality has varied from product-in-trade to several-hundred dollar campaigns. Many campaigns are for product photography and video only for brands, with no obligation to post content.
Joined August 2019. As of February 2021, 2 campaigns completed.
Dealspotr
Dealspotr is unique in that it allows you to filter by products which can be included in round-ups and not just featured in content along. This allows for a lot of possibilities, especially if you are blogging about gift ideas. Compensation quality has varied from product-in-trade to multi-hundred dollar campaigns.
Dogfluence
An influencer agency specializing in pets, Dogfluence has a pretty solid niche program for both "dogfluencers" and brands. This agency is geared for dedicated social media channels based around pets. As of 2022, most campaigns are for Europe, with limited United States availability, so I have yet to partner with a brand on here, but will keep an eye on this platform.
Joined November 2022. No campaigns completed.
Glambassador
Many of the campaigns here are product exchanges and affiliates with an emphasis on the beauty and lifestyle genres. There are also a good amount of international campaigns. A lot of opportunity is here for smaller influencers. Compensation quality has varied from product-in-trade to multi-hundred dollar campaigns.
Hashtagpaid
Compensation quality has varied from product-in-trade to multi-thousand dollar campaigns.
Influence
Huge variety of genres across this platform. The free influencer program offers a lot of non-paid opportunities. Upgrading to the Pro version for $4 will allow you to get paid for many, which is worth doing if you find a lot of potential opportunities here you'd like to work with. Compensation quality has varied from product-in-trade to multi-hundred dollar campaigns.
Influence Central
Influence Central has a good variety of campaigns, with most of them being food, home, or health related. Compensation quality has varied from several hundred to thousand dollar campaigns.
Signed up August 2019. As of February 2021, 2 campaigns completed.
Influence4U
The Influence4U agency seems to have more lifestyle than other genres, with a bit of food related campaigns sprinkled in. The platform allows you to bid on up to 5 campaigns at a time using a revolving credit system, meant to encourage quality from its influencers.
Izea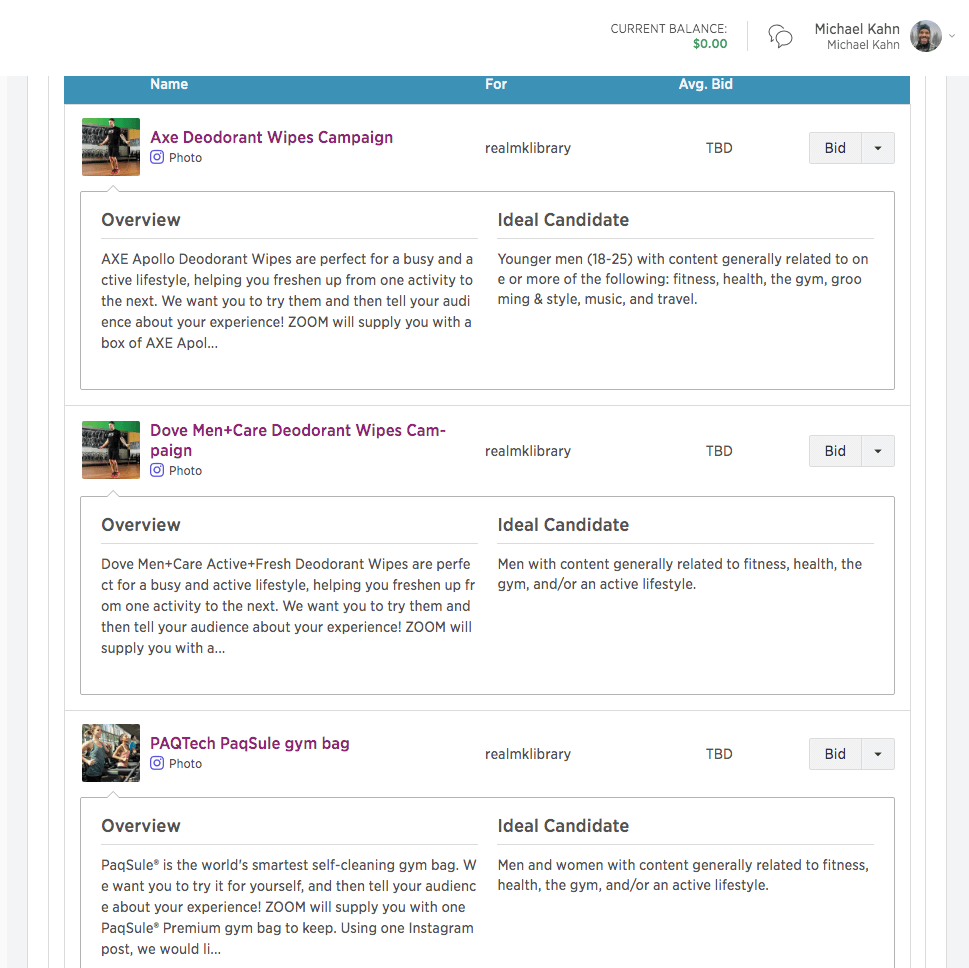 With different plans from free, which gives you 5 bids per month and a $100 minimum cashout, to $5/month for unlimited bids and a $25 minimum cashout. The Izea influencer marketing agency does a good job of describing what each campaign is looking for, in terms of demographics and reach, to help bidding influencers ensure they are an excellent match. Their marketplace has plenty of small campaigns available, with larger agencies using this platform for thousand-dollar campaigns.
Keepface
Linqia
Obviously
The Obviously influencer marketing agency has a lot of fun with their platform. They offer rewards in the way of "Corgis." Yes, the dog, as a currency. The rewards are pretty decent, with gift card bonuses and marketing bonuses, plus some special gifts and events.
OpenInfluence
PopularPays
Many gigs on PopularPays are for 10k+ followers. Quite a few influencer campaigns are available with 0-1k+ minimums, in trade for product. Huge variety of genres of brands.
Scrunch
Shoutcart
Social Fabric
With new campaigns almost daily, this is a great source for parenting, lifestyle, and recipe genres. Prices to campaigns are automatically preset, dependent on your audience and reach. When applying for campaigns at this extremely popular influencer marketing agency, you'll want to bring your A-game.
Payment terms are between NET 45 and NET 60, with a small deposit to cover product purchase upon approval. Compensation quality has varied several hundred to multi-thousand dollar campaigns.
Sway
The Sway influencer agency is full of food and lifestyle campaigns, as well as events. They cater to extremely high quality, high engagement content and do quite a bit of due dillegence. They are catering more towards the experienced influencer over beginners. Compensation quality has varied from several hundred to multi-thousand dollar campaigns.
Sign Up
The Cirqle
ValuedVoice
This influencer marketing agency has a recently revamped dashboard with minimum payout of $100, at the end of each month. Requesting payment early or for less comes with a $5 fee.
Upgraded accounts allow for bidding on additional opportunities, reducing payout fees, and increased visibility to brands.
Webfluential
This influencer platform allows you to create a media kit to send to brands. It is one of the better looking versions premade out there. Lots of great variety of brands, with an option to hide the ones you don't want to connect with. Compensation quality has varied from product-in-trade to multi-thousand dollar campaigns.
Did I miss any? Which of these are your favorites and why?
Save this to Pinterest
I strive to paint vivid landscapes with my words, bringing the magic of far-off lands and enchanting aromas to life for my readers. Combine passion for exploration and the art of gastronomy in an unending ode to the senses. When I'm not traversing the globe, I find solace in the earth beneath my fingertips, tending to my garden and working on projects around my verdant oasis. MK Library serves as a beacon, guiding fellow travelers and homebodies alike to embrace sustainability, nurturing both our planet and our souls with purpose. Full Bio.