This is a sponsored post written by me on behalf of GLEEM. All opinions are 100% mine.
Designed to make your teeth shine, the GLEEM Rechargeable Electric Toothbrush is one of the newer players to the rechargeable toothbrush and teeth whitening market. They are looking to shake things up and provide professional-looking results with beautifully designed products, offered at affordable prices.
They sent me their lineup and told me to get weird. #makeitgleem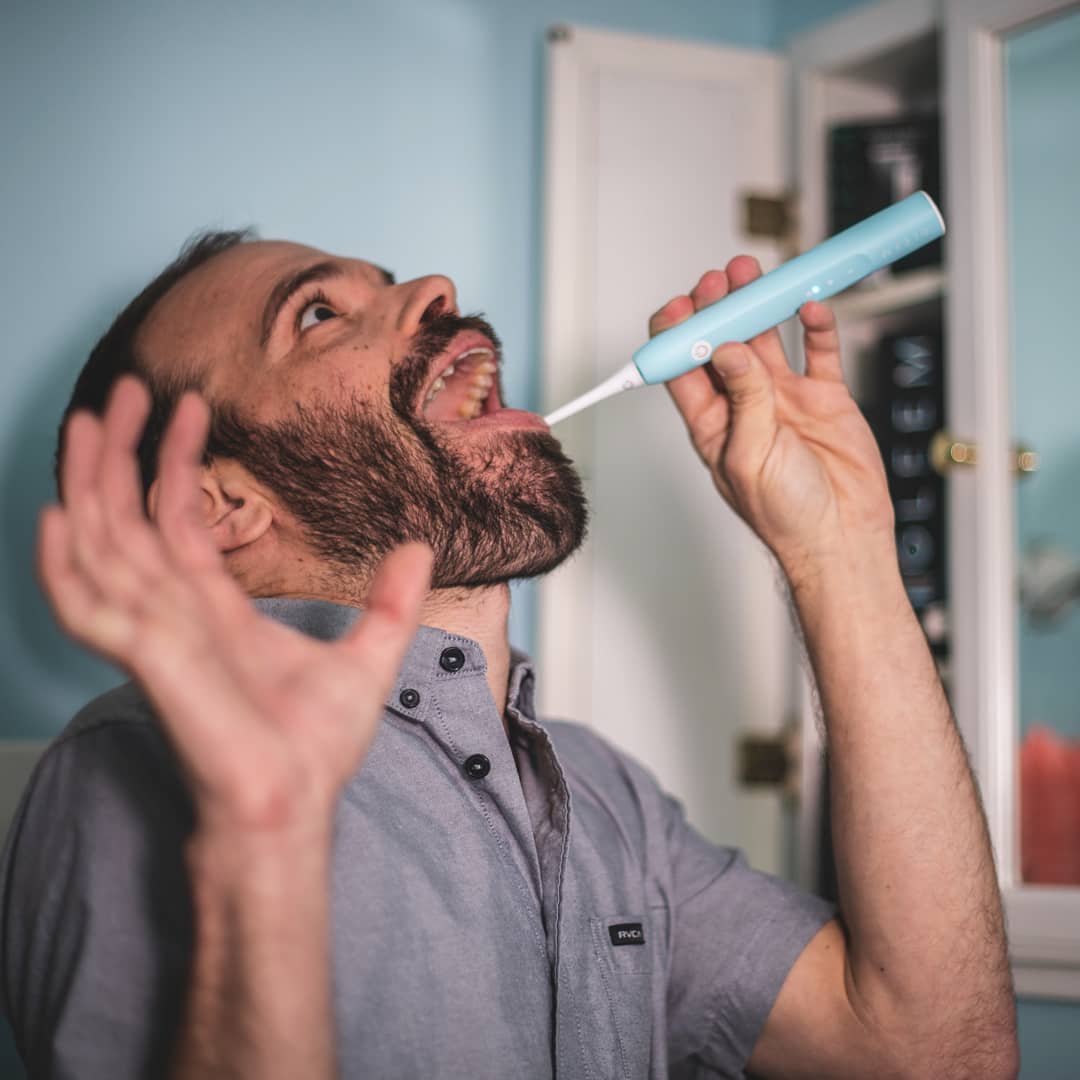 As the proud owner of coffee and wine-stained, overly sensitive teeth, I took their rechargeable toothbrush and teeth whitening kit for a test brush. I spent multiple times per day for several months experimenting and playing with my new dental hygiene tool. I was pretty excited to be one of the first to take this for a spin, and get a new vibe going on in my mouth.
GLEEM sent me their toothbrush, One Week Professional Teeth Whitening Light Kit + Booster Strips, Whitening Strips with Charcoal Serum, a Touch-Up Applicator Teeth Whitening Pen, and challenged me to a brighter smile.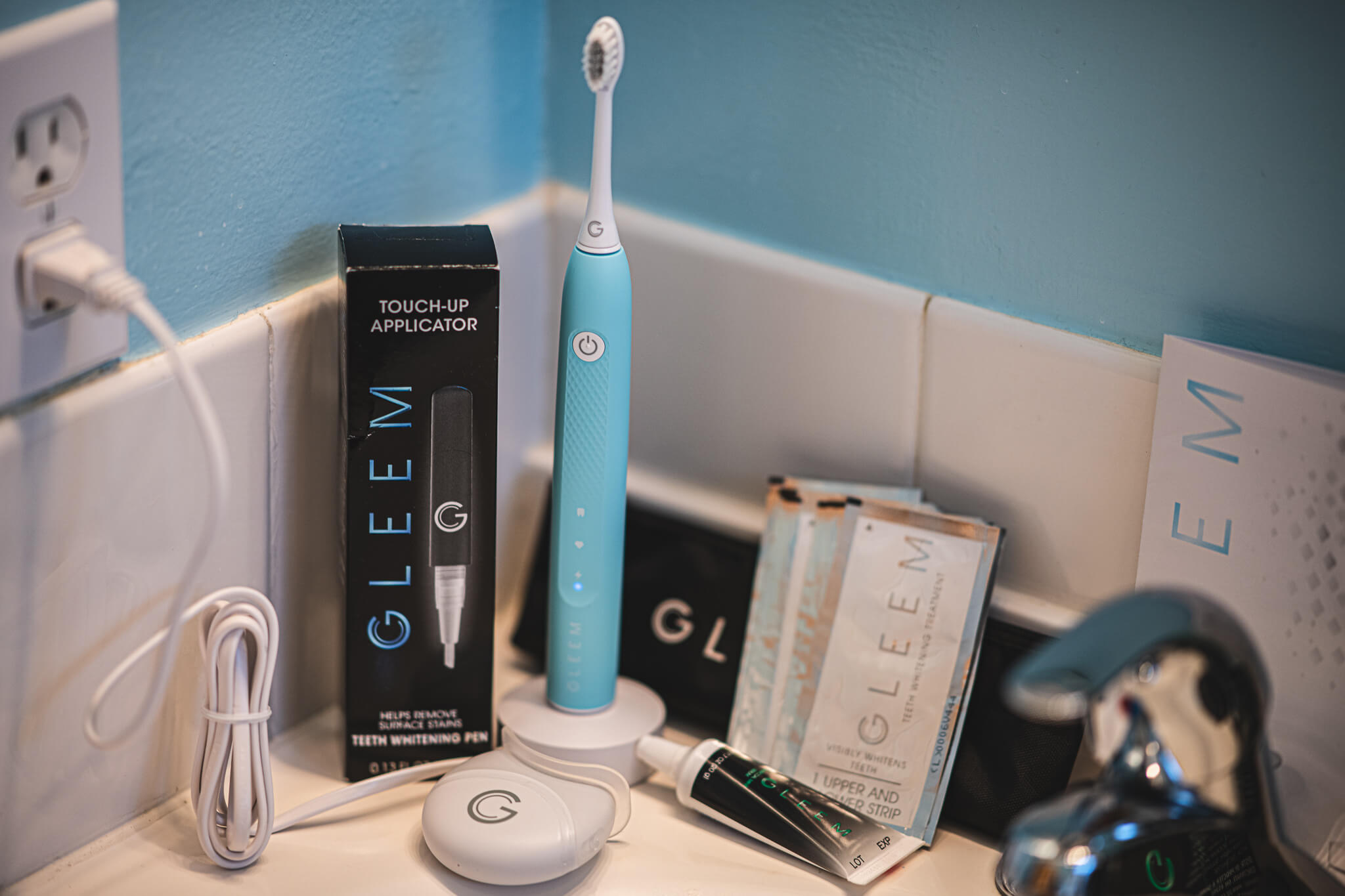 Reviewing the GLEEM Rechargeable Electric Toothbrush
The GLEEM Rechargeable Electric Toothbrush comes in four different colors:
Pearl
Slate
Coral
Aqua (The best color, which happens to be the color I have.)
The package includes the handle, one brush head, one charger, and a travel case.
Equipped with 2 modes, Classic Clean and GLEEM Clean for extra brushing power, the electric toothbrush uses sonic bristle vibrations with a very quiet motor to clean your teeth. The vibrations use some sort of micro and macro motion pattern to efficiently remove plaque and other nasty things growing in your mouth.
The vibrations feel very gentle, and in comparison to past electric toothbrush experiences, I initially felt like I had to overcompensate the quietness by pressing harder. I didn't actually do this, ending up very pleased with the effectiveness of either brush mode.
The brush heads are replaceable, made of soft, nylon bristles with rounded filaments. They feel like a very gentle massage on the gums. I could put on some meditation music and just run the toothbrush until the battery runs out. Replacing your brush heads should be done every 3 months with this electric toothbrush and will run you about $10 for two of them.
The toothbrush itself has a few really nice nuanced features which really add to the brushing experience. The shape is a "no-roll" which means it won't roll off your counter and onto the floor, or worse, into your toilet. While the 2-minute timer is an expected standard, the toothbrush has a memory that allows you to pause and resume the brushing cycle. You know, for when the phone rings and you have to answer with a mouth full of toothpaste suds.
The toothbrush can hold a charge for roughly 2 weeks, using a AAA rechargeable battery. The charging station is lightweight and low profile. When coupled with the travel case, the entire electric toothbrush kit is ideal for my kind of adventure travel.
Reviewing the GLEEM One Week Professional Teeth Whitening Light Kit
The GLEEM One Week Professional Teeth Whitening Light Kit boasts visible results in 3 days and professional-level whitening in 7 days. Myself? I felt like I noticed a difference after the first use, but its also possible I was just super excited by the blue LED light technology. There was absolutely a visible difference after several days.
The Whitening Light Kit consists of 1 LED light and 7 whitening treatments of 2 strips, 1 for upper and 1 for lower. The instructions are to apply the strips once per day for 60 minutes, then use the GLEEM LED light for the last 5 minutes.
The technique I used to not be so tempted to play with the strips while they're on my teeth was to binge-watch Tiger King on Netflix. Of course, by the time you read this, you've probably already done the same. Choose some sort of movie or TV series which will captivate your attention and keep you focused on what is going on. Before you know it, the hour will be up and you'll have only caught yourself playing with the strips a few times instead of nonstop.
The Blue LED Light and How it Works
It is important to note that the LED light is blue, and does not utilize UV light. When used improperly, UV teeth whitening can be dangerous [source 1]. GLEEM's use of blue LEDs removes the inherent dangers that come from the UV light spectrum.
So how does the blue LED work?
The whitening strips contain some percentage of hydrogen peroxide. Once the strips have applied the hydrogen peroxide onto your teeth over the past hour, the hydrogen peroxide acts as a catalyst for the blue light. A reaction is sped up, getting your teeth whiter, faster. The combination of both blue LED light and hydrogen peroxide more effectively whitens your teeth faster than either method alone [source 2].
The second source study linked also displayed results without tooth sensitivity or gingival redness – tooth sensitivity being the big worry for me.
At-Home Versus Professional Tooth Whitening
One of the biggest differences between this at-home tooth whitening kit and getting it done at your dentist is the higher concentration of peroxide. Professional whitening applications usually include putting a protectant over your gums.
However, multiple studies have shown that using such a strong concentration and UV light treatment can increase tooth sensitivity, gingival irritation, and tooth mineral degradation. Aggressive teeth whitening can damage the tooth's enamel, dentine, and any crowns or fillings [source 3].
Simply put – OTC, at-home kits like GLEEM's are safer for you to use and GLEEM gives you professional level results.
I'm personally pretty paranoid and cautious about the health of my teeth, so I use a remineralizing enamel care toothpaste. My back and forth emails and studies into this subject before I felt safe using GLEEM's kit shows this as well.
Sustainability Through Recycling
GLEEM has put together a recycling program for both toothbrush heads, handles, and teeth whitening kits. A free service, this form on their website will help you generate a prepaid shipping label. Attach it to a box and drop it off at your nearest UPS store.
This program is run through TerraCycle, whose goal is eliminating the idea of waste, especially focused on hard-to-recycle materials.

There are a lot of little things GLEEM is doing right with their products, and this is one such thing that makes a big impact.
Where to Buy GLEEM
Are you ready to improve your oral hygiene habits with one of the most stylish and affordable electric toothbrushes and teeth-whitening kits out there? The GLEEM Rechargeable Electric Toothbrush, as well as the GLEEM One Week Professional Teeth Whitening Light Kit, are both available for purchase both at your local Walmart and at Gleem.com.
https://www.walmart.com/col/Shop-the-GLEEM-Collection/929673318
I strive to paint vivid landscapes with my words, bringing the magic of far-off lands and enchanting aromas to life for my readers. Combine passion for exploration and the art of gastronomy in an unending ode to the senses. When I'm not traversing the globe, I find solace in the earth beneath my fingertips, tending to my garden and working on projects around my verdant oasis. MK Library serves as a beacon, guiding fellow travelers and homebodies alike to embrace sustainability, nurturing both our planet and our souls with purpose. Full Bio.