This shop has been compensated by Inmar Intelligence and its advertiser. All opinions are mine alone. The following content is intended for readers who are 21 or older.
Whether you are already a whiskey lover or just starting to explore, Knappogue Castle Single Malt Irish Whiskey is an excellent starting point. Remarkably smooth, you can enjoy a glass of Knappogue neat or on the rocks, or even enjoy its complexities in a craft cocktail.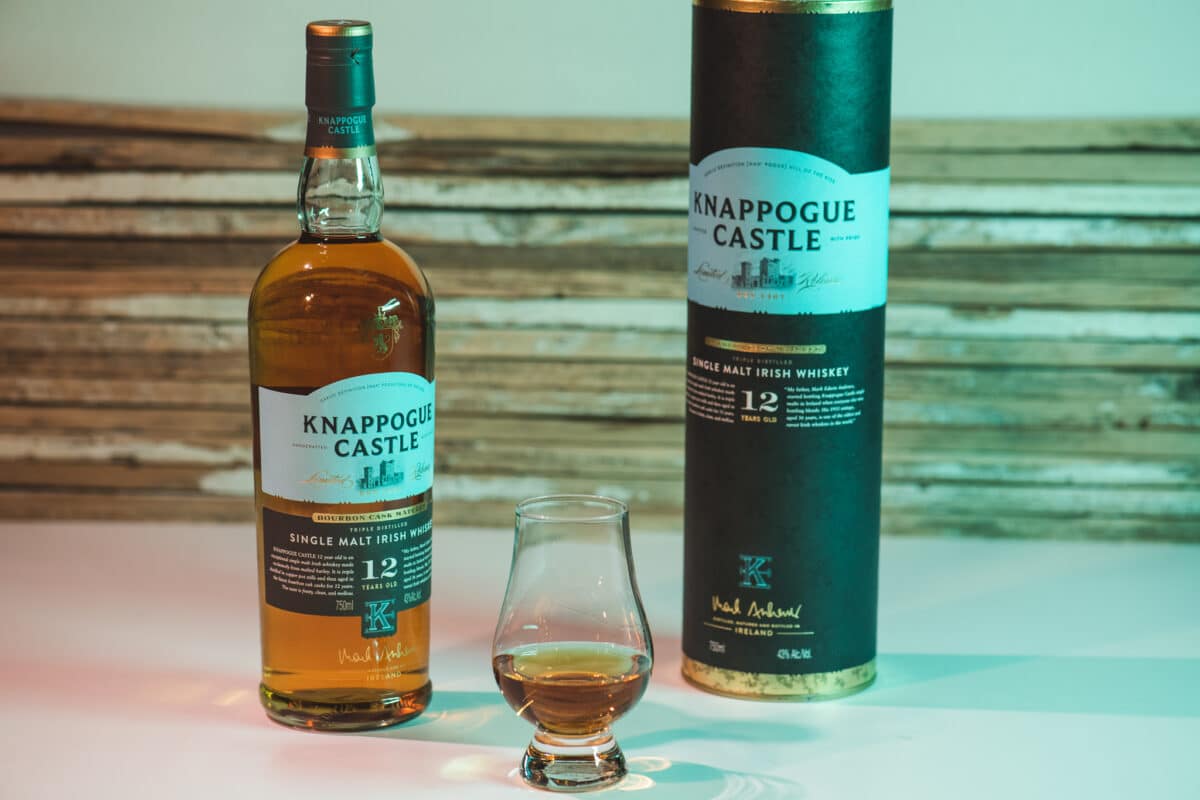 I like to use St. Patrick's Day an excuse to introduce friends to good Irish Whiskey. With social distancing and reduced in-person gatherings in effect, I'll be sharing this post about Knappogue Castle Irish Whiskey with friends to walk them through a proper tasting.
About Knappogue Castle Single Malt Irish Whiskey
Named after Knappogue Castle in County Clare, Ireland, the company is known for bottling one of the oldest and rarest known Irish whiskeys, Knappogue Castle 1951. One day I'll get a chance to sip this one!
The next time you're in Ireland, this castle from 1497 is well worth the tour.
In deciding between the which of the three main lines of Knappogue Castle Irish Whiskey you might want to try first:
Knappogue Castle 12 year old is a single malt made exclusively from malted barley. Triple distilled one batch at a time in traditional, onion-shaped copper pot stills, the whiskey is then aged in bourbon oak casks for twelve years. The delicate distillation process, along with the moist and temperate climate, yields the distinctive flavor of this remarkable Irish single malt.
Knappogue Castle 14 year old is the result of a marriage of 14 year old single malts aged in two types of wood: bourbon barrels and Oloroso sherry casks. It is non-chill filtered and bottled at 86 proof.
Knappogue Castle 16 year old is aged for a minimum of 14 years in bourbon barrels, then finished in Oloroso sherry casks to complete a minimum of 16 years. This adds nutty and complex sherry notes.
The 16 year will be my next purchase, as I'm very interested in seeing how the difference in Oloroso sherry casks compares to the bourbon aging, along with another 4 year.
How to Taste Knappogue Castle Irish Whiskey
First, you'll need a bottle. I went with the 12 year old for this exercise. The 14 and 16 year varieties are also excellent choices to begin your journey into the Irish Whiskey world.
I bought my bottle from Total Wine, but you can also buy from Caskers or Reservebar.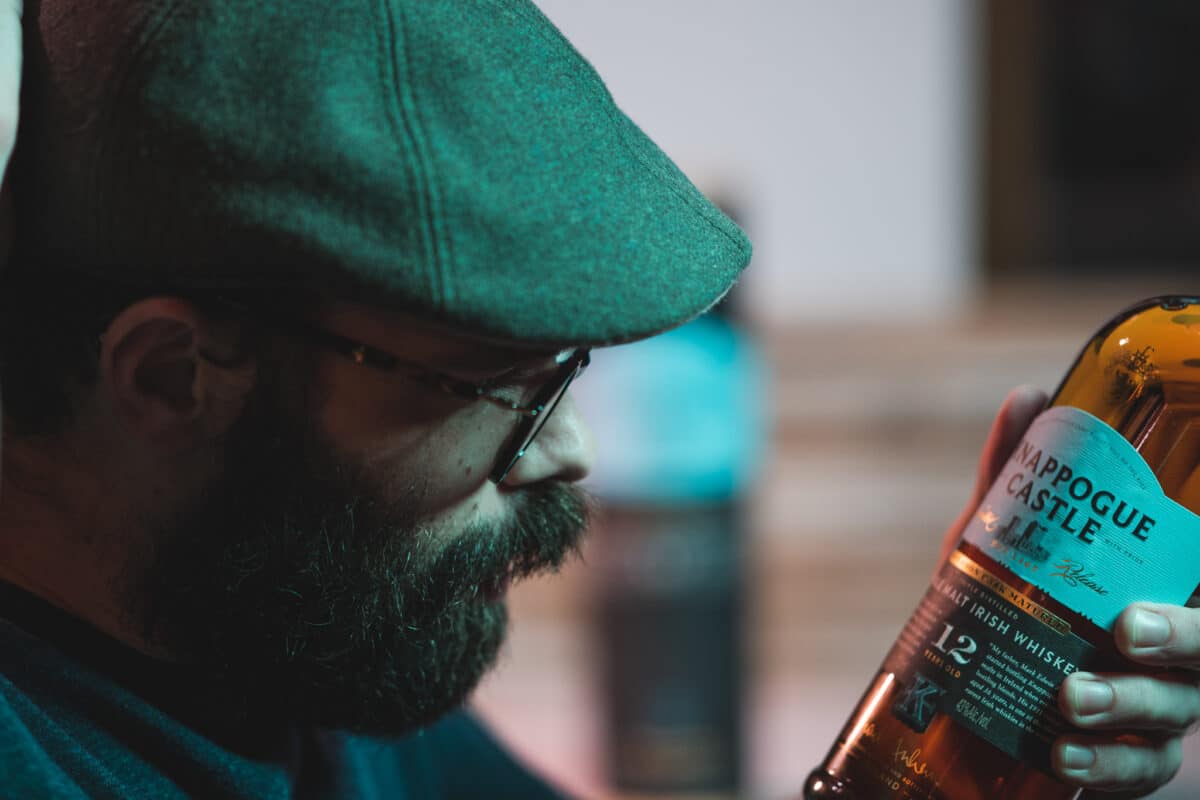 Second, you will need either a Glencairn or other whiskey tasting glass. The purpose is a glass shaped to hold and warm the whiskey in your hand, and tall, tapered sides to retain the aroma without overpowering your nose.
Get a second glass and fill it with fresh, room-temperature water. This will be used to dilute the Irish whiskey and also refresh your palate. I've actually started using carbonated water, but that's a carryover from espresso tasting and personal preference to cleanse my palate.
Pour the whiskey to the widest point in your Glencairn.
Swirl the Knappogue around in the glass and look at its legs, which are the long trails left by the whiskey as it slips down the side of the glass. Generally speaking, the longer the legs, the higher the alcoholic content. Knappogue is 80 proof, and the legs should reflect that.
Examine the color of your Irish whiskey, which can help indicate the type of wood it was aged in. A pale straw color is indicative of an American oak or bourbon barrels and amber coloring would be sherry casks. The Knappogue has a rich straw coloring.
Give the whiskey a gentle smell. The nose-feel you get in your nose when you first swirl and sniff your whiskey, is alcohol. Smell the whiskey again, with a gentle wafting, and note your initial impressions. Try breathing in through your nose with your mouth slightly open.
For an advanced nosing, add a drop of still water to your glass and smell again. The water will release a lot more notes which you initially picked up on. You may also want to taste your pour before adding a drop or two of water to dilute, to compare flavors as well.
Take a small sip of Irish Whiskey and pay attention to how it feels as it coats your mouth. How does it feel as it washes over your tongue? Finally, swallow your sip and notice how your mouth feels after. Do the notes of the whiskey linger? Knappogue is known for being rich with a peppery spice – how much do you pick up on this?
If you didn't add water before, add a drop or two of your still water and try nosing and sipping the Irish Whiskey again. Note the differences and nuances which come forward from the slight difference in water dilution.
And there you have it! You've tasted and enjoyed Knappogue Castle Irish Whiskey like a true connoisseur!
Sláinte!
I strive to paint vivid landscapes with my words, bringing the magic of far-off lands and enchanting aromas to life for my readers. Combine passion for exploration and the art of gastronomy in an unending ode to the senses. When I'm not traversing the globe, I find solace in the earth beneath my fingertips, tending to my garden and working on projects around my verdant oasis. MK Library serves as a beacon, guiding fellow travelers and homebodies alike to embrace sustainability, nurturing both our planet and our souls with purpose. Full Bio.