The Deep Creek Hot Springs in Southern California are natural geothermal pools located along the Mojave River in the San Bernardino National Forest.
Nestled in between willow trees and curious rock formations, these tranquil hot springs are a popular spot during the summer, so make sure to plan a trip during the week and bring plenty of water. With both cold and hot water pools available to enjoy, this is the perfect location for seclusion, relaxation and even some clothing-optional lounging. Read on to discover everything you need to know about this amazing spot, how to get there, and what you will need to take with you!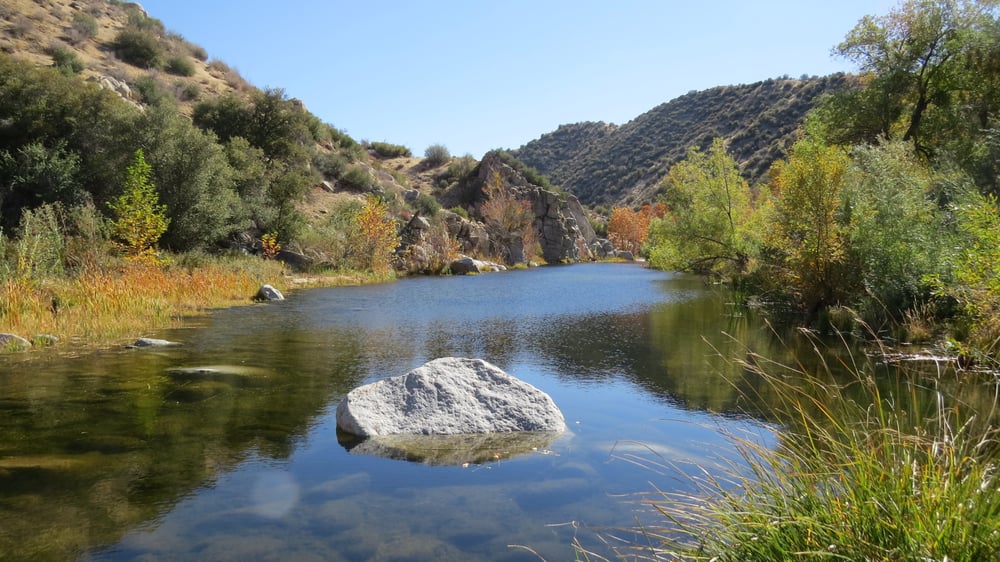 The Hot Springs
There are about 7 geothermal pools to discover during your Deep Creek hot springs. The 5 main hot springs range from 100 to 105 degrees and the upper pool flows down the rocks in a beautiful little waterfall. The largest hot spring is of course the most popular because there is enough room for at least a dozen people and it stays at a comfortable (slightly cooler) temperature. The rest of the small geothermal pools dotted along the Deep Creek Fork of the Mojave River vary in temperature, but most of them usually average over 100 degrees.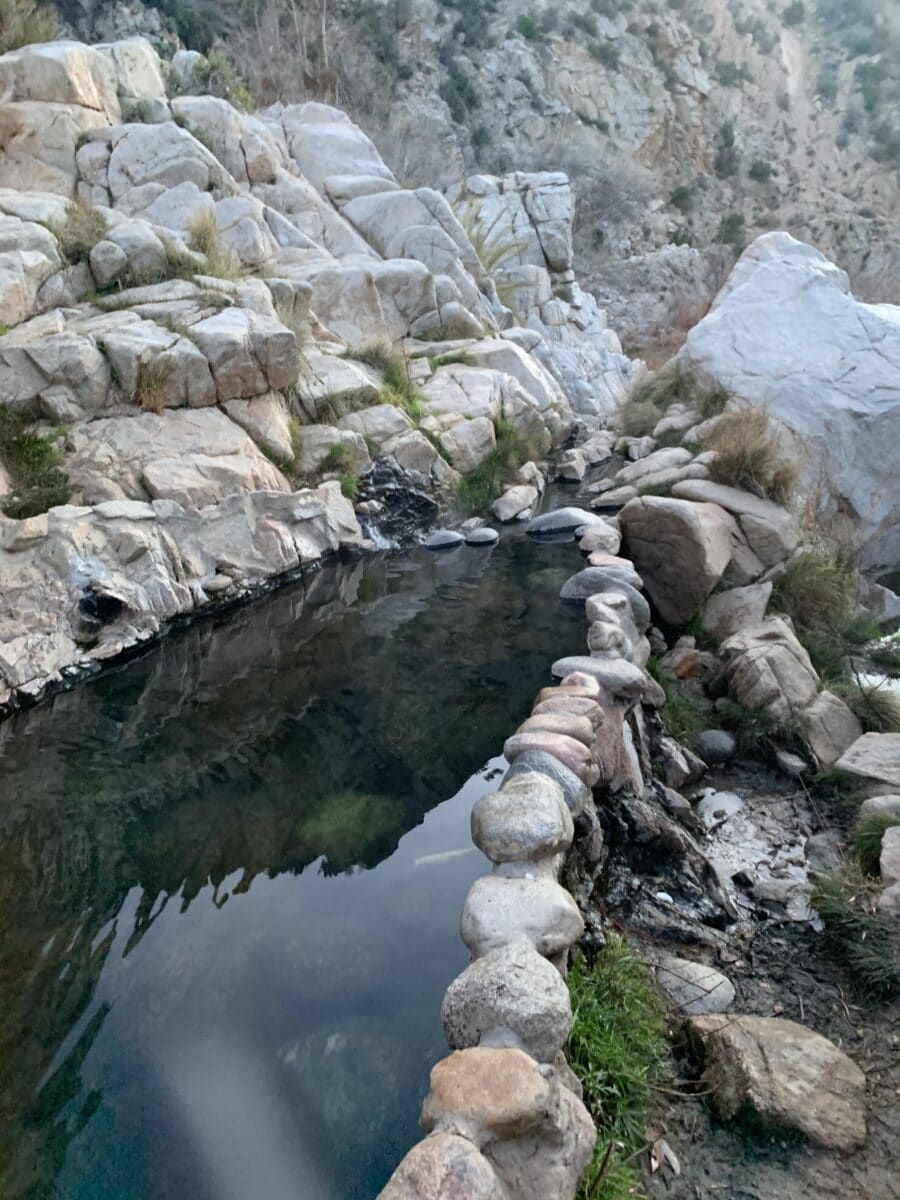 Situated in the Northern Mojave Desert, the journey in will find you amongst plenty of Joshua Trees and large boulders. As a fan of stones, I have always found the geological formations within the Mohave to be incredibly fascinating. The boulders are made of undivided Mesozoic volcanic and metavolcanic rocks. Andesite andrhyolite flow rocks, greenstone, volcanic breccia and other pyroclastic rocks (USGS Mesozoic volcanic rocks, unit 3 (Mojave Desert, Death Valley area, and Eastern Sierra Nevada)).
The Rules and Regulations for Deep Creek Hot Springs
No camping.
No glass.
Pack out everything you pack in.
No fires.
Don't drink the water.
No, really – don't drink the water. Don't submerge your head. The waters contain a sometimes fatal disease called primary amoebic meningoencephalitis. The pools also contain a high amount of fecal coliform thanks to all the humans and dogs which frequent the area.
Part of what makes the Deep Creek Hot Springs so special is the pools are lovingly maintained by volunteers passionate about nature. The same volunteers have been serving as caretakers for the area for decades.
Candle lighting: Despite seeing melted wax on the rocks, it is not okay to bring candles and light them around the hot springs.
Required Supplies
One gallon of water per person – Preferred hydration bladder (3 liters)
Plenty of snacks
Sunscreen – please note the habitat is delicate and sunscreen will affect the fragile ecosystem. Look for reef-safe products.
SPF hat, ideally with neck and ear protection
Layers if you plan on hiking in the wintertime
Hiking shoes which can get wet
$5 cash per person if parking at Bowen Ranch.
Trash bags for your trash and toilet paper
Flashlight with spare batteries, in case you are caught in the dark. You will scoff at this until you try to find your way back in the dusk.
Basic first aid kit with at least one ace bandage wrap, bandaids, aspirin, and throw in a whistle (if you get lost or need help) and a sharpie (for snake bites).
Towel – the point of making the hike to lounge and enjoy life!
Bonus: An extra trash bag. The hot springs are currently inundated with trash and people who don't care about preserving the natural beauty. If you hike in, bring an extra trash bag with you and help remove the garbage.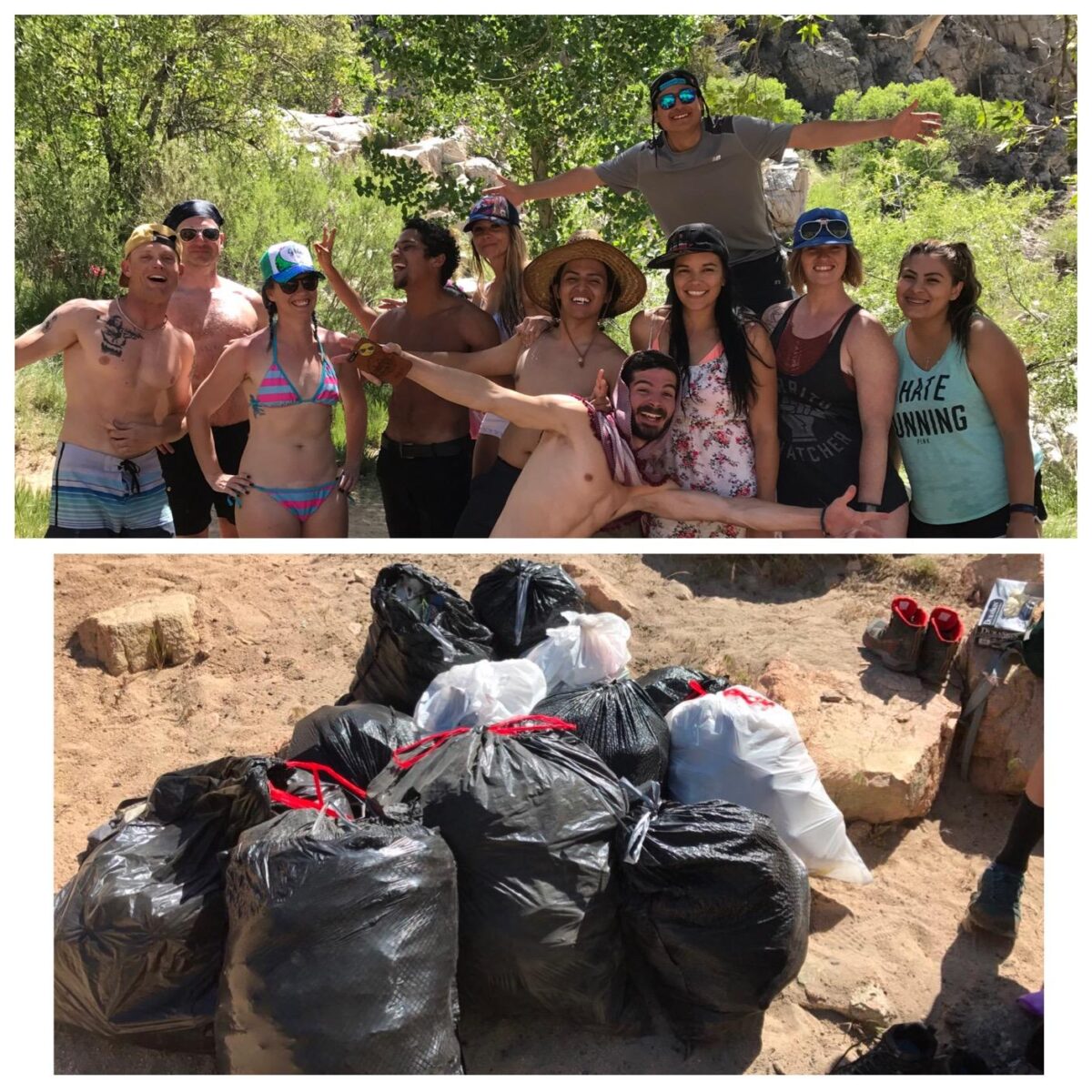 A side note for those with sensitive skin – there are microorganisms living in hot springs which could cause inflammation of hair follicles and a skin rash due to the bacteria Pseudomonas aeruginosa. I've personally gotten it inconsistently and it goes away after a few days. Witch Hazel is a great relief in the meantime.
Clothing Optional
For decades the Deep Creek Hot Springs have been a clothing optional safe environment. The US Forest Service is okay with this practice, although you should expect to get dressed out of politeness when law enforcement or agency representatives are encountered. Don't be "that guy" and argue with an official. It could result in a $5000 fine and up to six months of imprisonment.
Some people hike the trails nude. Don't be surprised when you round a corner and see a bit more skin than your usual hiking trail.
For those of you unfamiliar with clothing-optional environments, this is absolutely not a sexual or lewd area. Expect to find nudists behaving the same you would while wearing clothes.
The Deep Creek Hot Springs Hike
There are several routes which will take you to the hot springs. Bowen Ranch is one of the safer options, where the owner of private land also provides security to parked vehicles. Other locations have reported vandalism and break-ins.
Each of the trails which take you to Deep Creek Hot Springs are very steep. These are not beginner trails or for those just starting to get into shape. Expect strenuous hiking in the desert. If you puke, you certainly won't be the first.
AAA will only serve paved roads, so make sure you have topped off your gas tank and are ready to offroad.
These warnings might seem excessive and have you wondering if the hike is even worth it. Yes. Train and come prepared for absolute beauty.
Bradford Ridge Trail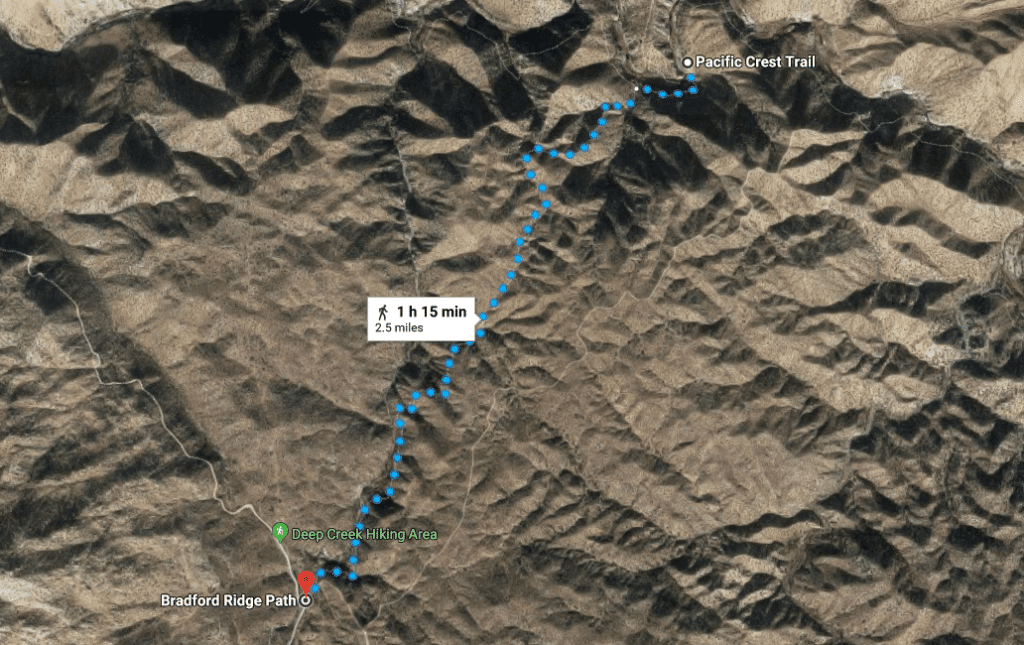 Google Maps Coordinates – 34.318447, -117.196208
This trail is 2.5 miles long from the parking lot to the pools of Deep Creek Hot Springs. This particular route is a good option for those coming from Inland Empire and the Los Angeles areas.
The above coordinates will take you to a small parking lot on Highway 173. The road is closed by a gate beyond this point, and the four and a half mile dirt section leading down towards the high desert is not open for travel. A couple hundred yards or so from where the pavement ends there is a concrete bridge that goes over Kinely Creek.
You will park at the side of the road by this bridge, and the Bradford Ridge Trail starts on the north and right side of this bridge. It is well traveled and easy to follow.
The trail follows the east side of Kinley Creek for the first 25 minutes of hiking, then the trail veers away from this creek off to the right crossing over some hills before reaching a high point. This is where you begin your descenscion into the Deep Creek Canyon.
After going downhill for about 15 minutes you will come to a split in the trail. One which goes right which is steeper but a shorter route to Deep Creek Hot Springs by about 10 minutes, or straight ahead which goes down the Bradford Ridge.
Both trails end at the Pacific Crest Trail, and when you reach it in both cases you go right, upstream direction, and you will arrive at the springs shortly.
Remember landmarks or take photos with your phone/camera to find the correct trail back out.
Bowen Ranch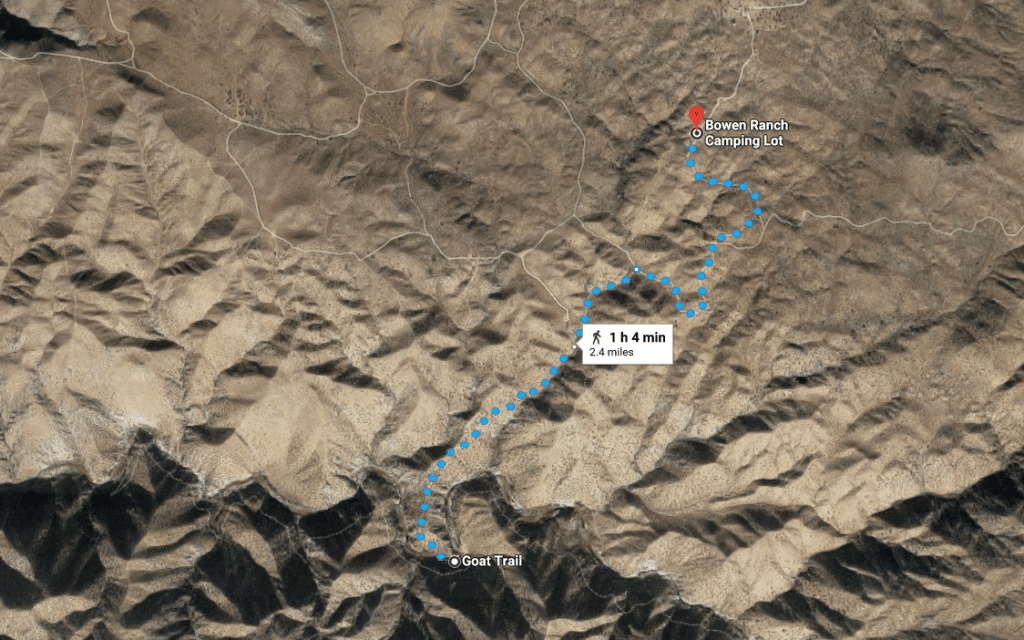 Google Maps Coordinates – 34.364506, -117.158645
This starting point to Deep Creek Hot Springs is private property and should be respected as such. There is a chance you will arrive and be turned away. This is the owner's right to do so. Hiking and parking here is a privilege for you as a guest, not a right.
The benefit of this location is the owner is full of information and keeps the area safe.
Follow your navigation/maps until you reach Ocotillo Way, across a railway line, and over a steep hill to Ocotillo Way.  Turn left on Ocotillo and continue for 2.2 miles. The road begins paved but will turn into a dirt road. The road will turn into Bowen Ranch Road.  Turn right and drive 6.2 miles to Bowen Ranch. This is all dirt road, with rocks and washed-out areas. If you do not have a 4×4 vehicle with relatively high suspension, consider taking a different route.
If you arrive and find a string across the road with no trespassing signs, the parking lot is closed and you must go a different route. Do not proceed.
Once at Bowen Ranch, expect to pay $10 per person. Once you have paid, continue for 0.5 miles to a parking lot with signs reading "No vehicles beyond this point."
At the South end of the parking lot, the trail to Deep Creek Hot Springs begins. Eventually, you will come to Deep Creek, about 2.4 miles of hiking – you must cross to get to the actual Hot Springs.
The hike down to the springs is steep, which means the hike back up can be brutal in the hot sun with no shade cover. Make sure to bring snacks, sunscreen, and plenty of water. This hike is not recommended for children or the elderly.
The Freedom Trail
This road requires at the minimum a 4wd vehicle. Preferably with high clearance and experience in off-roading. Frequent comments and reports show a lot of sedans and non-4wd vehicles getting themselves stuck.
Pacific Crest Trail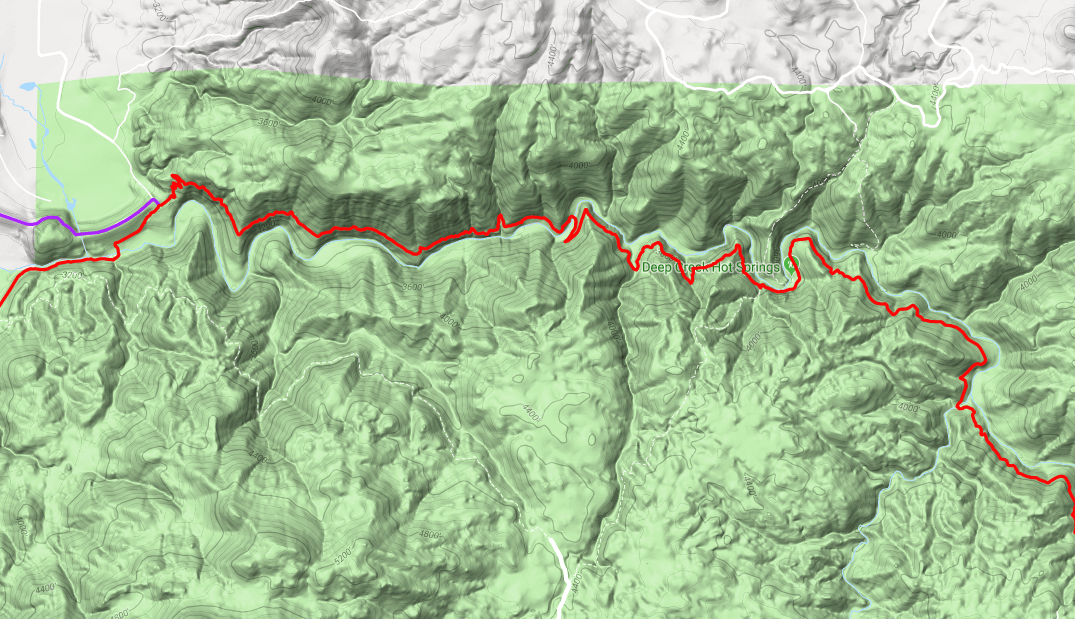 The PCT runs through the Deep Creek Hot Springs, so if you are hiking portions of the trail, this is an excellent method to kill two birds with one stone. If you are doing some long-distance hiking here, this is your extra warning that trailside water is extremely scarce. PCT Water Report is your friend. If you are camping and hiking this portion, note you must be at least one mile from the creek to setup camp.
If you are not hiking but looking for a place to park and come in through the PCT, you will want to navigate to Mojave River Dam parking – Pacific Crest Trail, and you can avoid going through Bowen Ranch.
4629-4641 Arrowhead Lake Rd, Hesperia, CA 92345.
This trail will be more difficult than Bowen Ranch, but still doable for frequent hikers.
BLM Roads
The Bureau of Land Management has stated on their website that several roads are available to access Deep Creek Hot Springs, but you must call first. For directions on the BLM designated routes, contact the BLM Barstow Field Office at 2601 Barstow Road in Barstow, CA 92311 Phone: 760-252-6000.
Cell Phone Reception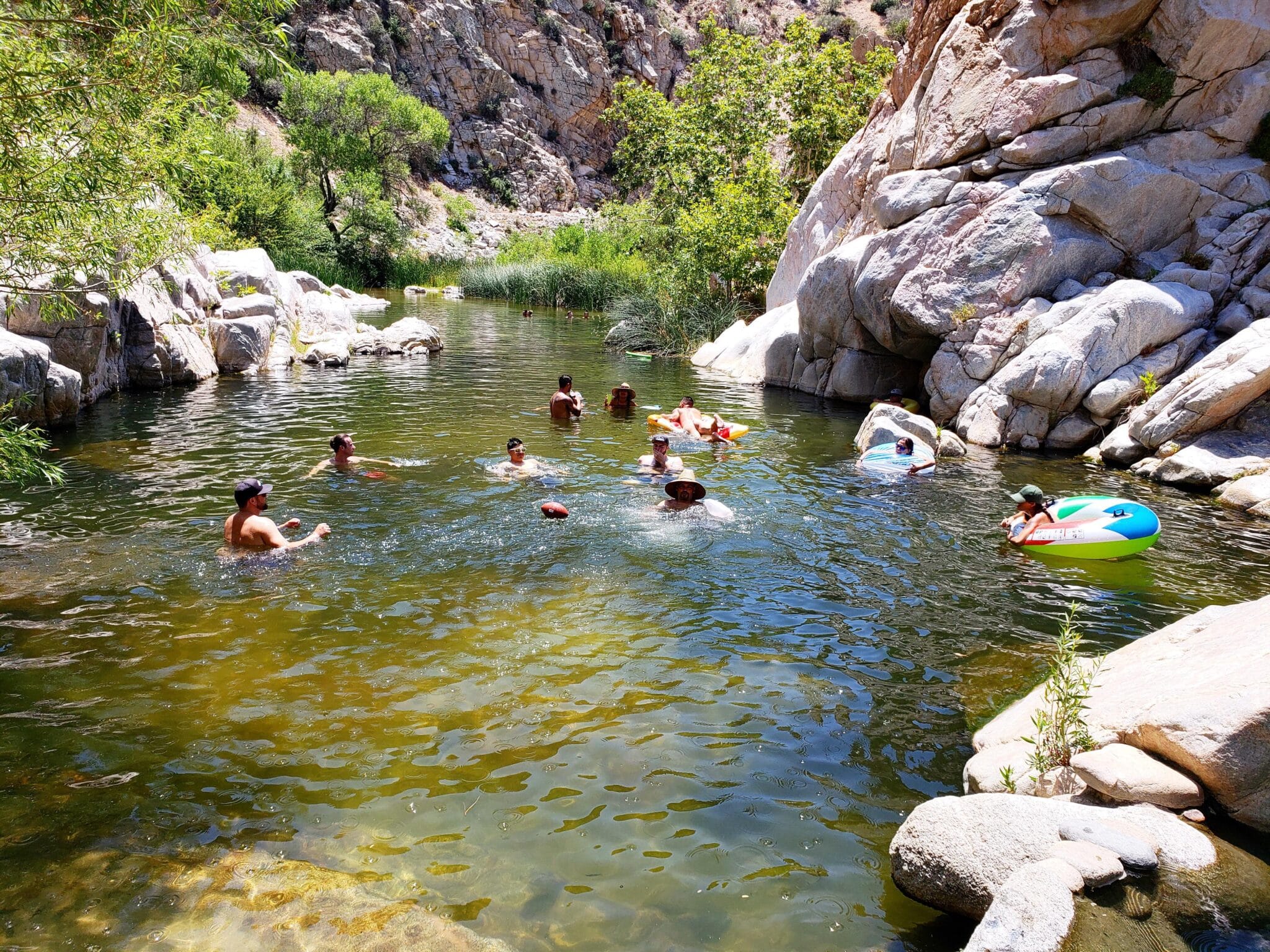 If you're anything like me, part of the joy of being out in the wilderness is the inability to connect. However, this area does have bits of reception, which is great for emergencies. Locals have reported numerous counts of people not hydrating enough, becoming injured, and needing emergency services. This is a dangerous area and folks don't realize how important it is to be prepared. Search and rescues seem to happen nearly every day.
The furthest pool upstream from the creek, Phoenix Hot Pool, has some reception. The hill to the North East has some of the best reception but is away from the directions to leave the hot springs. Bowel Ranch Trail has bits of reception.
Wildlife Near Deep Creek Hot Springs
If you hiked around the area and didn't see or hear a rattlesnake, then you probably just missed one. Or several. Cause they were there.
With elevation ranging from 4,200 to over 10,000 feet, the San Bernardino National Forest is full of diverse Flora and fauna. Pinyon Pines and oaks are found in the lower elevations, and juniper, pine and fir forests are plentiful in the high mountains.
Animals such as the black bear, mountain lion, deer, and bighorn sheep walk the lands while the bald eagle, peregrine falcon, and the red-tailed hawk can be spotted in the skies.
In a joint agency collaboration, SBNF, US Geological Survey, US Fish & Wildlife Service, California Department of Fish and Wildlife, California Department of Transportation, the Los Angeles Zoo, and the San Diego Zoo have been working on recovery efforts to reintroduce mountain yellow-legged frogs (Rana Muscosa) throughout the San Bernardino National Forest. The federally endangered Southern California species were reported to have less than 200 left in the wild in 2002. A big threat included habitat loss, pollution, and non-native predators such as bullfrogs and non-native fish. Nasty bullfrogs. Hate those things for yet another reason. Now, 12 years later, more than 4,000 frogs have been released into their historical habitat range. Deep Creek is one of their breeding sites.
What To Do if Bitten by a Rattlesnake
With 6 different venomous rattlesnakes found in California, you are most likely to encounter the Mojave Rattlesnake (Crotalus scutalalus) on this hike to Deep Creek Hot Springs.
Found between the altitudes of 0 and 8,000 feet, generally located in Southeastern California from the Colorado river near the San Bernardino county line, west through the Mojave, and north and east of the Sierras into Inyo County.
Adults are around 3.5 feet, but occasionally reach four feet in length. Its color varies from green-gray to yellow, tan, olive green, and brown, and usually have a dark, well-defined, irregular diamond-shaped dorsal pattern. The dark rings near the tail will be noticeably narrower than the light rings.
Floris Gierman of Extramilest has put together what I have found to be the best advice out there:
• No first aid is much better than performing bad first aid. Don't cut at or around the site of the bite, don't compress the bitten limb with a cord or tight bandage, don't attempt to extract or neutralize venom using electricity, fire, permanganate, salt, black stones, mouths, mud, leaves, etc.
• All Snake Bite Kits are dangerous and should not be used. This was also confirmed by the Snake Bite Poison Line.
• A lot of snake bite patients injure themselves by panicking directly after a snake bite, by tripping over a rock or tree trunk, or by falling off the side of the trail. Staying calm is important! After a snake bite, walk about 20-30 feet away from the snake.
• Find a safe place to sit down asap. The venom can rapidly diffuse into your system, this can drop your blood pressure too low to pump all the way to your head while standing. Sitting down reduces your chance of fainting within the first few minutes. If you faint, it shouldn't be more than a few minutes.
• Remove any rings, watches, tight clothing and anything else from the bitten limb, because the swelling will make it a lot bigger soon.
• Take 5 minutes to calm down and plan your evacuation. The only effective treatment for snake envenomation is the right anti-venom to neutralize it.
• Do not wait for symptoms to appear if bitten. It's important to get in touch with emergency personnel as soon as possible to get you to a hospital. If you have a cell phone and service, great, call 911 or the Park Ranger. If there is no service, think about the last time you had phone service.
• Try and take a photo of the snake for emergency personnel to accurately identify the type of anti-venom you need.
• A sharpie can be a great help for emergency personnel to assess the severity of your snakebite. Circle the location of your snake bite and write down the time next to it. Draw a circle around the border of the swelling and write down the time. Write down all the things you're experiencing that are not normal, with the time next to it. Examples are: metallic taste in your mouth, changes to sense of smell, sudden loss of vision, double vision, visual disturbances, ringing in the ears, headache, nausea and vomiting, bleeding from anywhere, dizziness, shortness of breath, etc. The most common signs and symptoms are pain and swelling.
• Update this info every 15 or 30 minutes as the swelling moves up the limb and your symptoms develop.
• Make contact via cell phone. If this is not possible, walk slowly to get help. Drink some water and take some calories if you have any. Some snake bite victims walk several miles after serious snake bites to their legs. They make it out fine because they made it out to medical care. This is much better than waiting for help if you can't reach anyone. Don't let the fear of "raising your heart rate and increasing the speed of venom circulation" prevent you from moving to get to care. Be very cautious about driving yourself to a hospital, since some bites have serious side effects that could suddenly limit your ability to drive.
FAQ
How to get to Deep Creek Hot Springs?
You can get to the hot springs from several different locations. Bradford Ridge Trail, Bowens Ranch, Freedom Trail, or the Pacific Crest Trail.
Where is Deep Creek Hot Springs?
The hot springs are located along the Mojave River in the San Bernardino National Forest in Southern California.
Can I bring a dog in Deep Creek Hot Springs?
The hot springs contain a sometimes fatal disease called primary amoebic meningoencephalitis, which can be transmitted by submersing your head. If your dog enters the hot springs, there is an increased chance of your dog getting this fatal disease. The water is also high in fecal coliform counts.
How hot are the springs?
Hot springs generally can get up to 140 degrees in the right conditions, although Deep Creek averages around 100.
Pin This!
I strive to paint vivid landscapes with my words, bringing the magic of far-off lands and enchanting aromas to life for my readers. Combine passion for exploration and the art of gastronomy in an unending ode to the senses. When I'm not traversing the globe, I find solace in the earth beneath my fingertips, tending to my garden and working on projects around my verdant oasis. MK Library serves as a beacon, guiding fellow travelers and homebodies alike to embrace sustainability, nurturing both our planet and our souls with purpose. Full Bio.