Anza-Borrego Desert State Park is located in the Sonoran Desert of Southern California and is the largest state park in California. The park covers over 600,000 acres and is known for its stunning desert landscapes, unique geology, and rich cultural history. Wildflowers are currently blooming in the park, including the stunning desert lily!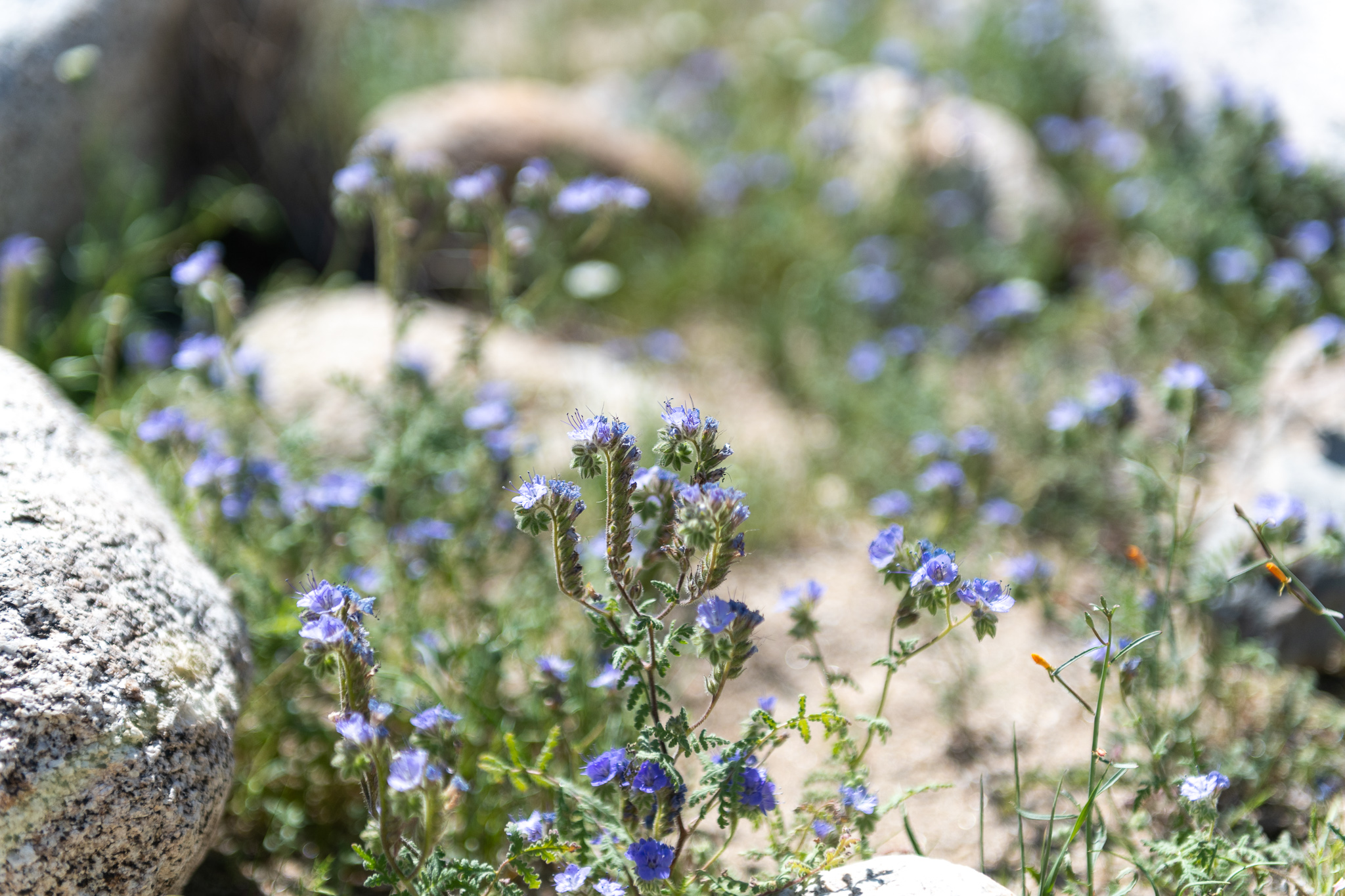 The park is named after Spanish explorer Juan Bautista de Anza and borrego, the Spanish word for bighorn sheep, which are native to the area. The park is also home to a diverse range of flora and fauna, including cacti, wildflowers, and various species of birds and reptiles.
The park's geology is also of interest, with formations such as mud caves, canyons, and badlands offering a glimpse into the region's geological history. The park is also home to several designated wilderness areas, offering opportunities for backpacking and hiking.
In addition to its natural beauty, Anza-Borrego Desert State Park also holds cultural significance. The park has a rich history, with evidence of human habitation dating back thousands of years. The park is also home to several historic sites, including the remains of the Butterfield Overland Mail stagecoach route and the ghost town of Borrego Springs.
Overall, Anza-Borrego Desert State Park is a unique and diverse destination for nature lovers, geologists, and history buffs alike. Its combination of stunning landscapes, unique geology, and rich cultural history make it a must-visit destination for anyone interested in the beauty and diversity of Southern California's deserts.
If you're interested in more wildflower sightseeing locations, browse this comprehensive 2023 California Super Bloom and Wildflower Guide.
Current Wildflower Blooms in Anza-Borrego
Located in the Colorado Desert of California, a southeastern part of the larger Sonoran Desert, Anza-Borrego Desert State Park hosts a beautifully varied display of wildflowers from mid-February to April. The amount of wildflowers in bloom largely depends on the amount of rain that has fallen in the area. Luckily, this winter has been an exceptionally wet one, which means we will likely be treated to an abundant showing of wildflowers.
There are many great hikes to explore and view unique desert plants and flowers.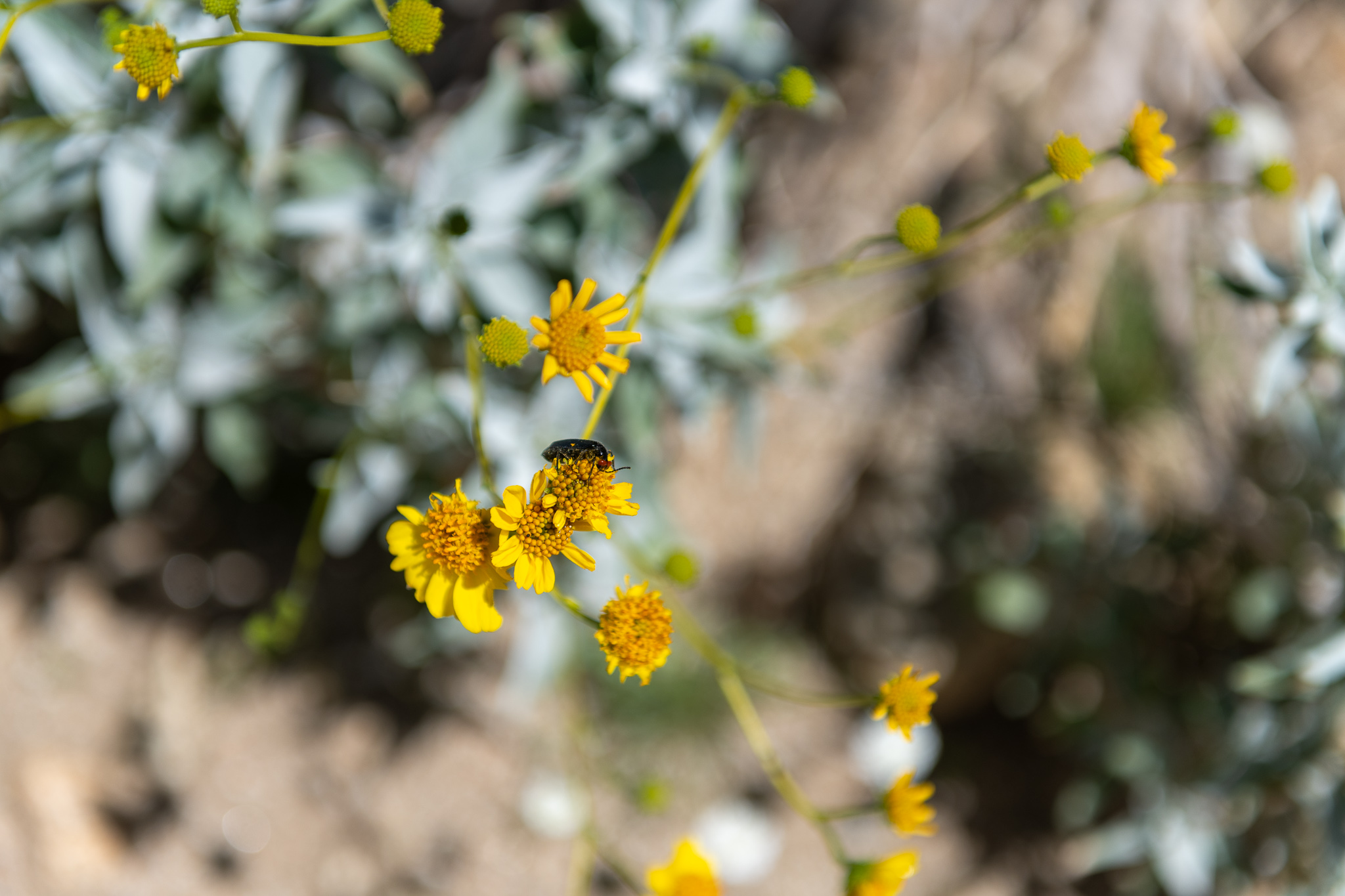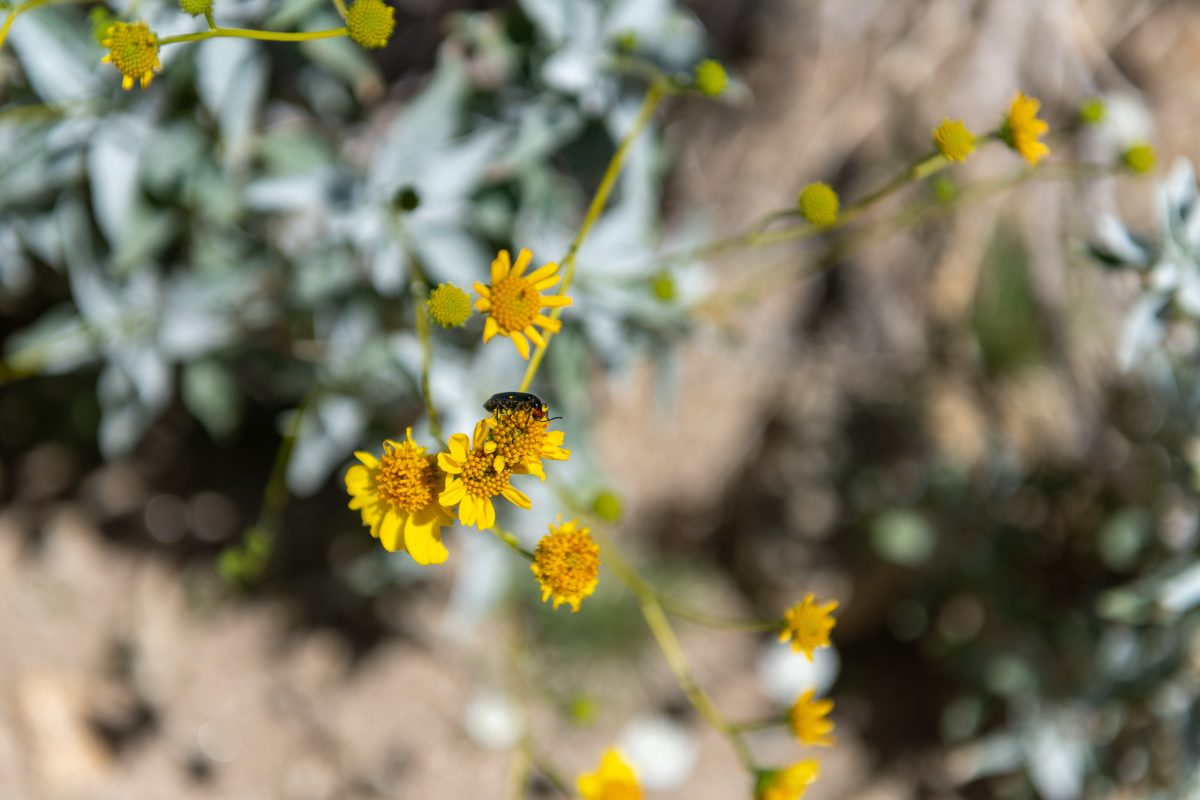 As of February 2023, flowers are blooming in certain areas of the park, including Henderson Canyon Road (to the east) and at the entrance to Coyote Canyon. Some blooms are also occurring at June Wash, at the park's southern end. Some native species you can find along the park's canyon trails include desert marigold, desert lily, sand verbena, desert sunflower, apricot mallow, desert five-spot, Orcutt's woody aster, and blooming cacti.
For more weekly updates on wildflower blooms within the park, visit the Anza-Borrego State Park Facebook Page or call the Wildflower Hotline at (760) 767-4684 for weekly wildflower updates.
Wildflower Super Bloom in Anza-Borrego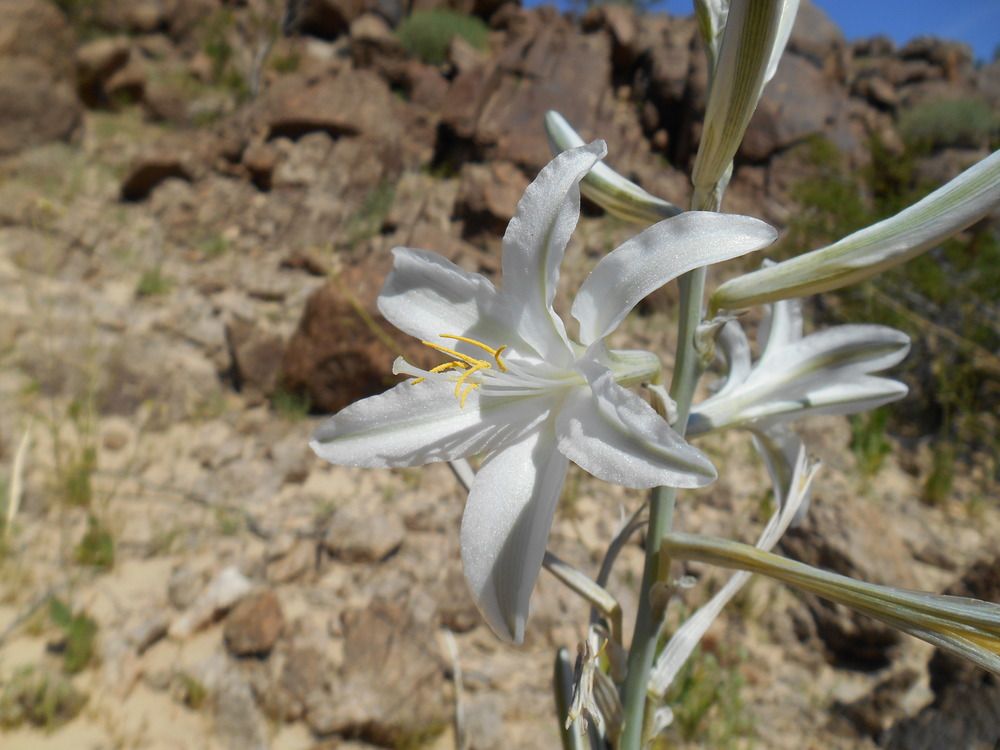 With the amount of rain California has received this year, the prospect of an expansive and abundant wildflower bloom this year is looking promising!
Fields next to the Interpretive Rest Area at the Coyote Canyon entrance, off of DiGiorgio Road.
Fields on the north side of Henderson Canyon Road.
Di Giorgio Road, Coyote Canyon
Plum Canyon
Grapevine Canyon
Henderson Canyon Road
Borrego Palm Canyon
February 10 2023 Report
Coyote Canyon
Start on Coyote Canyon for the first mile past the end of the pavement. Directions: Go north on DiGiorgio Road, one road east of Christmas Circle. The pavement ends about three miles north of Palm Canyon Drive. Park at the Interpretive Kiosk OR drive 1/2 mile on the sandy road and park. Look for flowers for the next mile. The road is sandy and passable with a 2WD vehicle. Past Desert Gardens, Coyote Canyon past Desert Gardens is 4WD. Dogs are allowed on the road on a leash.
Henderson Canyon Road
Henderson Canyon Road between Borrego Valley Road and Highway S2. Directions: Park safely off the pavement and walk north in the flower field.
June Wash
June Wash. Location: Mile 41 on Country Rd S2, an hour's drive south of Borrego Springs. 3 miles south of Aqua Caliente County Park. PARK at the start of the wash with 2WD. Deep sandy road, OKAY for 4WD.
Flowers are along the road and washes, good for walking.
Best Hikes and Walks with Wildflowers
The Borrego Palm Canyon 3-mile loop is a popular trail with plenty of wildflowers to catch in bloom. On this moderately difficult trail, you can appreciate California's third-largest palm oasis, and you may just see an elusive desert bighorn sheep.
The Visitor Center is a great place to begin your wildflower hunt. There is a short nature trail that you can meander through and then continue on to the campground area where you can venture through the washes.
The Slot is about a 2-mile loop trail near Borrego Springs that meanders through narrow gaps with the canyon walls formed by flash floods, some reaching up to forty feet high. You can see desert wildflowers nestled among beautiful geology on this hike.
This park map outlines the various roads you can take throughout the park.
Wildflower Hunting Etiquette
Stay on the trails
Do not park on vegetation
Pick up all trash and leave no trace
Do not pick flowers
Anza-Borrego Desert State Park Map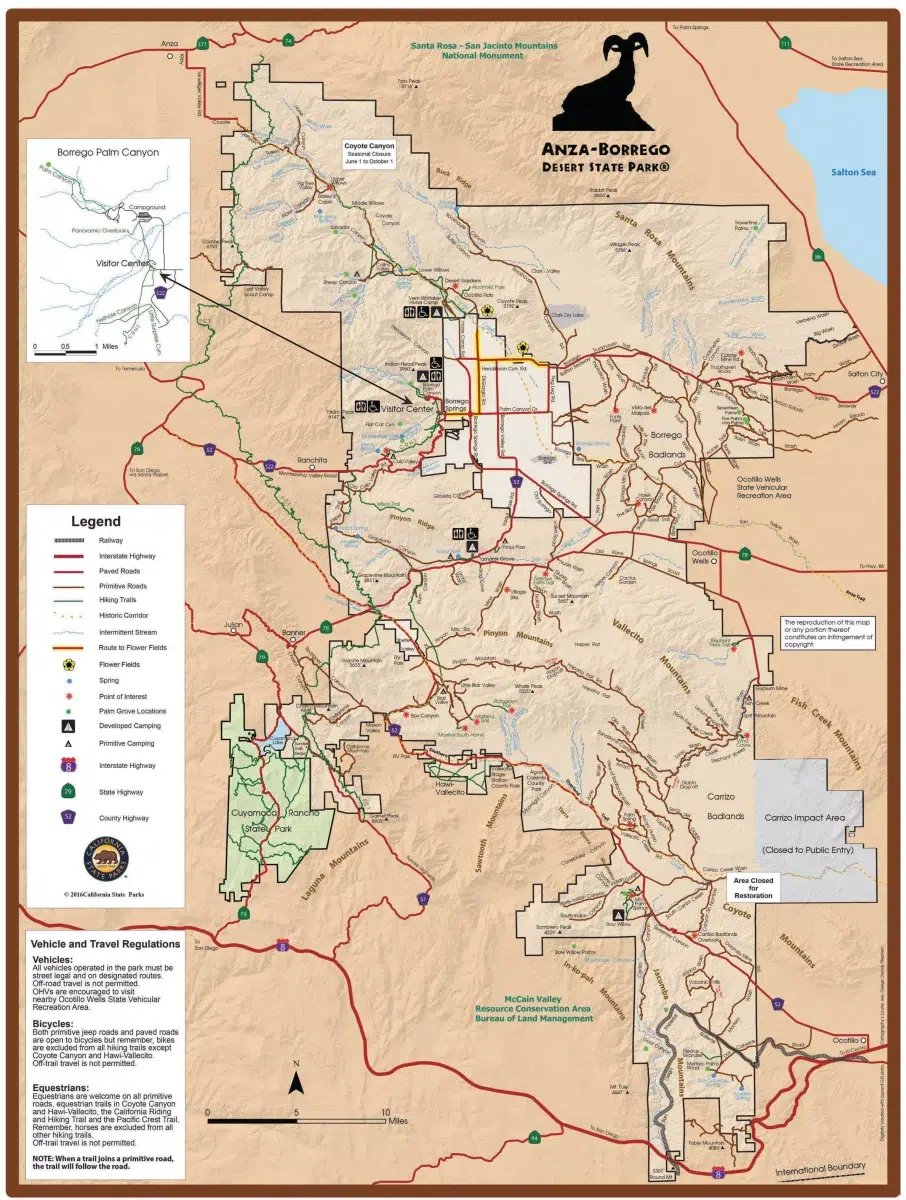 From recipes using locally sourced ingredients and terroir-centric cooking, craft cocktails, to the latest in tech and home DIY projects, Michael yearns to share his learned and found knowledge of the world.