The most common gold in the country is the 14k gold. It is made up of 14 parts gold and 10 parts alloy. Furthermore, it has an excellent combination of beautiful luster and durability.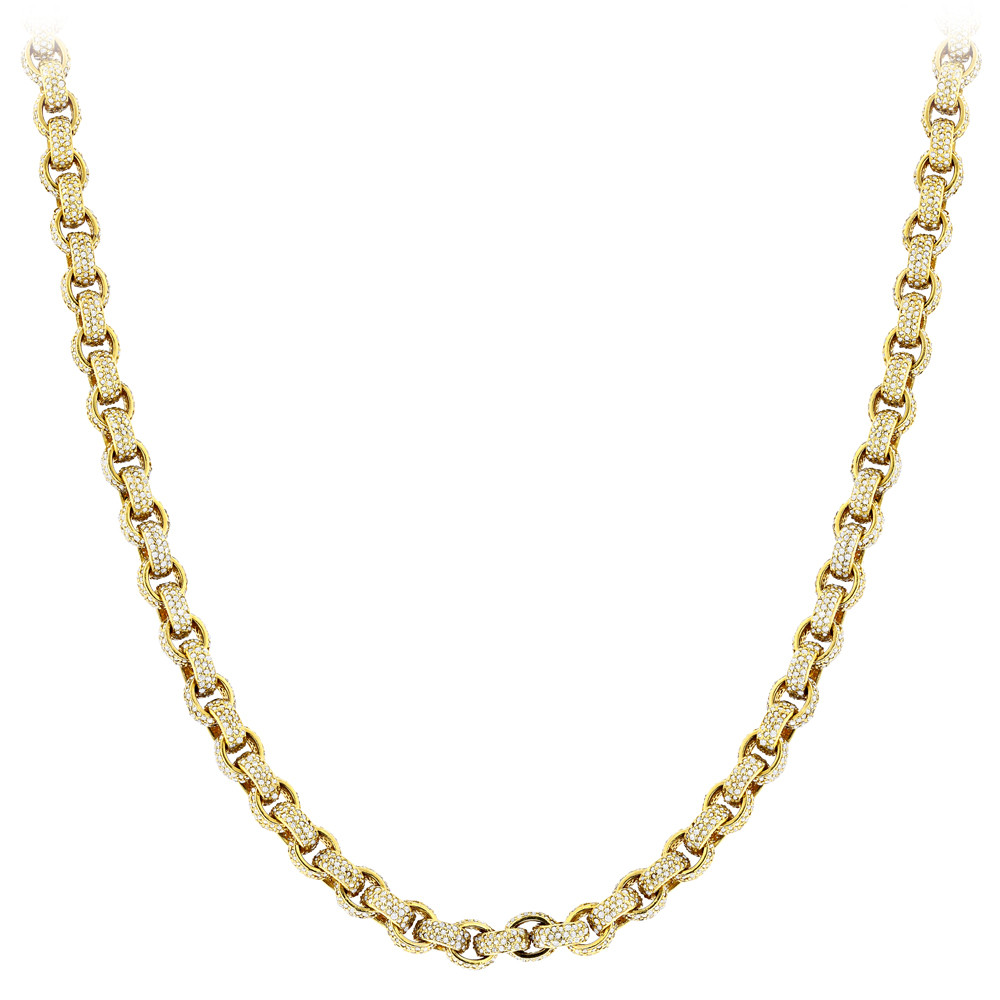 Is 14k Gold Considered Real Gold?
Definitely, 14k gold is real gold.
Contrary to popular belief, almost no jewelry is made up using 100% pure, 24k gold. This is because pure 24k gold is immensely soft. It can easily be bent, scratched, or warped.
Why is 14k gold a Popular Gold Option?
As mentioned above, pure gold is incredibly soft. It won't make sense to wear it every day. Moreover, it is vital to forge a metal mixture to create durable gold jewelry.
14k gold is an alloy composition. It is made up of gold and other metals such as nickel, silver, zinc, and copper with rhodium plating. Furthermore, its durable mixture makes it resistant to rust, corrosion, and tarnish. Hence, it is best to choose 14k gold for your gold chain necklace.
14k Gold Color
In choosing 14k gold for your necklace, you have three options for color: rose gold, white gold, and yellow gold. Although the three colors are quite similar, they differ in the composition. The type of metal alloys and the percentage of each determines the color of the gold.
Rose Gold
Rose gold consists of pure gold and copper. The higher the copper percentage added to the mixture, the redder the color will be. Furthermore, this option looks good on all skin tones.
Pros:
Its pinkish hue makes it the most romantic out of the three;
It is affordable;
It is more durable than white or yellow gold.
Cons:
It is not hypoallergenic;
It is not widely available all the time.
White Gold
White gold is a combination of pure gold and white metals such as nickel, silver, and palladium. Most of the time, it is also coated with rhodium. This option looks beautiful to those with fair or rosy skin.  
Pros:
It is more popular compared to yellow gold;
Mixed with stronger metals;
More affordable compared to platinum;
Complements fair or rosy skin tones.
Cons:
This option is not hypoallergenic. Most of the time, it contains nickel. This means it won't be the best option for those who are allergic.
White gold might require dipping every few years or so in order to maintain its luster and color.
Yellow Gold
Yellow gold is a mixture of pure gold and metal alloys such as copper and zinc. This is one of the most popular metals used for engagement rings and wedding bands. You can also choose this for your gold chain necklace.
Pros:
Out of the three 14k gold color, this one is the most hypoallergenic;
It represents the purest color of gold;
It easy to maintain;
Complements darker skin tones.
Cons:
Must be cleaned and polished regularly;
Prone to dents and scratches.
Choosing the Link Type
In buying men or womens gold chains, it is vital to consider the link type. The link will indicate how likely your necklace will break or how easily the chain will kink. For example, necklaces with flat chains like omega chains are more at risk of twisting.
Another link type that might cause you some problems is the round snake chain. This will most likely twist and catch on your clothes. It would be challenging to repair a kinked necklace.
It would help if you kept in mind the thickness of your necklace. This does not only depend on your preference but also on whether you decide to wear a pendant. If you want to incorporate a pendant, it is best to make sure the chain is thick enough to hold the pendant's weight.
The wheat chain and the box chain are one of the smart choices for a chain link. They are both flexible and sturdy. Other good link types also include anchor chain, rope chain, curb chain, and the Figaro chain.
Examine the Clasp
It will help if you inspect the clasp. You should make sure that the clasp does not easily break and closes well. One of the best choices when it comes to clasp is the lobster clasp. The lobster clasp does not open right away, even when you pull your chain very hard.
Most of the time, gold chain necklaces come with a ring clasp. This type of clasp is more affordable. However, they are not as durable as the lobster clasp.
Check the Chain
Checking the chain's surface is one of the most overlooked characteristics. To get your money's worth, you have to make sure that your gold chain necklace's surface is smooth. This is vital because if the chain is rough, it might irritate your skin.
To make sure no roughness could catch on your clothing or irritate your skin, you can run your fingers over the necklace.
Takeaway
Gold is considered an excellent investment because prices continue to increase over time. Besides being a good material for jewelry pieces, it's also durable and long-lasting. Hence, it is best to know what to consider in buying one and doing it right.
Whether she is researching the latest trends in home decor, life-changing destination getaways, or the best way to maintain your finances, Dewey takes pride in leaving no stone unturned. She is passionate about distilling and delivering high-quality information that you can use to upgrade your life.