As a personal challenge, I decided to book a multi-country trip to Europe, planning to not plan. The trip originally started out as a trip to Italy to learn about Balsamic Vinegar of Modena. I had an overlapping event in Europe and the company was willing to accommodate a late return date. With plenty of free time in between, I decided to unplan an epic adventure.
Despite having zero plans in place, I thought it prudent to develop a basic itinerary, or list of suggestions and possibilities. I had some things I wanted to do and see. I know that I will have limited time, and spending energy trying to decide what to actually do once I'm there would eat up some of that precious time.
The first 6 days of my trip would be taken care of for me and would require absolutely no planning. I was going to be working with the Consorzio Tutela Aceto Balsamico di Modena to learn about Balsamic Vinegar of Modena, Italy. Not even an unplanning amount of planning was needed. This left me with 12 days to figure out what I may or may not do.
One thing to note: Unplanning is not to be confused with budget or shoestring traveling. I am booking places to stay at the last minute where ever I feel like being – choosing based on the location factor. And usually WiFi and breakfast. If you are sticking to a tight budget in Europe, this is not the method for you. I also stayed at some very luxurious locations impromptu, based on how I felt. This was part of my fun – I ran the gamut from sleeping bag to luxury.
For the sake of perspective, I wrote part of this before leaving, with the intention of going back in upon returning from the trip and adding in perspective on which methods worked, what didn't work, and what to improve on for future unplanning international trips.

Tools to Unplan
To properly unplan, I wanted to make sure I had tools at my disposal to meet the unknown head on with success. Challenges would be sure to arise, and being prepared for whatever they would happen to be could make or break my trip.
Retrospect: I encountered so many problems during my journey. I am so glad I spent time making sure I was prepared. I could have had some very miserable days – instead my days were only partially miserable – although that was due to having bad cold or flu-like symptoms and not from the journey itself.
Disclosure: Companies mentioned may provide compensation to me when a user signs up through that link. My recommendations are unbiased and independent with all opinions expressed as my own. 
Booking.com – I had never been a huge Booking user in America, but I quickly found this resource to be invaluable to finding places to stay on short notice throughout Europe. I found Booking to be much easier to locate good hotels to stay at compared to any other site I've used to find places. Their platform also offers a lot of extra reward options if you book frequently. Book your lodging with my link and we both get $25 credit.
Airbnb – As a long time user, I found a few really cool houses to stay at which helped me find some amazing adventures throughout the trip. I like to book private rooms versus an entire home if I want to have interesting interactions with hosts and get leads on things to do. My link gets you $40 off your first trip over $75.
Schwab – I have a checking account which I only place my travel budget in for trips to other countries. One reason is ATM security – if my card info ever gets stolen, the thief will never get access to all my funds – only what was allocated and transferred for the trip. The second reason is my favorite: No foreign transaction fees, and no ATM fees. I can freely withdraw money while out and about without worrying about fees – they are all returned in the form of an account credit within 30 days.
Sim Card – With an American cell phone carrier, I looked at data plan options and knew none of them would work for me without spending an exorbitant amount of money. I needed lots of data for frequent navigation, calling places, uploading photos to social media, etc. I found Orange Holiday which offered 10gb of data for 14 days. Registering the card got you the line for 6 months. I bought.
Retrospect: What I didn't realize or read, is at Day 14, the data stopped working with no option to extend once it expired. I would have had to login to the website and add a small data plan to the card for $10 Euro to extend the plan by another 14 days. The data would stack. However, I didn't realize this until my card expired and it was too late.
Thus, I was stuck with a card that was essentially worthless to me. I spent the last portion of my trip without data, too stubborn to get another card out of some unknown principal.
That said, I'd buy the Orange sim card again in a heartbeat and simply be more diligent about expiration times. It worked so well in every country visited with incredible speeds and reception.
Travel Credit Card – When traveling to other countries, I make sure to bring along a credit card with no foreign transaction fees. As of writing this, there are several options available, based on your credit and intentions. I personally like to play the reward bonus game, so my options may be different than yours. Keep in mind you will need to activate the Pin feature on your card and setup a Pin to use in some countries or even specific locations.
Sleeping bag – I was already bringing a backpack and suitcase with gear. My sleeping bag requirements included: lightweight (for carryon weight limits), compresses and compacts to a very small size (to actually fit), and can withstand cold temperatures. I wanted versatility to camp out in the cold mountains or on the beach and be flexible in a variety of situations which might arise while unplanning. The Western Mountaineering UltraLite was the one for me.

Retrospect: I ended up using the sleeping bag three times. Once when I was too sick to go further and just needed to sleep. The second time when I was still recovering from being sick and camped out at a side road one crisp morning in the French countryside. I found a fruit stand, got some stuff, snacked, slept the morning away, and woke feeling refreshed and ready for adventure again. The third was when I encountered a series of incredible opportunities which circled around alcohol. There was no way I was going to drive after that.
Packing the sleeping bag was absolutely a good idea. It compacted nicely and made the necessary nights.
The First Unplan – Mapping out Destinations
With a time frame in place, it was time to figure out some areas I wanted to visit. The focus of this entire trip would be fine food, to stay in line with the Balsamic portion and keep my mind in the same place.
Beginning my trip in Italy, I wanted to head over to Southeast France and check out Nice. From there, I would go to Southwest Germany and visit a friend with some basic plans to explore Germany with, and possibly go back into France and see Paris. After that, I would return to Italy.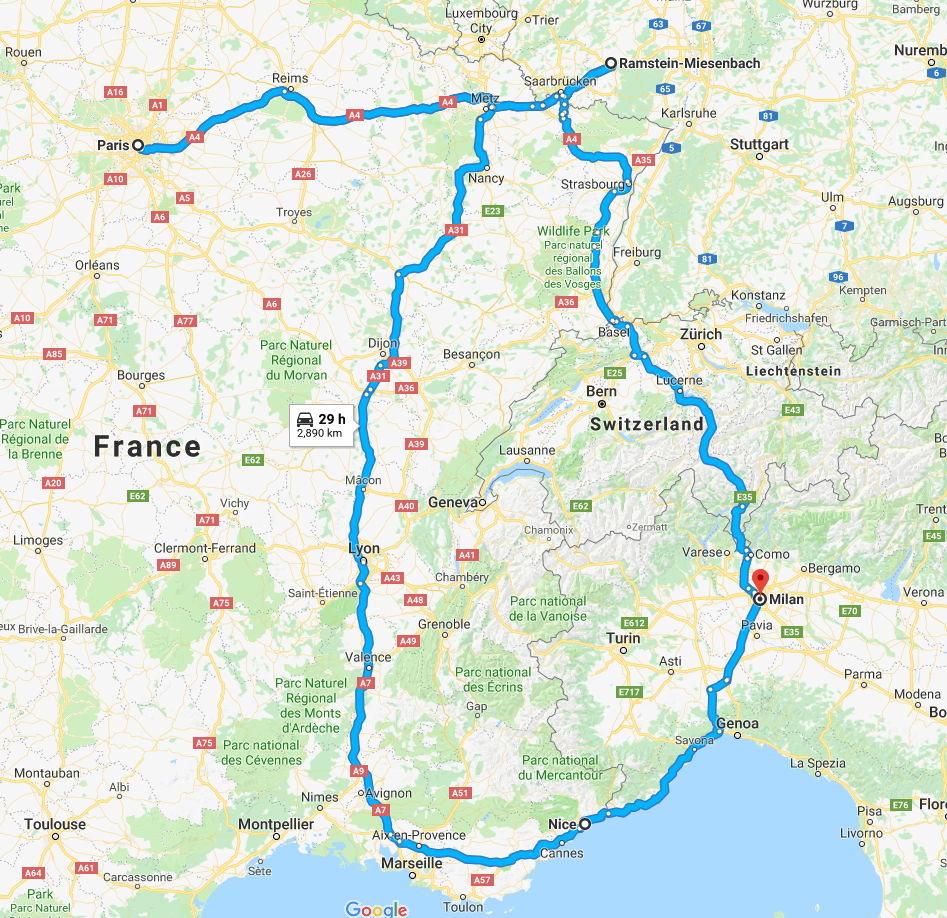 From here, I needed to decide if I wanted to travel by car or train. Times by both modes of transportation showed plenty of leeway for side-adventures or lounging. If I knew myself, I knew lounging realistically would never happen. I can't, even when I try.
Retrospect: I thought I had left myself enough time for whatever new adventures might find their way into my plans, however, 2 days of time wasn't enough.
The Second Unplan – Lodging
Before I even began pondering potential activities, I looked at potential places to spend the night. I had a friend in Southwest Germany which offered me a place to crash while I zipped and hopped around. The location ended up being perfect – there were tons of potential activities a quick day trip away. I wouldn't stay here the entire time, but would use it as a central location and as a backup if other plans fell through.
I found it incredibly important and comforting to know there was a location I could easily get to in case of emergency or whatever might happen. Removing those two stressors would improve the quality of the rest of my travels.
Additional lodging options included some impromptu Airbnb's, and some points I've built up for free stays at Hilton and Marriott properties. I didn't want to book anything – I would decide when and where to stay pretty close to when it happened.
The final thought I had for my adventures included bringing my ultra-light sleepingbag, which would double as padding for my camera gear. I have this notion that I can camp out at a beach in France or in the mountains in Switzerland. Something like that. Either way, I'd be prepared, and the bag stays warm down to 20 degrees.
Retrospect: Several days into my stay I added Booking.com as a lodging resource in my repertoire. I hadn't realized how many places used their service until I was trying to find some lodging without success.
I was told by multiple locals not to drive at night, especially as my routes took me through mountain ranges. I decided to heed their warnings and made sure to always stop before dark. As it turned out, the weather could be quite treacherous with huge thunder and lightning storms and pouring rains. Combined with driving up and down narrow windy mountainous roads, there would be a greatly increased risk of something bad happening.
The Third Unplan – Transportation
I needed to get from country to country while bringing along a suitcase of clothes and backpack of laptop and camera gear. I knew the rail and train system was exceptional, but after considering both prices and schedules for trains, I opted to rent a car. However, I wasn't going to rent a car until I was there – I wanted to evaluate the situation. Perhaps I wouldn't need a car right away.
Retrospect: Renting a car was the best decision I could have made for flexibility alone. I was able to travel along side roads, winding country lanes, and to places trains do not go. It really added a lot to my adventure, providing perspectives I wouldn't have been able to attain by sticking to the main throughways.
I ended up going with Auto Europe. Before leaving for the trip, I researched the cars available based on fuel economy. I didn't need a lot of power, but I certainly wanted a vehicle that could drive the distance. I settled on the Lancia Y, with the Hyundai I10 as a second choice.
Retrospect: The price ended up being about $400 USD for 12 days. I changed some details mid-rental which changed the original price quote, but that is okay.
The Fourth Unplan – Goals
In knowing I would be renting a car upon arrival, I started looking along my route for things to see along the way. I pinpointed general areas and set goals for myself.
Explore some cultural food regions of Italy.
Setup a winery tour in Italy, France, and Germany.
Avoid all toll roads to stay off the beaten paths.
Visit an Absinthe distillery in either France or Switzerland.
Go to the beach near Nice and camp out for the night.
Hike in Austria.
Retrospect: These goals didn't seem very far fetched, however they ended up taking me onto some epic adventures.
I ended up coming down with a fever on my way to Nice. Along with that and rainstorms, camping was swiftly nixed. I had never setup lodging and was having a lot of trouble finding a place while trying to keep myself together. That was my worst night of the trip, which left me absolutely miserable. I ended up sleeping in my car from the situation.
The Fifth Unplan – Clothes
Based on my goals, I packed for everything from nice restaurants to beachwear. I would have skipped the beachwear and left more room in my suitcase for bringing fun things back, such as wine or absinthe.
The first leg of my trip included some very nice restaurants, which felt worthy of bringing a jacket. There was no way I was getting out of saving that suitcase space.

I strategized on types of clothes which would be good to wear in multiple types of weather and be quick drying. I certainly wasn't bringing 3 weeks worth of clothes. I would be washing clothes in the sink almost every night, rotating them out, as well as regular laundry with my friend in Germany.
I didn't want to dress like I was a tourist from California, with quintessential flip flops, tshirt, and cargo shorts. No, I wanted to stand out a little less with button downs and chinos.
2 pairs of pants to alternate each day, wool socks for easy washing, 5 shirts from business casual to dressy, a pair of dress shoes, hiking shoes, and flip flops.
It would have been great to have one less pair of shoes, but with the desire to both hike and go to nice places, I was stuck. The flip flops were great to drive in and let my feet breathe. Plus, they doubled as potential beach-goers.
The Sixth Unplan – Retrospect
Unplanning a multi-country trip through Europe was incredible. I felt like I did a pretty good job preparing to not prepare or plan. There is very little I would have changed. I would have made sure to renew my SIM card before it expired.
I would have brought a few less clothes, but perhaps I would have needed the extra clothes if it wasn't raining so much during my trip. In fact, it rained during at least 14 days of the trip.
With my packing strategy, I was able to carryon both suitcase and backpack on the plane, however, after loading up with multiple bottles of delightful goodies, I had to check my bag with a lot more weight. I hadn't considered checking on the way home, or I may have just checked both ways and brought a slightly bigger suitcase.
During the course of my trip, my phone caught on fire, causing me to have to buy a new one. My SIM card stopped working due to not reading fine print and instructions. I came down with a terrible sickness for a few days, which then stuck with me mildly the rest of the trip. I had to navigate multiple countries without GPS nor map. I couldn't find a place to stay one night. The entire trip was insurmountably rewarding. I loved the adventure.
About the Author
Latest Posts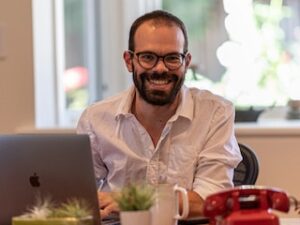 I strive to paint vivid landscapes with my words, bringing the magic of far-off lands and enchanting aromas to life for my readers. Combine passion for exploration and the art of gastronomy in an unending ode to the senses. When I'm not traversing the globe, I find solace in the earth beneath my fingertips, tending to my garden and working on projects around my verdant oasis. MK Library serves as a beacon, guiding fellow travelers and homebodies alike to embrace sustainability, nurturing both our planet and our souls with purpose. Full Bio.