Made with apple brandy, the Bobbing for Apples Cocktail is a fun way to celebrate the fall leaves turning color and apple season getting into full swing. This cocktail is packed with fall flavors, including rye whiskey, demerara syrup, angostura bitters, and orange bitters. It is garnished with a dehydrated apple slice and a cinnamon stick dipped in vodka that smokes when lit.
Looking for more fall cocktail ideas? Try MK Library's Skeleton Key Cocktail with ginger beer and elderflower liqueur!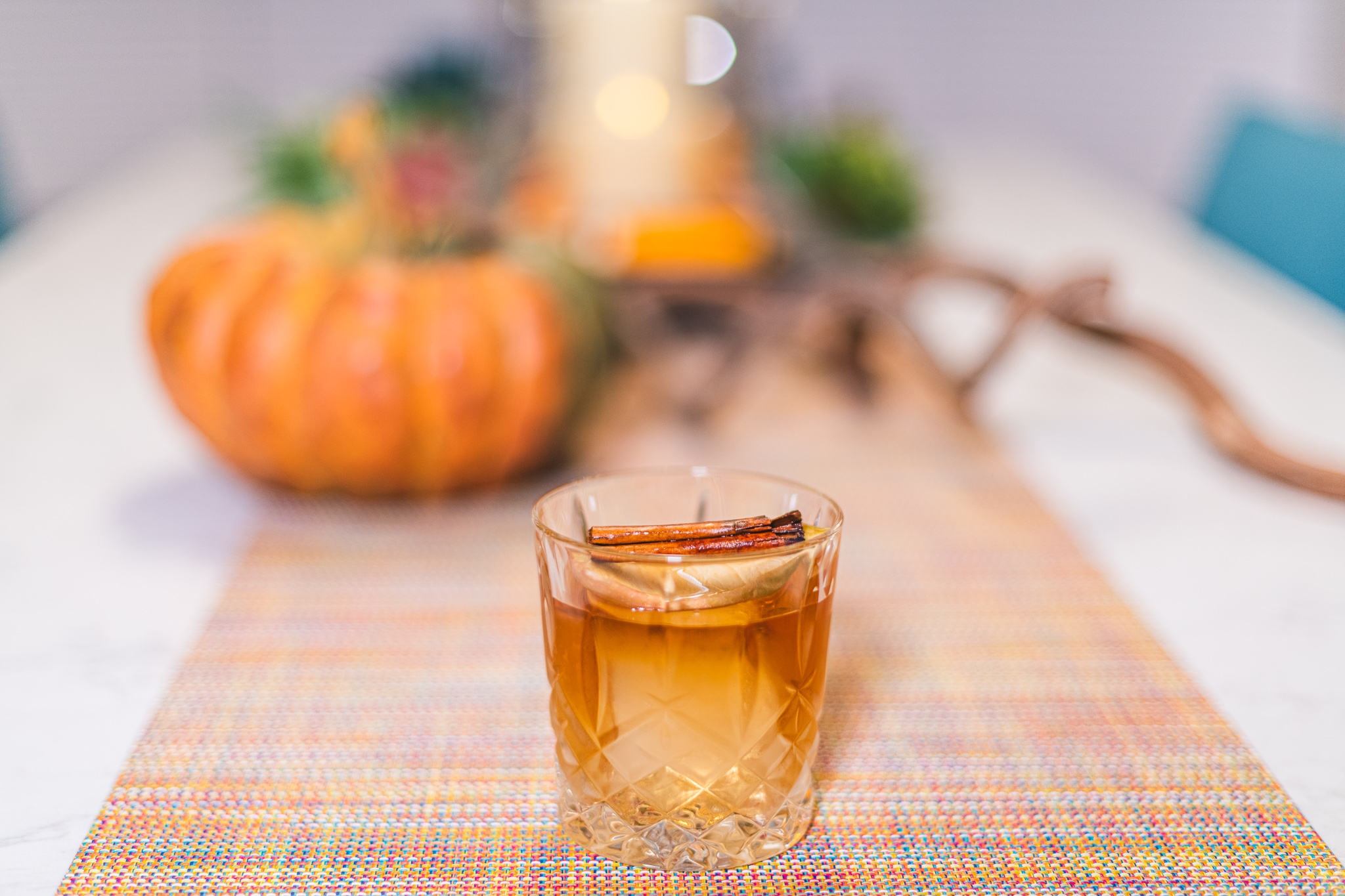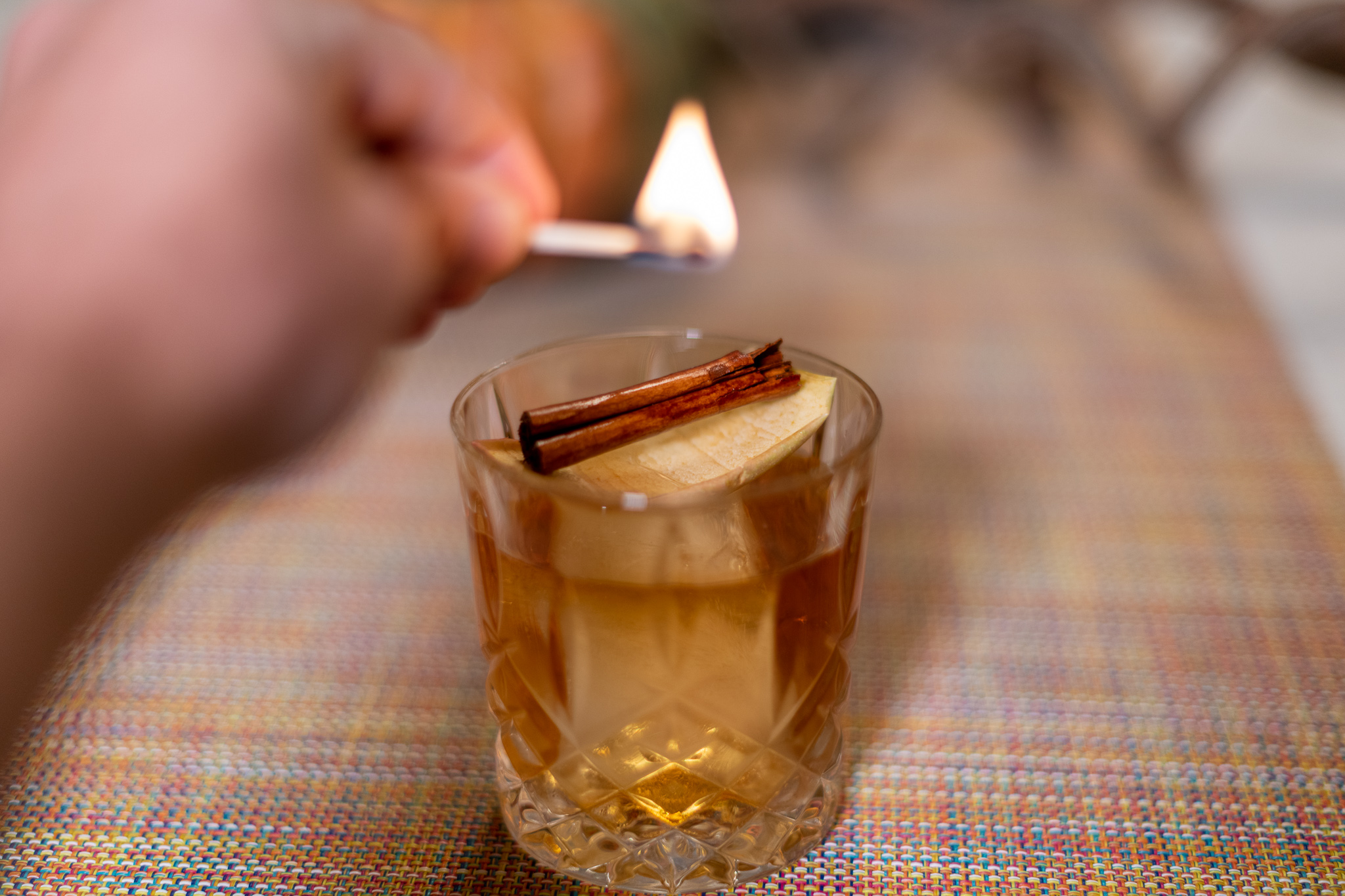 This cocktail was pioneered by Sushi Roku in Los Angeles, CA.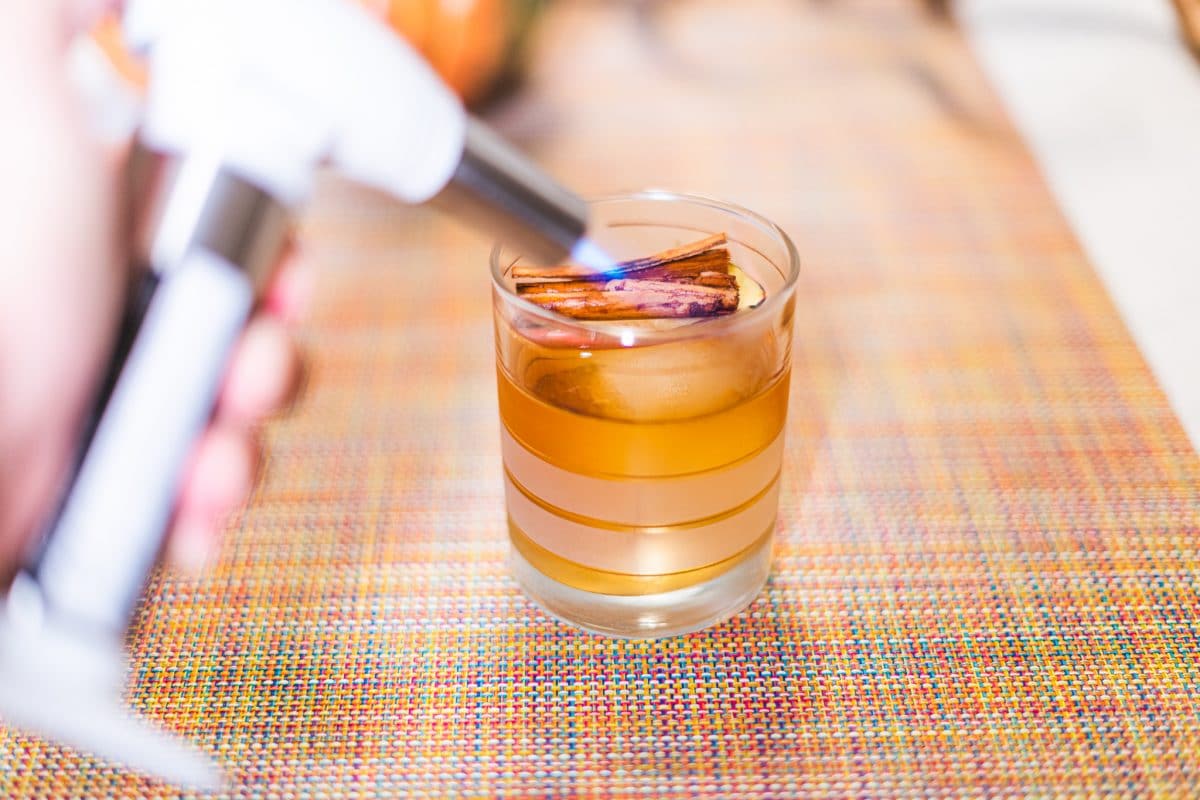 No matches? No problem! Use a culinary torch for a more controlled char on your cinnamon.
Bobbing for Apples Cocktail
Made with rye whiskey, apple brandy, demerara syrup, angostura bitters, orange bitters and garnished with a dehydrated apple slice and cinnamon stick dipped in vodka so it smokes when lit.
Equipment
1 double old-fashioned glass
Ingredients
1

barspoon

Demerara syrup

2

oz

Rye whiskey

Templeton Rye preferred

1

oz

Apple Brandy

Laird's Old Apple Brandy 7 1/2 years old preferred

2

dashes

Orange bitters

2

dashes

Angostura bitters

1

Dehydrated apple peel

1

Cinnamon stick
Instructions
To make demura syrup, boil 1/2 cup water and 1/2 cup demura sugar. Stir until sugar has fully dissolved. Remove from heat and set aside or store in mason jar.

Soak cinnamon stick in your cheapest neutral spirit, such as vodka, to better flambe. Let soak while you make cocktail.

Peel apple like you would a wide orange peel garnish. Dehydrate in oven for 15-20 minutes at 175F, or until edges curl over, and it is no longer dripping apple juices.

Add demura syrup and bitters into a cocktail shaker. Stir gently or swirl a few times. Smell it for fun.

Add rye and apple brandy to shaker. Add 4-6 cubes of ice and shake vigorously.

Add a large ice cube to a double old-fashioned glass and pour slowly over ice. You'll want the top of the cube to remain above the liquid level.

Top with apple peel, skin side down. Place cinnamon stick atop peel, without it touching the liquor.

Light cinnamon stick on fire with a wood match, lightly charring one end or one side, however long your match lasts.

Push apple peel and cinnamon stick down into drink and serve. Cheers!
Nutrition
Calories:
169
kcal
Carbohydrates:
5
g
Protein:
0.1
g
Fat:
0.04
g
Saturated Fat:
0.01
g
Monounsaturated Fat:
0.01
g
Sodium:
0.3
mg
Potassium:
16
mg
Fiber:
2
g
Sugar:
1
g
Vitamin A:
10
IU
Vitamin C:
0.1
mg
Calcium:
35
mg
Iron:
0.3
mg
Tried this recipe?
Let us know how it was – tag @themklibrary on the socials!
I strive to paint vivid landscapes with my words, bringing the magic of far-off lands and enchanting aromas to life for my readers. Combine passion for exploration and the art of gastronomy in an unending ode to the senses. When I'm not traversing the globe, I find solace in the earth beneath my fingertips, tending to my garden and working on projects around my verdant oasis. MK Library serves as a beacon, guiding fellow travelers and homebodies alike to embrace sustainability, nurturing both our planet and our souls with purpose. Full Bio.