If you are an avid traveler who enjoys shooting travel blogs during trips, you can benefit from learning how to shoot a GoPro video using a popular action camera. In this article, we have rounded up the main benefits of using such cameras and described how you can improve your content by using pro-level video editing tools. Read on if you want to learn about the best GoPro cameras available on the market and use shooting tips utilized by professional videographers.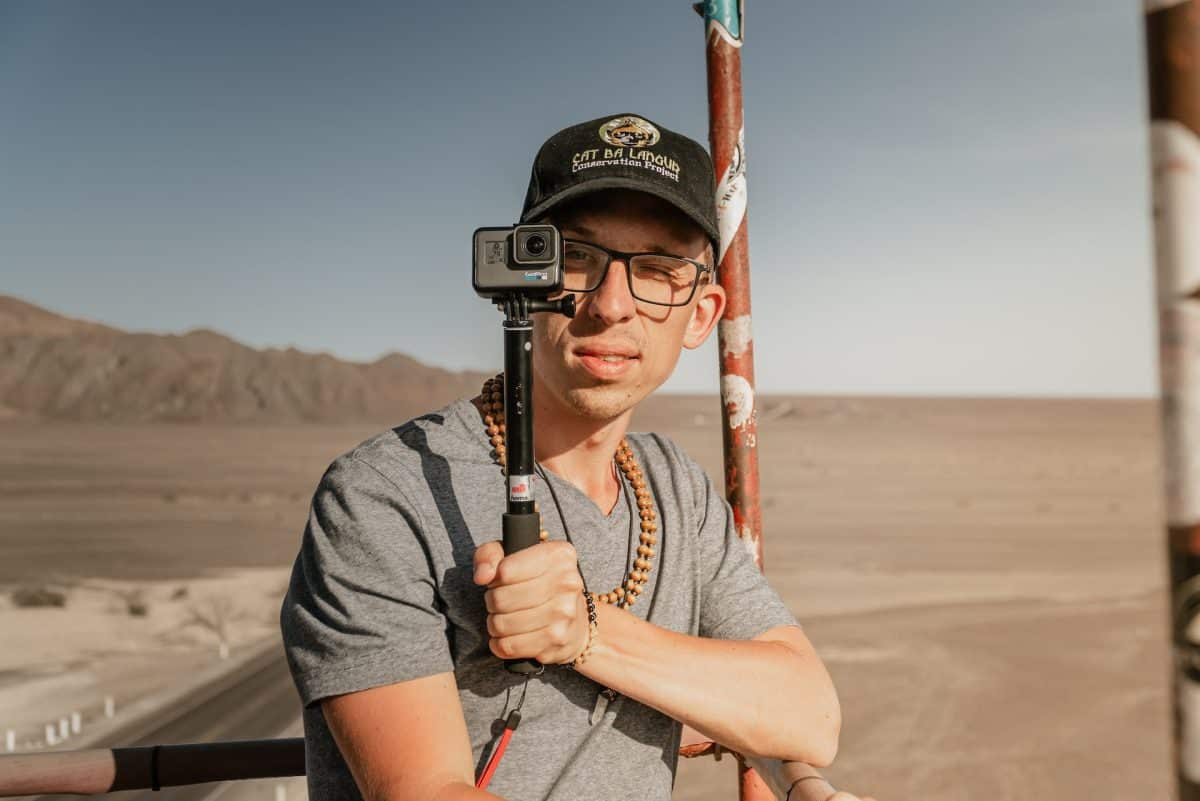 Key Advantages of GoPro Cameras
Besides being extremely lightweight and portable, GoPro cameras are made of durable materials, which allows you to use them in severe weather conditions. Their lenses have a special coating, which allows them to reduce water drops and minimize distortions. A GoPro camera will easily fit your backpack, which makes it perfect for long trips.
Another advantage of the newest GoPro cameras is that they boast impressive image quality. Using them, you can shoot 4K footage when enjoying a range of activities, from surfing to bungee jumping.
There is a wide choice of GoPro accessories that make it easier for you to stabilize your camera and mount it securely. GoPro cameras are straightforward to use. They are suitable for beginners and professionals alike. You can quickly zoom in on any subject, play your videos, and transfer your footage to other devices or social media using a Wi-Fi connection.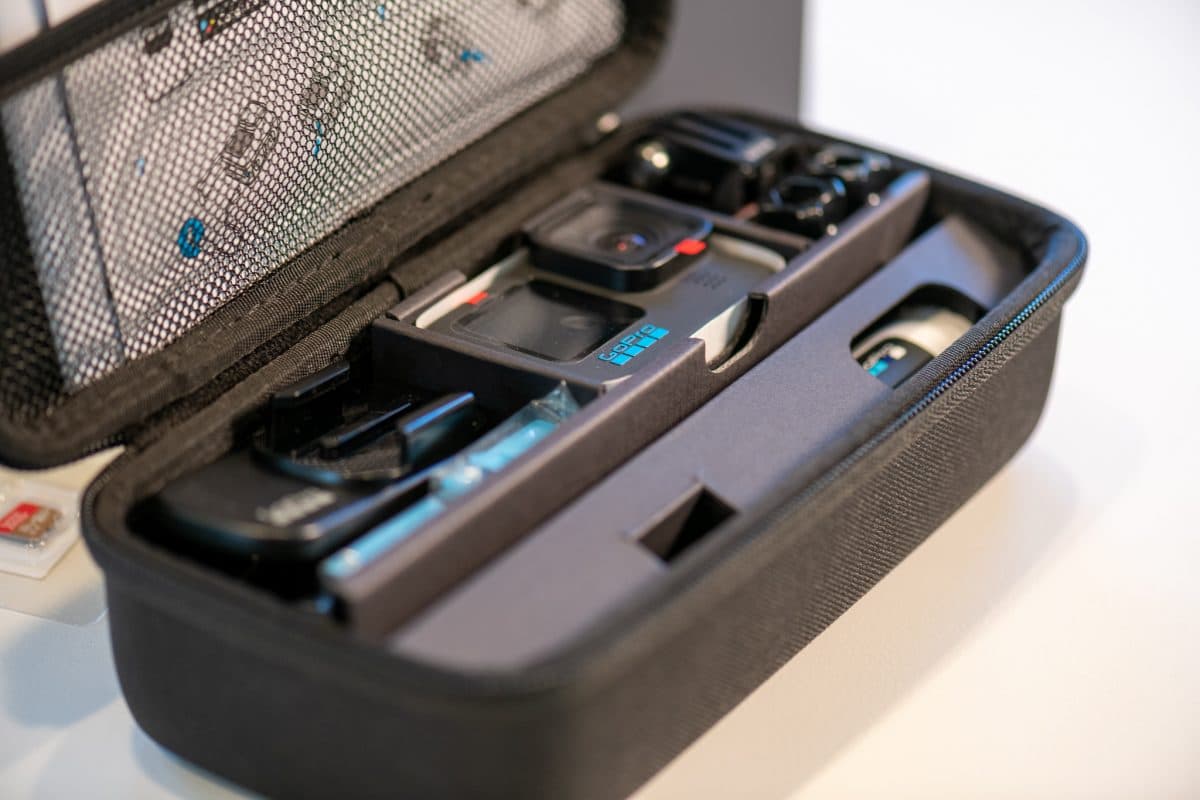 Best GoPro Cameras for Travelers
If you are on a budget, you can select an older model released several years ago. For instance, the GoPro Hero7 is perfectly suitable for shooting high-quality action footage even though it was released back in 2018. The GoPro Hero5, GoPro Hero6, and GoPro Hero8 are also pretty good choices for those who prioritize quality.
The GoPro Hero11 Black is a newer model that enables you to shoot HD content, which makes it similar to iPhone and DSLR cameras in terms of capabilities. This camera is awesome for travel vloggers due to its quality. But you can further enhance your footage even more using free video editing software with no watermark that has convenient tools for trimming videos and adding a variety of effects to them.
When selecting a GoPro camera, think about your needs. In case you are interested in rock climbing, it might be a good idea to opt for a shockproof camera to ensure that it won't get broken easily. A waterproof GoPro will be a great choice for surfers. Keep in mind that some accessories are compatible only with specific camera models. Regardless of the model you choose, you can improve GoPro battery life easily.
How to Shoot High-Quality Travel Video Using a GoPro Camera
Below, we have outlined the most useful GoPro shooting tips that will be useful for professionals and beginners alike. You can use them to improve the quality of your content and protect your equipment when shooting a travel video for your vlog.
#1 Protect a GoPro Camera From Water and Fog
When shooting in humid conditions, you might notice some signs of fogging. To prevent it, make sure to use special inserts that allow you to protect your device from fogging. When doing travel photography, it's also crucial to protect your device from water droplets. Clean your lenses thoroughly to ensure that you will be able to use them for years to come.
#2 Stabilize Your Camera
If it's impossible to use a tripod when snapping pics in the air, you can tighten all camera screws simultaneously. It will allow you to get clear photos without any noticeable blur.
#3 Select a Perfect Angle
GoPro cameras typically allow you to take pics from different angles. If you want to take a great selfie, set your camera towards your chest. It will allow you to put yourself in the center of a photo and make the background less noticeable.
#4 Optimize File Size
When shooting pics in HD, you might quickly run out of free space. While you can use a GoPro SD card, it will cost you extra. To save time and money, you can also optimize file size. It will also make it easier for you to transfer your files from your camera to other devices. If you still prefer shooting in high-quality, you can select suitablememory cards compatible with your camera.
#5 Plan Your Shooting
To create an engaging video for a travel vlog, you need to decide which story you are going to tell. People who like watching travel videos will enjoy learning something new about the places that you visit. Plan your story in advance and decide on the locations that you need to shoot. It's also important to select suitable music for a travel video that will help you recreate a specific atmosphere.
Improve your photography skills as well. It's crucial to learn about framing and find out how to work in different lighting conditions. It will help you reduce the time spent on editing.
Tips for Editing GoPro Videos
Once your footage is ready, you can use an online video maker to cut and trim it to your liking. Such tools are quite intuitive, so you will easily figure out how to use them for improving your content. Before enhancing your video, make sure to back them up by creating copies. It will allow you to restore your source file in case you don't like the result.
When editing your GoPro videos, remove unnecessary parts, fix lighting issues, adjust contrast, tweak colors, and add captions to ensure that your clips will be watched by people who turn sound off when browsing social media.
Summing Up
By following these tips, you can create engaging content for your travel blog and grab the attention of your followers. Make sure to add a personal touch to your videos and share unique stories about the destinations you visit. It will help you establish a long-term relationship with your audience and provide it with excellent GoPro videos.
Whether she is researching the latest trends in home decor, life-changing destination getaways, or the best way to maintain your finances, Dewey takes pride in leaving no stone unturned. She is passionate about distilling and delivering high-quality information that you can use to upgrade your life.