The methods behind creating a delicious Neapolitan style Margherita pizza come from a time-honored craft in Italy.
As such, true Neapolitan pizza is held to a high standard of rules, orally transmitted by generations of Neapolitan pizza-makers. Ingredients must only be sourced from Campania regions of Italy. As a firm believer of eating local, most of the ingredients for this pizza are sourced locally from Sacramento. Thus, this is a "Neapolitan style" pizza, and not a true to tradition Neapolitan pizza.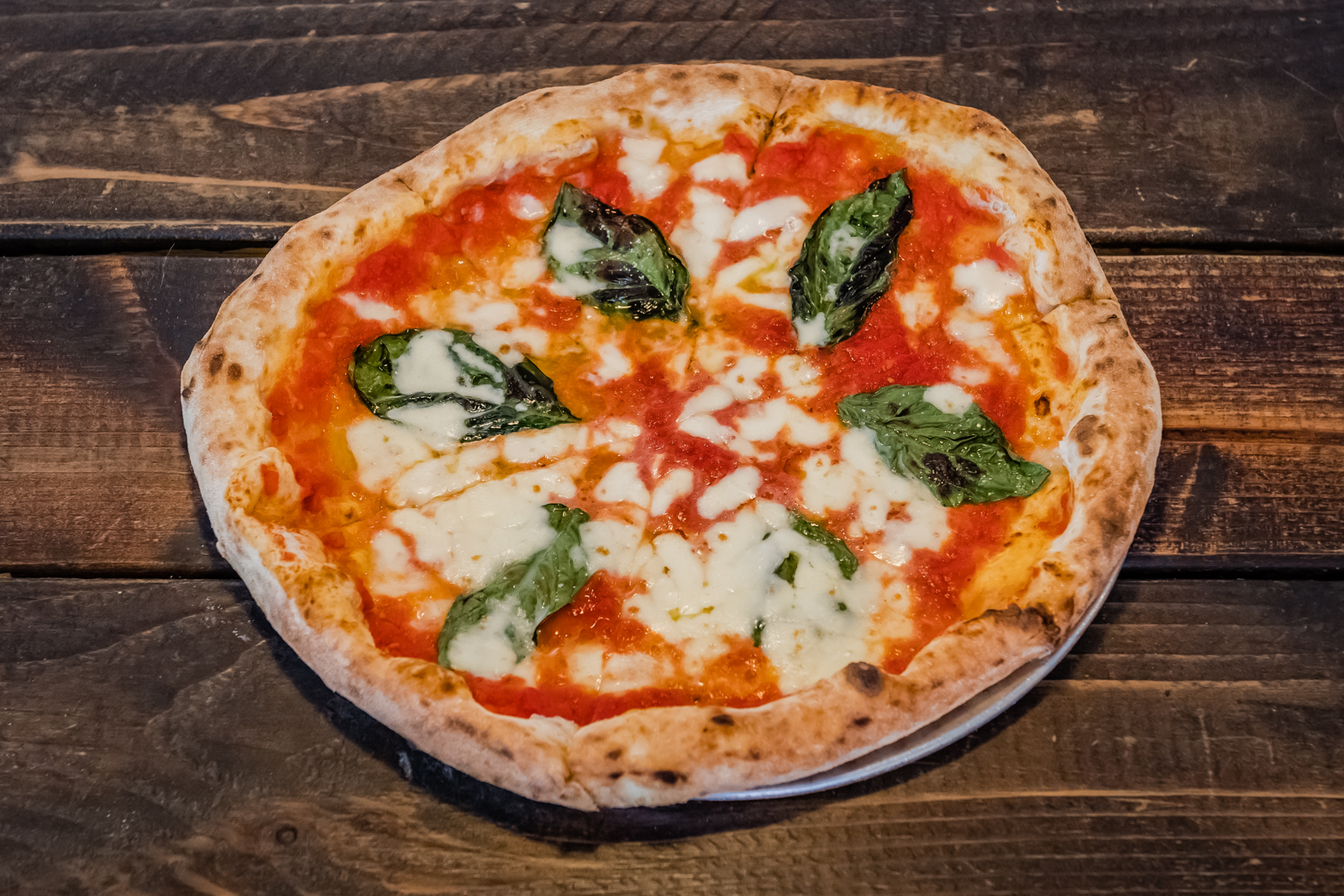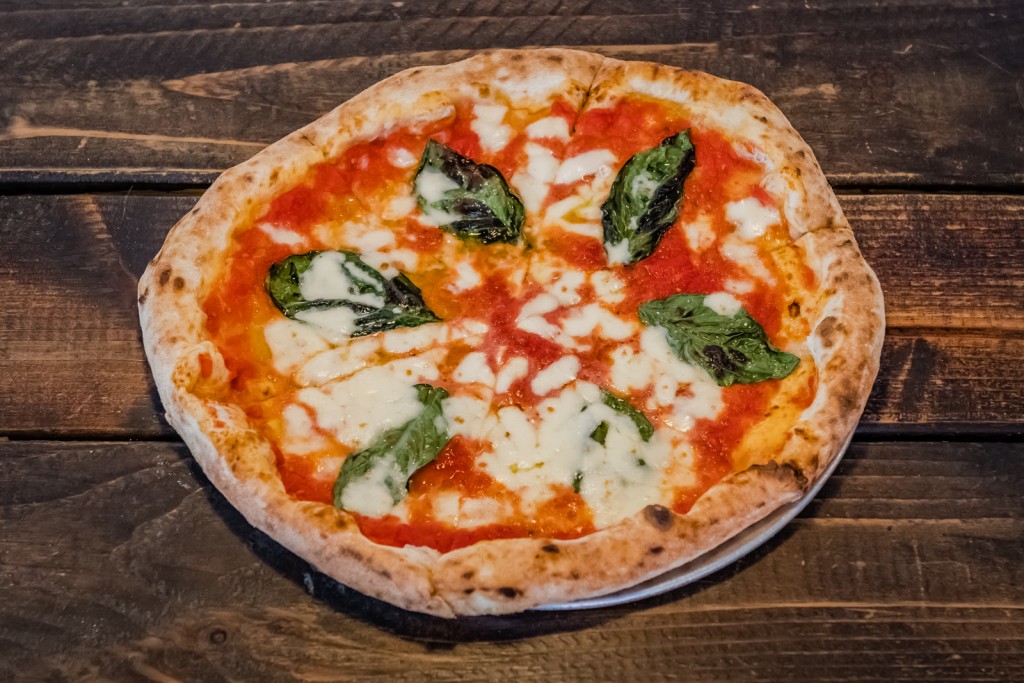 I wanted to learn how to make as close to traditional Neapolitan pizza as possible, and not too many restaurants are able to meet this high standard. One personal who I knew could was Chef Crystal Ortega from Federalist Public House, so I asked for a lesson. I begged her relentlessly for any pizza secrets she could offer.
Hungry for more? Check out the blog post, Best Pizza in Sacramento for all the great places the city has to offer.
Federalist's owner, Marvin Maldonado, built a small brick oven to make pizza for family and friends. The pizza was a huge hit. Over the next year, Marvin and his wife quietly formulated, planned, and contemplated the logistics of opening a wood-fired pizza restaurant with sandwiches and salads.
Having always been a close cousin to Marvin and attending culinary school during the time, Crystal Ortega received a phone call with an interview offer to begin working as a line cook. Within a month of the phone call, Crystal began work at Federalist Public House, helping with the cleaning, setup, and equipment organizing.
The first chef previously worked at another pizza restaurant which held a passion for Neapolitan style pizzas. He brought his passion with him to Federalist and helped to develop the original menu. After a year of working as a line cook, Crystal took over as sous-chef. When the original chef moved on for another venture, Crystal was put in charge as chef of Federalist Public House.
With a hunger to better the pizza and reach a deeper understanding of Neapolitan pizza culture, Crystal and Marvin developed plans to see how the restaurant compared with true authentic Neapolitan pizzas.
Italy had always been top of Crystal's list to travel. During one of Crystal and Marvin's conversations about the restaurant, they decided Marvin's wife Bridgette and Crystal would travel to Italy together – on the condition a lot of pizza would be eaten. During the trip, Crystal found herself with the opportunity of a lifetime.
In Rome, Crystal and Bridgette ordered some pizza at a spot where the waiters spoke English. A conversation started about their restaurant back home and it came up that Crystal was the sous-chef. She made the dough, cooked the pizza, and performed all the functions of a seasoned pizza chef.
There were 2 pizzaiolos (a person who makes pizzas in a pizzeria) working the pizza restaurant in Rome, one older gentleman stretching and building the pizzas, with a younger man cooking them. They talked to the younger guy and he was dismissive of Crystal's abilities, questioning if she really knew how. The older pizzaiolo came over and asked Crystal about stretching, testing her with his questions. He pulled Crystal by the hand into the kitchen.
He pulled out a ball of dough for both Crystal and himself. He gave her a rolling pin as a test to see if she'd use it. She declined, saying she uses her hands. She stretched, and he told her it was good, but to watch him. She watched him – it took a mere several seconds compared to Crystal's twelve to stretch the pizza.
The pizzaiolo pulled out two more balls of dough and they stretched together, to see if Crystal payed attention. Then, he let her build a Margherita and sent Crystal on her way.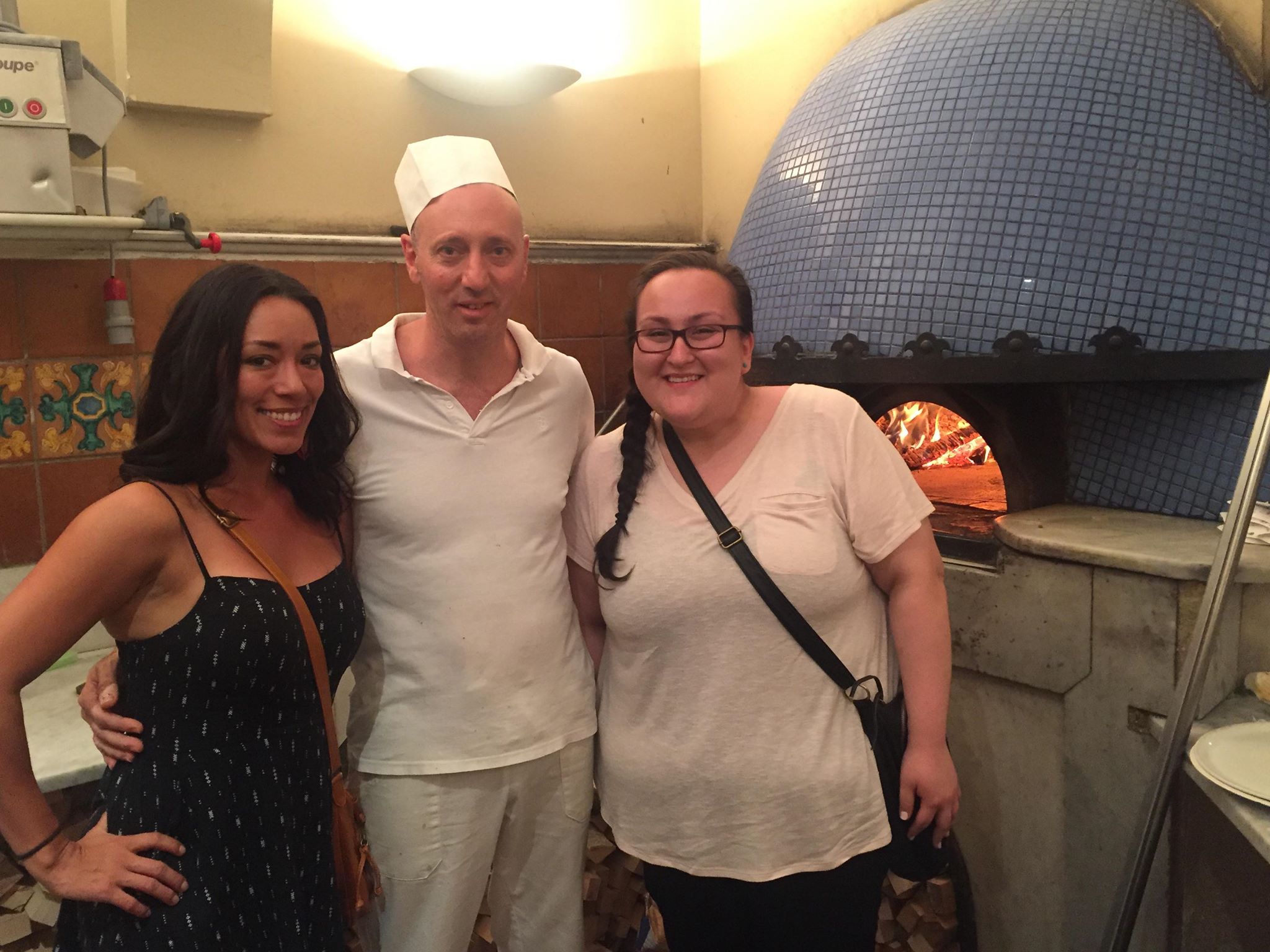 Crystal spent her time in Italy eating and watching pizza-making throughout Rome and Naples. She went to Da Michelle, considered one of the greatest pizzerias in the world, to watch how they did their pizza.
In Naples, pizzas are served whole, without cut, and on porcelain plates. They brought back the Neapolitan style marinara pizza with them to the restaurant menu. Being in Naples and experiencing the taste, style, and how pizza is made and presented offered great perspective. Crystal noted that the restaurant pizza was very close to Neapolitan style pizza already with their marinara and margaritas. The rest of Federalist's pizza menu is full of California and local influence.
Back home, the restaurant's first Margherita pizza recipe was tweaked to better match what was enjoyed and experienced in Naples.
Federalist's pizza dough is all prepared Neapolitan style. The dough is proofed for several days. Sourdough starter yeast is used. Salt, flour, water, and starter is all that is needed for the dough. The ingredients are mixed, rolled out, and left in the walk-in for several days. The secret to good stretchy dough is double-zero flour and a slow-proof cold ferment.
Before being stretched, the ball is left out for about an hour. Each ball of dough is hand stretched over a lightly flour-dusted piece of marble. I watched Crystal stretch ball after ball with precise perfection in seconds, much as she described the older Italian pizzaiolo from her trip to Rome. She let me try – the results were neither pretty nor fast!
During periods of experimentation on improving their pizza, they found using almond branches to be superior over oak. Almond is a harder wood and gets hotter faster making it far more suited to retaining heat. Ambient heat is kept at 950-1000. The deck, or bottom of the oven where the pizza sits, is reaches temperatures of 750. This cooks a pizza in 60-90 seconds, depending on the flame, the wood, and amount of toppings.
Federalist Public House will have been open four years in December 2018.
Watch the Video
https://www.youtube.com/watch?v=vK1DpgyVPWA
Neapolitan Style Margherita Pizza
This light, brightly-flavored Neapolitan style pizza is inspired by the traditional pizza straight from the source in Naples, Italy. The thin crust and fresh flavors are sure to have you building a pizza oven in your backyard the very next day.
Ingredients
10

oz

Pizza dough

Either cold fermented or bought pre-made from a store

3

oz

Tomato sauce

2.5

oz

Mozzarella

Fresh soft, around 1 1/2 handfuls per pie

5

leaves

Basil

1

pinch

Sea salt

2

teaspoons

Olive Oil

4

cups

flour

Caputo 00
Instructions
If using your own cold ferment dough, remove from cold storage and begin using within 5 minutes. If using store-bought pizza, follow instructions on label for how long to leave on counter.

Lightly dust marble surface with Caputo 00 flour.

Set ball of dough in bowl of flour, on each side.

Place ball of dough on marble surface. Begin pressing with fingers to form thick edge, starting from the center to create a base.

Flip the dough over and continue to press out the edges.

Begin stretching the dough. Pull from the sides and rotate 45-90 degrees on each pull.

When the pizza has been stretched to an appropriate size, place onto your peel, also dusted with flour.

Add tomato sauce, then mozzarella, and basil leaves.

Sprinkle a pinch of salt and lightly drizzle olive oil around the pizza.

This recipe assumes you are using a real fire brick oven which can reach 900-1000 degrees. The pizza should take around 90 seconds to fully cook. If you are using the stove or barbecue, adjust times and watch the color of the dough. Follow heating instructions on pre-bought dough – usually 450 degrees in the oven.

After about 30 seconds or when the crust begins to blister, rotate the pizza so the other side is closest to the flame. Rotate again as necessary for even blistering and burning.

Using the peel, lift the pizza to the dome of brick oven to heat up the bottom of the dough for about 10 seconds.

Remove pizza from oven, cut if you wish, and serve.
Nutrition
Serving:
1
g
Calories:
2822
kcal
Carbohydrates:
523
g
Protein:
90
g
Fat:
38
g
Saturated Fat:
13
g
Cholesterol:
56
mg
Sodium:
2989
mg
Potassium:
870
mg
Fiber:
19
g
Sugar:
23
g
Vitamin A:
979
IU
Vitamin C:
6
mg
Calcium:
444
mg
Iron:
32
mg
Tried this recipe?
Let us know how it was – tag @themklibrary on the socials!
Pin this recipe!
I strive to paint vivid landscapes with my words, bringing the magic of far-off lands and enchanting aromas to life for my readers. Combine passion for exploration and the art of gastronomy in an unending ode to the senses. When I'm not traversing the globe, I find solace in the earth beneath my fingertips, tending to my garden and working on projects around my verdant oasis. MK Library serves as a beacon, guiding fellow travelers and homebodies alike to embrace sustainability, nurturing both our planet and our souls with purpose. Full Bio.