Living with one of the best refrigerators can make your life so much better.
Tiny house refrigerator options can range anywhere from a small "dorm" size fridge that fits underneath a counter, all the way up to a full size fridge. However, the big thing to consider when choosing one of the best refrigerators is how much food you actively want to be able to store. In addition to that, you'll want to consider if having a freezer is necessary.
In the end, we decided to buy an Engel Tiny House Fridge for our Epic Tiny House. The Engel can be a fridge or a freezer, but only one at a time. We chose not to have a dedicated freezer because we wanted to focus on having more fresh food. This currently requires us to go to the store more often and eat fresh food instead of relying on highly processed food.
It's pretty dang cool and works well for what we want and need! We're pleased with it and would definitely recommend it to those looking to build a tiny house (Or even if you are looking to replace a large fridge with something smaller and more energy efficient).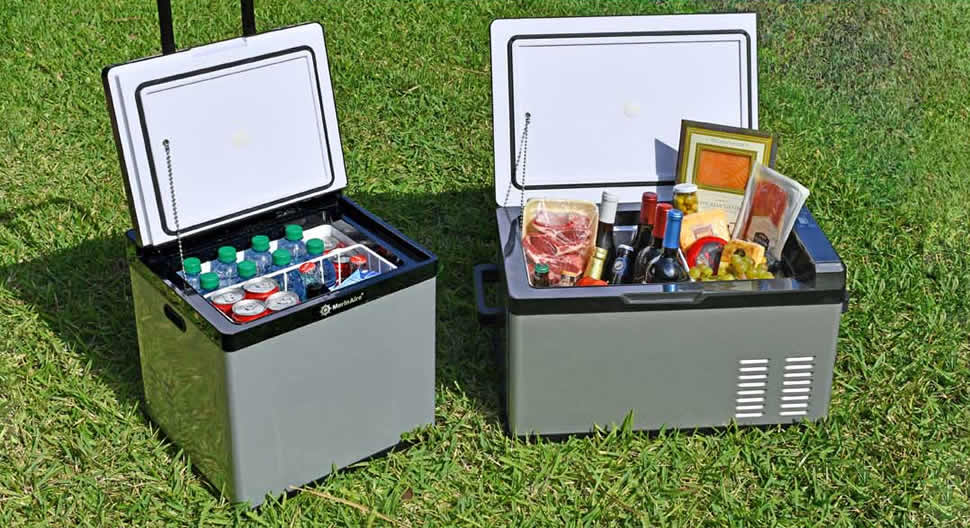 Why the Engel is our ideal tiny house fridge:
It has a very quiet and relaxing white noise hum when motor is on. (It's not really noticeable!)
The Engel fridge is AC, DC, and Solar Compatible. This is awesome for when we go solar later down the road.
We chose this model for the top opening lid. The top opening lid doesn't allow as much cold air to "spill out" when we open the fridge compared to a tradition style fridge that opens horizontally.
The Engel tiny house fridge ONLY draws approximately 1 to 2 amps per hour. This is significantly lower than a typical 16-cubic-foot, frost-free refrigerator, which draws 6 amps of electricity per hour.
We intentionally chose this smaller fridge for our tiny house because we intend on doing other food storage solutions, such as food storage boxes on the wall for fresh fruits and vegetables that do not require refrigeration. We want to eat fresh foods as much as possible, and by having a small fridge it will force us to select smaller quantities of food and shop for food more often. Combine this with shopping at farmer's markets, and growing our own food in a garden in the future, and we should be eating very healthy meals.
While we knew we wanted this fridge, we also wanted a way we could store it away easily when not in use, and also access it easily when we needed it. We opted to purchase this style of 22″ Floor Mount pantry roll out tray slides.
We actually began using our tiny house fridge before it moved into the tiny house, (about 5 months now) and love it! It works amazingly well, and keeps all of our food nice and cold at the lowest fridge setting. We did use it as a freezer for ice cream as well and it worked perfectly, but we do not use a freezer very often, so we opted to not have a fridge with a separate freezer. If we really want ice cream, we'll just go to the ice cream parlor or buy a small tub and eat it all!
Here are some of the Best Refrigerators for Tiny Houses:
Danby DAR195BL
1.8 cu.ft. (51 litre) capacity all refrigerator.
Reversible door hinge for left and right hand opening.
Cycle defrost; Integrated handle.
Gen II CanStor beverage dispenser holds 5 beverage cans.
Dometic CoolFreeze Black Refrigerator– Model# 2354
Dometic 3-Way 3.0 Cubic Feet Refrigerator is an Americana single door models.
Features beautiful sculpted white interior is practical and easy to clean.
Door opens a full 180 degree angle 0176 2-liter bottle and 1/2-gallon container door storage.
Recess dimensions: 29-3/4 inch height x 20-1/2 inch width x 21-3/8 inch diameter.
Easy to use top controls 1/2-gallon container shelf storage 2-way or 3-way operation available with black frame only.
Front panel not included.
Avanti – Model # RA7316PST
ENERGY STAR RATED / CFC Free R600A Refrigerant.
Adjustable / Removable Glass Shelves / Removable Door Bins.
One Door Rack Holds 2-Liter Bottles.
Full Range Temperature Control.
See Through Crisper with Glass Cover.
EdgeStar – Model # CRF320SS
True zero degree freezer; Reversible doors; Door bins in both refrigerator and freezer sections.
For freestanding installation; True stainless steel doors with black cabinets.
Automatic defrost in refrigerator section; manual defrost in freezer section.
Slide out shelves; Molded worktop; Energy Star rated; Warranty 90 days labor 1 year parts.
More energy efficient with new refrigerant than previous model CRF320SS.
Engel 34 Qt. Portable Fridge / Freezer
Portable top-opening 12/24V DC – 110V/120V AC fridge-freezer.
Solar Compatible – Highly Efficient Engel Swing Motor – Low Amp Draws (even at start-up).
Highly efficient, it typically draws around 1 to 2 Amps per hour.
UL Approved – 100% CFC-Free Compressor.
Comes With Both AC and DC Cords.
This is the Engel that we have in our tiny house and we LOVE it! We've had no issues with it at all and used sliding shelves to allow it to hide under one of our kitchen cabinets.
The DIY Tiny House idea started in 2014. A complete DIY process, Will and Alicia did everything themselves from drawing up the plans, building the framework, electrical, plumbing, and finishing touches and appliance selections.
Over several years, they documented what it was like to live in a Tiny House, conducting very thorough research on how to solve the many issues and problems which come up. In 2019, they sold their Tiny House as their lives continued to evolve and change.
You can continue to follow the lives of Will and Alicia at @ironwillruns on Instagram.