Yosemite National Park is full of breathtaking views, and many of them are within easy access. You don't have to be an exceptional hiker or backpacker to get to some of the most iconic scenes in the world. This guide of spectacular and walkable sights in Yosemite includes both hidden gems and well-known destinations. Happy Trails!
Quick Tips for Visiting Yosemite Valley
Google Maps Offline – Before you leave the house, open your Google Maps app on your phone, finger/navigate over to the entire Yosemite area and download an offline version. You'll be in and out of service and this will come in handy. Click for help on how to do this for your phone.
Gas for your vehicle – Gas gets expensive very fast and is limited or unavailable inside Yosemite Valley. If you're coming from Merced on 140, plan for about 170 miles round trip. Coming from Stockton on 120, the drive is 240 miles round trip. Coming from Lee Vining on the 120 Tioga Pass, the drive is 160 miles round trip. Add on driving around the park, which can be up to 100 miles additional if you travel to a location such as Glacier Point.
Ideal towns to fill up and top off in based on average prices and distance: Mariposa on 140, Big Oak Flat on 120, Lee Vining on 120 Tioga.
Yosemite Valley Shuttles – The NPS has about 11 shuttles from 7 am to 10 pm every day of the year. They make a 21-stop loop which takes just under an hour. During the Summer seasons, shuttles will also take park visitors to Glacier Point and the far west of the valley near El Capitan. If possible, find parking for your vehicle for the day or duration of the trip and take advantage of the excellent transportation system in place. Using the shuttles instead of parking your car near trails will generally get you much closer to the trailheads for less of a distance to walk. Full schedule and map here.
Appropriate Clothing and Gear – Not only can weather change quickly, but the temperature between shaded and sunny areas vary drastically. Bringing layers, even in the summer, is highly recommended. Synthetic or wool fibers should be chosen over cotton.
Wool socks rock – in fact, I always bring an extra pair of Darn Tough and change halfway through the day. If you haven't tried changing your socks halfway into your day, you are missing out on an easy and refreshing act! Chapstick, sunscreen, sunglasses, and a couple of Nalgene water bottles should be in your packing list.
These Trekking Poles are a pretty nice addition to your gear – they provide amazing support on inclines and really extend stamina on both walking and hiking. I use them as much as possible and notice a huge difference. This is one of the best sets out there and includes attachments for different terrain including ice and snow.
Winter Walks and Hiking in Snow and Ice – Trails often become extremely slippery and icy during the winter. Not just in Yosemite, but in snow-filled places everywhere. Traction cleats will add a TON of stabilization, can fit on any set of shoes you own, and are incredibly simple to attach and remove. I've seen plenty of older folks using these cleats and walking with confidence on the ice. If you're going on easy walks, these ice traction cleats are the way to go. If you're planning on a bit more intense hiking, these are the ice cleats for you.
Walkable Yosemite Valley Attractions
Tunnel View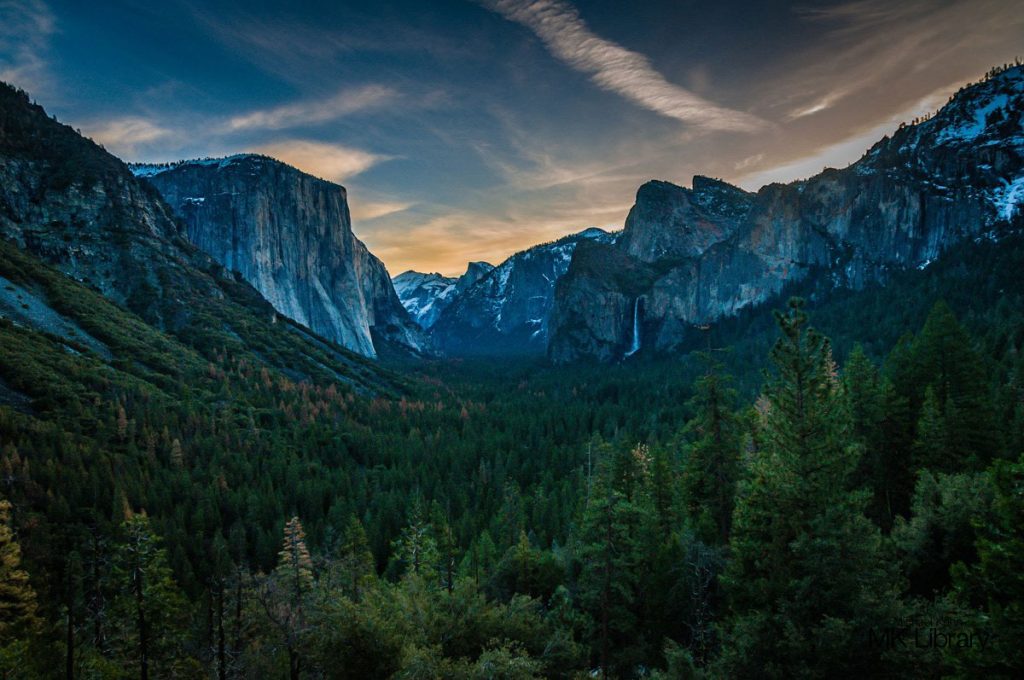 Tunnel View offers a great view of the valley looking East. This is one of my favorite views of Bridalveil Fall – much more than the actual fall trail (Which is why you won't see it listed here). Park and walk several hundred feet to the vista point. Follow the hordes of photographers with tripods for the best vantage points for your selfie.
Walking Distance: 1000 feet round trip
Tunnel View Address: Wawona Road (Highway 41), Yosemite National Park, CA 95389
Lower Yosemite Falls
The tallest waterfall in North America is amazingly easy to get to. Plenty of parking around the trailhead and an easy 1 mile walk along well-marked paved trails. A bridge allows visitors to take the perfect selfie with the falls in the background.
Walking Distance: 2 miles round trip
Lower Yosemite Falls Address: Lower Yosemite Fall Trail, California 95389
Happy Isles and Fen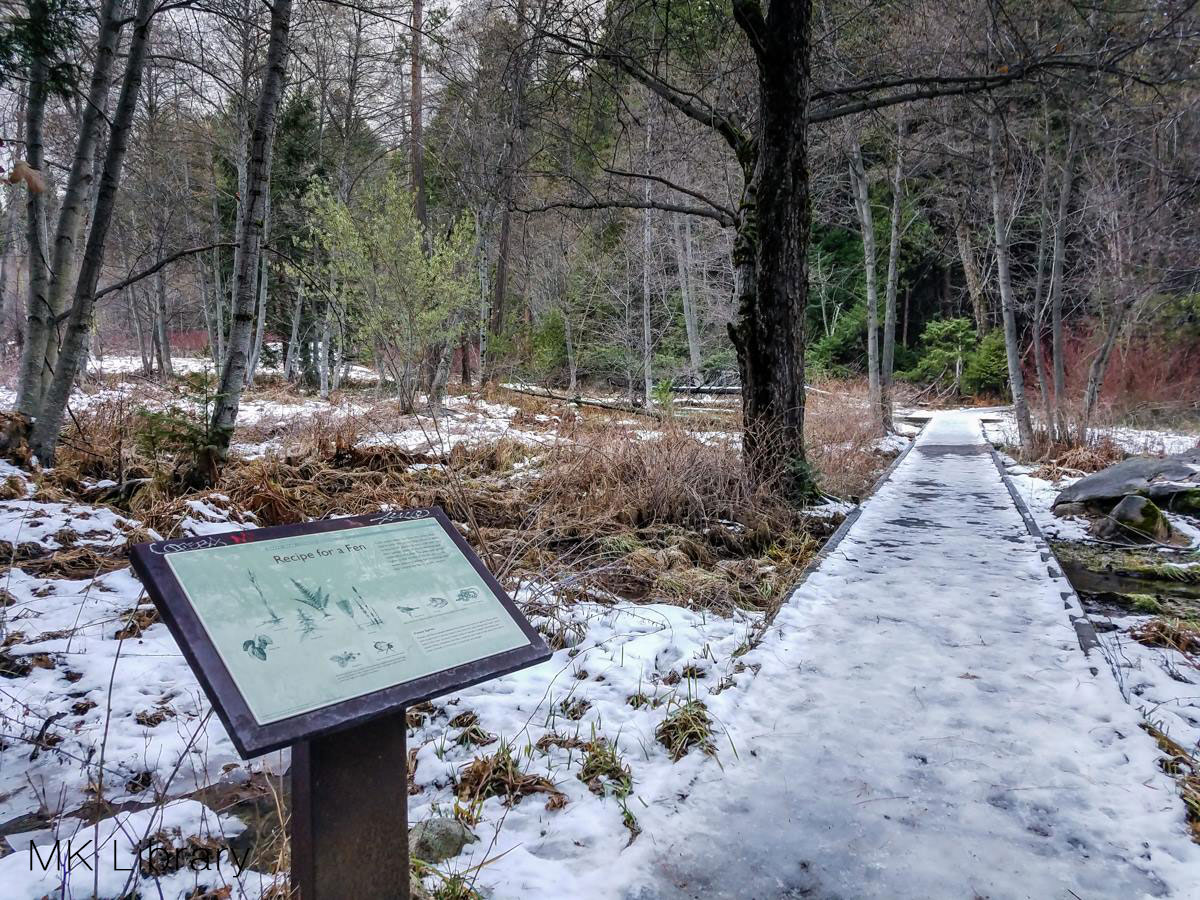 Located near the Nature Center with a huge parking lot, the Happy Isle loop will take you through a bog known as Fen, and two islands in the Merced River. If you are feeling a bit more ambitious after exploring the islands, the start of the trail will take you to Mist Trail / Nevada Falls. While Happy Isles are a fairly popular destination, a hidden gem, The Fen, just a mere pathway away, is home to some very unique plants and animals not found anywhere else in the valley. Try and listen for the endangered Sierra Nevada Yellow-Legged Frog.
Walking Distance: 2.5 miles round trip
Happy Isles Address: Happy Isle Loop Rd, Yosemite National Park, CA 95389
Mirror Lake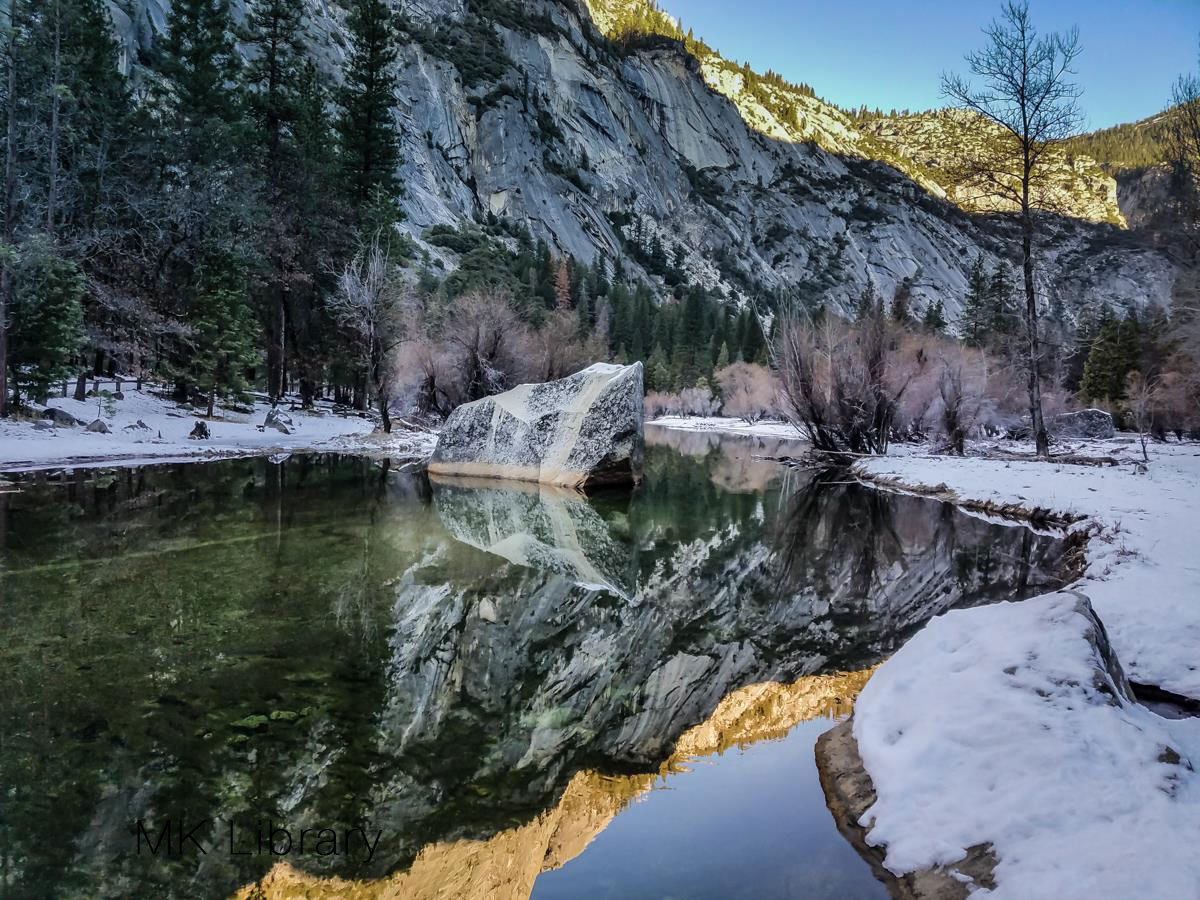 Mirror Lake is a great destination to bring a picnic to. With the most amazing reflections of the surrounding mountains and cliffs, taking a seat on a log or bench will help you discover your zen and peace. You'll find the trails very slippery and icy during the winter, and the lake at its fullest during spring and early summer. During the late summer, the area transforms into a beautiful grassy meadow.
Walking Distance: 2 miles round trip, 5 miles to loop around the entire lake
Mirror Lake Address: Yosemite Valley, CA 95389
Cathedral Beach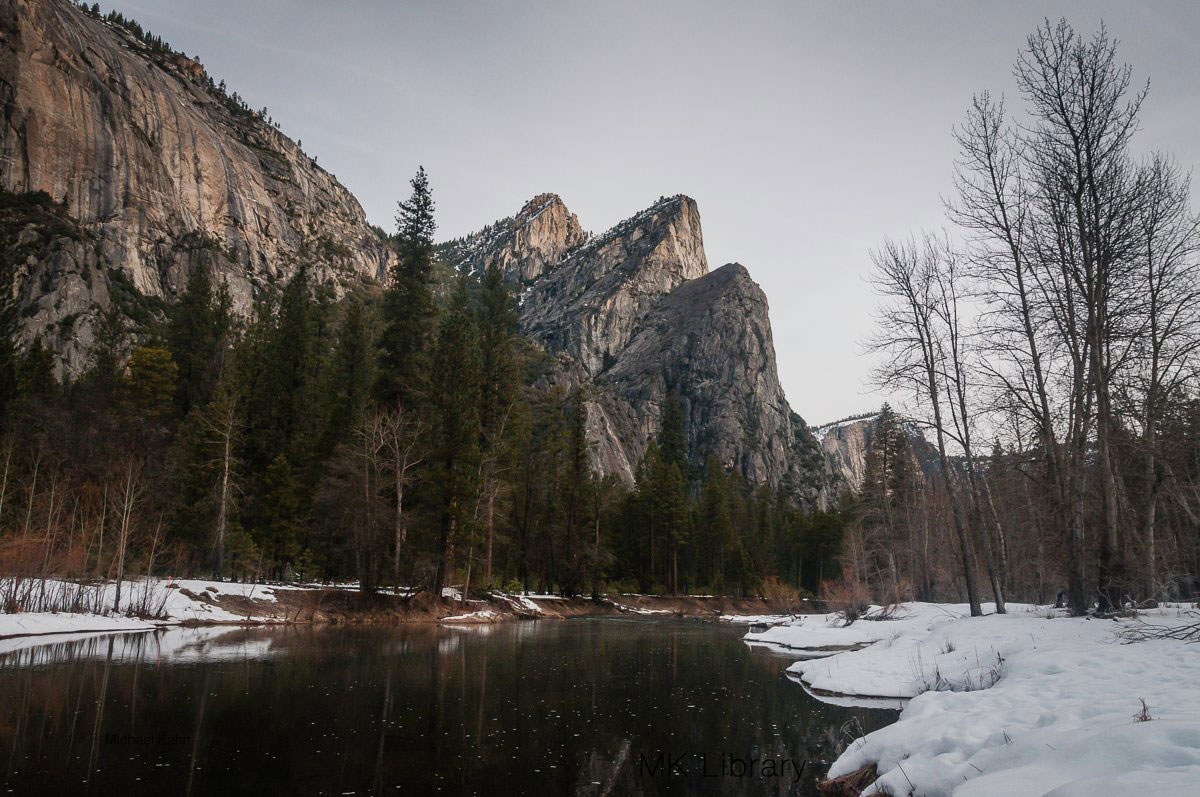 A popular destination for picnicking at the beach and weddings, views of the Cathedral Spires, El Capitan, and the Three Brothers mountains surround you. Cathedral Beach is an area in which you will find yourself quickly relaxing and wanting a nap with its serenity.
Walking Distance: 0.5 miles round trip
Cathedral Beach Address: California 95389
Lower Chilnualna Falls
Just North East of the Wawona, the Chilnualna Falls are one of Yosemite's hidden gems and an awesome hike, whether you take the short walk to the lower cascades or journey 7 miles to the top, and even farther to more destinations. A one-lane dirt road will take you to a parking lot with a bathroom, a short distance from the start of the trailhead. On your way to the falls, check out Pine Tree Market for plenty of selection of food and snacks. As a craft beer purveyor, I found their selection decent.
Walking Distance: 1.2 miles round trip
Lower Chilnualna Falls Address: California 95389
Glacier Point (Summer Only)
Glacier Point is a wonderfully scenic drive that will bring you to breathtaking views of Yosemite Valley. With plenty of turnouts for views along the way and a store with snacks at the top, this one hour drive is well worth the time spent. If you are a birdwatcher, this area plus a multitude of short trails and parking areas along the drive up are excellent places to find some of the 265 different species of birds inside the park.
Walking Distance: 1 mile round trip
Glacier Point Address: 5202-5203 Glacier Point Rd, Yosemite Village, CA 95389
Washburn Point (Summer Only)
On the way to Glacier Point, this is a worthy quick stop on your way to or from if you are driving and not taking the bus. If you do take the bus and want a 2 mile walk round trip, this is very doable via side trail off the main road. While this stop has no view of Yosemite Falls, you'll get to see Illiouette Falls and the side of Half Dome instead of its face
Walking Distance: 1000 feet round trip
Washburn Point Address: 5202 Glacier Point Rd, Yosemite Village, CA 95389
Tenaya Lake (Summer Only)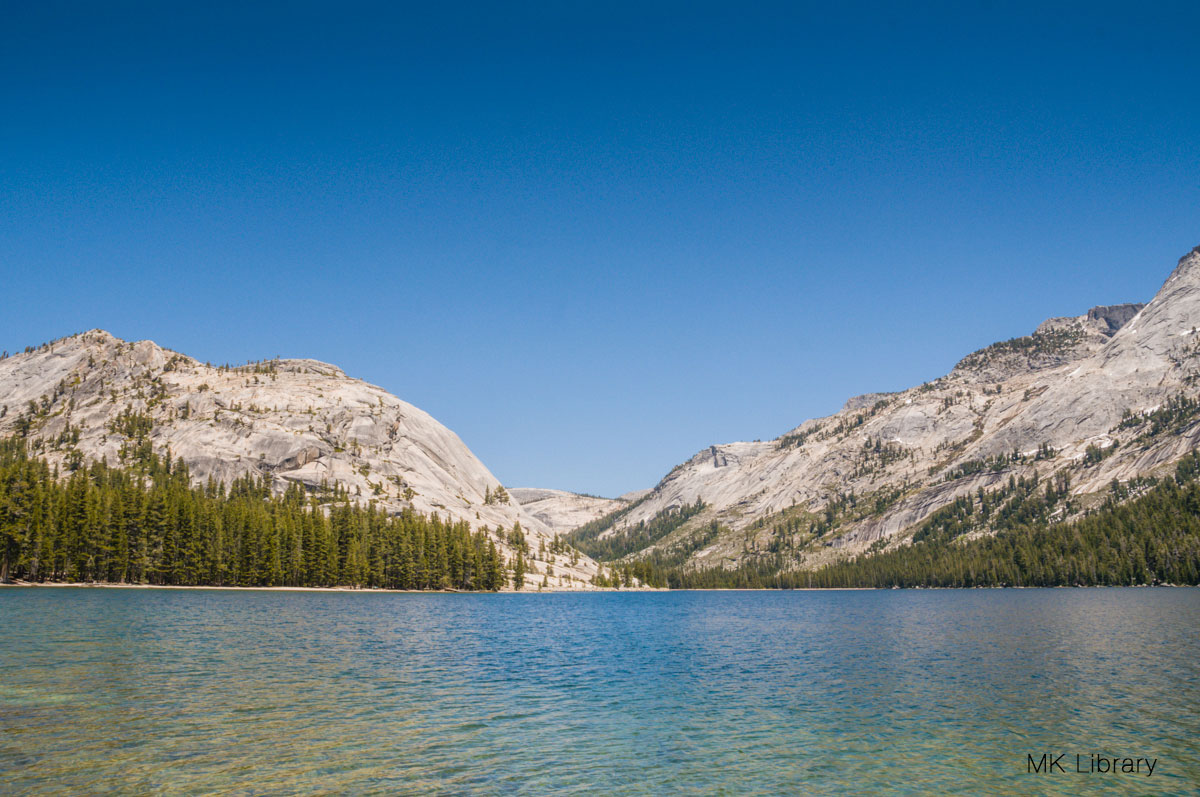 An hour drive from Yosemite Valley and along the 120 Tioga Pass road, Tenaya Lake is often called Yosemite's most beautiful lake, The lake is pretty high altitude, sitting at a cool 8,150 feet up in the mountains. Come prepared with a fishing license or kayak and you'll find Eastern Brook and Rainbow trout.
Walking Distance: 2.5 miles around the entire lake,
Tenaya Lake Address: Tioga Rd, California
Additional Sights
Some other great destinations at Yosemite which are level walking and under 2 miles include: Mariposa Grove (Closed until late summer 2017), Tuolumne Meadows, Wawona Swinging Bridge, Lyell Canyon, Vernal Fall Bridge, Olmstead Point.
Credit for these suggestions goes to Jakdak – I'll have to return to Yosemite to gather photos and learn about these destinations for a future update.
Yosemite National Park Resources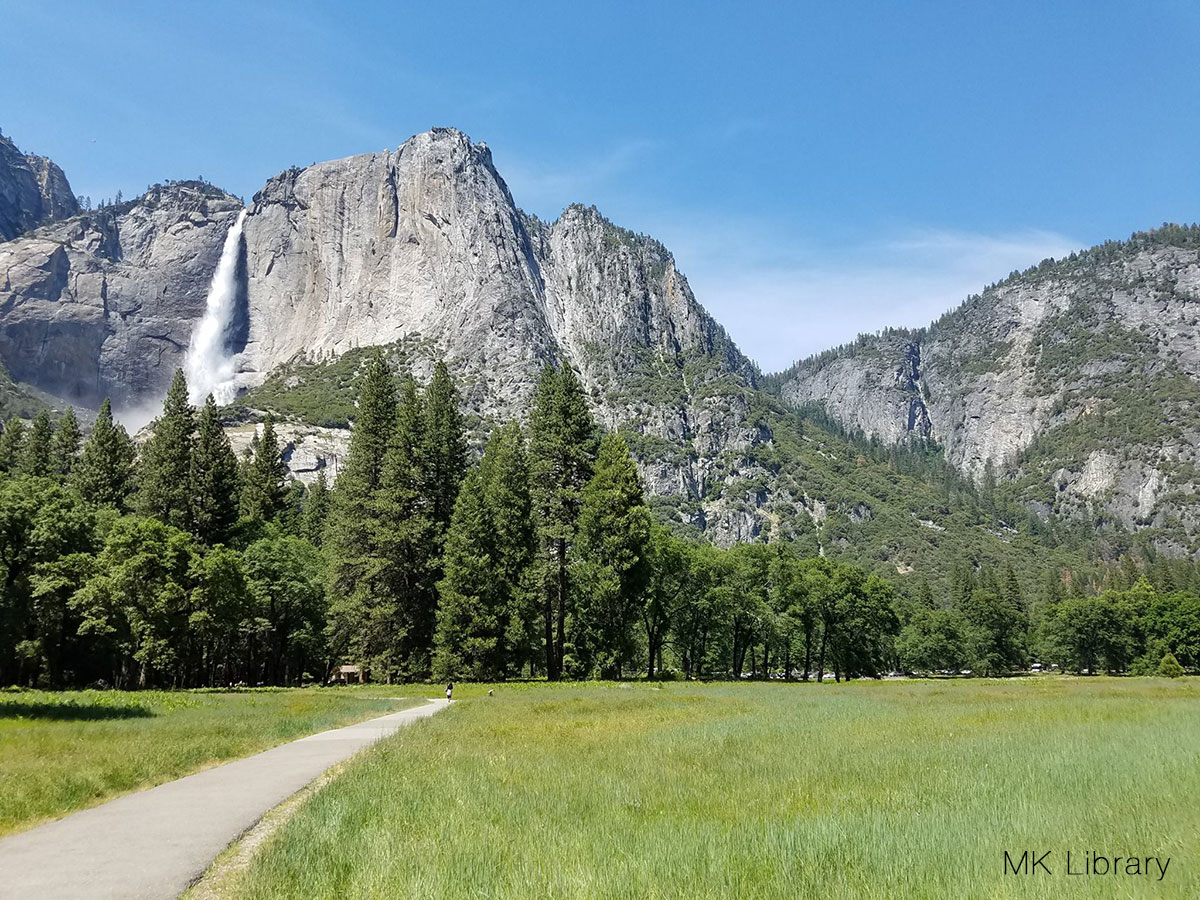 Places To Eat in Yosemite
Degnan's Deli – Deli food all day long. $8 for decent sandwiches.
Half Dome Village Pizza – Coffee in the morning and pizza in the afternoon. Sometimes chili. Fairly average. $15-27 for pizzas.
The Majestic Yosemite Bar – Appetizers, small plates, and alcoholic beverages. $10-25 per person.
The Majestic Yosemite Dining Room – Formal attire required. Sunday brunch. Fine dining dinners. Reservations strongly recommended. $50-$100+ per person.
Mountain Room in Half Dome Village – The less upscale version of the Majestic Yosemite Dining Room. $10 to $30 per person.
Village Grill – Burgers, grilled sandwiches, and fries. Perfect for satisfying that particular craving, as long as a spectacular meal isn't expected. $10-15 per person.
Learn About Yosemite National Park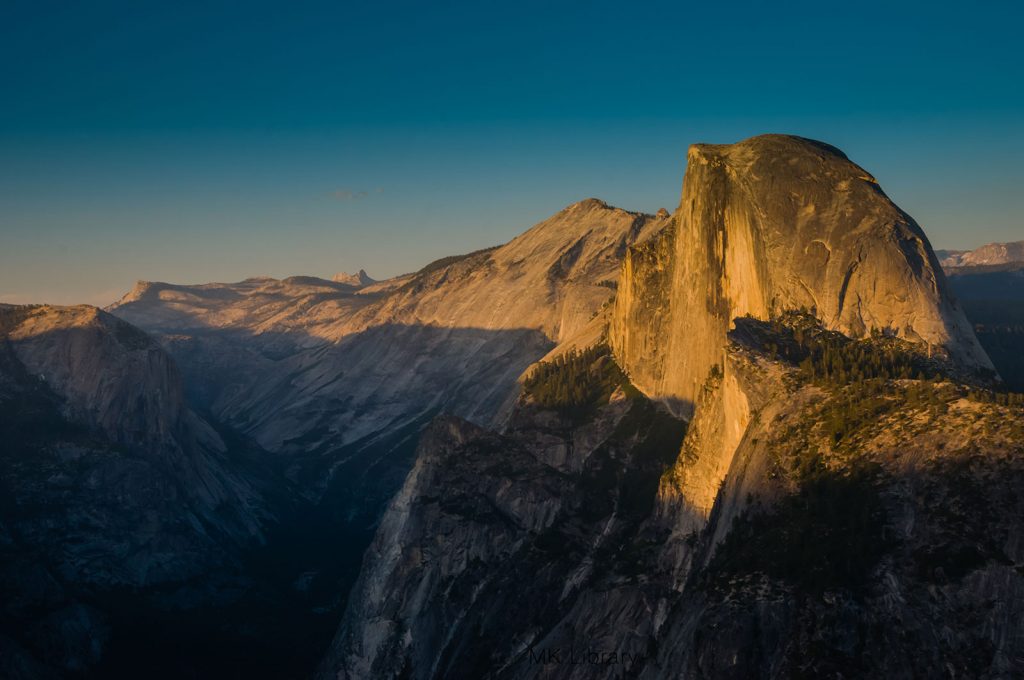 About the Author
Latest Posts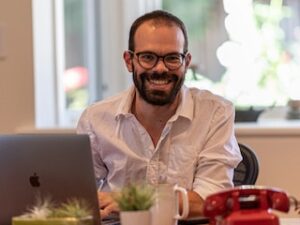 I strive to paint vivid landscapes with my words, bringing the magic of far-off lands and enchanting aromas to life for my readers. Combine passion for exploration and the art of gastronomy in an unending ode to the senses. When I'm not traversing the globe, I find solace in the earth beneath my fingertips, tending to my garden and working on projects around my verdant oasis. MK Library serves as a beacon, guiding fellow travelers and homebodies alike to embrace sustainability, nurturing both our planet and our souls with purpose. Full Bio.