The Rosemary Paloma cocktail brings a savory, earthy twist to the traditional Paloma. Fragrant rosemary alongside the bright citrus flavors of fresh grapefruit juice create a balanced cocktail that is both refreshing and flavorful. The use of Herradura's reposada tequila keeps this drink tied to its roots and pays homage to the land of agave.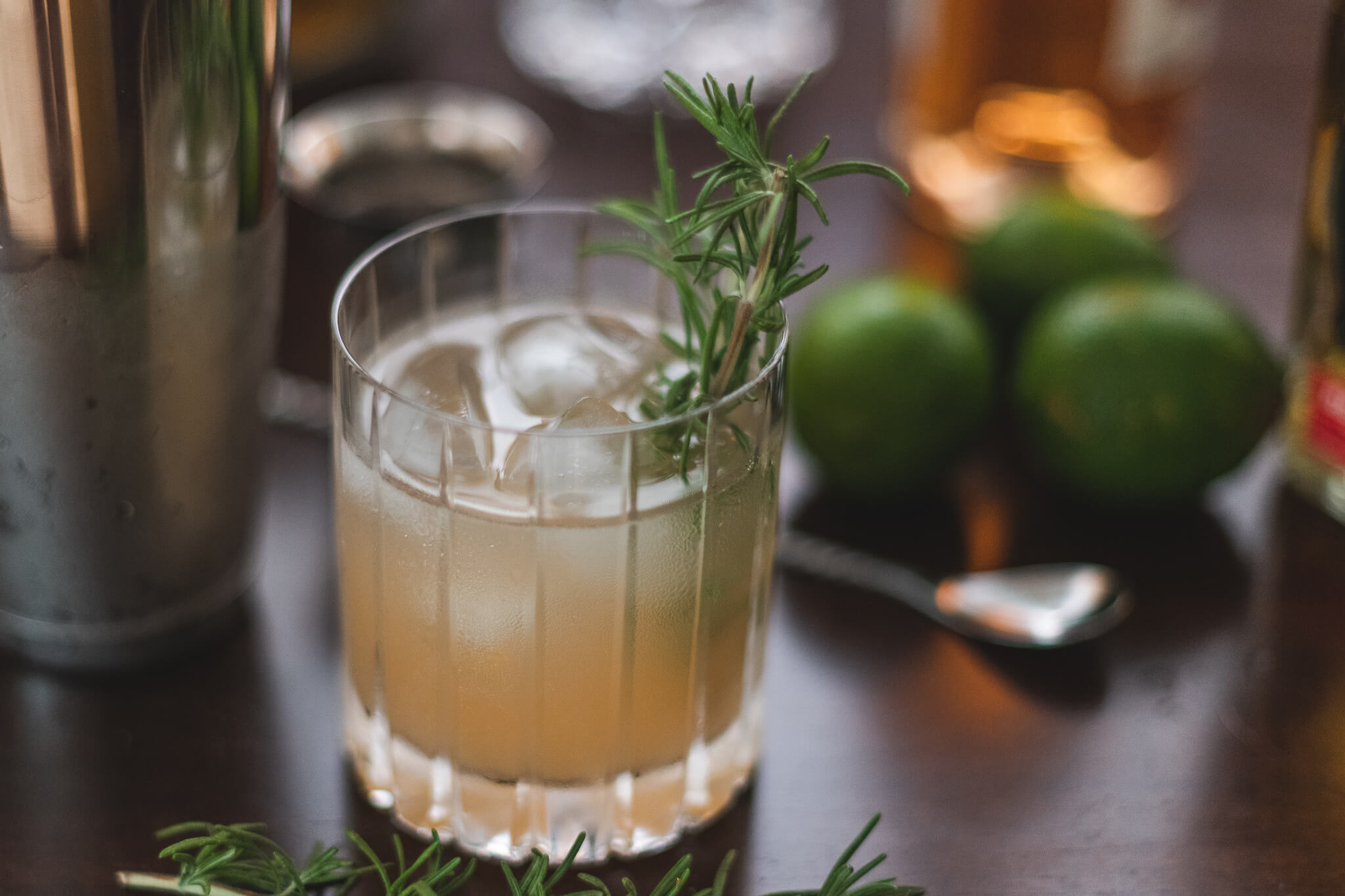 The Paloma
The Paloma may just be the most under-appreciated cocktail to come out of Mexico (no shade to the beloved Michelada). A traditional Paloma is made with tequila, fresh lime juice, fresh grape juice and grapefruit-flavored soda or Fresca. It is a mystery who created the original cocktail, but some credit Don Javier Delgado Corona, an infamous bar-owner and mixologist in the aptly named town of Tequila, Mexico.
After the Paloma made it's way across the Rio Grande, it was inevitably overshadowed by its obnoxious cousin, the margarita. Although the cocktail is popular in Texas, it seems the rest of the United States has failed to recognize the brilliance of the Paloma's refreshing flavor. One reason may be because there are many delicious Mexican grapefruit soda brands that don't use high-fructose corn syrup – more reason for the States to step up the Paloma game!
What is Pamplemousse?
Pamplemousse, the French word for grapefruit, seems to refer to many a beverage nowadays. Before it became the over-hyped La Croix flavor with clever millennial-targeted marketing, people knew it as a beautifully light grapefruit liqueur. In addition to the pink grapefruit zest, this golden-rose liqueur has hints of lime and bitter orange marmalade. The pamplemousse liqueur elevates the Rosemary Paloma with light citrus flavors, creating a complex yet refreshing cocktail.
Types of Tequila
Blanco – After it's been distilled, this tequila is allowed to mature in American White Oak barrels, made in house, for 45 days. This short maturing process creates a smooth tasting tequila with a silvery color.
Reposado – This tequila is aged in barrels for nearly an entire year, giving the tequila a deep copper color. Aging the tequila for 11 months goes far above and beyond the requirements for tequila in this category.
Añejo – In English, añejo means old, so it makes sense that this tequila would be matured for over two years, around double the age required for a tequila in this category. Aging the tequila for this long allows it to develop a deep amber color, as well as a complex flavor profile.
History of Herradura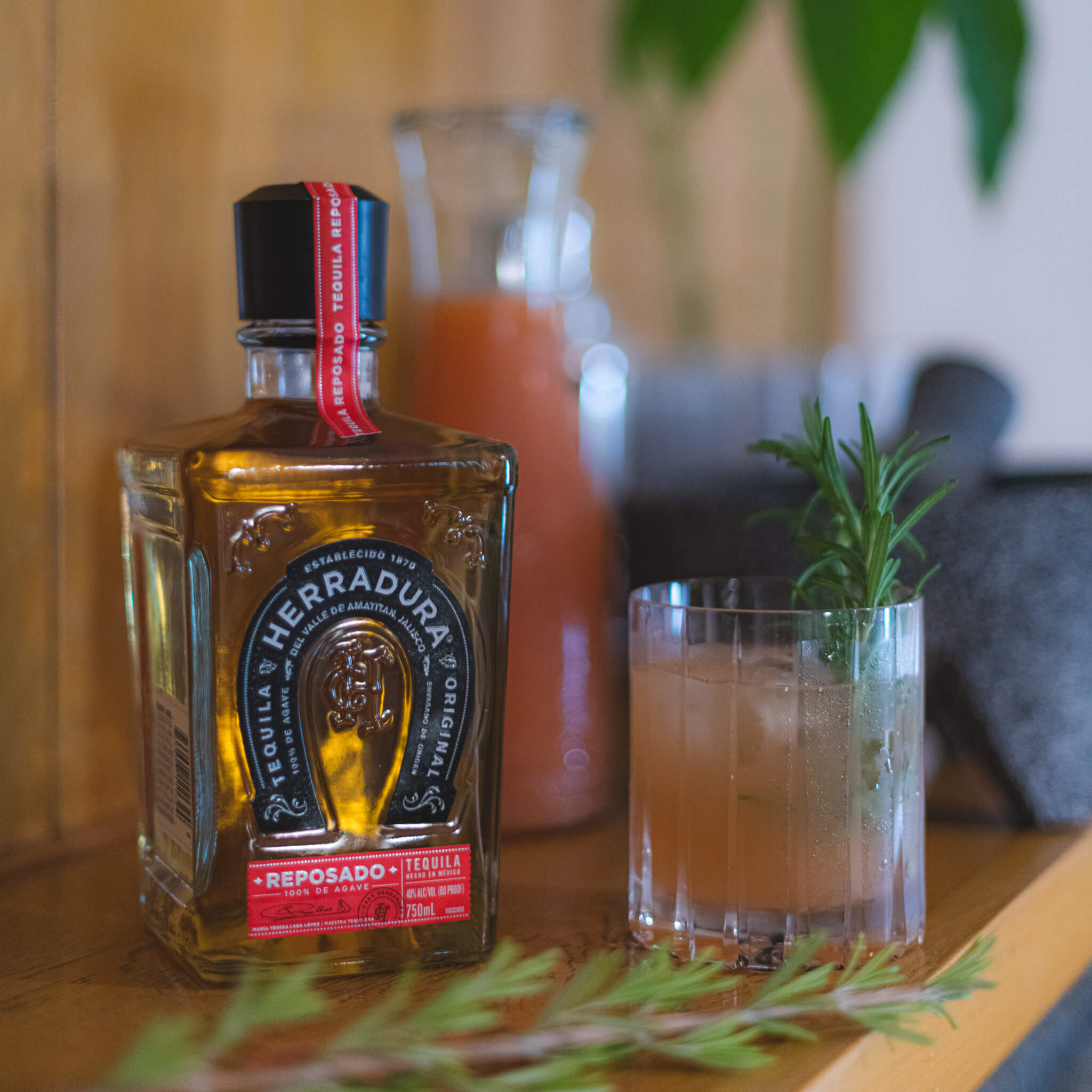 Herradura originally reached out, asking for a cocktail to be made with their tequila. With such an incredible origin story, you would be well served to learn a bit about some of the history of tequila.
It would take a novel to fully cover the history and cultural significance of Herradura, so I'll provide you with the abridged version. You're welcome.
The Spanish word herradura means to horseshoe, which isn't exactly a self-explanatory name for the tequila brand. Many like to believe that this name comes from the day Aurelio López, a successor of the original herradura tequila distillery, found a horseshoe on the hacienda property while inspecting the agave fields. He thought the horseshoe a symbol of good fortune, and the rest is tequila history!
All Herradura tequila is harvested, quite epically, from the based of Volcán de Tequila, or Tequila Volcano. Although it sounds like an amazing science project made of paper mache and tequila, it actually refers to the volcano in Jalisco, Mexico where the agave for Herradura tequila grows.
The Blue Weber agave plants grow in the fertile soil around the base of the volcano for an astonishing eight to 12 years before they are harvested. That's like raising a hoard of giant succulent pre-teens! There, they are hacked down to their "piñas" by trained jimadores, then transported to hacienda San José del Refugio for distilling.
San José del Refugio is the original Spanish colonial ranch where Herradura has been produced for around 150 years. Notably, it is also the last known tequila-producing hacienda in the world, although the old distillery has now been turned into a museum. Unlike many tequila brands, Herradura uses only 100 percent Blue Weber agave to make their tequila. The entire production of Herradura is fulfilled in-house, making this hacienda a truly a unique piece of history.
Ready to put your mixology skills to the test at home? This Barware Guide will direct you to all of the essential equipment you'll be needing for your home bar.
Rosemary Paloma
The Rosemary Paloma cocktail brings a savory, earthy twist to the more well-known Paloma. Paying homage to the land agave is grown from, fresh rosemary alongside the bright citrus flavors of grapefruit and traditional tequila marry for a newfound balance that is both refreshing and extraordinarily pleasant to sip upon.
Equipment
shaker

double old fashioned glasses
Ingredients
1.5

oz

Tequila Herradura

1/2

oz

Pamplemousse

1

oz

Grapefruit juice

1/2

oz

Lime juice

1/2

oz

Rosemary simple syrup

1

pinch

salt

Sparkling water
Instructions
Add all ingredients into a cocktail shaker with ice and shake vigorously. Serve over ice in double old fashioned glasses. Top it off with sparkling water and garnish with a rosemary sprig.
Nutrition
Serving:
1
cocktail
Calories:
197
kcal
Carbohydrates:
19
g
Protein:
1
g
Fat:
1
g
Saturated Fat:
1
g
Sodium:
49
mg
Potassium:
77
mg
Fiber:
1
g
Sugar:
18
g
Vitamin A:
9
IU
Vitamin C:
12
mg
Calcium:
6
mg
Iron:
1
mg
Tried this recipe?
Let us know how it was – tag @themklibrary on the socials!
Pin This!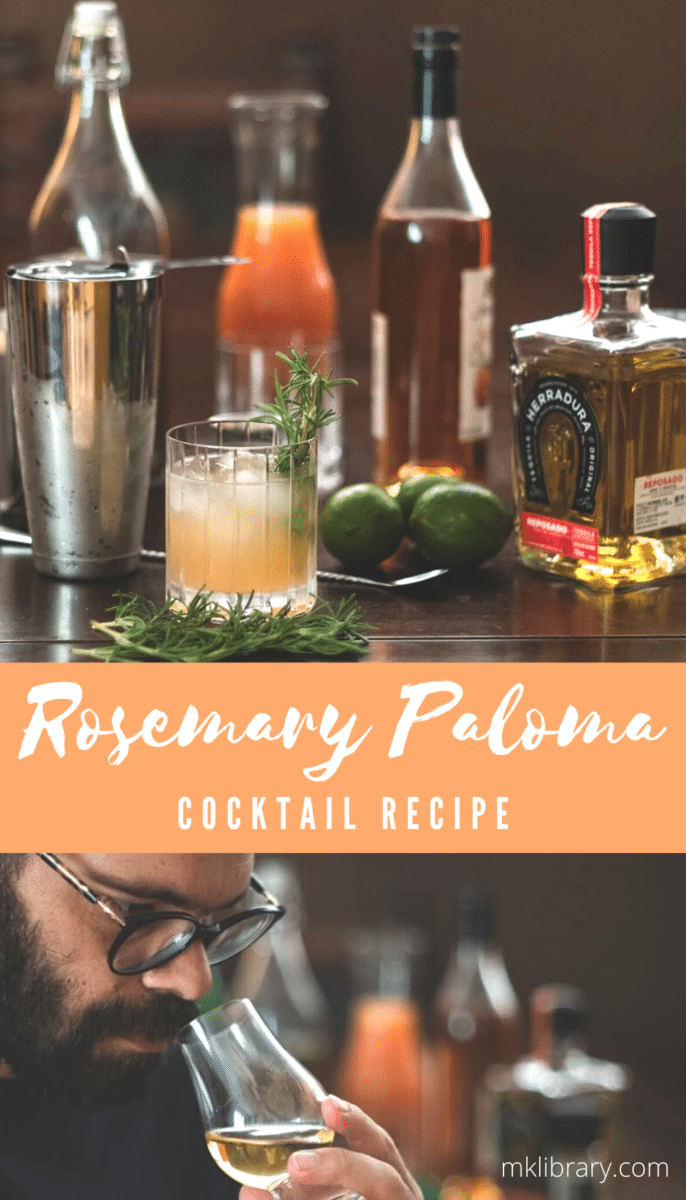 More Tequila-Based Cocktails
I strive to paint vivid landscapes with my words, bringing the magic of far-off lands and enchanting aromas to life for my readers. Combine passion for exploration and the art of gastronomy in an unending ode to the senses. When I'm not traversing the globe, I find solace in the earth beneath my fingertips, tending to my garden and working on projects around my verdant oasis. MK Library serves as a beacon, guiding fellow travelers and homebodies alike to embrace sustainability, nurturing both our planet and our souls with purpose. Full Bio.