My first authentic Pisco Sour cocktail was hand-crafted for me by my very dear Chilean friend, Jorge, during one of my trips to Puerto Vallarta, Mexico. I had tried them afterwards in bars, but they simply did not compare to a Pisco Sour created by someone who learned from an authentic region. Jorge has fine-tuned his craft with Chef-friend who spent months in Peru studying the culture and food with another world-renowned ceviche chef. I'm honored Jorge is letting me share his recipe with you. High five dude!
This is an incredibly bright refreshing cocktail, perfect for a hot summer and quickly cooling down.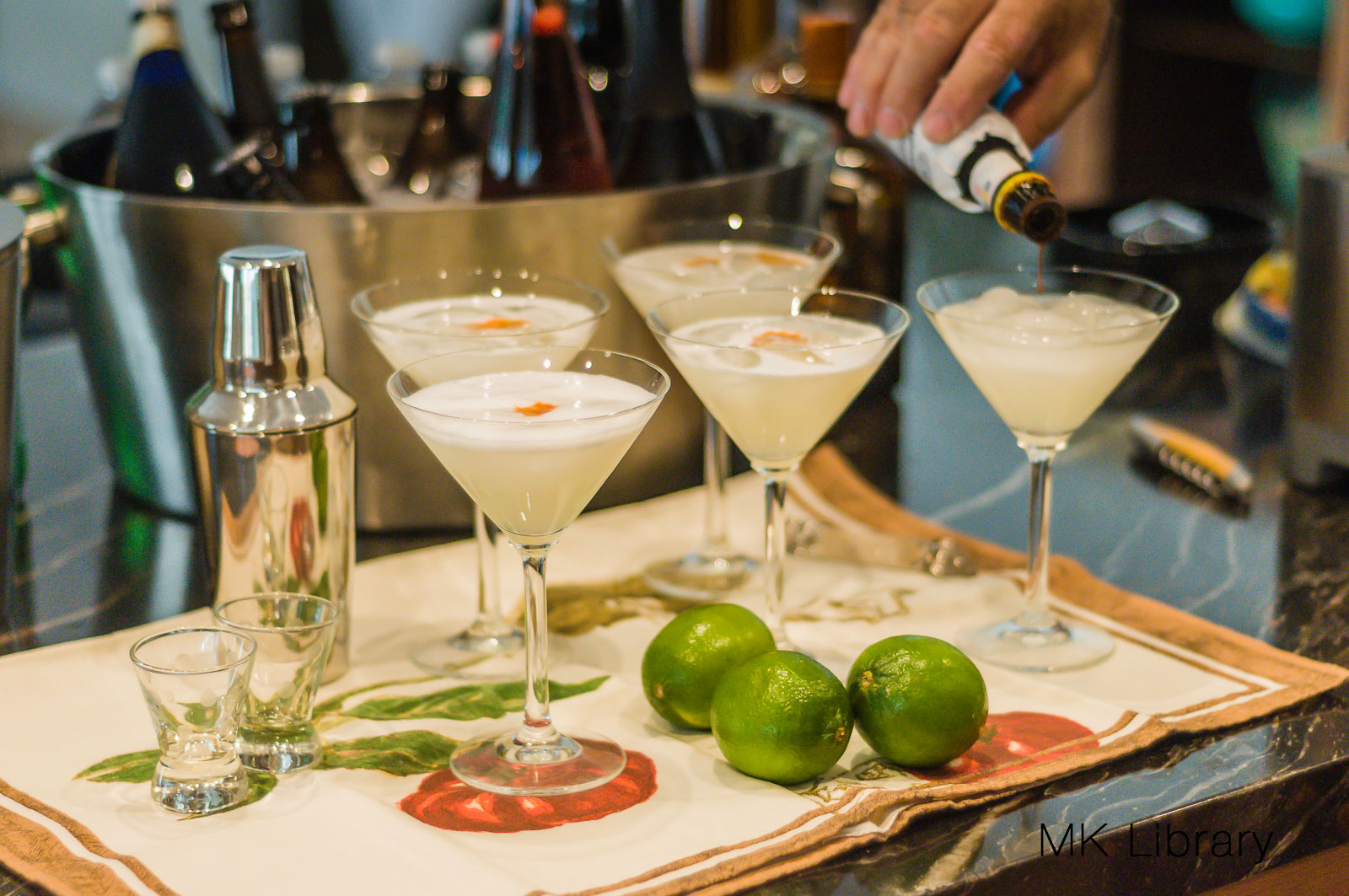 The Pisco Sour showcased in this recipe is a classic South American cocktail which dates back to the 1920's in Lima, Peru. Pisco beverages have been around since the 1700's. An American bartender by the name of Victor Vaughen Morris opened the bar Morris' Bar in 1916. After four years of experimenting, he found the perfect recipe by adding egg whites and Angostura bitters.
Both Chili and Peru call upon the Pisco Sour as their national drink – each basing the origins of Pisco as being from their own countries. The origins of Pisco is a subject fiercely debated in each country – I would speculate to say second to football.
Pisco itself is a type of brandy produced throughout the winemaking regions of Chili and Peru.
One theory on the origins of Pisco is it comes from old world Peruvian town of Pisco, which spoke the language Quechua – the origin meaning "bird."
The Chilean theory is the word Pisco actually means "mud container," supported by linguist Mario Ferreccio Podesta.
Grapes used to create Pisco include Quebranta, Muscat, Albilla, Italia and Torontel grape varieties. However, traditional Pisco should only be made with one variety of grape. Aging should be at least 3 months. There are four types of Pisco you can find in the store:
Puro – Pure, only 1 variety of grape.
Aromáticas – Made from more aromatic grape varieties – only one variety can be used in the production lot.
Mosto Verde – Distilled from partially fermented must before the sugarshave been completely transformed into alcohol.
Acholado – Blended from multiple varieties of grape.
Peruvian Pisco can only be made from grapes grown in regions of Lima, Ica, Arequipa, Moquegua and Tacna and produced in copper pot stil and must never be diluted.
Chilean Pisco must be made in Atacama and Coquimbo, with distilleries being required to grow all of their own grapes. Chili has taken extra steps to have a clean and environmentally production of pisco. Overall, Chili is a very environmentally-conscious country.
| | |
| --- | --- |
| | |
Gather your ingredients and get all of your utensils ready. You'll need a blender, citrus squeezer, measuring cup, zesting tool, paring knife, cutting board, and martini glasses.

If you are going to zest your limes for garnish, its a good idea to do that before you slice them in half and reduce food waste.

Squeeze limes into measuring cup until you have the appropriate amount. Pour into blender.

Measure out the Pisco Sour and pour into blender.

Measure your simple syrup and add to blender.

Carefully break open your egg[s] and retrieve the egg white needed.

Once all of the ingredients have been added to the blender, begin it slowly, then slowly increase speed. I begin at low and move up to 3 or 4 (out of 10). Once the egg has become frothy, turn the blender off.

Get your martini glasses ready! Add ice cubes before pouring the blended mixture.

Pour the blended mixture into the cocktail glasses and add Angostura bitters.

Enjoy thoroughly. The courteous cheer is a simple "Salud!"
I usually am able to make 15 cocktails per bottle of Pisco Sour.
It is traditional to "rinse" the last bit of your cocktail with half a shot of Pisco Sour and drink before disposing of your glass.
Recommended Equipment
Zesting tool with channel knife