Deliciously provocative, the Pornstar Martini cocktail will surprise you with its extraordinarily balanced passion fruit cocktail with aromatics of tropical fruit and vanilla with a hint of lime that is sure to please. But don't let the name fool you. I guarantee you won't feel a single ounce of guilt after taking a sip of this delicious beverage.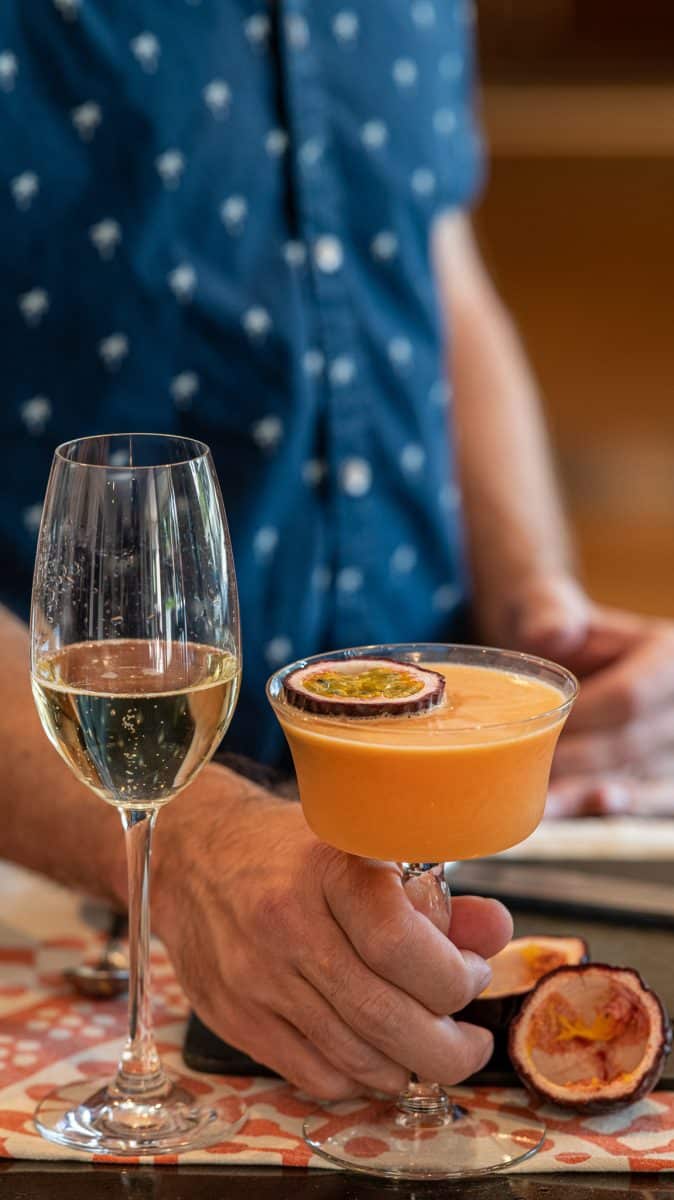 I have to admit, this is the most expensive cocktail I've made. Passion fruit costs around $4 each and this recipe requires two, plus other high-quality ingredients. I haven't been able to consistently source fresh vanilla beans, another aspect of making this amazing cocktail, which would certainly bump up the price. I'm guessing this costs about $12/drink at home. If you see this at a bar for under $20 using real ingredients, you're getting a bargain on a craft cocktail.
Can't get enough of that sinful passion fruit flavor? Try this Passion Fruit Margarita Cocktail next!
History of the Pornstar Martini
The original Pornstar Martini is a cocktail created by Douglas Ankrah in the early 2000s at his establishment, The Townhouse bar in Knightsbridge, London. As the founder of the London Academy of Bartending (Lab), you know any Ankrah creation is going to be an experience in itself.
Originally called the Maverick Martini, Ankrah renamed the cocktail to the Pornstar Martini simply because he thought the cocktail looked like something a porn star would drink. He came up with the name after a trip to a gentleman's club, Maverick's in Cape Town.
He says the name really has two names. If you're with friends on a night out and feeling confident, call it the Pornstar Martini. If you're with your parents or elders, call it the Maverick Martini.
Fruity and silky smooth, this cocktail quickly took off in popularity both because of its irresistible ingredients and playful name.
"When I first made it, I had no idea it was going to be neo-classic. It's like writing a great song that's being covered very badly. It's one of the reasons I bottled my creation. At least I have done it justice."
A mix of fresh passion fruit, passion fruit liqueur, vodka, vanilla syrup, and lime juice, this cocktail is found on craft cocktail menus around the world.
It is traditionally served with a glass of sparkling wine that is meant to be sipped alongside the cocktail as a pallet cleanser.
Ankrah created the World Porn Star Martini Day, on July 27, where competitions would be held to create the most epic cocktail. The day was later moved to September 6.
The Lab served its final Pornstar Martini as the bar closed its doors on September 11, 2016. The bar would later reopen with new names and new ownership, passing on its iconic torch.
Douglas went on to launch a ready-to-drink version, the Pornstar Cocktail, in 2017, available throughout London, and four countries.
On August 16, 2021, Douglas Ankrah's family announced in a Facebook post he had passed away, aged 51, with a simple homage to his legacy. Ankrah was a master at creating spectacular cocktails. To try some of his other incredible creations, you can find recipes in his book, Shaken and Stirred.
The Legendary Douglas Ankrah of #PornstarMartini fame is no more. The mighty oak […] has indeed fallen. Our family is heartbroken. Our mum is inconsolable.

Dee left us without saying goodbye. We will let you know when we have further details.

Thank you for all your thoughts and prayers from the Ankrah, Engmann, Azu, Buckle and extended families.

Family of Douglas Ankrah
Buying and Eating Fresh Passion Fruit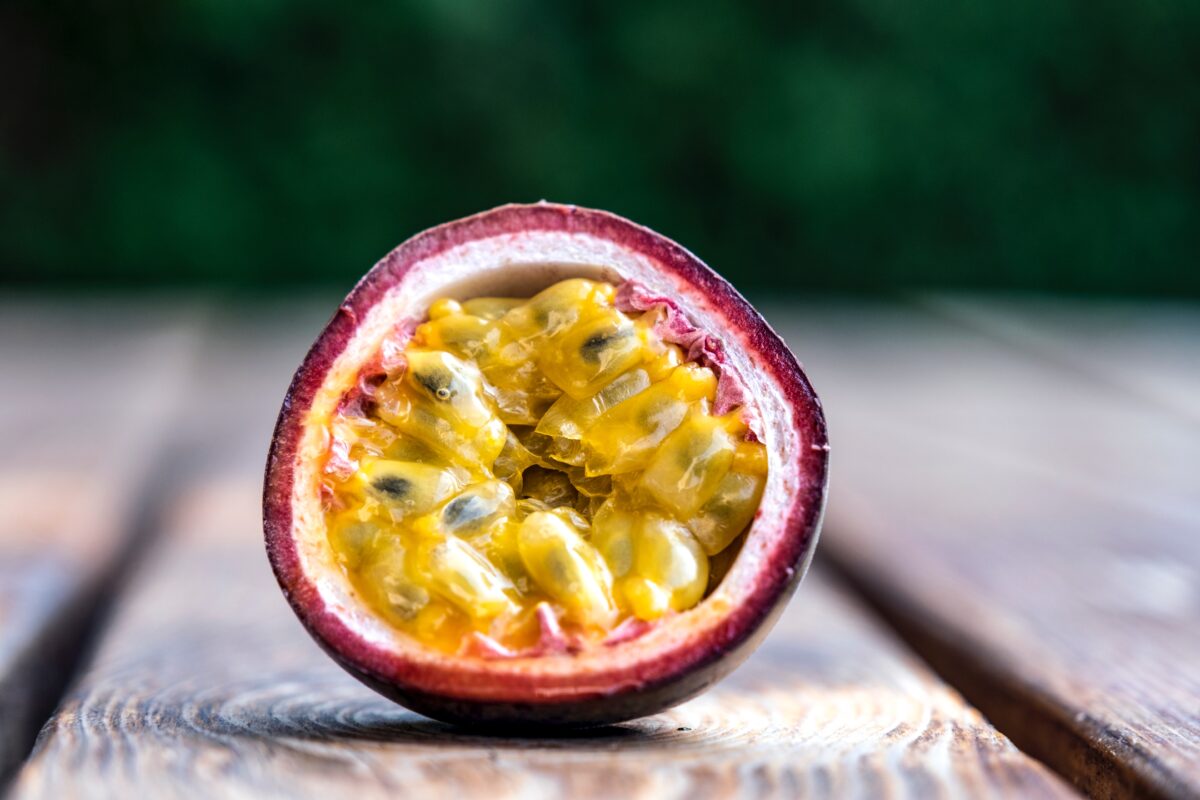 Passion fruit may be hard to find in your local grocery store because it is grown in tropical regions. I've been able to find ones grown in New Zealand and imported over, priced at $4 each. Buying fresh passion fruit will certainly up the price of this drink, but I promise you it's worth it!
Select passion fruit that is just starting to get bumps, but is not too wrinkly. Smooth skin means the passion fruit is just reaching its ideal ripeness. Slice or rip open the rind to expose the colorful, juicy flesh and seeds. The seeds are edible and can be eaten along with the flesh and juice. The white film separating the rind from the flesh is edible as well but is very bitter.
Word of caution: Passion fruit has the potential to cause a reaction if you are allergic to latex. This is because some of the plant proteins in the fruit have a structure similar to that of latex proteins.
After you've finished your Pornstar Martini, try saying "fresh passion fruit" three times fast. Good luck!
How to Drink the Pornstar Martini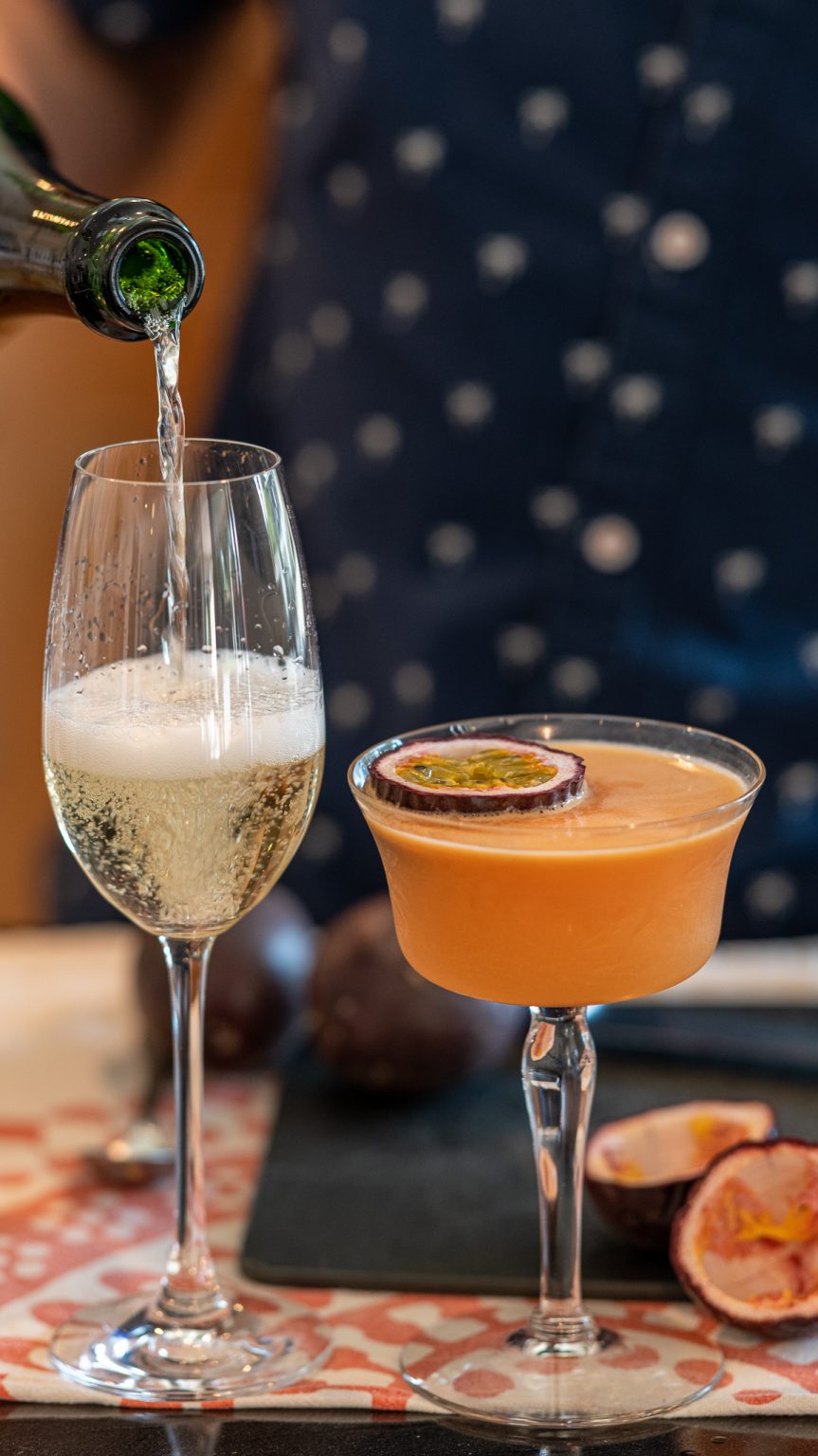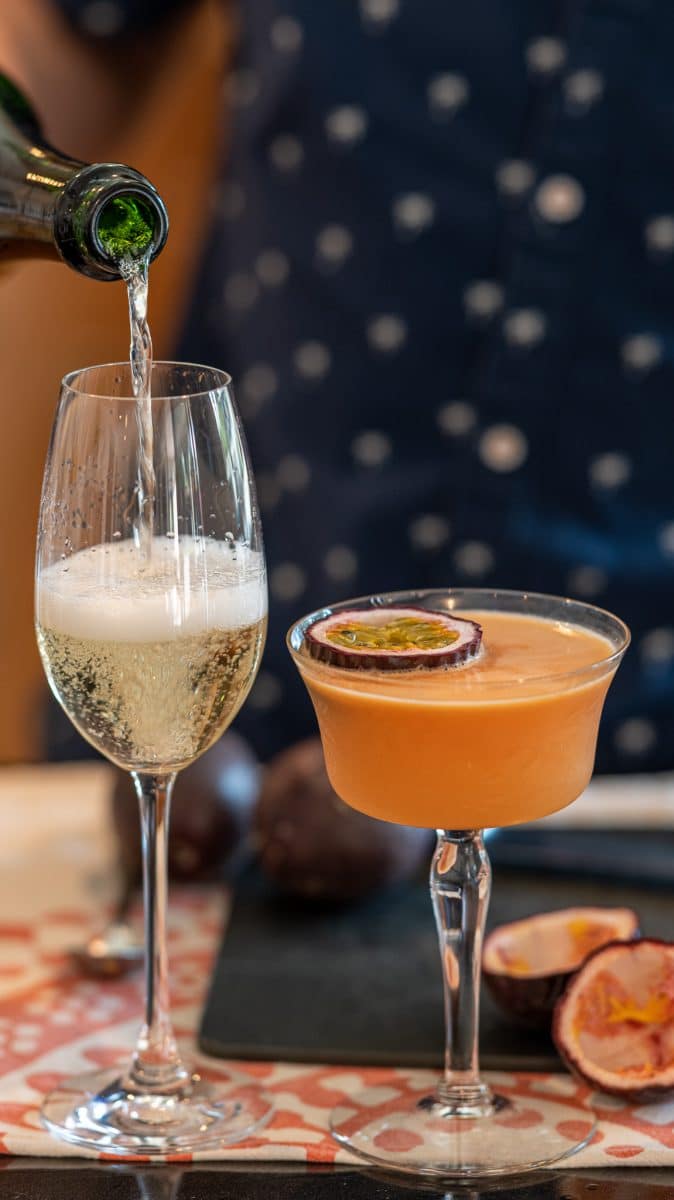 Douglas Ankrah provides detailed instructions on how one should drink his illustrious Pornstar Martini cocktail the correct way – his way. You'll notice a few minor differences in my own interpretation.
You need a teaspoon, a shot glass, a martini glass, and most of all, some champagne or prosecco. I used a champagne glass instead of a shot glass.
Douglas from here likes to start with a shot of Grey Goose vanilla vodka "to get myself in the mood."
Place a bar napkin in front of you, and shoot your shot of vodka. You want to fish out the fish of the passion fruit onto your palm. Don't use your hands, use the teaspoon. Consume the fruit. Put the half away for the moment. Use the napkin to wipe off your hands.
Take a sip of the martini, and every once in a while, use the champagne to cleanse your palate and continue to enjoy the martini.
Whatever you do, do not ever, ever, ever, ever, commit the cardinal sin of putting the champagne into the Pornstar Martini.
Take your time, but the drink has a lifespan of about five minutes before it gets warm and separates.
Always remember: Whatever you do, don't mix the two together. What you do is drink the martini, and use the champagne to cleanse your palate.
Original Recipe Remix
The original recipe calls for
1/2 oz vanilla simple syrup
2 oz vanilla vodka
Champagne or Prosecco
The original recipe calls for actual vanilla beans. I decided to just use regular simple syrup and regular vodka, with 1/2 teaspoon of vanilla extract added (no beans). When making cocktails at home with smaller quantities, I've found simplifying the recipe in this manner yields similar results. With that said, it is possible to use 15 ml of passion fruit purée if you can't find fresh passion fruit, but the taste and quality will be noticeably different.
Champagne is to be used if you are feeling bougie, but if you want to know Douglas' favorite, he prefers Prosecco for the simple reason that he lived in London during its creation and Prosecco is what the people drink.
If you decide to go all out with the specialty ingredients, one of the best quality ingredients and makers of syrups is Liber & Co.
Pornstar Martini Cocktail
Delicious and provocative, the Pornstar Martini cocktail is an extraordinarily balanced passion fruit cocktail. With aromatics of tropical fruit, vanilla, and a hint of lime, this is one cocktail that is sure to please.
Equipment
Paring knife

Chilled martini or coupe glass

Shot glass

Teaspoon
Ingredients
2

whole

Passion fruits

2

oz

Vodka

Substitute vodka and vanilla extract with Vanilla Vodka

1/2

oz

Passoa liqueur

1/2

oz

Simple syrup

1/2

oz

Lime juice

2

oz

Brut Champagne

Substitute with Prosecco

1/2

tsp

Vanilla extract
Instructions
Cut two passion fruits in half. Scoop our insides of 3 halves into a cocktail shaker. Save the 4th half for garnish.

Add the vodka, passoa liqueur, simple syrup, lime juice, and vanilla extract to the shaker.

2 oz Vodka,

1/2 oz Passoa liqueur,

1/2 oz Simple syrup,

1/2 oz Lime juice,

1/2 tsp Vanilla extract

Fill with ice and shake extremely vigorously. You want to create a nice foam layer when you pour.

Use a fine strainer to pour into your glass. Gently float the 4th half of passion fruit in the glass, cut side up.

Pour a small glass with champagne.

Serve. Cheers! See the how to drink for instructions if this is your first time.
Nutrition
Serving:
1
cocktail
Calories:
423
kcal
Carbohydrates:
58
g
Protein:
4
g
Fat:
1
g
Saturated Fat:
1
g
Polyunsaturated Fat:
1
g
Monounsaturated Fat:
1
g
Sodium:
61
mg
Potassium:
671
mg
Fiber:
18
g
Sugar:
36
g
Vitamin A:
2169
IU
Vitamin C:
55
mg
Calcium:
30
mg
Iron:
3
mg
Tried this recipe?
Let us know how it was – tag @themklibrary on the socials!
Frequently Asked Questions
Why is it called a Pornstar?
The person who created the cocktail imagined it looked like what a porn star might drink. Mostly, it means you're going to have a good night. The other name, Maverick, didn't do it. But the name Pornstar just worked for the bar it was born out of.
What makes the Pornstar Martini work?
It's the ritual, how it's drunk, and the ingredients.
When is World Pornstar Martini Day?
I strive to paint vivid landscapes with my words, bringing the magic of far-off lands and enchanting aromas to life for my readers. Combine passion for exploration and the art of gastronomy in an unending ode to the senses. When I'm not traversing the globe, I find solace in the earth beneath my fingertips, tending to my garden and working on projects around my verdant oasis. MK Library serves as a beacon, guiding fellow travelers and homebodies alike to embrace sustainability, nurturing both our planet and our souls with purpose. Full Bio.