The Nicoise Salad with Seared Tuna is a classic French salad, originating from the city of Nice featuring sustainably sourced tuna and a dijon vinaigrette. Served as a composed salad, or mise en place, this is the perfect opportunity to put your plating skills to the test and present your companions with a beautiful salad.
Thinking of making this Nicoise Salad for date night? Start out the night with this California Style Aperitivo, featuring triple cream brie, prosciutto, and Pinot Noir.
Typically made with green beans, hard-boiled eggs, potatoes, capers, and canned tuna, this variation of Nicoise Salad brings into play fresh, sustainably sourced Ahi tuna, seared and grilled. The dressing makes a few other changes to the classic found in Nice, based on the types of fresh ingredients found nearby here in California.
While a bed of lettuce is traditionally frowned upon, I will use arugula, or rocket, in the winter, and frisée in the summer, which I found pairs well with every other variation or traditional ingredient with their bitterness.
Pronounced as ni-swaz and spelled, Salade niçoise, the dish takes advantage of raw to lightly cooked seasonal vegetables.
What is in a Niçoise salad?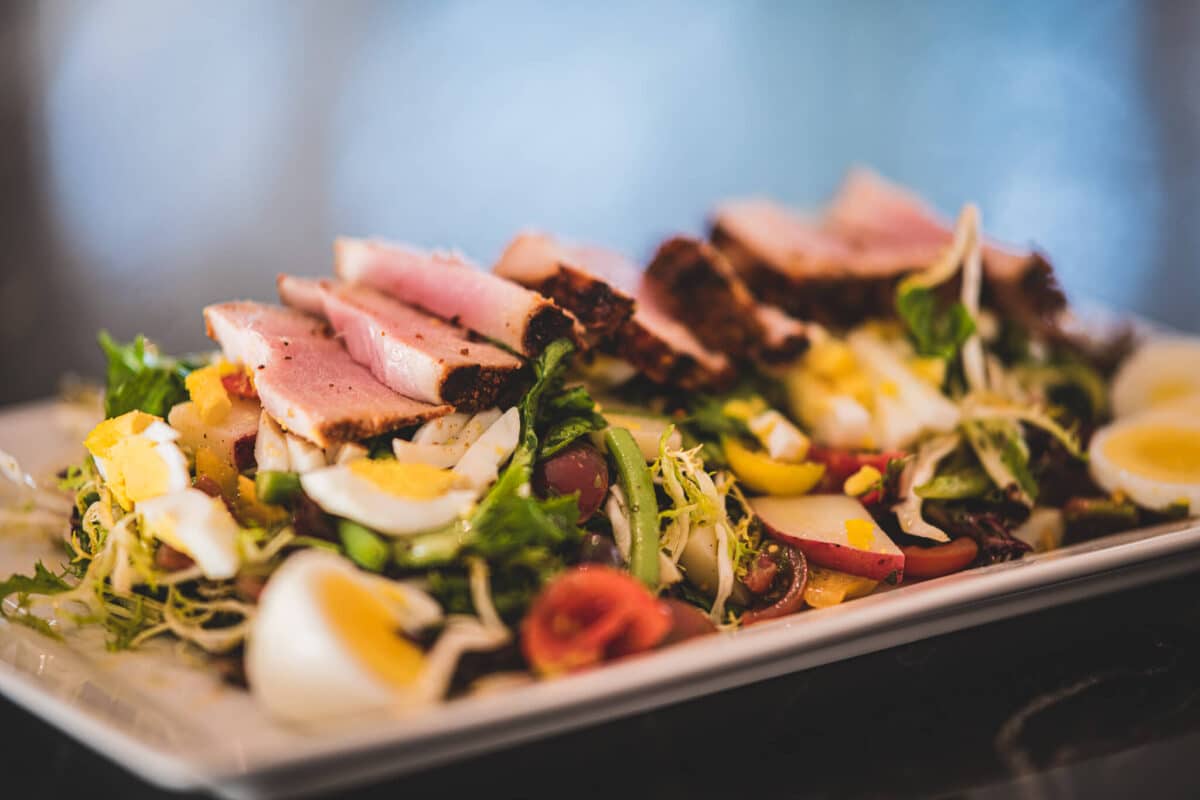 Jacques Médecin, former Nice Mayor and cookbook traditionalist, set some rules for the Nicoise Salad. Here in California, I use them as a guideline, but not law.
Serve the salad in a wooden bowl with garlic.
Exclude boiled vegetables including potatoes.
The salad should be predominately tomato, salted three times and moistened with olive oil.
Include hard-boiled eggs.
You can use either anchovies or canned tuna, but not both.
Acceptable raw vegetables include:

Cucumbers
Purple artichokes
Green peppers
Fava beans
Spring onions
Black olives
Basil
Garlic

No lettuce or vinegar.
All products should be a product of the sun and vibrant with crisp, sweet flavors of the Mediterranean.
Arrange decoratively.
If you want to nerd out a lot more on French-Nice food, check out Jacque's cookbook here.
Keeping Jacque's principles in mind, I applied them to the California ecosystem and food systems here, making sure everything sourced was grown/harvested/fished in sustainable practices with respect to the land and sea.
If you want to choose a sustainable fish over Ahi tuna, based on fishing seasons and availability, some other good options include salmon, rockfish, cod, or halibut.
Why Choose Sustainable Seafood?
Before we began to notice the detrimental effects of industrialized fishing practices, the ocean was viewed as an inexhaustible resource. Overfishing combined with the lack of effective management and our ever-growing consumption habits have decimated native fish populations.
According to the National Oceanic and Atmospheric Administration (NOAA), less than 20 percent of the world's seafood is produced sustainably, and less than 10 percent of global seafood production is certified by any of the major international standards. This means that there is little oversight of mismanaged fish farms, whose chemicals and waste often pollute nearby habitats. Many forms of traditional fishing have also damaged native underwater habitats and local non-target species, largely due to destructive fishing gear.
In the U.S., the story has been historically similar to the rest of the world. Recently, however, science-based programs and organizations have been working hard to make our U.S. fishing industries more sustainable.
What exactly is sustainable seafood?
Sustainable fishing means leaving enough fish in the ocean for populations to thrive, maintaining and restoring natural habitats, and ensuring an equitable future for the people whose livelihoods depend on fishing. Those organizations and companies dedicated to preserving the environment have begun to rebuild depleted fish stocks, promote proper management of fisheries, and educate people about the kinds of seafood they are consuming.
The sustainable actions we take now will lead to a better future for fishing communities and ocean ecosystems at large. Preserving our marine resources and fishing communities is no small task, but the sustainable choices we make every day do make a difference.
How to Choose Sustainable Seafood
Here's how you can start supporting a sustainable seafood industry.
Do Your Research
A quick Google search goes a long way when it comes to choosing sustainable food. Look up the restaurant or stores you frequent to determine where they source their seafood. If you can't find the answer online, it can never hurt to ask an employee or manager. Those chefs and stores that value quality usually pride themselves on knowing where their seafood is coming from.
Refer to Reputable Resources
The organizations listed below are invaluable science-based resources to help you become more environmentally-conscious consumers.
Visit Monterey Bay Aquarium's Seafood Watch to find incredibly helpful consumer guides and standards by state to determine what is considered truly sustainable.
NOAA's FishWatch is a great place to find background on over 100 domestic fish species and determine if they are sustainably managed.
Look for fish and seafood products certified with a blue label from the Marine Stewardship Council when shopping or eating out. You should have no trouble finding this blue label, which is currently on tens of thousands of products in more than 100 countries.
These few simple steps will both help you avoid contributing to unsustainable fishing practices and become part of the change toward restoring the health of our oceans.
Sourcing Fish for This Recipe
The tuna for this recipe was provided by Real Good Fish, a sustainable fish delivery service based out of Moss Landing, California. According to NOAA's FishWatch, "U.S. wild-caught Pacific bigeye tuna is a smart seafood choice because it is sustainably managed and responsibly harvested under U.S. regulations."
Real Good Fish supports a network of fishermen that use only sustainable fishing practices to catch their fish. They adhere to the same principles of environmental sustainability outlined by the Monterey Bay Aquarium and Marine Stewardship Council. By employing local fishermen, they encourage people to eat what seafood is locally available and support nearby coastal communities.
They offer a wide variety of fish, including under-appreciated fish and those accidentally caught. With each fish you order, you will know exactly where it was caught, who caught it, and how it was caught. This bigeye tuna was caught in San Diego Harbor by John using a deep-set buoy. Pretty cool, right?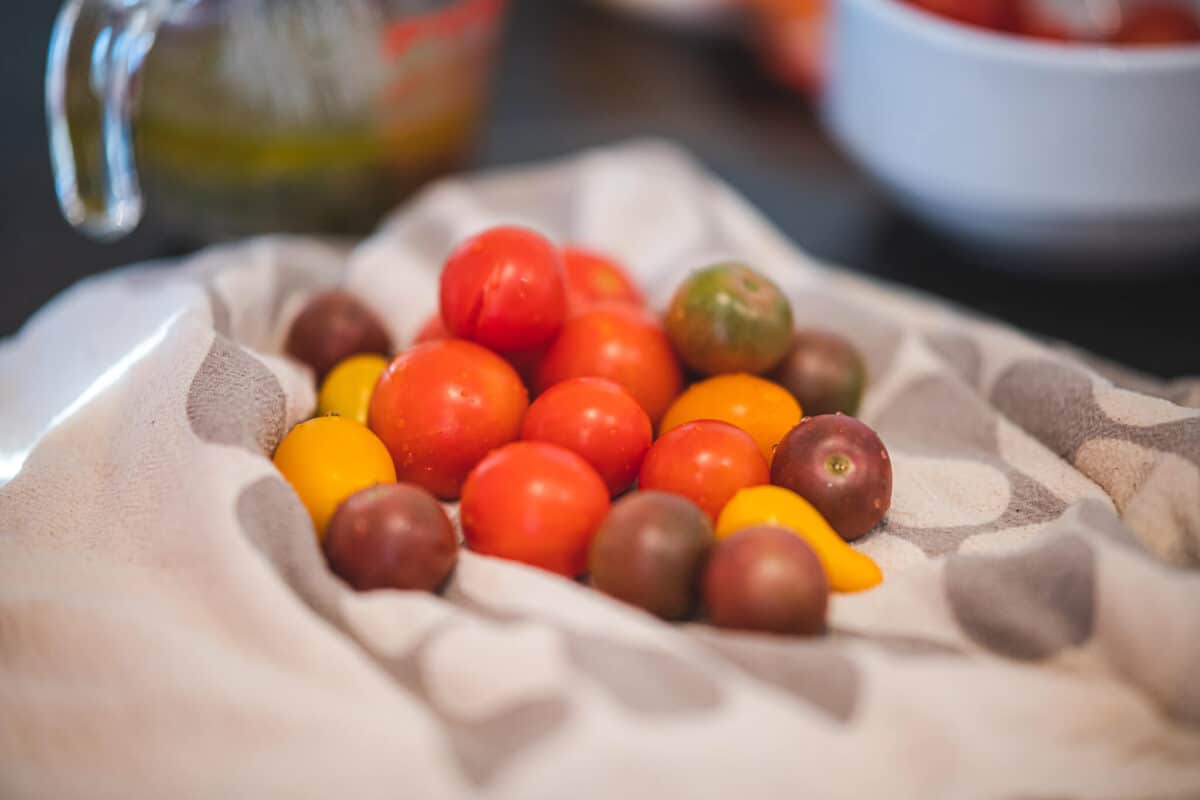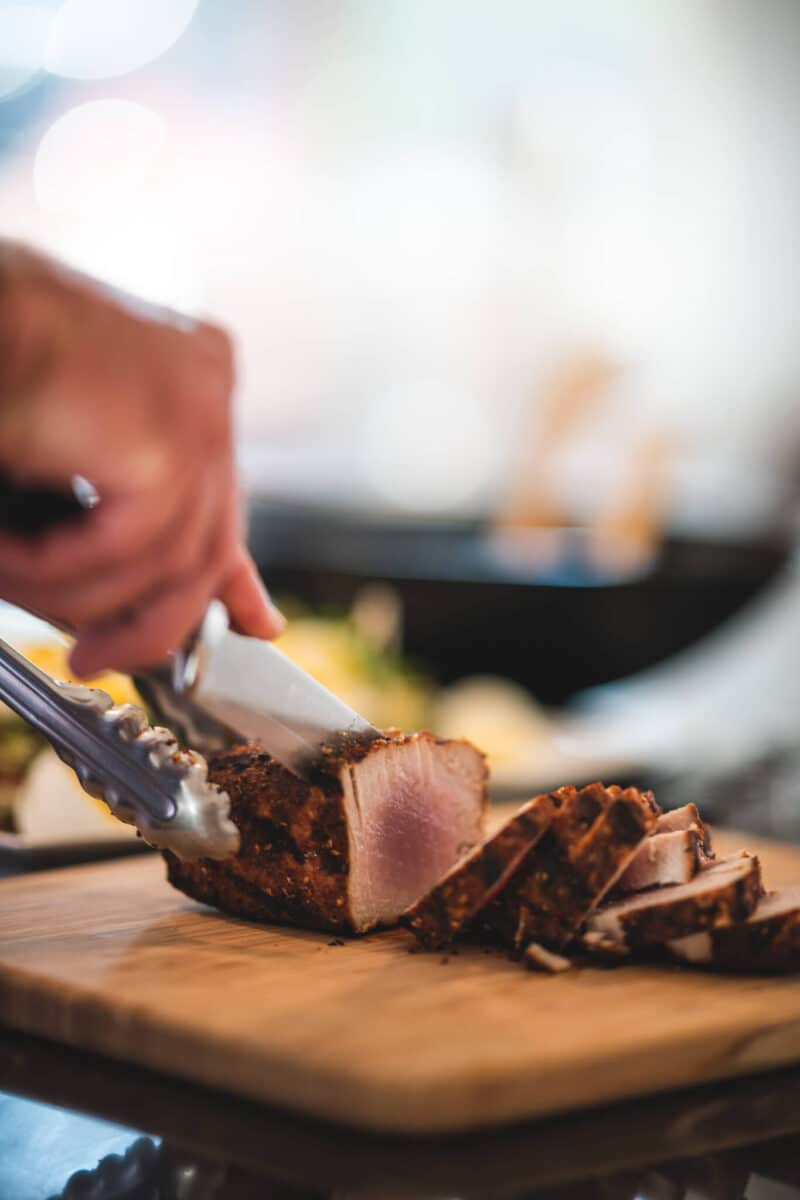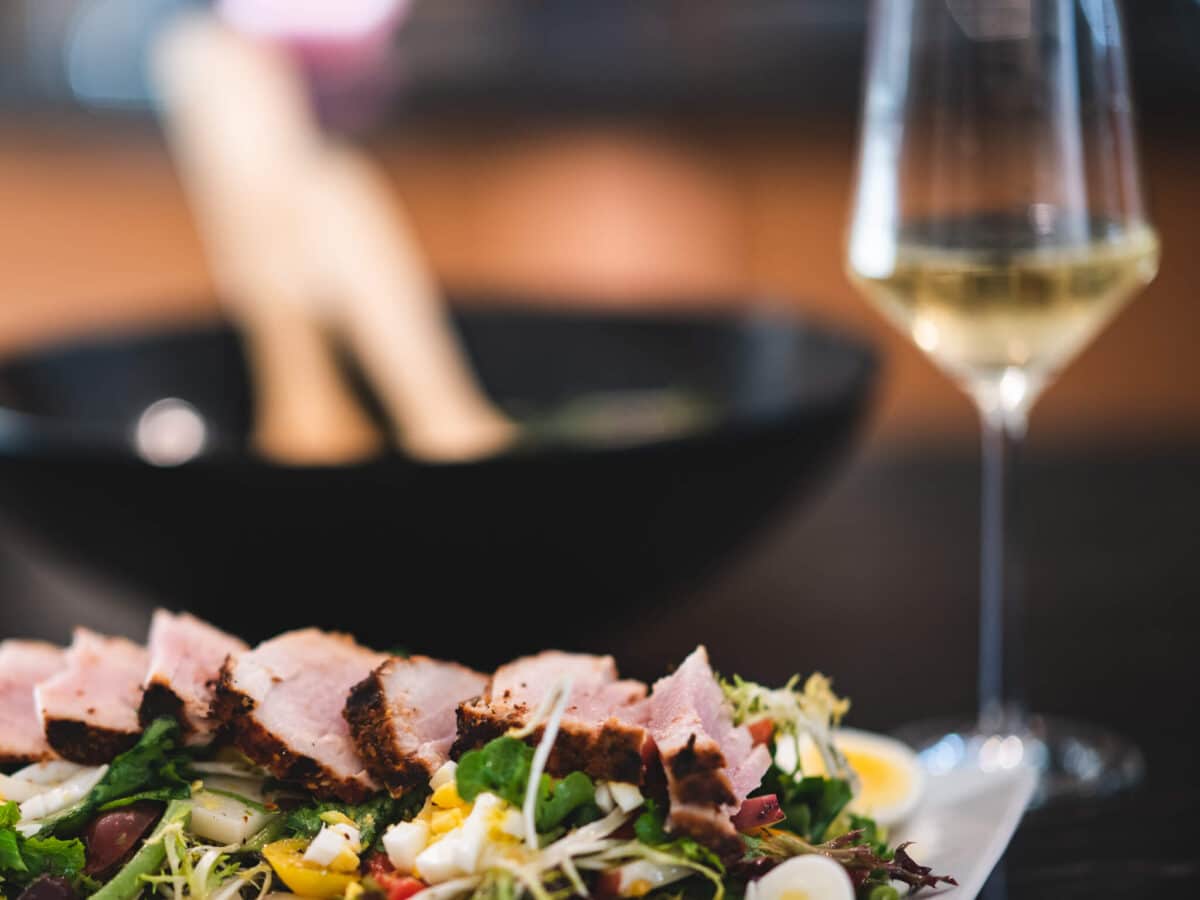 Nicoise Salad
Typically made with green beans, hard boiled eggs, potatoes, capers, and canned tuna, this variation of Nicoise Salad brings into play fresh, sustainably sourced Ahi tuna, seared and grilled.
Ingredients
Vinaigrette:
2

Garlic cloves

Minced

1

tsp

Dijon mustard

3

tbsp

Red wine vinegar

1/2

Lemon

Juiced

2

tbsp

Flat-leaf parsley

Chopped fresh

2

tbsp

Tarragon

Minced fresh

Black pepper

Freshly ground, to taste

1/2

cup

Olive Oil

Extra virgin

Salt

To taste
Salad:
1

pound

Red potatoes

New, Medium size, scrubbed and sliced

4

Eggs

Large, hard boiled

1/2

pound

Haricots verts

Also known as thin French green beans, stems trimmed

2

pounds

Tuna

Fresh, sushi quality Ahi

1

pint

Cherry tomatoes

halved

1

cup

olives

Nicoise olives, Pitted

1

bunch

Curly endive

Frisée, Substitute: Arugula

Sea salt

To taste

Black pepper

Freshly ground, to taste

2

tbsp

Olive Oil

1

tbsp

Apple cider vinegar

Spicy tuna rub

Rub with Love Spicy Tokyo Rub
Instructions
Vinaigrette
Combine all ingredients in a pourable container. Stir to thoroughly emulsify. Set the dressing for several hours before preparing the salad so the flavors can marry. Can be prepared up to 48 hours in advance.
Niçoise Salad
Hard-boil the eggs, peel, and refrigerate until salad assembly.

Slice the red potatoes into 1/4-inch pieces. Boil them for 4 to 5 minutes or until cooked through in a 4-6 quart pot. Don't overcook or the potatoes will fall apart. Strain, rinse with cold water, and sprinkle apple cider vinegar on them. Cover and store in the refrigerator.

Cut off the ends of the green beans. Boil in salted water for 3-5 minutes or done to taste, closer to al dente. Strain, slice into smaller pieces, and store in the fridge.
Tuna
Coat the tuna with grapeseed oil and then rub with a spicy tuna rub – one of many varieties found at the grocery store. I used the Tom Douglas Spicy Tokyo Rub product.

Heat grill to 600 degrees to properly sear the tuna steak. Sear each of the four sides of the tuna for 2-3 minutes, or even less depending on how rare you prefer your tuna. Remove from heat and let rest for five minutes. Slice into 1/2 thick pieces.
Salad Assembly
To assemble the salad, combine the greens, potatoes, green beans, tomatoes, olives, and verts in a large mixing bowl.

Stir the vinaigrette to remix after it has been stored in the fridge. Drizzle the salad with enough vinaigrette to fully coat and toss gently. Season to taste with salt and pepper.

Take care not to bruise the ingredients – the critical element for an outstanding nicoise salad is that it is arranged on a platter with all the ingredients keeping their individual integrity and in groups. Store salad for at least 15 minutes to soak the dressing before adding the tuna.

Arrange the tossed salad down the center of a serving platter and lay the seared tuna attractively across the top and the eggs around the rim. Serve.
Nutrition
Serving:
1
g
Calories:
747
kcal
Carbohydrates:
32
g
Protein:
55
g
Fat:
46
g
Saturated Fat:
7
g
Cholesterol:
245
mg
Sodium:
1205
mg
Potassium:
1510
mg
Fiber:
6
g
Sugar:
7
g
Vitamin A:
1799
IU
Vitamin C:
56
mg
Calcium:
175
mg
Iron:
8
mg
Tried this recipe?
Let us know how it was – tag @themklibrary on the socials!
From recipes using locally sourced ingredients and terroir-centric cooking, craft cocktails, to the latest in tech and home DIY projects, Michael yearns to share his learned and found knowledge of the world.