Moroccan Chicken Tagine is a hearty family-style recipe featuring an array of aromatic spices, including coriander, ginger, turmeric, and saffron. Cooking in a tagine opened my eyes to the tradition of slow cooking, taking my time to procure and grind fresh spices. Plan an evening with family or friends to share this uniquely beautiful dish from the Moroccan culture!
While this recipe won't take an ENTIRE afternoon, it does require a deep love of food and appreciation of ingredients. Food is consumed by all of your five senses. Pulling all of these five senses into your cooking fully nourishes your body.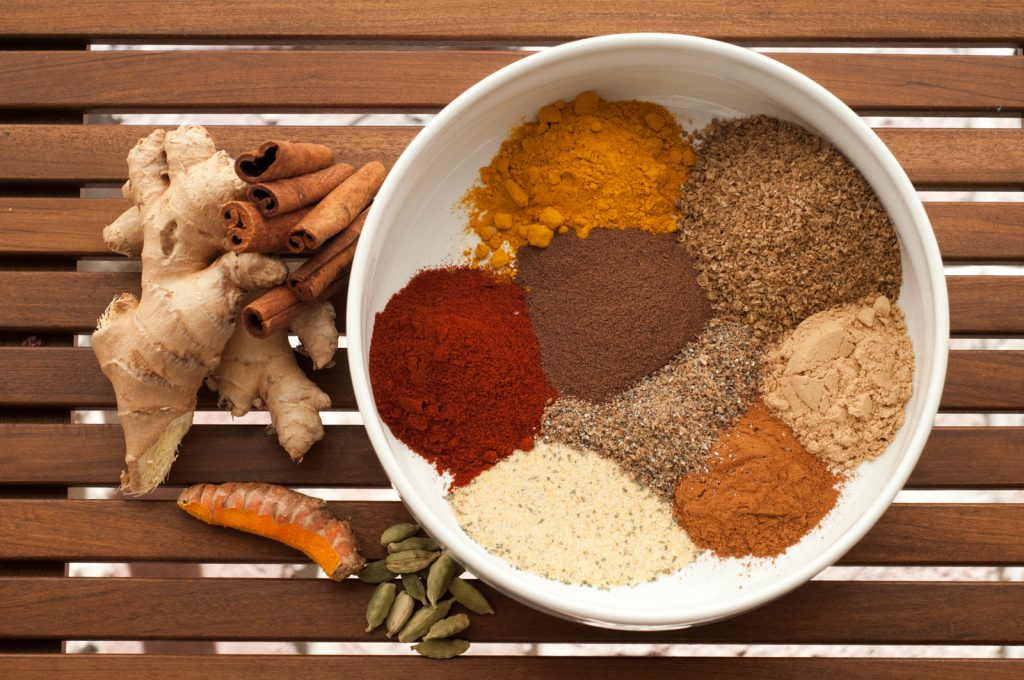 As you look through the ingredients in the Moroccan Chicken Tagine recipe, you'll recognize many of the herbs and spices are common ones in holistic healing. This is no coincidence! The spices make up a melody which will take you into the world of Ayurvedic cooking. Ayurveda has three main focuses: healing, prevention, and health care.
Taking Herbs and Spices to the Next Level
If you're like me and just about everyone else you know, your cabinet is full of ground herbs and spices. Many of them are likely a year old. The problem with this is you are cooking with very old and stale ingredients. You may even be using more salt than necessary to compensate for the bland taste of your herbs.
There are so many herbs and spices which are easy to buy as needed in the bulk section of the grocery store. The difference of freshness and overall taste you'll gain from grinding your own herbs and spices in incredible. I use this mortar and pestle, which feels great in the hands and doesn't send seeds flying…too much.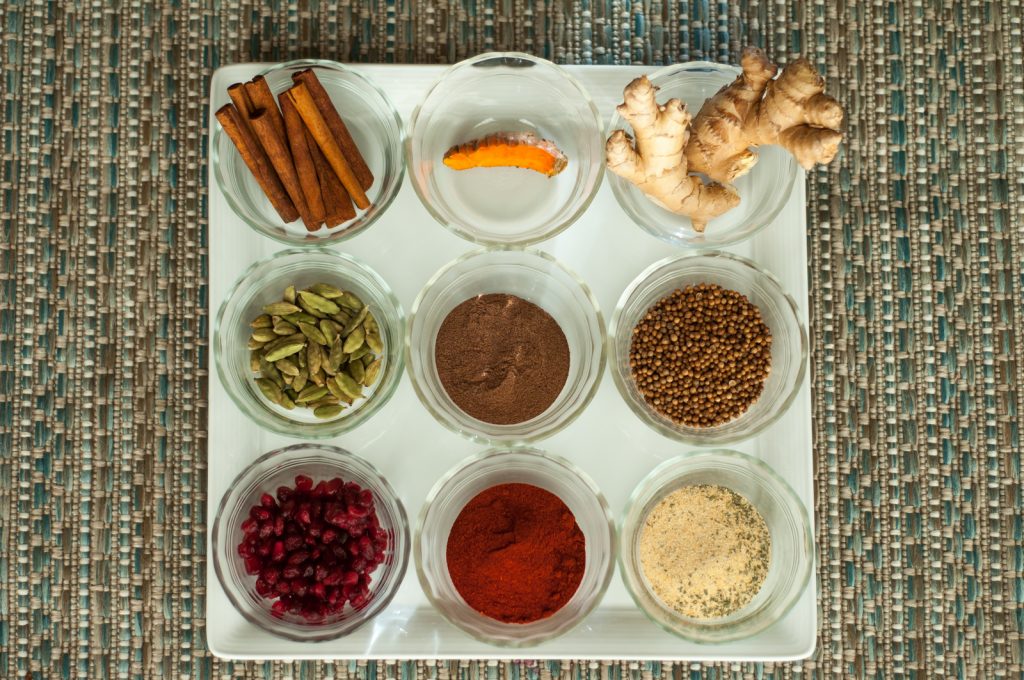 For this entire dish, I tried to use as many fresh herbs and spices as possible. From turmeric root to ginger, coriander, allspice, and cardamom. The smells wafting up as you grind your own food evoke a powerful sense of accomplishment and satisfaction from your cooking.
Protip: For grating things like ginger or turmeric, use a grater like this. It is simple, easy to clean, and works so much better than anything else I've tried.
Cooking with a Tagine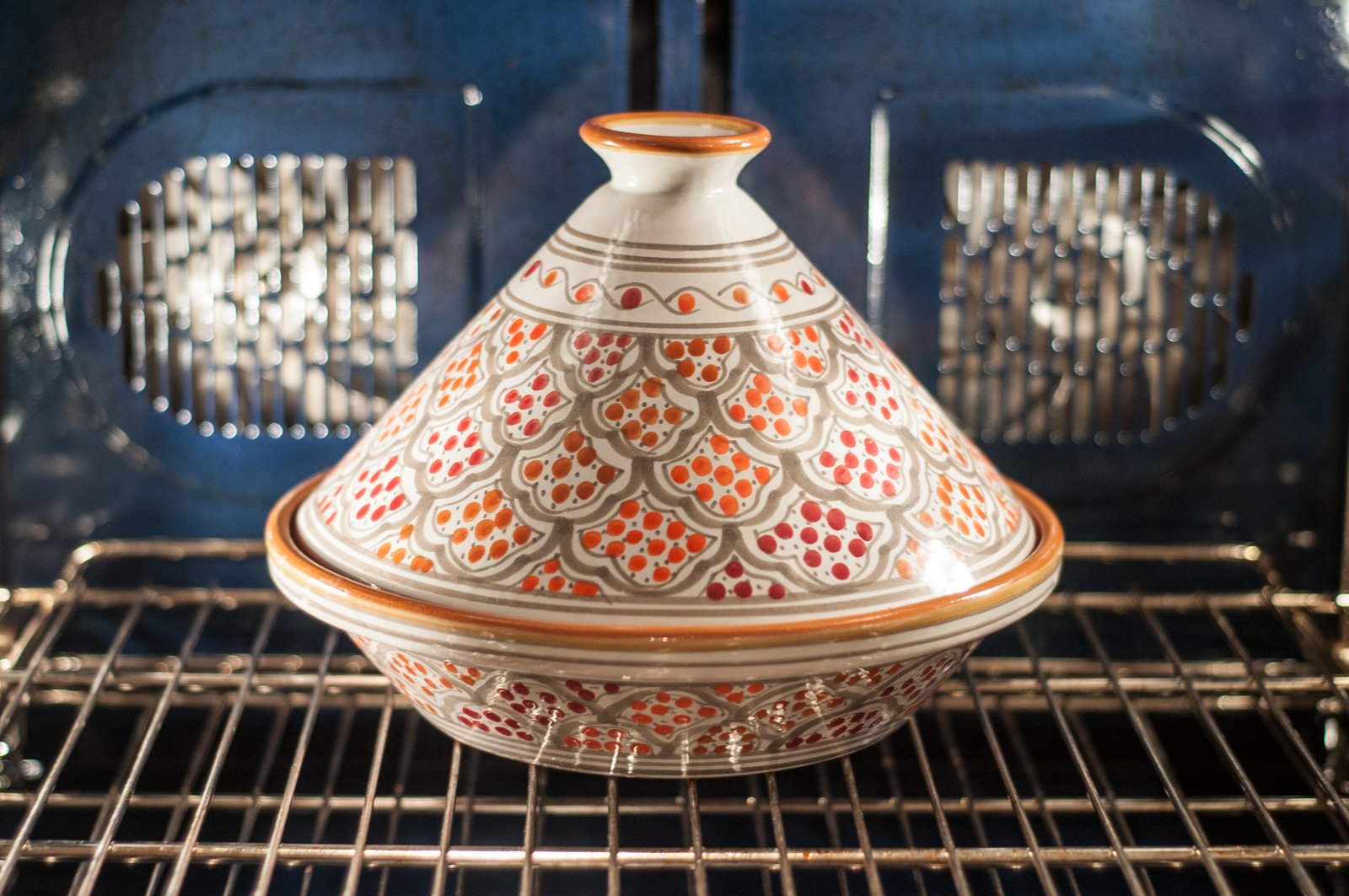 Tagine refers to both the instrument and method of cooking. The tagine instrument is a cooking vessel traditionally made of clay. These are the slow cookers of ancient times. When buying a tagine, it is important to pay attention how it is made. Some are made for electric stoves, some are made with cast iron, and some are stone with enamel. I used a lead-free glazed ceramic tagine, which is made for either a flame stovetop or oven. This particular one would probably be fine in the traditional way of cooking, which would place it on large coals, although the exterior painting would take a beating.
The unique shape of the tagine lid allows moisture to rise to the top then slowly drip back down the sides to keep the meats and vegetables moist. This is where the tagine excels far beyond many other cooking equipment. The tagine will keep your food from drying out better than anything else. When tempted to add liquids, you'll want to add thick sauces and olive oil. Water is not the way to go.
Tagines utilize a lower temperature, and as such your meals will take longer to make. Consider the time a happy medium between your slow cooker meals and using the oven directly. You can also use your tagine to serve the meal in when it is done cooking for a beautiful earthen presentation.
A standard tagine will hold enough to feed 4 to 6 people at a time.
Recipe Origins
This particular recipe was inspired by Daniel Boulud's Chicken Tagine. Some key changes made were the inclusion of fresh herbs and spices and reduction of salt, as noted in the methods of cooking above.
While heavily influenced by North African cooking, there is a French influence, in that blanched cauliflower and tomatoes are included in the dish. Heirloom tomatoes are preferred to Roma, but as this is a hearty fall and winter dish, Roma tomatoes are much more readily available.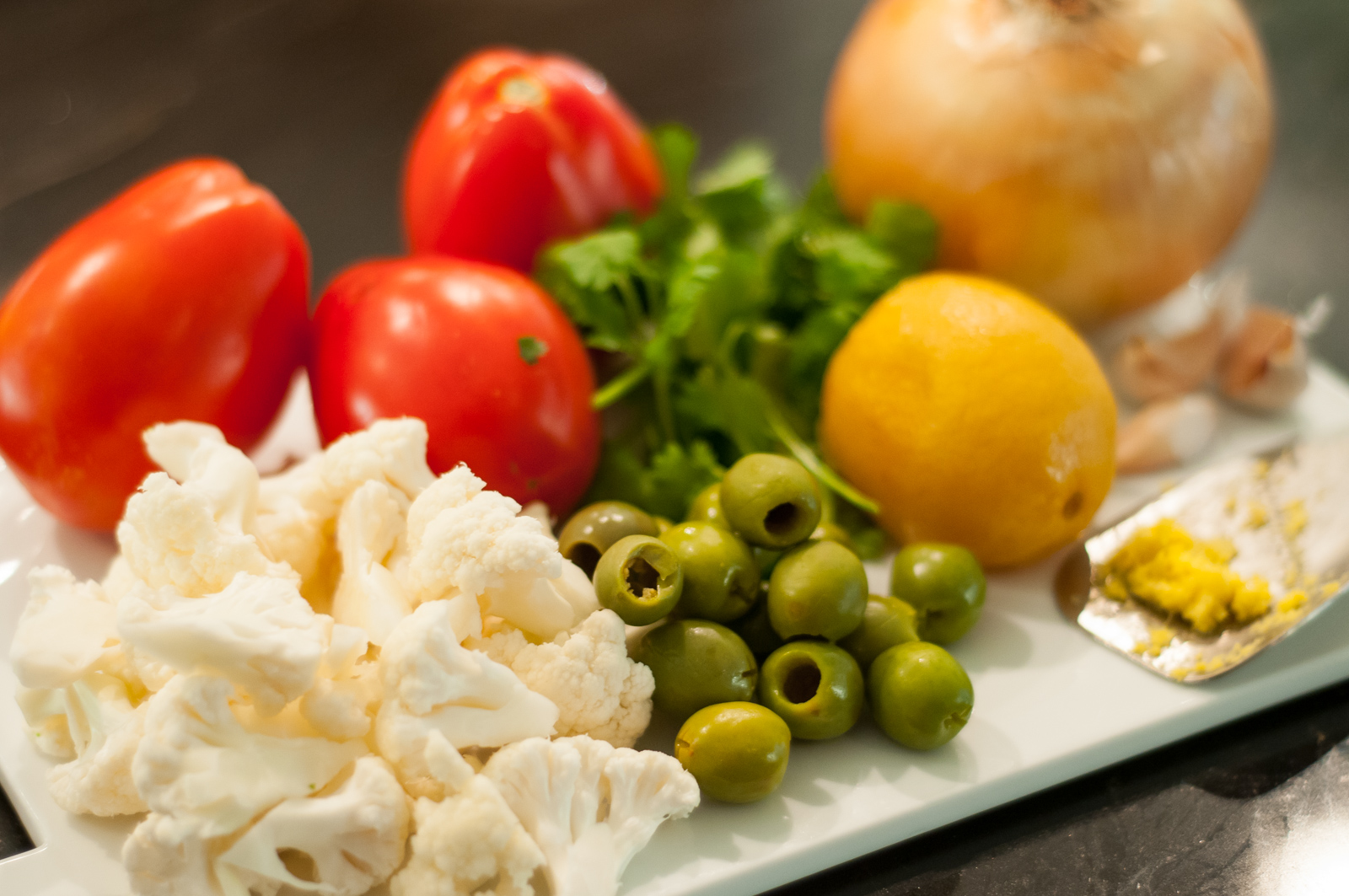 One must have a true love and appreciation of food to take the time to prepare so many ingredients separately then slowly cook them together. This dish is well worth the effort.
Ice Bath Pro Tip
As you start to boil the water for the cauliflower florets, put 2 cups ice in a large bowl. Add cold water and set aside. Once the cauliflower has cooked for 1 minute, use a strainer to drain water from the cauliflower. Put strained cauliflower into an empty bowl. Using the same strainer, strain the ice water over the cauliflower. Let cool for 1 minute, then re-strain the cooled cauliflower. Pat dry.
Recommended Kitchen Tools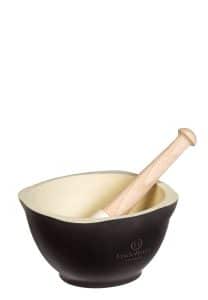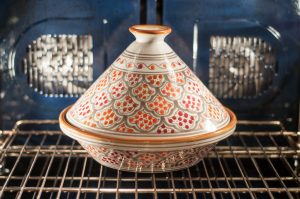 Moroccan Chicken Tagine
This classic chicken tagine dish utilizes fresh herbs and spices for a savory, aromatic meal.
Ingredients
Spice Mix
3 1/2

Tablespoons

Smoked sweet paprika

1

Teaspoon

Garlic powder

2

Teaspoons

Cinnamon

Grind several cinnamon sticks for fresh cinnamon

3

Tablespoons

Coriander

Grind 3 tablespoons whole coriander seeds

1 1/3

Tablespoons

Turmeric

Freshly grated preferred over powdered. If using freshly grated, add in different step.

1

Tablespoon

Ginger

Freshly grated preferred over powdered. If using freshly grated, add in different step.

1/2

Tablespoon

Cardamom

Grind 1/2 tablespoon of whole cardamom seeds, removed from pods

2 1/2

Teaspoons

Allspice

Grind 2 1/2 allspice berries
Chicken Stock
Unused chicken parts

Back, neck, gizzards, etc.

5

Cups

Water

1

Bay Leaf

1

Teaspoon

Garlic powder

1

Pinch

Salt

1

Pinch

Pepper

1/2

Carrot

Chopped

1/2

Celery

Chopped

1/3

Yellow onion

Diced
Chicken Tagine
1

Whole chicken

Extra parts removed for stock

4

Tablespoons

Spice Mix

1/3

Cup

Olive Oil

3

Roma tomatoes

1

Cauliflower

Cut into bite-size florets

1

White Onion

Diced

3

Cloves

Garlic

Finely diced

1

Tablespoon

Ginger

Freshly grated

4

Saffron

Select large threads

1

Tablespoon

Tomato paste

2

Cups

Chicken Stock

2

Preserved lemons

Roughly chopped and seeds removed

1

Cup

Green Olives

Pitted. Castelvetranos are preferred

1/2

Bunch

Cilantro

Pick leaves and discard stems

2

Tablespoons

Pomegranate Seeds
Instructions
Chicken Stock
Place unused chicken parts into a medium sized pot.

Cover with water and add in the rest of the ingredients.

Simmer for 2 hours. While you are waiting for the stock, prepare your spices and vegetables.

Strain broth into large measuring cup or fat separator and let cool.

Skim fat from top of broth.

Broth can be used immediately or frozen for future use.
Spice Mix
Do NOT include garlic, ginger or turmeric if using freshly grated.

Add whole spices to a dry saute pan over low heat. Toast gently, stirring with a wood spoon until the spices release their fragrances.

Remove spices from heat. Use a mortar and pestle to finely grind all whole, dry spices.

Transfer spice mix to a bowl to rest. You will have made more than you need for the Chicken Tagine.
Chicken Tagine
Preheat oven to 350.

Core tomatoes. Place your tomato on a cutting board, stem side facing up. Roll the tomato sideways so the stem faces to the right, and cut the tomato down the center "equator" line into two halves. Use a small spoon to scoop the tomato seeds and any tough white core out of the four seed cavities. Boil tomatoes for 20 seconds then submerge in ice water for 20 seconds. Peel skin.

Bring large pot of salted water over high heat. Place pot of ice water to the side. Boil cauliflower florets for 1 minute then submerge in ice water. Remove after 1 minute then pat dry.

Separate chicken thighs, legs, breast and place into large pot with 2 tablespoons olive oil. Brown chicken over medium heat, starting with skin-side down. After chicken is browned on both sides, place browned chicken in in the bottom of your tagine.

Remove all but two tablespoons of olive oil and fat from the pot you used for the chicken and return to heat. Put cauliflower into pot brown the cauliflower as well. Add cauliflower to tagine.

Coat chicken and cauliflower with 4 tablespoons of spice mix.

Reduce heat in pan and add onion, freshly grated garlic, ginger, turmeric, and saffron. Stir about 5 minutes or until onions are translucent.

Add tomato paste and chicken stock. Simmer until reduced by 1/3.

Pour sauce over chicken and cauliflower. Cover tagine and transfer to oven for 20 minutes.

Remove tagine to stir in tomatoes, preserved lemon, and olives. Cook for additional 20 minutes or until the chicken is cooked through.

Garnish with cilantro and pomegranate seeds.

Serve alongside your favorite type of rice or couscous.
Nutrition
Calories:
818
kcal
Carbohydrates:
41
g
Protein:
46
g
Fat:
56
g
Saturated Fat:
12
g
Cholesterol:
146
mg
Sodium:
955
mg
Potassium:
1614
mg
Fiber:
16
g
Sugar:
11
g
Vitamin A:
5500
IU
Vitamin C:
86
mg
Calcium:
376
mg
Iron:
11
mg
Tried this recipe?
Let us know how it was – tag @themklibrary on the socials!

I strive to paint vivid landscapes with my words, bringing the magic of far-off lands and enchanting aromas to life for my readers. Combine passion for exploration and the art of gastronomy in an unending ode to the senses. When I'm not traversing the globe, I find solace in the earth beneath my fingertips, tending to my garden and working on projects around my verdant oasis. MK Library serves as a beacon, guiding fellow travelers and homebodies alike to embrace sustainability, nurturing both our planet and our souls with purpose. Full Bio.