The Carrizo Plain National Monument is now the single largest native grassland remaining in California, and is a culturally significant site to the Chumash and the Yokut Native American tribes. This 250,000-acre sprawling plain, located southeast of San Luis Obispo, often becomes a wildflower hotspot in the spring. In a good bloom year, the plains will see thousands of visitors who flock to witness vast meadows and hillsides painted in yellow, orange, and purple.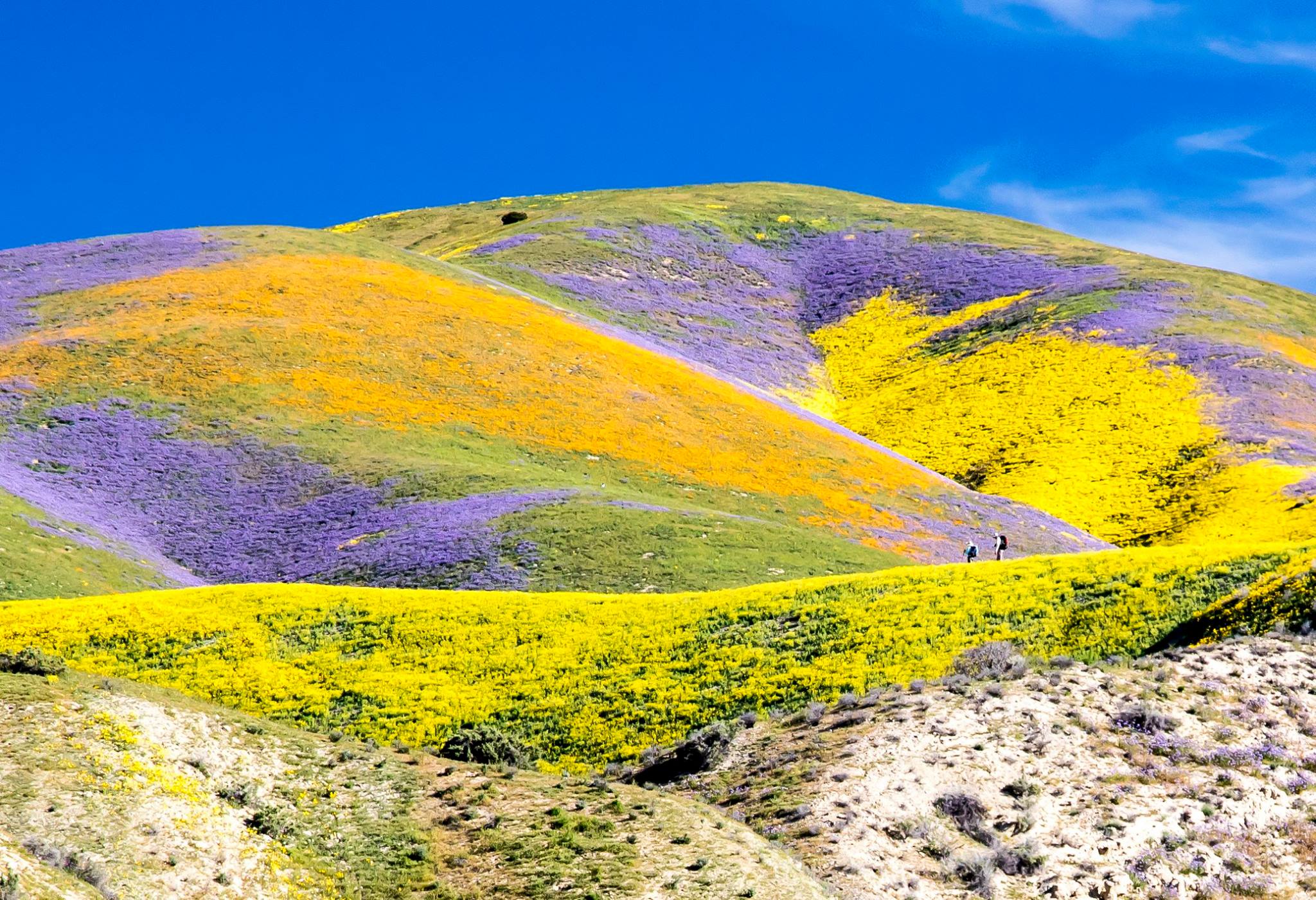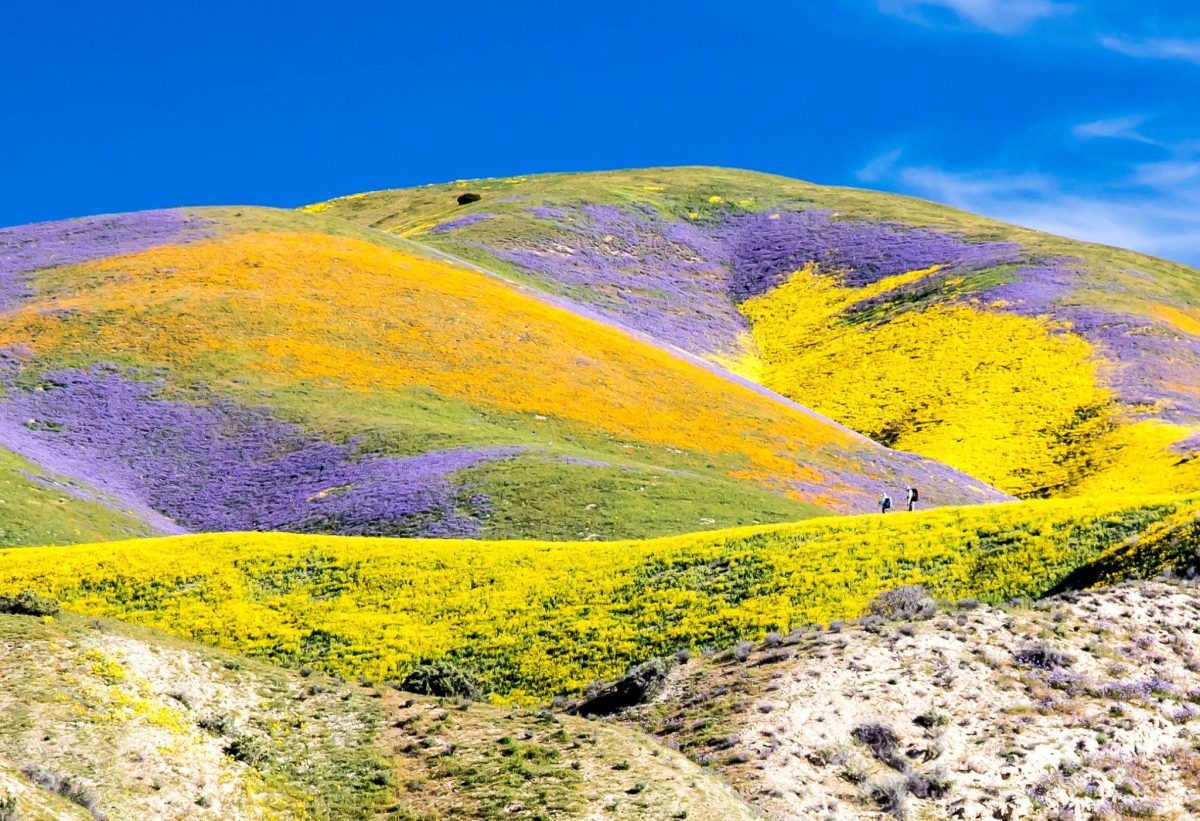 All About Carrizo Plain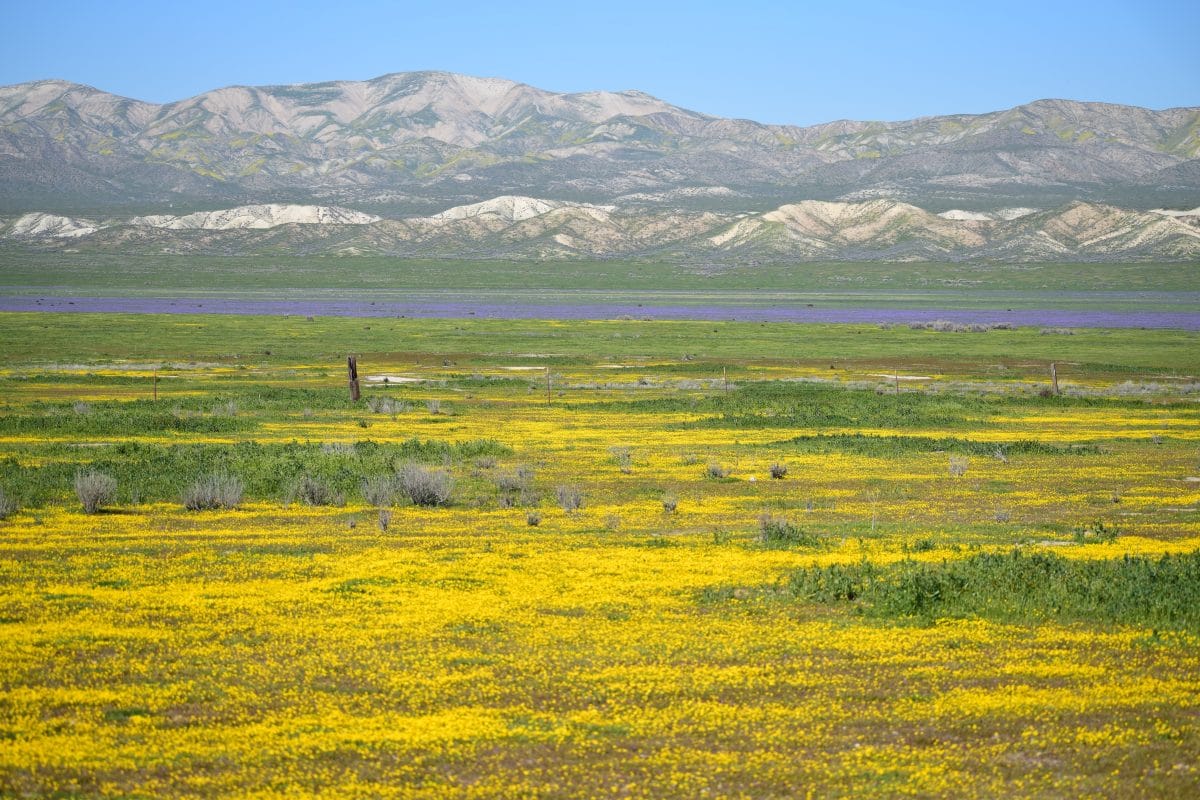 Note for visitors: High clearance vehicles are recommended for access to the Temblors and be aware that some of the mountain range is private property.
One of the dominant geographic features of the Carrizo Plain is Soda Lake, a salty dry lake bed that occasionally holds water after a big rain. There may not be much water to speak of, but if you walk the boardwalk trail that runs by the shore, you can immerse yourself in a sea of wildflowers! For a panoramic view of Soda Lake and Carrizo Plain in bloom, just head across the road from the Soda Lake boardwalk and walk a short trail to the top of Overlook Hill.
Within the monument, there is a flat trail with meadows views that leads to Painted Rock, a large rock outcrop just south of the Goodwin Education Center, that features the faded remains of what was once an elaborate Chumash pictograph site. To access Painted Rock, you'll need to reserve a guided or self-guided tour on Recreation.gov. For self-guided tours, be sure to write down the gate code that is sent in a confirmation e-mail after you've reserved a free ticket (there is a $1 service fee).
Goodwin Education Center is open and is a great place to start when you enter the monument to get caught up on current information or to grab a map. It is open Thursday through Sunday from 9:00am to 4:00pm. You can also stop by either Santa Margarita or Taft for more information on the Carrizo Plain National Monument.
For current information about reserving tours and finding maps of the monument, visit Friends of the Carrizo Plain website and take a look at the Carrizo Plain Recreation Map & Guide.
Best Places to View the Super Bloom
The Carrizo Plain Super Bloom usually begins in mid-March and peaks sometime in late March or early April. By mid-June, most flowers have dried or wilted. This year, there has been enough rain to constitute an above-average wildflower bloom. While there may not be a super bloom, there will certainly be plenty of native wildflowers to admire. Check in with the California Super Bloom post for updates on this year's spring blooms, as well as to find some other nearby locations.
Best Super Bloom viewing locations:
Soda Lake Road just south of the Visitor Center (Hillside Daisies, Valley Phacelia, Owl's Clover)
Near Traver Ranch (Phacelia, Hillside Daisies)
Simmler Road (Coriposis/Tickseed, Tidy Tips, common hillside daises, wild mustard)
Temblor Mountain Range (Hillside daises, Phacelia, and Desert Candle)
Directions
Take Hwy 58 or Hwy 166 until you hit Soda Lake Road, and continue on until you reach the sign for the Goodwin Education Center. Turn at the sign and follow the road a half mile to find the education center, which reopened last year after renovations.
This is a remote area with no cellphone reception, so do not rely on GPS apps on your way to or within the monument. You will NOT find food, water, or fuel in the Carrizo Plain National Monument, so plan accordingly and stop by neighboring communities before you visit. Some camping is allowed, but spots tend to fill up very quickly, so plan accordingly.
More California Wildflower Hotspots
Spring is almost here, so plan your wildflower hunt soon! Wildflowers are currently blooming within Anza-Borrego Desert State Park. For a complete guide to wildflower sightseeing spots throughout the state, visit the California Super Bloom & Wildflower Guide.
Wildflower Hunting Etiquette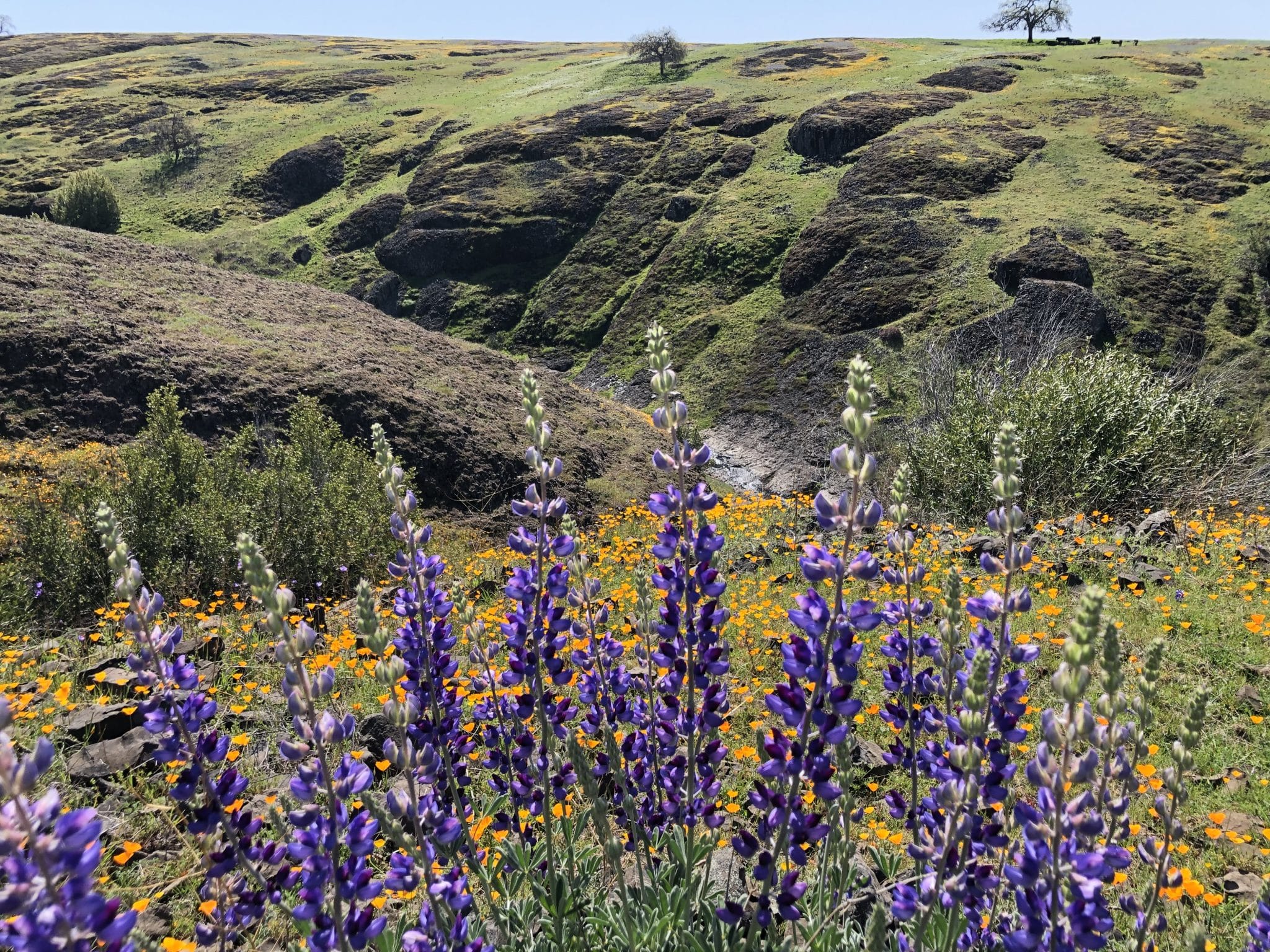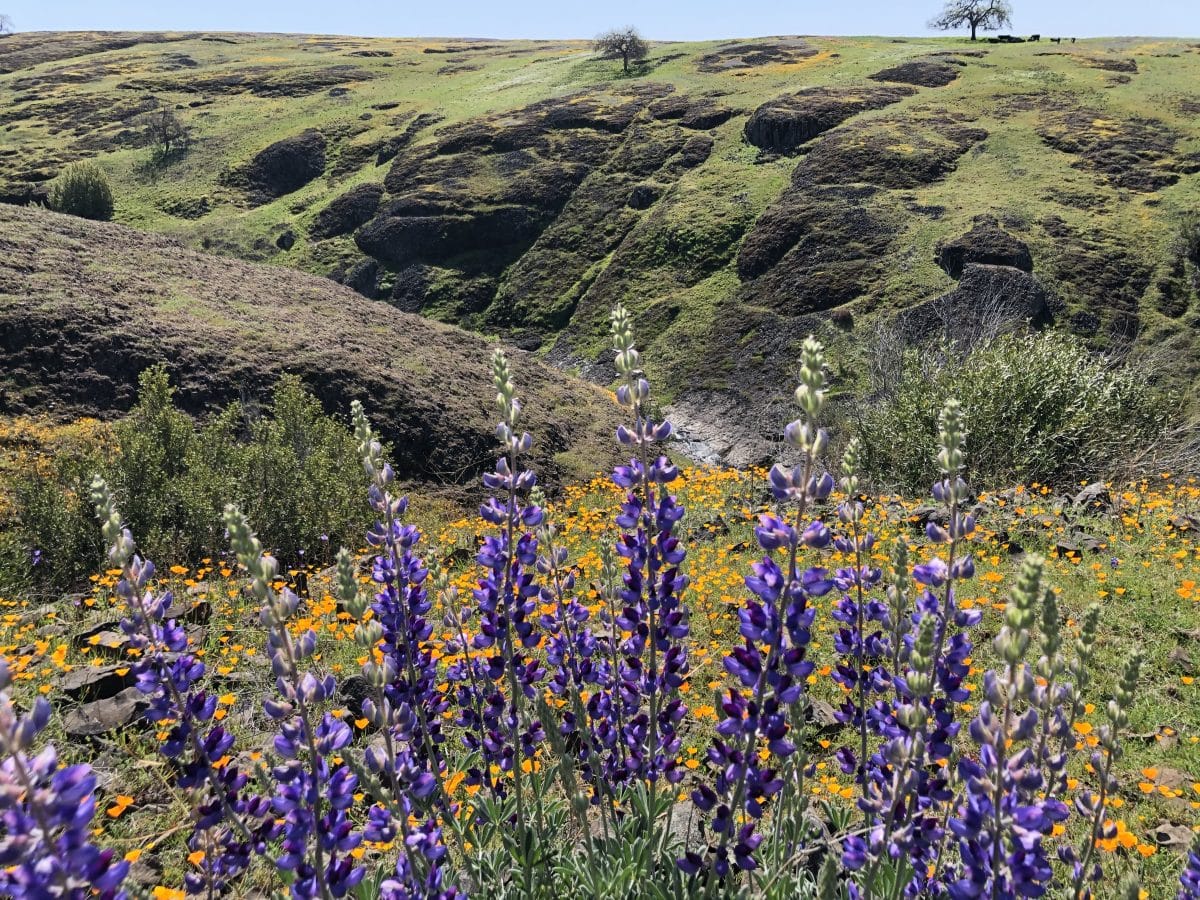 Wildflower viewing is a botanical pastime that many nature enthusiasts relish, however, it's essential to observe proper etiquette to conserve the ethereal flora and its habitat in the beauty of the Carrizo Plain National Monument. Let's delve into a few cardinal rules:
Trail-blaze Responsibly: To keep the wildflowers and the ecosystem unscathed, stick to marked trails and avoid trampling delicate flora.
Do not pick flowers: Picking wildflowers is detrimental to the overall health of the environment and can diminish the experience for future onlookers. It's illegal to pick California poppies, so it's best to enjoy nature from afar.
Leash your pets.
Leave No Trace: Pack out your litter!
Don't Park on Vegetation: Parking on vegetation is an issue in wildflower hotspots, as it can compress the soil and detract from the natural beauty of an area. Park your vehicle in designated areas or on hard surfaces to preserve the environment for everyone to enjoy.
By adhering to these guidelines, you can aid in preserving wildflowers for generations to come and make sure that everyone has a "blooming" good time!
From recipes using locally sourced ingredients and terroir-centric cooking, craft cocktails, to the latest in tech and home DIY projects, Michael yearns to share his learned and found knowledge of the world.